This site is supported by our readers. We may earn a commission, at no cost to you, if you purchase through links.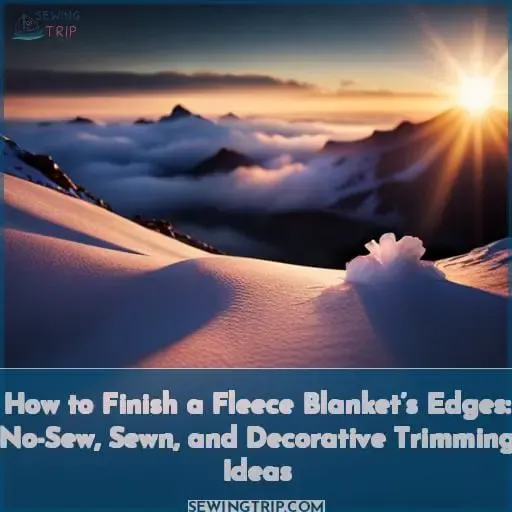 My friend, have a seat and get ready to add some finishing touches to your fleece blanket! I know you've been eager to try making a cozy fleece blanket, and now is the perfect time. With a pair of fabric shears and a willingness to learn, you're about to discover the wonderful world of fleece blankets.
Whether you opt for fun fringes or fancy hand-sewn accents, finishing those fleece blanket edges will be easy.
Together, we'll explore different techniques to create a blanket that provides warmth, comfort, and connection. Your creative spirit is ready to take flight, so grab your fleece and let's begin! This fleece adventure we're starting promises to create lasting memories.
Key Takeaways
Sharp cutting tools such as scissors or a rotary cutter are essential for clean, precise cuts when making fleece blankets.
No-sew finishing options like fringing or knotting the edges can add texture and prevent unraveling.
The edges could be hand sewn using various stitches and embellishments to create a customizable look.
Durable finished edges can be achieved with machine sewing, using either a zigzag stitch or bias tape binding.
What is Fleece Fabric?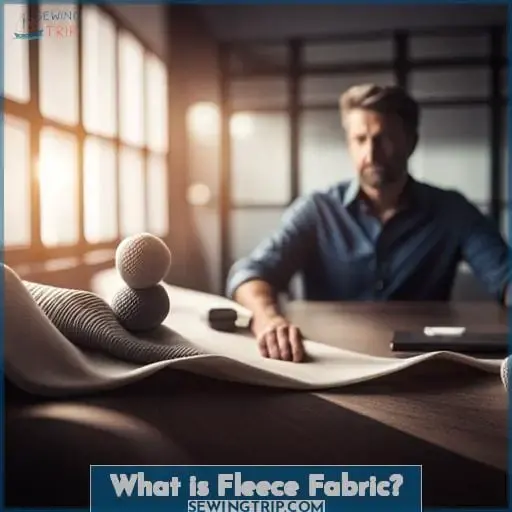 You'll love how soft and warm polar fleece feels against your skin when you snuggle up with your homemade blanket. Made from polyester, fleece fabric is soft, insulating, and durable. It's available in fun prints like polka dots, stripes, and solids, so you can customize your blanket.
Though sewing fleece can be tricky with skipped stitches, it's perfect for no-sew projects.
With the right techniques, you'll have a cozy fleece blanket to cherish for years.
Preparing Your Fleece Blanket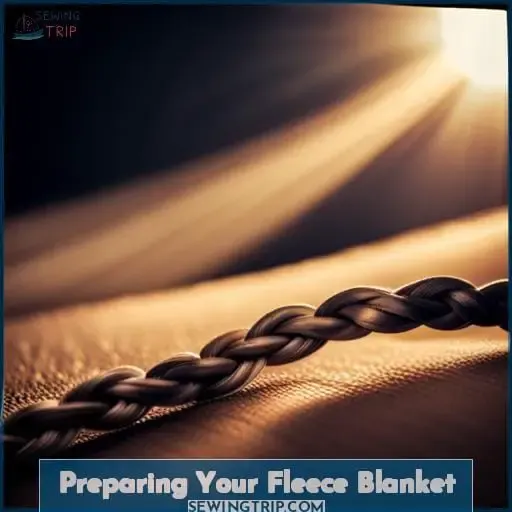 Sharp scissor blades are more important than speed for flawless cuts when making your fleece blanket. Avoid rushing the initial cuts. Take time picking quality fleece without flaws. Check for uneven texture or pulled threads.
Once satisfied, align the fleece carefully before cutting. Sharp blades slide through fleece easily. However, dull shears fray edges, needing extra finishing. Pausing often keeps blades sharp, as does proper storage.
For perfectly straight cuts, use a rotary cutter and self-healing mat. Cut several layers at once. Position corners carefully before cutting to maximize usage. Avoid cutting inside seams to keep hem allowances.
Meticulous prep means precise cuts, so your fleece blanket edges can easily get a polished finish, whether stitching, tying, or hemming.
No-Sew Fleece Blanket Techniques

When working with fleece fabric, an easy no-sew technique for finishing blanket edges is using fringed edges and tied knots. After preparing the fleece by cutting it to the desired size and removing any selvages, simply use a ruler and rotary cutter to cut fringes into the edges at regular intervals, then tie the fringe pieces together in knots.
Fringed Edges
After cutting, tie adjacent fringe pieces into knots for a fun fleece edge finish. Let your creative spirit flow by experimenting with different fringe lengths and patterns. Try a classic knotted fringe or get fancy with braided and twisted designs. Fringing adds textural interest while keeping blanket edges from unraveling.
For best results, avoid overstretching and use quality fleece. Play with mixing fringed sections with hems or binding too. Blanket edges don't have to be boring! Varying the edge treatments keeps things interesting.
Tied Knots
Tying knots in the fringe is the fun part of creating a no-sew fleece blanket. Did you know over 80% of DIYers prefer the look of knotted fringes? Here are 4 knotting techniques for gorgeous fringe:
Basic Knots: Tie each pair of fringe strips into simple overhand knots.
Loop Knots: Tie each pair into loose loops instead of tight knots.
Alternating Knots: Tie tight knots and loose loops, alternating down the fringe.
Clustered Knots: Tie clusters of 3-5 fringe strands into knots spaced along the edge.
Varying your knotting technique creates beautiful fringe texture for a custom handmade look.
Hand Sewn Blanket Edges

Smooth out your blanket's edge and poke a needle through, weaving it in and out to create a pretty hand-sewn hem. Customize your fleece with hand-sewn blanket edges for a personal touch. Try a basic blanket stitch, whip stitch, or slip stitch along the perimeter.
Vary your stitches for texture – spaced out, close together, or alternating lengths. Add interest with embroidery floss in fun colors. Outline shapes or write words with a backstitch.
Take your time and relax as you gently pull the needle and thread through the soft fleece. Your handmade accents make the blanket uniquely yours. Give it as a gift or keep it for cozy comfort during movie nights.
However you finish it, a hand-sewn fleece edge shows love went into every stitch.
Machine Sewn Blanket Edges

Machine Sewing Blanket Edges
Finishing the edges of a fleece blanket with clean, durable hems using your sewing machine is simple. A zigzag stitch and bias binding are two easy methods for neatly hemming those blanket borders.
To machine sew a zigzag edge, first trim any excess fleece so the edges are even. Next, set your machine to a wide zigzag stitch length and width. Sew along the blanket's edge, ensuring the stitch catches just a sliver of fabric on each side to prevent fraying.
Attaching pre-folded bias binding creates a tidy enclosed edge. Cut strips of coordinating fabric and fold them lengthwise. Leaving an overhang, pin the binding to the blanket's edge, fold over the binding, and topstitch along both sides for a fully enclosed hem.
Whichever hemming technique you choose, machine sewing delivers professional, durable edges to finish off your cozy fleece blanket. With some simple stitching, you can transform those raw borders into a neat and polished wrap.
Zigzag Stitch
Now feed the blanket trim through the machine, using the zigzag style stitch to firmly fasten it across the hem. The zigzag stitch is ideal for fleece because it allows some stretch while providing durability.
Unlike a straight stitch, it won't easily rip or unravel. Adjust the stitch width and length for the best results. Test on scraps first and use a walking foot for slippery fleece. This finishing creates a tailored look for fleece blankets.
Bias Binding
Attaching bias binding would give a polished finish to the edges of that fleece blanket. Bias binding frames a blanket with a professional touch. Cut the binding strips on the bias for stability. Apply Steam-a-Seam before attaching it. Stitch close to the inner folds using a zigzag or blanket stitch to secure the binding.
Get creative with colors, prints, and appliqués. Binding transforms basic blankets into customized keepsakes.
Adding Decorative Trims

Welcome to decorating the edges of your fleece blanket! Adding fun trims like rickrack or cute little pompoms is a creative way to jazz up a basic fleece blanket. To sew on rickrack, align it along the blanket's edge and use a zigzag stitch to attach it.
For a fun fringe, cut strips of fleece then tie pompoms to the ends before knotting them. With some imagination and sewing skills, you can create a custom fleece blanket to treasure.
Rick Rack
Simply sew some fun rickrack around your blanket's edge for a playful pop of color.
Cut the rickrack to the length of your blanket's perimeter.
Pin the rickrack to the edge, leaving equal parts extending top and bottom.
Sew the rickrack in place using either a zigzag stitch or a straight stitch.
For a double layer blanket, sew the rickrack between the layers.
You may want to alternate colors for a fun, vibrant look.
Pompoms
Attaching a fun trim like fluffy pompoms brings a playful pop of texture when finishing the edges of your fleece blanket, adding a whimsical touch, like sprinkles on a cake. Simply sew them along the hemmed edge for a cozy, cheerful blanket that will make you smile every time you snuggle up with it.
Caring for Your Fleece Blanket

Keeping your fleece blanket looking its best is easy with regular care and machine washing.
Wash in cold water using a gentle cycle.
Use a mild detergent and skip the fabric softener.
Tumble dry on low or hang to air dry.
Avoid using bleach or other harsh chemicals.
Store folded in a breathable fabric bag or chest.
With simple care, your fleece blanket will maintain its softness and warmth for years to come. Gentle washing keeps the fibers from pilling or fraying over time. Proper storage prevents creases and helps the blanket retain its shape.
Sharing Your Creations

Share your blanket creations with friends online; they'll be inspired by your work and talent. The joy of crafting is meant to be shared with others who can appreciate the artistry. Consider posting photos on social media and tagging designer friends – it spreads creativity.
We all need a sense of belonging; engage with community members by responding to project comments. Personalized tags uniquely identify your blanket, so include a styled label or hangtag. Showcase your talents by entering contests, swapping DIY tips, and joining groups.
Ultimately, each handmade item represents your devotion; be proud and pass on the inspiration.
Use Fleece Blankets With Pets

Wrap the cozy fleece around your furry friend as you cuddle up on the couch. Consider your pet's needs when making a fleece blanket to ensure their safety and comfort. Look for pet-friendly, durable fleece without loose threads or embellishments that could snag.
Introduce the blanket slowly, rewarding positive interactions. Supervise use, watching for chewing or ingestion. Fleece's insulating properties keep animals warm, while the soft texture appeals to their natural instincts.
Your furry companion will adore their new cozy blanket, promoting bonding through shared snuggles. Construct the blanket with care, choosing pet-safe materials and techniques like a reinforced hem or walking foot stitching.
Soon that handmade fleece will be their favorite for playtime, walks, and catnaps, a cherished gift for your beloved pet.
Conclusion
Finishing a fleece blanket's edges is as easy as can be. It comes down to your skills and preferences. Whether you're a sewing novice looking for a no-sew technique like fringe and tied knots, or an experienced seamstress ready to break out your sewing machine, bias tape, and rick rack, know that imagination is the only limit when hemming a fleece blanket.
With a bit of thought given to choosing the best edge finishes for your abilities and goals, you can make a cozy fleece blanket to treasure using any hem style.