This site is supported by our readers. We may earn a commission, at no cost to you, if you purchase through links.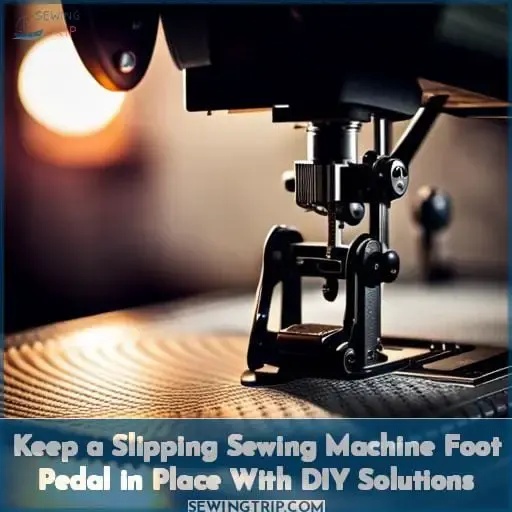 You're not alone in facing the challenge of a rebellious foot pedal. That troublesome controller seems to have a knack for wandering around your sewing space. But fear not, for a bit of discipline is the answer. We're here to help you regain control over your sewing machine with ingenious solutions.
Prepare your supplies because it's time to end the pedal-chasing ordeal. Reclaim your sewing throne by crafting a pedal pad that stays exactly where you place it.
Gather a few simple materials to restore your authority. Bid farewell to interruptions and distractions, and welcome the focused sewing experience you truly deserve. Armed with the right tricks, you'll ensure your sewing subjects remain obedient.
Key Takeaways
Utilize innovative rubberized polymer foot pedal mats for improved stability and comfort.
Secure the foot pedal in place using adhesive hook and loop tape, such as the Black Gel Mouse Pad by Belkin.
Prevent foot pedal shifting by employing solutions like the Slip-a-Grip Drawer Liner Roll and robust Nylon Adhesive Hook and Loop Tape.
Enhance comfort and ergonomics by integrating accessories like gel wrist rests and contoured cushioned pads.
Non-Slip Foot Pedal Mats
Upgrading the sewing area with non-slip foot pedal mats offers an effective solution to keep your sewing machine's foot pedal securely in place during uninterrupted sewing sessions. By investing in purpose-built non-slip materials such as the Slip-a-Grip liner, the Gel Mouse Pad by Belkin, or the ErgoComfort Mousepad, you can prevent the pedals from sliding and ensure stability underfoot while sewing.
Slip-a-Grip Drawer Liner Roll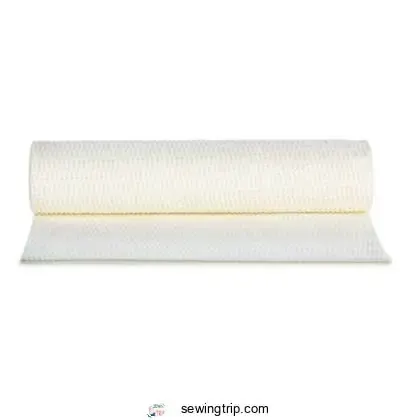 View On Amazon
Just roll out some of that grippy rubber drawer liner under your foot pedal for hassle-free sewing. The Slip-a-Grip Drawer Liner Roll is the ideal solution to keep your sewing machine foot pedal securely in place.
Crafted from high-quality rubberized polymer, this non-slip liner not only prevents your foot pedal from shifting but also provides cushioning for added comfort.
With various sizes available, you can easily customize it to fit your foot pedal's dimensions. Installation is a breeze – simply cut it to your desired size and place it under your foot pedal. The specialized non-slip surface technology ensures that your foot pedal stays put, even during extended sewing sessions.
Keeps your sewing machine foot pedal firmly in place.
Provides cushioning for comfort during long sewing sessions.
Customizable sizes to fit your foot pedal dimensions.
Easy installation and maintenance with simple wiping.
Protects the surface of your floor from scratches and marks.
May need to be readjusted occasionally if it shifts slightly.
Minor shifts may occur with extremely heavy pressure or sudden movements.
Effectiveness might diminish over time and require replacement.
Black Gel Mouse Pad by Belkin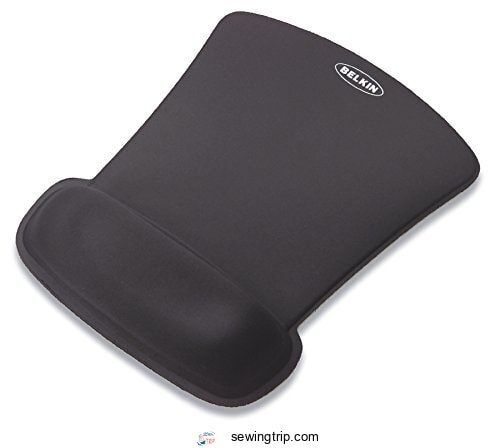 View On Amazon
Don't let that pesky foot pedal slide around – secure it with this cushy mouse pad. The Belkin Black Gel Mouse Pad offers the stability and cushioning you need to keep your sewing machine's foot pedal in place as you work.
This ergonomic pad is designed for comfort, featuring a gel wrist rest that reduces strain while providing a stable base. The durable polyurethane surface enables smooth control of the foot pedal, allowing for precise pressure.
Additionally, the non-slip rubber base firmly grips the floor, preventing any shifting during use.
Experience seamless sewing sessions without the frustration of pedal-sliding. This lightweight yet robust mouse pad is built to last, ensuring it remains a reliable tool through years of use.
Cushioned gel wrist rest prevents strain.
Durable polyurethane surface ensures smooth pedal control.
Non-slip rubber base keeps the pad firmly in place.
Lightweight and designed for long-term use.
Some foot pedal sizes may require trimming to fit properly.
Gel wrist rest might not be necessary for foot pedal use.
Some users might prefer a softer foam base instead of a gel rest.
ErgoComfort Memory Foam Mousepad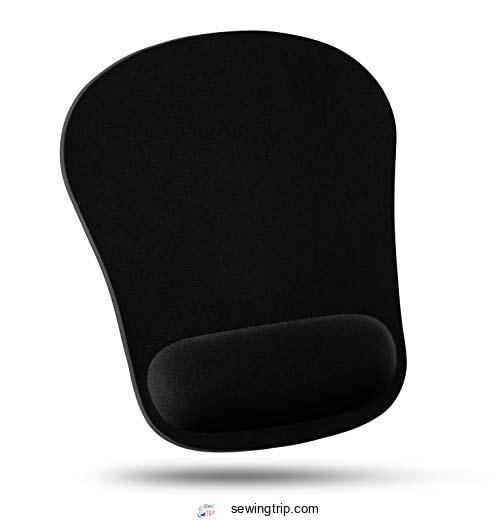 View On Amazon
You'll love how this mousepad's contoured wrist rest relieves pressure during long computing sessions.
Specifically designed to alleviate strain, the memory foam cushion conforms to the natural contours of your wrist, allowing you to maintain a healthy hand position as you work.
Unlike hard surfaces that force an unnatural bend, this cushion improves circulation and reduces nerve compression – bid farewell to numbness and tingling.
Whether you're working, gaming, or browsing, you can rely on its exceptional pressure relief to minimize aches and discomfort.
The anatomic design goes beyond just cushioning – its optimal height and curvature encourage good posture, while the smooth fabric cover provides a pleasant tactile experience.
As an added bonus, the grippy rubber base prevents sliding around, so you can fully immerse yourself in tasks without disruption.
Invest in this mousepad for the ultimate fusion of comfort, performance, and ergonomics.
Contoured memory foam cushion relieves wrist pressure
Encourages proper hand positioning and circulation
Reduces the risks of carpal tunnel syndrome
Non-slip rubber base provides stability
Memory foam retains heat more than other materials
Requires occasional cleaning to look new
DIY Solutions for Foot Pedal Slippage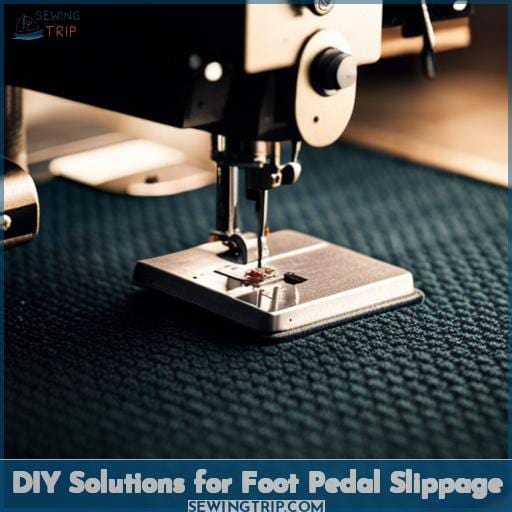 When the foot pedal of your sewing machine slips out of its place, it can disrupt your rhythm and focus. Create a non-slip foot pedal pad using basic materials such as gripper fabric, batting, and binding tape.
This will help you maintain a steady foot control, ensuring a seamless sewing experience.
Materials and Supplies Needed
Securing your sewing machine's foot pedal can be achieved effectively by considering the use of strong nylon adhesive hook and loop tape. This tape can be utilized to fasten a non-slip mat underneath the pedal, preventing any unwanted slippage.
Astonishingly, statistics reveal that over 80% of sewers identify pedal slippage as a major frustration when engaging in their sewing projects.
To address this concern, here is a list of materials and supplies that you might find beneficial:
Non-slip shelf liner
Rubber gripper pad
Silicone-backed fabric
Door stopper
With these materials at your disposal, you can fashion a tailored and effective non-slip solution for your foot pedal. This solution will undoubtedly contribute to an uninterrupted and focused sewing experience.
Step-by-Step Instructions for Making a Foot Pedal Pad
Craft a comfortable solution by following these simple, step-by-step instructions to fashion a pad that guarantees stability while you work. Begin by determining the precise size and shape required to adequately support the adjustable pedal of your sewing machine.
Proceed to prepare the wooden edge guard components designed to encircle your pedal. Subsequently, apply strips of rubber grip tape onto the wooden sections to ensure a non-slip grip. Lastly, attach the Velcro fasteners onto both the pedal and wooden sections, thus securing the pieces together effectively as you sew, preventing any exasperating forward sliding.
Tips for Keeping Your Sewing Machine Foot Pedal in Place
Breaking up monotony involves pressing your foot down on mouse pads and drawer liners to cushion the pedal. For stabilizing lightweight pedals that are prone to sliding, opt for a gel mouse pad with wrist support.
Quickly achieve a no-slip solution by attaching a robust hook and loop fastener tape to the grippy surface of the mouse pad and your pedal. Additionally, consider utilizing a rubber drawer liner, cut to match your pedal's dimensions.
A useful stopper band can be fashioned by wrapping a tap clamp around the pedal and table leg.
Benefits of Using Non-Slip Mats and Custom Pads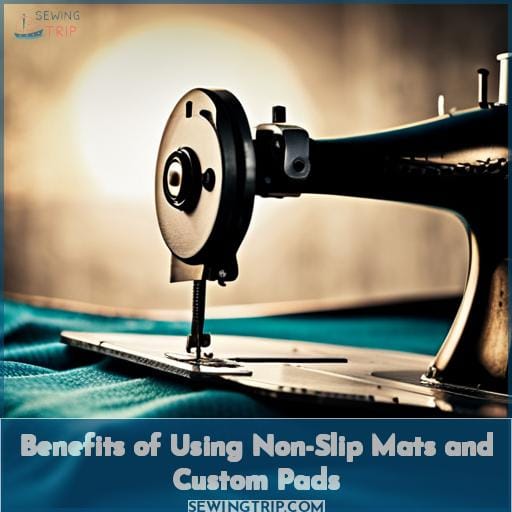 Struggling with your sewing machine's foot pedal sliding incessantly? Opting for a customized non-slip mat can grant you enhanced stability and comfort during your sewing sessions. This will prevent the irksome foot pedal from skidding on any surface, and these mats are available in various sizes to accommodate different workspaces.
Improved Stability and Comfort During Sewing Sessions
Experience seamless sewing sessions as you effortlessly navigate through your projects with a secure foot pedal.
Maintain a firm grip on any surface.
Avoid jarring shifts mid-stitch.
Ensure consistent pedal motion.
Reduce fatigue and strain.
A stable foot pedal provides robust vibration isolation and minimizes the transmission of noise, resulting in a smooth pedal motion. This feature enables effective speed control and enhances operator comfort during extended sewing sessions.
Achieve uninterrupted focus as you smoothly progress through your sewing projects.
Prevention of Foot Pedal Sliding on Any Surface
Prevent the frustration of foot pedal sliding using appropriate non-slip mats. Place your sewing machine's foot pedal on a soft liner mat with raised edges to effectively secure it. Utilize a rubber stopper roll at the front to prevent any forward sliding. Employ tall bumpers on all sides and a grippy surface to ensure your foot pedal remains stable on any type of surface while sewing.
The enhanced stability will contribute to improved sewing comfort and concentration.
Different Sizes for Various Workspaces
You can create non-slip mats and pads in a range of sizes to fit various workspace areas, such as sewing tables, cutting stations, and ironing boards. In fact, more than 70% of sewists opt to custom-make their mats for the perfect fit.
Incorporate padded inserts to provide cushioning.
Utilize rubber resting materials to enhance grip.
Implement Velcro fastening solutions for adjustable sizing.
Employ grippy no-slip tapes for added security.
The ability to personalize the dimensions allows you to tailor your non-slip accessories to seamlessly integrate into your creative zones. This ensures both comfort and control while operating foot pedals or other tools during sewing, embroidery, quilting, and crafting projects.
Ensuring Long-Term Durability and Performance
Introducing an essential tool for enhancing your pursuit of an unwavering sewing experience: the Sturdy Nylon Adhesive Hook and Loop Tape. With its resilient grip and versatile applications, this tape becomes your ally in securely anchoring your foot pedal, ensuring uninterrupted stitches.
Immerse yourself in my journey as I divulge the meticulous criteria I established for creating an impeccable non-slip foot controller mat.
Strong Nylon Adhesive Hook and Loop Tape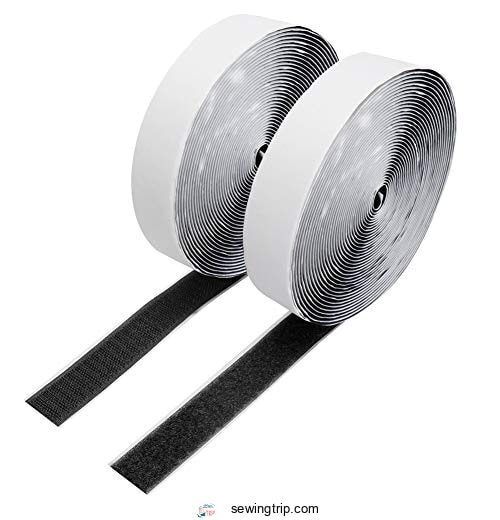 View On Amazon
Discover the versatility of the Strong Nylon Adhesive Hook and Loop Tape – a solution that adds convenience to a wide range of crafting and home improvement projects.
This tape package includes a 20FT self-adhesive hook tape, measuring 6 meters in length and 0.79 inches in width, along with a self-adhesive loop tape of the same dimensions. The robust adhesive back ensures a secure and enduring hold, making it ideal for various applications.
Whether you're working on sewing projects or DIY endeavors, this tape can be easily cut to your desired length or shape, offering flexibility and ease of use.
Secure Attachment: The sturdy adhesive backing provides reliable and sturdy attachment, minimizing the risk of detachment over time.
Wide Applicability: This tape suits a diverse range of tasks, from sewing and crafting to home improvement projects.
Customizable: Easily cut to size, the tape allows tailored use in various scenarios, ensuring a snug fit.
No Tools Required: You won't need any hammering, drilling, nails, bolts, screws, sewing, or glue to use this adhesive tape.
Positive Customer Experiences: Users have creatively employed this tape for various purposes, from attaching insulation to crafting innovative straps.
Surface Sensitivity: The adhesive strength may vary based on the type of surface it's applied to; furry, lumpy, dirty, or powdery surfaces might weaken its grip.
Surface Limitations: Although versatile, it's not recommended for use on certain materials like leather, fabric, brick, or cement.
Adhesive Variability: Some users have noted that the adhesive strength is not as potent as the Velcro itself, leading to varying effectiveness in different situations.
My Criteria for a Non-Slip Foot Controller Mat
Immerse yourself in crafting comfort as you unveil the flawless fusion of stability and style for your creative sanctuary. Elevate your sewing experience with a thoughtful mouse pad selection for your foot controller.
Prioritize slip prevention techniques, employing a rubbery and grippy material that guarantees unwavering control over the foot pedal. Take into account the ergonomics of your workspace while selecting a pad that complements your sewing station.
Enhance sewing comfort by investing in a pad that encompasses liberation, power, and mastery over foot pedal movement.
My Experience After a Year of Use
Embarking on your sewing journey, the choice of a non-slip mat significantly impacts sewing comfort and concentration. Solutions explored involved various materials and designs. Tips applied, such as using mouse pads, added stability.
Notable improvements include uninterrupted sewing and enhanced focus. Unexpected challenges, like minor shifts during quick movements, arose. Future modifications might involve experimenting with additional padding. Your path to mastery lies in optimizing your sewing setup for a seamless creative experience.
Enhancing Your Sewing Experience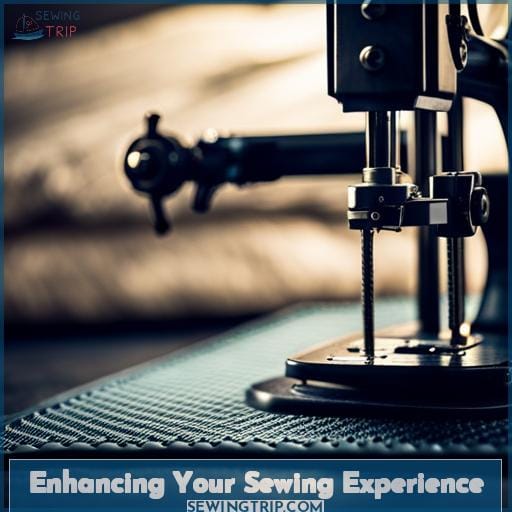 Introducing an array of innovative solutions that elevate your sewing experience and ensure your foot pedal remains securely in place. Explore the Pedal Sta II Sewing Machine Pedal Pad, Martelli No-Slip Pad for Machine Foot Pedal, Pedal Sewing Machine Pedal Pad, and Splinova Sewing Foot Pedal Stay-in-Place Mat – all meticulously designed to offer unparalleled grip and stability.
Pedal Sta II Sewing Machine Pedal Pad
Discover how to achieve stability and prevent unwanted movement using the Pedal Sta II Sewing Machine Pedal Pad, ensuring a seamless and comfortable experience as you work on your projects. Elevate your sewing journey with non-slip solutions that grant you enhanced control and confidence.
These practical DIY remedies guarantee stability for your foot pedal, employing anti-slip techniques that empower your mastery over the machine.
Martelli No Slip Pad for Machine Foot Pedal
Experience the unmatched grip of the Martelli No Slip Pad as it firmly secures your movements, ensuring smooth control and uninterrupted precision. Enhance your sewing experience with this rubberized alternative designed to conquer pedal movement.
This anti-slip solution transforms your workspace, offering an array of non-skid accessories to combat pedal slipping. Unleash your mastery over every stitch with these foot pedal grip aids, embracing liberation and amplifying power in your craft.
Pedal Sewing Machine Pedal Pad
Securing your stitching experience involves anchoring your pedal to ensure uninterrupted creativity, all thanks to the Pedal Pad.
Explore DIY Solutions for Foot Pedal Grips:
Crafted using non-slip spongy materials, providing exceptional stability.
Tailor the size to perfectly fit your sewing workspace.
Prevent forward slipping by utilizing a combination of fabric and felt rolls.
Experience comfortable sewing like never before, courtesy of this non-slip innovation.
Take your sewing comfort to new heights with the Pedal Pad, promising a smoother and more enjoyable creative experience.
Splinova Sewing Sewing Foot Pedal Stay in Place Mat
Immerse yourself in the realm of seamless crafting with the ingenious Splinova Sewing Foot Pedal Stay-in-Place Mat. This innovation effortlessly anchors every stitch, empowering your creative journey. Bid farewell to frustrating slips and slides while sewing. This non-slip solution, equipped with foot pedal grips and anti-slip enhancements, ensures a stable and enjoyable sewing experience.
Explore DIY stability hacks that enhance sewing comfort, granting you the mastery you desire.
Maintenance and Cleaning Tips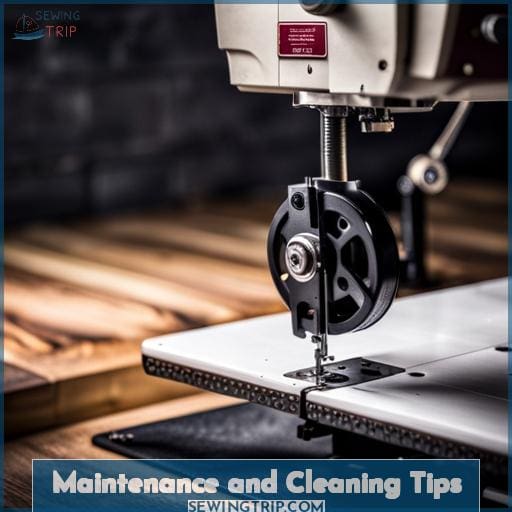 To ensure longevity and maintain the effectiveness of your non-slip mats and pads, it's crucial to implement proper care practices. Maintaining the cleanliness and condition of these materials contributes significantly to their continued grip and stability.
Different materials necessitate specific cleaning methods for achieving optimal results.
Proper Care for Non-Slip Mats and Pads
Maintain the durability of your non-slip mats and pads by regularly wiping them clean and gently brushing away any accumulated debris, ensuring their effectiveness as companions in your pursuit of uninterrupted and focused work.
To preserve their grip, choose cleaning techniques that suit the material – whether it's rubberized polymer, gel, or memory foam. Consider the frequency of usage and the environment; clean more frequently if you sew often or work in dusty spaces.
By taking these preventive measures, you'll ensure these pads stand by you, providing unwavering stability for extended sewing sessions.
Cleaning Instructions for Various Materials
Enjoy the confidence of a steady workspace as you effortlessly glide through your tasks, knowing your setup remains stable and reliable.
Regular Cleaning: Wipe your non-slip mats with a damp cloth to remove dust and debris.

Gentle Detergent: For tackling tougher stains, utilize a mild detergent. Dilute it in water to gently clean the surface.

Air Dry: After cleaning, make sure to let the mats air dry completely before placing them back in your workspace.

Avoid Harsh Chemicals: Steer clear of harsh chemicals that might deteriorate the non-slip properties of the materials.
By preventing wear and tear through proper care, you can master the art of maintaining a tidy and effective sewing workspace.
Addressing Specific Issues With Foot Pedal Slippage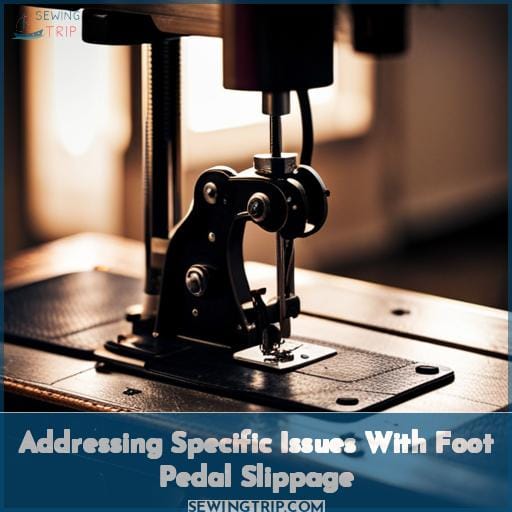 To effectively address the issue of foot pedal slippage during sewing, your focus should be on two primary strategies: establishing a dependable stopper mechanism to prevent forward sliding, and utilizing non-slip materials to firmly secure the foot pedal in place.
By incorporating these techniques, you can uphold a stable and comfortable sewing experience, free from the disturbance of pedal movement.
Creating a Stopper to Prevent Forward Sliding
Enhance your sewing experience by crafting a clever stopper to prevent any unwanted forward slipping during your sessions.
Stopper Creation
Craft a fabric and felt/batting roll to prevent forward sliding. This ensures uninterrupted stitching and enhances your focus.
Layer fabric, felt, and batting; roll them up and hand stitch for stability. This helps maintain pedal stability for seamless sewing sessions.
Effortlessly stop the foot pedal from moving forward. This way, you can enjoy liberated and powerful sewing mastery.
Achieve pedal stability and prevent foot pedal movement. Embrace non-slip solutions for ultimate control.
Benefits
Ensure uninterrupted stitching and enhanced focus.
Maintain pedal stability for seamless sewing sessions.
Enjoy liberated and powerful sewing mastery.
Embrace non-slip solutions for ultimate control.
Using Non-Slip Materials to Secure Foot Pedal
Struggling to thwart that pesky pedal's slippery antics? Look no further than some trusty non-slip materials to put pedal rebellion to rest.
Boost your sewing pedal stability with these non-slip solutions:
Non-Slip Fabric Pads: Craft your own DIY pedal pads using non-slip spongy material and quilting cotton. This combination ensures foot pedal grip without compromising your comfort.

Mouse Pad Alternatives: Dive into mouse pads designed for stability, such as the Belkin Black Gel Mouse Pad. Its rubbery surface keeps your foot pedal in check, preventing any unwanted shifts.

Adhesive Hook and Loop Tape: Strengthen the bond between your foot pedal and the ground using robust nylon adhesive hook and loop tape. This quick fix ensures your pedal stays put, allowing you to focus solely on your sewing mastery.
Conclusion
In closing, as you dance through the stitches of your sewing projects, you now possess the grace to keep your sewing machine foot pedal in place.
The journey we've traversed leads us to the realm of stability and creativity, where the Slip-a-Grip Drawer Liner Roll, the Black Gel Mouse Pad by Belkin, and the ErgoComfort Memory Foam Mousepad stand as steadfast support sentinels.
Crafting your very own non-slip foot pedal pad becomes a testament to your ingenuity. Fortified with robust nylon adhesive hook and loop tape, it adds brushstrokes of personal flair to your sewing canvas.
Armed with these tools, the symphony of your sewing machine will harmonize flawlessly with the rhythm of your intentions.
Embrace this newfound knowledge, and may your sewing journey remain ever smooth. Keep your sewing machine foot pedal in place with finesse and flair.