This site is supported by our readers. We may earn a commission, at no cost to you, if you purchase through links.
With summer just around the corner, it's time to break out your favorite pair of jean shorts. But if you don't have any yet, why not make them? You can save yourself some money and create a unique look all at once!
Did you know that making cutoff jeans is a quick and easy way to give an old pair of pants new life? In this article we'll show you how to turn an old pair of jeans into stylish cut off shorts in no time – perfect for those hot summer days!
Choosing the Right Pair of Jeans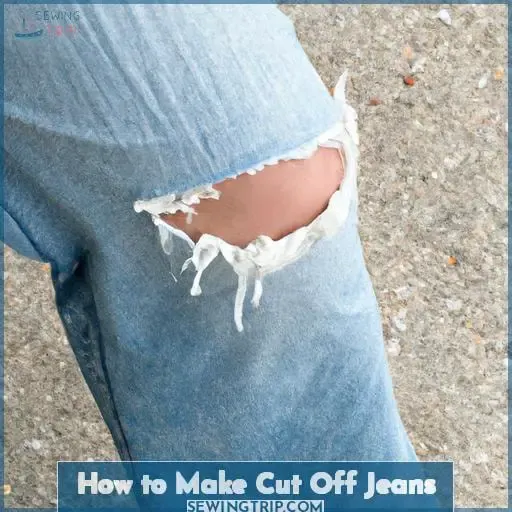 If you're looking to make cut off jeans, find straight-leg jeans with an inseam that's close to your desired length. Avoid stretchy fabrics; they won't fray well and will be harder to work with when cutting them up.
With these tips in mind, you'll have an easier time making stylish shorts from old denim!
Tip 1: Look for Straight-leg Jeans
When selecting jeans to turn into cutoffs, look for a pair with straight legs – they'll be easier to work with than tapered or flared styles. Comfort and style should always go hand in hand! Choose a pair that fits well, not too tight or loose – this gives you more control over the look when finished. Denim is versatile – from light washes for summer to darker shades for cooler weather – so you can grow your collection. Don't forget care instructions before making cuts – faded blues threads are essential!
Tip 2: Check the Inseam Length
Before you start snipping, make sure to check the inseam length of your jeans – it's like taking an extra lap around the track before diving into a project.
When selecting a pair of old jeans for cut offs, look at how long you want them to be and measure accordingly.
A great way for accessorizing options is by making frayed hems with tweezers or scissors. It'll give your shorts more character while still keeping their denim texture intact.
If opting for cuffed edges instead, use fabric marker or chalk and draw lines where you plan on cutting – this also helps when deciding if cuff length suits leg shape better than uncuffed ones!
With these tips in mind, create perfect cut-off jean shorts that are stylish enough to wear all summer long!
Tip 3: Avoid Jeans With Stretch
If you want the perfect cut-off jeans, avoid stretchy denim. It's harder to get the desired shape and length. When styling ideas and color combos are involved, consider sizing tips too. Non-stretch fabric with a straight surface gives you better length options. If your pants have too much stretch or none at all, snipping the outer seam won't give a neat final cut line. This could result in too-tight jeans that won't look flattering.
Cutting Your Jeans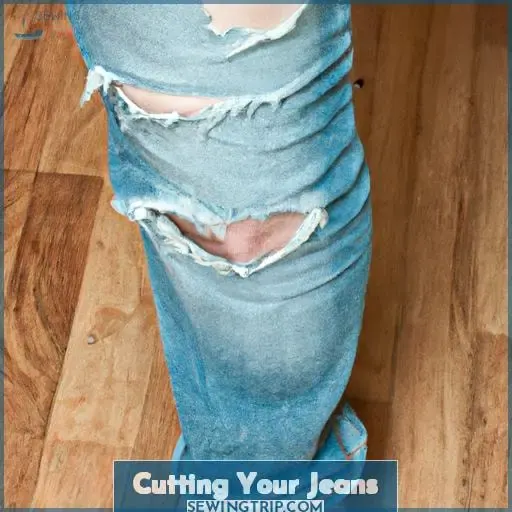 Cutting your jeans to make cut-off shorts is a great way to customize the fit and look of your outfit. Get ready for summer by learning how easy it is!
Begin by marking the final cut line with chalk or fabric marker on the outer seam, then snip along that line two inches below; this will create an inseam 1.5 inches lower than the outer leg, which looks more flattering when you're done.
Finally, cuff up your shorts for a finished look and distress them if desired – just follow these quick steps for some stylishly unique denim shorts!
Step 1: Mark the Final Cut Line
Use a template of shorts you love, try them on before making any marks, and mark the final cut line with chalk or fabric marker to create your own custom-fit cut off jeans. With all the styling ideas out there for cutoff shorts – such as fit, inseam length, frayed edge or cuffed hem – it's important to make sure you have the right fabric selection when starting this easy project.
Cutting techniques are key when cutting your denim; use straight lines about two inches below where you want the final step marking so that after washing they shrink up slightly giving them more shape.
To finish off this look some like to cuff their hems while others may opt for leaving it raw and fraying naturally over time – either way is great color coordination!
Follow these steps and enjoy wearing your very own DIY creation!
Step 2: Cut Along the Marked Line
Once you have your final cut line marked, it's time to snip off the extra fabric and get ready for a custom-fit pair of shorts! Use a sharp pair of scissors or fabric shears. Cut slightly below the mark so that when you wash them post-sew, they'll fray at exactly the length you want.
Chunky belts are all the rage with high waisted jean shorts; distressed denim is always on trend; and raw hems seem much cooler than cuffs or hemming tape!
Get creative with these 5 simple steps before cutting along that marked line:
Buy jeans at a thrift store if possible.
Try on pants before deciding where to cut.
Use chalk or eyeliner as marker.
Draw final cut line from outer leg mark to inner leg dot.
If needed, snip up outer seam for more room in legs.
Now get crafting those perfect summertime jean shorts!
Step 3: Create the Cuff
Now it's time to add that extra bit of flair and take your cut-off jeans up a notch. Basic hemming techniques, denim fabric, DIY projects and a pair of tweezers are needed. Choose whether to go for plain or multi-colored jeans depending on the current trends.
For an anti-sausage leg tip, don't start with skin tight jeans as they won't be flattering after wearing once. Cut in a straight line about two inches below where you marked off (with chalk), then try them on again before creating your desired cuff look.
Fold edge under until it's as long/short as needed. Draw along line with marker and cut slightly below mark so when washed they shrink enough without being too high above ankle level – remember less is more!
Use scissors or tweezers to pull threads out from each side giving it an even better frayed look. Now all there's left is enjoying wearing your own custom made jean shorts!
Step 4: Distress Your Shorts (optional)
Give your shorts an edgy, worn-in look with a few simple touches – it's like giving them a new life! Distressing denim shorts is an easy DIY alternative to purchasing expensive pre-ripped and faded jean shorts.
Safety precautions should be taken when deciding where to cut the jeans as well as how much extra material you want for color blending and frayed edges.
Advanced jorts-makers can take it even further by adding small slits in either side of the leg opening for extra room or creating distressed details with horizontal strips that are pulled out using tweezers.
With all these methods, make sure not to compromise on fabric choices if quality matters more than style; otherwise you could end up with something that won't last long enough!
Washing Your Shorts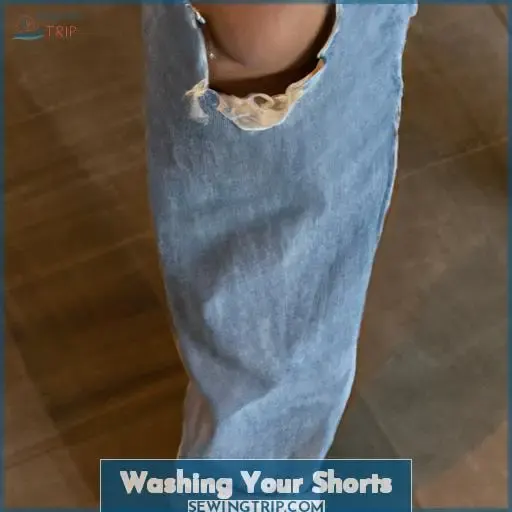 To get your cut-off jeans looking perfect, turn them inside out before putting them in the washer. Choose a gentle cycle with cold water. Put them in the dryer on low heat or air fluff setting to minimize shrinking. Or, hang-dry for an even better result!
Step 1: Turn Your Shorts Inside Out
For the perfect fit, start by turning your shorts inside out and assessing how they look on you. When pairing jeans for cut-off jorts, always choose a non-stretch denim as it'll hold its shape better when cuffed. Opting for distressed pairs of denim is also an option if you're after a vintage feel to your shorts!
Make sure to take into consideration washing tips like not putting them in the dryer too long so they don't become too short – no one wants 'too-short' jorts! To keep your cuff looking pristinely sharp all summer long, sew a single stitch or an X along both the outside and inside seam before throwing them in the wash – this'll help prevent fraying from occurring at those seams.
Now that you've turned your jeans inside out and chosen wisely with washer settings, let's move on to creating horizontal strips or plucking threads for that extra bit of distressed detailing around pockets or hems… it's time to make some seriously stylish cut offs!
Step 2: Wash Your Shorts
Wash your shorts with care to ensure you get the perfect fit and give them a stylish, vintage look that will turn heads!
Fabric selection, stitching techniques, style options (like classic daisy dukes-shorts), fashion DIY crafts and consumer culture – these are all things to consider when washing cut off jeans.
To make sure these items come out just right, use the proper tools – like fabric scissors or tweezers for details.
Mind the majority of the pant legs being cut when making knee-length shorts, and cut in at an angle for a more flattering result.
Enjoy your new denim fashion statement!
Step 3: Dry Your Shorts
Get ready to show off your stylish, vintage cut-offs – it's time to dry them!
Once you've washed and dried your upcycled jeans shorts with the fabric selection of your choice, you can use hemming techniques or distress techniques for customizing options.
The sausage leg department won't be an issue anymore when using a pointy edge of your scissors. Use this technique for longer shorts that are just-right instead of complicated measurements.
Dry them in the washer or tumble dryer until they reach their desired length and look – then it's time to take on summer fashion in style!
Styling Your New Shorts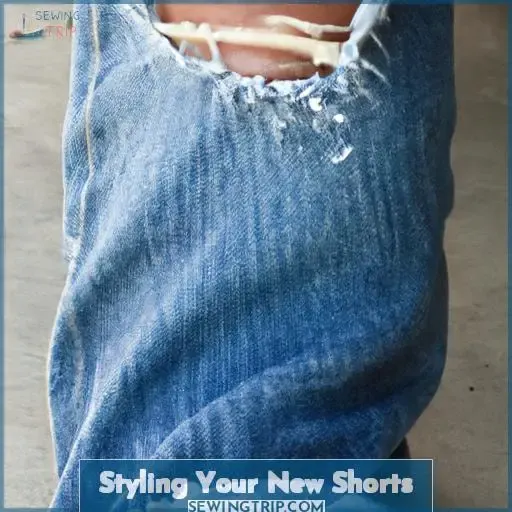 Hey there! You've got a great new pair of cutoff jeans. To get the most out of 'em, try pairing them with a simple top and some stylish shoes. Experimenting with accessories is key to creating an eye-catching look. Try adding a statement belt or necklace for maximum impact!
Tip 1: Pair Them With a Simple Top
Complete your look with a simple top to show off your new custom-cut jeans shorts – it's the perfect way to make an effortless statement this summer! Tucking techniques, like tucking in a blouse or tank into good-butt jeans, will add structure and shape. Adding patches for some extra fun can be done by using fabric glue and patches you find at craft stores.
Layering shirts makes for an interesting look that draws attention to your stylishly cut denim pants. If you're going for a more relaxed vibe try rolling up the hem of shirts or wearing sandals instead of sneakers.
Don't forget about those cute shorts – roll them up above the belly button so they still hit just below the knee when standing straight and pull out white threads from blue ones with tweezers if needed!
Tip 2: Choose the Right Shoes
Complete your look with the right shoes to show off your custom-cut denim shorts and make an effortless statement this summer! Choose a style that complements the distressed look of upcycled fabric. Different types of fabrics require different care, so familiarize yourself with how best to take care of them before wearing.
For tips on styling, check out Janet Sung's Big Book Of Works for new stories and help buying timeless pieces you'll keep forever. With a few simple steps and expert advice from day affair stylists like Jean Sung, create an outfit full of personality that will last all season long!
Tip 3: Experiment With Accessories
Accessorize to your heart's content and make a statement this summer with your cut off jeans! Printed T-shirts, denim jackets, belt buckles, and statement jewelry can all give contrast colors and create shorts archetypes.
Take the first step and cut up an old pair of men's non-stretch denim jeans. You have the power to experiment – try different accessories each time until they're exactly what you envisioned. It doesn't take long for these projects, so you can repeat the process without worrying about wasting material or money.
Frequently Asked Questions (FAQs)
Conclusion
Congratulations! You now have a pair of custom cut-off shorts. You can style them however you want. With a few simple steps, you can create a unique look for minimal expense. Don't be afraid to experiment! Who would've guessed you'd make them so easily? Soon, you'll be the envy of all your friends. Go out and enjoy your new shorts!