This site is supported by our readers. We may earn a commission, at no cost to you, if you purchase through links.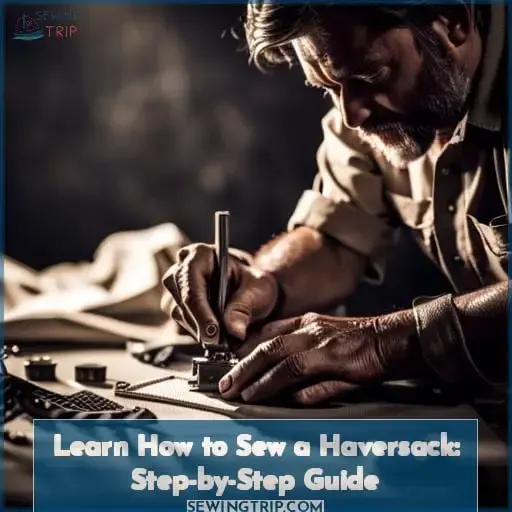 Surprise! You're about to learn how to sew a haversack. It's an exciting project that will give you the freedom and power of creating something beautiful from scratch.
Whether it's your first time sewing or you've been stitching up projects for years, this step-by-step guide has everything you need for crafting this classic carryall bag.
From cutting out the pieces with precision measurements, constructing a sturdy shoulder strap, and adding adjustable straps with brass pieces – all these tips make sewing a haversack easy as pie.
Plus, we'll show you exactly how to create buttonholes and place buttons if desired so your finished product looks professional grade!
Ready? Let's get started on learning how to sew a haversack together!
Key Takeaways
Choose durable materials like Cordura nylon or Kevlar for a strong haversack.
Measure across your chest to determine the appropriate strap length.
Customize your haversack with various fabrics, colors, and embellishments to make it unique.
Before using expensive fabric, construct a muslin prototype to test and perfect the design.
What is a Haversack?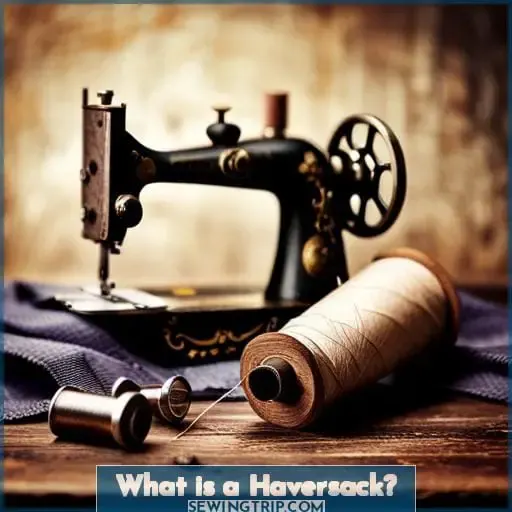 You'll craft a time-honored haversack using durable nylon and sturdy hardware for a custom bread bag. Haversacks date to the 1600s as soldiers' bags for food and supplies. Durable Cordura nylon provides superior abrasion resistance versus muslin for heavy daily use.
Consider the haversack's size, adjustable strap style, and hardware needs before cutting fabric. Measure across your chest to determine optimal strap length. Cut two straps and four triangles from quality nylon webbing using fabric scissors.
Sandwich triangles between straps at the top for easy length adjustments. Sew on antique brass sliders secured by box x stitching.
Finally, bind the raw haversack edges and add buttons for a timeless design.
Materials and Measurements for a Haversack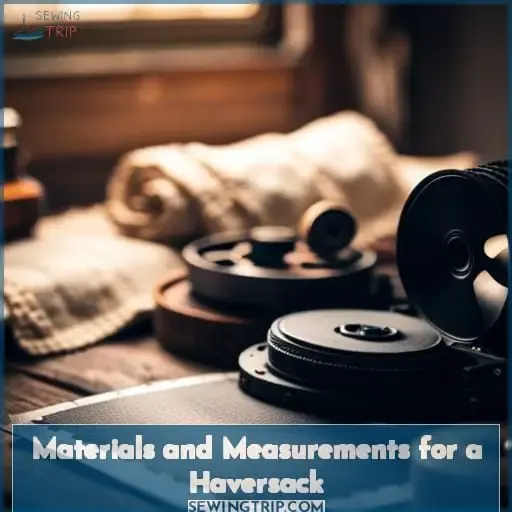 The haversack's sturdy 1000D Cordura nylon layer demands precise cutting for clean edges. Trace the haversack's pattern pieces onto the fabric with tailor's chalk, allowing a 1/2 inch seam allowance. Carefully cut along the lines using sharp fabric scissors. For the 18 inch by 12 inch main bag, utilize one yard of the durable 1000D Cordura.
Stitch the 8 inch by 2 inch strap and 2 inch by 8 inch bottom reinforcement from heavyweight nylon webbing. Craft 1 1/2 inch buttonholes on the pointed strap ends. The versatile haversack takes shape as you nimbly handle the quality fabrics.
Constructing the Shoulder Strap

First, cut the nylon webbing to the desired length for your shoulder strap. I recommend cutting it extra long at first – you can always trim it down later. Fold over the raw edges and topstitch them down neatly to prevent fraying. Now it's time to think about how you'll attach the strap.
For a basic backpack, you can use triangular bartacks sewn at each end. For a more complex design, consider adding tri-glides or other hardware to make the strap adjustable. Strive for a durable yet comfortable strap across your torso. Pay attention to details like reinforcing stress points and binding edges smoothly.
Assembling the Haversack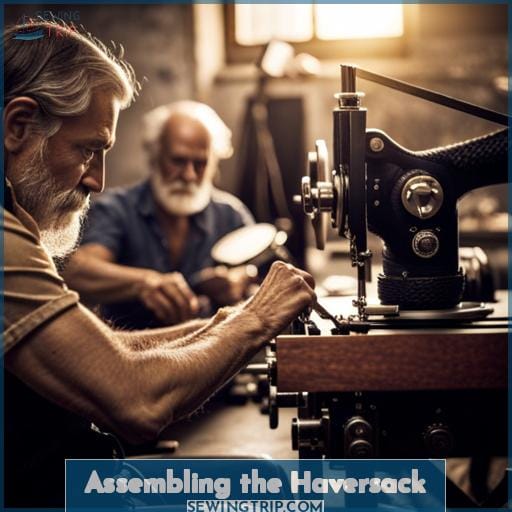 Strapping together the haversack's body lets you cinch up this rugged rucksack. With the main fabric pieces aligned, run them under the sewing machine to stitch the sides and bottom.
Next comes time to secure the strap and hardware for hoisting this bag high on your shoulder. Loop the strap through the brass pieces then clamp them to the haversack's top corners. Make buttonholes on the strap ends and sew buttons atop the bag's edges for quick connect and release.
Add small pockets or a zippered pouch to keep essentials handy in your custom carryall. Muslin prototypes help perfect the design before you sew up your heavy-duty haversack.
Now you can haul gear hands-free on any adventure.
Adding Adjustable Straps With Brass Pieces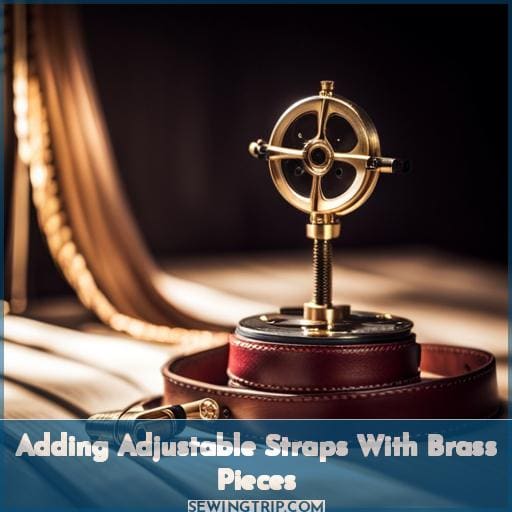 After assembling the haversack, you'll wanna add adjustable straps with brass pieces for a custom fit. Girlfriend, this is where we make it our own! Cut two lengths of durable webbing or strap material to your desired size.
Snip the bottom corners at an angle so they'll slide through the brass adjusters smoothly. Attach your strap pieces to the back corners of the haversack with reinforced stitching or rivets. Then slide the angled strap ends through the brass strap adjusters and fold them over.
Secure with stitches across the folded section. Voilà, custom adjustable straps let you modify the length and get the perfect fit for your body.
Creating Buttonholes and Optional Button Placement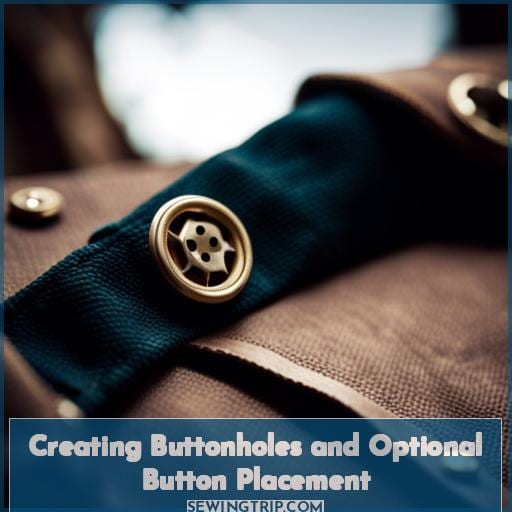 Now we arrive at the most creative part of making your haversack – the buttonholes and buttons! Use buttonholes to attach the adjustable straps. You can get fancy with button varieties, like leather loops, toggles, or metal rings, for a unique look.
When sewing the buttonholes, go slow and reinforce with multiple passes for durability.
Mark buttonhole placement precisely with fabric marker.
Use interfacing behind the buttonhole area for stability.
Set the machine to a narrow zig-zag stitch for buttonholes.
Carefully cut buttonholes open with a seam ripper/knife.
Sew buttons opposite the finished buttonholes.
Decorative buttons allow you to customize your haversack and make it your own. Have fun choosing unique closures to showcase your personality!
Step-by-Step Process for Making a Muslin Haversack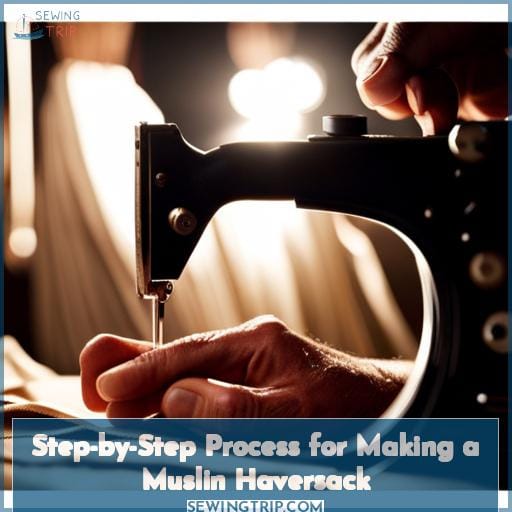 You'd make a muslin haversack by layering muslin with a strong interior, securing durable webbing on its angled edges.
Start with two layers of lightweight muslin for the main body, reinforcing stress points with an extra layer or two. Muslin's soft hand makes it ideal for prototypes, allowing you to test the design before committing to pricier fabric.
Mark and cut the pieces using sharp shears, leaving plenty of seam allowance. Machine baste with a long stitch so adjustments are simple. Check the fit on your form, pinning any excess. Trim seam allowances and finish raw edges with pinking shears.
Topstitch final seams for security. Hand tack webbing at sharp angles rather than machine sewing to prevent tearing.
Now you can carry your muslin model to test it on the move before executing the final version.
Design Considerations for a Custom Backpack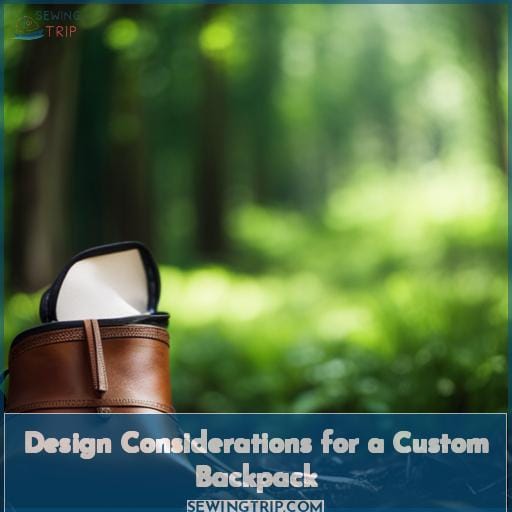 As an experienced seamstress, first consider how you'll use the backpack daily. Will you carry heavy textbooks or need exterior attachment points for camping gear? These factors impact the dimensions, fabric choices, strap design, and hardware required.
Next, sketch orthographic views from multiple angles to conceptualize the overall form and component layout before drafting a pattern.
Ergonomic considerations for fit
When designing your custom backpack, consider how it will fit your body.
Visualize the backpack on your frame as you make design choices.
Think about the height, width, and contours required for comfort.
Test strap lengths and positions on a mannequin or willing volunteer.
Choose padding thickness and shape for optimal support.
Refine the design through wearability testing and feedback.
With an understanding of ergonomics and fit, you can create a backpack uniquely tailored to you.
Material durability and strength
Choosing durable, high-strength fabrics allows you to craft a long-lasting pack that withstands years of heavy use without failure. For example, Kevlar is 5 times stronger than steel on an equal weight basis. Test sample swatches under strain to find the optimal fabric before committing to a full yardage purchase.
Prioritize materials like ballistic nylon and Cordura that offer unparalleled durability for the daily demands of your adventurous lifestyle. With careful planning and testing, you can sew a sturdy haversack built to last a lifetime.
Customization and personalization options
The versatility of materials and closures enables endless customization of your pack's style and functionality. Let your imagination run wild when selecting fabrics. Mix textures like canvas and leather for the main body and straps.
Add pops of color with binding tapes or bold zipper pulls. Customize the shape with extra pockets or cinched side panels. Personalize it with appliques, embroidered patches, hand painted designs. Studs, rhinestones and other embellishments let you make it your own.
Creating and Editing a Pattern for a Backpack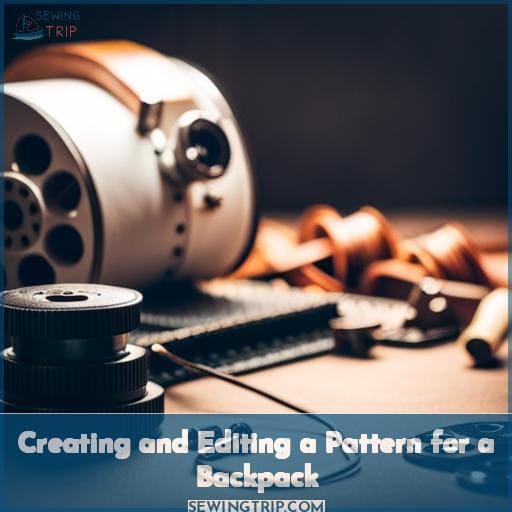 You've nailed down the design for your custom backpack. Now it's time to bring it life with a pattern. Grab your pattern making tools – paper, pens, ruler, French curve. Sketch orthographic views of your pack, ensuring accurate measurements.
Trace these onto pattern paper, adding seam allowances. Mark clearly – pieces, grainlines, notches.
To test the pattern, cut it from muslin. Pin pieces together, sew, try it on. Make adjustments based on the fit. Is it comfortable? Functional? Tweak the pattern as needed. Once satisfied, cut your final fabric.
Lay out pattern pieces efficiently. Cut sharp and precise with shears or rotary cutter.
With your custom pattern perfected, you've crossed a major milestone. Continue constructing straps, padding, pockets.
Sewing and Assembling the Backpack Components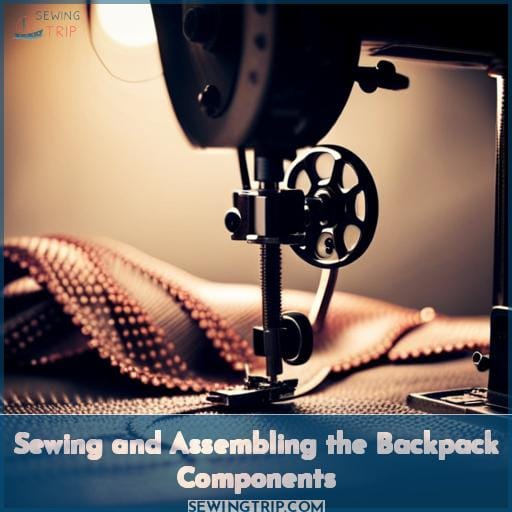 With care and finesse, simply sew each component in proper order as a tailor stitches a fine suit.
Shape the sturdy fabric into form.
Craft the straps with precision.
Unite each piece to manifest the vision.
As you assemble the backpack components, reflect upon your intention for this creation. Will it carry books through the forest or tools up the mountain? Design it to empower adventures yet unimagined. With patience and purpose, let every stitch bring it to life. Soon you'll don this durable haversack and embark upon the trail, confident in your craftsmanship.
Conclusion
Making a haversack is like painting a masterpiece–it takes patience, skill, and the right supplies. With the right materials and measurements, you can create a stylish, durable haversack that will last for years.
From constructing the shoulder strap to adding adjustable straps with brass pieces, and creating buttonholes and optional button placements, the step-by-step process outlined in this guide makes it easy to sew a haversack.
Whether you're a fashion designer, sewing instructor, or experienced seamstress, you can create a beautiful haversack with the help of this tutorial.