This site is supported by our readers. We may earn a commission, at no cost to you, if you purchase through links.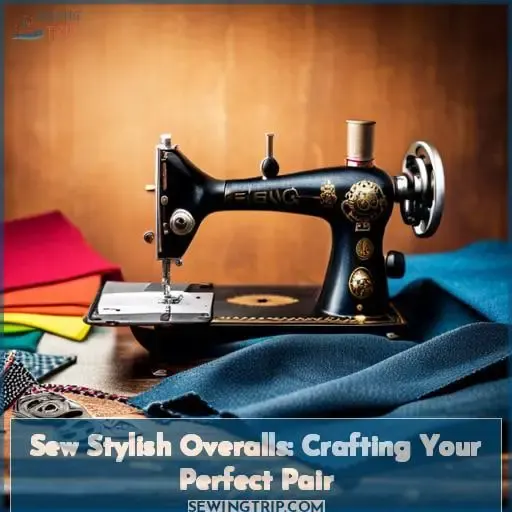 Mastering the Art of Sewing Overalls
Embrace the world of fashion craftsmanship as you delve into the exciting realm of sewing overalls. Whether you're a seasoned creator or just stepping into the sewing scene, crafting your very own pair of overalls is a liberating journey that resonates with the desire for empowerment and style mastery.
Overalls, with their unique blend of comfort and chic, provide a canvas for your imagination to flourish.
Begin by selecting the perfect pattern, tailored to your style preferences, and choose a fabric that speaks to your vision. Dive into the step-by-step process of cutting and assembling the pieces, masterfully attaching the bib and straps, sewing the leg seams, and adding those exquisite details that define your creation.
Pockets come to life, buttons and buckles add flair, and before you know it, you're on the brink of a stunning masterpiece. Hemming and final touches bring your work to completion, ready to adorn yourself in a creation that's uniquely yours.
With each stitch, you're not just sewing overalls – you're crafting liberation, power, and mastery over style.
Key Takeaways
Gather necessary tools and select the appropriate fabric.
Choose a personalized pattern and button options.
Follow a step-by-step process for assembling the overalls.
Add unique details such as pockets, buttons, and buckles.
Sewing Overalls: Getting Started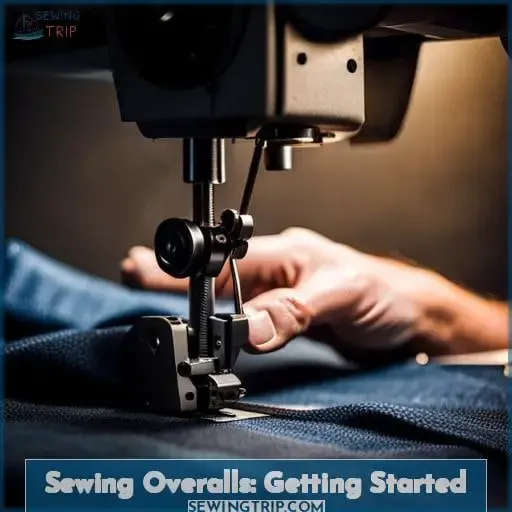 Get ready to dive into the world of crafting your signature all-in-one ensemble as you step into the realm of turning fabric into functional fashion. Unveil the art of sewing overalls with finesse and flair, harnessing sewing techniques that exude creativity and expertise.
Equip yourself with necessary tools like a sturdy sewing machine, sharp scissors, and a reliable measuring tape.
Delve into fabric choices that mirror your style—opt for sturdy denim or lightweight cotton for summer charm. Personalize details to shine, from button choices that add character to pocket placements that reflect your utility needs.
Perfect fitting adjustments with precision, ensuring your overalls hug your body just right.
Seamlessly transition from fabric cutting to assembling pattern pieces, following an intuitive sewing tutorial. Stitch by stitch, watch your vision come alive as you piece together leg seams, create roomy pockets, and attach bibs.
Revel in the satisfaction of crafting your unique overalls, a symbol of your liberation and mastery.
Your sewing journey empowers you to create fashion that's both functional and stylish.
Choosing a Pattern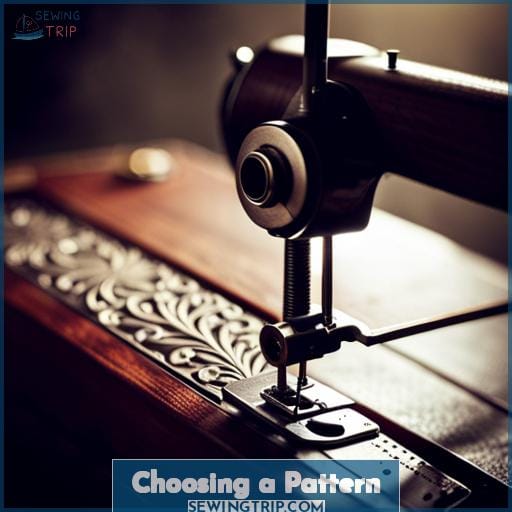 Sure, you're diving into the realm of selecting a pattern – because who needs a straightforward 'get' when you can navigate the labyrinth of design choices like a seasoned creative virtuoso? Embrace the exhilarating dance between tradition and innovation as you explore pattern variations that fuel your DIY inspirations.
Perhaps you'll stumble upon vintage finds that evoke nostalgia or craft your own custom modifications for a personalized touch. Don't shy away from trendy twists – let your overalls' bib and pockets be your canvas for artistic expression.
As you venture forth, keep in mind the invaluable guidance of sewing classes that can unravel complexities. Seek that pattern that resonates with your spirit, unlocking the gateway to your overalls masterpiece.
Your journey of liberation, power, and mastery starts with the perfect pattern choice.
Selecting the Right Fabric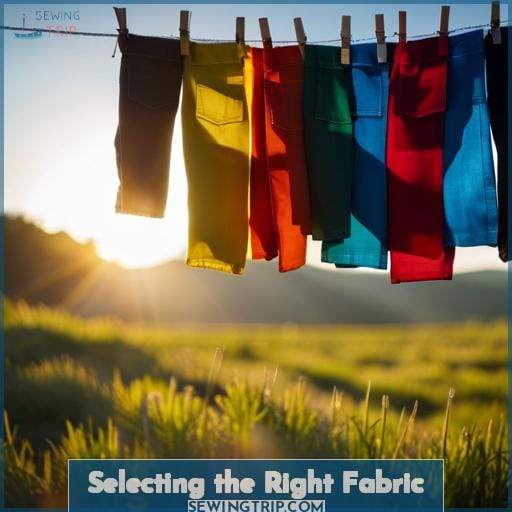 Gee, let your inner fashion visionary run wild with premium fabrics suited for your lifestyle and creative palette. Denim's durable weave lends well to overalls, while corduroy's texture adds visual interest.
For lightweight summer styles, breezy linen or soft cotton poplins keep you cool. Pair bibs and pockets with heavyweight twills or duck canvas for protection. Finish raw edges with pinking shears or interface bibs and straps.
Mark notches and match points, handling medium to heavy materials with care. Whether you're channeling retro chic or workwear durability, choose fabrics wisely for the overalls of your dreams. Experiment with colors, patterns, and textures until you find the perfect match for your style.
Cutting and Preparing the Pieces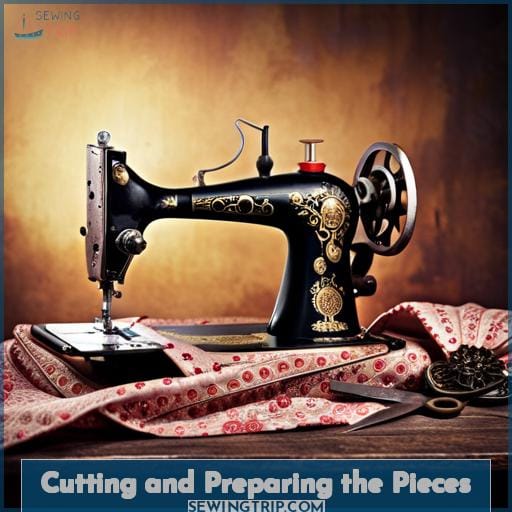 Transitioning from selecting the right fabric, let's dive into the exciting process of cutting and preparing the pieces for your stylish overalls. As you embark on this creative journey, the key is to approach it with a sense of purpose and attention to detail.
Remember these essential points:
Seam Allowance: Be mindful of the seam allowance specified in your chosen pattern. This allowance will ensure that your pieces come together seamlessly, both in design and construction.
Interfacing: For added structure, consider using interfacing on certain pieces like the back waistband and facing pieces.
Pocket Enhancement: Explore pocket styles that suit your preferences. You can opt for pointed pockets to infuse a touch of style and uniqueness to your overalls.
Custom Hardware Choices: Hardware, such as buttons and buckles, offers a chance to express your personal style.
With the fabric fray prevention tools like Clear Fray Check Seam Sealant, you can maintain the longevity of your creations by preventing fraying edges. As you cut out your pattern pieces, you're one step closer to bringing your envisioned overalls to life.
Stay engaged in the process and let your creativity flow as you prepare each piece meticulously.
Assembling the Overalls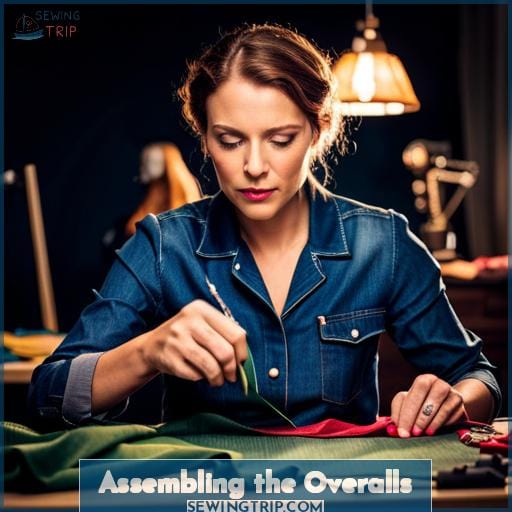 When sewing your overalls, start by attaching the bib piece to the pant waistband. Then sew the inner leg seams together, finish the raw edges, and insert the straps before your DIY dungarees are ready to wear.
Attaching the Bib and Straps
You'll want to carefully align the bib pieces and straps before pinning and sewing them in place. This ensures that the overalls take shape properly. Use scraps of fabric to reinforce the strap attachment points for durability.
Follow the stitch guideline along any curved seams to prevent puckering. Adjust thread weight and stitch length settings based on fabric weaving and thickness.
Sewing the Leg Seams
Next, quickly stitch those leg seams so your overalls take shape before your eyes. Match the interior pant legs and pin them together from hem to waist. Engage the jeans needle and poly thread to pierce the center front, left side seam, and main fabric pieces.
Trim the seam allowance, press it open, then stitch from the hem upward with a reinforced straight stitch. For professional finishes, clean edges ensure longevity – so serge or zig-zag treatments prevent fraying.
Finishing the Edges
Whip out your Clover Buttonhole Cutter to flawlessly finish those edges before topping off your dungarees with polished perfection.
Use a zig-zag stitch to prevent fraying along cut fabric edges.
Finish seams with a serger or clean finishing techniques like bound edges.
Attach elastics securely with zig-zag stitching for comfy overall straps.
Test buttonholes and trim with pinking shears for a clean finish.
With perfectly finished edges, your DIY dungaree overalls will embody the relaxed, homemade look you envisioned for this fun sewing project.
Adding Details and Hardware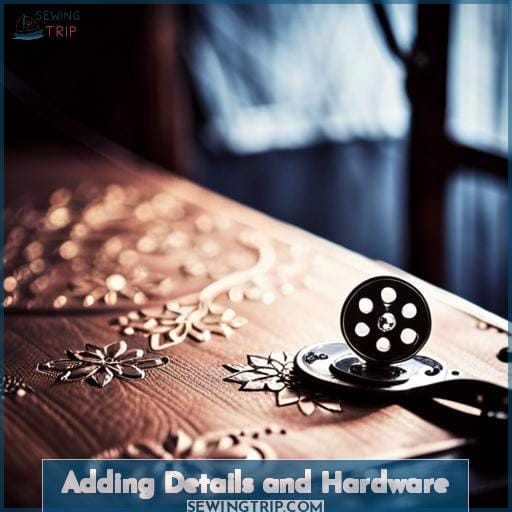 Personalizing your homemade overalls requires thoughtful preparation. Creating the pockets, inserting buttons and buckles, and adding other special touches will complete your one-of-a-kind pair.
Creating Pockets
Choose pockets with strategic placements for functionality when making your overalls. Consider front patch pockets for frequently accessed items. Vertical side pockets allow for secure storage. Back pockets are ideal for tools and other bulky necessities. Keep items secure but accessible, whether gardening or on the job site.
For style, use contrast fabric or design pockets for visual interest. Strategically placed pockets provide convenience and enhanced functionality.
Inserting Buttons and Buckles
Slip those buttons and buckles in quickly, like a snake sliding through tall grass. Align buttons along the inner leg seam for a vintage look. Space back pocket buttons widely for utility. Mark button placement with a fabric pencil before piercing holes. Use sturdy jeans buttons on stress points.
Add contrast stitch detail or topstitching around buckles for style. Insert buckles along adjustable straps, noting measurement marks. A point turner helps guide straps through holes. Enjoy handmade overalls with custom buttons and buckles.
Hemming and Final Touches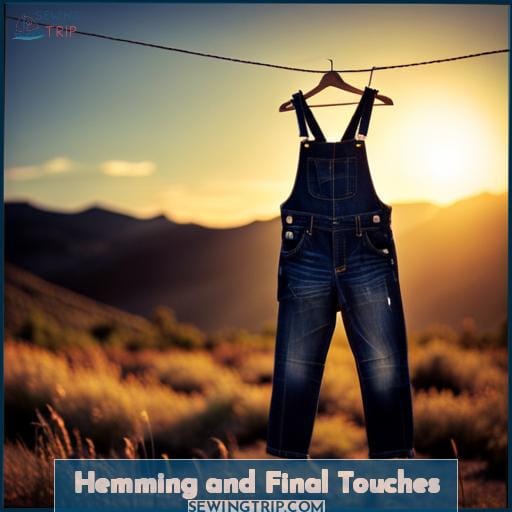 Before showcasing your handcrafted overalls, reinforce stitching and check for any needed alterations to perfect the fit.
Inspect straps and stress points, restitch loose threads.
Add your name or a fun phrase in embroidery on the bib.
Create extra pockets for phone, keys, tools if desired.
Backstitch buttonholes for strength and use buttonhole tape.
Upcycle old jeans into a patchwork pair of overalls.
Creating handmade overalls allows you to customize the perfect pair just for you.
Styling and Wearing Options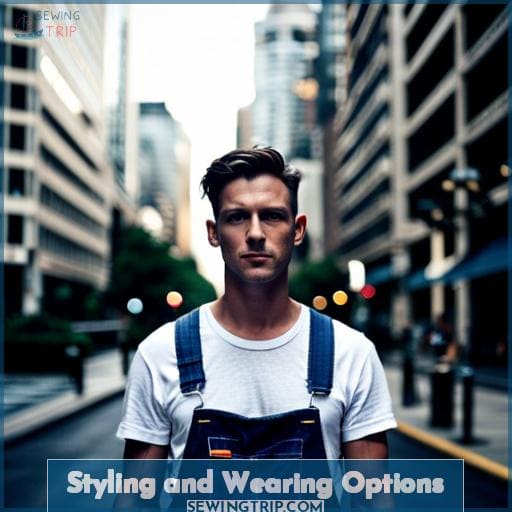 Revel in the freedom of movement once you shimmy into those bad boys. Pair your sassy new overalls with a fitted top to balance the slouchy silhouette. Cropped jeans show off those cute hems. Slouchy boots add some edge while still providing ample support for all-day wear.
Cinch at the waist with a casual belt in a fun color. Accessorize your hair with a scarf or barrettes. Change up the look by wearing your overalls with one strap hanging down. Try a single zipper at the waistband for easy on and off.
Explore different construction methods like the doll overalls pattern or make your own choose your own adventure overalls. However you style them, your custom kitty doll overalls represent creativity and independence.
Frequently Asked Questions (FAQs)
What type of thread should I use to sew denim overalls?
Use a strong denim or jeans needle and polyester thread for topstitching. For construction seams, cotton or polyester all-purpose thread will work well.
My overalls fit everywhere except the waist is too big. How can I take them in?
Take in the waist by opening the seam and pinning the excess to reduce the size. Repair the cut seam allowance and resew for a perfect fit.
I'm petite. What adjustments will I need to make to the pattern?
As a petite sewer, look for petite or shortened patterns. You'll likely need to shorten straps and legs. Taper the legs helps avoid bunching. Stitch darts to take in the waist and seat.
How do I wash and care for my finished denim overalls?
I want to add embroidery designs to the bib pocket. Any tips for ensuring it turns out nicely?
Visualize the bib pocket as a canvas awaiting your artistic touch. Prepare the fabric by stabilizing it so that the threads don't distort the artwork. Hoop carefully and use lightweight stabilizer behind the pocket while embroidering, ensuring that the stitches sink just right, like a paintbrush dancing across the overalls.
Conclusion
After seam-sewing stellar overalls, style them successfully. Seriously swishy soft fabrics stitched sensibly summon stylishly sewn sensations. Serenely stitching separates, secure sensational straps, smoothly settle supremely satisfying sartorial selections.
Sew superbly shaped stylish staples. Sketched simple shapes smartly stitched sew sublime seams, secure superb style. Sewing your own overalls satisfies singularly; stitching straps, shaping structure, smoothly sewing seams, summons stylish separates sewn sensationally.