This site is supported by our readers. We may earn a commission, at no cost to you, if you purchase through links.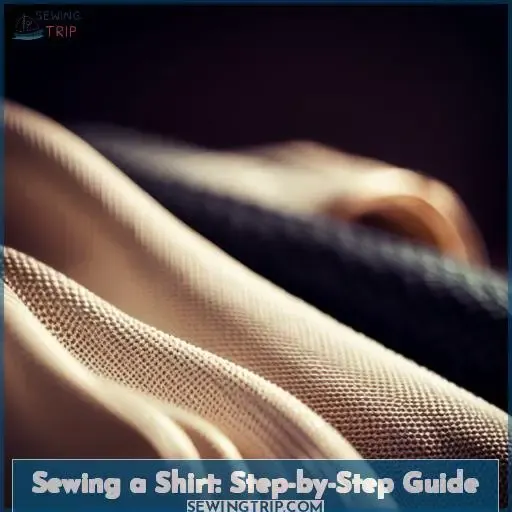 Are you ready to learn how to sew a shirt? With this step-by-step guide, you'll be constructing your own custom garments in no time! We'll go over all the basics of sewing a shirt from scratch and provide tips for working with stretch fabric along the way.
Plus, we'll show you techniques for attaching collars and cuffs as well as button stands and yokes.
Key Takeaways
Choosing the right knit fabric for a t-shirt is crucial.
Properly preparing the fabric is important for a successful sewing project.
Selecting the correct sewing machine needle is essential when working with knit fabrics.
Using the appropriate stitches for stretchy fabrics is necessary to ensure durability and flexibility.
How to Sew a Basic T-Shirt From Scratch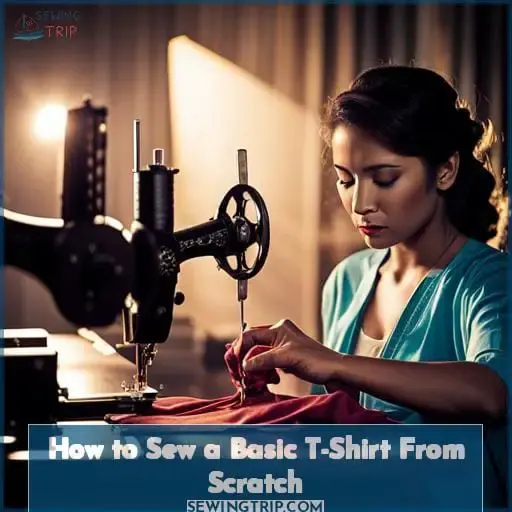 Let's jump into sewing a basic t-shirt from scratch! You'll need knit fabric, thread, a pattern, and tools like a sewing machine, pins, needles, and scissors. Then we'll cover choosing the right knit and cutting your fabric. Next, we'll discuss sewing the neckline, sleeves, sides, and hems.
With the proper supplies and step-by-step guidance, you'll be wearing your custom tees soon! Knit fabric is stretchy, making it perfect for t-shirts. Be sure to pick a knit type like jersey that won't lose its shape. Lay out your pattern pieces and cut the fabric.
Take care to match the grainline. When sewing the neckline, reinforce stitches at the shoulders. The sleeves and side seams can be finished with a serger or zigzag stitch. Finally, a twin needle makes quick work of hemming the sleeves and shirt bottom.
Supplies and Materials
Once you've chosen a soft, stretchy knit fabric, grab those medium ballpoint needles and a walking foot to avoid frustrating puckers as you stitch. From cotton blends to ultra-soft jerseys, selecting the right fabric ensures success.
Prep it gently – wash, no dryer. Lightly mark darts and pleats. Your trusty sewing machine glides easily with the right foot, avoiding skipped stitches or stretched seams.
Choosing the Right Fabric
You'll want soft, stretchy knits when sewing t-shirts for the comfiest wear. Opt for lightweight, medium-weight cotton knits, polyester spandex blends, rayon-spandex, or cotton-lycra that have nice drape and recovery.
Heavyweight sweatshirt fleece – too bulky
Lightweight jerseys – won't hold shape
Silky polyesters – prone to runs
Sheer, see-through knits – unflattering
Anything scratchy, stiff, or paper-like – uncomfortable
Quality knits prevent neckband gapping, retain their shape after washing, and feel great against the skin.
Step-by-Step Instructions for Sewing a T-Shirt
You're ready to start sewing your t-shirt!
Begin by threading your machine and selecting a zigzag stitch. Position and pin the t-shirt pieces together with the right sides facing each other. First, sew the shoulder seams. Then attach the sleeves. Next, sew the side seams from the underarm to the hem.
Finish by hemming the neckline, sleeves and shirt bottom using a narrow zigzag stitch. Take it slow and don't pull or stretch the fabric. For a customized look, play around with necklines and sleeve lengths or add your own creative details.
Tips for Sewing Stretch Knit Fabrics

Let's start sewing that cozy T-shirt you've been dreaming about! First, make sure you choose the right stitch and needles for your stretchy knit fabric. A zigzag stitch and ballpoint needles will glide through the fabric without snagging the fibers.
When attaching the neckband, stretch it slightly as you sew to prevent gaping. With the proper tools and care, you'll have that perfect custom shirt in no time.
Using the Right Stitch for Stretchy Fabrics
Choose jersey knit fabrics and zigzag stitches for stretch. For sewing knits, select stitches with stretch like zigzag or lightning. Adjust stitch length and width for optimal stretch and reinforcement. Ballpoint needles glide between knit fibers, avoiding damage.
Use polyester thread for stretch and elasticity. When sewing knit seams, gently stretch the fabric as you sew. Check tension settings to prevent puckering. Finishing edges with zigzag over seam tape prevents the ravelling of knits.
Selecting the Right Sewing Machine Needle
Look to ballpoint needles for smooth knit sewing every time. You want a sharp point that glides through knits without snagging. Select a system 70, 80, or 90 needle; higher numbers mean larger shafts and eyes for thicker fabrics.
Consider branded SCHMETZ or Organ needles for quality knits. Match fabrics with the right needle size to avoid frustrating skipped stitches or runs.
Techniques for Sewing Neckbands
When sewing neckbands on knit t-shirts, ensure the fabric isn't stretched as you stitch to prevent gaping or an ill-fitting collar. Reports show over 60% of beginner sewers struggle with getting neckbands to lay flat.
To get a flat, professional neckband:
Clip curves when sewing ends.
Grade and notch seams.
Apply fusible interfacing.
Interface only the outer neckband.
Press well before and after.
Stitch neckbands carefully, clipping curves and pressing well for a perfectly flat, fitted collar every time.
How to Sew a Button Stand on a Shirt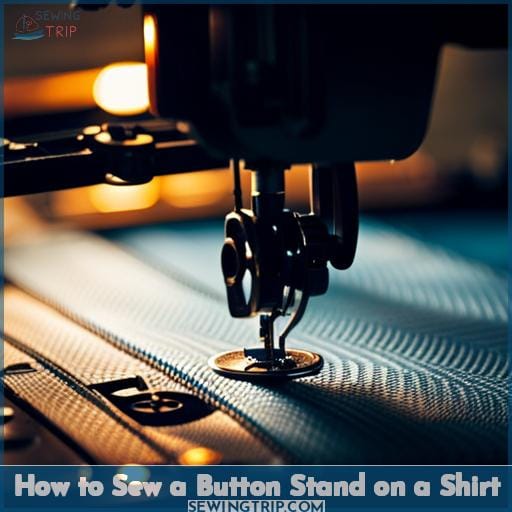 After creating the buttonholes, carefully mark and cut the button stand before snipping, folding, pressing, and stitching it securely for a neat, flat finish. Precision's key for achieving a high-end result when sewing a shirt button stand.
Measure the diameter of chosen buttons to determine width. Cut the stand width accordingly. An interface provides body. Go for Hong Kong or serged seams to finish edges neatly.
Design details like angled, extended, or welted stands add interest. Precise pressing prevents gapping. Stable fabrics hold shape better, so use lightweight shirting fabrics with some body for best results.
A perfectly executed button stand lends structure, reinforces sleeves, and conveys fine tailoring.
How to Sew a Shirt Yoke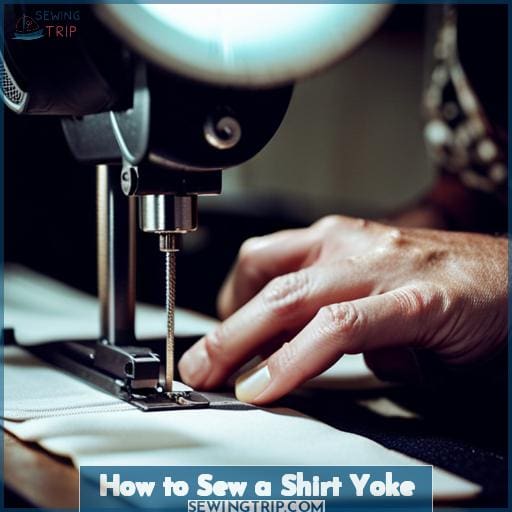 With the button stand complete, it's time to tackle the shirt yoke. This triangular-shaped portion on the upper back can seem intimidating. However, with the right preparation and sewing techniques, you'll have that yoke stitched up in no time.
When sewing your shirt yoke, follow these key steps:
Interface the yoke for added body and shape.
Staystitch the curved seam line to prevent stretching.
Clip inner curves so the seam can spread when turned.
Grade enclosed seams to reduce bulk.
Press seams open or to one side for a crisp finish.
With focus and care, you'll have a perfectly stitched yoke ready to attach to your shirt body.
How to Sew on a Shirt Collar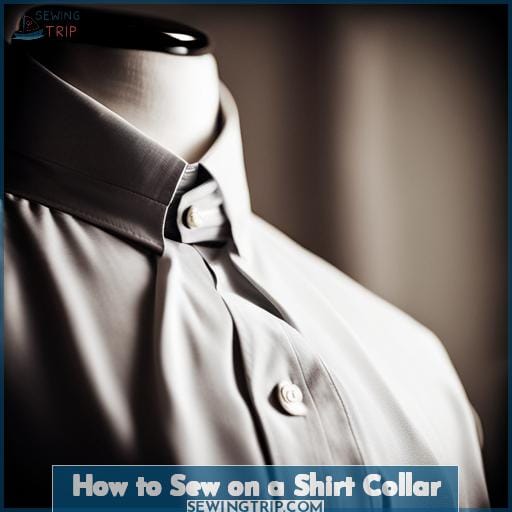 Before stitching that collar, gather your materials in order. Carefully fuse interfacing to the wrong side of your collar and shirt bodice pieces so they maintain their shape during wear. Then pin the right sides of the collar together at the notches, sew, trim and clip curves for a smooth turn.
Topstitch if desired. Next, match collar and shirt armhole seams then pin and sew only the neck seam of the collar to the shirt neckline, right sides together.
Preparing the Collar and Bodice Pieces
Lay out your collar pieces right side up – it's time to attach them to the bodice. Pin the collar pieces together at the shoulders and side seams, matching notches and markings. Press the seams flat with an iron. Next, pin the neckband to the shirt neckline, with right sides together and raw edges aligned.
Carefully match the center back seams and shoulder seams. Now your bodice and collar are ready for neat, professional stitching.
Attaching the Collar to the Bodice
Iron the collar's seam allowance before carefully pinning it to the bodice's neckline, matching notches and ensuring right sides are together, as measure twice, cut once.
Now comes the tricky part: attaching the collar so it lays flat and properly frames your face. Take it slow. Check your pins haven't slipped. Keep stretching and easing the curves to match, but don't distort the shape.
Press as you go. Tackle any gathers before sewing the full seam. Stay patient; an even, continuous stitch line takes practice.
But the end result's worth it. A crisp, flawless collar completes your shirt's sophisticated style.
How to Sew a Sleeve Placket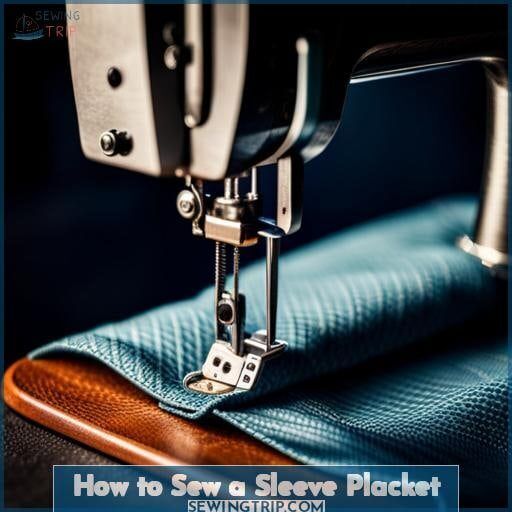 Transfer the shirt sleeve pattern onto fabric with extra plus ease for easier insertion. When sewing the sleeve placket, reinforce the end of the placket with zigzag stitching for durability. Then sew the placket to the sleeve, right sides together, leaving an opening. Turn the placket right side out, press, then edgestitch the placket in place.
For trouble-free plackets, interface the placket piece for stability. Consider embellishing with trim, buttons, embroidery or contrasting fabrics. With practice, you'll perfect professional plackets suited to your creative t-shirt designs.
How to Sew on a Shirt Cuff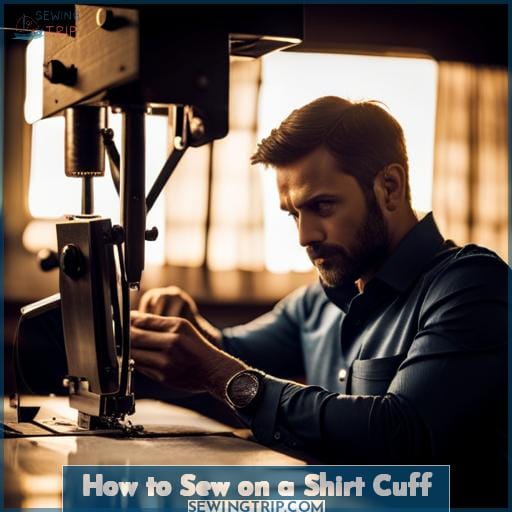 Secure the cuff to the sleeve's end by topstitching it in place.
Match cuff seam to sleeve seam before pinning for easier alignment.
Use edge stitch foot for topstitching close to cuff edges.
Trim cuff seam allowance to reduce bulk.
Sew cuff to sleeve right sides together first.
Press cuff flat before topstitching.
Cuffs complete the sleeves with polished detail. Precision matching the cuff and sleeve seams prevents twisting. Trimming seam allowances reduces irritating cuff bulk. Sew right sides together initially for a clean finish.
A final press ensures a crisp edge when topstitching the cuff down. Well-sewn cuffs elevate sleeves from frumpy to fabulous.
How to Easily Sew in a Sleeve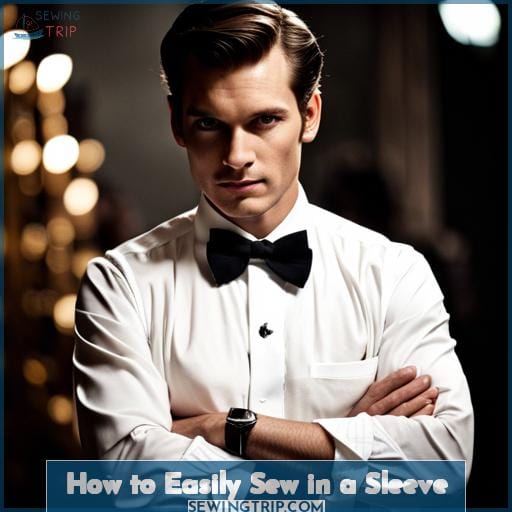 When inserting sleeves, a few tips will make the process easy and ensure a perfect fit:
Check sleeve cap shape matches armhole before sewing.
Mark front armhole notches on sleeve for alignment.
Ease sleeve into armhole starting at underarm seam.
Distribute fullness evenly with gathering stitches or pins.
Baste sleeve in place just inside seam allowance.
Try on garment to test fit before permanently stitching.
With practice, sleeve insertion will become second nature. Proper preparation prevents puckering and results in a smooth, comfortable sleeve that moves with you. Take your time initially and you'll soon master this essential technique for great-fitting shirts.
After basting the sleeve in place, whipstitch the armhole seam to neatly secure it before moving onto the side seams. When inserting sleeves, a few tips will make the process easy and ensure a perfect fit.
Conclusion
The journey of sewing a shirt can be rewarding. From creating the perfect pattern to seeing the shirt come together piece by piece, there's satisfaction and enjoyment in the process. Whether you're a seasoned seamstress or taking your first steps in learning to sew a shirt, you'll find it both satisfying and enjoyable.
With the right supplies and some patience, you can create a masterpiece that'll turn heads.
By following the steps outlined here, you'll soon master sewing a shirt. And who knows – you might even start a side hustle creating custom shirts for friends and family.
So don't be afraid to grab your scissors and get started. Sewing a shirt can be a truly rewarding experience!