This site is supported by our readers. We may earn a commission, at no cost to you, if you purchase through links.
Welcome to the world of fabrics! Have you ever wondered what the difference is between lightweight, thin, and sheer fabric types? Let's start with a case study.
Imagine that you are shopping for a special occasion dress but don't know what type of fabric to choose. You want something light and airy, yet still substantial enough so it won't wrinkle too easily or show through when worn.
Lightweight fabrics such as cotton and polyester may be your best option in this scenario. However, there are also thinner options like silk georgette which could work better depending on how much coverage you need from your garment.
For an even more see-through look, consider one of the many varieties of sheer fabrics available today such as lace or mesh.
In this article, we will explore all three categories in detail, including their benefits, drawbacks, and tips for sewing them correctly.
Key Takeaways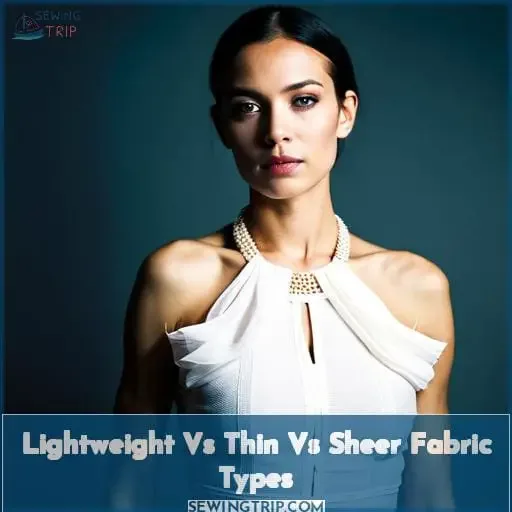 Lightweight fabrics range from 30-150 GSM and can be made of cotton, polyester, or other synthetic blends.
Sheer fabrics like Silk Georgette, Ombre Silk Chiffon, Batiste, Cotton Lawns, and Fairy Feather Silks are popular for their see-through qualities.
Polyester is a durable and affordable option for lightweight fabrics and can be blended with viscose fabrics like batiste, georgette, or chiffon crepe.
Sheer fabrics can be used for clothing, drapes, curtains, window treatments, and decorative accents on furniture and are trending for spring and summer fashion.
What is Considered Lightweight Fabric?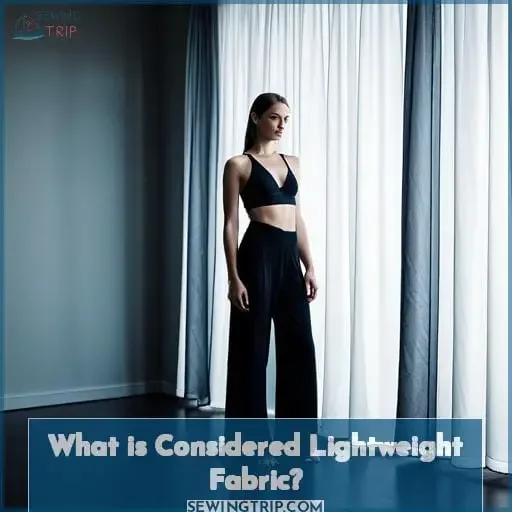 Lightweight fabric can be identified by its weight, which usually ranges from 30-150 GSM. It is typically a loose weave that frays easily and comes in both natural fibers (such as linen and cotton) and synthetic fibers (such as polyester).
European manufacturers offer an impressive selection of lightweight fabrics, including silk georgette, batiste, georgette crepe, and chiffon polyester. When sewing with these delicate materials, it's important to use tissue paper for support and fine pins to avoid snagging the fabric.
Lightweight fabrics are versatile. They can form part of an ensemble or stand alone when combined with sheer panels for texture interest.
What is the Thinnest Fabric?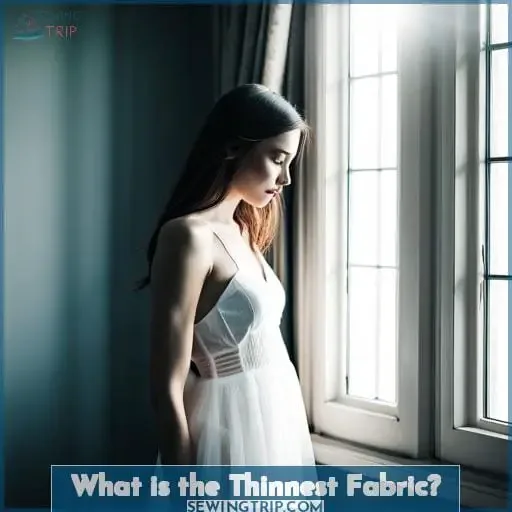 Super Organza is the world's thinnest fabric, weighing in at an astonishingly light 30 GSM. This see-through textile is often used to create glamorous garments that show off intricate details and delicate construction techniques.
European manufacturers offer a variety of sheer fabrics, including Silk Georgette, Ombre Silk Chiffon, Batiste, Cotton Lawns, and Fairy Feather Silks, as well as Crepes made from either silk or polyester fibers.
Super Organza has been popular for its ability to add drama while maintaining breathability with lightweight layers that flatter any figure type without being too bulky or heavy on the body. With its superior drape quality and luxurious feel, this fabric will bring extra elegance to any ensemble, making it ideal for evening wear designs such as prom dresses or bridal gowns.
From subtle hints of sheerness all over a garment to more daring panels of transparency, this material can be manipulated into whatever style you desire, creating an unforgettable statement piece worthy enough for even royalty!
Lightweight Fabric That Doesn't Fray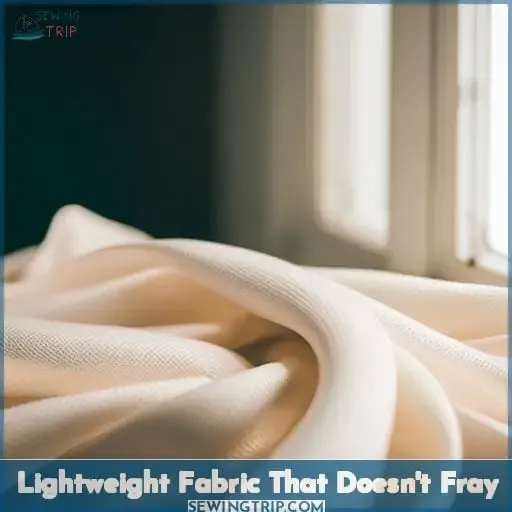 Are you looking for a fabric that won't fray and is lightweight enough to suit your needs? Lightweight fabrics come in many varieties with different fiber contents, weaves, and styles.
Sheer cloths are usually made of synthetic or natural fibers and can feature unique designs such as eyelet cotton or lace. When working with these textiles, it's important to use tissue paper when pinning them together before sewing on the machine.
To add stiffness, you may also want to starch them while ironing. This will help create straight lines if needed for patterns like stripes or chevrons.
Summer trends often include transparent textiles, which provide coverage without being too heavy. They're perfect for those hot days where breathability is key! Eyelet cotton provides extra durability compared with other sheer styles, making it ideal for items that require more strength than usual, such as curtains, tablecloths, etcetera.
Ultimately, there are lots of options available when searching through lightweight fabrics.
Is Cotton a Lightweight Fabric?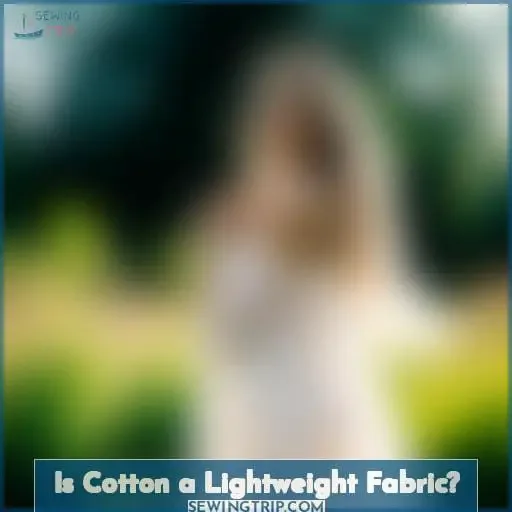 Cotton is an incredibly versatile fabric, so it's no surprise that many people ask if it can also be considered a lightweight option. The answer depends on the properties of the cotton and how it's been woven into fabric.
Cotton fabrics range from light to heavy weights but are not as thin as sheer materials such as batiste, georgette, or chiffon. Generally speaking, however, its durability makes for a lightweight option compared to other fabrics like silk voile, which require more delicate handling and care.
Weighing in at around 30-150 GSM (grams per square meter), depending on the weave style and yarn count used during the production process, cotton provides good coverage without being too bulky or stiff while maintaining breathability for warmer climates.
Ultimately, when selecting your choice of material, make sure you take into account both the comfort level desired along with the aesthetic appeal needed based upon the chosen styling direction for the project at hand!
Is Polyester a Lightweight Fabric?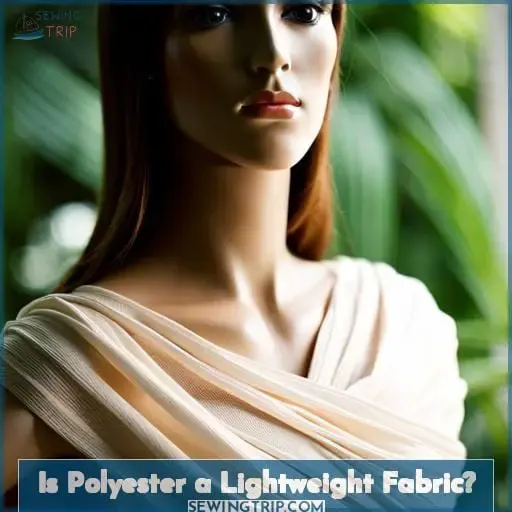 Polyester is a great option for those looking for a fabric that won't fray easily and still has a lightweight feel. It's durable and easy to care for, making it popular among sewers of all levels.
Georgette, chiffon, and fairy feather silk are some types of polyester fabrics commonly used in garments like dresses or blouses.
Polyester also tends to be more affordable than many other materials, so if you're on a budget, it could be your best bet. However, there are some drawbacks as well, such as not being quite as breathable or soft against the skin compared to cotton voile, which can make them uncomfortable during warmer months when worn close to the body.
All in all, though, polyesters have unique qualities that set them apart from other lightweight fabrics, giving you lots of options when creating stylish apparel pieces!
Is Linen a Lightweight Fabric?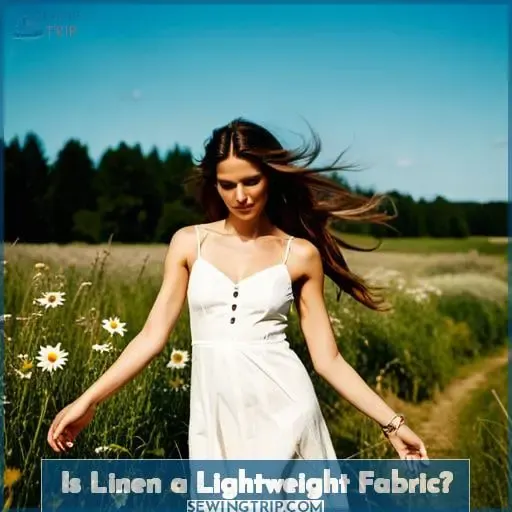 Linen is a naturally sourced fabric that can be lightweight and airy, perfect for creating breezy summer looks. It has high durability compared to other fabrics due to its strength and elasticity. The fibers in linen are also more moisture absorbent than cotton or synthetic materials, making it great for hot climates.
In terms of care, it should be washed with cool water on gentle cycle settings since higher temperatures may cause shrinkage. To maintain the quality of linen garments, they must also be ironed at a medium heat setting while dampened slightly with water or steam sprayers from time to time.
When it comes to styling options, linen offers versatility as well as comfort without sacrificing elegance.
With all these qualities combined, linen is one fabric everyone needs in their wardrobe this season!
Is Twill a Lightweight Fabric?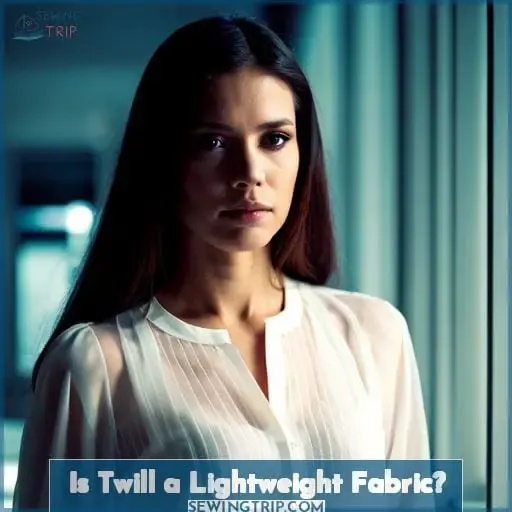 Twill fabric is often mistaken for lightweight fabrics, but do you know the differences between them?
Twill is a durable option that offers excellent breathability and texture. It's not as soft or light as other options like batiste, georgette, chiffon, or crepe. Polyester twills are usually more lightweight than cotton varieties but still remain heavier than traditional lightweight fabrics.
In terms of styling, there's no comparison. Twills offer an elevated look compared to their lighter counterparts due to their increased weight and stiffness, making them great for trousers and skirts alike.
So while twill may be mistaken for being light enough to fit into the category of thin materials, they don't quite meet the mark when it comes down to weighing in at the 30-150 GSM range needed for actual consideration as a lightweight fabric type overall.
Is Viscose a Lightweight Fabric?

Viscose is a popular fabric option that falls in the range of 30-150 GSM, ranging from translucent to opaque and with many potential applications. With qualities similar to cotton but more durability, viscose has become increasingly sought after for its versatility.
Its soft texture adds elegance and sophistication while being lightweight enough for comfortable summer styles.
When it comes to caring for your garments made from this material, regular washing at low temperatures should do the trick! And when styling with viscose fabrics like batiste, georgette, or chiffon crepe, as well as polyester blends – be creative! Structured tops paired with flowing skirts or trousers are just some of the ways you can bring out its unique character without compromising on comfort.
Whether you choose an allover look or add sheer panels here and there, make sure each piece looks perfect before heading out into the world!
Types of Sheer Fabric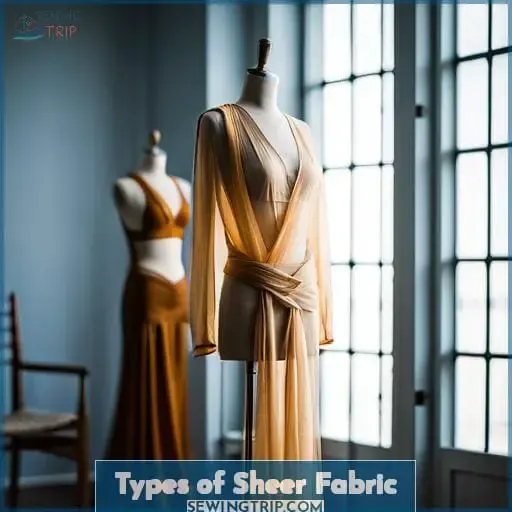 You can find a variety of fabrics that offer the desired level of transparency, from delicate lace to dense mesh. Sheer fabric types range in lightweight draping and sheer quality, making it possible to choose according to your needs.
Batiste is an extremely sheer cotton fabric with a smooth surface and excellent durability for clothing or curtains. Georgette is a semi-sheer polyester crepe with good strength and elasticity suitable for eveningwear or lingerie items.
Chiffon has a soft, flowy texture but lacks stability, so it's best used as an overlay on other garments like skirts or dresses.
Crepes are available in both silk (high shine) and polyester (matte finish), which have similar properties but come at different prices depending on the manufacturer you purchase from.
Sewing Sheer Fabric Tips

When it comes to sewing sheer fabric, the size of your needle and the tension you set can make all the difference. It's important to understand that lightweight, thin, and sheer fabrics are not interchangeable terms – they each require different types of care when sewing.
Needle Size
When sewing with lightweight and sheer fabrics, it's important to use the right needle size for your project. Select a fine-tipped needle to avoid damaging delicate materials like Batiste, Georgette, or Chiffon.
Larger needles may cause snags and tears. Needle selection also affects fabric tension, which helps determine the strength and durability of seams.
Thin Polyester Crepe should be stitched together using smaller needles since thicker threads can disrupt its light drape by causing fraying at the edges of fabric pieces. When selecting a needle for any type of lightweight or sheer fabric, make sure you choose one that is appropriate for both the material type and stitching needs.
Tension
Adjusting the tension of your thread when stitching lightweight and sheer fabrics is essential for creating a professional-looking garment that stands out from the crowd – even if it's so delicate you could almost float away with it! Stitching tension, machine settings, fabric selection, and manipulation are key factors to consider.
Lightweight drapes like Batiste or Georgette require less strain than heavier materials such as Chiffon or Crepe. Polyester threads work better on polyester fabrics, while natural fibers need a different fiber blend.
Best Lightweight Fabric for Dresses

For a dress, you'll want to pick the perfect fabric that is both lightweight and stylish. When selecting your fabric, consider factors such as cotton vs polyester, sheer or solid, and natural fibers such as linen and cotton which are breathable for summer styles but may require more care in washing than synthetic fabrics like polyester and rayon.
Lightweight fabrics such as batiste, georgette, chiffon, and crepe are popular choices for creating an airy silhouette with movement while still providing coverage. These fabrics have different levels of sheerness, so consider how the weave will affect drape as well.
Heavier weaves provide more structure, whereas lighter ones create a softer look that moves freely with the body's curves while staying put on top of skin rather than clinging too tightly or slipping down throughout wear.
Choosing between natural fibers versus synthetic blends can be daunting, but keep in mind tips such as handwashing delicate garments which helps preserve color vibrancy over time, and wearing paler shades during sunny days since black absorbs heat.
Best Lightweight Fabric for Curtains

If you're looking for curtains with a light and airy feel, consider fabrics such as cotton or polyester that weigh between 30-150 GSM. However, when choosing the best lightweight fabric for curtains, there are several factors to keep in mind.
Making choices can be overwhelming without knowing the pros and cons of each option. Batiste is soft and delicate, while georgette offers more durability but may require special care during washing. Chiffon adds elegance but may not hold up well over time compared to crepe, which has better longevity but fewer color options.
Polyester is an affordable alternative that can mimic natural fibers while being easy to maintain. Cost comparison varies from $5-$50 per yard depending on quality. Color selection ranges widely according to fabric type.
Evaluating your needs will help you make the right choice for your home decor project.
How to Wear Sheer Fabrics

Sheer fabrics are a great way to add some extra style and dimension to your outfit. With the right pieces, you can create layered looks for sheer coverage or use accessories like scarves for added color and texture.
Sheer fabrics come in many different types such as batiste, georgette, chiffon, crepe, and polyester – each of which offers its own unique characteristics that make it perfect for styling ideas.
Here are five ways you can wear sheer fabric:
Layer with opaque clothing items – Use a lightweight tank top under a sheer blouse or cardigan over an airy dress!
Accessorize with silk scarves – Wear them around your neck or tie them onto handbags/purses for an unexpected touch!
Add volume with ruffles & pleats – These details help bring structure to any look while adding movement when walking down the street!
Choose bold patterns & prints – From dainty florals to graphic animal prints; there's no limit on what kind of statement piece you can find in this type of fabric choice!
Finally, don't forget about the importance of fit when wearing these materials – proper tailoring will ensure all those layers stay put without feeling too tight against your body.
Spring/Summer Sheer Trend

This spring and summer, why not add a touch of sheer to your wardrobe? Sheer layering, silhouettes, and accessories are all trending this season. Choose from lightweight fabrics like batiste or georgette for added texture and movement.
Alternatively, opt for something more delicate with chiffon or crepe. Sheer polyester is also an option if you want a little extra coverage but still want to make the most of the trend.
Accessorize with sheer scarves or handkerchiefs tied around wrists as bracelets – perfect for adding some color without overloading on fabric! Alternatively, try wearing skirts in multiple layers of different sheers.
It'll give you that beautiful ethereal look so popular this season, no matter what your size! Finish off any outfit by incorporating lacy accents into jewelry pieces like earrings and necklaces.
So embrace these new trends this spring/summer, show off those curves (or lack thereof), and let yourself shine through!
Sheer Fabric Collection

You'll love exploring the collection of beautiful fabrics that vary in degrees of transparency. From Organza to Batiste, Georgette, and Chiffon, there are endless possibilities for creating stunning outfits and accessories.
Polyester sheer fabric is also a popular choice as it's lightweight yet durable.
Here are some key uses for these materials:
Sheer clothing such as lingerie or evening gowns
Drapes, curtains, or window treatments
Decorative accents on furniture like cushion covers and lampshades
These European-made textiles come in a variety of colors with varying levels of opaqueness, so you can easily create just about any look imaginable! Crepe is another wonderful option; its delicate texture gives an ethereal touch while its strength makes it ideal for drapey blouses or long skirts.
Whichever way you choose to use them, sheer fabrics offer versatility that will add elegance to your wardrobe without sacrificing comfort!
Frequently Asked Questions (FAQs)
How do I identify lightweight fabric?
Lightweight fabrics weigh between 30-150 GSM and are usually made of cotton or polyester. The level of sheerness in sheer fabrics is determined by denier, and common types include lace, mesh, and silk.
What is the difference between lightweight and sheer fabrics?
Lightweight fabrics are typically between 30-150 GSM, while sheer fabrics can range from translucent to completely see-through. Both natural and synthetic fibers can be used for both types of fabrics, but the level of sheerness in sheer fabrics is determined by denier.
Specific sewing requirements are necessary for both types of fabrics, including the use of tissue paper, fine pins, and appropriate needle sizes.
What is the best way to sew lightweight fabrics?
To sew lightweight fabrics, use tissue paper, fine pins, and the appropriate size needle and thread. Adjust the machine settings to a lower level and avoid pulling or pushing the fabric. This will result in perfectly sewn garments that have a professional appearance.
What are the most popular lightweight fabrics?
Popular lightweight fabrics include cotton, polyester, linen, and viscose. Super Organza is the world's thinnest fabric for those seeking sheerness. For an elegant look, try silk georgette or ombre chiffon, while flocked tulle adds texture to any outfit.
All these options are available from European manufacturers with prices ranging from $32 to $117 per meter.
Are there any special care instructions for lightweight fabrics?
When caring for lightweight fabrics, it is important to use fine pins for pinning, along with tissue paper and the appropriate needle size. To achieve the best results, use a lower machine setting and avoid pulling or tugging too hard.
Additionally, incorporating alliteration can enhance the aesthetic appeal and create an engaging experience for the reader.
Conclusion
Lightweight, thin, and sheer fabrics have become increasingly popular for wear in all seasons. They are versatile and can be used to create a variety of looks, ranging from subtle to bold. When sewing with these delicate fabrics, it's important to use the right tools and techniques to ensure a successful outcome.
With the right materials and a bit of patience, you can create stunning garments and accessories that will stand the test of time. Whether you're looking for the perfect material for a dress or a curtain, lightweight and sheer fabrics are the way to go.