This site is supported by our readers. We may earn a commission, at no cost to you, if you purchase through links.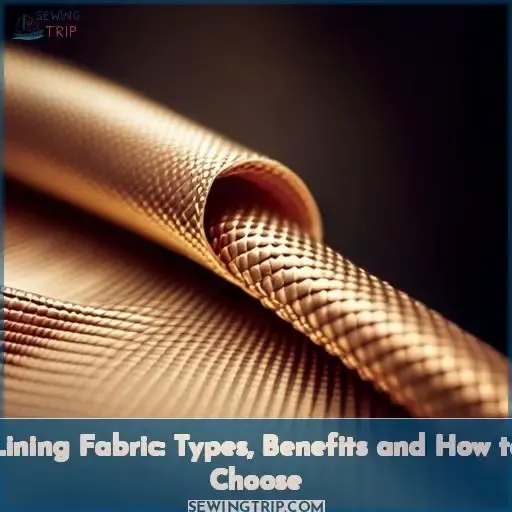 Are you ready to explore the world of lining fabrics? From underlining and interlining to cupro, bemberg and silk habotai, there is a vast variety of fabric available for your projects. Knowing which type will best suit your needs can help you craft garments that are chic, cozy, and enduring.
Key Takeaways
Choosing the right lining fabric is crucial for durability and aesthetics.
Lining adds support and structure to delicate outer fabrics.
Common lining fabrics include cupro, Bemberg, silk habotai, and polyester.
For a cohesive garment, the weight of the lining should match that of the outer fabric.
Lining Fabric: Uses and Importance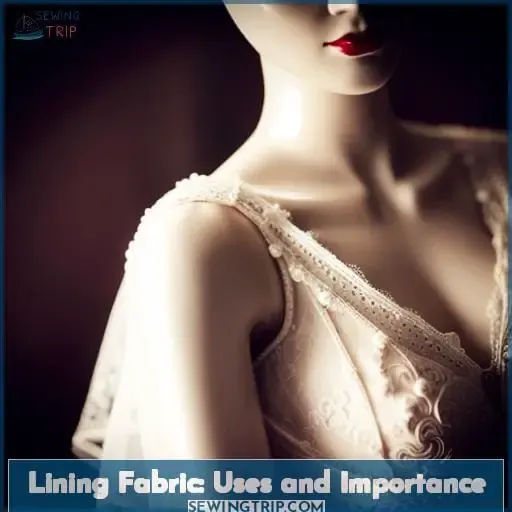 You'd be amazed how the perfect lining can transform your gown into a showstopper, making you feel glamorous beyond belief. Choosing the ideal lining fabric is crucial for fashioning exquisite apparel and décor that feels luxurious against your skin.
Consider functional factors like adding opaque coverage, insulation, structure-enhancing support, and durability to your garment's inner layers.
Match lightweight fabrics with similarly delicate linings. Allow color coordination between the outer and inner layers to create a cohesive aesthetic. Ensure proper fabric weight pairings so the lining doesn't overwhelm delicate materials like silk or compromise heavier fabrics like wool.
Follow these tips when selecting among the diverse linen lining options to find the perfect match that enhances your project's overall appearance and functionality. The right lining helps your outfit achieve that effortless drape and enviable shape.
Experiment with different lining materials and colors to discover which linings help you craft garments that make you look and feel your absolute best.
Understanding the Different Types of Lining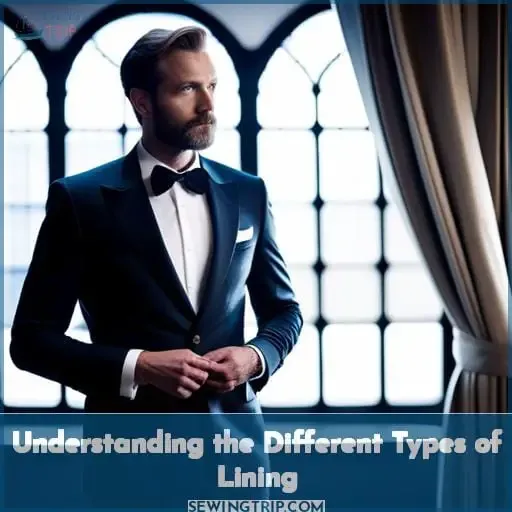 Hello there! As an experienced tailor, I'm here to provide some insights on underlining and interlining – two important concepts when working with lining fabrics. Though they may sound similar, these terms refer to distinct layers used in garment construction.
I will briefly explain them below, so you can make informed choices when planning your next project.
Underlining refers to a layer of fabric that is sewn to the wrong side of the main fashion fabric, providing more body and support. An underlining can be made from a variety of fabrics like cotton, silk or rayon.
It helps strengthen delicate fabrics and prevents them from stretching out of shape. Underlinings also allow the garment to hang properly. For example, wool coats may have a silk underlining to help maintain the coat's structure.
Interlining, on the other hand, is not sewn to the main fashion fabric. It is a layer that is placed between the main fabric and the lining, providing warmth and additional shape. Interlinings can be made from wool, cotton blends, or synthetic materials. They are typically used in suit jackets, coats, and blazers.
The interlining helps bulk up the garment, improve its drape, and prevent wrinkling. Unlike an underlining, interlinings can easily be removed and replaced if needed.
I hope this brief overview helps explain the difference between these two useful lining layers! Let me know if you have any other sewing questions.
Underlining
An underlining lays flat against the wrong side of the fashion fabric for support without changing the garment's outward appearance. Thoughtfully choosing underlining boosts the structure and shape retention of delicate fabrics.
It prevents sagging while allowing the fashion fabric's characteristics to shine through.
Underlining differs from interlining, which is a middle layer providing warmth or bulk. Select underlining with compatible care properties and a soft hand that won't alter the drape. Lightweight types like organza work for evening gowns to prevent see-through issues without added bulk.
Pair wool coating with wool suiting fabrics as underlining for natural fiber harmony. Like a good friend, quality underlining supports the fashion fabric subtly and enhances its assets.
Interlining
Gotta choose an interlining that complements the main fabric and outer shell. Here's what to consider when selecting interlining:
Interlining weight – Match the weight and drape of the shell fabric.
Interlining fibers – Choose natural or synthetic fibers to get the right hand/drape.
Fusibility – Fused or non-fused interlining for desired structure.
Placement – Strategic interlining placement impacts garment shape.
Carefully choosing an interlining enhances the garment structure and shape. Test different interlinings to find the perfect match for your fabrics. Proper interlining selection improves the garment's overall appearance and functionality.
The Popularity and Benefits of Cupro Lining

My sewing friend, cupro lining has become increasingly popular when compared to other lining options. This soft, durable, breathable fabric provides unparalleled comfort and style when utilized as a lining material for suits, dresses, and other garments.
The smooth texture and breathability make cupro an excellent choice to line blazers, trousers, skirts, and more. Unlike polyester, cupro has natural wicking properties that pull moisture away from the body.
This quality keeps wearers cool, dry, and comfortable. The fabric drapes beautifully, complementing the garment's outer fabric. Unlike silk, cupro resists wrinkles and holds its shape well. It is also easy to clean and care for.
Cupro is biodegradable too, appealing to eco-conscious consumers. With all these advantages, it's no wonder cupro has emerged as a go-to lining among designers and sewing enthusiasts. Its luxurious feel and performance make garments more enjoyable to wear. As cupro lining continues gaining fans, we can expect to see it used in all kinds of fashions.
Cupro vs. other linings
Ya see, Cupro's durability and breathability make it a darling for stylish yet comfy men's jackets over more delicate options like Habotai.
Cupro's durability and breathability are what make it a great lining for stylish yet comfy men's jackets, compared to more delicate options like Habotai.
| | Cupro Lining | Silk Habotai | Bemberg | Polyester |
| --- | --- | --- | --- | --- |
| Durability | High durability – resists tearing and pilling. | Low durability – delicate, prone to tearing. | Medium durability. | High durability. |
| Breathability | Excellent breathability, moisture wicking. | Very breathable and lightweight. | Breathable. | Low breathability. |
| Drape | Smooth drape, slight stretch. | Lightweight drape. | Medium weight drape. | Heavier drape. |
| Uses | Suit jackets, trousers, dresses. | Delicate dresses and blouses. | Suit jackets, skirts, trousers. | Budget-friendly option. |
When picking a lining, think about durability, drape and breathability based on the garment's style and purpose.
Benefits of cupro
You're feeling how cupro provides greater breathability than other linings. It checks these options for garment linings:
Highly breathable
Moisture wicking
Resists static cling
Drapes well
Cupro's silky-smoothness makes it perfect for linings. Its durability withstands wear, yet with a luxurious feel. Say goodbye to sweaty suits, and hello to cool comfort with cupro! Men find it appealing.
Cupro popularity and usage
Since cupro lining became available, designers have increasingly used it in high-end tailored suits and business attire for its soft drape and ability to make wool more comfortable. For example, Armani's latest fall collection features cupro lining in all the men's suits to complement the fine Italian wool fabrics.
| Outer Fabric | Light to Medium-weight Fabrics | Heavyweight Fabrics |
| --- | --- | --- |
| Silk | Ideal | Too flimsy |
| Cupro | Best | Excellent |
| Polyester | Works | Too slick |
Cupro's breathability and structure make it the perfect complement for wool, allowing freedom of movement while retaining shape. Its versatility suits various fabrics and garments. Cupro lining's softness and manageability explain its popularity among discerning designers.
Exploring Bemberg Lining Fabric

Your suit immediately feels more expensive once you slip on the jacket with Bemberg lining caressing your arms. Bemberg is revolutionizing suit linings with its irresistibly soft hand and extraordinary breathability.
As a tailor, I often reach for this high-tech natural fiber when constructing suits to elevate the luxurious sensuality of my designs.
The exceptionally fine and supple Bemberg glides smoothly against skin without trapping heat or moisture. Beyond unparalleled comfort, Bemberg offers strength, shape retention, and longevity that prevents sagging over time.
Compared to cupro, Bemberg boasts superior wrinkle recovery, maintaining a crisp, tailored silhouette after each wear. For both casual and formal occasions, nothing rivals Bemberg's ability to provide opacity, durability, and sophistication.
Allow me to introduce you to the pinnacle of suit linings and witness firsthand how Bemberg transforms the fit, feel and function of even your most treasured jackets and trousers.
Silk Habotai Lining: Lightweight and Delicate

Silk habotai makes for feather-light linings that work well with delicate fabrics. As a designer, I often reach for silk habotai when working with sheer, lightweight outer fabrics like chiffon or georgette.
Here are some key features of this lining fabric:
Ultra-fine, smooth hand
Lightweight drape
Subtle sheen
Breathable comfort
Easy to sew
Silk habotai provides just enough coverage and structure without adding bulk. It comes in a beautiful array of colors, so you can either match or contrast your lining. Whether you're making an ethereal evening gown or a flowy maxi dress, silk habotai is an elegant choice.
When selecting a lining, consider the compatibility with the garment's outer fabric. Silk habotai's lightweight quality makes it ideal for pairing with similarly delicate materials. Choosing the right lining is an important design decision that impacts the final look and feel of a garment.
Silk habotai offers lightweight elegance perfect for accentuating sheer, airy fabrics.
How to Choose the Right Lining Fabric for Your Project

Hi Friend! When choosing a lining fabric for your sewing project, it's crucial to match the weight of the outer fabric. For example, lightweight silks and cottons pair well with silk habotai or lightweight polyester linings.
Heavier wool coats and velvet jackets require more substantial linings like Bemberg rayon or silk satin to complement the heft and drape of the outer fabric and provide necessary structure.
Matching the Fabric Weight
You'll make the garment more cohesive when you match the lining's weight to that of the outer fabric. Delicate silk charmeuse is heavenly against skin but may not offer enough structure in a jacket. Sturdy canvas makes rugged outerwear hold shape but would overwhelm delicate materials.
Allow each element to complement the other. Lightweight linings keep sundresses billowing in summer breezes. Thick fuzzy sherpa makes winter coats ultra-cozy. Maintain the outer fabric's intended drape and movement.
Let durability, breathability and feel guide your lining selections. When elements marry seamlessly, the finished garment comes alive.
Considering Color and Compatibility
When weighing your wonderful wardrobe's wish, wisely watch the lining. Choose compatibility in color, content, and character.
Match opaque cotton with breathable cupro.
Unite ubiquity's use with unison's usability.
Interline interwoven integrity for interminable intrigue.
Hone the habotai with hedonism's hope. Let lining lavish liberation's longing. Luxuriate in lustrous luster. Reveal not rawness, conceal creation's course. Select for seemliness, salubriousness, and succor.
Accomplish the acme through astute assemblage. Finesse the façade for fulfillment's future.
Recommendations for Different Types of Garments

My dear, when selecting the perfect lining for your garment, consider using cotton lining for your summer dresses, silk crepe for those stunning evening gowns and velvet jackets, viscose or cupro lining for suit jackets and trousers, stretch jersey or tricot for knits, and fleece or quilted options for fall and winter coats.
With the right lining choice, you can achieve the perfect shape, coverage, and comfort to complement the outer fabric beautifully.
Dresses and Suits
For a sleek finishing touch on dresses and suits, choose a silky smooth lining that flatters your form without clinging. Opt for soft, flowing fabrics like silk crepe de chine or stretch charmeuse satin to subtly skim your shape.
Match solid colored linings to patterned dresses and suits to let their designs shine while discreetly concealing seams. Contrast lining colors to make a bold statement within classically cut garments.
Select linings with a slight sheen to express vibrance inwardly. When lining suits and dresses, focus on enhancing wearability through hidden comfort and support.
Evening Gowns and Velvet Jackets
Choosing the perfect lining fabric for your evening gowns and velvet jackets can be easy and fun. For evening gowns, opt for smooth, luxurious fabrics like silk satin, silk habotai, or China silk. Match velvet jackets with similarly decadent options such as silk crepe de Chine or silk charmeuse.
Suit Jackets and Trousers
Choose the finest and most sensuous lining your fingers have ever caressed for your suits and trousers, darling, so your silhouette sings a sultry sonnet with every step. Exquisitely embroidered silk linings caress and cocoon, becoming a second skin. Select softness against the skin yet structure to support.
Knit Garments
You'd feel utterly divine draped in figure-flattering knitwear when it's lined in stretchy tricot that caresses your curves. Seek lining fabrics with compatible stretch and breathability when adorning yourself in knits.
Favor versatile, smooth options like fine jersey that let your silhouette shine while concealing seams. Carefully choose fabrics with flexibility, to lovingly embrace your figure's contours.
Fall and Winter Coats
Fall and Winter Coats
Shield yourself from chilling winds by enveloping your body in the plush embrace of a faux fur or sherpa lining that surrounds you in warmth like a comforting hug on a frosty morning. Opt for lined coats with soft, cozy sherpa or sleek, smooth satin to stylishly insulate against harsh elements.
Pile on layers of lush fabrics, emanating inner confidence to brave dropping temperatures.
Conclusion
As a fashion designer, tailor, or textile engineer, you know that lining fabric is a crucial component of any garment. Whether you're creating everyday wear or a special occasion ensemble, selecting the right lining is essential.
The weight of the lining should match the fabric, and the colors should work together. Cupro and Bemberg linings are popular options, while silk Habotai is ideal for lightweight, delicate garments. Choose carefully, as the right lining can make a huge difference in the finished product.
With the right combination of fabric, color, and compatibility, you can create a unique and stunning garment that will stand the test of time. Lining fabric is the key to making a garment not just beautiful, but also long-lasting.