This site is supported by our readers. We may earn a commission, at no cost to you, if you purchase through links.
You've come to the right place if you're looking for stylish sewing machine covers! Whether you want something that's ready-made or prefer a do-it-yourself approach, there are options out there to fit your needs.
From custom patterns and sizes to materials and designs, having the perfect cover for your sewing machine is within reach. Let us be your guide as we explain how a little creativity can go a long way in protecting this valuable tool while showing off your personality at the same time.
Key Takeaways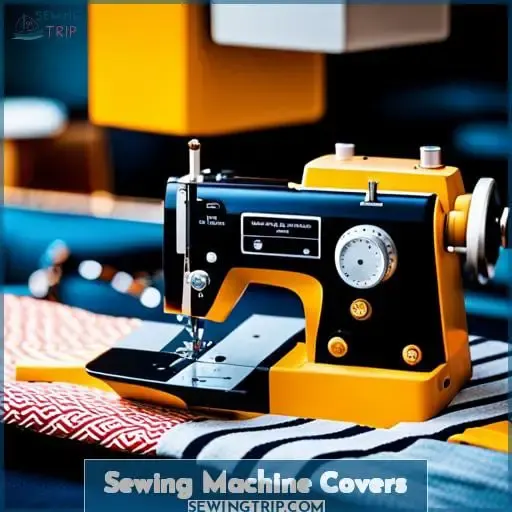 DIY Sewing Machine Cover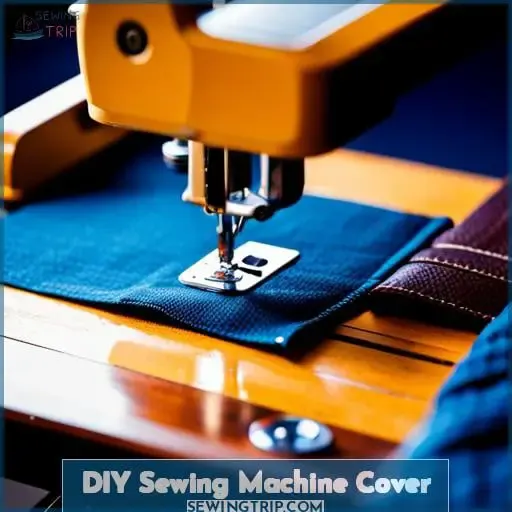 You can make your own DIY sewing machine cover with the right materials and a few simple steps. To get started, you'll need fabric, foam stabilizer, bias binding strips, a heavy-duty needle, and a walking foot for quilting.
Follow instructions to cut and join pieces of fabric together, as well as tips for adjusting trim while sewing.
Materials Needed
To make your own sewing machine cover, you'll need fabric, foam stabilizer, binding strips, and a heavy-duty needle – plus a few other items. Cotton fabric and flexible foam stabilizer create the quilt sandwich for the main body of the cover.
Bias binding is recommended for curved edges, while walking foot techniques should be used to quilt it together. A marking pen will help mark center panels when sewing them together with a stiletto. Wonderclips hold layers in place during this step, as well as when attaching pockets or handles.
Finally, fold-over elastic can be added for an optional mesh pocket before finishing off with topstitching around all edges.
Steps for Making the Cover
You can customize your own DIY sewing machine cover with pockets, handles, and more – it's easier than you think! Begin by measuring fabric for the size of your regular-sized cover. Cut two panels for the front and back, then join them together using a walking foot technique.
Flatten seams before binding the bottom edge with bias trim to complete the quilting sandwich.
Add optional pieces such as a zippered pocket or a piece of mesh fabric to one side. Use wonderclips when attaching pockets and handles, and topstitch binding around all edges once in place. Finally, finish off by adding fold-over elastic (if desired) to create an adjustable mesh pocket if needed.
Tips and Tricks for Sewing
Gain an edge when crafting your DIY project with tips and tricks from experienced sewers!
A fabric marking pen is essential for marking the center of panels. Pressing binding strips before use helps create seamless bindings. Julia chose to make cuts in her fabric for curved edges, which made bias trim attachment easier.
Choosing the right quilting techniques, such as a walking foot technique, can help bring out desired patterns and textures. Adjusting tension correctly affects how stitches look on both sides of the cover.
Flexible foam stabilizer lends shape to open-style covers, while free pattern templates provide inspiration and guidance throughout the construction process.
With these tips and tricks, you're sure to craft something beautiful and unique that will last many years down the road.
Popular Sewing Machine Cover Patterns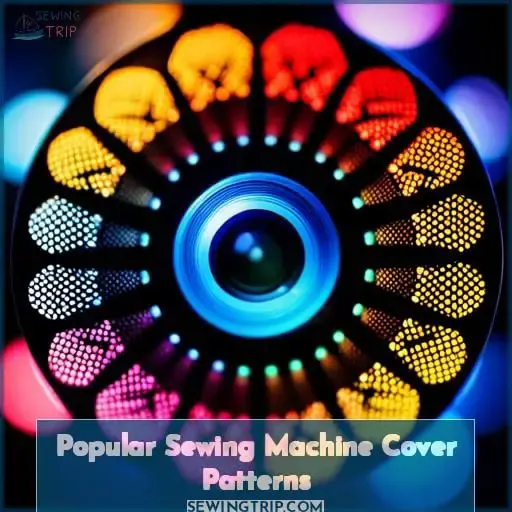 You can find sewing machine covers in a variety of sizes and colors on Etsy. Many popular patterns are customizable, featuring multiple pockets or side handles. With some fabric, bias binding strips, foam stabilizer, and a heavy-duty needle, you're ready to start making your own custom cover.
Different Sizes Available
You can find sewing machine covers available in regular sizes as well as large, customized for different dimensions. To achieve a seamless binding on the cover, pick fabric that is thick enough to support quilting techniques and feature mesh pockets or pocket placement of your choice.
The free sewing pattern provides instructions for making DIY covers with cotton fabric and flexible foam stabilizer.
Create the perfect tailored fit without breaking the bank with this free pattern – try it now!
Customizable Features
Customize your sewing project with pockets, handles, and pattern options! Etsy's global marketplace offers a range of powerful tools to help create the perfect machine cover pattern. Choose from dust covers, cases, or make-to-order pieces – all customizable with pockets for storage and optional openings for a handle.
For curved edges on the cover, use bias binding strips that have been pressed. Use the quilt sandwich technique along with a walking foot to achieve ideal results. Trim excess material after sewing is complete using scissors. Finish off by attaching side handles as desired and topstitching them in place – don't forget to add a mesh pocket if needed! SewCanShe offers free patterns, including instructions on cutting binding strips, plus tutorials for making side quilted pockets or large zippered ones too.
Tips for Choosing the Right Sewing Machine Cover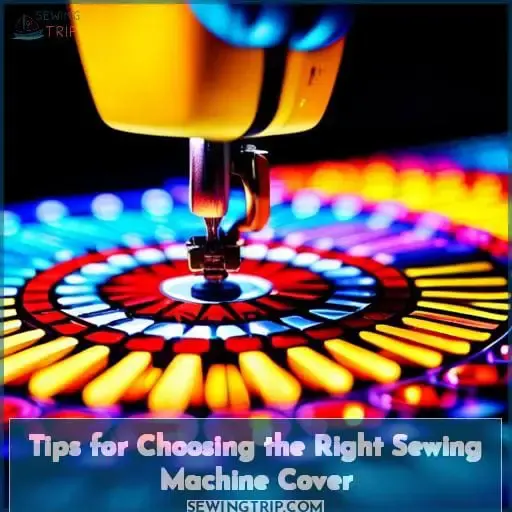 When choosing a sewing machine cover, size and compatibility are important factors to consider. Make sure the measurements match up with your machine for the best fit. The material should be durable enough to protect against dust or spills, while also looking stylish in its design.
Size and Compatibility
Take the time to measure and compare your sewing machine's dimensions with the cover sizes available so you can pick one that fits perfectly. Select a fabric of your choice, taking into consideration any special features or attachments on your machine as well as its size.
For instance, if you have a Juki TL-2010Q, make sure to choose an extra-large sized cover.
Depending on which style of cover you want, 1 yard of cotton fabric should be enough for regular size covers while larger ones may require up to 2 yards. Bias binding is essential when making curved edges and requires wide strips cut from quilting fabric.
The quilt sandwich technique involves using foam stabilizer between two pieces of mesh fabric. Optional pockets are also possible by adding piece(s) of mesh in place before joining them together with bias binding.
Material and Durability
Choose a fabric that is durable enough to last, such as cotton or quilting fabric. Etsy generated nearly $4 billion in income for small businesses in 2020 alone! Popular sewing machine covers on the site come with detailed materials lists and helpful customization options.
Durability testing should be done before buying any materials. Free shipping is available for orders of $35 USD or more within the same shop, making it easy to get started right away.
Sewing techniques like bias binding and using walking feet are essential when making curved edges, while pieces of mesh can be added into pockets for extra convenience.
Design and Style
You can make your sewing machine cover unique with colors, patterns, and designs that fit your style. Choose from the range of fabric options available, such as cotton or quilting fabric, for a comfortable experience.
Select coordinating lining fabrics to bring out the color options of vintage treasures or craft supplies you've chosen to use. Incorporate design details, like adding pockets and pieces of mesh fabric for extra convenience.
Consider customization options, such as handles too! Follow tutorials on Etsy to create your own sewing machine cover, allowing you to show off an individualized piece made with love and extraordinary care.
How to Care for Your Sewing Machine Cover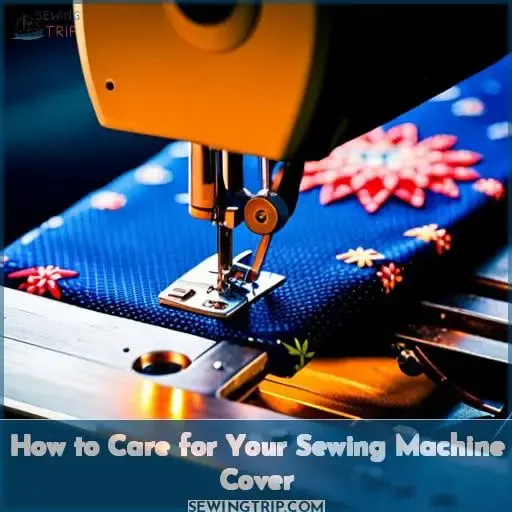 Caring for your sewing machine cover is important to ensure it lasts as long as possible. Regular cleaning and maintenance will help keep the fabric looking like new, while proper storage can protect against dust or spills.
Common issues such as fraying binding strips or creasing of the material can be easily solved by following recommended instructions for care.
Cleaning and Maintenance
To keep your sewing machine cover looking its best, make sure to clean and maintain it regularly. Vacuum or brush off any dust from the surface with a lint roller when needed. Choose a fabric that is easy to care for, such as cotton or polyester blend fabrics, which can be washed in cold water if necessary.
To help prevent fabric fading, use an extra piece of mesh fabric over the cover to protect it from sunlight exposure.
For more detailed maintenance tips, check out SewCanShe's listing page. There, you will find helpful tips on cleaning techniques and other sewing-related advice, including how-to videos and text boxes full of useful information! Etsy is not only home to one-of-a-kind handmade items but also craft supplies like digital items, so you are sure to find something just right for covering your beloved machine!
Storage and Protection
Protect your handmade sewing machine cover and keep it in mint condition with the right storage and protection methods! Choose a fabric that won't stain easily, like cotton or polyester blend fabrics. Make sure to use a piece of mesh fabric over the cover for extra sun protection.
Reinforce all seams with heavy-duty thread and consider adding pockets for organizing accessories. Etsy offers free standard shipping on made-to-order items, so you can get your own custom sewing machine cover quickly without hassle! With Etsy's whole host of tools available to creative entrepreneurs, you have access to expert support as well as free pattern tutorials for making beautiful covers just perfect for protecting your beloved machines from dust damage.
Common Issues and Solutions
Though you may worry about common issues like fabric staining or wear and tear, your handmade sewing machine cover is made with quality materials that are designed to last. Choose a fabric selection that won't easily stain and consider adding pockets for organizing accessories.
Adjust the pattern for different sizes of machines by using an acrylic ruler to ensure accurate straight line quilting. Strengthen all seams with heavy-duty thread and binding techniques can help create curved edges on the cover for a more tailored look.
Finally, use a piece of mesh fabric over the cover as extra sun protection so it will stay in perfect condition!
Frequently Asked Questions (FAQs)
What type of fabric is best for a sewing machine cover?
Covering your sewing machine with fabric is like wrapping a present. Cotton is often the best choice as it is lightweight, breathable, and durable enough to protect against dust. When choosing bias binding for curved edges, add pockets for extra convenience and secure with heavy-duty needles.
Are sewing machine covers machine washable?
Whether or not you can machine wash a sewing machine cover depends on the materials it is made of. Check the care instructions for your fabric and stabilizer before attempting to clean it in a washing machine.
Washing by hand is usually safer and more effective than using an automatic washer.
Are there any special tools required for making a sewing machine cover?
Making a sewing machine cover requires special tools such as a fabric marking pen, scissors, wonderclips, and a sewing stiletto to achieve curved edges. Additionally, create pockets with fold-over elastic for mesh pocketing and use heavy-duty needles for quilting.
Prior to binding the bottom edge, hammer flattens seams, and use bias trim when stitching. Fulfill your creative passion while crafting this one-of-a-kind item with love and expertise.
How long does it take to make a sewing machine cover?
Making a sewing machine cover can take anywhere from one to several hours, depending on your skill level and the complexity of the project.
Are there any safety precautions to consider when using a sewing machine cover?
When using a sewing machine cover, safety should always be your top priority. Make sure the fabric is thick enough and securely stretched over the frame of your sewing machine. Check that all pockets are secure and that no edges or corners can catch on clothing or hair during use.
Conclusion
In conclusion, sewing machine covers are a great way to protect your equipment and keep it looking stylish. There is a wide variety of sizes, materials, and designs available, so you can easily find a cover that fits your budget and lifestyle.
Whether you're a novice or a seasoned pro, making your own cover is a fun and rewarding project. Just remember to take proper care of your cover, and you'll have a timeless piece that will last for years to come.
These covers are sure to be the envy of all your crafty friends, so get sewing and show off your cover masterpiece!