This site is supported by our readers. We may earn a commission, at no cost to you, if you purchase through links.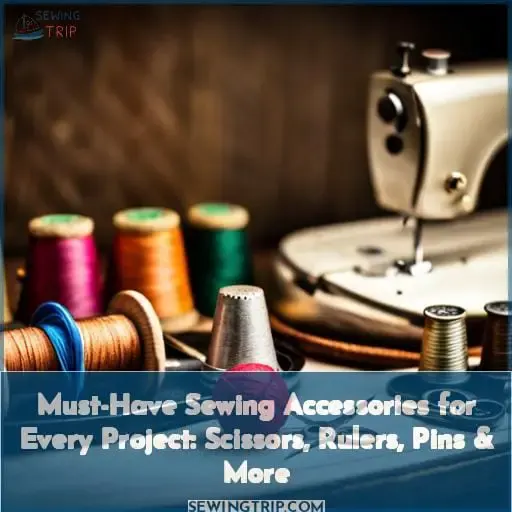 You've got this sewing thing down pat. All the perfect tools at your fingertips, the skills in your bones. Let's talk notions, the key that unlocks creativity. Scissors slice and dice, rulers and yardsticks measure what matters, clips and pins hold it all together.
Don't forget thread – sturdy classic cottons, gossamer invisible nylons, thick button threads. And needles, can't sew without them, all kinds for special purposes. But you know this already, clever crafter.
Types of Sewing Scissors
Sewing accessories like quality scissors are essential tools for every sewer. Fiskars' versatile orange-handled scissors, durable pinking shears, and Taotree's multipack offer reliable cutting for sewing projects.
Fiskars Orange Handled Scissors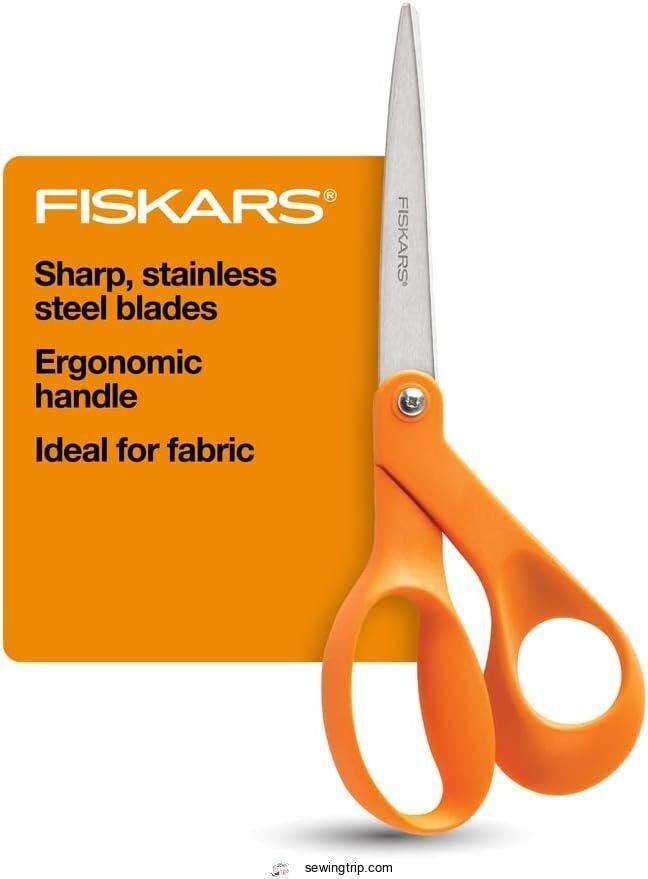 View On Amazon
You'll love cutting fabric and crafts with those sharp Fiskars scissors in your hand! Their lightweight orange handles keep your grip comfortable during long cutting sessions. The bent shape holds your material flat for accuracy. These stainless steel blades slice multiple layers like butter! Sewists rave about their precision and durability.
Comfortable bent orange handles
Stainless steel stays sharp
Lifetime warranty
Not ideal for thick materials
Pricey for budget sewers
Fabric Pinking Shears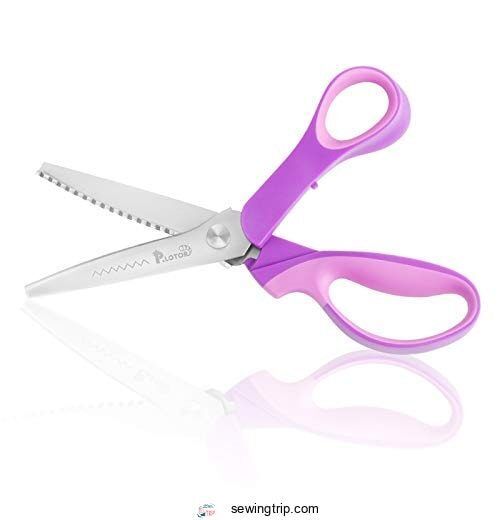 View On Amazon
You can't beat pinking shears for cleanly finishing edges to prevent fraying. These 9.3-inch professional-grade shears are ideal for use on linings, fabrics, paper, and crafts. The sharp stainless steel blades create a zigzag pattern as you cut to resist fraying and give your projects a finished look.
With soft grip handles and precision ball-bearing joints, these shears are comfortable and easy to control for smooth, accurate cuts. Whether you're a sewing pro or beginner, quality pinking shears are a useful addition to your toolkit.
Clean, finished cuts that resist fraying
Durable stainless steel blades
Ergonomic soft-grip handles
Smooth, precise cutting
Not suitable for thick or hard materials
Requires hand strength to cut through multiple fabric layers
Can only cut zigzag lines, not straight
Taotree Scissors Bulk Pack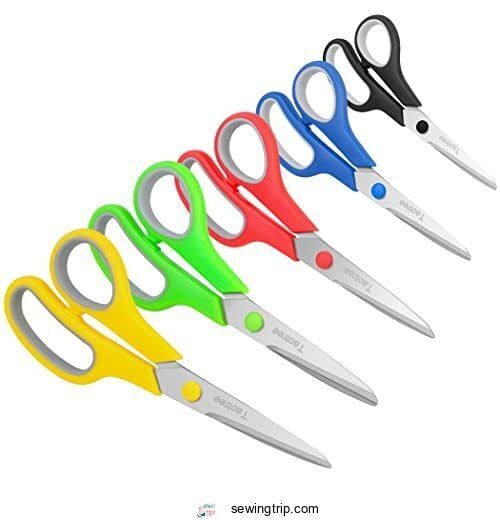 View On Amazon
Let's brighten up your sewing space with Taotree's bulk pack of colorful scissors. These versatile 8-inch scissors come in a handy 5-pack featuring corrosion-resistant stainless steel blades that stay sharp for 100,000 cuts.
The soft-grip handles provide comfort, while the adjustable pivot allows smooth operation for both lefties and righties.
While not suitable for heavy-duty use, these scissors are great for crafts, sewing projects, school, and home use.
Sharp and durable stainless steel blades
Comfortable soft-grip handles
Adjustable pivot for smooth cutting
Versatile for multiple uses
Value 5-pack
Not suitable for heavy-duty use
Handles and hinges may be fragile
Long-term durability unknown
Essential Cutting Tools
As a sewist, you'll need some essential cutting tools in your toolkit. An OLFA rotary cutter, self-healing cutting mat, and seam ripper are must-haves for achieving clean, precise cuts and easily removing stitches when needed.
OLFA Rotary Cutter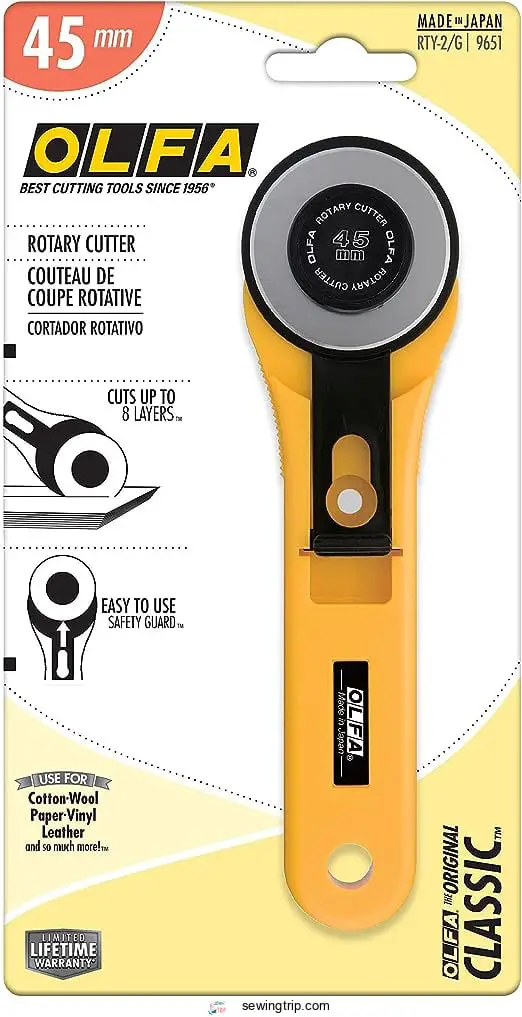 View On Amazon
After sharpening your shears, glide the OLFA rotary cutter smoothly across fabric like a ship sailing across calm waters. With its sharp, circular blade, this innovative rotary cutter effortlessly cuts precise edges in fabric, vinyl, paper, and other thin materials.
Made for both left and right-handed crafters, the OLFA rotary cutter's gray handle ensures a comfortable, easy-to-control cutting experience.
Sharp circular blade for clean cuts
Gray ergonomic handle
Suitable for left and right-handed users
Blade can dull over time
No safety latch to cover blade
Not for thick materials
OLFA Self Healing Rotary Cutting Mat
View On Amazon
Unless you're built like Hercules, an OLFA self-healing rotary cutting mat is your BFF for saving fabrics and fingers when fashioning garments galore! Trust me, this large 24×36 mat lets you slice and dice patterns and fabrics with ease using your handy rotary cutter.
The mat's flexible alloy steel construction means it self-heals after cuts, keeping the surface smooth and your blades sharp.
Gridlines on one side help measure bias strips and square up blocks perfectly. Stash it flat when not in use to prevent warping. Paired with quality OLFA blades, this mat is essential for precise cutting and protecting work surfaces during sewing, quilting, and crafting sessions.
Self-healing surface extends blade life
Gridlines aid measuring and accuracy
Large size for big projects
Flexible and durable
Can warp if not stored flat
Some users report a chemical odor
Seam Ripper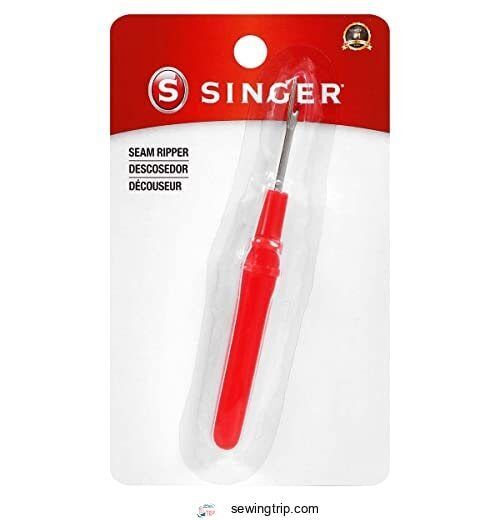 View On Amazon
You'll quickly find this handy 4-inch seam ripper removes stitches and seams without damaging fabric. The sturdy metal point and ergonomic red plastic handle allow you to precisely slice through threads to easily remove or alter seams.
Whether you are adjusting a garment, seam ripping a mistake, or recycling fabric, this essential tool carefully lifts stitches without damaging the fabric.
The precise metal point easily slices through threads.
It is sturdy and durable for long-term use.
The ergonomic handle provides control and maneuverability.
It allows stitch removal without fabric damage.
The point requires occasional sharpening for optimal performance.
It is not suitable for heavy-duty or thick seams.
Hand-stitching removal requires more precision.
Measuring and Marking Tools
Gather round crafters and sewists, today we're covering essential measuring and marking tools that every project needs. For precise measuring, look to quality ruler brands like O Lipfa for their enhanced lip edge rulers to grip mats, Omnigrid's sandpaper rulers for rotary cutting, and the simple durability of a lacquered wooden yardstick to meet all your measuring needs.
O Lipfa Ruler With Lip Edge


View On Amazon
You can get precise measurements with the O Lipfa ruler's handy lip edge. The sturdy 12 acrylic ruler is marked in both imperial and metric units, allowing for accurate measuring in drawings, crafts, and more.
The raised lip edge prevents slipping, ensuring precise measurements along straight edges. Made in the USA, this clear quilting and rotary cutting ruler provides the accuracy needed for your projects.
Sturdy 12 acrylic material for durability
Lip edge prevents slipping, ensuring accuracy
Marked in both imperial and metric units
Only available in a 5 x 24 size
No angle or curve markings
Not ideal for large quilting projects
Omnigrid Square Sandpaper Value Pack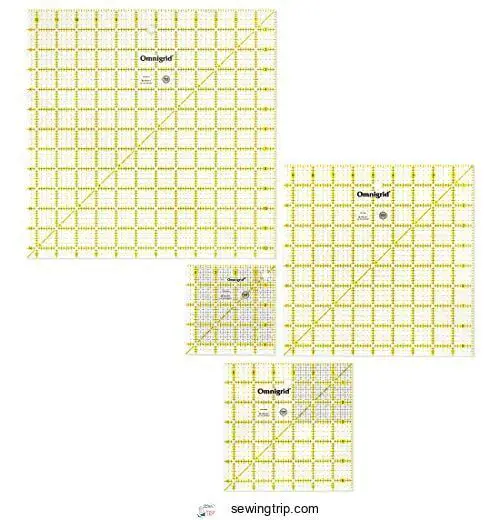 View On Amazon
Slip this Omnigrid square sandpaper value pack into your quilting kit for perfectly squared quilt blocks. The heavy-duty acrylic rulers are laser-cut into 4.5, 6.5, 9.5, and 12-inch squares, ensuring accuracy whether you're squaring up individual blocks or cutting long strips.
The sandpaper backing grips fabric and prevents slipping as you cut. The rulers have double-sight diagonal lines that are visible on light and dark fabrics, and they also have a left/right numbering system for versatility.
The set includes essential square sizes. Additionally, there is an angle guide for precise triangle piecing. With smooth cutting edges, this complete square ruler set lets you achieve the sharp points and crisp corners that really make quilt blocks pop.
Laser-cut edges for smooth, accurate cuts
Sandpaper backing prevents fabric slipping
Durable acrylic material
Double-sight diagonal lines
Left/right numbering system
Set includes essential square sizes
Not intended for cutting thick materials
Sandpaper can wear out over time
Only includes square shapes
Wooden Yardstick With Brass Ends
Glide your fingers along the smooth, kiln-dried wooden yardstick, its clear and precise markings effortlessly guiding your measurements with confidence.
End grain markings for legibility
Locking joint designs prevent warping
Curved shaping provides ergonomic handling
Wood stains customize and protect
Hanging location keeps it handy

Whether drafting patterns or checking grain lines, this essential wood tool empowers precision.
Pins, Clips, and Pin Cushions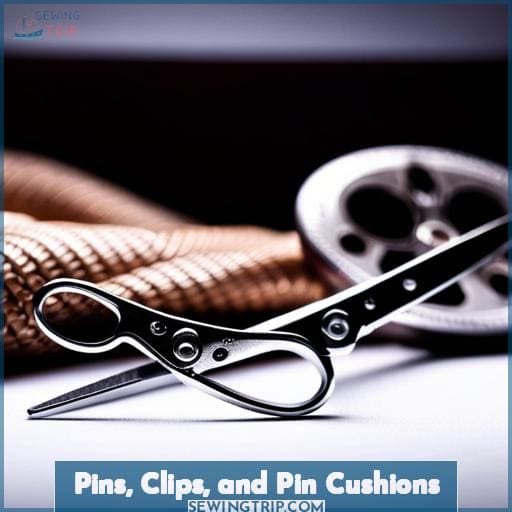 As any sewing hobbyist knows, there are many types of straight pins, safety pins, and fabric clips to choose from when it comes to holding pieces together during sewing. Pin cushions are also essential accessories for neatly organizing your pins and needles while sewing, with styles ranging from tomato cushions to magnetic ones.
Various Types of Pins and Clips
Just grab some pearl-headed pins and wonder clips to keep your layers in place while stitchin' up your next project.
A variety of straight pins, from glass heads to quilting safety pins, ensure your fabric stays put.
Save your thumbs from pin pricks with self-threadin' needle threaders or try some bee's wax on thread for smoother sewin'.
Test out fabric marker pens for temporary markings that disappear with heat or water.
Pinking shears can stop fraying edges, while quality sewing scissors sliced through fabric and threads.
Stash pins, clips, and notions in a tomato pincushion or magnetic pin dish for easy access.
Pin Cushions
You'll adore havin' a comfy pincushion for your needles! Sturdy magnetic pincushions keep pins and needles handy as you sew. Fabric pin cushions have space for storing pins, needles, clips, and bobbins too.
Try a tomato or strawberry pincushion for a cute touch. Wrist pincushions free up your hands while sewing. Choose a pincushion with sand or sawdust stuffing to keep pins sharp. Look for pincushions with wool felt covering to grip pins best.
Metal tins covered in fabric make pincushions portable for hand sewing. A pincushion is a must-have to organize your sewing tools and keep your pins pointed properly.
Thread and Sewing Needles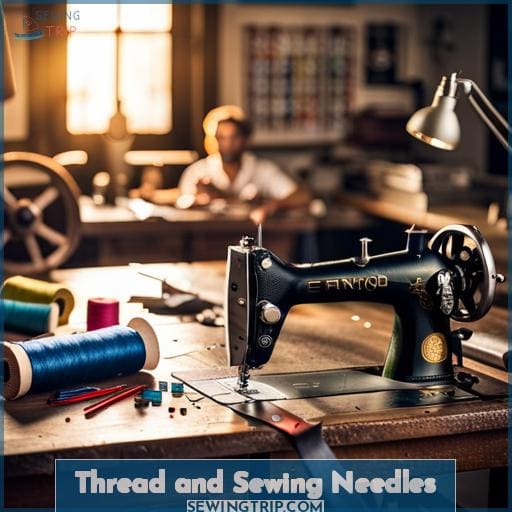 Thread and sewing needles are essential accessories for any sewing project. Quality thread and the proper needle type can make all the difference in stitch quality, durability, and efficiency when sewing by hand or machine.
Types of Thread
You'd thread your needle with cotton, polyester, or elastic threads for durability or stretch. Different thread types suit various sewing tasks. Cotton provides softness for quilting and apparel. Polyester offers strength for outdoor gear and upholstery. Elastic thread creates ruching and gathers in clothing.
Match thread weight to needle size. Use fine 60wt thread with serger needles and basting spray. Heavier 30wt works for topstitching. Check thread fiber content when threading invisible zippers or using serger thread guides.
Condition thread with beeswax to prevent tangling. Quality magnetic seam guides, wide brim thimbles, seam rippers, embroidery scissors, and thread snips speed sewing and prevent frustration.
Types of Sewing Needles
You've got needles for days with all the types available for your sewing projects.
Keep plenty of hand sewing needles like sharps and milliners to stitch by hand. Machine needles like universals and stretch types are must-haves for every machine project.
Embroidery and metallic needles add flair to your decorative stitching. And don't forget, needles for knitting are shorter with larger eyes.
Whatever your craft, stocking a variety of needle types ensures you can handle delicate heirloom fabrics or sturdy denim with ease.
Protect your fingers too. Metal thimbles prevent painful pokes, while rubber and leather thimbles provide protection and dexterity for handwork.
Having the right needles for diverse fabrics gives you the freedom to make anything.
Frequently Asked Questions (FAQs)
What are the best sewing accessories for beginners? Beginners may wonder what supplies are absolutely essential when starting out and what can wait until later.
You absolutely need quality fabric scissors, needles, thread, pins, and a seam ripper to start sewing. Don't fret about specialized tools like zipper feet or quilting rulers as a beginner—just focus on the basics.
Where can I buy quality sewing accessories on a budget? Sewing enthusiasts on a budget may want recommendations for where to find affordable, good quality tools.
Visit thrift stores for pre-loved treasures. Check clearance sections in fabric stores. Sign up for email newsletters to receive sale alerts. Don't overlook dollar stores for basics like tape measures.
How do I organize my sewing accessories? Those with growing collections may seek tips for keeping all their notions, gadgets, and tools neatly organized.
Invest in a tackle box or small storage containers to compartmentalize small tools and gadgets. Use dividers, small boxes, or pouches inside to separate scissors, needles, threaders, etc. Hang rotary cutters and rulers on a magnetic bar for easy access. Store bulkier items like an iron and mat on shelving.
Which sewing accessories make great gifts? People looking to buy gifts for sewing friends or family members may wonder which accessories would be most useful or appreciated.
Treat your sewing-obsessed friend to some new supplies for their craft! A rotary cutter, sharp scissors, quilting rulers, or even a self-healing mat will be heartily appreciated.
Are sewing accessories safe for kids? Parents wanting to teach kids to sew may have questions about which tools are appropriate and safe for children to use.
When teaching kids to sew, stick with kid-safe scissors, fabric markers, pins with safety caps, and small rotary cutters. Supervise young crafters closely, avoiding sharps until they can demonstrate responsible tool use.
Invest in quality, ergonomic versions of essentials to nurture skills and passion for sewing.
Conclusion
You've got all the essentials now – from handy scissors to sturdy rulers, pins, thread, and more. With the right accessories, you'll breeze through projects and take your sewing skills up a notch. Just imagine the creations you'll craft and problems you'll solve with the proper tools on hand.
There's no limit to what you can make with must-have sewing accessories! Keep this guide in mind next time you shop and outfit your sewing space.