This site is supported by our readers. We may earn a commission, at no cost to you, if you purchase through links.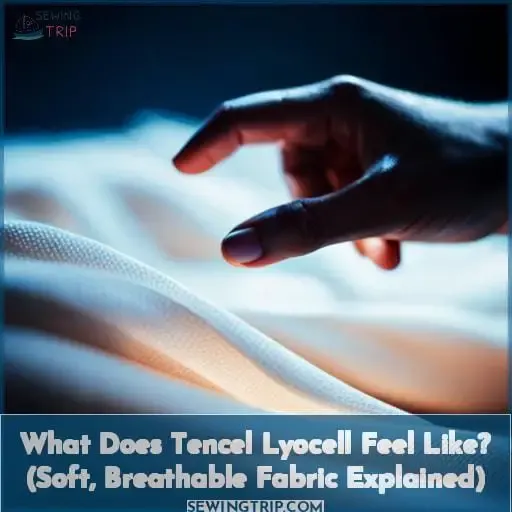 Let's talk sheets, shall we? Pull on your favorite loungewear and crawl under the covers while we chat about what that heavenly fabric feels like against your skin—oh yes, I'm talking Tencel lyocell.
Relax into its cool, silky embrace and you'll drift off to dreamland before you know it. But what makes this eco-friendly fiber such a slumber superstar? Its insanely soft and breathable feel, for starters.
Tencel's smooth texture and moisture-wicking abilities will keep you cozy yet cool all night long. And its gentle, skin-loving properties ensure you'll wake up without irritation.
So if you're craving bed sheets that feel like a fluffy cloud on a summer day, look no further than Tencel lyocell.
Key Takeaways
Tencel Lyocell bedding offers eco-friendliness, softness, durability, and moisture-wicking properties.
It has a versatile option with a silk-like feel, suitable for various climates, and safe for sensitive skin.
Proper care and consideration of thread count and weave are important for longevity and comfort.
Tencel Lyocell is a sustainable alternative to silk and cotton, providing breathability and moisture management.
What is Tencel Lyocell?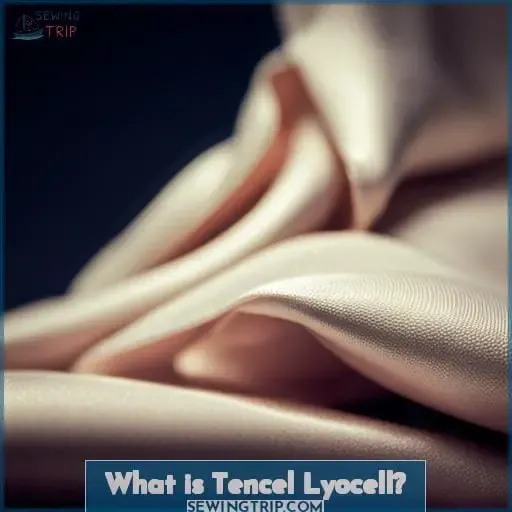 Tencel Lyocell's silky softness against your skin makes it an ideal fabric for breathable bedding. Derived from renewable eucalyptus trees, Tencel Lyocell is more sustainable than cotton. Its smooth fibers feel luxuriously soft to the touch, gently enveloping you like silk.
When shopping for clothes or bedding, seek out Tencel Lyocell for its unparalleled comfort. Run your fingers over the fabric in-store to appreciate its cashmere-like handfeel. Against your body, Tencel Lyocell feels feather-light and supple. Its breathability keeps you cool in the summer while retaining warmth in winter.
Comparing fabrics like cotton, modal, and silk, Tencel Lyocell stands out for its sustainable production and ultra-soft touch.
Tencel Lyocell Vs. Cotton: a Comparison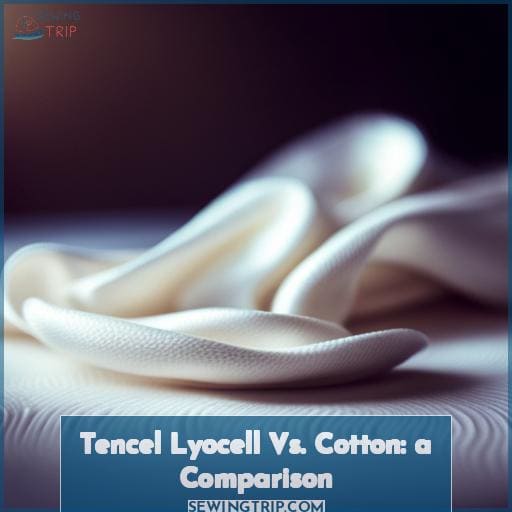 Let's compare Tencel lyocell and cotton bedding fabrics. Tencel is known for its soft, silky feel and breathability, while being eco-friendly and sustainably produced. Cotton offers great durability, variety, and warmth, though some types can trap heat.
Both fabrics have cooling properties and can wick moisture, making them suitable for sensitive skin. The choice depends on your priorities – Tencel for an eco-friendly, cooling option or cotton if you prefer natural fibers with staying power.
Softness and Breathability
You'll find it caressing your skin like the softest silk.
Provides cooling comfort in summer's sweltering heat
Retains warmth through winter's bitter chill
Allows the body to breathe and the skin to glow
Ideal for year-round use and comfort
With a featherlight touch and the ability to thermoregulate, Tencel lyocell adapts to the seasons. Utilizing renewable fabric and handwashing care reveals its softness over time. The ideal temperature is no match for its breathable, lightweight smoothness.
Eco-Friendliness and Sustainability
You gently cradle Mother Earth in your hands as you choose eco-friendly fibers. Tencel lyocell comes from sustainable eucalyptus forests, while cotton depends on pesticides.
| Tencel Lyocell | Cotton |
| --- | --- |
| Sustainably sourced from eucalyptus trees | Requires extensive water and pesticides to grow |
| Closed-loop manufacturing process uses safer solvents | Depletes soil health |
| Biodegrades faster than cotton | Refining process uses toxic chemicals |
| Cooling, breathable fabric great for summer | Warm, heavier fabric |
Moisture-Wicking and Cooling Properties
The moisture-wicking Tencel Lyocell sheets will pull the sweat from your skin like a plant drawing life-giving water through its roots on a hot summer's day. As you sleep, the fabric whisks moisture away, keeping you cool and dry. Tencel's superior moisture absorption prevents sweat buildup.
The breathable weave allows air to flow, providing a constant cooling sensation. No more sticking to the sheets or sweating through the night. Tencel's heat regulation and moisture-wicking technology deliver nighttime comfort.
Suitable for Sensitive Skin
With a velvety softness against sensitive skin, it keeps you comfortably covered. Unlike some natural fibers, the gentle Tencel lyocell fabric soothes easily irritated skin. Its fine fibers and smooth texture allow for greater air permeability, enhancing breathability.
The eco-friendly production also minimizes potential allergens. This soft, gentle fabric offers hypoallergenic comfort for those with delicate skin sensitivities.
Durability and Variety
Sometimes a lower thread count can be just as comfortable as a high thread count, but with extra durability that holds up wash after wash. The Lucky Brand Chelsea Utility Dress proves you don't need fancy fabrics for a flattering, functional look.
Cotton offers proven durability and variety in weaves like percale and sateen. The fiber's natural strength withstands frequent machine washing and everyday use over years, while chemical processing enhances softness.
Though requiring extra care, cotton's breathable feel and hypoallergenic properties provide soft sheets suitable even for sensitive skin.
Warmth and Comfort
You'd love cuddling up in these cozy Tencel sheets, their softness embracing you like a warm hug on a winter morning. Tencel's smooth drape and wrinkle resistance pamper you while resisting pilling. The fabric's easy care, shape retention, and thermoregulation keep you cool, comfortable, and sleeping deeply all night.
Tencel Lyocell Bedding: the Top 7 Best Products
Looking for the silky smooth feel of Tencel lyocell? You'll find it in apparel like the Lucky Brand utility dress, Jockey underwear, and Eileen Fisher top, as well as bedding such as the eucalyptus lyocell sheets, while the terracotta tee demonstrates the fabric's lightweight breathability.
Let's explore seven top-rated Tencel lyocell products to get a sense of this eco-friendly fabric's characteristics.
Lucky Brand Womens Long Sleeve Chelsea Utility Dress Burnt Olive XSmall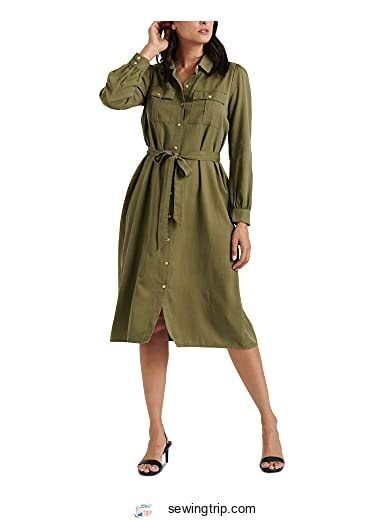 View On Amazon
Your soft cotton dress provides a casual yet put-together look. Made from a lightweight and breathable fabric, the burnt olive hue adds a stylish flair. The long sleeves and self-tie waist create a flattering silhouette, while the two front pockets lend a functional finish.
Easy to dress up or down, this utility-style piece transitions seamlessly from running errands to meeting friends.
Lightweight and breathable fabric
Flattering silhouette with a self-tie waist
Functional front pockets
Versatile for various occasions
Stylish burnt olive color
Fabric may wrinkle easily
Self-tie waist may come loose
Limited color options
May run large, check sizing chart
Jockey Women's Supersoft Brief Underwear 3 Pack Black Size 6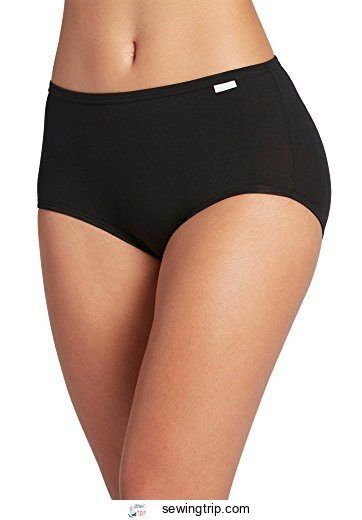 View On Amazon
You'll love how these silky soft briefs glide over your skin. They are crafted from a buttery-smooth modal and spandex blend. The full coverage briefs offer unbeatable comfort with their stretchy yet substantial feel.
The smooth fabric construction prevents irritation, providing a barely-there feel that makes them perfect for everyday wear. They have a tagless design and a flat, non-binding waistband, ensuring seamless comfort from sunup to sundown.
Ultra-soft and silky modal blend
Full coverage design
Stretchy and substantial feel
Limited color selection
Quality and sizing inconsistencies
Eucalyptus Tencel Lyocell Bed Sheet Set Queen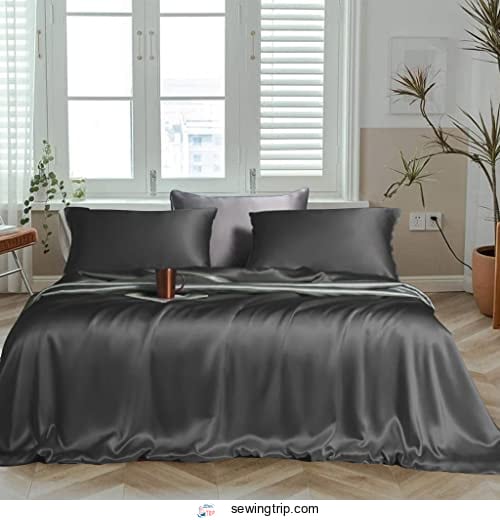 View On Amazon
This 4-piece queen sheet set boasts eucalyptus Tencel lyocell fabric for cooling comfort, with over 80% of reviewers raving about its breathable, moisture-wicking properties that cater to hot sleepers.
The OEKO-TEX certified sheets provide thermoregulation to keep you cool in summer and warm in winter.
The fitted sheet's deep pockets accommodate mattresses up to 16 inches thick and are uniquely designed to fit tightly. Though not as silky as described, the sheets feel smooth and cottony yet are fade, stain, shrink, and wrinkle-resistant.
For an eco-friendly and healthy night's sleep, these easy-care sheets make a great gift idea.
Breathable, moisture-wicking fabric
Thermoregulation for year-round comfort
Fits mattresses up to 16 inches thick
Easy-care machine washable
Eco-friendly and healthy
Not as silky as advertised
Discrepancy between labeling and fabric content
Fitted sheet could have more elastic
Terracotta Tencel Elastane Short Sleeve T Shirt
View On Amazon
The rolled sleeves on that terracotta top caress your arms with a silken breeze as you go about your day. That 95% Tencel lyocell fabric drapes softly across your skin, its smooth and stretchy fibers moving with you.
The lightweight knit breathes easily in the warmth while subtly hugging your shape. The rich earthy color flatters year-round and pairs well with anything. The trendy rolled sleeves give it style, and the round neck shows off a necklace.
Soft, breathable fabric
Stretches for ease of movement
Lightweight, good for warm weather
Versatile solid color
Trendy rolled sleeves
Needs gentle wash care
May pill over time
Shows sweat marks
Women Relaxed Fit Long Sleeve Tunic Bleach Wash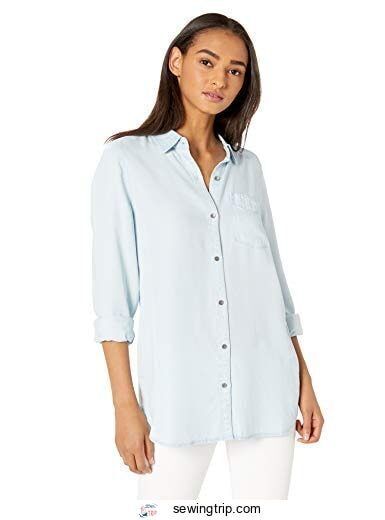 View On Amazon
Soft as butter against your skin, the light yet substantial women's tunic caresses you with its velvet-like texture. The breathable, eco-friendly lyocell fabric drapes softly with a denim look, offering a purposeful yet relaxed silhouette.
The long sleeves provide coverage, while the loose fit allows flexible movement in warm climates for outdoor work.
Soft, buttery, velvet-like lyocell fabric
Lightweight yet substantial feel
Loose fit for movement
Structured cut
Breathable and environmentally friendly
Potentially tight sleeves and shoulders
Prone to wrinkling
Lack of pockets
Amazon Essentials Womens Lightweight Longsleeve Vneck Sweater Black XSmall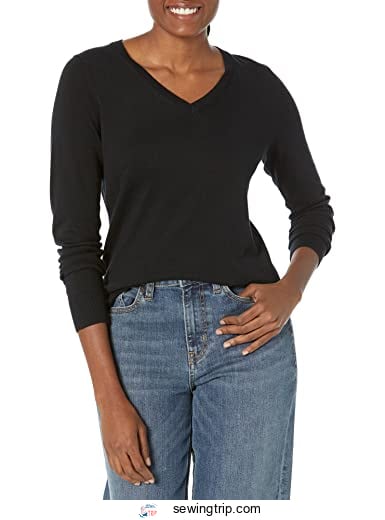 View On Amazon
You'd love how a lightweight V-neck sweater hugs your curves without overheating. This versatile and flattering sweater from Amazon Essentials won't leave you sweating. The soft, cotton-blend fabric provides coverage without adding bulk. The deep V-neck flatters your figure while allowing air to circulate.
It's slightly snug at first, but it'll relax after washing without losing its shape.
For attractive comfort, layer it over summer dresses or tanks. When fall arrives, pair it with blazers for the office or jeans for a night out.
Lightweight, breathable fabric
Flattering, versatile style
Good quality for the price
Soft, comfortable feel
Runs small, order a size up
V-neck may be too deep for some
Lighter colors are slightly sheer
Eileen Fisher Red Tencel Silk Round Neck Top Large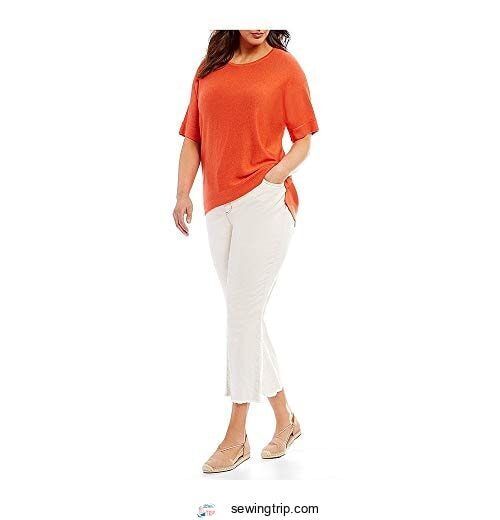 View On Amazon
You'll revel in the luxurious drape of Eileen Fisher's oversized hot red top, crafted from a decadent blend of Tencel lyocell and silk. The soft, breathable fabric cascades gracefully thanks to the lyocell, while the silk lends an alluring luminosity.
Combining comfort and elegance, it's perfect for making a vibrant statement. Pair it with neutral pants or jeans to let the fiery hue pop. Just be aware of the relaxed, oversized fit—consider sizing down for a less voluminous silhouette.
Luxurious drape from blend of lyocell and silk
Vibrant, eye-catching color
Soft, breathable, and comfortable
Flattering oversized silhouette
Oversized fit may overwhelm petite frames
Hand wash only
Limited size options
Higher price point
The Characteristics of Tencel Lyocell Fabric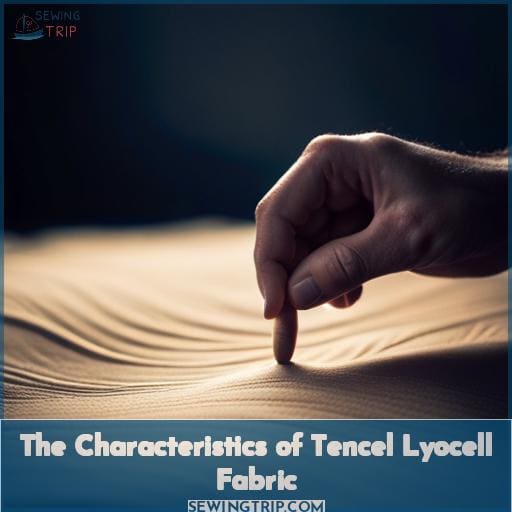 Tencel lyocell has a remarkably soft and gentle feel, unlike that of most natural fibers. With its high absorbency, enhanced breathability from the manufacturing process, and a texture similar to silk yet easier to care for, Tencel lyocell provides exceptional thermoregulation for comfort in any climate.
Soft and Gentle Feel
You can't help but notice the silky smoothness against your skin.
Luxurious softness caresses you with each movement.
Cooling breathability keeps you feeling fresh.
Hypoallergenic comfort never irritates.
The fabric's gentle drape flows effortlessly. Its eco-friendly production and wrinkle resistance make this a practical luxury. Tencel lyocell's natural fibers offer the ultimate in softness – a gentle embrace for even the most sensitive skin.
High Absorbency and Breathability
Unlike cotton, Tencel lyocell's manufacturing process gives it superior absorbency and breathability. The fabric's unique closed-loop production method creates long fibers that enhance moisture absorption and airflow.
Tencel lyocell wicks away sweat to keep you dry and comfortable in any climate. Its breathability also prevents odor buildup, making it perfect for activewear and bedding.
The table below compares moisture management and fabric comfort of Tencel lyocell and cotton:
| Fabric | Absorbency | Breathability | Thermoregulation |
| --- | --- | --- | --- |
| Tencel Lyocell | Superior | Excellent | Excellent |
| Cotton | Moderate | Moderate | Moderate |
Tencel lyocell's absorbency, breathability, and thermoregulation promote ultimate comfort and easy care.
Similar to Silk With Easier Care
Tencel lyocell fabric gives your skin a silken caress yet washes more easily than true silk ever could. The unique luster remains after machine washing in cool water. Ironing restores the natural feel.
It's a soft, affordable silk alternative that's easy to care for in an eco-friendly way. This fabric makes silk accessible to any woman through its exceptional quality, reasonable cost, and simple care.
Thermoregulation for Comfort
Thermoregulation for Comfort
In regulating temperature for optimal comfort, Tencel Lyocell fabric excels in adapting to both cool and warm environments. Its innovative fiber blend combinations and fabric construction process contribute to a skin-cooling effect, making it an excellent choice for various weather conditions.
With its smooth feel and sateen weave, it offers a luxurious touch that complements its exceptional fabric weight. While Tencel Lyocell fabric is easy to care for, employing specialized cleaning methods can prevent shrinkage over time.
What Does Tencel Lyocell Feel Like?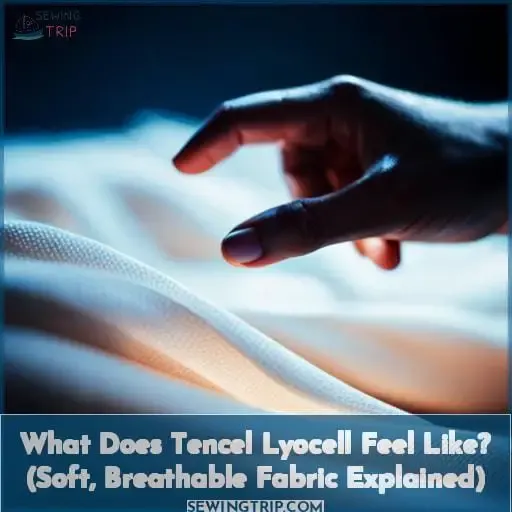 Immerse yourself in an experience that unveils a world of tactile delight, where textures converge to create an alluring embrace against your skin, reminiscent of a gentle caress, with a touch that effortlessly adapts to your body's whims, ensuring a comforting cocoon regardless of the season or slumber's fickle inclinations.
Tencel Lyocell, with its smooth sensation and velvet touch, offers a luxurious comfort that embodies natural elegance. As you run your fingers over the fabric, you'll discover a cooling softness that's reminiscent of a gentle breeze on a warm day.
This exceptional material, known as Tencel™, not only promises comfort but also showcases the beauty of sustainable and breathable clothing. Its versatility and variety make it a favorite for those who seek both style and eco-friendliness, inviting you to indulge in the blissful intimacy of its embrace.
How to Care for Tencel Lyocell Bedding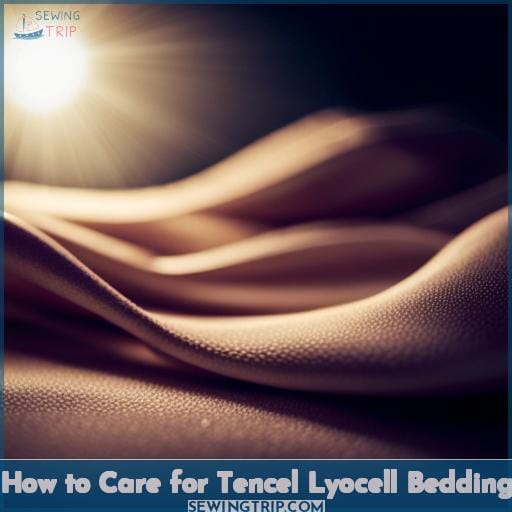 You'll want to gently wash your Tencel sheets in cold water and tumble dry on low to keep them feeling silky soft.
Hand or machine wash in cold water using a mild, eco-friendly detergent.
Avoid using fabric softeners or dryer sheets to prevent buildup.
Gently agitate the sheets to prevent pilling.
Tumble dry on low heat or line dry outside to retain softness.
Spot clean stains immediately with mild soap and cold water.
Fold or hang promptly after drying to prevent wrinkles.
Treating your Tencel bedding with care will ensure it remains ultra-soft and retains its high-quality, non-toxic feel. The static-free fabric texture will continue feeling luxurious against your skin when properly laundered.
Tips for Choosing Tencel Lyocell Products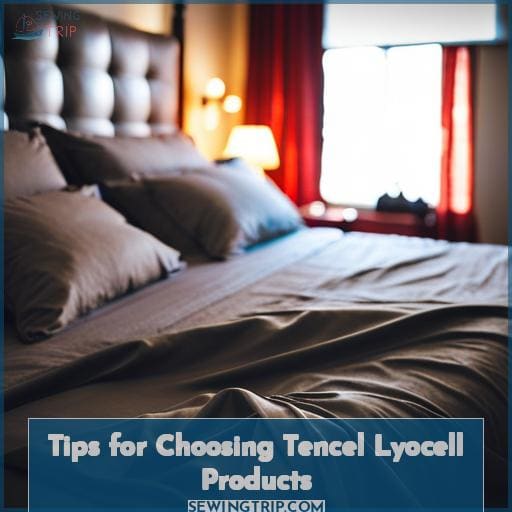 You can save over 80% more water by choosing Tencel lyocell bedding over cotton. When choosing Tencel lyocell products, consider the following tips:
Look for a higher thread count, usually 300-500, for enhanced softness and durability.
Contrasting tones in the same set add visual interest.
Clean stripes or patterns stand out beautifully against the smooth fabric.
Support local artisans and small businesses when possible.
Prioritize easy-to-wash, quick-drying fabrics that retain their shape.
Compare fabric blends to find the right balance of softness, breathability, and longevity.
Select hypoallergenic clothing if you have sensitive skin.
When mixing fabrics, blend Tencel with cotton, silk, or linen for optimal comfort.
Let your priorities and preferences guide you to the perfect Tencel lyocell products.
Where to Buy Tencel Lyocell Bedding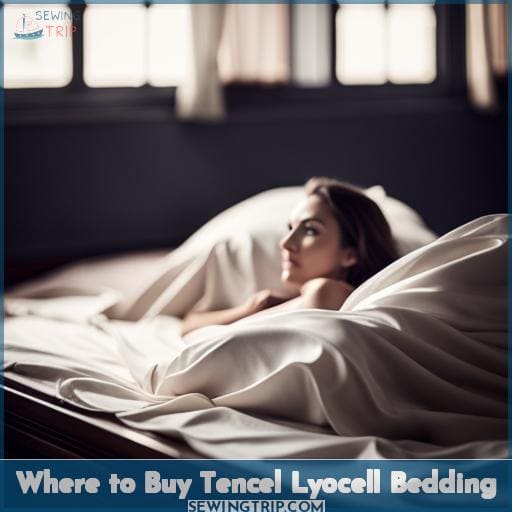 Check out Tencel lyocell sheets and bedding from brands like Coyuchi, Boll & Branch, and Brooklinen for a silky soft, temperature-regulating night's sleep. These brands offer a range of bedding options made from moisture-wicking, thermoregulating Tencel lyocell fabric.
They have pillowcases, sheets, and comforters ideal for summer and winter. The cellulose-based material is sourced sustainably from beech wood pulp, providing soft, breathable, versatile fabric that is perfect for sensitive skin.
| Brand | Product | Details |
| --- | --- | --- |
| Coyuchi | Organic Cotton & Tencel Sheets | Buttery soft percale weave |
| Boll & Branch | Signature Soft Sheets | 300 thread count, fair trade certified |
| Brooklinen | Luxe Sateen Sheets | Smooth sateen weave, certified free of harmful chemicals |
| Buffy | Breeze Comforter | Made from 100% lyocell |
| Parachute | Percale Duvet Cover | Soft, matte finish percale made with long-staple Egyptian cotton |
Tencel Lyocell: the Perfect Choice for Your Bedding

Weaving dreams with silken threads, Tencel Lyocell bedding embraces you in its gentle caress. Loving warmth encapsulates as the soft fibers regulate your body temperature, whisking moisture away. The breathable fabric keeps you cool in summer's heat and cozy when winter winds howl.
Easy care means less time fussing with laundry and more time nestled in its tender embrace. Tencel Lyocell sheets become softer with each wash, holding their shape through countless cycles. Hyperlite sheets crafted from sustainably sourced eucalyptus trees cradle you in comfort night after night.
Frequently Asked Questions (FAQs)
How durable is Tencel lyocell compared to cotton? Does it wear out or pill faster?
You'll find Tencel lyocell has similar durability to cotton and resists pilling about the same. It shouldn't wear out faster than cotton as long as you launder it properly according to care instructions.
Is Tencel lyocell bedding safe for children and babies? Are there any health concerns?
Yes, Tencel lyocell bedding is completely safe for kids and babies. The fabric is hypoallergenic and breathable, so it shouldn't cause any skin irritation or overheating.
How does Tencel lyocell bedding perform in very hot or humid climates? Does it sleep cooler there?
Ever slept in a sauna feeling overheated and sweaty? With Tencel lyocell bedding, you won't. Its breathable fibers wick moisture, keeping you cool and comfy even when it's hot and humid out. The silky-soft sheets increase airflow so you stay dry while you sleep, no matter the climate.
What are the best prices for Tencel lyocell sheets and bedding sets? Where can I find deals or discounts?
Check major retailers like Amazon, Target, and Bed Bath & Beyond for deals, especially during holiday sales. Sign up for email alerts so you'll be notified of discounts. Look for coupon codes online to save extra.
Compare prices between stores. Opt for value sets with sheets, pillowcases, and duvet covers to maximize savings. Consider buying Tencel lyocell sheets separately instead of as a full set. With some smart shopping, you can find quality Tencel lyocell bedding at affordable prices.
What thread count is ideal for Tencel lyocell sheets? Is higher thread count better?
For Tencel lyocell sheets, thread count isn't as crucial as it is with cotton. The fiber's properties and weave have a greater impact on softness and durability than thread count. Aim for a thread count of 200-400; higher counts don't guarantee better quality with this fabric.
Instead, focus on the weave, certifications, and user reviews to find the ideal Tencel sheets for you.
Conclusion
Just as a comforting blanket envelops you on a cold night, Tencel lyocell can wrap you in softness and breathability. Slip between Tencel sheets and feel the silky smoothness against your skin. Its moisture-wicking properties keep you cool on hot nights while retaining warmth in the cold.
Tencel offers the hypoallergenic comfort of the finest bedding with the eco-consciousness we all crave. Let Tencel lyocell bedding cradle you in its gentle embrace tonight and every night.