This site is supported by our readers. We may earn a commission, at no cost to you, if you purchase through links.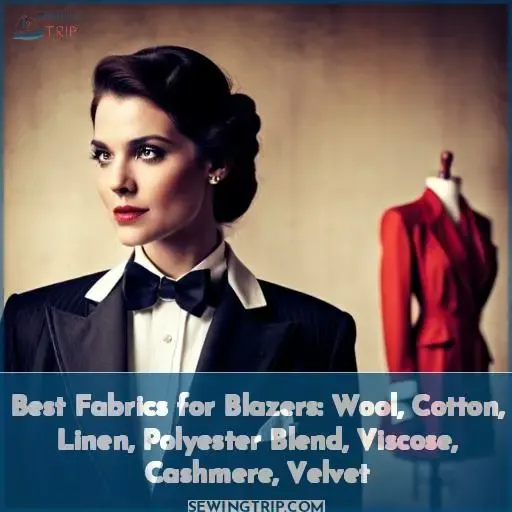 There are several popular fabrics commonly used for blazers:
Wool is a classic choice that offers warmth and durability. It works well for structured, tailored blazers. Cotton provides comfort and breathability. Linen is lightweight and cool, great for warm weather.
Polyester blends add shape retention at an affordable price point. Viscose and cashmere offer luxury softness. Velvet provides richness and elegance for formal occasions. Tweed lends vintage character with its nubby texture.
The wide range of fabrics each have unique characteristics that make them suitable for different needs throughout the seasons. A lightweight cotton or linen is ideal for keeping cool in the summer heat. Wool and polyester blends offer warmth in the winter while maintaining shape.
Viscose, cashmere, and velvet fabrics lend elegance for dressier occasions. Tweed adds vintage flair. With all the options available, you're sure to find the perfect fabric to complement your personal style and meet the needs of any situation when choosing the fabric for your blazer.
Key Takeaways
Popular blazer fabrics include wool, cotton, linen, polyester blends, viscose, and cashmere, velvet, and tweed.
Fabric selection for blazers should consider needs and seasons, with cotton and linen being ideal for summer, and wool and tweed optimal for winter.
Natural fabric options for blazers include wool, cotton, and linen, each having their own benefits and qualities.
Specialty fabrics like cashmere, velvet, and tweed provide unique styles and characteristics for blazers.
Types of Fabric for Blazers

When selecting a blazer, consider the intended use and choose a fabric that reflects your refined yet casual style. Linen and cotton will keep you cool when the weather warms up, while wool and tweed offer timeless warmth for crisper days.
The versatility of the blazer allows you to express your personal flair through your fabric choice. For summer, choose breezy linen or crisp cotton to beat the heat in style. These natural fabrics showcase laidback sophistication.
When autumn arrives, opt for hardy wool or tweed blazers radiating cozy texture. Classic herringbone and houndstooth patterns add interest without overpowering.
For formal events, rich cashmere or worsted wool conveys elegance. Velvet offers a regal update for the holidays.
Allow the blazer's fabric to complement your look from season to season. With smart selections, you can build a collection spanning casual days at the office to cocktail attire that shows off your creative eye.
Natural Fabrics for Blazers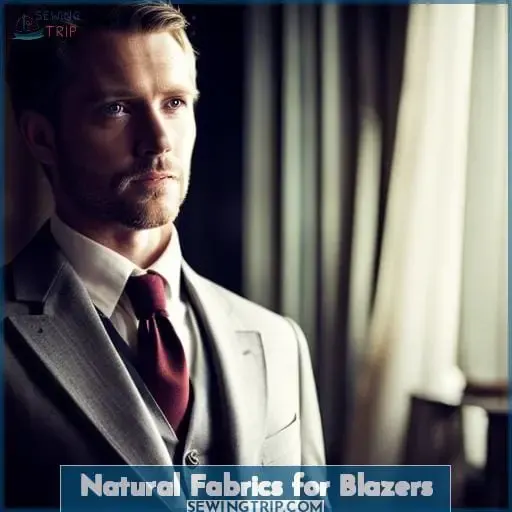 Looking for a natural fabric for your blazer? Wool is an excellent choice as it offers warmth, durability, and a professional appearance. Cotton and linen are also great options, providing breathability and a lightweight feel perfect for warmer months.
Wool Fabric
You'd be incredibly foolish not to choose wool for your blazer, as its unparalleled warmth and durability will keep you cozy and stylish all winter long. Wool blazers boast advantages like seasonality, care, styling, and versatility. The fabric weight provides sturdy structure.
Pair wool blazers with suit trousers or jeans. Woolen fabrics like worsted or tweed make timeless yet modern blazers for winter.
Cotton Fabric
Cotton's a natural choice for a cool, casual summer blazer. Here are 3 advantages of cotton blazers:
Breathable and lightweight. Cotton keeps you cool in the heat.
Soft handfeel and comfortable drape. The fabric moves with you.
Machine washable and easy to care for. Simply toss the blazer in the laundry.
Cotton blazers pair perfectly with chinos or jeans for a relaxed vibe. Stick with solid colors or subtle patterns in lighter tones.
Linen Fabric
Your summer blazer's cool yet wrinkled linen flows in the breeze. This breathable natural fiber keeps you professional yet comfortable when the temperatures rise. Its casual texture and tendency to wrinkle add charm while still projecting authority.
With proper care, linen offers durability, character, and liberating lightness perfect for blazers that empower.
Here is a comparison of key properties of linen versus cotton fabric:
| | Linen | Cotton |
| --- | --- | --- |
| Breathability | Excellent | Good |
| Wrinkling | High | Low |
| Durability | Good | Excellent |
| Absorbency | Low | High |
| Affordability | Moderate | Low |
Embrace the wrinkled look and liberation of linen. Its imperfections make it perfect for blazers.
Synthetic Fabrics for Blazers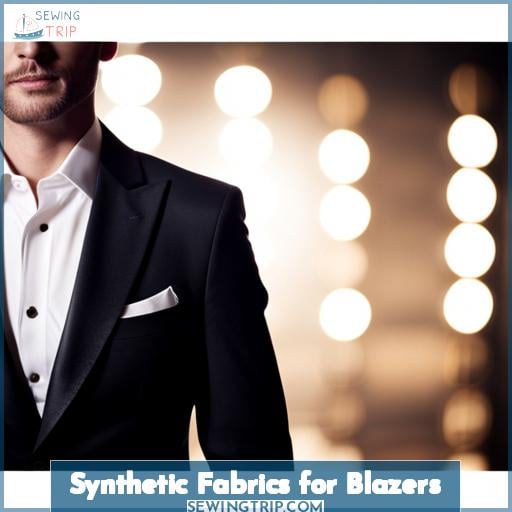 Polyester blend fabric is a popular choice for blazers because it is wrinkle-resistant, durable, and retains its shape well. Viscose fabric drapes nicely and has a luxurious sheen, though it requires extra care when laundering.
Combining polyester with wool or cotton results in a fabric that is structured yet soft. For a lightweight feel, linens and linen blends make breezy options for warmer weather. While 100% polyester can sometimes feel stiff, pairing it with spandex or elastane creates stretch for maximum comfort and flexibility.
Patterns like houndstooth and herringbone add visual interest to solid suits. Tiny raised dots give blazers subtle texture. Many blazers also incorporate satin details on the lining, lapels, and pockets for a sophisticated finish.
No matter your personal style, there are many synthetic fabric options available for fashioning the perfect blazer.
Polyester Blend Fabric
Now's the time to don a blazer woven with space-age polymers for cosmic comfort! Polyester blended with natural fibers creates a winning formula for today's versatile blazers.
Wrinkle resistance
Shape retention
Easy laundering
Affordability
While perhaps lacking the richness of pure wool or cotton, polyester blends allow for a rainbow of blazer colors at reasonable prices. Follow garment care instructions to keep your stellar jacket looking sharp. With the right styling, polyester blazers project confidence and modern pragmatism.
Choose polyester blends in classic solids or bold patterns for stellar style on a budget.
Polyester blended with natural fibers makes blazers intergalactically comfortable! The space-age polymer offers wrinkle resistance, shape retention, easy laundering, and affordability. Though it may lack the richness of wool or cotton, polyester allows for affordable blazers in any color.
Care for them properly and polyester blazers will keep looking sharp. With the right styling they project confidence and pragmatism. Polyester blend blazers in solids or bold patterns provide stellar style on a budget.
Viscose Fabric
Viscose fabric drapes nicely and looks professional, so it's a great choice for tailored men's blazers. With its silky sheen and soft drape, viscose makes for a stylish blazer fabric. It's lightweight and breathable like cotton, making it suitable for summer blazers.
However, viscose requires gentle care – wash in cold water and hang dry to avoid shrinking.
Look for viscose blended with cotton, wool or polyester to boost durability while retaining its aesthetics. For a polished blazer, consider a viscose blend in a solid color like navy or grey. With proper care, a viscose blazer offers versatility from the office to an evening out.
Specialty Fabrics for Blazers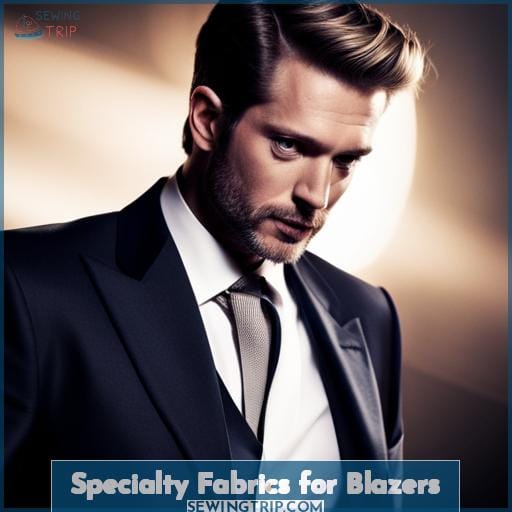 Good evening! Let's discuss some specialty fabrics that are popular options for making stylish blazers. Cashmere fabric is an ultra-soft and luxurious wool that provides unparalleled warmth and comfort.
Velvet fabric has a plush pile that creates a formal look, while tweed fabric offers versatility with its woolen twill weave containing colored yarns.
Cashmere Fabric
Cashmere is a luxuriously soft fabric choice for blazers. This fine, delicate fiber creates incredibly soft, lightweight fabric that excels at insulation. Compared to wool, cashmere is smoother, softer, lighter, and far more expensive.
It requires gentle hand washing to prevent pilling and retain its beauty. When styling a cashmere blazer, opt for luxurious accessories that complement the indulgent fabric. Unlike coarser wools or stiffer linens, cashmere offers unparalleled softness and warmth, perfect for elevating a cold weather blazer.
Velvet Fabric
You'll adore how velvet's lush softness exudes luxury for your blazer. Opt for velvet to make a stylish statement. This fabric looks most elegant in black, navy, emerald, or burgundy. Carefully follow the care instructions.
Use a lint brush before wearing to remove lint or pet hair. Pair with matching trousers for a monochromatic look or black pants for versatility. Velvet offers an alluring sheen and texture. Choose tencel or rayon lining for optimal comfort.
Tweed Fabric
Tweed brings a rich texture and stylish versatility to your blazer collection.
Timeless and durable, tweed blazers withstand years of wear.
The nubby fabric adds visual interest and texture to any outfit.
Pairing tweed with jeans or trousers creates a sharp, sophisticated look.
Tweed's complex history and durable nature make it a distinguished blazer fabric. Its versatility allows for both casual and formal styling. Caring for tweed properly will ensure it lasts for generations.
Suitable Fabrics for Summer Blazers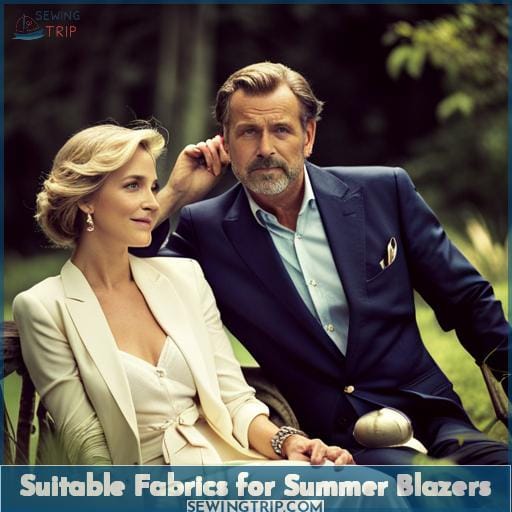 You'd look cool in a breezy linen or cotton blazer for staying comfortable in the summer heat. When picking the perfect fabric for a warm weather blazer, consider linen and cotton as top choices. Both natural fibers are excellent in breathability, keeping you at ease when temperatures rise.
Lightweight linen has a casual, rumpled vibe that pairs perfectly with chinos or jeans for a smart summer look. The fibers' porous texture allows heat to escape while the natural fibers wick moisture away.
For a more polished appearance, opt for a cotton twill or seersucker blazer. The subtle texture and sheen add dimension while staying suitable for summer. Look for lightweight cotton blends around 8-11 ounces for ideal comfort. Whether you like linen's relaxed vibe or cotton's refined finish, both make fantastic options for laid-back, warm weather blazers that'll have you looking sharp yet feeling cool all season.
Suitable Fabrics for Winter Blazers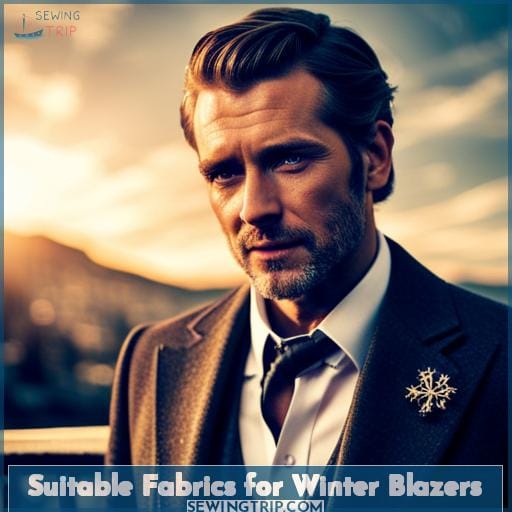 For wintry weather, seek wool, velvet, or corduroy blazers. They'll envelope you in coziness yet maintain a polished appearance. When the temperature dips, choose substantial fabrics to fend off chills without sacrificing style.
Opt for wool blazers in heavier weights like flannel or tweed. They'll retain warmth while looking sharp. The natural fibers insulate you against cold winds. For more luxurious softness, velvet blazers exude elegance.
Corduroy, with its distinctive texture, also provides insulation. It's a more casual choice yet still polished. Darker shades like navy, charcoal and camel flatter in winter. Finish the look with smart trousers and leather boots or brogues.
Well-chosen winter blazer fabrics keep you toasty when temperatures plummet. They let you focus on festivities, not freezing.
Factors to Consider in Fabric Weight for Blazers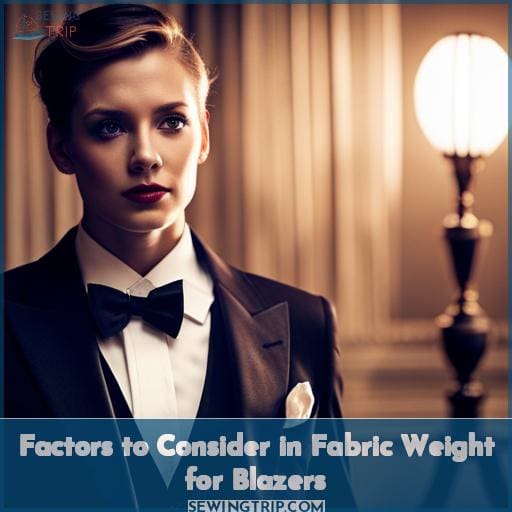 When choosing fabric for a blazer, the weight is an important factor to consider based on the seasons and your needs. Lightweight fabrics like linen and tropical wool are ideal for summer blazers because they are breathable and help keep you cool.
Heavier fabrics such as tweed, velvet, and melton wool are better choices for winter blazers since they provide warmth and structure. The right fabric weight provides the comfort, look, and durability you want from your blazer.
Importance of fabric weight
Let's dive deep into that comfy cocoon of a blazer that wraps you in just the right warmth for brisk days ahead. When choosing fabric for a blazer, consider the weight. Lighter fabrics like linen and cotton suit summer; save heavier wools and corduroys for winter.
Heavier fabrics increase durability while lighter ones require more delicate care. The weight of the fabric impacts a blazer's ability to breathe, its structure, and suitability for each season. Choose wisely based on your climate and personal style preferences. The right fabric weight keeps you cozy and confident all year long.
Best fabric for seasons
When selecting fabric for your blazer, remember wool is a top choice for winter blazers, while linen and cotton are better for keeping cool in summer heat. For warm weather blazers, lightweight fabrics such as linen, cotton, or tropical wool will keep you comfortable yet stylish.
In colder months, opt for heavier wool blends, cashmere, and velvet that provide warmth while looking sharp. Choosing the right fabric weight for seasonal blazers ensures you stay fashionable and comfortable year-round.
With thoughtful fabric selection, your blazer wardrobe remains strong regardless of climate.
Different fabric characteristics
You'll appreciate how breathable linen and cotton feel for summer blazers, while warm wool and velvet are ideal for chilly days. Linen's natural fibers make it cool and crisp, though prone to wrinkling. Cotton's soft hand provides casual comfort.
Wool's warmth and durability prove optimal when temperatures drop. Plush velvet lends luxury and softness for a refined look. Polyester blends add shape retention. Considering fabric characteristics like breathability, texture, and versatility allows you to select the right fabrics for your blazers.
Lining Fabric for Blazers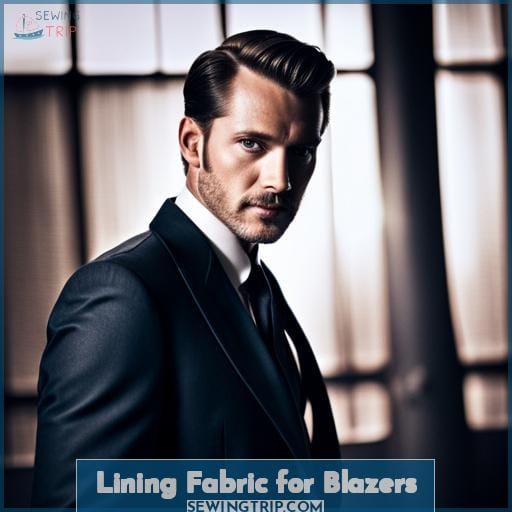 With blazers, you're wise to opt for smooth, breathable lining fabrics that complement the exterior. When choosing the right lining fabric for blazers, consider options like viscose, acetate, polyester, rayon, and cupro.
These man-made fibers make linings that feel luxurious yet lightweight. For optimal durability, look for sturdy acetate or polyester linings.
Aim for linings with some stretch to allow ease of movement. Satin makes a sleek, stylish choice that nicely contrasts typical blazer fabrics. Opt for a subtle print or bold color for a fun accent when removing the blazer. Just ensure any patterns or hues pair well with the jacket exterior.
With thoughtful selection, you can find breathable, quality lining fabrics to make your blazer feel great while looking sharp.
How Much Fabric is Needed for a Blazer?

Go traditional and splurge on roughly three yards of premium material. When building a blazer, the fabric yardage depends on your size and style preferences.
Small: 2 yards
Medium: 2.5 yards
Large: 3 yards
Extra yardage gives tailors wiggle room. Premium wool fabrics prove worthy splurges for timeless style.
When going for a crisp navy blazer, choose a versatile wool blend. For added texture, tweeds and herringbone weaves shine.
Measure your chest circumference and arm length before purchasing yardage. Discuss options with a tailor for the perfect custom fit.
Whether crafting a versatile navy staple or a tweed statement piece, invest in quality fabric. Proper yardage ensures you'll feel comfortable and confident in a blazer that fits just right.
Choosing the Best Fabric for Your Blazers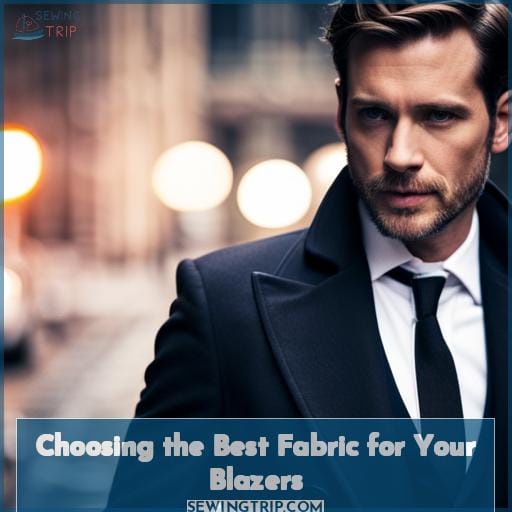 Finding the best fabric for your blazer depends on the season and occasion. For winter, wool blazers provide warmth, while summer options like cotton and linen will keep you cool in hot weather. Women can explore a range of fabrics like linen, cotton, wool, and knits for the office or events.
Wool vs. Cotton: Which is best?
When selecting fabric for your blazer, consider wool versus cotton, as wool will be warm yet linty while cotton stays cooler but more wrinkly. Though wool and cotton have distinct advantages, it is up to you to weigh their traits against your needs.
Wool makes durable, cozy blazers suitable for winter, yet attracts lint. Cotton blazers allow breathability for summer and launder well, though they wrinkle more. Consider the climate, care requirements, and colors you like when choosing wool or cotton to suit your style.
Summer Blazers: Breathable options.
Hey friend, go breezy with linen and cotton this summer. When warm weather arrives, lightweight blazers will keep you cool. Opt for breathable fabrics like linen, cotton, or seersucker. These natural fibers allow airflow so you stay comfortable.
Light hues reflect heat. Unlined jackets work wonderfully. Consider a tropical wool-linen blend for wrinkle resistance. Roll up your sleeves. Include fun accessories. Seasonal suiting allows you to dress sharp yet beat the heat.
Women's Blazer Fabrics
You're spoiled for choice when choosing the perfect fabric for your lady blazer. Consider these top options that offer both style and comfort:
Cotton – A natural fiber that's lightweight and breathable, making it perfect for warm weather.
Linen – Has a casual, relaxed vibe while still looking polished and put-together.
Wool – Keeps you warm in cold temps and has a timeless, sophisticated look.
Silks – Look and feel luxurious with their beautiful drape.
Whether you prefer natural fibers or synthetics, solids or patterns, the possibilities are endless for finding that perfect blazer fabric. Trust your instincts and choose the one that makes you feel most confident and beautiful.
Conclusion
Choosing the right fabric for a blazer is essential for comfort and style. Natural fabrics like wool, cotton, and linen offer durability and breathability, while synthetic fabrics such as polyester blends and viscose provide a lightweight feel.
Specialty fabrics like cashmere and velvet can lend a touch of luxury, whereas tweed can provide versatility and warmth. Depending on the season, suitable blazer fabrics include cotton and linen for summer, and wool, tweed, and velvet for winter.
No matter the fabric, blazers present the ideal combination of sophistication and elegance.