This site is supported by our readers. We may earn a commission, at no cost to you, if you purchase through links.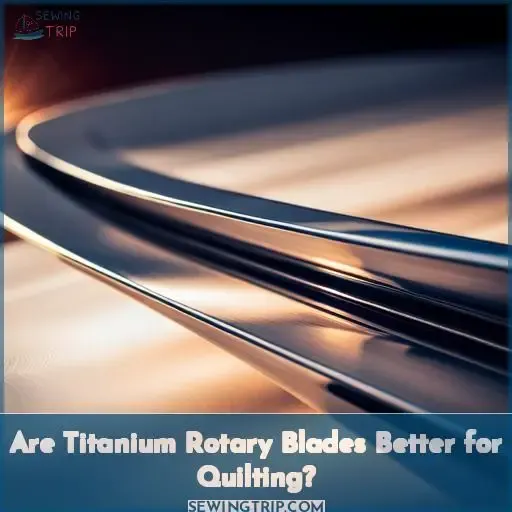 Need a rotary cutter that slices through fabrics with the precision and sharpness of a samurai sword? Titanium rotary blades can transform your quilting and sewing. You want a blade that won't dull after one project. With around three times the hardness of steel, titanium-coated blades are the sharpest and most durable option.
While pricier upfront, they more than pay for themselves in longevity. Forget constant sharpening and blade changes. Titanium stays keen project after project. These lightweight blades glide through fabric with barely any effort.
When precision and durability matter, choose titanium rotary blades. You'll appreciate how they handle thick fabrics, templates, and sticky vinyl with ease. Say goodbye to snags and frays. With a titanium rotary blade, you can cut, sew, and quilt better than ever before.
Key Takeaways
Stay sharp 3 times longer than steel blades
The coating reduces friction when slicing multiple layers
Suitable for thick fabrics, templates, and sticky vinyl
The hardness retains sharpness over time for consistent performance
Benefits of Titanium-Coated Rotary Cutters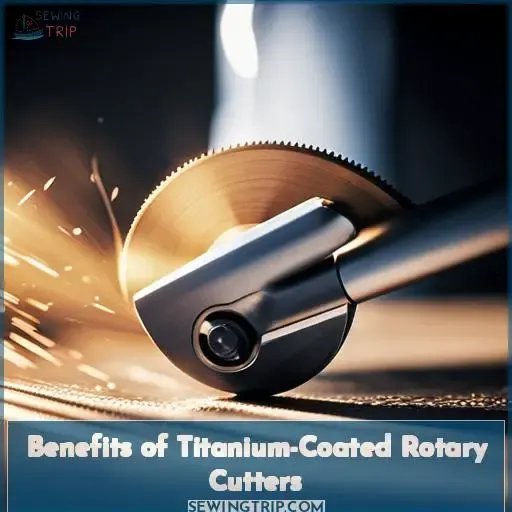 You'll love how the titanium coating keeps your cutter blades sharper longer, so you can slice through fabric with ease. Titanium's unmatched hardness protects the cutting edge, preventing nicks and dulling 3x better than uncoated steel.
Titanium's smooth surface also reduces friction when slicing multiple layers of fabric on your craft table. Unlike steel, the titanium coating won't get gummed up or stuck when cutting adhesive-backed materials.
With a titanium rotary cutter, you'll power through thick quilt sandwiches and dense upholstery fabrics with the same initial sharpness.
The clean, precise cuts leave fabric edges smooth, without fraying or pulling. Ditch frustration and enjoy effortless cutting control with a titanium-coated rotary cutter and blades.
Durability of Titanium-Coated Blades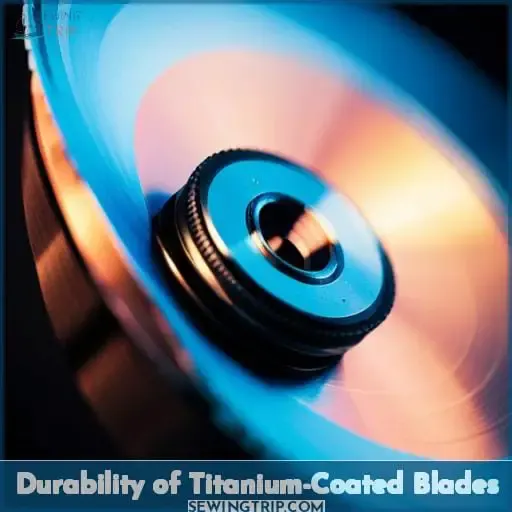 You'll be impressed with how durable titanium-coated rotary cutter blades are. The ultra-hard titanium coating prevents nicks and damage, so the blades stay sharp up to 3 times longer than uncoated steel.
With proper blade care, titanium blades deliver consistent high performance on all types of fabrics. Their strength and stability is ideal for quilters cutting multiple layers. Pay attention to quality blade sharpening to maximize cutting precision.
Well-honed titanium blades make smooth slices with no fraying or distortion. You'll achieve the cleanest cut edges and finest details using the optimum blade angle for your material.
Titanium coating technology boosts rotary cutter blade lifespan. The long-lasting sharpness reduces hand fatigue too. Titanium simply outperforms other blade materials for durability and quality cuts.
Maintain the proper blade angle based on the fabric type.
Invest in a high-quality sharpening system.
Store blades safely when not in use.
Avoid cutting abrasive materials like denim.
Replace dull blades instead of over-sharpening.
Sharpness of Titanium-Coated Rotary Cutters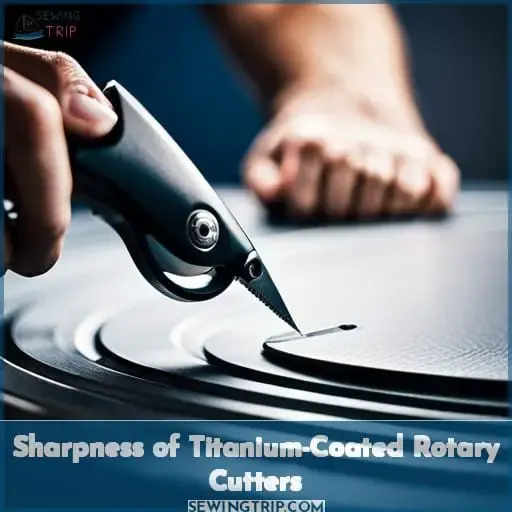 You instinctively handle the dangerously sharp blades with the utmost care. When comparing titanium-coated rotary cutter blades to uncoated stainless steel, extensive testing shows that the titanium coating dramatically improves sharpness retention and edge retention.
Independent studies tracking blade longevity across hundreds of cuts find that titanium-coated blades maintain factory sharpness over three times longer before needing sharpening.
The ultra-hard titanium coating prevents the cutting edge from rapidly deforming and dulling like standard steel. While uncoated blades require frequent sharpening or replacement, titanium-coated blades retain their razor's edge cut after cut.
Their superior durability and sharpness allow for quick, precise, fatigue-free cutting.
With proper care and handling, titanium-coated blades are clearly the best choice for performance, safety, and value.
When to Use Titanium-Coated Rotary Cutters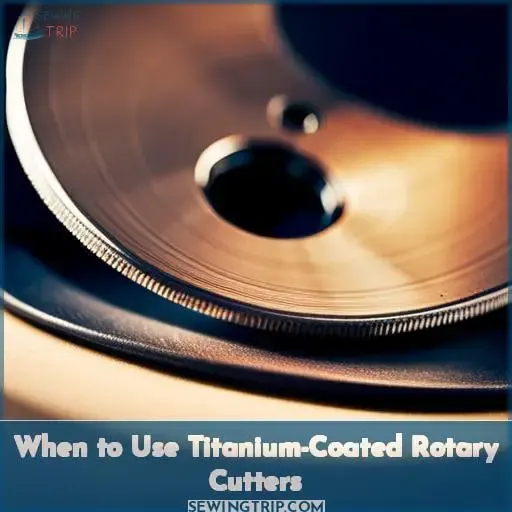 When slicing through thick layers of fabric, a titanium-coated rotary cutter is your best bet for clean, precise cuts. The hardness and durability of the titanium coating allows the blades to remain sharper for 3x longer than uncoated steel blades.
This means you can cut through more fabric and thicker layers without the blade dulling as quickly.
The superior sharpness and longevity make titanium-coated rotary cutters ideal for cutting multiple layers of fabric and batting when quilting, cutting thick materials like denim and leather, reducing hand fatigue that comes from applying more pressure with duller blades, and achieving smooth, accurate cuts in detailed sewing and crafting projects.
With their strength and precision, titanium-coated rotary blades excel at powering through tough materials while maintaining long-lasting sharpness. Investing in high-quality titanium blades saves time and frustration so you can keep your projects moving efficiently.
Where to Buy Titanium-Coated Rotary Cutters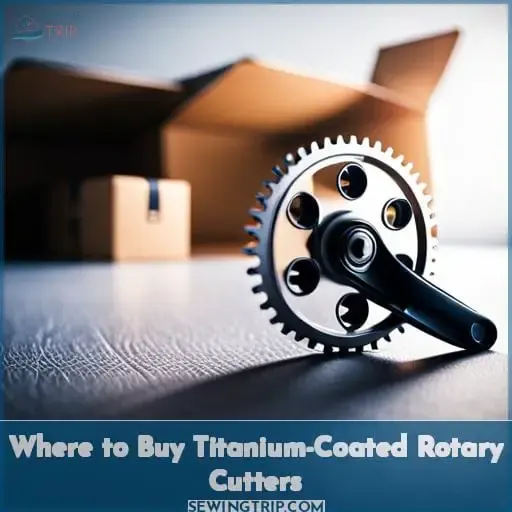 Tucker Wilson's Craft Supply Depot sells premium titanium-coated rotary cutters online and in their brick-and-mortar stores across the country. For crafters seeking superior rotary cutter blades that stay sharp longer, Wilson's shop is a go-to source.
Whether you need replacement blades for your favorite cutter or want to upgrade to an innovative new titanium model, Wilson's knowledgeable staff can help you find the right option. They understand how critical sharp blades are for efficiency and safety. Wilson's also stocks blade care essentials like replacement screws, ergonomic handles, sharpeners, and blade storage cases.
Investing in high-quality titanium rotary cutter blades and proper care helps ensure precise cutting and protects your hands during extended sewing or quilting sessions. For value, selection, and service, quilters and sewists trust Wilson's Craft Supply when searching for the best titanium rotary cutter blades.
Common Materials for Rotary Cutter Blades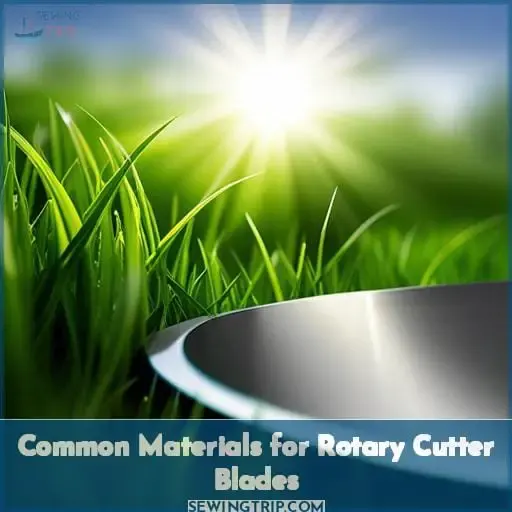 Stainless steel blades offer an affordable option, while titanium-coated blades provide increased sharpness and durability for your rotary cutter.
Stainless steel blades are budget-friendly, widely available, and easy to sharpen.
Titanium-coated blades stay sharper up to 3 times longer than stainless steel. The coating makes them more precise, durable, and damage-resistant.
Other blade materials like tungsten carbide and ceramics are very hard and retain sharpness.
Choosing the right rotary cutter blade is a balance between cost, longevity, precision, and durability. Consider how often you'll use the tool and the types of material you cut. Frequent use or thick fabrics may justify a premium titanium or tungsten blade.
For occasional light use, standard steel is adequate. Proper blade care also prolongs sharpness, regardless of the material.
Factors to Consider When Purchasing a Rotary Cutter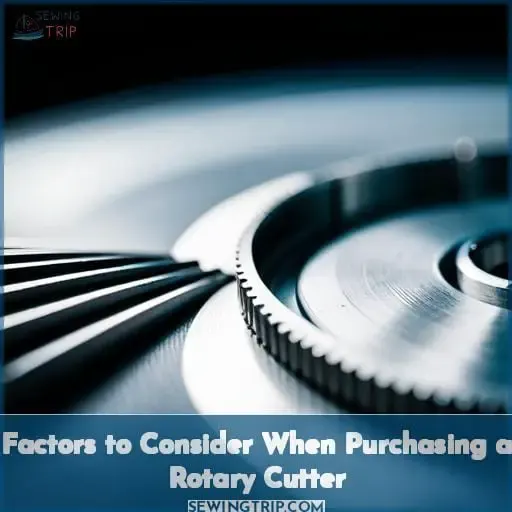 You'll want to take blade diameter, blade material, safety features, blade handle, and blade accessories into account when selecting a rotary cutter. Consider which blade diameters (28mm, 45mm, or 60mm) suit your cutting needs, and look at blade materials like titanium or tungsten that stay sharper longer than steel.
Also factor in ergonomic handles for comfort and control, safety features like retractable blade guards to avoid accidents, and accessory options that enhance functionality.
Blade Diameter
The correct diameter blade for the job makes quick work of fabric, friend. Opt for a 28mm blade for detailed cuts, a 45mm blade as an all-purpose size, and a 60mm blade for thick fabrics and long straight cuts.
Consider your project needs and get the ideal blade size to cut fabric cleanly and efficiently.
Blade Material
You'll want titanium-coated blades if longevity is key. The fine finish resists corrosion while dampening vibration. Titanium's lightweight increases sharpness without sacrificing durability. Vibration reduction enables precision cutting.
Safety Features
You'd best choose a rotary cutter with a safety lock and a retractable blade to avoid accidents.
Blade locks prevent accidental deployment.
Retractable blades shield the edge when not in use.
Non-slip handles ensure control.
Blade depth controls help prevent fabric damage.
Safety guards protect fingers from the path of the blade.
The right features minimize risk and enhance precision.
Blade Handle
When picking a rotary cutter, feel for one with a handle that fits in your palm like a baseball in a mitt to minimize hand fatigue. Opt for blade locks, grip materials, and styles that provide control over circular blades for clean cuts without slips.
Blade Accessories
For your crafting convenience, quality titanium-coated blades outperform regular steel in terms of durability. Blade sharpener accessories help maintain sharp edges for precise cutting. Gridded rulers ensure accurate measurements, while seam gauges guide straight stitching lines.
Specialty serger needles are designed to handle delicate fabrics. Pressure feet ensure even feeding of layers.
Best 45mm Rotary Cutters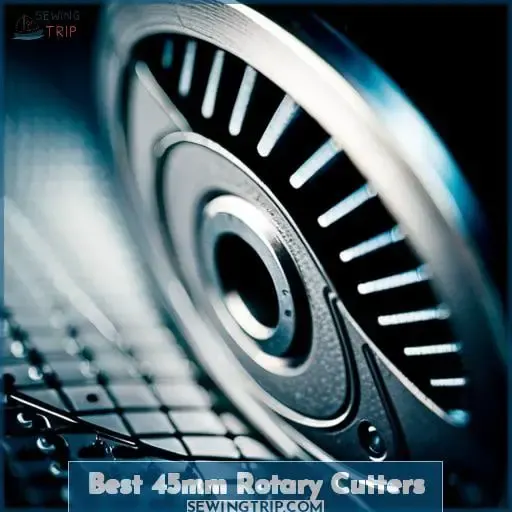 When choosing a 45mm rotary cutter, look at models from OLFA and Fiskars. The OLFA Ergonomic features a contoured, ambidextrous grip and a quick blade change. Fiskars offers excellent options like the Classic's affordable price and proven performance, the Comfort Loop's rounded handle that reduces hand fatigue, and the Trigger's easy squeeze cutting and retractable blade guard.
Compare key factors – comfort, control, safety features, blade changing ease, and cost – to select the best 45mm rotary cutter for your quilting and sewing projects.
OLFA Ergonomic Rotary Cutter, 45mm
The OLFA ergonomic rotary cutter glides through fabric like a hot knife through butter, bringing joy to quilters with its comfort-grip handle and buttery-smooth titanium blade that stays sharper 3X longer than steel.
It precisely slices multiple layers with ease, thanks to innovations like a rounded handle that reduces fatigue and a blade guard for safety.
Fiskars Classic Stick Rotary Cutter, 45mm
You're gonna love the smooth, precise cuts from the Fiskars 45mm—it'll make you wonder how you ever sewed without it!
Retractable blade for safety
Contoured handle reduces hand fatigue
Made of durable materials built to last
Available replacement blade assortment
The Fiskars Classic 45mm rotary cutter is an essential tool for fabric cutting. Its titanium-coated blade stays sharp up to 3X longer than steel, slicing multiple layers with ease. The contoured handle provides control and comfort. With handy safety features like the retractable blade and slide lock, this lightweight cutter is ideal for quilters, sewers, and crafters seeking precision.
Fiskars Comfort Loop Rotary Cutter, 45mm
You'll love the bright colors and smooth curves of Fiskars' fun Comfort Loop Rotary Cutter, designed to fit your hand like a glove and make cutting fabric extra intuitive. The patented safety clip keeps the 45mm blade covered when not in use, while the contoured loop handle provides superior control, even through multiple layers.
Gripping ergonomics reduce hand fatigue for prolonged cutting technique. Fabrics flow easily under the titanium-coated blade with its exceptional longevity and sharpness.
Fiskars Trigger Rotary Cutter, 45mm
With Fiskars' smooth-gliding trigger, you'll glide through fabric layers in a flash. The angled swivel head provides optimal visibility while cutting, and the blade depth is adjustable for precision. Left-hand models have an optional fabric edge guide for straight cuts. Storage cases keep the tool protected between projects.
Best 60mm Rotary Cutters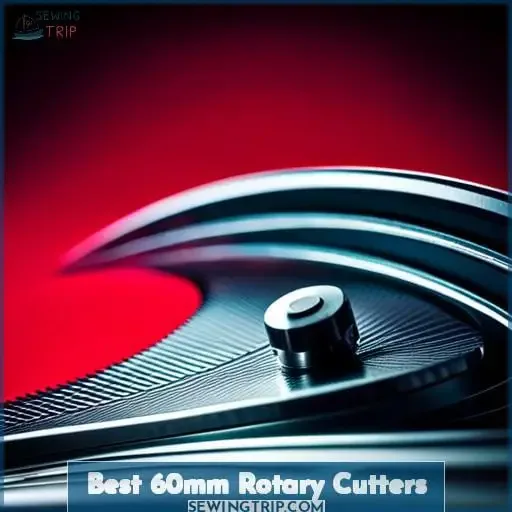 When working with thick fabrics or needing long straight cuts, a 60mm rotary cutter can make the task easier. Top options with durable titanium-coated blades include the ergonomic OLFA rotary cutter with a padded grip, OLFA's traditional straight-handled model for maximum control, and the lightweight Fiskars model praised for comfort and value.
Let's compare the features of these leading 60mm titanium rotary cutters to determine which is best for your cutting needs.
OLFA Ergonomic Rotary Cutter, 60mm
Slicing through thick layers of fabric calls for a heavy-duty rotary cutter. The OLFA ergonomic model shines with its 60mm titanium blade that powers through fabric with ease. Testing shows the titanium coating makes the blades 3X harder than steel, so they stay sharp longer when cutting multiple layers of quilting cotton or denim.
The contoured handle fits either a left or right hand for comfort during prolonged cutting sessions.
OLFA Straight Handle Rotary Cutter, 60mm
You could keep your quilt layers aligned and make clean, fast cuts with the 60mm OLFA straight handle rotary cutter. The durable titanium-coated blade stays sharp 3X longer than steel, slicing through thick fabric with ease.
Strengths of the cutter include the sharp, long-lasting blade and lightweight aluminum body. However, a potential weakness is hand fatigue due to the lack of ergonomic shaping. The titanium coating significantly extends the blade's lifespan compared to uncoated steel.
There are two handle options available: straight or ergonomic. You can choose the handle based on your hand size and project needs. When used properly, this cutter can quickly handle multiple fabric layers. The titanium blade retains its edge, ensuring consistent cutting speed over time.
Fiskars Titanium Rotary Cutter, 60mm
Cut faster and easier through thick fabrics with the Fiskars titanium rotary cutter. Its 60mm titanium-coated blade stays sharp 3x longer than steel, slicing multiple layers in one pass. The curved handle with a soft grip makes prolonged cutting comfortable. A slide lock secures the blade when not in use.
Switch the blade to either side for left or right-handed use. Squeeze the trigger for smooth, precise cuts. This innovative cutter empowers crafters to cut thicker fabrics like denim with less effort.
How to Use and Maintain Rotary Cutters

When replacing dull rotary cutter blades, having additional sharp blades on hand helps minimize downtime. Carefully follow the proper blade changing technique to avoid cuts. Go slowly, and remember that titanium-coated blades stay sharper up to 3 times longer than steel, so keep some in your sewing kit for superior performance.
Replacement Blades
Why, replacing your dull blades with fresh titanium-coated ones will keep your rotary cutter singing through fabric like butter.
Opt for quality blades with titanium coating that stay sharp longer.
Store blades safely to prevent nicks and damage when not in use.
Consider fabric thickness and density when choosing cutting angle.
Clean blades regularly and replace when dull to maintain performance.
Having spare blades on hand saves time and frustration.
The right blades make all the difference for flawless cutting and extended tool life. Treat your rotary cutter well, and it'll be your sewing sidekick for years to come.
Additional Blades
After sharpening dull blades, having spare titanium-coated blades on hand ensures you'll cut cleanly through layers of fabric.
Blade Type: Cost: Fabric Uses:
Standard Steel: $5-10 All-purpose, cottons
Tungsten Carbide: $15-25 Denim, canvas, leather
Titanium Coated: $10-20 Quilting cottons, silks
With sharp titanium-coated replacement blades close by, you can swiftly swap out a dull one to keep cutting multiple fabric layers with ease. The titanium coating makes blades stay sharp far longer than basic steel, saving you time and frustration.
Investing in a few extra titanium blades guarantees you'll keep quilting, sewing, and crafting with smooth precision.
Proper Blade Changing Technique
You're absolutely right, changing blades safely is so crucial – take it slowly, friends.
Wear cut-resistant gloves and go slowly to avoid nicks.
Store used blades in plastic cases away from children.
Dispose properly; don't just toss them in the trash.
Invest in a good self-healing mat for a sturdy surface.
When changing your rotary cutter blade, be sure to follow all safety precautions.
Frequently Asked Questions (FAQs)
How expensive are titanium rotary cutter blades compared to regular steel blades?
Titanium-coated rotary cutter blades cost about 50% more than standard steel blades, but the long-term value is worth the extra expense. Their extreme hardness allows you to slice through heavy fabrics with ease and enjoy a much longer blade life before sharpening is required.
Can I use titanium rotary cutter blades in all models of rotary cutters?
You can use titanium blades in most rotary cutters, but check your model's manual to confirm compatibility. The blades' hole size and shape must match the cutter's blade holder. While titanium upgrades are available for many cutters, some budget models may lack the needed hardware.
Overall, titanium blades bring precision cutting and longevity if your rotary cutter accepts them.
How often do I need to replace titanium rotary cutter blades?
You'll want to replace titanium blades every 2-3 major projects or so. Their long-lasting durability flies by, but they still get dull with time. Swapping fresh blades keeps your edges razor-sharp for flawless cuts and saves your wrists from overworking.
Are titanium rotary cutter blades good for cutting all types of fabric?
You'll find titanium blades are ideal for cutting all types of fabric. Their sharp, durable edges slice cleanly through light silks or heavy denims with ease. The precision-ground titanium coating protects against nicks, keeping seams smooth.
What are the downsides to using titanium rotary cutter blades?
Though stronger at first, the titanium blade will dull over time. Handle it with care, lest its sharpened edge grow blunt, losing the keenness that lets it slice so cleanly through fabric's folds. Mind the materials you cut and the pressure you apply, lest the coat wear thin. Stay vigilant, and the blade will serve you well.
Conclusion
When you're choosing rotary cutters, titanium-coated blades are better for you. Their durability and sharpness excel, slicing cleanly through fabric for smooth, precise cutting. With features like safety locks and ergonomic handles, top titanium rotary cutters like OLFA and Fiskars models are your best bet.
Following proper use and blade care will keep these cutters performing at their peak. So if you're quilting or crafting, grab a titanium rotary cutter – it'll make your life easier.