This site is supported by our readers. We may earn a commission, at no cost to you, if you purchase through links.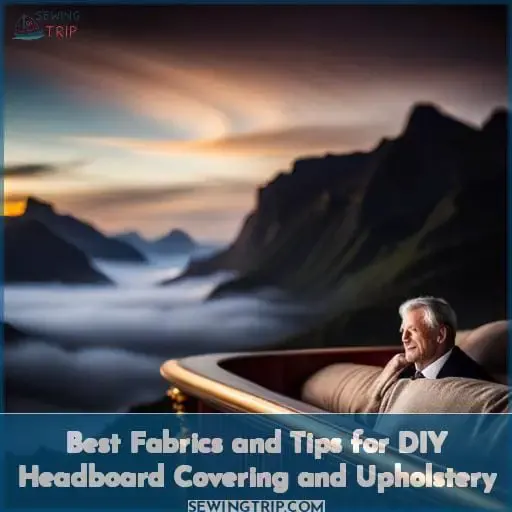 As you sit admiring your bed frame in the morning light, you're struck by a realization—the worn wooden headboard has seen better days. Like a trusted friend, it has endured countless nights of laughter, heartbreak, and comfort.
But the fading finish and splintering wood whisper that it may be time for an upgrade.
With a quick trip to the fabric store and a few hours of love, you can give your loyal headboard a fresh new look that brings warmth back to your bedroom. Armed with a staple gun, scissors, and a bold patterned fabric like velvet, linen, or chenille, refashioning your headboard is within reach.
Just 150 yards of fabric and a Saturday afternoon is all you need to reinvent your space. Don't let the cost of a new bed stop you from making over your bedroom. With some clever DIY magic, you can breathe new life into your existing furniture for a fraction of the cost.
Let your headboard's next chapter be its best yet.
Key Takeaways
Velvet, chenille, linen, and faux leather are popular headboard fabric options with unique characteristics.
Consider factors like maintenance, durability, and texture when choosing the right fabric for your headboard.
Measure the fabric accurately and follow proper upholstery steps to achieve a successful headboard upgrade.
The transformative power of fabric can breathe new life into old headboards, making them look and feel brand new.
7 Best Fabrics for Headboard Covering
The upholstery for your bedroom's headboard plays a key role in its overall style, comfort, and durability. To help identify the most suitable fabrics for headboards, we'll explore seven of the best options to consider based on characteristics like texture, warmth, maintenance, and cost.
Velvet is luxuriously soft and elegant, draping beautifully over the curves of a headboard. However, it can be difficult to clean and is prone to crushing. Chenille is cozily plush with a subtly iridescent sheen.
It's fairly easy to maintain but can pill with friction. Linen has an earthy, relaxed feel that softens over time. It's breathable but prone to wrinkling. Faux leather is affordable, durable, and low maintenance with a sophisticated style.
However, some find it too stiff. Microsuede has a brushed finish that mimics velvet or suede. It resists stains but can fade in sunlight. Polyester blends are durable, fade-resistant, and wrinkle-free but have a slightly artificial feel.
Cotton is natural, breathable, and soft but prone to shrinking and wrinkling. By weighing factors such as your budget, preferred texture, and maintenance needs, you can select the ideal headboard fabric for your bedroom.
1. Turquoise Solid Poly Cotton Fabric by the Yard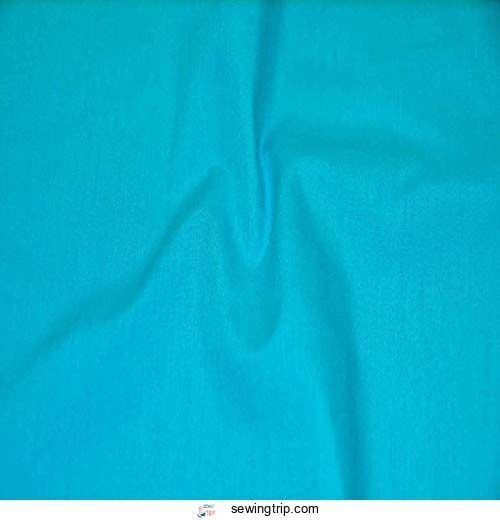 View On Amazon
You'll appreciate how the smooth, lightweight hue pairs nicely with accents when making that quick DIY bedroom upgrade. As fabric aficionados, we find this poly-cotton twill ticks all the boxes. It's easy to work with for even novice sewers, plus the cost-effectiveness allows creativity on a budget.
For your upholstery projects, this fabric will deliver on durability without breaking the bank.
Lightweight and smooth texture
Vibrant sky blue color
Poly-cotton blend is easy to work with
Cost-effective for DIY projects
Durable enough for upholstery
Fairly thin, not thick/heavy
Color is more sky blue than turquoise
Best for lightweight projects like pillows and baby clothes
2. Natural Linen Fabric Plain Solid Color Tablecloth Garments Craft Accessories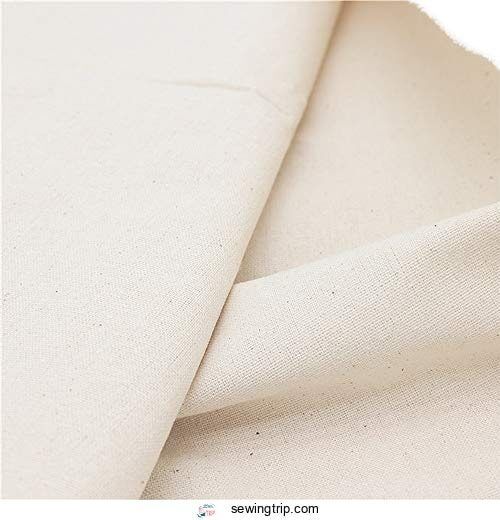 View On Amazon
This organic needlework linen lets beginners and pros smoothly cross-stitch and embroider DIY crafts. The soft, durable texture allows floss and threads to pass easily, making it suitable for sashiko, punch needlework, embroidery, cross stitch, and needlepoint.
Though praised for enabling crafters to complete projects, some buyers received incorrect sizes or had issues with missing items.
Overall, this quality linen fabric enables you to make personalized creations like pillows and wall hangings through your preferred needlecraft.
Great for embroidery, especially for beginners
Allows floss and threads to pass smoothly
Soft enough for needlepoint
Durable texture
Some variations reported in size
Issues noted with missing items in orders
May require patience for cross-stitch
No details on fabric shrinkage after washing
3. Upholstery Fabric Polyester Blend Fossil Pattern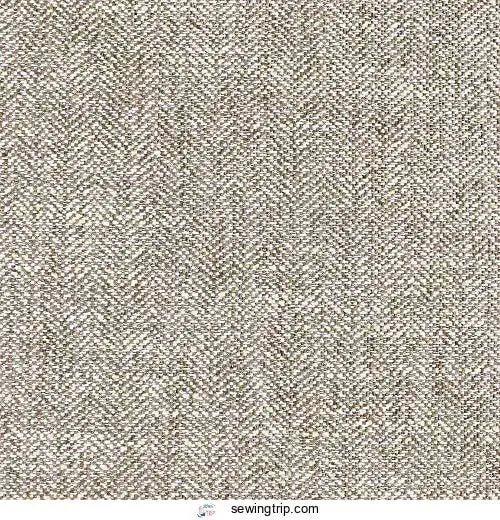 View On Amazon
Upgrade your bedroom with this stylish fossil-patterned upholstery fabric's modern designer vibes. It's ideal for DIY upholstery projects like headboards, pillows, or reupholstering your existing furniture.
This durable 95% polyester 5% acrylic blend proves easy to work with and bends to your creative will.
Transform outdated furnishings with a fresh, contemporary pattern repeat in neutral earth tones. We love how the texture provides depth and interest. As designers, we're picky about quality fabrics, and this one delivers satisfactory performance for the price.
Pair it with solid fabrics as a bold accent or use it to establish an eclectic foundation in any room.
You'll receive compliments for the stylish pattern that effortlessly elevates your space.
Modern designer pattern
Easy to work with
Durable polyester blend
Neutral earth tones
Provides texture and depth
Potential odor initially
May receive incorrect yardage
Pattern repeat can be tricky
4. Chenille Royal Fabric by Yard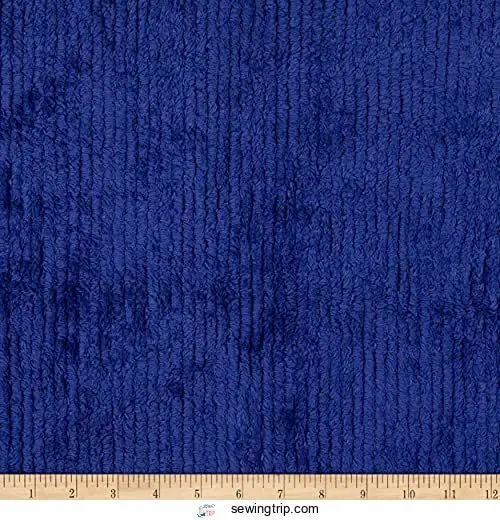 View On Amazon
Wrap yourself in soft luxury with this royal blue chenille for velvety-smooth DIY projects. The lightweight quilted chenille's velvety finish caresses your skin while lending tactile interest to accents.
Favorably priced, easily cared for, and sold by the yard, it facilitates executing your creative vision.
Wide yet supple, the cotton glides effortlessly as you craft with delight. Make throws, pillows or garments with this versatile plain weave.
Soft, velvety texture
Lightweight and supple
Easy care – machine wash and dry
Sold by the yard
Versatile – many projects
Reasonably priced
Only available in royal blue
Prone to wrinkling
Can pill with wear over time
Needs ironing
Shows stains
5. Majesty Velvet Fabric Blush Yard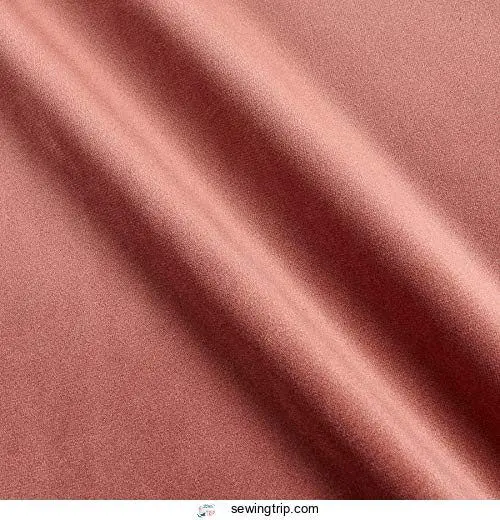 View On Amazon
You'll feel immersed in luxury when caressing the cloud-like softness of this dusty blush velvet that beckons to be transformed into accent pillows or drapes for a romantic, ethereal aesthetic.
The rich blush pink hue and lovely sheen of this medium-weight, pre-shrunk polyester velvet fabric evokes a sense of romance perfect for elevating home decor. Made in the USA, it's easy to care for by machine washing cold and tumble drying low.
Transform any space with the beauty of this versatile velvet fabric that brings a touch of ethereal romance through its softness and elegant color.
Lovely sheen and soft, cloud-like hand
Medium weight and versatility for home decor projects
Pre-shrunk and easy care – machine wash cold/tumble dry low
Made in the USA
Potential discrepancy between advertised and actual color
Polyester fabric less breathable than natural fibers
Needs gentle care – dry clean only
6. Soft Faux Leather Fabric Sheets for Upholstery and Crafts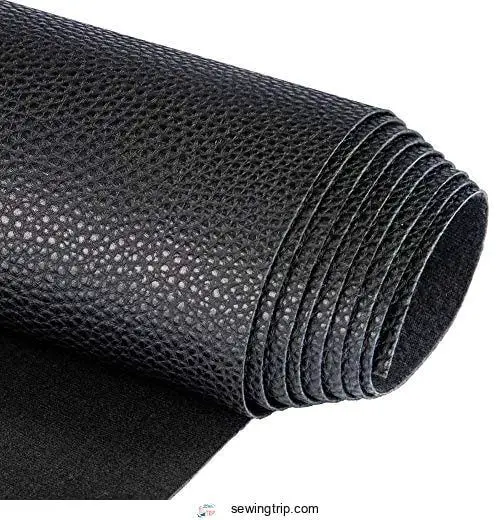 View On Amazon
You can give your headboard a rich, stylish look with the Soft Faux Leather Fabric Sheets. The high-grade PU material provides a realistic leather texture in various colors for an opulent feel. As an interior designer, I appreciate the soft hand, durability, and waterproofing that make this fabric ideal for headboards and other furnishings.
Upholsterers will find it flexible and easy to work with. However, the synthetic leather does have an initial odor that requires airing out.
Soft, flexible, easy to work with
Durable and waterproof
Realistic leather look
Variety of colors
Initial chemical odor
Potential creases from folding
Not real leather
7. Wento Thick Faux Leather Upholstery Fabric Camel Tan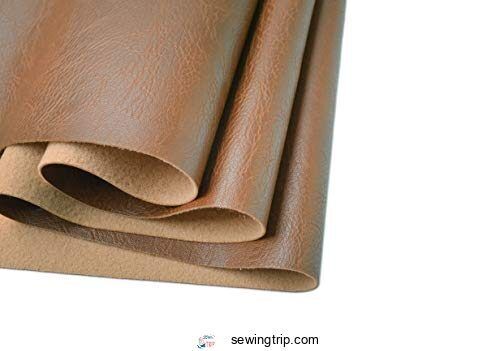 View On Amazon
Unfortunately, the Wento faux leather's initial chemical odor will dissipate after airing it out, allowing you to enjoy its soft texture and wood grain look when reupholstering furniture. As fabric experts, we know the key qualities of this PU leather that make it suitable for DIY upholstery projects.
Its thickness provides durability while the smooth flexibility allows for easy cutting, shaping, and sewing. The material resists fraying, enabling clean handling and stitching by hand or machine. Though this faux leather may arrive with creases from folding, a simple steaming can banish any lines.
Weigh the benefits against drawbacks as you evaluate fabrics for your next headboard or furniture makeover:
Smoothly flexible polyurethane material
Easy to cut, shape and sew
Durable thickness for upholstery use
Cons:
Potential creases from folding
Initial chemical odor requiring airing out
Benefits of Fabric Headboard Coverings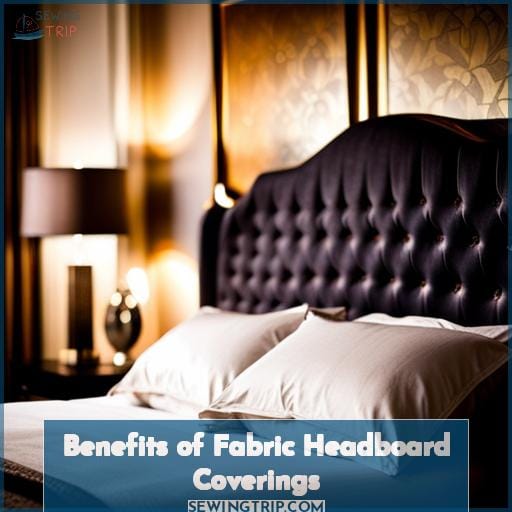 Decorate like an expert and realize the benefits of fabric headboard coverings. Upholsterers are skilled in selecting and working with fabrics, while interior designers and fabric experts understand all the options and how different materials can transform your bedroom.
When choosing upholstery fabrics, considering headboard materials, and approaching DIY projects, utilize their specialized knowledge to fully realize the advantages, like added comfort and personalized style, that come with a fabric-covered headboard.
Choosing Upholstery Fabrics
Unfortunately, selecting upholstery fabrics becomes overwhelming with the myriad patterns and textures available. Interior designers have expertise in selecting fabrics, upholsterers specialize in working with fabrics for furnishings, and fabric experts have in-depth knowledge of fabric types and characteristics.
When choosing upholstery fabrics, consider the material options like cotton, linen, velvet, or leather. Calculate yardage needed based on furniture dimensions. Understand characteristics of fabrics – some have stretch, while others have a nap or pile.
Reach out to upholstery professionals for guidance on selecting durable, quality fabrics for your DIY headboard or furniture projects.
– Headboard Material Options
Glady, velvet and leather bring warmth and richness to a bedroom when topping the headboard.
Visual texture from tufting or quilting
Soft to the touch for cozy comfort
Classic sophistication exuding elegance
Statement-making colors and patterns
Interior designers recommend considering factors like texture, softness, style, and visual interest when selecting headboard fabrics. Upholsterers say fabric types like velvet and leather not only look beautiful but also feel wonderful.
According to fabric experts, assess headboard fabric options for attributes like durability, stain resistance, and ease of cleaning. Ultimately, choose fabrics promoting intimacy, freedom, and belonging in your personal sanctuary.
– DIY Upholstered Headboard Tips
Dive quickly into this brief guide for upholstering your own stylish headboard with tips on selecting ideal fabrics, batting, and fasteners for a custom bedroom focal point. Interior designers understand fabrics; upholsterers master them. Experts grasp types and textures.
Opt for durable, varied colors. Include foam padding. Excel at stapling techniques. Mind the costs. Choose quality materials for long enjoyment of a personalized bed backdrop.
How to Measure and Calculate Fabric Needed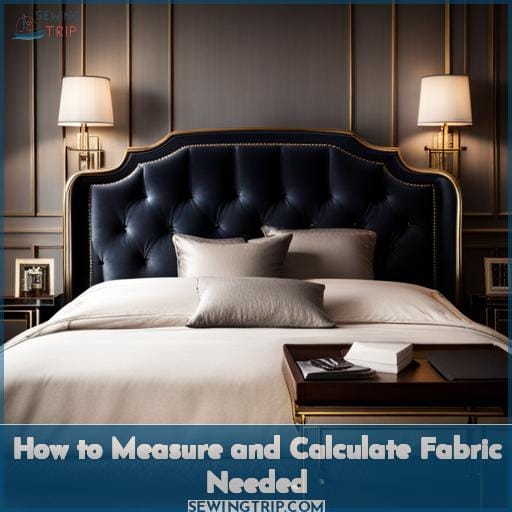 You'll save money by double-checking your measurements before purchasing fabric for that headboard refresh.
Measure the length and width of your headboard precisely in inches. Add a few extra inches for seams and hem allowances.
Calculate the square inches of your headboard by multiplying length x width.
Check the width of the fabric you plan to use – 54 or 60 inches are common. Estimate the number of inches you'll get from 1 yard of that fabric.
Divide the total headboard square inches by the fabric width to determine how many yards you'll need.
Upholstery pros plan meticulously when measuring for fabric to avoid costly mistakes or running short. Investing a little time upfront prevents headaches later. With some simple calculations, you can determine exactly how much material is required before purchasing.
DIY Instructions for Upholstered Headboard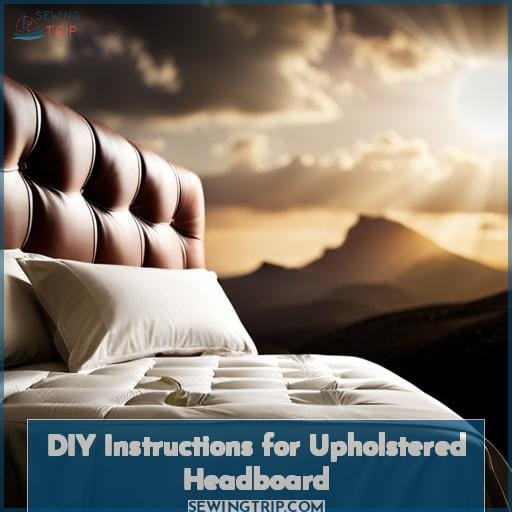 Now that you've gathered your supplies and measured your materials, it's time for the fun part – upholstering your headboard! Start by cutting your foam and fabric pieces to size. Center the foam on the plywood, then staple one long edge of the fabric to the backside of the plywood so it wraps over the front.
Use a staple gun to attach the fabric to the plywood, pulling it taut as you work your way around.
Add batting over the foam for extra plushness and secure with more staples.
Finally, attach your French cleat to the back for easy mounting. Step back and admire your stylish new focal point – you did it! With some elbow grease and the right materials, you created a custom look at a fraction of the cost.
Reupholstering a Bed Frame With Fabric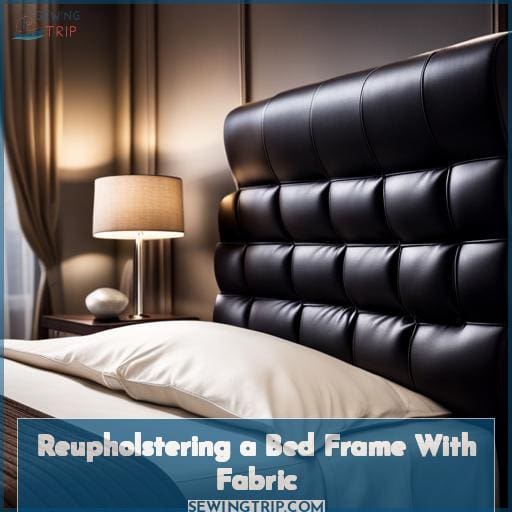 With eager hands, you gently unfold the plush new fabric to revitalize your bed frame's faded cover.
Carefully disassemble the bed frame and label each piece for easier reassembly.
Use a staple gun to secure and stretch the fabric over the frame. Staple every 2-3 inches for a smooth application.
For a layered look, consider using contrasting fabrics. Secure the top layer over the base layer.
After covering all frame surfaces with fabric, use a drill to create holes through which you can reinsert hardware and legs.
Reupholstering your own bed frame allows you to customize its look while saving money. With some basic tools and quality upholstery fabric, inject your personal style into your bedroom. This enjoyable DIY project results in a renewed bed frame that reflects your taste and creativity.
Fabric Types for Headboards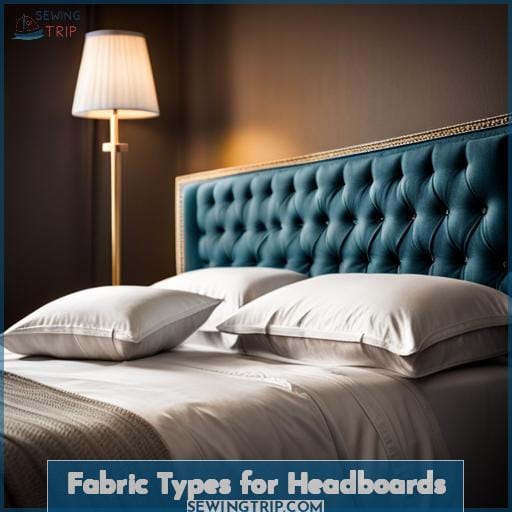 Mix and match texture and color with natural cottons, comfy chenille, lustrous velvet, or vegan leather to design a dreamy headboard. Upholsterers and fabric experts know both aesthetics and durability are key in selecting fabrics for headboards.
Cotton provides a soft, breathable feel while still offering strength. Tufted chenille makes for a cozy cushioned headboard. For luxury, velvet's sheen and texture simply stun. Faux leather gives a modern look with easy maintenance.
Opt for hypoallergenic, fade-resistant materials. Whenever possible, get swatches first to ensure the fabric and colors suit your style. With the right fabric, transforming an old headboard or making a new one can be simple.
Conclusion
To capture the essence of your dream bedroom, you deserve the best fabric for headboard covering.
Interior designers, upholsterers, and fabric experts understand the importance of selecting the right material for your DIY project.
When you embark on this creative journey, you'll find that fabric options are vast, but the focus keyword, best fabric for headboard covering, guides you towards seven exceptional choices.
Whether you prefer the luxurious touch of velvet, the durability of upholstery blends, or the softness of faux leather, your DIY headboard is a canvas for your style.
Get ready to transform your space with these top fabrics and expert tips.