This site is supported by our readers. We may earn a commission, at no cost to you, if you purchase through links.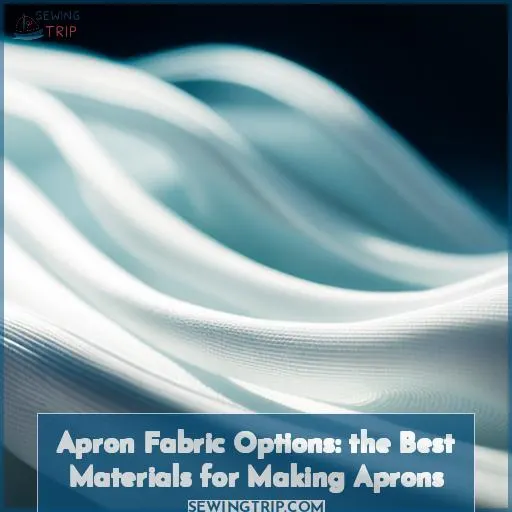 Isn't it interesting that we find ourselves here, contemplating the liberating power of a simple apron? These functional textiles hold more meaning than their utilitarian appearance lets on. The right fabric cradles progress, spurring the industrious hands that feed, nurture, and create.
Let us examine the properties that allow cotton, polyester, linen, and others to further our efforts. Armed with knowledge of how each performs under pressure, heat, and stain, you can harness their potential.
Will it be the softness of linen or the durability of canvas that empowers your work? That choice is yours, as are the tiny triumphs of finding an apron that fits and flatters your frame.
With an ensemble that protects and inspires, you're ready to take on any recipe, craft, or chore that comes your way.
What Kind of Fabric is Good for Aprons?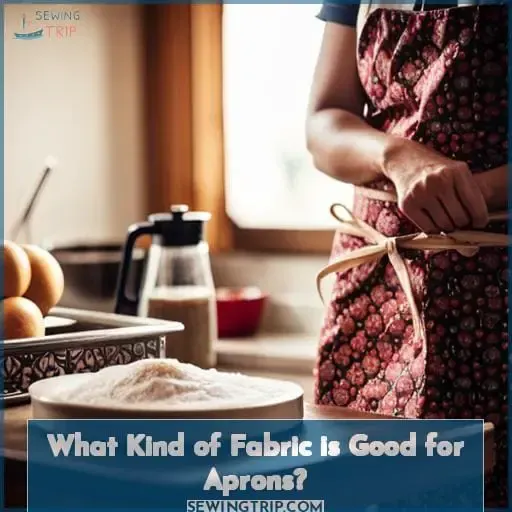 For kitchen work, look into durable, stain-resistant fabrics like cotton or linen that will withstand daily wear and tear. Cotton is a natural fiber that resists stains and heat well. Look for mid-weight cotton in a tighter weave, at least 200 thread count, for maximum durability.
Linen is another choice, made from flax plant fibers. It's very strong, absorbent, and dries faster than cotton.
For decoration, try adding lace trim, embroidery, or your name to personalize. Use all-purpose thread for topstitching decor by machine.
Store folded on a hook or rolled around towels inside a bin. For oil stains, spot clean with dish soap or soak in oxyclean.
For convenience, an apron with deep pockets, cross-back straps, and full chest coverage lets you carry tools hands-free and protects clothes.
The right fabrics make aprons personalized, stylish, and functional for serious home cooks.
Apron Fabric Material Requirements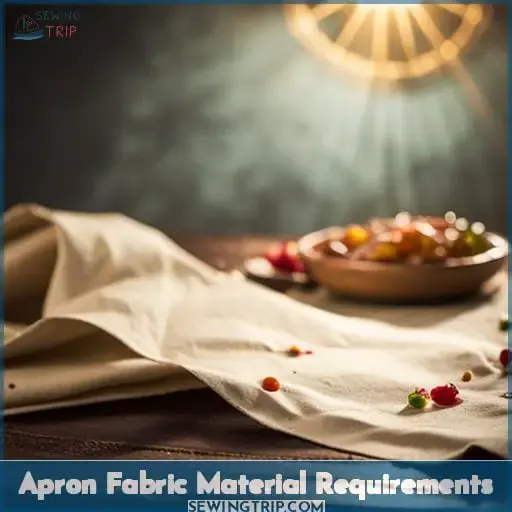 When choosing an apron, prioritize durability and stain resistance over style. A cross-back denim or canvas apron with deep pockets can withstand years of spills and offer essential protection, though some prefer softer linen for comfort while baking delicate pastries.
Consider material weight and thread count. Higher thread counts tend to be more durable and withstand abrasion.
Evaluate fabric thickness. Thicker fabrics better protect clothes from spills and heat.
Assess stain resistance. Texture can help hide stains. Absorbent fabrics require more cleaning.
Review care instructions. Some fabrics shrink or stain. Cotton is often stain-resistant and easy to clean.
The optimal apron fabric balances durability, stain resistance, ease of care, and comfort. Let your apron's duties, not just style, dictate your choice. Durable, protective fabrics like denim withstand years of use.
Softer linens suit lighter tasks. Match fabric to function for the best results.
Best Fabric for Making Aprons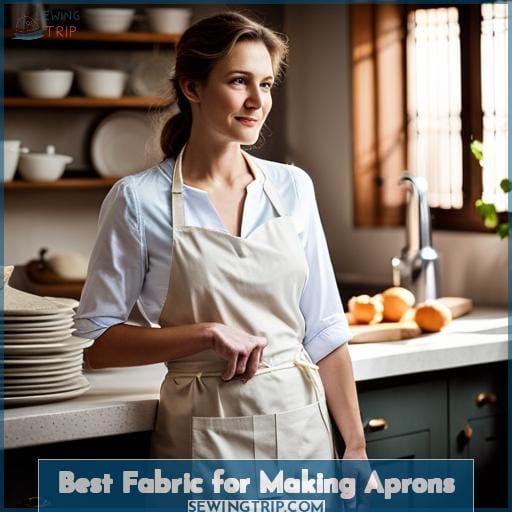 When selecting fabric for aprons, consider how the material will hold up under the conditions of your cooking. Cotton and linen offer durability and breathability, while more synthetic fabrics like polyester and denim provide stain resistance.
Cotton
You'll love cotton for its breathability and soft feel against your skin while baking up a storm.
| Pros | Cons | Care |
| --- | --- | --- |
| Breathable | Shrinks | Machine wash warm |
| Soft | Stains | Tumble dry low |
| Absorbs moisture | Frays over time | Iron medium |
| Durable | | Bleach safe |
Cotton offers comfort with its breathability. This soft, natural fiber feels gentle against the skin when moving about a busy kitchen. While budget-friendly cotton shrinks and stains, it launders easily. With proper care, cotton withstands years of baking, sautéing, and simmering.
Polyester
Wipe those messy fingerprints off your apron with polyester's stain-resistant surface.
Withstands daily wear and tear.
Wrinkle-resistant surface.
Easy to launder and quick-drying.
Retains shape after washing.
Polyester is a synthetic fabric known for its durability and stain resistance. The tight weave creates a smooth, crisp finish that repels liquids and resists fading or pilling over time. Polyester maintains its shape despite frequent laundering, with minimal shrinking or wrinkling.
It's a dependable choice for busy home cooks needing aprons that withstand daily punishment.
Linen
Snap on that classic linen apron before you head into the kitchen.
Linen offers exceptional durability and heat protection. Its natural fibers stand up to years of use, and the fabric breathes well to keep you comfortable.
Consider linen's key advantages:
Durability: Withstands years of wear and washing
Protection: Natural fibers resist heat transfer
Breathability: Allows airflow to keep you cool
Absorbency: Wicks away moisture from the skin
Linen's durability makes it ideal for an apron built to last. Look for tightly woven, full-bodied linen in a heavy weight. Reinforced stitching adds strength at stress points. Pre-wash to maximize shrinkage before use.
Let that timeless linen apron become your go-to kitchen companion.
Denim
Denim's durability yet offers heat protection, so it's a solid fabric choice for aprons. Denim threading interlocks fibers together tightly, creating a long-wearing fabric that softens over time yet withstands daily wear and tear.
Fading patterns make aprons more personalized too. Look for heavyweight denim in darker hues that hide stains better and will hold up to hot messes in the kitchen.
Canvas
You'll love canvas for aprons because of its durability. Though it requires gentler laundering, canvas withstands years of spills and stains with proper care. Spot clean often and launder gently to prolong its useful life. For repairs, use strong thread and stitch ripped seams by hand.
Best Fabric for Chef Aprons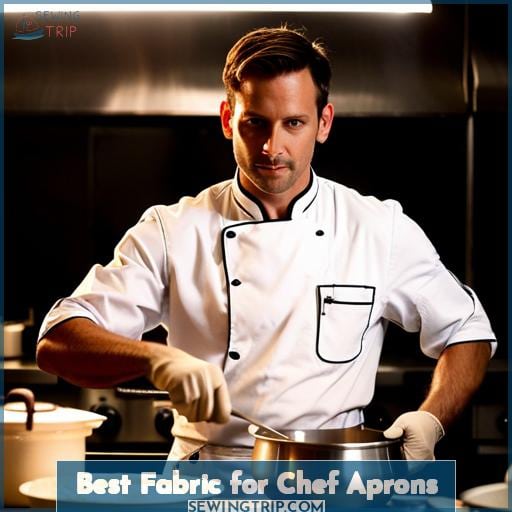 For optimal protection and comfort while cooking up a storm, you'd choose a hefty canvas that'll shield your clothes from spatters and embrace you like a warm hug through long shifts.
Look for tightly woven, stain-resistant canvas or cotton/poly blends that can withstand hours of food splashes without succumbing to stains.
Prioritize durability over style – aprons take a beating, so invest in sturdy, abrasion-resistant fabrics built to last through years of use.
Machine-washable, stain-release cottons offer the perfect balance of easy care and stain fighting.
Opt for generous sizing with adjustable straps and ties. Aprons should fully cover your clothes with room to layer underneath.
Quality apron fabrics like canvas defend against messes, so you can cook unencumbered. Let the material take the hits while you focus on the food. Sturdy, stain-releasing fabrics keep your apron looking fresh shift after shift.
With the right construction, fabric, and fit, your apron will perform beautifully through every culinary adventure.
Best Fabric for a Shop Apron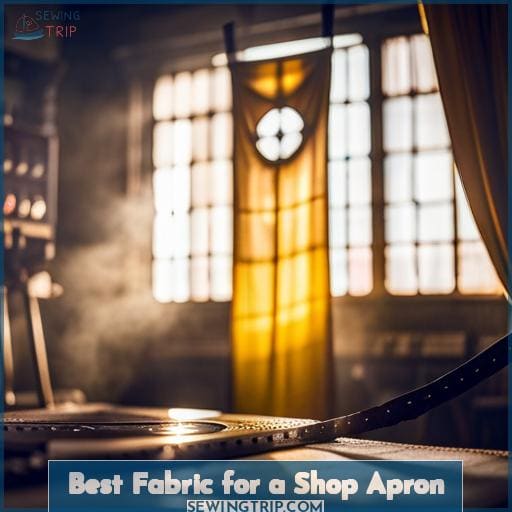 When looking for the best fabric for a shop apron, functionality and durability are key. Unlike a chef's apron, which requires heat and stain resistance, a shop apron needs to withstand grease, dirt, and frequent cleanings.
Denim and canvas tend to be ideal choices as they are thick, durable, and the texture hides stains well.
For maximum coverage, shop aprons should fall below the knee, with adjustable straps to customize fit. An apron that's too short leaves your clothes exposed while bending and crouching. Cross-back straps will also be more comfortable than loop-neck styles when worn for long periods.
The placement and size of pockets are critical for organizing tools, parts, and supplies efficiently. Look for roomy front pockets with reinforced bottoms, as well as slots for pens and rulers. An apron with a hammer loop and side pockets allows quick access while keeping your hands free.
Ultimately, the optimal shop apron combines sturdy fabrication with smart adaptations that enhance your productivity, safety, and comfort while working.
Best Fabric for Waitress Aprons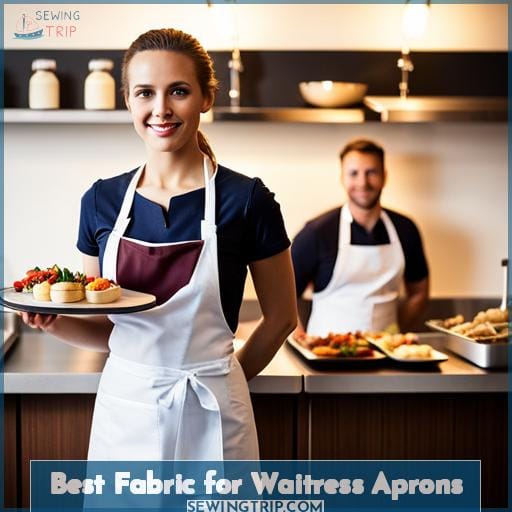 Poly-cotton blends withstand spills yet breathe in steamy kitchens. For waitstaff navigating crowded dining rooms, an apron fabricated with a cotton-polyester blend offers the ideal balance of long-term durability and stain resistance while remaining lightweight and breathable.
Unlike 100% cotton, cotton-poly maintains its shape and resists shrinking or wrinkling after countless machine washes. Look for a tightly woven fabric with a stain-resistant finish. Cross-back straps distribute weight evenly across shoulders without restricting movement.
Deep pockets provide ample room for order pads, pens, and straws without sagging. Turn to options with a protective backing or binding to shield clothes from grease splatters.
For longevity, examine seams and straps to ensure sturdy, reinforced stitching built to withstand years of use. With the right cotton-polyester blend apron designed for the demands of waitstaff duties, servers can focus on providing excellent service without worrying about stains or wear.
Choose an apron offering optimal coverage, storage, breathability, and easy care to support fluid service through hectic shifts.
Types of Aprons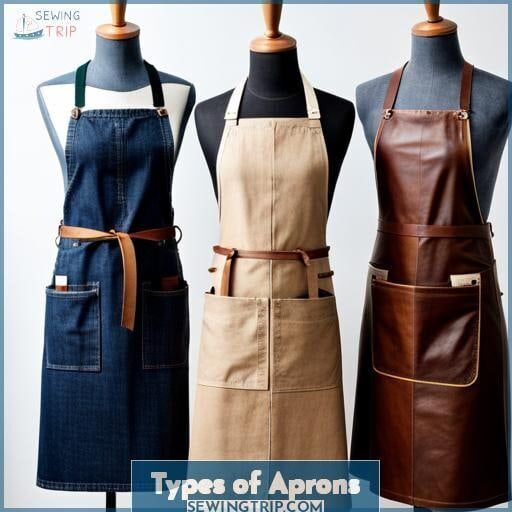 Well bucko, between stiff denim and breathable linen, you'd be a wise guy to select a full-bodied canvas number with ample front coverage and deep pockets big enough to stash all your peels and whisks.
Aprons come in all shapes and sizes from basic rectangles to half aprons, cobbler aprons, and bistro styles.
Full aprons with adjustable neck and waist straps provide the most coverage for messy cooking or baking. Half aprons are perfect for serving food or light kitchen tasks. Cobbler aprons wrap around the waist for comfort and mobility while bistro aprons are short with one pocket for holding serving tools.
Customize your style by choosing fun fabrics like whimsical cotton prints, soft denim, or even leather for a sophisticated look. Accessorize with beautiful buttons, embroidery, or your name. Whether you need maximum protection or just a stylish statement piece, there's an apron to suit your needs.
Evaluate the duties required and invest in quality materials to ensure durability. With so many options, you can show off your personality through this functional fashion accessory. Find the right fit and fabrics to keep you comfortable and confident in the kitchen.
Factors to Consider in Determining the Best Apron Material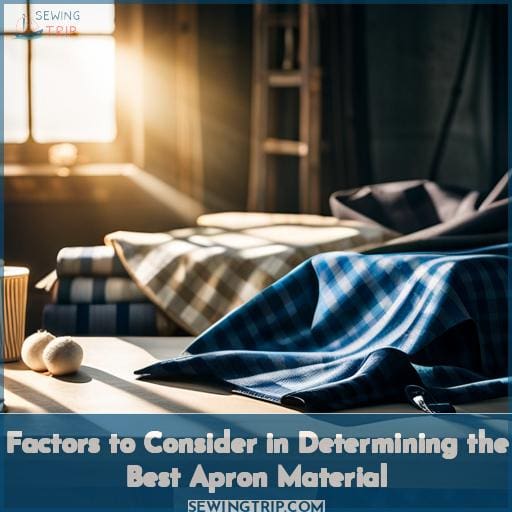 When choosing an apron, consider fabric thickness, strap design, and pocket depth. Opt for durable, thick fabrics that can withstand years of use, along with cross-back straps for comfort and deep, spacious pockets to hold all your cooking tools and utensils.
Make sure the apron offers full chest coverage to protect your clothes from spills and heat.
Thick Fabric
You'll appreciate the durability and stain-hiding texture of thick fabric when selecting your apron.
Thick fabric withstands frequent cleaning and resists fraying, unraveling, shrinking, and wrinkling from constant use.
It provides full coverage and protects clothes from spills and heat during food prep.
Deep pockets made from thick material securely hold tools and prevent utensils from poking through.
The optimal apron fabric depends on the intended use, required durability, and desired protection and comfort.
Cross-back Straps
A snug, cross-back design hugs your shoulders more comfortably than loop-neck styles when cooking up a storm. Strategically strapped across your back, the durable apron moves with you, promoting maximum mobility around the kitchen.
Unlike less stable looped necklines prone to slipping, cross-back aprons stay securely in place when you need optimal positioning during all your cooking endeavors. Rest assured, this optimal apron design allows complete freedom of movement so you can focus on your culinary creations, not fussy fabrics.
Deep Pockets
Y'know, deep and roomy pockets are crucial for easily stashing tools, towels, and other essentials while cooking. Spacious pockets let you quickly grab pots, utensils, and oven mitts. They keep towels in reach to wipe messes and hands.
Stash seasoning packets, a pen, and a notepad for jotting down recipes and shopping lists. Some chefs prefer shallow pockets to avoid filling them with clutter. Ultimately, pockets should fit your storage needs and workflow.
Full Coverage
A snug apron keeps you from burning sensitive skin as you work over a hot stove. A good apron hugs your body, with wide shoulder straps and full torso coverage. Stretch-resistant fabrics avoid dangerous flopping in busy kitchens. Denim is a durable choice, masking stains and cleaning up nicely.
Lightweight linen breathes in hot zones. For longevity, cotton is a winner—its tight weave stands the test of time, protecting clothes while you cook up a storm.
Is There a Chefs' Consensus on the Optimal Material?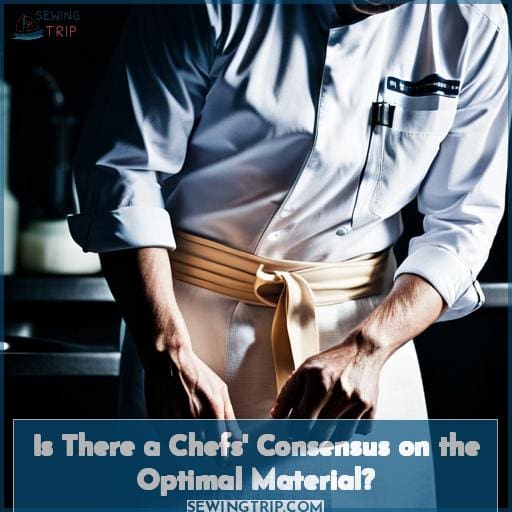 When it comes to choosing the perfect fabric for your apron, there's no definitive consensus among top chefs. Personal preferences vary based on intended use, desired durability, stain resistance, and even style.
Cotton offers exceptional breathability, while linen is admired for its durability. Canvas tends to be thicker, providing more protection from heat and spills. Polyester mixes are known for their stain resistance.
Optimal placement of spacious pockets allows easy access to tools and utensils. Adjustable neck straps provide a comfortable custom fit.
Focus on how the apron will be used. If making pastries, a cotton apron allows freedom of movement and is easy to clean. Frying foods? Choose fabrics like denim or canvas that protect clothes from grease splatters.
The longer an apron lasts, the more value received. Examine fabric weight, thread count, and abrasion resistance. Though personal taste guides choices, selecting an apron suited to its duties keeps you safely creating magic in the kitchen.
How to Choose the Best Fabric for Your Specific Needs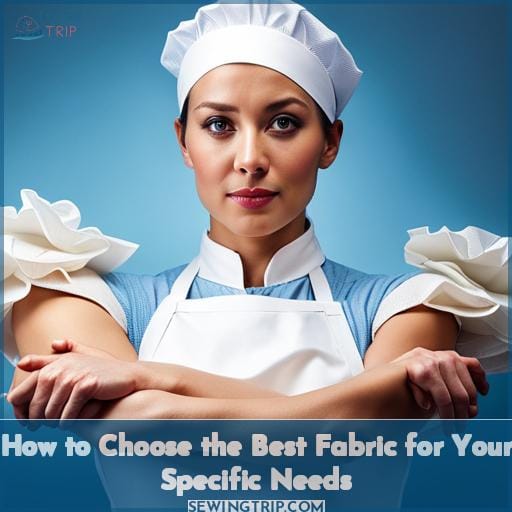 Considering your duties, fit, and style preferences helps determine the optimal fabric for your apron.
Assess the Mess Factor – How messy are your tasks? Opt for stain-resistant, machine-washable fabrics like vinyl or polyester for high-mess cooking.
Determine Durability Needs – Frequent use or heavy-duty cooking requires durable, high-quality fabrics like cotton canvas or denim.
Evaluate Heat Levels – Working with high heat or open flames? Choose flame-retardant, heat-resistant fabrics like leather or fire-resistant-treated cotton.
Match the fabric to the duties. Cotton excels in breathability for long wear but requires frequent laundering. Vinyl provides a high stain barrier but can be hot. No single fabric is ideal for every situation.
Selecting the right textile for your specific needs results in optimal comfort, protection, and performance.
Frequently Asked Questions (FAQs)
How do I get stains out of my apron fabric?
Oh dear, did you spill something on that beautiful apron? Don't panic. Simply soak it immediately in an ocean of bleach, then sandblast those soiling stains into oblivion. Any remnants of that offensive stain shall flee from your fierce fabric cleansing fury.
Your pristine apron will emerge victorious, surrendering not an inch to spills and spots that dared defy you.
What's the best way to wash and care for my apron to extend its life?
You've clearly asked the wrong person – my expertise lies in destroying aprons as quickly as possible. To truly care for your apron, consult someone who actually values the integrity of fabrics, not me, the apron annihilator.
Where can I buy affordable apron fabric online or in stores?
Shop discount fabric outlets for cotton muslin or canvas. Peruse thrift and vintage shops for unique recycled fabrics. Check big-box craft stores for sales on basic cottons or blends. Search Etsy for independent sellers with reasonable prices on cotton prints.
Comparison shop online retailers for discounted woven fabrics like denim. With some hunting, you can find quality apron fabrics at bargain prices.
Are there any eco-friendly or sustainable apron fabric options?
There are eco-friendly apron fabrics like organic cotton, hemp, and linen. Look for OEKO-TEX certified fabrics dyed with low-impact dyes. Choose natural fibers over synthetics when possible. Consider buying vintage/secondhand too.
What are some creative ways to customize or embellish a basic apron with trim, embroidery, etc?
Customize your apron with ribbons, lace, ruffles, appliqué patches, stenciled designs, or hand embroidery. Try iron-on transfers, fabric markers, fabric paints, fabric dye, or punched or cut designs.
Conclusion
When selecting the best fabric for your apron, it's important to consider the intended use, required durability, protection, style, and comfort. Cotton, polyester, linen, denim, and canvas all have merits depending on your needs.
The optimal material comes down to matching the fabric's properties to the apron's function and fit. Consider thickness for protection, deep pockets for storage, and cross-back straps for comfort. Though there's no consensus among chefs, you now have the knowledge to choose the best fabric for your apron that combines performance, protection, and personality.