This site is supported by our readers. We may earn a commission, at no cost to you, if you purchase through links.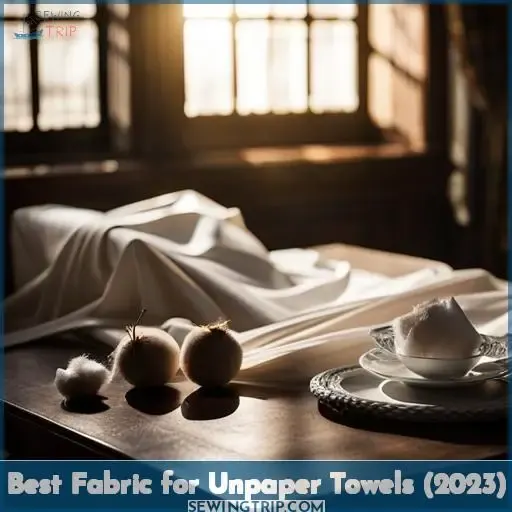 You've decided to make the eco-friendly switch to unpaper towels, but aren't sure what fabric is best? With so many options for reusable towels, it can feel overwhelming to choose the right one. But have no fear – in this post, we'll explore the key factors of absorbency, durability, texture, and even aesthetics to determine what fabric – whether organic cotton, flannel, terry cloth, or a blend – works optimally for your unpaper towel needs.
Armed with the knowledge from this guide, you'll craft reusable towels that suit your lifestyle. Bid adieu to wasteful paper towels, save money, and take an empowering step toward green living.
Let's dive in and uncover the best fabrics for your new, sustainable unpaper towel routine!
Key Takeaways
Cotton, flannel, terrycloth, bamboo, hemp, and microfiber are good absorbent fabrics for unpaper towels.
Organic cotton, bamboo, and hemp are natural, sustainable fabrics.
Darker colors hide stains better.
Personalize with embroidery, appliqué, or bias tape.
What Are Unpaper Towels?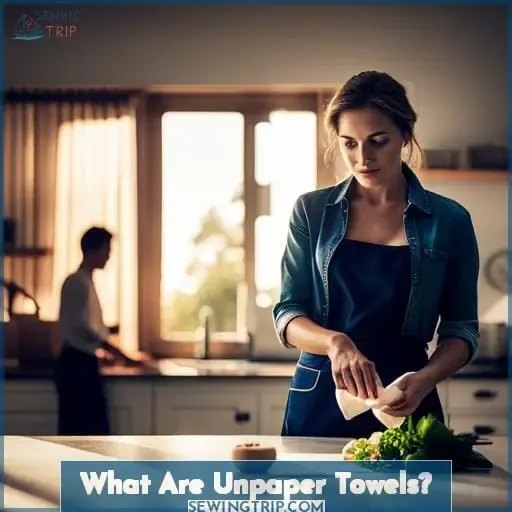 You'd have to sew up some homemade towels to replace the paper ones and stop that waste. Terry cloth, flannel, and absorbent cotton work best for reusable cleaning towels that really soak up spills and messes.
Store dirty towels in a closed hamper until wash day. Wash them in hot water with a heavy-duty cycle to really sanitize. No fabric softener since that reduces absorbency. Line dry or use the highest heat setting.
Reusable towels need more prep than paper, but you'll save money and trees in the long run.
Do Unpaper Towels Save Money?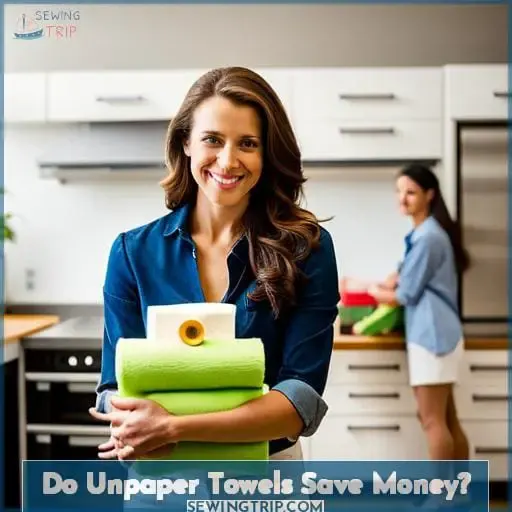 Using homemade unpaper towels in place of disposable paper towels will undoubtedly save you money. Think of the bundles spent a year on throwaway paper towels – it adds up fast! Unpaper towels cut this expense entirely.
Just grab one of your handy homemade cloths for any spill or mess instead of reaching for a pricey paper towel.
The savings come from reusing your fabric over and over. And don't forget the savings to the environment by cutting down on paper waste. Repurposing old cotton t-shirts or soft fabrics into unpaper towels gives them new life and keeps them out of the landfill.
Creating simple no-sew unpaper towels with fabric scraps and hemming tape turns would-be trash into treasured cleaning rags.
Who can argue with saving some green while being green?
Supplies to Make Unpaper Towels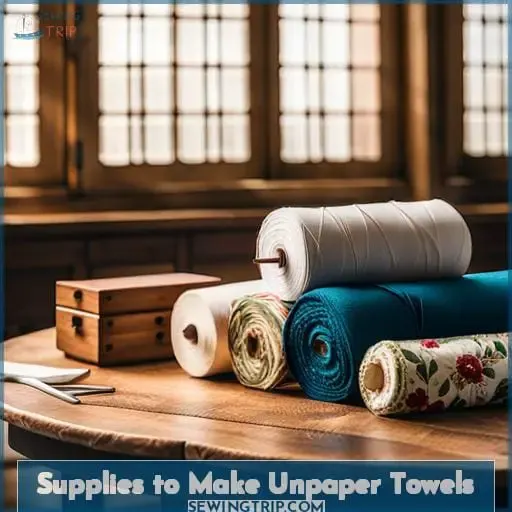 Consider cutting cloth cutely across the counter. Hand sewing reusable towels takes little time and coin. Start stashing fabric scraps to cut ten-inch squares. Measure and stack squares in piles for each project.
Cut parachute closure strips to connect squares. Then embroider initials or fold patterns into prepared piles. Toss used towels in disinfectant soaking before machine washing a wash cycle. Hang wet towels across bamboo drying racks to maximize space.
Ditch disposable paper towels stat. Sewing upcycled fabric scraps into reusable towels saves the day.
What Types of Fabric Work Best for Unpaper Towels?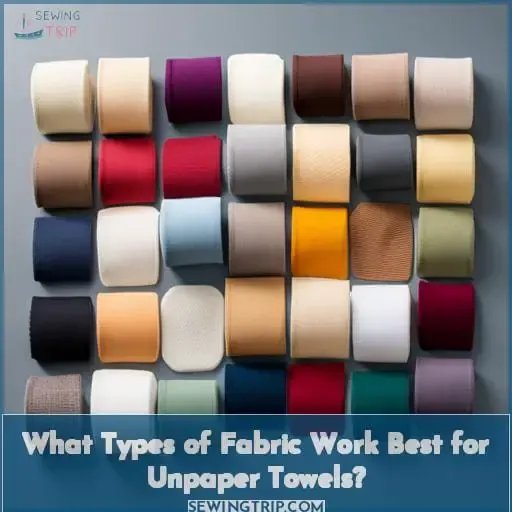 To soak up spills, flannel or terrycloth are absorbent choices that'll get the job done.
Flannel is soft and very absorbent. It's a top choice.
Terrycloth has a looped pile that soaks up messes. It's very thirsty.
Bamboo fabric is eco-friendly, antibacterial, and absorbs quickly.
Cotton fleece holds lots of liquid in its napped surface.
Avoid using quilting cottons or fabrics that repel water instead of soaking it up. Test absorbency before sewing to ensure your homemade reusable paper towels will dry up spills effectively.
Should I Use Snaps or Velcro for Unpaper Towels?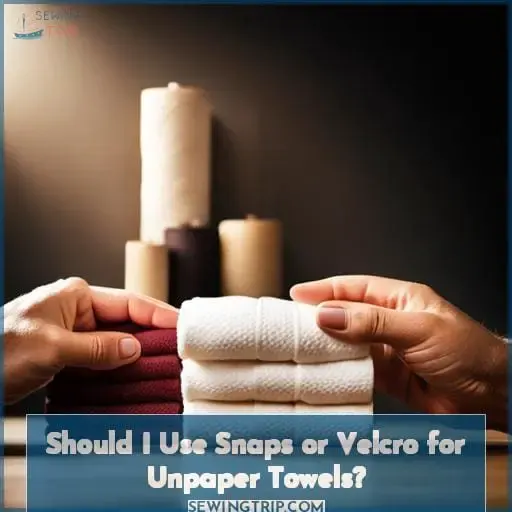 You'll want to skip the snaps and Velcro for your homemade paper towel alternatives. While snaps or Velcro may seem like a good way to fasten your reusable towels, these decorative flourishes just make them harder to wash.
With proper washing and care, your homemade unpaper towels will stay together just fine without snaps. Focus on purchasing towels made from the best absorbent fabrics, like terrycloth or flannel. Don't worry about decorative edges or flourishes – keep it simple for maximum functionality.
Proper washing and drying will help your towels hold their shape after many washes.
Simply focus on fabrics that soak up messes well. With the right absorbent material, you'll have reusable towels ready to handle any spills next picnic season.
How to Sew Unpaper Towels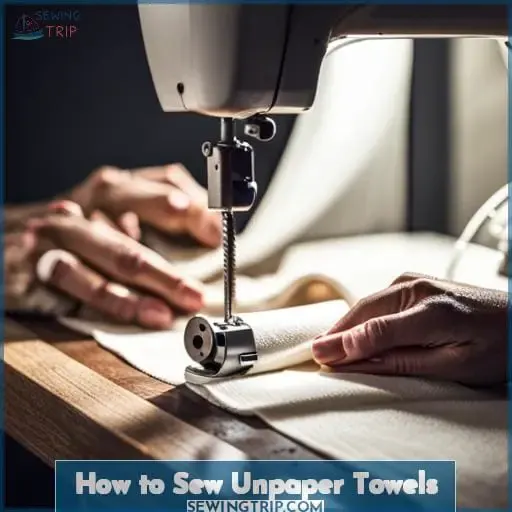 Cut a long strip and zigzag stitch the edges before cutting squares for a quicker way to sew unpaper towels.
Pre-sew the strip instead of squares.
Zigzag stitch or serge the raw edges before cutting into squares.
Fold the strip lengthwise and cut into the square size needed.
This method speeds up the sewing process. Simply zigzag stitch along the long edge of the fabric strip before cutting it into individual squares. The edges are finished, so there is no need to sew around each square. Just cut them to size.
This quicker technique works for wiping down counters, cleaning greasy hands, and scrubbing dirty dishes.
How to Store Dirty Unpaper Towels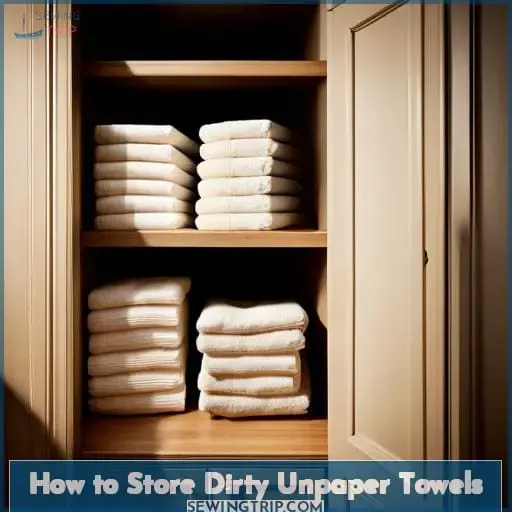 A dedicated wet bag keeps kitchen sanitation intact when stashing soiled unpaper towels.
Use a wet bag to store dirty unpaper towels. This controls odors and contains moisture.
Consider a variety of bags like zippered, drawstring, or hook-and-loop closure.
Pail liners, shower caddies, or mesh laundry bags work too.
Separate kitchen wipes from cleaning wipes to control cross-contamination.
Opt for darker bags to hide stains. Bright bags signal contents.
Rather than tossing soiled unpaper towels loosely in the hamper, a dedicated wet bag for kitchen wipes keeps odors contained and moisture from spreading. With enclosure options galore, find the style that suits your kitchen's personality and sanitation needs.
How to Wash Unpaper Towels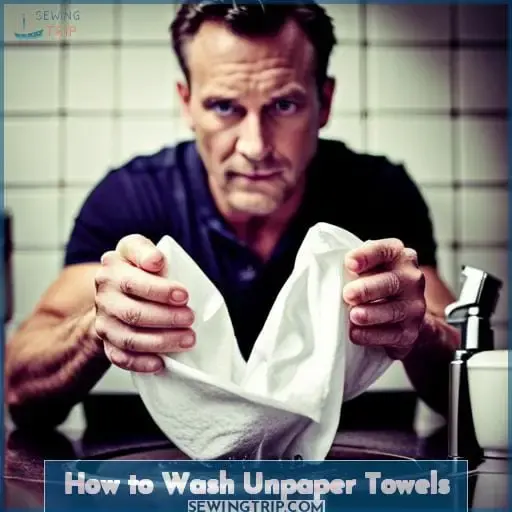 After using, toss the unpaper towels in a wet bag to keep the kitchen sanitary. Then wash 'em on the hottest, heavy-duty cycle you can.
Soak in OxiClean or baking soda before washing to boost stain removal.
Add a splash of bleach occasionally to sanitize and brighten.
Let 'em air dry in the sun if possible – the UV light naturally removes stains and odors.
The key is using the highest temperature water safe for the fabric to maximize cleaning power. With multiple absorbent layers, stubborn stains come out easier. Proper washing maintains the towels' absorbency and keeps 'em fresh for reuse, saving money and waste.
Instructions for No-Sew Reusable Paper Towels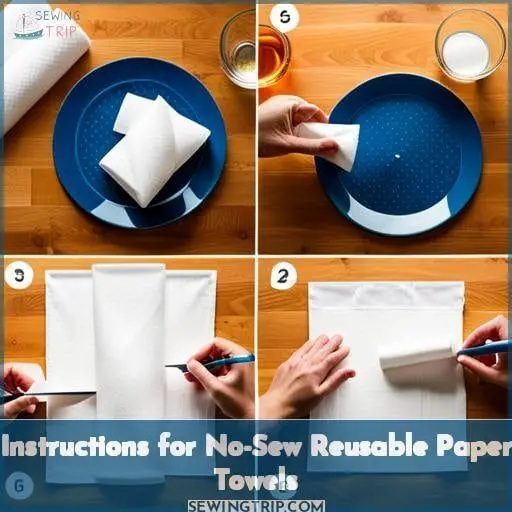 Fold the absorbent fabric into neat squares for quick homemade paper towel alternatives. Simply cut your choice of fabric into 10-inch squares. Fold them in half diagonally to form triangles. Then fold in half again so you have a smaller triangle. Sew the two open sides closed either by hand or with a sewing machine, leaving one side open.
Turn right-side out through the opening and press with an iron. Topstitch the open side closed by hand or machine.
Tuck several into a decorative basket or container and place them on your counter for convenient use. Having these reusable towels always accessible makes it easy to ditch the paper towels for good. Going paperless feels great, knowing you are reducing waste with an eco-friendly solution.
What is the Best Fabric for Unpaper Towels?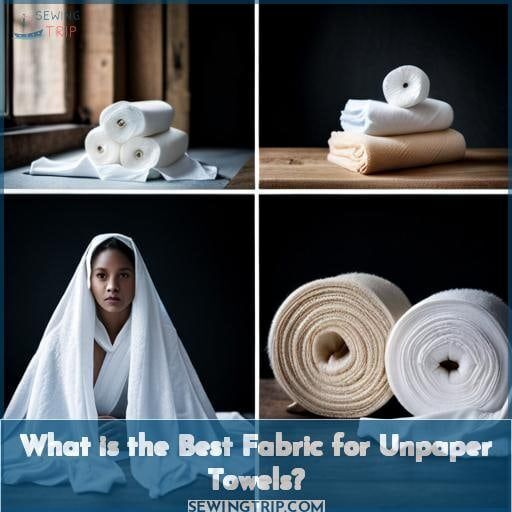 You'll love bamboo's bountiful blessings for brilliant, budget-friendly blots. This eco-friendly fabric soaks up spills impressively yet costs less than cotton towels.
Make your unpaper towel trial with this exceptional exotic fiber first. Consider microfiber and hemp for cost-cutting fabric selections too.
Bold prints or solid hues provide pattern possibilities. Test an assortment of fabrics before committing to a full set. Find your perfect practical and pretty solution among the fabric choices for reusable wipes.
With some experimentation, you'll discover your favorite for this frugal, functional project.
Frequently Asked Questions (FAQs)
How long do homemade unpaper towels last compared to store bought paper towels?
Unpaper towels made with absorbent fabric last much longer than flimsy store-bought paper. Wise use of resources starts at home. With a little effort, sewing reusable towels, you'll reduce waste and save money in the long run.
Can I make unpaper towels out of old clothes, sheets or towels I already have at home?
Yes, you can make unpaper towels from old clothes, sheets, or towels you already have. Just ensure the fabrics are absorbent. Cotton, terrycloth, or flannel work well. Check that liquid soaks in rather than beading up. Then simply cut, sew, and start using your homemade reusable unpaper towels.
Is there a way to make unpaper towels waterproof for extra messy clean ups?
You can buy waterproof fabric like PUL to make the unpaper towels water-resistant. Simply layer the absorbent fabric with the PUL on one side. The PUL will keep liquids from soaking through while the inner layer absorbs messes for easy cleanup.
What are some cute ways to decorate or embellish homemade unpaper towels?
Embroider or appliqué fun images, initials, or a name on the corner. Use colorful bias tape to accent the edges. Add lace or rickrack for a frilly touch. Sew on a vintage button for personality.
Do I need a sewing machine to make unpaper towels or can I sew them by hand?
You don't need a sewing machine. Hand-sewing unpaper towels works fine, though it takes more time. Just make sure your stitches are tight enough to hold up through multiple washes without unraveling.
Conclusion
You may be surprised to learn that using unpaper towels can save the average household over $100 per year compared to buying paper towels. When choosing fabrics for DIY reusable paper towels, opt for natural fibers like organic cotton, bamboo, and hemp that excel at absorption.
Following the sewing and care tips above ensures your homemade unpaper towels stand up to repeated use.