This site is supported by our readers. We may earn a commission, at no cost to you, if you purchase through links.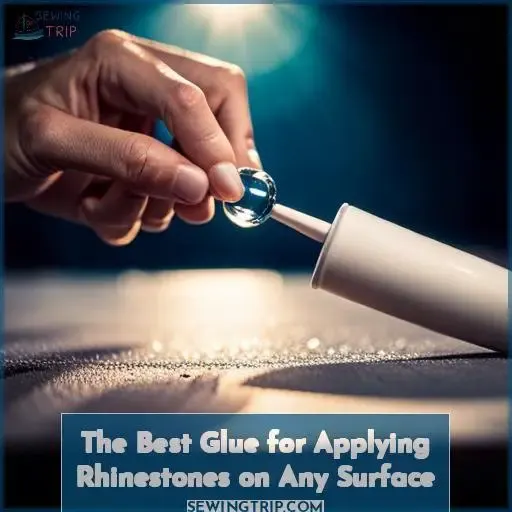 You're gluing bling to your laptop, aren't you brave! I hope you're ready for a galaxy of sparkles because we're about to go on a rhinestoning adventure.
After testing every glue under the sun, I've got the sticky secrets to help you avoid a gemless catastrophe.
Whether you're glamming up your jeans or dazzling your dishes, having the right rhinestone glue is crucial. The wrong stuff will leave you with bare spots and fallen crystals. But armed with expert intel, you'll have showstopper results every time.
I'll unlock the mysteries of gem gluery and have you handling rhinestones like a pro.
So sparkle on, crafty friend – we've got this!
Key Takeaways
E6000 craft adhesive is recommended for metal surfaces for its rigid, waterproof bonds for rhinestones.
Heavy-duty E6000, Beacon 527, Loctite Super Glue Gel, or Aleene's Fabric Fusion are suitable for leather as they maintain flexibility.
Gem Tac is excellent for fabric as it bonds tightly in 60 seconds and remains flexible.
Gem Tac is also recommended for cardboard as it works well on its porous surface, setting quickly and drying crystal clear.
Best Glue for Rhinestones on Metal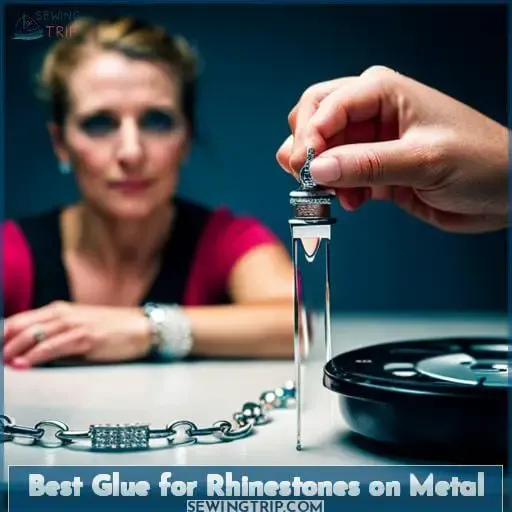 For embellishing metal surfaces with dazzling rhinestones, go with E6000 craft adhesive. Its industrial-strength formula creates rigid, waterproof bonds that'll securely hold those gems in place. When working with metal, you need an adhesive with high viscosity so it won't drip or run.
It also has a long cure time, allowing you to precisely position rhinestones before the glue sets. Just make sure to roughen smooth metal and remove any coatings so the glue adheres. E6000 maintains flexibility when dry, preventing rhinestones from cracking off over time.
With proper surface prep, this glue provides incredibly strong yet pliable bonds on metal.
For shoe heels, jewelry pieces, or any metal project, E6000 is the go-to for securely attaching rhinestones that dazzle and shine.
Best Glue for Rhinestones on Leather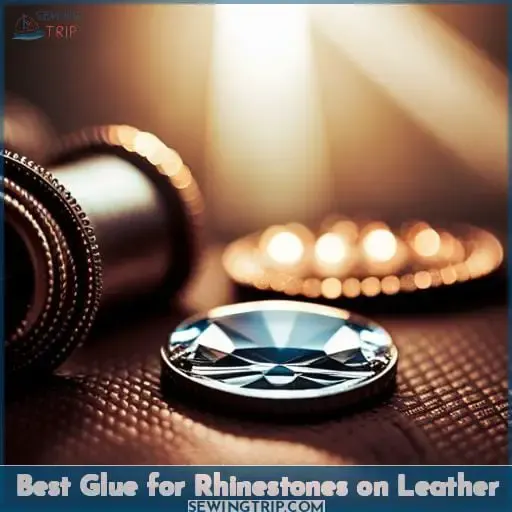 Leather poses some unique challenges when adhering rhinestones. Unlike fabric, leather doesn't absorb glue the same way. You need a glue that remains flexible after curing to move with the leather. An adhesive like Gem Tac works on fabric, but leather requires a more heavy-duty solution.
For best results gluing rhinestones on leather, use one of these top choices:
E6000 – Its thick formula sticks well to leather's smooth surface. It remains somewhat flexible when cured.
Beacon 527 – A tough commercial-grade adhesive with excellent flexibility once dry.
Loctite Super Glue Gel – Its gel consistency resists running on leather's slick surface.
Aleene's Fabric Fusion – Specially formulated to flex with fabric, it works on leather too.
Best Glue for Rhinestones on Fabric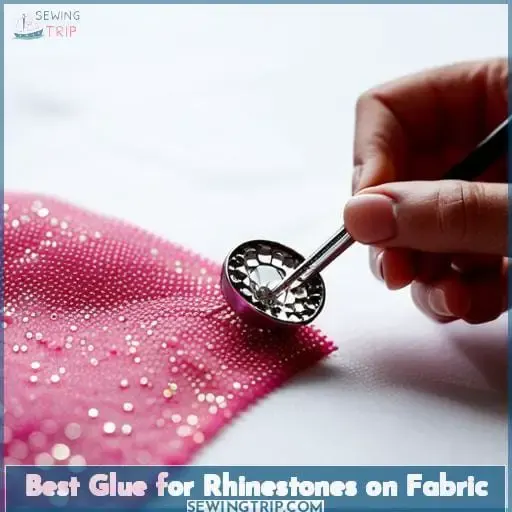 You'll love how Gem Tac's premium quality glue secures those shiny rhinestones perfectly on any fabric in just 60 seconds of drying time. Gem Tac has a low viscosity formula that flows easily and wicks into fabrics for maximum adhesion.
Just apply a small amount and gently press embellishments in place. It provides a strong yet flexible grip to accommodate stretching fabrics, even after being recently reformulated. For heavy rhinestones or washable items, you can add extra glue or heat seal with an iron after it fully cures.
Gem Tac is versatile and excels at bedazzling fabrics for crafts, fashion, and home decor projects. While alternatives like E6000 have superior strength, they also have longer cure times. For most applications, Gem Tac strikes the ideal balance of fast dry time, flexibility, and secure rhinestone bonding on fabrics.
Best Adhesive for Hard Plastics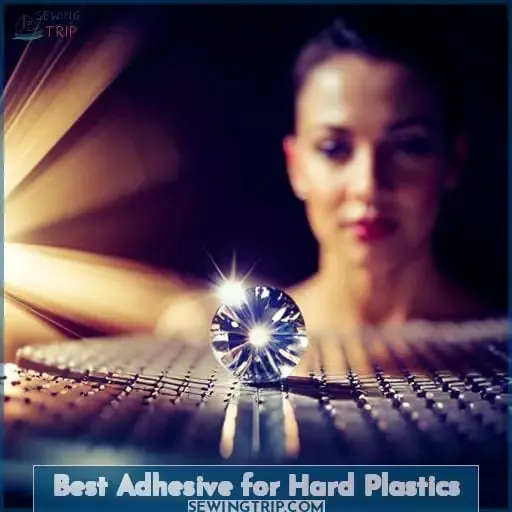 When gluing hard plastics, consider an adhesive's dry time and flexibility. Compare cyanoacrylates, epoxies, and urethanes. Cyanoacrylates, like Loctite, set fast but are brittle. Epoxies, like Bob Smith Industries' Clear Slow Cure Epoxy, have a longer work time but form rigid bonds.
Urethanes, like Aleene's Liquid Fusion, offer strength with flexibility when cured.
Prep plastic surfaces by lightly sanding for the adhesive to grip. Clean with isopropyl alcohol. Apply adhesive sparingly for minimally invasive repair. Consider environmental impact too. Some adhesives, like Liquid Nails Fuze*It, contain no VOCs. Let the glue fully cure as recommended before stressing the bond.
When possible, select water-based adhesives like Weldbond Universal Adhesive for reduced environmental impact.
With smart surface prep and the right adhesive for the job, you can repair and join plastics for the long haul.
Best Glue for Rhinestones on Cardboard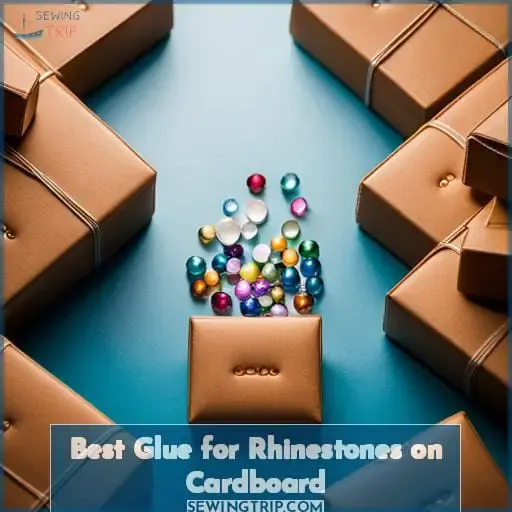 Gem Tac adheres rhinestones to cardboard's porous surface. With a clean surface, you'll enjoy a strong bond. This white glue dries crystal clear to disappear under embellishments. The convenient applicator makes precision decorating easy.
Simply dot Gem Tac onto cardboard, then gently press your rhinestones in place. The adhesive sets quickly, so avoid smudges by securing stones carefully.
Though not the strongest option, Gem Tac excels at smoothly enhancing decoration. For removable gems, stick with low-tack glues. But for permanent dazzle, Gem Tac shines.
Let the sparkle begin!
What Kind of Glue to Use for Rhinestones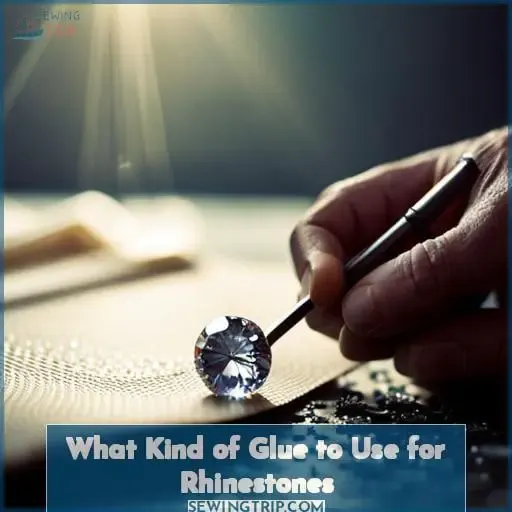 When choosing the best glue for rhinestones, consider options like white glues such as Gem-Tac, Jewel Bond, Flexible Stretchable, and Jewel It that dry clear and permanent. You'll also want to look at specialty adhesives like E6000, Fabri-Tac, and Supertite that offer stronger bonds for your project.
White Glues
Flexible, Stretchable, and Jewel It dry clear and give permanent bonds, so these white glues suit your project if you desire a transparent, lasting hold. Test different white glues to find your favorite for embellishing shoes or plastics.
Compare glue dispensing devices when precision matters. Evaluate glue setting speed if impatient. Optimize glue storage methods for freshness. Master mixing techniques to adjust thickness. Consider glitter glues or permanent alternatives for your design. Experiment until you discover the ideal white glue for your materials and methods.
Gem-Tac
You'd find this versatile glue with a built-in applicator works well for fabric rhinestone projects. Gem-Tac's low viscosity flows smoothly for controlled glitter application. Its good open time lets you precisely position crystals before curing.
Followed by quick drying, it develops solid rhinestone adhesion. With handy applicator tips, it excels at hand-gluing gems. Experiment with gem drying techniques to achieve your ideal jewel set. Thorough surface prep and small glue amounts maximize this quality glue's fabric bonding.
Jewel Bond
Jewel Bond is another great option to securely adhere those sparkling rhinestones. This clear-drying glue is specially formulated for gems and rhinestones. The thick consistency makes precise application easy.
It bonds well to fabrics and other surfaces, sets fairly quickly with good wash and wear durability once cured, and a little goes a long way. Try Jewel Bond for all your bedazzling projects requiring a strong but temporary rhinestone adhesive.
Flexible Stretchable
Stretchable glue works wonders for securing those sparkly rhinestones. Flexible stretchable glue is ideal for fabrics since it moves with your garment. The clear-drying adhesive creates a strong, permanent rhinestone bond that withstands machine washing.
Unlike other glues, Flexible Stretchable remains flexible after drying, so embellishments stay securely fastened, even on stretchy activewear fabrics. This versatile glue excels at adhering lightweight objects to fabric without compromising stretch or movement.
Jewel It
How about trying Jewel It for that project since it dries clear and permanent? With its low viscosity and quick-dry formula, Jewel It flows smoothly for precise crystal and embellishment placement. Much better than white school glue, this adhesive tackles fabric, wood, plastic, metal, and more.
An alternative to Gem Tac, yet with reliable hold, Jewel It excels at rhinestone and glitter tumbler decor.
Specialty Adhesives
You'd find Supertite Fusion Tack adhesive works great for adhering rhinestones.
Easy bottle application for precision gluing.
Flexible hold that moves with fabric.
Hand washable bonds when fully cured.
E6000 craft glue offers an industrial strength, permanent fix. Loctite super glue gel gives a quick, no-mess bond.
E6000
You'll find that E6000 is strong yet pliable once cured, making it a versatile option for adhering rhinestones if you don't mind the odor and slow dry time.
| Pros | Cons |
| --- | --- |
| Strong bonds | Slow drying time |
| Flexible when cured | Strong odor |
| Waterproof | Messy thick application |
| Heat resistant | |
| Washable/dryer safe | |
E6000 creates an industrial strength yet flexible bond for rhinestones on most surfaces. Its versatility allows use on fabrics, plastic, metal, glass, wood, and more. Just be prepared for a slow cure time and strong chemical smell during application.
Once fully cured, the adhesive is rigid yet slightly pliable, ensuring rhinestones stay firmly adhered through washing and wear. Overall, E6000 excels for permanent rhinestone application if you don't mind working through its drying and odor challenges.
Fabri-Tac
Fabri-Tac seizes embellishments pronto. This heavy-duty adhesive clings firmly to fabrics and more, ideal for bedazzling shirts or blinging out blue jeans.
Sturdy yet flexible bonds
Withstands hand washing
Dries clear for invisible hold

Use Fabri-Tac to swiftly fix rhinestones, sequins, patches, and other decor on fabric crafts and clothing with confident, long-lasting results.
Supertite
Supertite's high strength yet flexible bond will cling to those rhinestones like white on rice. Press gently after placement. Let it dry completely. Wash inside out in cold water when finished. Mix rhinestone sizes and shapes for visual interest. Combine colors in pleasing patterns.
Start simple with single motif designs. Then graduate to layered looks with borders.
Tips & Tricks for Using Glue With Rhinestones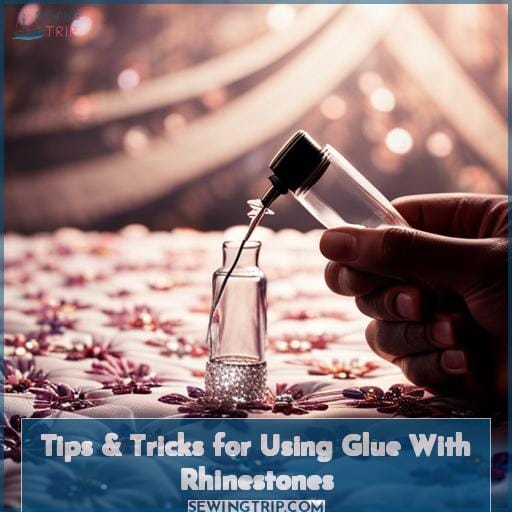 Before pressing a rhinestone into place, let the tacky adhesive get sticky so it'll grab and hold tight.
Test glues on scrap fabric to check bond strength.
Allow glues like E6000 longer cure times for maximum hold.
Use glue with good open time like Gem Tac for easier placement.
Try glue pens for dispensing control and less mess.
Select non-toxic adhesives safe for skin contact.
Most Versatile Rhinestone Glue

The E6000 craft adhesive oozes like molasses, but it bonds tighter than a mama bear to her cubs for all your bedazzling needs. When it comes to versatility for rhinestone gluing, nothing beats the industrial-strength E6000.
This thick adhesive is slow to dry, but it forms rigid, waterproof bonds that'll make your bling creations shine through any fashion innovation or design trend.
Simply prep your surfaces, apply a dab, and then gently set your coordinated gems. Let it cure fully for embellishments that'll stay put through countless wears and washes. With practice in rhinestone engineering techniques, you'll have this glue mastered in no time.
So grab that bedazzler and get gluing – E6000 is the MVP for any material when you need serious stick and long-lasting dazzle. Your next project is just an ooze and press away, thanks to this embellishment workhorse.
Best Glue for Washable Rhinestone Items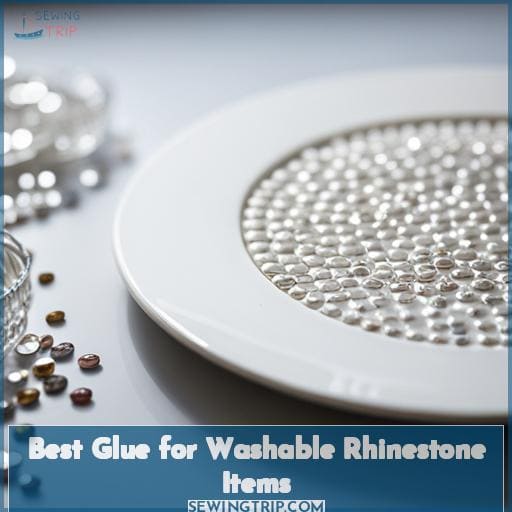 You'll want Aleene's Liquid Fusion for washable rhinestone items. This versatile adhesive offers a durable, crystal clear bond ideal for washable crafts or clothing.
Flexibility – Can it withstand washing cycles? Aleene's bonds remain flexible.
Adhesion – Will rhinestones stay put? Aleene's creates a tight seal.
Washable – Is it water-resistant when cured? Aleene's bonds become washable.
Clear Drying – Will it dry transparent? Aleene's dries crystal clear.
Application – Is it easy to apply? Aleene's flows smoothly from the bottle.
With excellent flexibility, adhesion, and water resistance when cured, Aleene's Liquid Fusion is a top choice for firmly bonding rhinestones to fabrics that require washing. This quality adhesive dries crystal clear for an invisible hold. Follow the manufacturer's instructions for the best washable results.
Best Glue for Rhinestones on Glass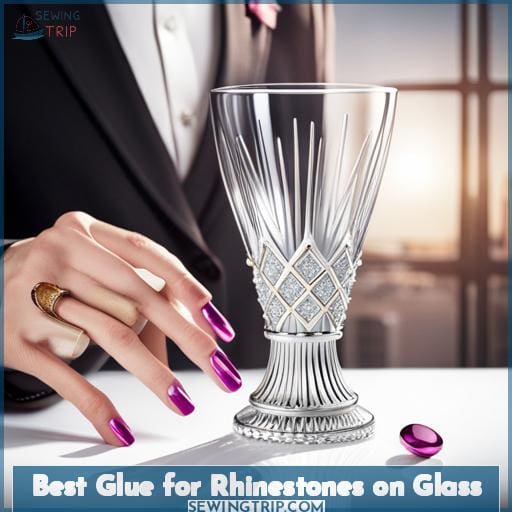 If craving a quick way to fancify up glasses with sparkly rhinestones, E6000 craft adhesive'll do the trick once it fully cures. This industrial strength glue forms rigid, waterproof bonds on non-porous surfaces like glass after slowly drying.
Just dab on a small amount, gently press the gems, and let fully cure overnight.
While the thick formula oozes out slowly and has a strong odor, the heavy-duty adhesive provides extremely durable adhesion for hand-washable drinkware bling once set. For invisible crystal-clear bonds, products like Gem Tac or Super Glue Gel dry transparent.
Compare effectiveness between plastic-safe epoxy, embellishment tack glues, and cyanoacrylates before decorating cherished heirloom glasses.
Frequently Asked Questions (FAQs)
What is the best way to store and prolong the life of rhinestone glues?
Store rhinestone glues in cool, dark places to help them last longer. Squeeze air out and seal lids tightly before stashing tubes in drawers or cabinets.
How do I remove rhinestones that were adhered with glue if I need to reposition or replace them?
To remove a rhinestone, you'll need to soften the glue first. Dip a toothpick in nail polish remover and gently slide it under the stone, wiggling back and forth. This dissolves the adhesive so you can lift off the rhinestone without damaging the fabric underneath.
Are there any health or safety concerns when working with rhinestone glues?
Yes, some rhinestone glues contain toxic chemicals. Work in a well-ventilated area, avoid skin contact, and read safety data sheets. Prioritize non-toxic options like Gem Tac. Proper precautions protect your health when gluing rhinestones.
What tricks can help speed up the drying/curing process when gluing rhinestones?
Spread the rhinestones out on wax paper to dry instead of piling them. The increased airflow allows the glue to cure more quickly. Gently move them around occasionally as the glue sets to prevent them from bonding together.
Are there any common mistakes to avoid when selecting and applying rhinestone glues?
Choose a glue designed for fabric and embellishments, not one that is too thick or permanent. Use sparingly and resist over-gluing – a tiny bit will hold well. Let the glue tack up before pressing so gems do not shift.
Heat setting afterwards can help, but avoid scorching. With care in glue selection and technique, your rhinestones will dazzle.
Conclusion
With so many options for gluing rhinestones, it can seem overwhelming to choose the right adhesive. Yet armed with the knowledge we've covered, you're now equipped to select the perfect glue. Whether it's durable epoxy for glass or flexible Gem-Tac for fabric, you have the expertise to create dazzling rhinestone projects that will impress.