This site is supported by our readers. We may earn a commission, at no cost to you, if you purchase through links.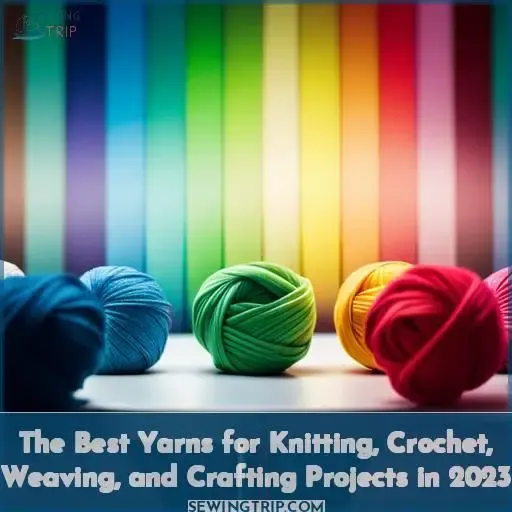 Let me tell you a little secret: according to a 2017 survey, over 80% of knitters have their favorite go-to yarn brands. And it makes sense! When working on projects that require reliability and consistency, you want a tried-and-true yarn.
But to discover new textures and colors that unlock your creativity, you've got to break out of your comfort zone.
In this guide, we'll explore the best yarns – from soft wools to durable cottons, fuzzy mohairs to sleek silks. Our list includes classics like Sugar Bush and Lily Sugar 'N Cream, plus indie makers like Unfettered Co.
With the freedom to choose from so many options, you're sure to find your perfect match.
Key Takeaways
Match fiber content and weight to your project goals. Wool is warm but can felt. Cotton is cool and soft.
Consider your budget when selecting brands. Premium yarns are higher quality but more expensive.
Store yarn properly to prevent damage. Keep away from pets, bugs, sunlight, and moisture.
Beginners should use bulky yarns and simple patterns. Thicker yarns knit up faster and are more forgiving.
What to Consider When Choosing Yarn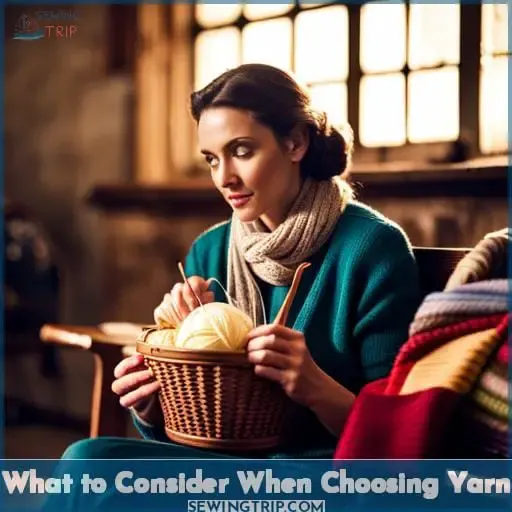 Evaluate the purpose of the project. What will the finished item be used for? Some fibers like wool are warm and durable while cotton may be better for summer wear.
Look at the weight (thickness) recommended for the pattern. Choosing the specified weight will help achieve the proper drape and structure.
Consider your skill level. Beginners often do better with smoother, easy care yarns while more advanced knitters and crocheters may enjoy trying specialty or delicate fibers.
Check that all skeins are the same dye lot. Slight variations between dye batches can create obvious color differences.
Confirm you have enough yarn. Buying insufficient yarn can prevent finishing a project. Check yardage requirements and purchase accordingly. Having too much leftover yarn can be wasteful.
Selecting yarn with these key factors in mind will help ensure your next project turns out well from start to finish! The right yarn makes a big difference in creating a piece you will enjoy wearing or gifting.
Purpose
You're knitting a delicate shawl, so select a fine, soft superwash merino yarn that'll drape beautifully. Look for lightweight yarns with silk or cashmere blended in to enhance softness. A graduated ombre or subtle heathered tweed with variegated flecks will add depth.
Opt for a fingering or lace weight yarn to achieve drape from different fibers. Worsted weight acrylics lack the structure you want.
Weight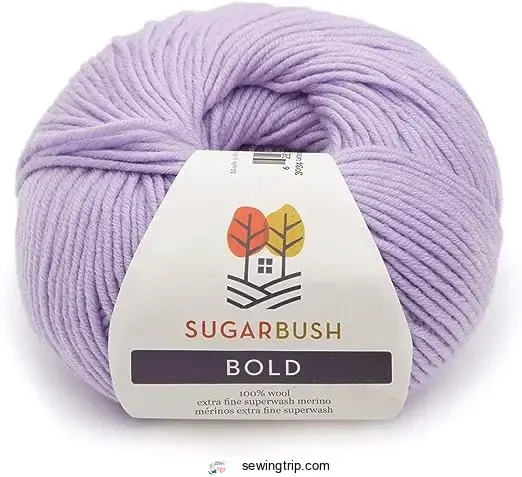 View On Amazon
Go with a worsted weight yarn for your next sweater project, my friend. Worsted strikes that perfect balance—not too heavy yet substantial enough to knit up beautifully in classic garment gauges.
A medium worsted weight creates a great fabric for sweaters and accessories that drapes nicely without being too heavy or too light. The stitches show up distinctly so you can admire your handiwork while knitting.
Most patterns are designed for worsted weight yarns, so you'll have lots of options. Worsted is very versatile for knitting an array of garments from pullovers to cardigans to hats. It's thick enough for warmth yet supple enough to create fluid shaping. I'd choose a wool, wool blend, or plant fiber in worsted weight for a well-made sweater that feels great against your skin.
Medium weight shows stitch definition
Most patterns written for worsted
Creates nice drape in garments
Versatile for all types of knitwear
Wool has great insulating properties
Not as lightweight as lace or fingering
Warmer than summer-weight yarns
Can lose drape if knit too tightly
Plant fibers less insulating than wool
Experience Level
Beginners, grab some affordable acrylic yarn for your first project. That slippery soft acrylic lets hooks and plastic needles glide as you get the motions down. Acrylic holds shape without pilling, so your finished piece looks tidy – no need to splurge on merino.
Easy care is music to a newbie's ears. No handwashing or special drying flat. Just toss it in the machine! The brilliant colors and sleek feel against your fingers will fuel your fiber fervor.
Soon you'll upgrade fibers and tackle intricate lace. But for now, acrylic unfurls creative freedom without fear. Your budget buys more yarn to practice. So cast on and relish these early days of wielding yarn magic.
Color and Dye Lot
Match dye lots when grabbing extra skeins so your project shows a uniform color. Baby blankets knit up with the same rich hue sing a soothing lullaby for bedtime. Bold lines of a crocheted scarf cascade into complementary colors without clashing.
Classic mohair fuzzes plush and cozy off wool that never pills. Textures and tones craft comfort when clever hands loop euphoric fibers.
Amount
You'll stash plenty of skeins for that heirloom blanket knit with care. Calculate yardage before winding hanks into balls. Check labels listing length and match grams to gauge. Buy extra; swatching uses some up.
Natural fibers feel decadent, but synthetics prove practical. Splurge on alpaca for special projects, rely on acrylics to start. Merino and linen breathe, cotton lends softness, wool bundles warmth. Whatever you choose, knit peace into each stitch.
Top 10 Best Yarns
Lion Brand Wool-Ease: This blend of acrylic, wool, and rayon is budget-friendly, durable, and comes in tons of colors.
Cascade 220: The go-to yarn for sweaters and apparel, this 100% wool yarn is soft and warm.
Berroco Comfort: A blend of superwash merino and acrylic, this yarn is plush and machine-washable.
Misti Alpaca Tonos Worsted: Made from baby alpaca wool, this luxurious yarn is extra soft and fuzzy.
Universal Yarn Deluxe Worsted: Affordable, soft, and sturdy, this acrylic and wool blend makes cozy hats and blankets.
Lion Brand Homespun: This loopy, textured yarn's blend of acrylic and wool looks hand-knit.
Malabrigo Rios: This single-ply merino wool yarn from Uruguay has rich colors. It's incredibly soft and ideal for accessories.
Cascade Yarns Ultra Pima: With 100% pima cotton, this yarn has beautiful drape and sheen.
Premier Yarns Ever Soft: A blend of acrylic and nylon, this is a great yarn for baby items and everyday apparel that needs easy care.
Plymouth Yarn Encore: This soft acrylic and wool worsted weight yarn is budget-friendly.
Whether you're seeking a luxury superwash merino or an affordable acrylic, these top-rated yarns offer quality fibers and colors for stylish, comfortable knitting and crochet projects.
1. Lily Sugar N Cream Yarn Indigo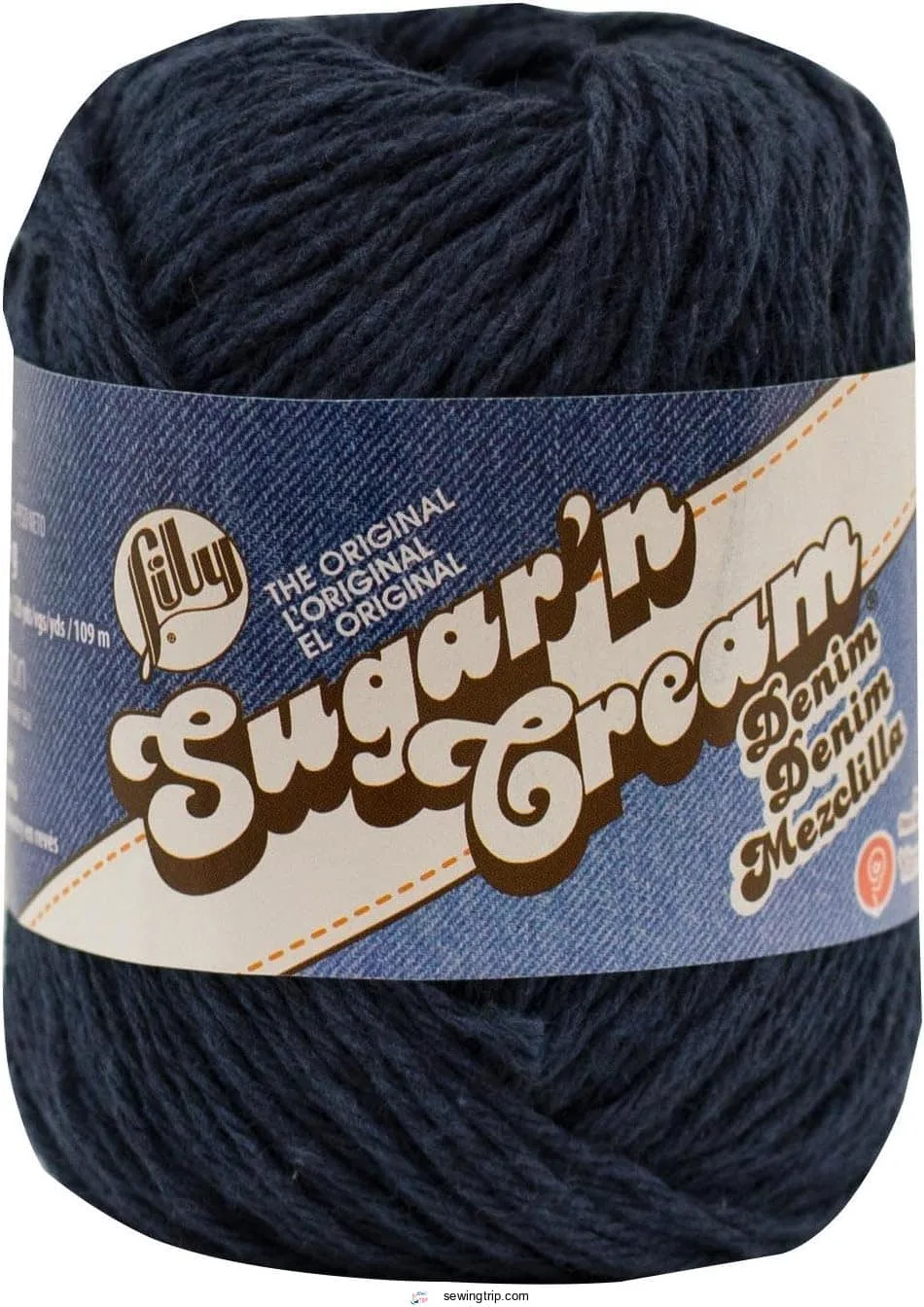 View On Amazon
Your hands'll keep warm knitting that cozy indigo blue yarn into a scarf to wrap yourself in on chilly days. The soft acrylic-cotton blend makes Sugar N Cream a delight for crafters to work with. This budget buy takes dye vividly so the rich indigo pops on every stitch. Worsted weight shows definition in textured patterns yet has enough drape for garments.
Being washer/dryer safe gives you freedom to fashion machine-washable creations that ease care.
Vibrant, saturated dye color
Soft, machine washable
Budget-friendly price
Good for showing stitches
Limited to solid colors
Acrylic not as warm as wool
Needs other yarns for texture
2. Sugar Bush Yarn Bold Knitting Worsted Weight Lavender Frost
Knit yourself up a storm in this heathered Sugar Bush yarn with a subtle sheen. The soft merino wool has just enough fuzz to add cozy texture that catches light uniquely. Despite being machine washable, it breathes well, keeping you comfy if the weather fluctuates.
It's worth the splurge for an ethical, subtly sophisticated project expressing your creative spirit. The feminine lavender hue pairs nicely to accent your complexion and brighten your day.
3. Wool Roving 8 Pack Furry Friends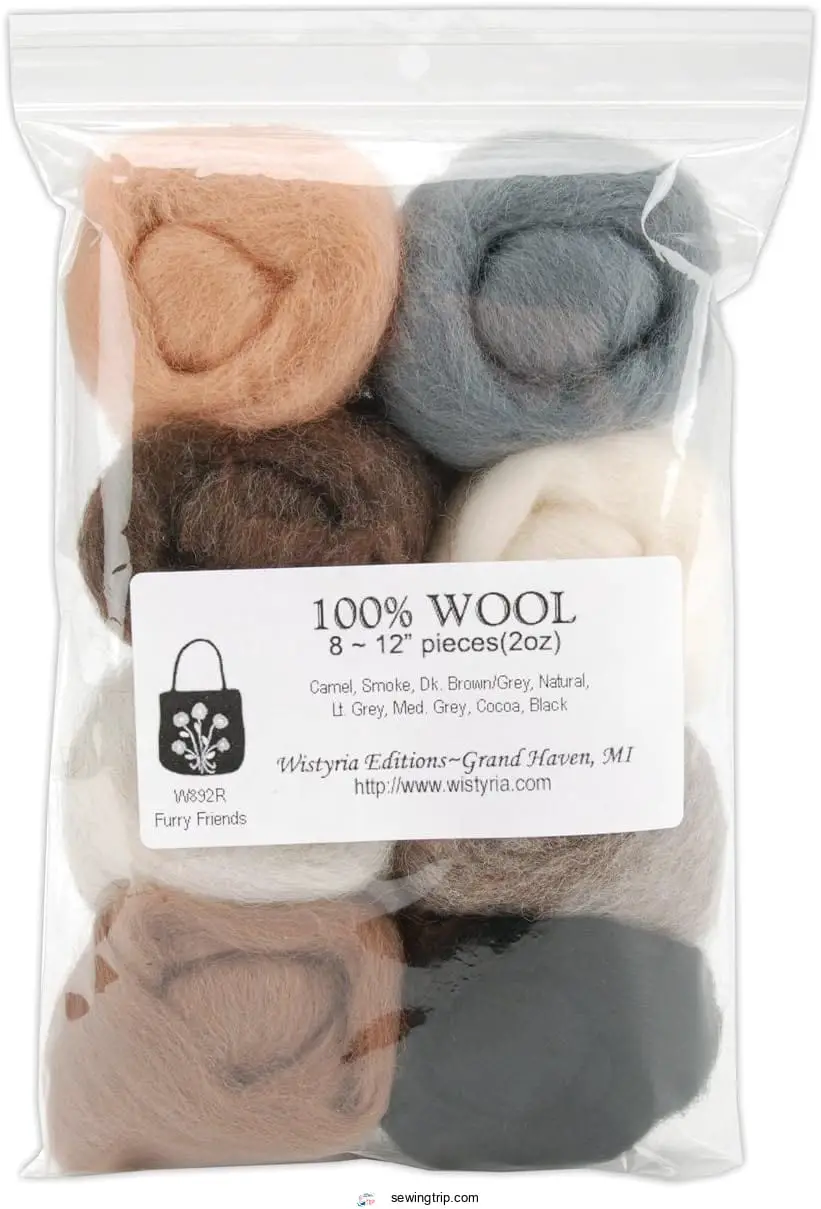 View On Amazon
This wool roving pack brings a touch of whimsy with its darling animal prints. Skillfully hand-dyed in bright pastels, each plush 20g roving depicts a cuddly creature like pandas, llamas, and koalas. Let your inner child smile as you transform these fuzzy fibers into spun yarn. With eight themes included, you'll have plenty of material for felting playful projects.
Relish the soft merino texture, ideal for clothing and accessories. Though delicate, proper care prevents shrinking.
Fun animal themes and cute colors
Good amount of wool (160g total)
Soft, high-quality merino wool
Versatile for spinning, felting, crafts
Wool needs delicate handwashing
Not a toy; keep away from little kids
May aggravate wool allergies
4. Coolibar UPF 50+ Women's Reversible Zoey Ribbon Hat
View On Amazon
You'll adore how this reversible sun hat lets ya rock two fab looks, right? With its wide brim and UPF 50+ fabric, it delivers ample sun protection.
This hat's incredibly versatile thanks to its reversible style—switch up your look in a cinch! Made from recycled materials, it aligns with eco-friendly values, too.
The fabric's breathable and stretchy for a comfy fit. While the one size may not fit all heads, the chin strap lets ya adjust it.
Reversible design doubles your style options
Generous shade from wide brim
Sweat-wicking band keeps you cool
Limited size range
Chin strap may feel snug to some
Brim may limit peripheral vision
5. Paper Mate InkJoy Pens 24 Pack
View On Amazon
With its assortment of vibrant colors, the InkJoy gel pen pack'll add pizzazz to your scribblin'. These smooth-writin' pens feature quick-dryin' gel ink that provides vivid color on all paper types. The ink's smear-resistant too, so ya don't have to worry 'bout smudges once it dries.
Gel ink creates vivid colors
Quick dryin' time prevents smudges
Smear-resistant ink formula
Comfortable contoured grips
Variety of colors
Prone to leaks if left uncapped
Not archival quality ink
Gel ink can glob if left unused
Grip may be small for some hands
Color selection varies per pack
6. Comfort Colors Adult Quarter Zip Sweatshirt Pepper Small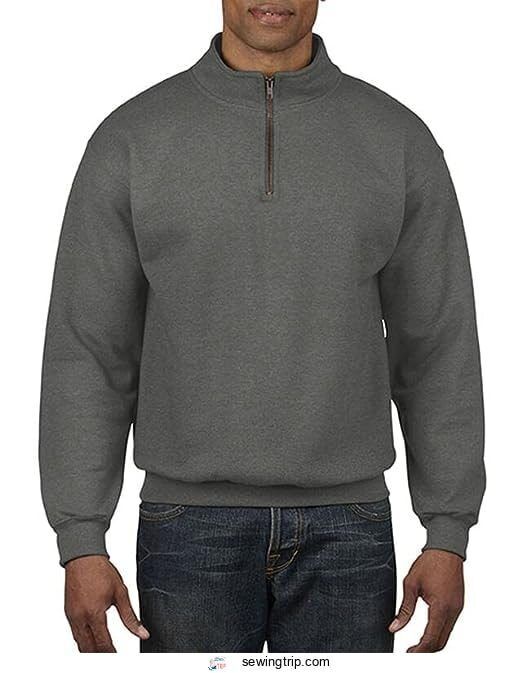 View On Amazon
Ya can keep cozy in this soft cotton-poly quarter zip from Comfort Colors. This lightweight sweatshirt uses a breathable blend that'll keep ya just warm enough without overheatin'.
The quarter zip lets ya adjust how open ya want it for customized ventilation. So ya can start zipped up n' unzip as ya warm up. Its roomy fit works for all genders, though the womenfolk may want to size down.
For casual everyday wear, this machine-washable sweatshirt offers easy comfort ya can toss on n' go. The subtle hue adds versatility to pair it with any outfit. So snag this relaxed yet functional top for effortless style n' comfort.
Soft, pre-shrunk fleece
Lightweight, breathable blend
Quarter zip allows ventilation
Machine washable
Unisex relaxed fit
Runs larger than typical women's sizes
Pilling can occur over time
May fade with repeated washes
Can't be worn for athletic activities
Only available in standard sizes
7. Bladeless Neck Fan
View On Amazon
Stay cool wherever ya wander with the Bladeless Neck Fan huggin' your shoulders like a frosty breeze. This clever gadget uses air vents instead of messy blades to keep ya chill while on the move. Just slip the lightweight neckband on and let the personalized airflow soothe ya like a summer wind.
With whisper-quiet operation ya can focus on your tasks, not fan noise. And the rechargeable battery grants up to 5 hours of coolin' relief before it tuckers out.
Bladeless design's safer with no exposed blades
Wearable, hands-free use
Rechargeable for portable cooling
Ultra quiet operation
Lightweight and comfortable to wear
Limited battery life per charge
Neckband may chafe after prolonged use
Not resistant to sweat or water
Less cooling power than larger fans
Mostly plastic construction prone to breaks
8. Amazon Basics 21 Inch Hardside Spinner Black
View On Amazon
You'll easily maneuver through the airport with Amazon's 21-inch hardside spinner made durable for the hustle 'n' bustle of travel. The scratch-resistant polycarbonate keeps your belongings protected within the sleek black exterior.
Spinner wheels dance in every direction for fluid movement no matter the load while interior straps secure contents in place. The lock adds security but may meet TSA inspection, and the medium 35L capacity fits shorter trips just fine.
With Amazon Basics' affordable price point, this lightweight yet sturdy suitcase is an ideal travel companion for jet-setters cravin' smooth travels.
Spinner wheels for easy maneuverability
TSA-approved lock for security
Lightweight only 7.34 lbs
Affordable price as Amazon Basics
Hardside can crack if dropped
TSA may inspect/damage when unlocking
Only 35L capacity, better for short trips
Limited 1 year warranty
9. Trtl Travel Pillow
View On Amazon
You can comfortably nap on planes and trains with the lightweight, award-winning trtl travel pillow's patented internal support providing ergonomic neck alignment and adjustable twist-lock wrapping around your neck when not in use.
The trtl travel pillow's fleece fabric delivers soft comfort against your skin while its cleverly designed internal structure offers exceptional chin and neck support for improved alignment whether you're upright or snoozing.
The adjustable twist-lock allows you to customize the fit for your needs and keeps the pillow in place when wrapped around your neck, ensuring hands-free use.
Award-winning patented design
Soft fleece exterior
Twist-lock adjustable fit
Lightweight and compact
Machine washable
Limited color options
May not fit all neck sizes
Needs occasional re-twisting to maintain support
Not recommended for back sleepers
10. Superwash Merino Wool Yarn
View On Amazon
Our soft, breathable superwash merino wool yarn's perfect for knitting and crocheting luxurious accessories and garments you can safely machine wash without shrinking or felting. As an experienced knitter, I'm impressed by how this fine merino wool maintains its shape and softness after repeated laundering.
The merino regulates body temperature whether you're bundling up on chilly days or staying breezy in lightweight layers. Compared to regular wool, this machine-washable superwash yarn upgrades your handmade creations with exceptional comfort and easy care.
While costlier than acrylic, it's a smart investment that allows your heirloom gifts and go-to accessories to keep their vibrancy and longevity with hassle-free washing.
Superwash process allows machine washing
Soft, breathable, lightweight
Merino wool resists odors
Maintains shape after repeated launderings
More expensive than regular wool or acrylic
Limited color selection
Best for finer gauge projects, not bulky knits
Different Types of Yarn Fibers

Different types of yarn fibers have their own unique characteristics, so choose wisely, my friend.
When selecting yarn, consider the fiber content carefully. Different fibers like wool, cotton, acrylic, and blends will give your projects distinct properties.
Wool for warmth and durability
Cotton for breathability and comfort
Acrylic for affordability and easy care
Alpaca for luxury softness and fuzz
Blends to combine desired qualities
The fiber content affects the finished fabric's drape, stitch definition, and care requirements. Sample various fibers and learn their qualities through experience. Then you can expertly match each new project's yarn to your creative vision.
With so many wonderful fibers to explore, you'll delight in creating cozy, stylish handmade treasures.
Choosing the Right Yarn Weight

Consider the yarn's weight when choosing which hook or needles to use.
Laceweight yarn, so delicate, transforms into airy shawls with intricate stitchwork that dances in the breeze.
Fingering weight yarn, a thread so fine, knits into cozy socks warming toes all winter long.
Sport weight yarn, light and quick, hooks into sweet little sweaters for wee ones so brisk.
Worsted weight yarn, a favorite for most, makes snuggly scarves and hats to shelter from the cold.
Chunky weight yarn, big and bulky, whips up plush blankets to feel so huggy.
Select a yarn weight that suits the kind of crafter you are. Finespun merino laceweight is a preferred yarn for intricate lace shawls. Baby alpaca sport weight brings softness to babywear. Match lightweight yarns to lightweight souls longing to be free.
Tips for Washing and Caring for Yarn
Soak in cool water
Avoid hot water or agitation
Lay flat to dry
Woolens and silk crave gentle handling, friend. Immerse delicately in cool water to prevent shocking delicate fibers. Move them minimally, then lay 'em flat so they can air dry without stretching. Some may benefit from a pampering hair conditioner bath.
Just a dollop diluted in water brings softness back to life. With care, natural fibers will reward you with beauty far longer than synthetics. Show them kindness, and they'll keep you cozy through countless seasons. Treat textiles as you would a friend, with patience and a loving touch.
Washing and caring for yarn requires a gentle approach. Natural fibers like wool and silk need special handling to preserve their beauty. A cool water soak prevents shocking them, while minimal agitation keeps them smooth.
Laying flat to air dry avoids stretching their delicate shapes. Conditioner restores softness to coarse yarns. With patient, loving care, natural yarns will retain their comfort and charm for many years ahead.
Frequently Asked Questions (FAQs)
How do I store my yarn properly to prevent damage?
Wind yarn into balls or cakes to prevent tangling, then store in breathable containers like fabric bags or plastic bins. Keep away from direct sunlight, moisture, and pests. Consider using cedar blocks or lavender sachets to deter bugs.
What are some easy projects for beginners using bulky or worsted weight yarn?
Make a chunky blanket with simple stitches or thick scarves to wrap yourself in a cozy embrace.
What needle or hook size should I use for different weights of yarn?
You'll want to match your needle or hook size to the recommended gauge on the yarn label. This ensures even stitches and proper drape. Generally, finer yarns like lace use smaller needles, while bulky yarns need larger hooks.
Don't underestimate the drama thicker yarns can create with looser stitches! Choosing the right tool prevents frustration so you can relax and enjoy the soothing rhythm of your latest project.
Where can I buy affordable yarn in bulk or clearance skeins?
You can buy affordable yarn in bulk online at big box craft stores. Check their clearance sections for discontinued or overstocked skeins at deep discounts. Warehouse clubs often offer multipack bundles of basic acrylic yarns too. Craft thrift shops or secondhand sellers sometimes have unused skeins as well.
How do I fix mistakes and rip out stitches cleanly when knitting or crocheting?
When ripping out stitches, be gentle yet firm. Use a crochet hook or needle to unravel rows one at a time. Take your time and don't rush. Carefully loosening the yarn little by little prevents damage to the fibers.
If needed, cut the yarn and carefully pull it out. With patience, you'll save your work and avoid frustrated tangles.
Conclusion
You're ready to get started crafting with the perfect yarn. With so many options, choose one that matches your project, skill level, and budget. Investing in quality yarns pays off with durable, beautiful finished pieces. May your next project be your finest, crafted with the best yarn for your creative vision.