This site is supported by our readers. We may earn a commission, at no cost to you, if you purchase through links.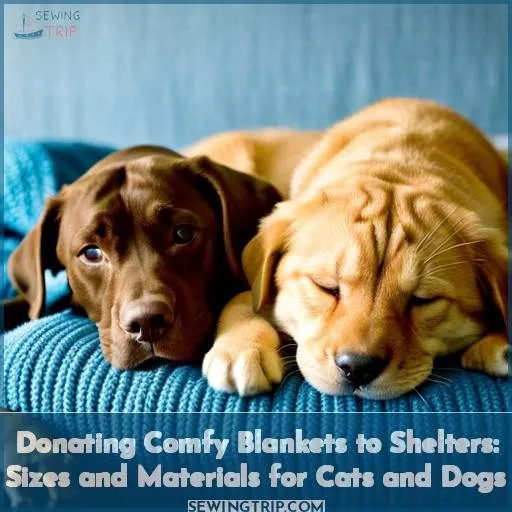 Did you know that over 3.3 million dogs enter animal shelters in the United States every single year? Providing comfort and warmth to these sweet pups through donations of cozy blankets makes a world of difference during their stay.
We all know how reassuring it feels to curl up in a familiar blanket when times get tough. Now just imagine being a frightened dog in an unfamiliar shelter environment. A donated blanket provides much-needed comfort and warmth, while also smelling like home.
Studies show that dogs and cats that arrive at the shelter with a personal belonging are much less stressed. Not only that, but blankets and beds help the animals relax and rest better, improving health and making them more adoptable.
So put those crafting skills to work and get creative with fleece, crochet, or even upcycled materials. You'll be providing shelter pets the simple joy of snuggling into their very own blankie. And who knows, it might just help a nervous pup or kitty find their forever home.
Key Takeaways
Measure the blanket to fit the cage and transition to homes.
Fleece is good for easy no-sew tie blankets.
Crocheted blankets are durable and washable if the stitch is tight.
Cooling beds are for hot or elderly dogs, while orthopedic beds are for elderly or disabled dogs.
Donating Blankets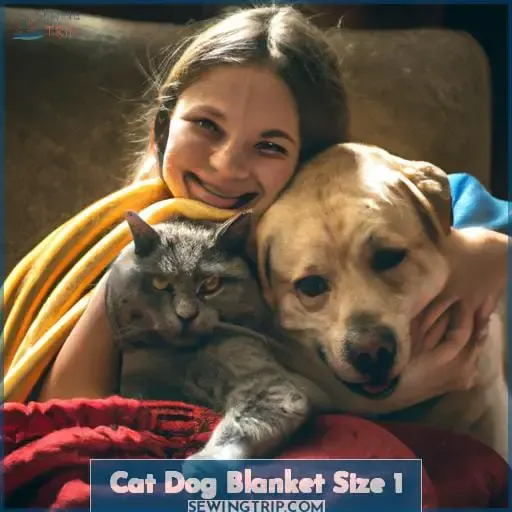 You can easily make a difference for shelter animals by donating handmade blankets. Contact your local animal shelter to find out their address for donating blankets, as well as any size or material guidelines they may have.
Be sure to notify the shelter coordinator when you plan to drop off blankets so they know to expect your thoughtful donation.
Where to Donate
Contact your local animal shelter to see if they accept handmade blanket donations. Many run collection drives or have gift-giving events where you can drop them off.
Join social media campaigns that collect blankets for shelters across the country.
Organize a fundraiser in your community and use it as an opportunity to collect blankets.
Spread warmth and comfort to animals in need by donating your handmade blankets. Small acts of kindness make a big difference in improving quality of life for shelter pets awaiting forever homes.
Notify Shelter
After makin' those cozy blankets, be sure to call the shelter to let 'em know your donation's on the way so they can get ready for those snuggly critters. Sendin' a quick email or givin' 'em a ring to say the blankets are headin' their way lets the staff get things sorted to make those scared animals more comfortable.
Consider includin' a little thank you note or even a picture of the completed blankets – it'll give the volunteers a smile and reinforce that sense of community.
And don't forget to ask if they need any help coverin' the blanket shipping costs or if you could connect with other do-gooders lookin' to lend a hand. Small acts of kindness like a donation call make all the difference in improvin' quality of life for those critters awaitin' their forever homes.
Blanket Benefits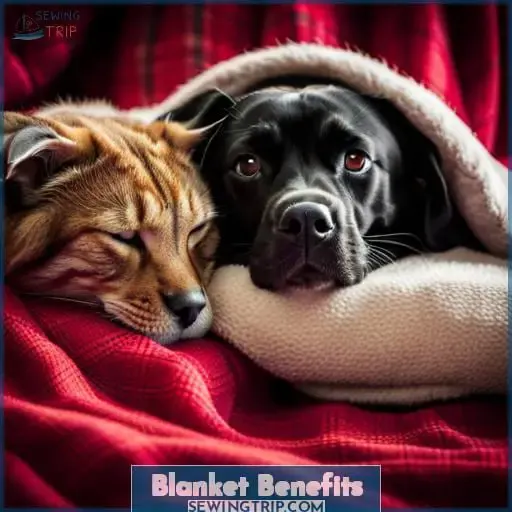 We understand how important it is to provide comfort and security for shelter animals. A handmade blanket can make a real difference for a homeless pet awaiting adoption. The simple act of donating a blanket gives them warmth and helps relieve stress, making them more relaxed, social, and likely to find a forever home.
Comfort
Folks, over 300 shelters across the country accept handmade pet blankets. These comfort homeless animals while they await forever homes. The warmth and soft texture of a donated fleece blanket provides critical comfort to abandoned dogs or stressed-out cats.
Pets stuck in stark steel cages experience reduced anxiety and more restful sleep when nestled into a colorful, cozy blanket. Your donated pet blankets give homeless animals entertainment with fun fabrics and playful designs.
Donating blankets provides warmth, relieves stress, and aids bonding for pets awaiting adoption. A simple act of kindness like donating blankets spreads warmth. Support your local animal shelter through donations of hand-sewn pet blankets or by giving money to buy cozy fleece.
Adoption
Pets wrapped in hand-sewn blankets become calmer and more approachable, makin' 'em more likely to find their forever homes. A cozy blanket provides a sense of security and confidence for shelter animals, helpin' them bond with potential adopters durin' meet n' greets.
Snuggled beneath their security blanket, pups and kittens project approachable body language and seem more receptive to gentle strokes. This allows folks to make positive first impressions while gettin' to know the pets' unique personalities.
Shelters encourage adoptive families to take home their new pet's blanket too – providin' continuity between the shelter and their new home. With blankets in tow, pets transition easier to their new digs, family, and surroundings.
So stitch up some blankets and help homeless pets feel prepared for the companionship, trainin' and love that await in their forever home.
Blanket Materials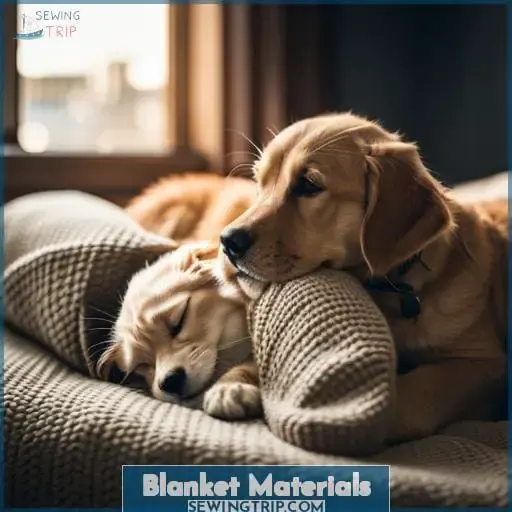 Here are some great blanket materials for shelter pets. Fleece makes wonderful no-sew tie blankets that provide plenty of warmth while being easy to wash – essential for use in shelters. Tightly crocheted blankets prevent poking and hold their shape even after frequent washing.
These cozy, durable options offer comfort and security to homeless animals awaiting their forever homes. Now that we've covered the basics, let's dive deeper into specifics on materials to make the best blankets we can for our furry friends in need.
Fleece
You're craving cozy fleece blankets for cuddly critters. Here are 3 reasons fleece is an ideal material for shelter pet beds:
Soft and snuggly. Fleece feels plush and comforting against furry paws and bodies.
Easy care. Fleece is machine washable and dryer safe, maintaining its softness after many launderings.
Lightweight. This budget-friendly fabric is lightweight enough for small dogs to gather in their crates or beds.
Fleece makes wonderfully soothing sleep spaces for sheltered pets. The simple luxury of a homemade fleece blanket provides security and warmth for vulnerable animals awaiting forever homes.
Crochet
Hooked rows interlock to cradle cuddly fur babies. Your crochet hook dances across scraps of leftover yarn, steadily building a shelter critter's cocoon. Bulky textures insulate; openwork breathes. Knotted into fleece, granny squares patch plush comforts.
Cooling pads refresh overheated hounds. Each handcrafted blanket is a labor of love, infusing hope and warmth into impersonal cages. Patient paws find peace curled inside your crocheted gifts. New adoptive families continue treasured traditions, crocheting confidence and compassion.
Generations experience fulfillment in this simple act of service. The beneficiaries are numerous: pets, adopters, kids – and you, with a hook, yarn, and giving spirit.
Making Blankets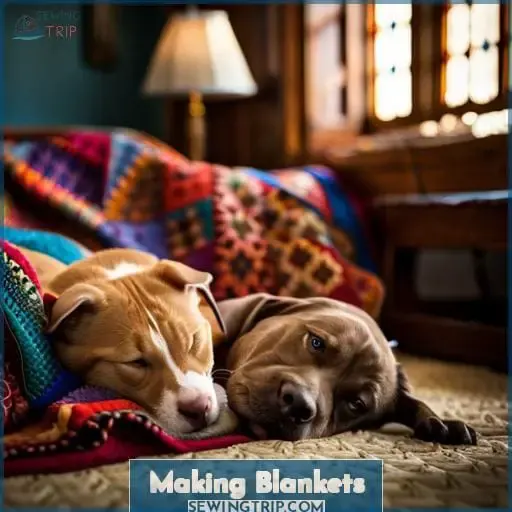 Here are some great options for making cozy, comforting blankets for shelter pets. Whether you enjoy sewing fun fabrics together or prefer no-sew fleece tie blankets, we have you covered. Crocheting a tight afghan or upcycling old t-shirts into a dog bed are other creative ways you can craft a blanket to spread warmth and cheer to animals awaiting adoption.
Now let's look at guidelines for sizes to make blankets perfectly snuggly for cats and dogs of all shapes and sizes.
Sewing
You'll enjoy stitching cheerful fabrics into cozy blankets, knowing they'll soon wrap a shivering pet in warmth. Consider using soft cotton prints, fleece with fun designs, or repurposed fabrics like old t-shirts to make crate liners and blankets.
Crochet a tight stitch, or quilt fabrics together in creative patterns to delight your furry friends. Knitting gives wonderful flexibility for textured blankets. Join a volunteer program donating blankets to non-profit organizations and shelters so you can spread warmth and joy.
Simpler patterns allow beginners to contribute, while experienced sewers will relish a new creative challenge. Any skill level can craft comfort for critters and make new animal pals in the process.
No Sew
Quickly whip up cozy cat and dog beds with clever no-sew techniques like tying fleece scraps or stuffing pillowcases to pamper shelter pets without stitches. For a simple no-sew blanket, cut fleece squares and tie the edges, leaving a tail to cuddle.
Stitch rectangles of fleece together across the width without sewing for comfy sleeping bags. Repurpose an old t-shirt into a dog bed by stuffing the sleeves with newspaper or fabric scraps and tying off the neck.
Upcycle scrap material like flannel or sweatshirt fleece into plush blankets for cuddly warmth.
Pile scraps of polar fleece for a thick cozy rug and trim edges with pinking shears. Sewing skills aren't required! Any fabric lover can craft delightful cat beds and dog mats to donate. Spread joy by quickly assembling no-sew blankets for animal friends awaiting forever homes.
Blanket Sizes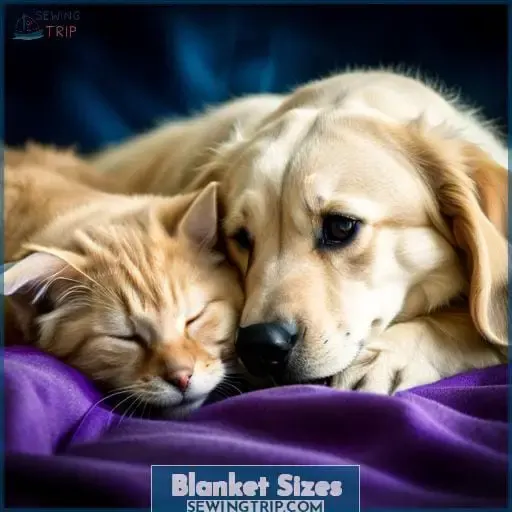 C'mon now, stitching a snuggly blanket perfectly sized for Fido or Fluffy brings big smiles all around. Knowing the right size blanket for your furry friend ensures maximum comfort and safety. Properly fitted blankets can even help speed up adoption rates! For small dogs or cats under 15 pounds, a 12×12 inch blanket allows them to burrow and feel protected.
Medium dogs from 15 to 40 pounds need a larger 24×24 inch blanket that won't restrict movement. Big dogs over 40 pounds do best with a big 36×36 inch blanket they can really sprawl out on. Using durable, machine-washable fabrics prevents chewing while helping blankets last.
Anxiety-prone pets may overgroom synthetic materials, so go for soft natural fibers. Measure cages at your local shelter to craft custom blankets that fully cover floors with no uncomfortable bunching.
With the right size blanket, shelter pets can finally relax and feel at home while awaiting their forever families.
Cat Blankets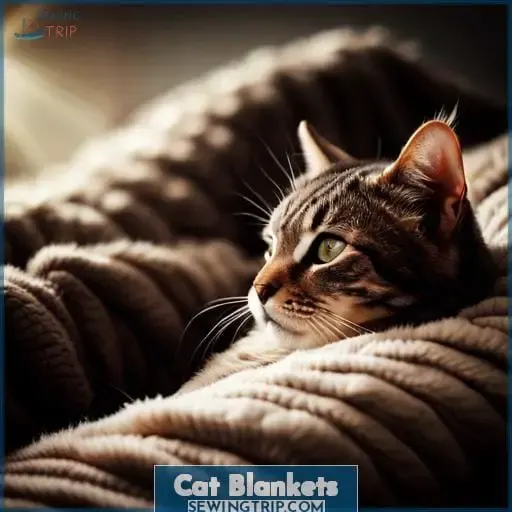 For snuggly kitties, tailor 12×12 inch blankets from soft fleece or flannel scraps.
Craft blankets sized perfectly for kitty crates to give felines a soothing, secure space of their own. Use a cardboard template to customize dimensions for different carriers. Fleece and flannel make friendly fabrics that cats happily knead and cuddle.
For kittens, opt for natural fibers like cotton that won't irritate sensitive skin. Show extra TLC by lining crate beds with cushy batting or foam – it's purrfect for fragile, elderly cats too.
Donating your handmade cuddler beds to local shelters helps lonely cats feel comforted while awaiting adoption. With your thoughtful blankets, rescue cats can finally relax in the shelter's noisy, stressful environment.
It's just a simple act of kindness, but vital for scared shelter cats seeking security.
Dog Blankets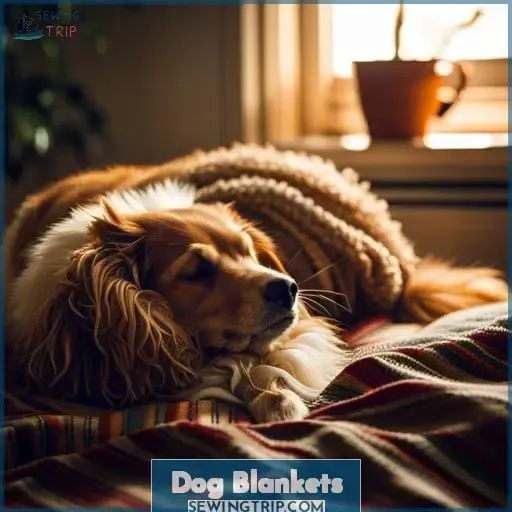 REVISED INPUT: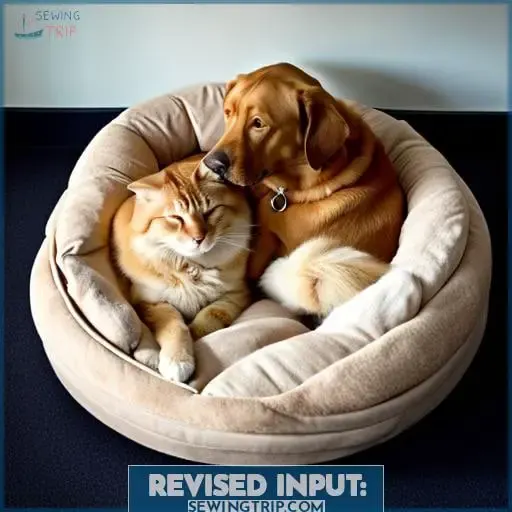 You'd be amazed how a handmade blanket can make anxious shelter dogs feel much calmer.
When making blankets for shelter dogs, consider their size and needs:
Large breeds like greyhounds need bigger 36×36 inch blankets to stretch out and get cozy.
Elderly or disabled dogs appreciate cushy foam or batting layers for comfort on their achy joints.
Puppies and short-haired breeds need extra warmth from fleece or thermal fabrics.
Add fun accents like knots, ribbons or fabric scraps from old clothes to make your blankets unique.
Check with your shelter about their exact size needs and washable fabric guidelines.
Your time and care in crafting handmade blankets can truly brighten a shelter dog's day. Don't underestimate how a simple act of kindness helps them feel comforted and secure while awaiting their forever home.
Specialty Beds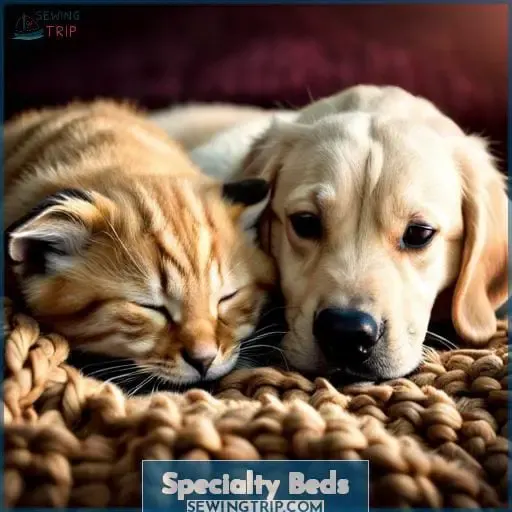 Pet owners want to provide the very best care for their furry friends. That's why specialty beds designed for specific needs are becoming so popular. Cooling beds with breathable mesh help hot, elderly or sick pets stay comfortable on sweltering days.
Orthopedic beds with dense foam cushion painful joints for aging or disabled dogs and cats.
Cooling Beds
An elevated cooling bed's your best bet for keeping Fido chill all summer. Choose breathable cottons or moisture-wicking performance fabrics to let air circulate, keeping hot spots at bay.
An elevated frame lifts your pup 7+ inches for maximum airflow; orthopedic beds with bolstered sides provide back support. Large, long-legged breeds like greyhounds need bigger platforms, around 42 inches square.
During your dog's heated nap times, cooling beds prevent overheating. Removable, machine-washable covers allow easy cleaning between doggy adventures.
With smart summertime choices, you can keep your furry friend feeling refreshed even on sweltering dog days.
Orthopedic Beds
You'll give your dog cushy comfort with an orthopedic bed. Its plush memory foam molds to Fido's body, easing joint aches from hips and elbows. Thick egg-crate tops disperse weight evenly. Bolstered rims become headrests during blissful naps.
Orthopedic materials like shredded latex soothe arthritis in elderly dogs. Some inserts are infused with cooling gels that reduce inflammation. Machine-washable zippered covers allow easy cleaning between muddy play sessions.
Look for non-slip bottoms preventing slides on smooth floors during zoomy dreams. With orthopedic support, senior dogs find sweet relief while snoozing the day away.
Get Involved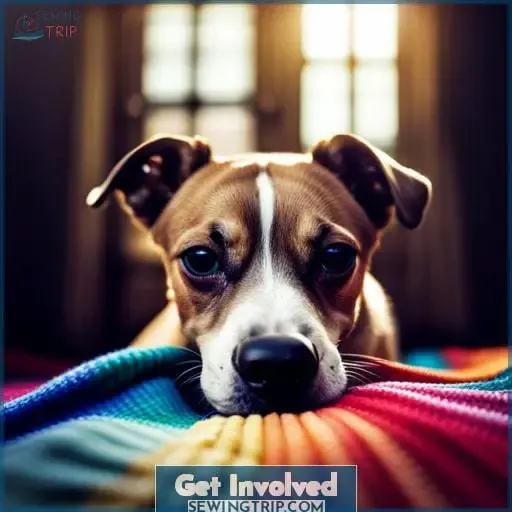 There are so many ways you can get involved and help spread comfort to shelter pets in need. Why not make it a fun family project? Get your kids or grandkids together and have them help create handmade blankets to donate to your local animal shelter.
It's a great way for them to learn kindness and compassion while providing warmth and comfort to homeless pets awaiting forever homes.
Your homemade creations will be graciously accepted by animal shelters across the country that rely on donations to help care for the animals in their charge. With just a little time and effort, you can make a big difference in the lives of shelter pets patiently waiting for someone to give them a second chance.
Kids Project
You're teaching the kids kindness and compassion by having them make custom blankets for shelter pets. The young crafters will enjoy selecting fun, soft fabrics and creating cozy sleeping pads for their furry friends in need.
Explain machine washing guidelines so the blankets stay fresh. Show them how to make warm fleece carriers with safe chewing edges. Let their creativity run wild with paw print designs or bright colors to lift a lonely dog's spirits.
Their small hands can stitch cuddler beds, padded liners, and fleece mats that provide a comfortable place to rest in a cold, sterile shelter cage. With each homemade blanket, they'll gain experience in giving back and caring for our four-legged companions awaiting forever homes.
Support Shelters
Giving cozy blankets donates comfort and security to shelter pets in need. Cuddle a cold-nosed canine or curled-up kitty with a handcrafted haven tailored to their size. Big breeds stretch out on oversized fleece blankets you personalize with fun fabrics.
Measure mats to snugly fit senior or special needs pets during recovery. Foster homes transition new pets with familiar beds from their shelter stay.
Donating blankets, especially for overlooked elderly or disabled animals, makes their time here cozier while awaiting their furever person.
Why Donate?
Donating handmade blankets brings joy to homeless animals. Shelters desperately need donations to provide comfort and care for the pets in their charge. With just a little time and effort, you can make a big difference by donating handmade blankets.
Provide warmth and comfort – A handmade blanket gives animals a sense of security and comfort while waiting alone in their shelter cage or kennel.
Make pets feel special – Custom blankets made with love allow each animal to feel uniquely valued, not just another stray statistic.
Improve adoptability – Blankets help timid pets feel safe, making them more social, happy, and ready to bond with a new family.
Enrich shelter life – Time drags in noisy, stressful shelters. A cozy handmade blanket provides enrichment to help pets relax and stimulates play.
You have the power to spread joy and comfort to homeless animals in need through your creative talents and generous spirit. See the delight your handmade donation brings by visiting your local shelter. Witness pet snuggles firsthand.
Frequently Asked Questions (FAQs)
What is the best fabric to use for pet blankets – fleece, flannel, cotton?
Fleece is ideal for warmth and softness – it's lightweight yet cozy. Flannel sheets are budget-friendly and provide a homey feel. Cotton fabric may lack insulation but can be refreshing in summer. Focus on natural, breathable materials for your furry friend's comfort and safety.
How do I wash and dry homemade pet blankets?
Wash handmade pet blankets on a gentle cycle to preserve their softness and warmth. Use a mild detergent, as harsh detergents may deteriorate the fabrics. Avoid overwashing the blankets, as this can cause fabrics to pill or fade over time.
When drying the freshly washed pet blankets, tumble dry on a low setting. High heat can damage or shrink delicate fabrics used in handmade blankets. The low heat setting will sufficiently dry the blankets while maintaining their cozy texture.
Proper washing and drying will keep homemade pet blankets clean and comfy for your furry friends to snuggle up in. With some care, handmade blankets can be enjoyed for years to come. Your pets will feel pampered curling up in a soft, clean blanket.
What sizes should I make blankets for puppies or kittens?
Make sure those precious puppies and kittens have cozy blankets scaled to their pint-sized bodies. A 1 foot square blanket keeps newborns warm and secure. Move up to a 2 foot square blanket once they hit that rapid growth phase around 2-3 months old.
Can I put my business logo on donated blankets?
Great idea to spread your brand! Be sure the logo doesn't interfere with comfort or safety. Prioritize the animals' well-being when placing labels. The pets will feel your kindness through soft fabric and cozy warmth.
Where can I find patterns for crocheted or knitted pet blankets?
You'll find free patterns for crocheted and knitted pet blankets on sites like Ravelry, AllFreeCrochet, and AllFreeKnitting. Check for the right yarn weight and hook/needle size to make blankets durable and safe for animals.
Conclusion
Joyful Critters Deserve Cozy Comfort
Though ironic, simple scraps bring boundless benefits for beloved beasts. While we focus on fancy toys and treats, a basic blanket's snuggly solace soothes sweet shelter souls. Despite humble materials, handmade havens hug frightened furry friends awaiting forever homes.
With each knotted stitch, every tied fringe, and all bundled bits of fabric, we wrap society's forgotten felines and canines in compassion.
So let's spread warmth wider than any measure, to blanket every cold nose in care beyond creed. For in the end, what we give comes back twofold, and kindness costs nothing yet comforts all creatures great and small.