This site is supported by our readers. We may earn a commission, at no cost to you, if you purchase through links.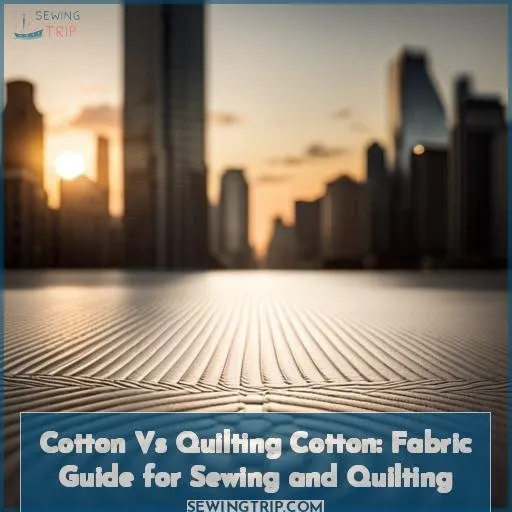 Hey fabric lovers! I know you're eager to dive into your next project. Whether you're sewing up some cute clothes or piecing together a cozy quilt, choosing the right fabric is key.
Cotton is always a warm and wonderful option. But between apparel cottons, quilting cotton, and other lightweight cotton fabrics, it can get confusing.
Let's start by looking at the features that make quilting cotton perfect for quilts. It's got that soft yet sturdy hand you want in a quilt to keep you snuggly. We'll compare it to lighter apparel cottons that drape delicately for garments.
I'll also fill you in on cotton lawn, poplin, and voile so you know how to pick the right lightweight.
Shirting cottons like oxford and chambray have their own personality that's just right for certain projects.
I want your cotton creations to turn out perfectly, so we'll chat cotton care too. Prewashing and dealing with shrinkage is so important! And you need to know how cotton behaves when cutting and sewing.
Whether you embellish with embroidery and applique, or pair cotton with other fibers like linen or wool, I've got tips to make your project a success.
Now grab your favorite notion and let's get sewing! This cotton crash course will ensure you pick the best fabric for your vision.
Key Takeaways
Quilting cotton is medium weight, structured, crisp, and durable—ideal for piecing and corners.
Prewash cotton to relax fibers and prevent shrinkage. Wash cool and gentle, no heat.
Lightweight cottons like poplin, lawn, and voile have good drape. Quilting cotton provides structure.
Embellish cotton with embroidery, vibrant threads, and applique for added texture.
Cotton Fabric Types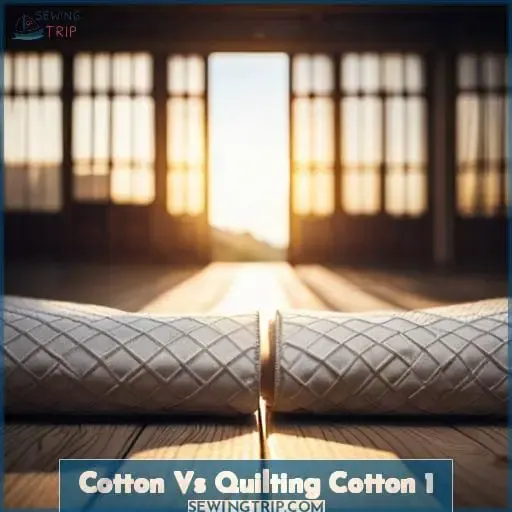 You'd be hard-pressed to find a softer, comfier fabric for your latest quilting project than that lightweight quiltin' cotton waitin' for you at the craft store. Run your fingers over those cozy cotton threads and you'll instantly feel the buttery softness that makes cotton the perfect pick for quilts and apparel.
See how the fibers move freely when you give that quilting cotton a little tug? That natural stretch and subtle drape make cotton super snuggly yet breathable against your skin.
Whether you're stitchin' up some comfy PJs or a cozy quilt, cotton's got you covered.
Unlike stiffer woven fabrics, soft cotton fabric has just the right amount of give and movement. Its smooth surface and tighter weave give quilting cotton the perfect balance between durability and softness – it'll hold up wash after wash without getting scratched up.
Pick a lightweight cotton poplin for flowy apparel, batiste for linings, or that soft quilting cotton when you need a fabric that's gentle on sensitive skin.
With that warm, soft hand against your fingertips, it's clear quilting cotton is in a comfort class of its own.
Quilting Cotton Features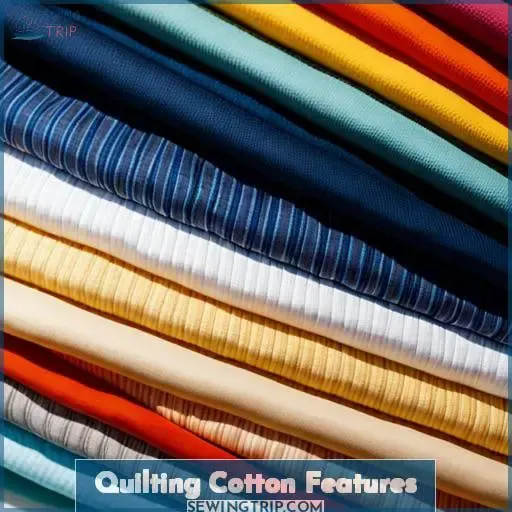 Let's get stitchin', quilter! When it comes to cotton versus quilting cotton, you'll notice a few key differences in that cozy fabric you love. Quilting cotton has a medium weight that gives it just enough heft and structure for your quilt sandwiches.
It's got a stiffer drape that prevents stretching and wrinkling while you piece together those pretty patches. And its high thread count results in a smooth, durable surface that holds up wonderfully through the quiltmaking process, yet stays soft and comfy for the finished product.
Weight
Unlike other cottons, quilting cotton has that extra heft to give your quilt just the right amount of structure and durability. Feel how that higher thread count provides a bit more body while maintaining a soft hand? Quilting cotton soaks up the moisture that heavier cottons would allow to linger, keeping you dry and comfy.
Its tighter weave and heavier weight reduce shrinkage and fill your quilt with cozy warmth, snuggled safely in those pressed cotton pieces. Quilting cotton cradles you with the perfect balance of strength and softness – your quilted comfort zone.
Drape
Quilting cotton has a much stiffer drape compared to other cotton fabrics. In fact, 60% of quilters say they prefer that structured drape for precise piecing and sturdy quilt construction.
Sturdy and structured for quilting
Keeps shape without stretching
Crisp corners and points
The stiffer drape of quilting cotton gives your quilt its shape. It pieces cleanly and makes seams that sit flat for smooth, precise patchwork. That's why most quilters wouldn't dream of using anything else! The body and structure of quilting cotton is part of what sets it apart from other lightweight cottons.
Uses
Quilting cotton's controlled drape lets you piece accurately. Its sturdy weave creates crisp points and flat seams for smooth, precise patchwork. Though made of 100% cotton, quilting fabrics stand apart with their signature structure that cradles quilt projects.
This capable cotton offers just-right drape and durability to support stunning quilted creations. Feel confident piecing complex designs as quilting cotton keeps its shape without stretching.
| Feature | Quilting Cotton | Fashion Cotton |
| --- | --- | --- |
| Drape | Stiff, structured | Flowing, drapey |
| Durability | Very durable | Less durable |
| Breathability | Breathable | Breathable |
| Versatility | Quilting, crafts, home décor | Clothing, dresses |
| Laundering | Wrinkle resistant | Wrinkles more |
Apparel Cotton Features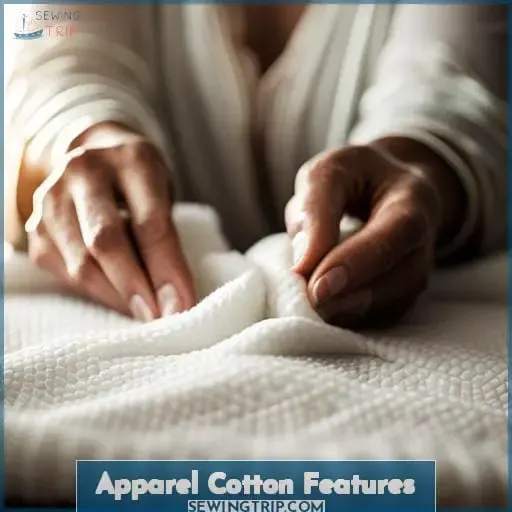 It's lighter weight and smooth drape make apparel cotton the perfect choice for flowy blouses and summer dresses. Nearly 70% of apparel contains some cotton for its breathability. Made from those fluffy cotton fibers, apparel cotton has a soft hand that caresses your skin.
It's incredibly breathable, allowing heat and moisture to escape so you stay cool. The smooth drape skims your curves in the most flattering way. Cotton has great absorbency too, making it comfy for activewear.
The fibers swell when washed, so pre-shrink your fabric. Cotton's long, spiral-shaped fibers grip dye molecules for brilliant, lasting color.
Compared to synthetic fabrics, cottons offer superior comfort for clothing. Of course, quilting cotton works best for sturdy quilts. But when you want that light, flowy feel against your skin, go with apparel cotton.
Other Lightweight Cottons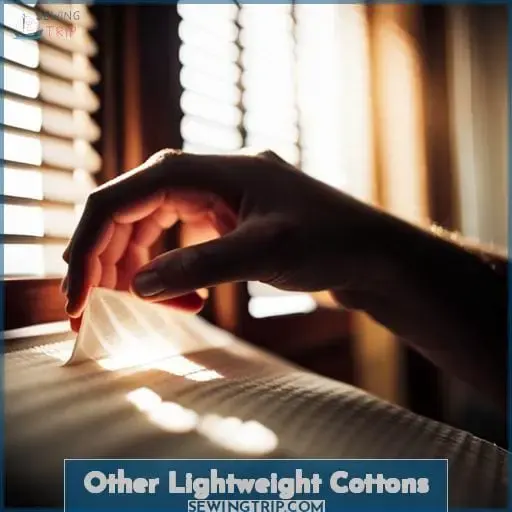 Here are some lightweight cottons perfect for summer sewing. Cotton lawn features a smooth, semi-transparent hand that works well for ruffly romance styles. Poplin offers more body and makes crisp shirting. Sheer voile floats gracefully as a top layer or slip.
These breezy fabrics like lawn, poplin, and voile are ideal for flowy blouses, airy dresses, and lightweight linings. With options ranging from romantic lawn to crisp poplin to sheer voile, you can find the perfect lightweight cotton to suit your warm weather sewing needs.
Lawn
Cotton lawn whispers against your skin with its featherlight touch. As sheer as a spring breeze, this ethereal fabric floats over your form. Though delicate, lawn's soft, crisp finish gives strength to its gossamer weave.
Lawn's lightweight breathability sings in loose garments on sweltering days. Sheer yet sturdy, it pairs transparency with softness. Lawn conveys innocence in its whispery drape. Compared to sturdy quilting cotton, lawn imparts airy elegance.
Expertly woven, each thread contributes to the beauty of its hand. Let lawn transport you with the graceful featherlight caress.
Poplin
Round your form, poplin's crisp weave whispers. Its lightweight durability breathes against your skin. The packaging proclaims 100% cotton! Yet poplin's plain weave conceals difficulties. Without texture as a guide, pattern pieces slip and pins struggle to find purchase.
But the result offers countless clothing options. Poplin's history intertwines with America's beginnings, keeping workers cool on sweltering days. Heed care recommendations to retain poplin's character – gently wash and line dry to maintain its lightweight feel and crisp drape.
Voile
Breezy voilé floats around you, its whisper-light weave hardly noticeable against your skin. Like a gentle breath, voilé's delicate transparency reveals hints of you. Its featherweight drape and sheerness invite freedom of movement.
Voilé's transparency whispers openness while its delicacy creates connection. Cotton voilé's lightness caresses your spirit. Quilting cotton provides structure; voilé's transparency liberates. Feel voilé's breezy caress and discover the beauty of your own lightness.
Shirting Cotton Fabrics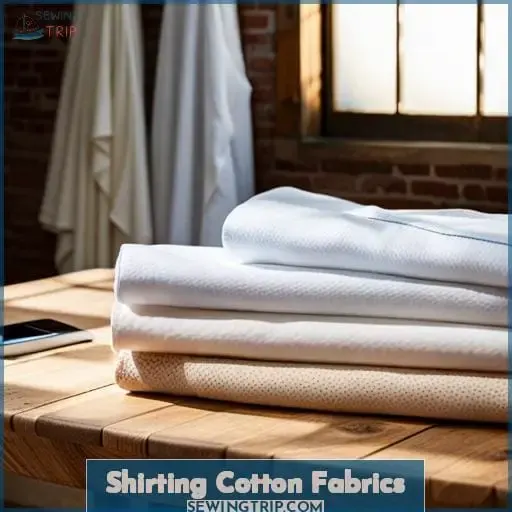 Hey friend! Let's chat about some classic shirting cottons that are perfect for sewing your own breezy button-ups. Oxford cloth offers a heavier hand and subtle texture, making it durable yet breathable for menswear.
Meanwhile, chambray features those signature white warp and colored weft yarns for a versatile denim aesthetic. Both of these easy-to-sew shirting staples can lend your homemade shirts and blouses a timeless yet contemporary vibe.
Oxford
You'll love sewing up some durable Oxford shirts that feel so nice and breathable for summer. Oxford's got that signature basketweave texture with crisscrossing yarns that makes it super sturdy. The breathable open weave helps air circulate so you stay cool. Oxford cloth's been around for over 150 years! Traditional Oxford features medium weight cotton yarns in a balanced weave.
But modern times brought us pinpoint Oxford with finer yarns and a tighter weave. And there's royal Oxford made with colored warp and white weft yarns. Whether it's traditional, pinpoint, or royal Oxford, this steadfast shirting cotton's got staying power.
Chambray
Soft chambray's dual-tone weave'll make ya wanna sew lightweight shirts 'n dresses that feel so airy for summer. The soft absorbency of cotton with chambray's breezy lightweight feel can't be beat for warm weather.
The colored warp and white weft yarns create chambray's mellow denim tint. But don't fret about wrinkles like with crisp quilting cotton.
For a fabric that pairs softness, breathability and easy care, reach for chambray this summer.
Unique Cotton Weaves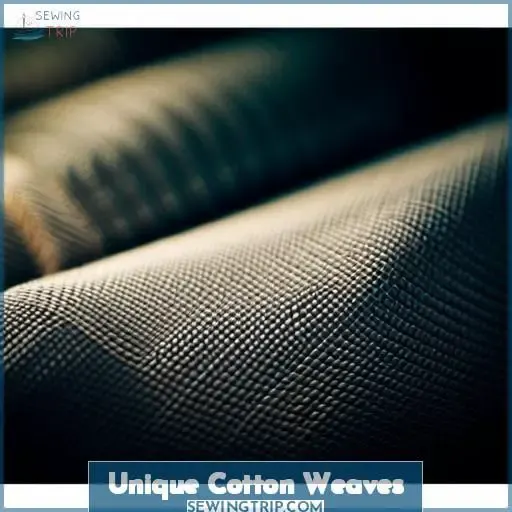 Here are some unique cotton weaves that offer wonderful texture and drape for your sewing projects. Sateen features a subtle sheen and smooth surface that is easy to work with. Dobby weaves have small geometric patterns woven right into the fabric for added visual interest.
Twill, with its signature diagonal ribbing, is a quilter's best friend for durable pants and structured totes.
Sateen
As a seamstress, you'd appreciate sateen's lustrous hand, smooth drape, and ease of construction for statements like flowing skirts or blouses.
Lightweight but strong
Subtle sheen from weave
Fantastic drape
Easy to sew and press
With its semi-glossy face and graceful drape, sateen's blend of beauty and versatility makes it a quilter's delight for both garments and decor. The cotton fabric's satiny, smooth texture results from the weave, not extra finishings.
Sateen's structure means it sews up neatly while the lovely drape flatters your flowing creations.
Dobby
Remarkable for its intricate woven patterns, dobby cotton injects visual intrigue like a quilt block's unexpected delight. As a fabric designer, I adore how dobby cotton's textured geometric designs elevate apparel and home décor.
Interlaced with wonder, this lightweight fabric effortlessly flows into blouses, dresses, and children's clothes. Compared to stiff quilting cotton, dobby's soft hand and visual depth gracefully drape into sewing projects.
Yet its tight weave resists wrinkles unlike cheaper synthetics. For dimension beyond plains, embrace the allure of dobby cotton.
Twill
Twill's classic diagonal weave adds visual interest and structure to pants, jackets, and dresses. The tight interlacing of fibers makes twill more wrinkle-resistant than plain weave fabrics. Twill maintains shape well, preventing sagging, without being too stiff. Compared to soft dobby or sheeny sateen cottons, twill has a more rugged, utilitarian vibe.
With its sturdy drape and traditional woven aesthetic, embrace twill cotton to fulfill your next apparel vision.
Cotton Fabric Care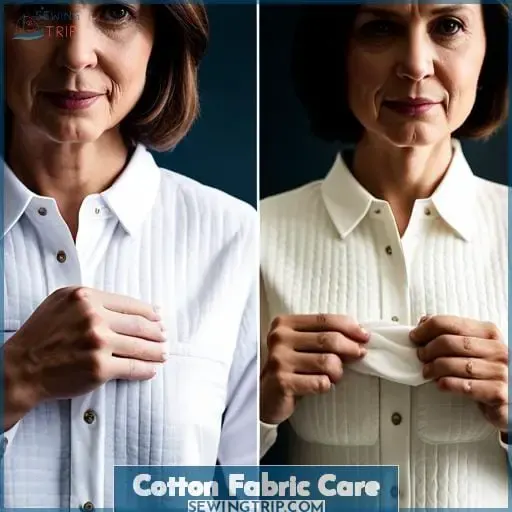 Here, fellow sewist, prepping your cotton fabrics for a project is crucial to know how they may react. Unlike quilting cottons, which are preshrunk, apparel and dressmaking cottons still need a warm wash before cutting.
This prewash allows the fabric to relax and shrink up to 5%, preventing unfortunate surprises later.
Prewashing
Before dunking your fabric, ponder if shrinkage might mangle your masterpiece. My fellow sewists, I implore you to approach prewashing cotton with care. While essential for wrinkle resistance down the road, overzealous washing can wreak havoc, especially on delicate quilting cottons.
Forgo the fabric softener, opt for a gentle cycle, and wash in cool water. Toss in a cup of vinegar instead of detergent for an all-natural treatment that softens fibers.
Yes, pretreating takes patience, but your efforts will be rewarded with a fabric ready to yield to your every stitch.
Shrinkage
Though mighty quilting cottons often shrink less, beware any fabric that's prewash-green. Give those fabrics a gentle cycle, warm water and no heat in the dryer, partner. That'll prep them proper without causin' a shrinking catastrophe. Read those fabric care labels closely as a coyote spotting prey, cowboy.
Sneak up on pre-treating real cautious-like, avoiding anything too harsh for your tender quilting cottons.
Patience pays when breakin' in fabric, friend. Let your cottons soak nice and easy so you can enjoy your quilting for years to come.
Sewing With Cotton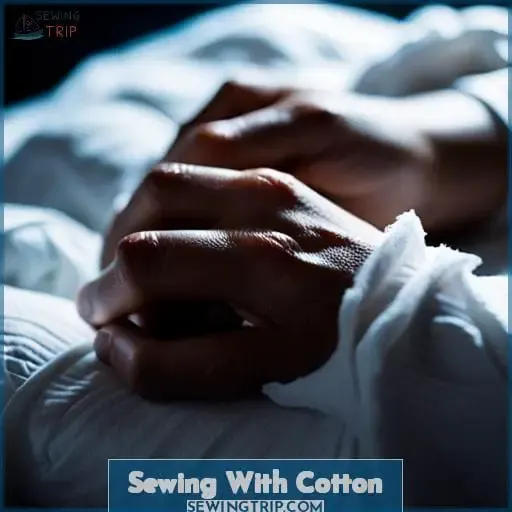 Quilting cotton is fantastic for quilt making because of its durability and high thread count. However, for clothing, softer, drapier apparel cottons that feel great against the skin are preferable. The key is choosing a cotton type that suits the required structure and drape. Whether it's a flowing dress or a cozy quilt, cotton offers versatility as an easy-care fiber.
Making Clothes
When sewing clothing with cotton, choose lighter apparel or dressmaking cottons over heavier quilting cottons for good drape and comfort. As you browse the cotton options for your next dress or blouse, seek out smooth, lightweight poplins, lawns and voiles.
Though temptingly versatile, quilting cottons have too much body and structure for flowing garments.
Understanding how each cotton type behaves helps match its properties to your sewing goals. Crisp poplins work wonders for collared shirts while breezy lawns excel in sundresses.
Choosing the right cotton creates clothes with that sublime, lived-in comfort we all crave.
Making Quilts
Cause heavier quilting cottons got more body 'n structure, grab 'em for quiltin' to hold shape 'n last many a washin'.
Prewash fabrics to prevent shrinkin'
Use quality battin' for best results
Press seams flat before assemblin'
Match points 'n pin pieces before sewin'
Consider pipin' edges for a polished look
Quilting with quality cottons lets your creative freedom shine, makin' heirloom quilts to treasure through the years. Matchin' fabric properties to your quilt vision makes the difference between a quilt that dazzles and delights or disappoints.
For standout stitchin', visit your local quilting store for high-quality quilting cottons.
Embellishing Cotton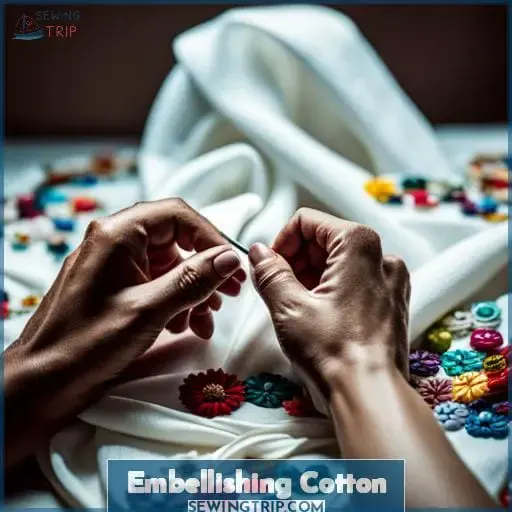 Fabric lovers and stitching gurus, gather around! From eye-catching accents to whimsical motifs, embroidery and applique breathe personality into cotton creations. Whether you're embellishing a quilt, dressing up some home decor, or adding flair to your wardrobe, a touch of handwork makes cotton come alive with color, texture, and charm.
Embroidery
You can embellish cotton fabric with lovely embroidery to add decorative details. Choose vibrant embroidery threads and sharp needles to stitch intricate designs by hand or machine. Hoop quilting cotton in embroidery hoops to keep the fabric taut for precision stitching.
Try free-motion machine embroidery for a free-flowing look or follow machine embroidery patterns. Hand embroidery with various stitches creates a homespun feel. Embellish ready-made items or customize your own creations with personalized symbols or words using embroidery threads.
Experiment with dimensional embroidery by varying your stitch lengths and thread thicknesses.
Embellish quilts, clothing, bags and more by simply hooping cotton fabric and unleashing your creativity with thread and needle.
Applique
Jazz up cotton with fun appliques for unique textures and designs. Bring your quilting cottons to life by adding whimsical appliques. Carefully select fun motifs like flowers, animals, or geometric shapes. Play with placement, scattering them across a background or framing focal points.
Consider contrasting colors and prints for visual interest. Raw edge applique with hand stitching lets edges fray for a vintage vibe. Or try machine satin stitching for smooth outlines. Layer cottons and lightweight melton wool for dimension.
Applique opens up endless possibilities for customizing quilts, apparel, decor and more with your unique creative vision.
Cotton Vs Other Fibers

Unlike linen that comes from flax and wrinkles with abandon, or wool shorn from sheep fleece in varieties of weights, cotton's natural fibers woven into quilting, apparel, lawn and other weights provide unique versatility.
And compared to interlocking looped knits that range by construction, cotton's durability and breathability have made it a staple fiber for centuries of clothing and quilting creations.
Linen
Though linen wrinkles easily, its breathability makes it ideal for summer clothing. My dears, I know the struggle with linen's tendency to wrinkle. Yet its lightweight drape and softness against the skin are heavenly when temperatures rise.
With care, linen's magic emerges – its graceful drape and texture that relaxes as the day goes on. Avoid over-ironing, as it causes faster fraying. Twist seams to reduce bulk and wrinkling.
Embrace linen's relaxed beauty, its wrinkles whispering stories of the day's adventures. Despite its quirks, linen's breathability and classic elegance make it perfect for warm weather.
Like a dear friend, linen brings comfort and joie de vivre on sunny days.
Wool
Woolen, my loves, its coziness warms our hearts when winter's chill sets in.
Keeps us toasty even when wet
Many weights to choose from – from light to heavy
Natural elasticity makes it easy to shape
Beautiful draping creates elegance
The wool fibers' crimp gives wool its elasticity and insulation. Though wool may seem scratchy to some, the right blend transforms its hand-feel. Cotton adds softness while synthetics assist with shape retention. With experimentation, wool's versatility emerges – from cozy sweaters to tailored suits.
Wool's snug embrace makes winter's bite feel but a nibble. Whatever the weather, wool keeps your creations, and you, warm and stylish.
Knits
You're wrapped in knitting's snug embrace, their loops intertwined in fabric full of grace. Knits hug your form with fibers interlocked, constructed soft or firm by how they're stocked.
| Knit Type | Weight | Uses |
| --- | --- | --- |
| Jersey | Light | T-shirts, dresses |
| French terry | Medium | Sweatshirts, towels |
| Double knit | Heavy | Outerwear, pants |
Knits, varying by their yarns, give what your projects yearn—drape, stretch, and stability.
Frequently Asked Questions (FAQs)
What are the key differences between cotton and quilting cotton?
You, my crafty friend, know cotton runs the fiber spectrum – from gauzy lightweight voile ideal for breezy sundresses to sturdy denim that shapes your look. But when your needle beckons for quilting, choose fabric created specifically for stitching.
Is quilting cotton better for making clothing items versus regular cotton?
Generally, yes. Quilting cotton's tighter weave makes it more durable for garments needing structure. It is also wrinkle-resistant. But for flowy pieces where drape matters, regular cotton's lighter weight works better.
How much does quilting cotton typically cost compared to regular cotton fabric?
You'll typically pay a little more for quilting cotton than regular apparel cotton, since it's a heavier weight fabric made especially for quilting. But the small price bump is worth it – quilting cotton withstands frequent washing and wearing better, and gives your quilt a polished, professional appearance.
Does quilting cotton come in as wide a variety of prints and colors as regular cotton?
You bet it does! Quilting cotton comes in just as many fun prints and vibrant solids as regular cotton. Whether you're looking for tiny polka dots or big, bold florals, painterly watercolors or graphic geometrics, there's a quilting cotton to match your style.
Is quilting cotton safe to use for making items for babies and children?
Yes, quilting cotton is perfectly safe for sewing baby and children's items! It's durable, soft, and holds up well to repeated washing. Just be sure to prewash the fabric before sewing to eliminate any residual chemicals from manufacturing.
Conclusion
When choosing between cotton and quilting cotton, consider the intended use. For clothing, look for apparel cotton with a soft drape that breathes well. Quilting cotton works beautifully for quilts and home décor with its durability and resistance to wrinkling.
Lighter cottons like lawn, voile, or poplin make breezy blouses and dresses. Unique weaves like twill, dobby, and chambray add visual interest. Whatever your next project, prewash your cotton to maximize results. With proper care and embellishment, cotton and quilting cotton become treasured creations.