This site is supported by our readers. We may earn a commission, at no cost to you, if you purchase through links.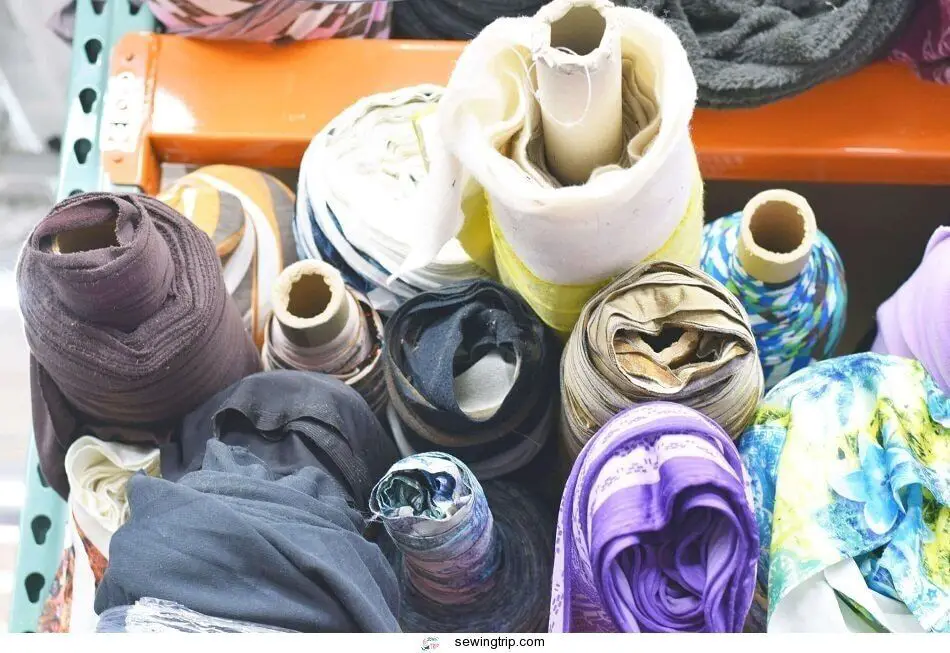 Once you find the perfect sewing pattern for what you want to make, your choice of fabric is just as important. To get the best results from your sewing project, it is important to know how to choose the best fabric for a particular sewing pattern. Most of the patterns sold are for apparel, but there are plenty of other sewing projects for which they made as well patterns. Let's start with choosing fabric for clothing projects before we tackle the rest.
The right fabric for your clothes
The fabric determines how the final product performs, how well it will wear, what kind of care it needs and how you will feel wearing it. We all have those favorite pieces of clothing that we go to repeatedly and keep wearing them until they are no longer functional or modest! It's the combination of pattern and fabric that makes them a brilliant choice.
The first place to start is with the back of the sewing pattern envelope. This will tell you how much fabric you will need based on the width of the fabric and the size of the garment you will make, so you don't buy too much or too little for your project. You will also find different fabrics recommended for the style of the pattern. While there is no law that says you cannot deviate from the recommendations, this information will give you a good guideline to follow based on whether the recommendations are stretchy or woven, how heavy they are, and their ability to drape.
Stretch versus woven
The most obvious difference between fabrics is that between woven and stretchable (knitted). Some garments, such as T-shirts and bathing suits, of stretchy fabrics so I can put them on without the use of fasteners and regain their shape as soon as you put them on.
In contrast, woven fabrics have little or no " properties " and must and sewn to the desired shape. Openings that are reattached with zippers, buttons or snaps must in the pattern for it to work.
Some sewing patterns you can purchase for use with stretch fabrics and do not make the garment from woven material instead. Besides the above reasons, these two types of substances also differ in other ways. While woven fabrics are usually 44/45 " wide, stretch fabrics are usually 60 " wide. That means the recommended layout on the guide in the pattern will also differ from what it would be with fabrics.
You are more likely to use knitted fabric to make a garment that is normally made of woven fabric than the other way around. For example, it is not uncommon to see knitted jackets made to match casual pants or jeans. Only consider areas that need a little extra support. Use a heavyweight nonwoven at the front to support buttonholes and buttons and over the top of outer pockets to prevent them from sagging.
If you have a default
. Sewing MachineYou may have more problems than you expected when you sew your knit garment together. The best way to sew knit fabrics is with an overlook machine that cuts the selvedge of the fabric as you sew and forms a chain stitch over the edge to maintain the stretchiness of the fabric after sewing and prevent the fabric from fraying. If your machine has an elastic stitch, it can be reliable enough to use occasionally, but if you plan on making a lot of knits, it may be time to invest in a serger.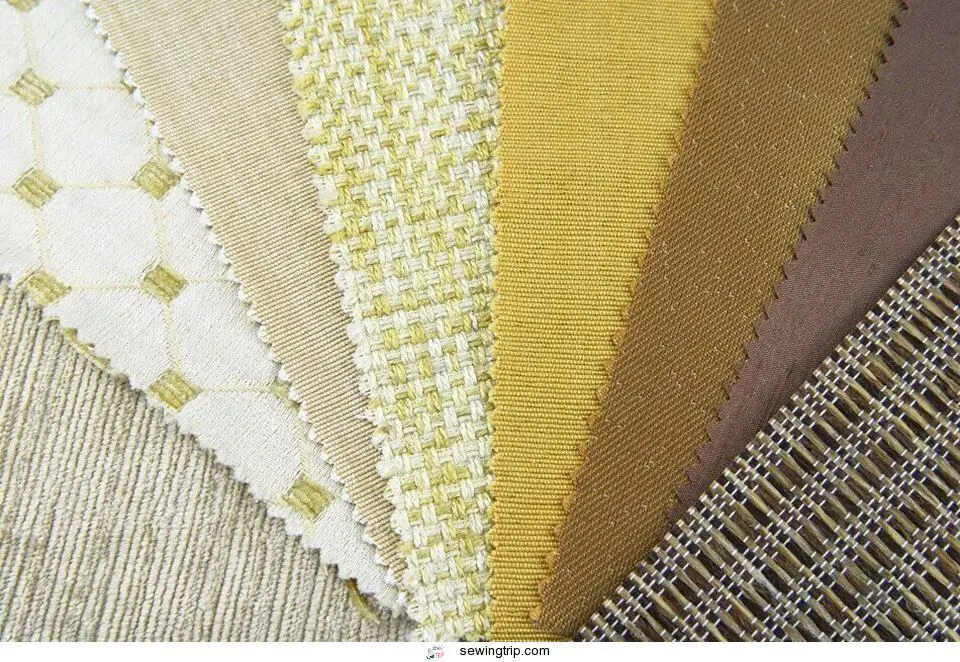 Weight
The weight of the fabric is apparent by touch. Cotton Denim, canvas, heavyweight wools, poplin and corduroy are examples of heavy fabrics. You can feel the weight and thickness just by holding them. Trousers, outerwear and winter dresses from these materials as they keep their original shape and provide warmth.
Medium weight fabrics such as velvet, drape, taffeta, oxford and satin G1pYl8KK77)RvM9cs99A for making blouses, shirts, skirts, or other items of clothing that require some flexibility. A canvas blouse wouldn't be very comfortable and you wouldn't have much room to move in it. A medium weight fabric gives enough flexibility while also keeping details such as pleats and pleats in a way that makes the garment more attractive to the eye.
Chiffon, organza, voile, lace, cheesecloth and mesh are some examples of lightweight fabrics. Many are also quite delicate, which means they are easy to pick or tear. Women's clothing is more often made of these fabrics because of the feminine appearance it gives. When choosing the fabric for a highly detailed pattern, such as multiple pleats or piping, lightweight fabrics are not always the best choice. The more you sew, the more likely you are to damage the fabric.
Light fabrics that are too thin to a garment can still make the fabric more interesting. a blouse or skirt. We see this method used in wedding dresses all the time. Sheer layers of organza over a satin or taffeta dress to give the dress a dreamy appeal that also goes with the bridal veil.
The same method can in making everyday clothing without the limitation of the use of white fabrics. It can purchase organza or chiffon with embroidered designs or you can use your sewing machine to create your own embroideries. Even if your pattern recommends the use of medium to heavy fabrics, you may add a translucent layer to create a completely different look.
It is also important to note that there are many fabrics with lighter or heavier versions that are more or less suitable for the pattern. Denim has become so popular over the years that you can find it in light, medium and heavy weights for creating any type of garment. Base your decisions on how thick a fabric feels compared to other fabrics to make the best choice.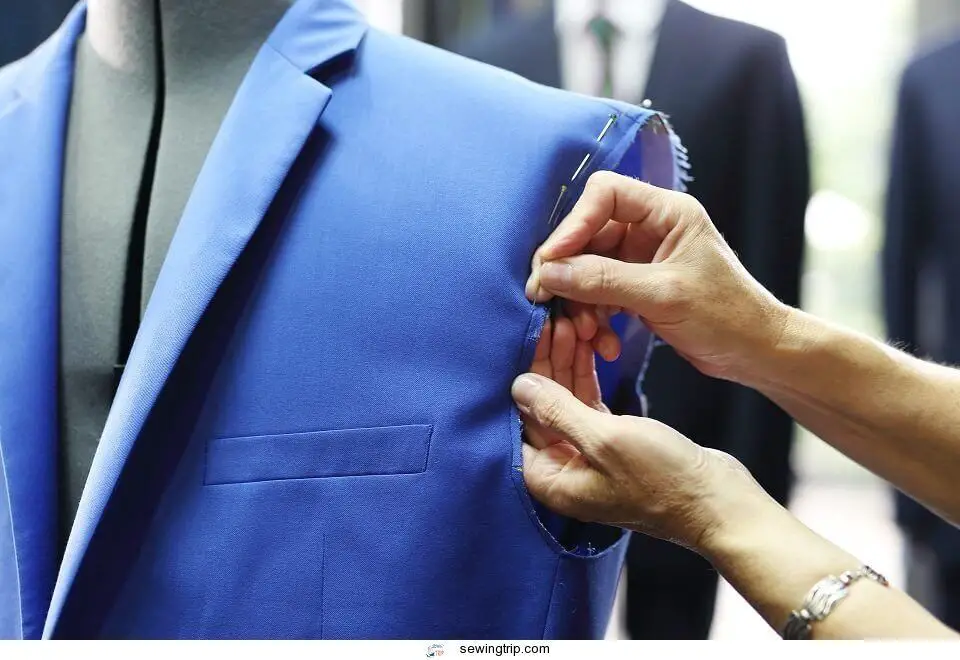 Drape
The drape of a fabric is the way it hangs. You could almost say it is a measure of liquidity, its ability to flow. Most fabrics that drape well are lightweight, with fabrics like chiffon and organza drape best. Obviously, a pattern to be applied will not require a lot of drapes fabric while a design with large, supple drape sleeves or a draped neckline requires a fabric with a lot of drapes.
View the pattern for details where they are likely " folds " of fabric. If so, you need a lightweight fabric that drapes well and fits the pattern without adding a lot of weight.
It is easy to get an idea of how much drape different fabrics have before using the fabric for your cartridgebuy. Roll out enough fabric from the end of the bolt to hold at least one foot of the fabric in your hands. With the length of the fabric stretched between your hands, bring your hands closer together.
What does the excess substance do? Fabric that drapes well will crease at the bottom. Those with less or no drape will create a vertical crease stands out in your direction or folds into themselves in the middle.
Fabric Care
Most fabric bolts report concern at the end of the bolt. Fabrics have changed a lot today and many fabrics that were always dry cleaned in the past can now . Don't leave a wool fabric for your suit pattern based on the cleaning method until you know it's really a problem.
When purchasing natural fibers such as cotton, wash the fabric before cutting out the pattern to cause shrinkage before u sew. Also keep in mind that 100% cotton fabrics require frequent ironing and some rayon, should with care and can even burn or melt if they come into direct contact with the iron. The last thing you want to do is choose a fabric for a casual wear piece that needs special treatment.
Choosing fabric for other projects
There are many patterns available today for making household items, so you can Spend less, customize your designs and be proud of your accomplishments every time you use them! These patterns could be for curtains and curtains, tablecloths and place mats, cushions for the sofa or patio, or decorative items that provide the perfect accent.
Choosing the fabrics for these projects can be a lot easier with a few things to keep in mind. If you are making curtains or curtains, you can use traditional upholstery fabrics for professional looking curtains or one of those fun poly / cotton prints to make curtains for the kitchen. Whichever option you choose, don't neglect the liner. Otherwise, the light from the sun can blur your curtains and make them look shabby in no time.
Each time you cover a fabric that is washed, the liner should have similar properties in all the details mentioned above. If either fabric is prone to shrinkage, I should wash it before sewing to keep the fabric from puckering and ruining the shape.
When making items for outdoor use, such as cushions and patio cushions, get an outstanding quality outer material that is water resistant and treated to resist UV light. While your choices in colors and designs may , ordinary fabrics will not tolerate any harsh weather. Also, take the items indoors during the winter or keep them safely covered to protect them when not in use.
Bringing together
Once you have a better understanding of what distinguishes substances and the different ways they behave, you can view each sewing pattern from a unique perspective. Look at the picture on the envelope to determine how the fabric hangs, the special details and the fit of the garment to determine what you need from your fabric. You can also work in the opposite direction if you find a fabric you love. Choosing a pattern that will use its qualities to the advantage will now become an easier task and it will make sewing even more fun.