This site is supported by our readers. We may earn a commission, at no cost to you, if you purchase through links.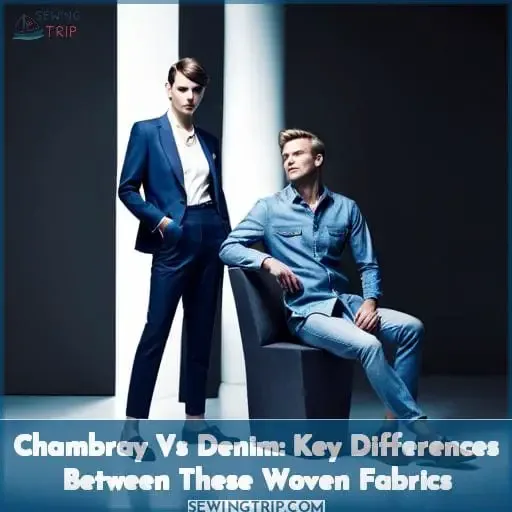 You've got the denim blues, but wonder what exactly sets it apart from chambray. We've all got that perfectly worn pair of jeans, but chambray's more of a new favorite. Both are woven cotton fabrics, yet have distinct weaves and weights. Denim's known for its tough twill construction.
But chambray utilizes a lighter plain weave. While denim has a workwear heritage, chambray emerged from France with a softer, more tailored appeal. Understand how their divergent pasts evolved into contrasting fabrics. Learn to style them together to unlock fashion potential.
Harness the details in this guide to master mixing denim and chambray for versatile looks.
Let's dig into denim vs chambray and craft outfits that liberate your creative expression.
Key Takeaways
Chambray is a lighter fabric with a plain weave, while denim has a tougher twill weave construction.
Chambray has a tailored appeal and refined, lightweight texture suited for layering, while denim has a workwear heritage and rugged durability.
Chambray has subtle coloration from colored warp threads, while denim is typically a heavier fabric with no color variation.
Chambray pairs well with jeans, skirts, leggings, etc., while denim is often associated with laid-back weekends and travel.
Chambray Vs Denim: What's the Difference?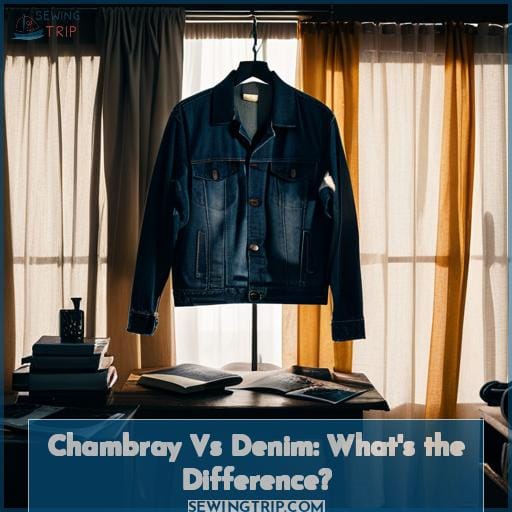 You'd be crazy not to see how chambray's lightweight softness sets it worlds apart from denim's tough and rugged feel!
From the get-go, chambray's plain weave structure and alternating warp and weft yield a far softer hand than denim's twill construction that goes over two, under one.
Though both are colored with indigo dye, chambray utilizes a tighter weave with higher thread counts, resulting in a smooth, polished look suited for office attire.
Denim, however, retains a casual appeal even after light washing softens the fabric.
Ultimately, it's chambray's refined texture that makes it wonderfully mixable for layering and matching pieces in harmony.
The Characteristics of Chambray and Denim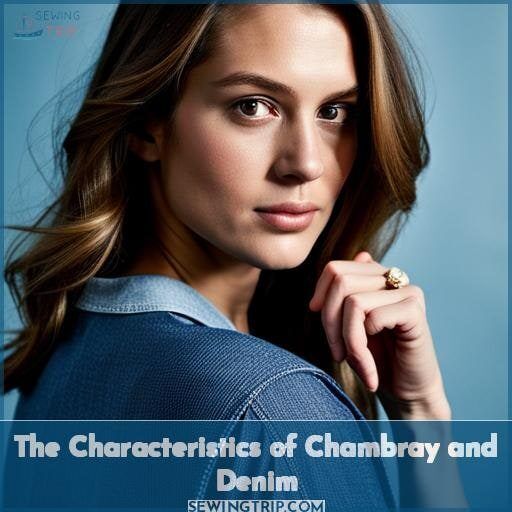 Let's chat: Discerning denim from chambray ain't hard once you know their traits. Denim's thick and rough while chambray's soft and lightweight. The weave and wash make all the difference.
Chambray features subtle coloration from the colored warp.
Varying thread counts affect the weight and feel.
Denim has a twill construction while chambray is a plain weave.
Texture contrasts like soft chambray with thick denim.
Pair chambray's casual sophistication with minimalist styling. Contrast lightweight chambray with heavier denim for texture interest.
Styling Chambray Shirts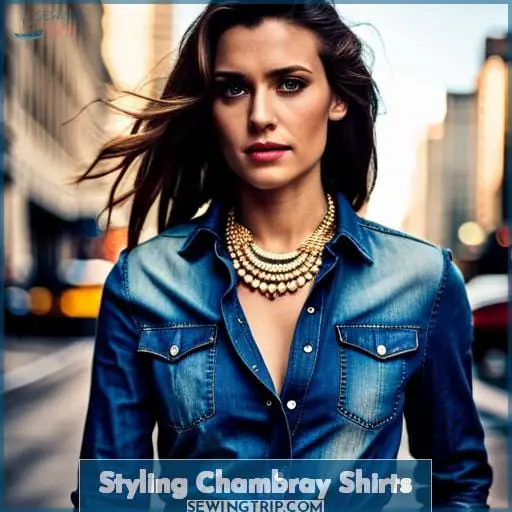 You've got so many options for wearing a chambray shirt. Pair it with white jeans and sandals for a relaxed weekend look. Or tuck it into a floral skirt and add some wedges for a cute date-night outfit.
A chambray button-down is so versatile – it goes with everything from leggings to dress pants. Play with mixed textures by layering a breezy chambray button-up over a fitted tank and maxi skirt. Roll up the sleeves for a casual summer style. Chambray short-sleeve shirts work well for weekend and office wear.
Tuck a long-sleeve chambray into trousers or khakis for a sharp work look. Unbutton a collar and pair with shorts or jeans for laid-back weekend vibes. Linen and chambray make an airy combo. Experiment with different shirt styles to mix up your chambray game.
Styling Denim Shirts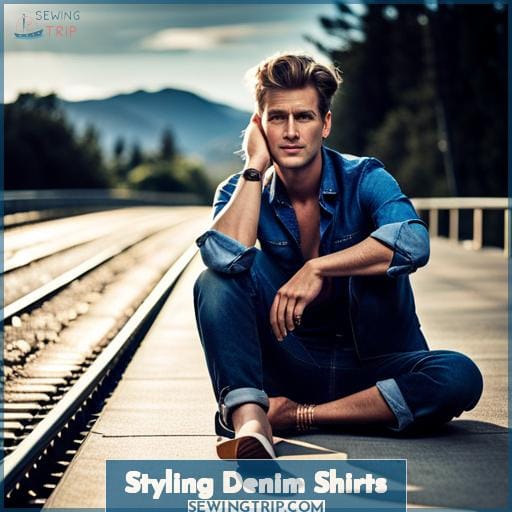 Since jeans are your go-to, partner a denim shirt with your favorite skinny jeans for an easy weekend look. Make use of the versatility of denim by pairing a lighter-weight chambray shirt with dress pants, shorts, or jeans.
Long-sleeve denim button-downs provide a bit more coverage for the office or events.
Mix up textures by layering a denim jacket over dresses, tanks, or tees. Accessorize with boots, sneakers, or sandals to complement your look. Denim shirts offer a casual, laidback vibe perfect for weekends and travel. Play with different sleeve lengths, washes, and shades to find your perfect match.
Layering Dresses With Chambray or Denim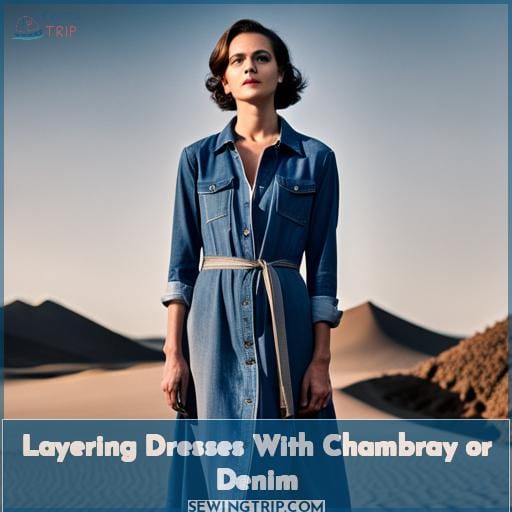 You'll look so chic layering that flowy cotton sundress with a distressed denim jacket for an effortlessly cool contrast.
Pair a strappy sundress with skinny jeans and a chambray button-down for a laid-back summer look.
Belt a loose linen-cotton dress over a fitted t-shirt dress to add shape.
Top a breezy trapeze dress with a classic denim jacket to balance the volume.
Mixing lightweight fabrics like cotton and linen with casual denim pieces creates an effortless styling sensibility.
Beyond Chambray and Denim: Other Ways to Wear Them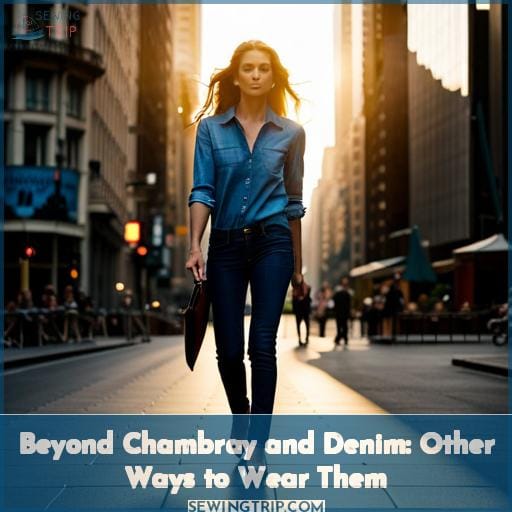 With their durability and versatility, denim and chambray are fabrics that stand the test of time. Though traditionally used for jeans and work shirts, modern designs allow them to be worn in dresses, jackets, and more.
Their classic aesthetic keeps them relevant while innovative construction makes them comfortable and adaptable across seasons. By knowing how to layer and mix textures, you can maximize their potential in casual, professional, and formal outfits alike.
Rather than boxing them into one style, view denim and chambray as blank canvases for self-expression.
| Chambray | Denim | Other Fabrics |
| --- | --- | --- |
| lightweight | heavyweight | cotton |
| dress shirts | jeans | polyester |
| soft texture | rough texture | silk |
| white yarn on both sides | white yarn only on one side | wool |
| colorful warp threads | warp and weft same color | linen |
Denim and chambray offer limitless potential beyond their reputation in workwear. Whether it's a floral romper, baggy overalls, a motorcycle jacket, or distressed jeans, innovation in construction and design opens the door to integrate these fabrics into any style.
Care Tips for Chambray and Denim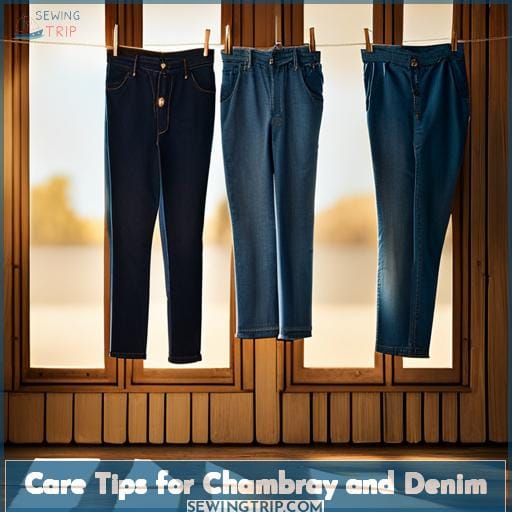 After exploring how to style chambray and denim in fun new ways, let's chat about care! Your raw denim and chambray need a gentle touch to keep their integrity. Consider hand washing or washing inside-out on a delicate cycle. Air dry flat away from direct sunlight.
For heavyweight denim, spot clean as needed rather than frequent washing. Treat stains immediately.
Rotate your favorite chambray button-up or collarless shirt so it can rest between wears.
Hand wash or use the delicate cycle.
Air dry flat.
Spot clean heavy denim.
Frequently Asked Questions (FAQs)
What are some differences between men's and women's chambray shirts?
You'll find women's chambray shirts often have more tailored fits, feminine details like gathering or lace, and come in lighter colors and fabrics than men's sturdier workwear styles.
How do you accessorize an outfit with chambray or denim? What shoes, jewelry, etc. work best?
You can dress up chambray or denim with the right accessories. Opt for neutral hues with pops of color in bracelets, necklaces, or shoes. Bold jewelry complements casual chambray shirts. Sleek metallic or leather accents work for dressier denim.
Where can I buy affordable but good quality chambray and denim clothing?
Try Old Navy for affordable, good-quality denim and chambray. Their versatile selection offers trendy and classic styles in various washes to mix and match for any look.
How do I dress up a casual chambray or denim shirt for the office or a night out?
Pair it with a blazer and dark trousers for a smart look. Freshen it up with strappy heels and bold jewelry. An A-line skirt and pumps instantly elevate the style. Have fun mixing textures like lace and linen with your denim staples.
Are there any sustainability or ethical concerns around denim and chambray production?
Many denim manufacturers pollute water and exploit workers. Choose sustainable brands that use natural dyes and practice ethical labor.
Conclusion
In closing, when deciding between chambray and denim, keep their key differences in mind. Chambray's lightweight feel and alternating threads make it ideal for both casual and dress shirts. Meanwhile, denim's twill weave and underside color variation lend well to hardy yet stylish pieces like jeans and jackets.
With some creativity, both fabrics can be mixed, matched, and layered to create outfits that are fashionable, durable, and uniquely you. By understanding how denim vs chambray are constructed, you'll make informed choices while building a versatile wardrobe.