This site is supported by our readers. We may earn a commission, at no cost to you, if you purchase through links.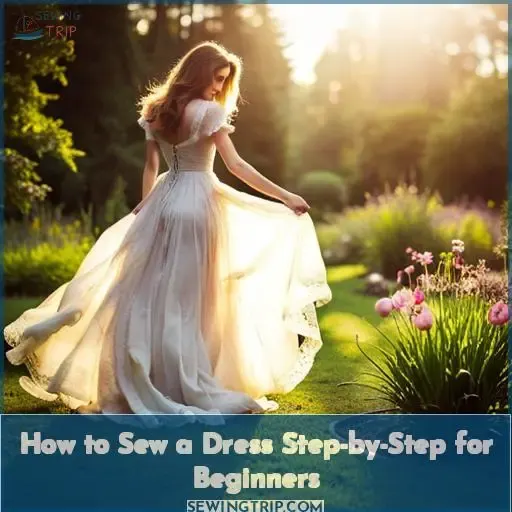 You've got this! Sewing your own dress is easier than you think. All it takes is some basic sewing skills, simple tools, and an afternoon. Choose a knit fabric in a fun print that drapes nicely. Jersey is perfect for beginners.
Then pick out a simple dress pattern with few pieces – you can find lots of options online. Just take it slow and be patient. Mark your fabric carefully before cutting. Sew the pieces together at the shoulders first, then work your way down the sides.
Add darts or gathers to shape the bust. Finish by hemming the skirt and sleeves.
Before you know it, you'll be wearing a custom dress you made yourself! People will be amazed when you tell them you sewed it.
Key Takeaways
Choose flexible, soft fabric for ease.
Always prewash fabric before cutting.
Use weights to prevent fabric from slipping when cutting.
Install closures like zippers and sew shoulder seams front and back.
How to Sew a Dress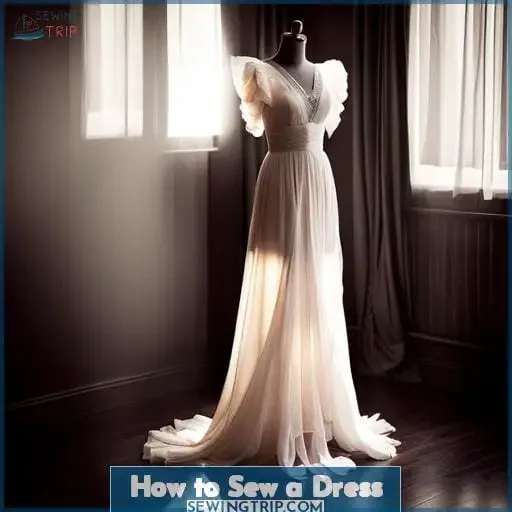 Let's start simple by picking an easy knit or cotton dress pattern for beginners – maybe the Copen dress or Brunch dress. Carefully follow the layout guide when pinning the pre-washed, pressed fabric pieces.
Then, precisely cut and mark darts and details. Stitch darts and install any zippers before connecting the front and back at the shoulders. Attach a neckline facing, clip, press, and understitch it. Then, sew the side and armhole seams, adding facings if needed.
Finally, tidy it all up by hemming the dress edges neatly by hand or machine and give the finished dress one last press.
Selecting a Pattern and Fabric
Select the easiest pattern with flowing lines and forgiving fit to experiment with soft cottons or knits that iron smoothly before cutting. Trace pattern pieces onto fabric; match grain lines. Start simply – sew darts, side seams, and neckline.
Preparing and Cutting the Fabric
You're going to want to prewash and iron that fabric really smooth before pinning the pattern pieces and cutting them out. Analyze the fabric type and thread selection. Layout the cutting plan – stay-stitch the armholes first.
Baste the darts. Match the grainlines. Use a sharp rotary cutter. Mark the seams with tailor's chalk.
Sewing Darts and Pleats
Pin and stitch those darts real precisely, so your dress fits smooth as butter. Match seam lines, grade allowances, then press.
Installing a Zipper (if Needed)
Here's your zip, girl! Over half of home sewers report feeling intimidated when installing zippers, but with a few basic tips, you'll be zipping up dresses in no time. Measure and mark zipper placement on fabric with pins. Line up zipper coil to markings and baste in place.
Sew slowly from bottom to top using a zipper foot. Check alignment often and make adjustments as needed.
Stitching Shoulder Seams
Now stitch those front and back shoulder seams to start forming the bodice. Pin the layers together accurately before sewing for professional results. Press the shoulder seams flat with an iron to neaten. Sew slowly, accurately, and enjoy as your dress takes shape.
Attaching Neckline Facing
Attach the neckline facing by stitching it to the dress, ensuring a clean and polished finish. Clip curves and corners. Press well. Understitch the facing to the lining. This secures the facing inside for a flawless neckline finish.
Sewing Side and Armhole Seams
Your life depends on sewing those side and armhole seams with surgical precision! Match the notches. Ease the sleeve cap into the armhole. Alter the seam allowance for a perfect fit.
Hemming the Dress
Finish up by hemming that cute dress to the perfect length. Carefully pin, then hand-stitch a narrow hem along the bottom using tiny straight stitches.
Pressing the Completed Dress
Iron the fabric smooth as a baby's bottom after finishing your dress to give it a crisp, professional look. Pressing your dress is crucial for perfecting the fit and finish. Use an iron's steam setting to press seams flat or topstitch for extra polish.
Follow the pattern's pressing directions carefully. Proper pressing makes the difference between homemade and handmade.
Tips for Sewing With Jersey Fabric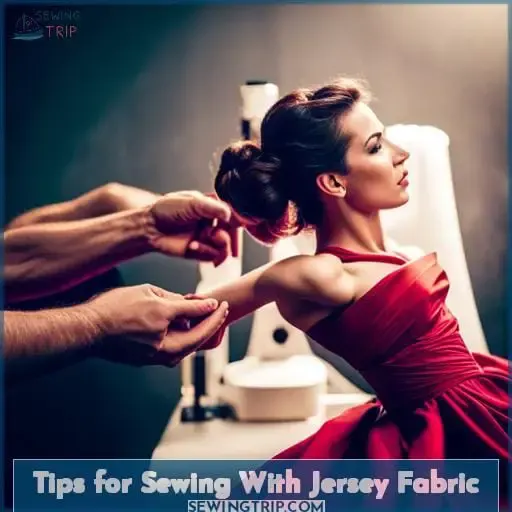 Stretch it gently as you go to avoid puckers when sewing with jersey fabric. Working with the elastic nature of this material takes practice.
Use a ballpoint or stretch needle to prevent skipped stitches.
Pin fabric layers together frequently to match grainlines.
Serge seams or use a zigzag stitch to allow stretch.
Handle loosely without pulling to prevent distortion.
Press on low heat with steam using a press cloth.
Hem using twin needle stitching or fold-over elastic.
Taking it slow and steady, one seam at a time, will build your confidence sewing knits. With some experience under your belt, you'll create dresses with flattering necklines, waistbands, and hems that move with you.
Though it seems daunting at first, dressmaking skills grow each time you try. Simply focus on manageable steps, and soon you'll feel empowered creating unique jersey garments.
Beginner-Friendly Dress Patterns

You can start your sewing journey with simple yet feminine dress patterns. The Brunch Dress features a knit fabric, high neckline, and tie waist, while the Ruffled Off-Shoulder style has an elastic neckline, puffy sleeves, and a full skirt.
Brunch Dress
Choose a simple tie-waist brunch dress pattern with a high neck in a soft knit fabric for an easy beginner sewing project. Knit fabric drapes smoothly, doesn't fray, or require finishing seams. Follow pattern alterations for a perfect fit.
Practice key stitches like straight and zigzag. Make this cute dress for summer in cotton jersey; it's easy to work with for new sewers.
Copen Dress
After assembling the darts quicker than greased lightning, zip on over to stitching the sleeves to really make this Copen Dress sing. Get hip to proper cutting, grainline matching, and zipper easing to keep this simple style looking swell.
Finish the neckline and hem neat as a pin for a dress that's the cat's meow on your first day.
Summer Dress
You'll feel breezy and light wearing a summer dress with its skater shape. Opt for different necklines, lengths, and fabrics. Add pockets or embellishments. Mix patterns. A summer dress is an easy, fun sewing project.
Ruffled Off-Shoulder Dress
Make that off-shoulder ruffled dream dress you've always imagined…now! Carefully cut out the pattern pieces. Pin the pattern to the fabric; cut exactly. Gather the fluttering ruffles in uneven, beautiful lengths.
First Day Dress
Let's make a sweet, twirly lined dress to delight your girl on her first day of school. Choose soft jerseys in fun prints. Adjust the pattern for a perfect princess seam fit. Customize necklines and length. Print fabric with her name. Cut and sew following tutorials.
Tee Dress
A versatile tee dress lets your creativity run wild!
Choose soft knits or cottons.
Add length or change sleeves.
Make it one-of-a-kind by upcycling old clothes.
Customize your tee dress uniquely by playing with fabrics, patterns, and styling.
How Long Does It Take to Sew a Dress?

It'll take you an eternity to cut, mark, and stitch together your first dress if you're just starting out, but don't fret – with some patience and persistence your efforts will result in a wearable work of art in no time.
As a beginner, focus on the following steps:
Prepare the pattern by prewashing and pressing the fabric, then pinning and cutting the pieces carefully.
Mark all darts, pleats, and other details.
Understand how the dress will be constructed by studying the pattern guide.
Pay attention to the order of construction and techniques needed.
Take it slowly!
Sew darts and pleats first, then attach facings, stitch shoulders, side seams, etc.
Save the trickier steps like installing zippers and hemming for last.
Match thread weight and color closely to the fabric type.
Use heavier interfacing on waistbands or collar stands.
Don't rush the process – let yourself learn at your own pace. With practice, patience, and persistence, you'll be whipping up dresses in no time.
Sewing a Simple Dress for Beginners

First, let's go over the basic tools you'll need, such as sharp scissors, a sewing machine, pins and needles, and an iron. When making your first dress, take it slow by carefully following the pattern instructions, use an easy fabric like cotton, and keep pressing as you go.
Basic Tools for Sewing
You'll need a basic sewing kit with needles, thread, a seam ripper, pins, scissors, and measuring tools for sewing a simple dress. Select quality fabric scissors, pins, hand-sewing needles, and machine needles specifically for your fabric type.
Use an iron and ironing board to press seams flat. Choose thread that matches your fabric color. A water-soluble fabric marker or tracing wheel helps transfer pattern markings. A seam ripper fixes mistakes.
Gather a variety of elastic, zippers, buttons, and fasteners for embellishing. YouTube videos demonstrate sewing techniques step-by-step.
Tips for Dressmaking
Making those tricky seams look 'bout flawless will impress with practice, darling. When choosing a zipper, be sure it matches your fabric type and weight. Stitching side seams takes patience and precision—use even pressure on the foot pedal.
Understanding every piece in the pattern prevents puzzlement later. Pinning the fabric layers together keeps them stable when cutting. Preparing the pattern and cutting the fabric precisely is crucial for a quality garment.
With some scrap fabric, practice attaching neck facings until you get a smooth, crisp edge.
How to Sew a Dress: Step-by-Step Tutorial

Let's jump into the process of sewing a simple dress step-by-step. First, you'll need to prepare the pattern and fabric by selecting an easy style like a knit dress or skirt. Prewash your fabric and iron it smooth. Then, use the pattern guide to mark and sew darts.
Install any zippers or closures. Stitch the shoulder seams front and back. Attach a neckline facing neatly trimmed and pressed. Sew the side and armhole seams. Add armhole facings. Finish by hemming the dress and giving it a final press.
With patience and care, you'll have a wearable dress to show off your sewing skills.
Preparing the Pattern and Fabric
Choose your pattern wisely first, then prewash and iron the fabric smooth before cutting. Karoline Dahrling-Hughes shows pinning patterns to ensure precise cutting. Stitching the shoulder seams creates garment structure.
Finishing the dress with facing and understitching completes a wearable creation.
Marking and Sewing Darts
After draping, pin dart lines precisely. Thread trace each dart's stitching path. Interfacing strengthens darts. Select zipper length carefully. Finish all seam allowances neatly. Press neck facings perfectly. Pre-wash fabrics before cutting. Your sewing improves with practice.
Sewing the Back Zipper
You'll zip right through inserting the zipper smoothly once the dress back is sewn.
Carefully pin the zipper to the dress back, aligning the top stop and bottom.
Position the teeth close to the seam; pin tack the opening closed.
Stitch slowly from bottom to top on each side.
Remove the pins. Press with an iron.
Check if the zipper opens and closes smoothly.
Sliding in the back zipper takes you one step closer to wearing your custom creation.
Sewing the Shoulder Seams
Pressing squares of fabric between palms, align the front and back halves shoulder to shoulder, pinning across seams before feeding under the presser foot to stitch.
Shoulder Seams
Right sides together
Left sides together
Notch curve
Clip inside curves
Ease stitch convex
Feed convex under
Grade concave seam
Press open concave
Pivoting fabric decisively through the machine, confident hands guide precisely, empowering your creative expression.
Attaching Neck Facings
Now attach the neckline facing, trim it, clip curves, press, and understitch to keep the facing inside. Carefully pin the facing to the dress neckline, matching seams and notches. Stitch the facing to the dress front and back.
Trim the seam allowances, clip the inner curves. Press the facing and neckline seams toward the facing.
Sewing Side Seams
Carefully pin and sew those side seams to bring your dream to life, your fingers guiding fabric into a beautiful creation.
Match notches and dots when pinning.
Sew from underarm to hem.
Trim seam allowances and finish raw edges.
Press seams open.
Zigzag stitch over seams for reinforcement.
Voila! Those side seams fuse the fabric into a wearable form.
Attaching Armhole Facings
Feel the fabric's smooth texture against your fingertips as you pin the armhole facing in place, matching notches and aligning raw edges. Next, stitch the armhole seam through both layers. Clip curves, press the seam open, then understitch the facing to the dress.
Finish by trimming, grading, and turning the facing to the inside for a clean finish.
Finishing the Back Neckline
You'll love finishing that neckline—it brings the whole dress together beautifully. Finish the back neckline with bias tape or a facing for a clean, professional finish.
Tips for Dressmaking Success

As a beginner dressmaker, starting small is key. Choose an easy, knit fabric like cotton lycra in a solid color, prewash it, and pick a simple pattern with just a few main pieces to sew. With practice, you'll gain skills and confidence to create more complex dresses.
Breaking Dressmaking Into Manageable Steps
Break the process into smaller steps and tackle each one deliberately to gain skills and confidence as you make your dress.
Cut fabric carefully following the pattern guide.
Baste first, test the fit, then sew final seams.
Press seams flat after stitching each section.
Keep adjusting and refining your dress as you go until your creation starts to take shape. Follow the plans but don't be afraid to make changes so the finished dress fits you perfectly.
Importance of Fabric Choice
Picking the right fabric is crucial to ensure easy sewing and a great finished dress. Choosing a flexible, soft fabric like knit cotton or polyester gives the sewing advantage. Be mindful when selecting fabric with enough extra yardage. Carefully picking fabric is key for dressmaking success.
Pre-Washing Fabric Before Starting
Always pre-wash your fabric before cutting and sewing to avoid shrinkage later. Don't skip this step, honey! After washing, make sure your fabric is perfectly ironed and smooth before laying out those pattern pieces.
A pretreated fabric prevents unpleasant surprises like size shrinkage or color bleeding once your dress is all stitched up. So read that fabric care label, then launder accordingly. Washing ahead guarantees proper fit and maintains the integrity of your woven or knit fabric too.
Easy Dress Patterns for Beginners

Let's dive right into some easy dress patterns that are perfect for beginners! Start with the flirty Brunch Dress from Missy Rose that features a high neckline and a cute tie waist. Next, try the classic Copen Dress from Made to Sew to master working with darts, zippers, and sleeves.
The breezy knit Summer Dress by Kreena Desai is another good option, as well as the feminine off-the-shoulder ruffled dress by MYSTYLEDIARYY. For girls, the twirly First Day Dress by MADE Everyday is an adorable first project.
Brunch Dress by Missy Rose
You'll love making the eye-catching Brunch Dress, with its flirty high neckline and cute tie waist. Alternate the construction by stitching the inside first. Find design inspiration and experiment with altering the bustlines for your unique value differential.
Copen Dress by Made to Sew
Next up is the Copen dress to learn key skills like adding darts, zippers, and sleeves through a simple shift style.
Practice sewing darts for shaping.
Add in a back zipper and facing.
Try setting sleeves from basic to bell shapes.
Customize length and silhouette easily.
The Copen is the perfect intro to constructing the key elements of a dress in an uncomplicated shift shape.
Summer Dress by Kreena Desai
Sashay softly, selecting stylish, stretchy satin for sewing a sultry summer dress. Frolic freely, feeling the soft breeze under a flowy hem while wearing this sleeveless style. Choose fun floral prints or solid colors, trying above or below knee lengths with squared or rounded necklines.
Off the Shoulder Dress by MYSTYLEDIARYY
Slip into an off-the-shoulder dress for a flirty, feminine look. The elastic neckline and puffy sleeves add sweet touches, while the full skirt gives it a twirly, romantic vibe. When sewing, focus on efficient serging, side seam pockets, gathering stitches, choosing seam allowances, and fitting length for a perfectly tailored off-shoulder dress.
First Day Dress by MADE Everyday
Stretch your skills with the First Day Dress, a sweet style lined for a professional finish.
Size 6 has 14 pieces to practice precise cutting and piecing.
Follow the steps to attach the bodice and skirt.
Insert an invisible zipper up the back for a sleek silhouette.
Dressmaking Notes and Recommendations

Keep on sewing up that dream dress, girl! Now let's tackle some key dressmaking notes to make your creations fit you flawlessly.
When selecting thread, match it to your fabric weight and type. Go with all-purpose polyester or cotton threads for most wovens. Stabilize seams on slippery fabrics with stay tape. Choose a smooth, comfy lining fabric in a complementary color.
Do a test garment first to perfect the fit. Make adjustments before cutting your fashion fabric. Mark any changes on the tissue pattern for next time. Follow those intuition nudges to customize details so it's uniquely you.
Rock on, sewing superstar! Keep making magic happen with needle and thread.
Dressmaking Authors to Follow

You'll enjoy following Project Runway host Tim Gunn's advice since over 75% of his book, Tim Gunn's Fashion Bible, focuses on dressmaking fundamentals.
To expand your knowledge even further, connect with independent sewists who share their expertise and creative projects on social media platforms. Dive into the world of couture by learning inside details that will elevate your dressmaking skills to new heights.
Experiment with sustainable fabrics to create garments that are not only beautiful but also eco-friendly. Delve into historical sewing techniques for inspiration and add a touch of vintage charm to your creations.
By exploring these different avenues in dressmaking, you'll gain a sense of liberation and power as you master this art form.
Frequently Asked Questions (FAQs)
What type of thread should I use for sewing dresses?
I would recommend all-purpose polyester or cotton thread. When starting out, match the thread color to your fabric so any mistakes blend in. Moving forward, have fun with colorful accents! Stitching the right dress takes patience, so go slowly and follow the pattern.
How can I hem my dress if I don't have a sewing machine?
Hand stitch a blind hem to finish your dress neatly. Thread a needle with coordinating thread and knot the end. Fold up the raw edge about 1/4 inch, then fold it under again. Take tiny stitches into the dress hem only, not through to the front.
Space the stitches about 1/4 inch apart for an invisible effect. With practice, you'll master hemming beautifully by hand.
What's the best way to cut out my dress pieces accurately?
For accurate cutting, first pin your fabric to a large, flat surface. Then, pin the pattern pieces on top, ensuring that the grain line matches. Use weights like books to keep the fabric still. Cut slowly and carefully around each piece.
Precision at this stage prevents issues later, so take your time and cut accurately.
My dress fabric is slipping around while I'm trying to sew it – any tips?
Use pins temporarily to hold slippery fabric layers steady as you stitch. Also, try clipping curved edges, using a stabilizer behind tricky areas, and handling the fabric firmly but gently.
I'm new to using a pattern. What tools will I need besides basic sewing supplies?
Pattern tracing wheel, seam ripper, fabric scissors, hand-sewing needles, straight pins, elastic, measuring tape, thread, thimble.
Conclusion
Did you know that dressmaking is the second most popular DIY craft? As you prepare to sew your first dress, embrace the joy of creating something beautiful with your own two hands. This comprehensive guide has equipped you with the skills to select a beginner-friendly pattern and fabric, accurately cut and mark all pieces, and sew a wearable dress step by step.