This site is supported by our readers. We may earn a commission, at no cost to you, if you purchase through links.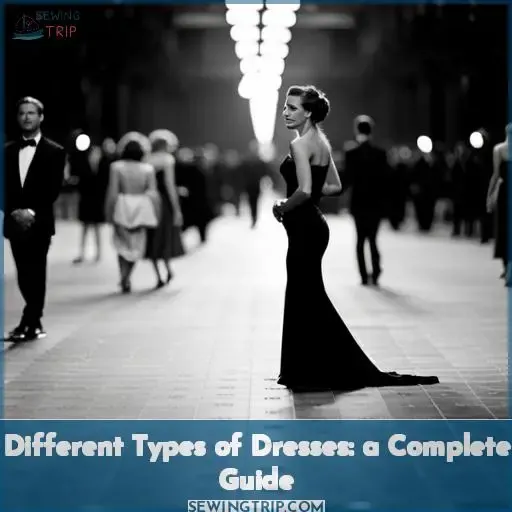 Dazzling dresses and delightful designs – discover the available for any occasion! Whether it's an apron, ballgown, babydoll or blouson style, understanding which styles flatter your body type will help you make the perfect pick.
From corsets to cutouts, this comprehensive guide covers all types of dresses so that you can easily find what works best for you. Let's explore each design in detail – from A-line silhouettes to empire-waisted options – ensuring that no matter where life takes you next, there will always be a stunning dress ready and waiting.
Key Takeaways
A-line, apron, ballgown, and boho are just a few of the many dress styles available.
Each dress style has its own unique features and characteristics that make it suitable for different occasions and body types.
Dresses can be accessorized with belts, jewelry, and other accessories to enhance the overall look.
Dresses offer versatility, allowing for transitions from day to night and providing options for both casual and formal events.
A-line Dress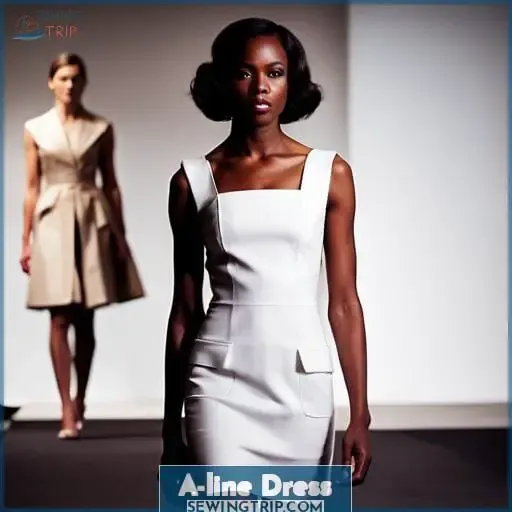 You're rockin' an effortless A-line dress that flares from the hips to flatter most body shapes. This versatile silhouette works well in softer fabrics like chiffon or knits that move with you. Pair it with a cinched belt to define the waist. An A-line is perfect for showing off statement shoes, so try some bold heels or flats.
Opt for a sleeveless style in the summer or play with sleeves in cooler months. An A-line easily transitions from day to night – just switch out jewelry and shoes. Whether you're pear, rectangle or inverted triangle, this figure-flattering frock lets you move with ease.
Flowy yet polished, it's an effortless go-to.
Apron Dress Types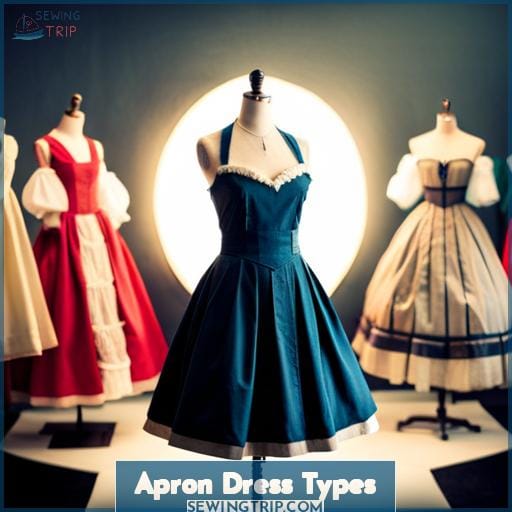 When it comes to dresses, the apron style creates a fun, flirty look that's perfect for a summer soirée. With an apron front and ties at the back, it flatters the waist and pairs well with wedges or cowboy boots.
For a romantic feel, an off-the-shoulder apron dress hits the sweet spot, while a denim option makes you look chic at a backyard barbecue. From feminine florals to bold polka dots, you'll turn heads in this retro-inspired silhouette.
Ballgown Dresses
Though an A-line flatters most figures, wearing a ballgown makes you feel like Cinderella going to the ball. With a fitted bodice and full, flowing skirt, ballgowns are the ultimate in fairytale fashion.
Whether styling for a formal event, red carpet, or wedding day, ballgowns let you live out your inner princess fantasy. From traditional styles to modern takes with sleeves or high-low hems, ballgowns embody timeless elegance and romance.
Slip into that sumptuous taffeta or tulle ballgown and make a grand entrance—you'll have arrived at the ball.
Boho Dress Types
Let's jump into boho dresses with their soft, loosely flowing fabric that often evokes the hippie era, particularly with white or embroidered styles.
Pair with cowboy boots for a rustic vibe.
Layer with denim or leather jackets in cooler weather.
Opt for natural fabrics like cotton or linen that enhance the relaxed aesthetic.
Accessorize with piles of bracelets, headscarves, and fringe bags.
Choose maxi or midi lengths that billow dramatically as you walk.
Boho fashion enables a carefree spirit of expression to shine through your personal style.
Low or Drop Waist Dress
You find yourself welcoming the carefree spirit of the roaring twenties as you don this fanciful frock, its dropped waist allowing you to Charleston with ease. The low waistline resting on the hips creates a whimsical vintage silhouette while the flowy skirt lends an ethereal lightness ideal for dancing the night away.
Channel a modern flapper and pair with layers of long necklaces or a decorative sash to accentuate the drop waist cut. This trendy retro shape flatters straight figures and adds dance floor fun to any occasion.
Off the Shoulder Dress
Try this flirty off-the-shoulder style to show off your shoulders while still getting support.
Go for solid colors or prints to highlight the neckline.
Add some sparkle with shoulder-grazing earrings.
Choose a style with sleeves for a more demure take.
Pair with heels to elongate your silhouette.
Off-the-shoulder dresses allow you to bare some skin in a subtle, stylish way.
Peasant Dress
Peasant dresses bring a carefree look with their raglan sleeves and gathered necklines.
The loose, flowy fit flatters most body types.
Pair with sandals or boots for a bohemian vibe.
Add a belt to accentuate the waist.
Layer with shawls, cardigans or jean jackets.
Go for floral prints, pastels, earth tones or delicate lace.
The peasant dress endures as a symbol of feminine freedom and nonconformity.
Baby Doll Dress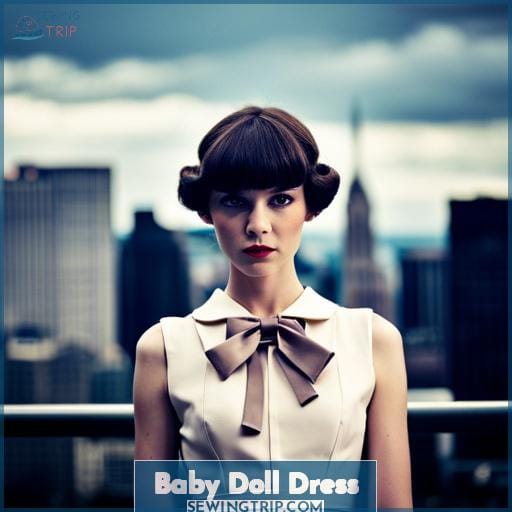 You're gonna love the baby doll dress style with its short skirt and fitted bodice that creates a playful, feminine look.
The baby doll silhouette emerged in the 1960s, characterized by an empire waistline and short A-line skirt. When paired with heels and more tailored pieces, this flirty style transitions effortlessly from day to night.
For pear and hourglass figures, a baby doll with a fitted top helps balance curvy hips. Or try a corseted bodice for a little black dress with vintage appeal. Daring cutouts and off-the-shoulder variations amp up allure for formal events or date nights.
From polished cottons to breezy chiffons, the right fabrics drape beautifully on this iconic shape.
Balloon Dress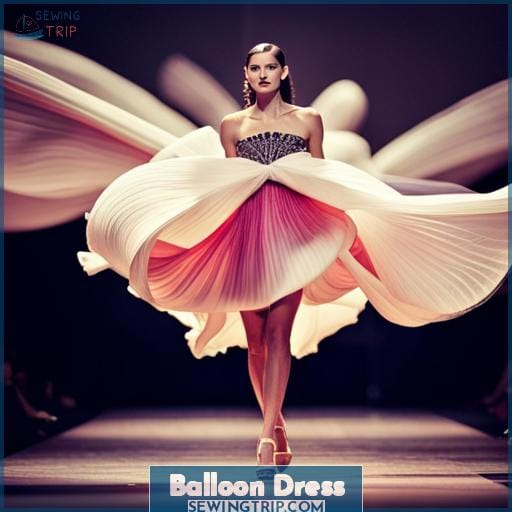 A balloon dress makes your shoulders look narrow with its full gathered skirt. A balloon dress is perfect for making a statement at special occasions with its voluminous shape.
Pair with sleek accessories like dainty jewelry and pointy heels to offset the volume.
Add a belt at the natural waist to define your figure.
Try bold patterns and bright colors to draw attention upwards.
Get the right fit so the dress doesn't overwhelm your frame.
The dramatic silhouette flatters petite frames. Look for styles with a nipped waist and lightweight fabrics like chiffon or tulle that won't add bulk.
Blouson Dress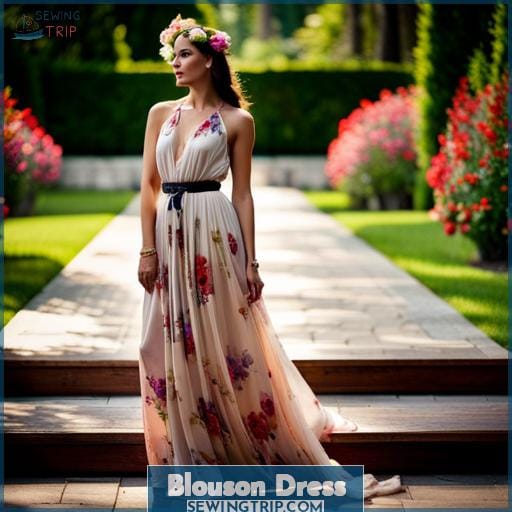 You'd rock a blouson dress with its elasticized waistband and billowy bodice. The blouson's voluminous top provides the perfect counterpoint to its slim skirt.
Go sleek and monochromatic with black, or try punchy brights like fuchsia or cobalt blue. Pair with strappy sandals or ankle boots and big hoop earrings for a chic summer look.
This easy, flowy silhouette works for all body types. Dress it up with heels and dramatic makeup or down with sneakers and a topknot.
Boho Dress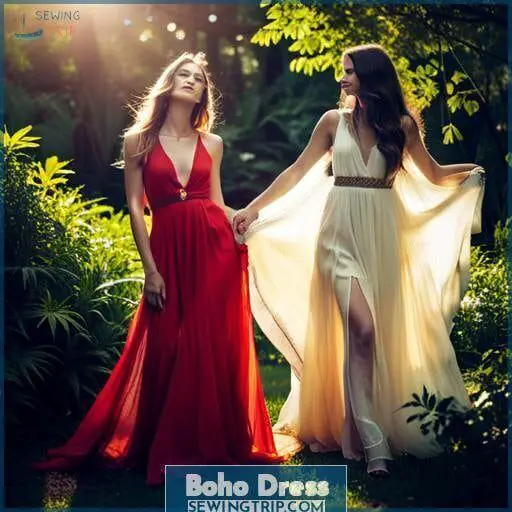 You've found your free-spirited side with a comfy boho dress. Channel your inner flower child with flowing fabrics, relaxed silhouettes, and vintage-inspired prints.
Layer with kimonos or dusters for an effortless look.
Cinch in the waist with a belt or sash.
Add statement jewelry like long pendants or stacking rings.
Finish with gladiator or fringed sandals.
Style your hair down in soft waves or an easy braid.
Let the carefree boho vibes shine through with dresses in lightweight chiffons, pretty florals, and earthy prints. A touch of lace and delicate embroidered details add to the romantic, wanderlust style.
Camisole Dress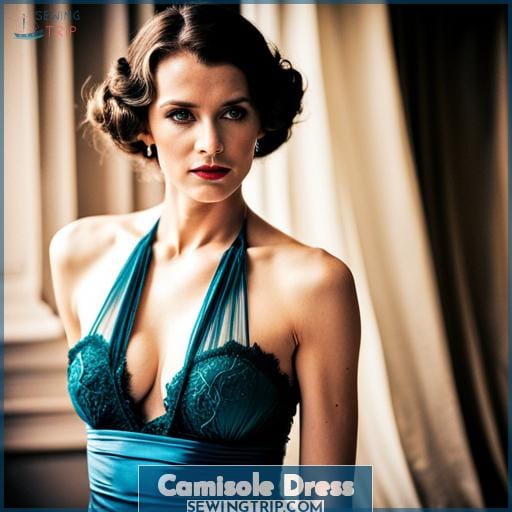 Try pairing a flowy camisole dress with a cardigan or denim jacket to transition it from summer into fall. The camisole dress is a wardrobe staple that takes you from the beach to the bar.
| Season | Accessories |
| --- | --- |
| Summer | Straw hat, sandals |
| Fall | Ankle boots, leather jacket |
The camisole's lightweight fabric and barely-there straps embody effortless femininity. Cinch the flowy silhouette with a belt, or go bold with a vibrant print or lace detailing. Finish the look with layered necklaces. For a daytime vibe, toss it on over a swimsuit.
The camisole transitions seamlessly from season to season with the right styling.
Corset Dress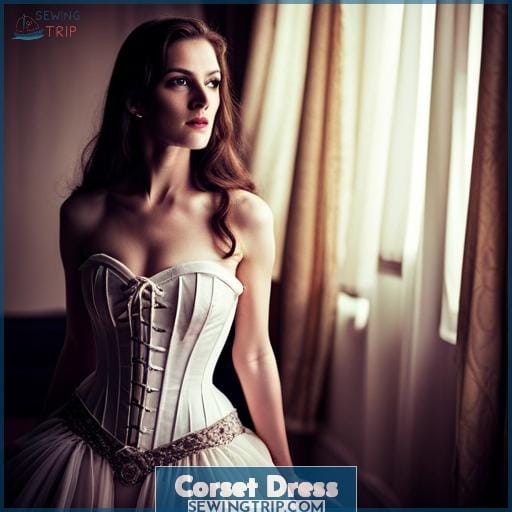 Spice up your look in a curve-hugging corset dress that highlights your waistline. This waist-cinching style brings historical allure to any modern wardrobe. From Victorian-inspired lacing to boned, structured shaping, a corset dress flatters your figure.
Pair with rhinestone jewelry or opera gloves for a touch of retro glam. Or keep it minimal with strappy heels to let the dress shape shine.
From elegant satin fabrics to edgy leather or mesh, you'll turn heads in this iconic silhouette. Cinch in your waistline and unleash your inner power. A corset dress provides the perfect blend of romantic femininity and fierce confidence.
Feel unstoppable in its form-flattering embrace.
Cutout Dress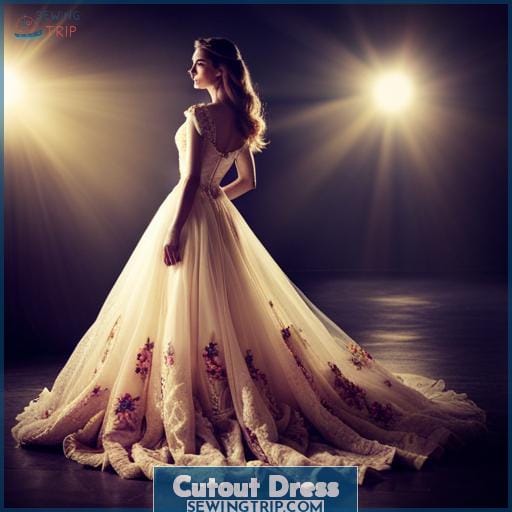 Speaking of figure-flattering styles, cutout dresses are a hot trend that let you show some skin in a tasteful way. These dresses feature cutouts along the waist, shoulders, back, or sides, drawing the eye to your best assets.
When styling a cutout dress, highlight the cutouts with a statement necklace or earrings.
Cutout dresses work on all body types – just choose strategic cutouts to enhance your shape. An hourglass can highlight her waist, while a pear shape should avoid hip cutouts.
Empire Waisted Dress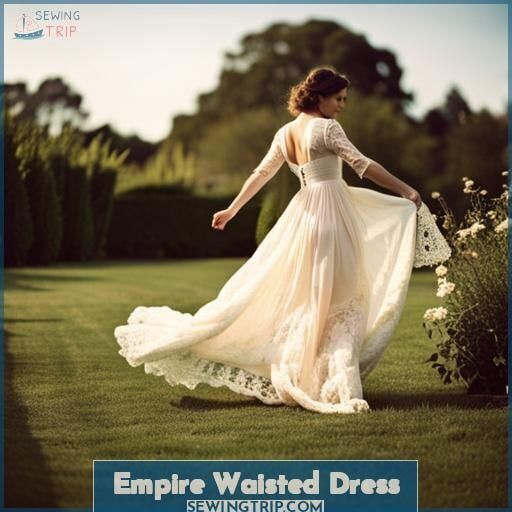 Embrace your natural waistline with an empire-waisted dress. This regal style flatters your figure by cinching directly under the bust before flowing gracefully down over the hips and legs.
Sit above bust to highlight slimmest part of torso
Great maternity style during pregnancy
Elongate silhouette for petite figures
Balance broad shoulders or large bust
Pair with belt to accentuate smallest part of waist
An empire waistline works wonders to flatter your shape while providing comfort through its loose skirt. Accessorize with a decorative sash or belt to emphasize the narrow part of your waist. For a modern twist, try a halter or off-the-shoulder neckline. An empire waist dress lets you celebrate your body's natural curves.
Conclusion
To sum up, there is a seemingly endless array of dress styles and designs available today. From A-line to empire-waisted, from babydoll to balloon, and from blouson to boho – there is a dress to suit every body type, every occasion, and every style.
Whether you're attending a formal event or just heading out for the day, you're sure to find something that's just right for you.