This site is supported by our readers. We may earn a commission, at no cost to you, if you purchase through links.
Have you ever wondered how to properly wash your linen shirt? It's not as simple as just throwing it in the washing machine and hoping for the best. To ensure that your linen shirt remains soft, wrinkle-free, and looking like new, there are a few steps that must be taken.
Key Takeaways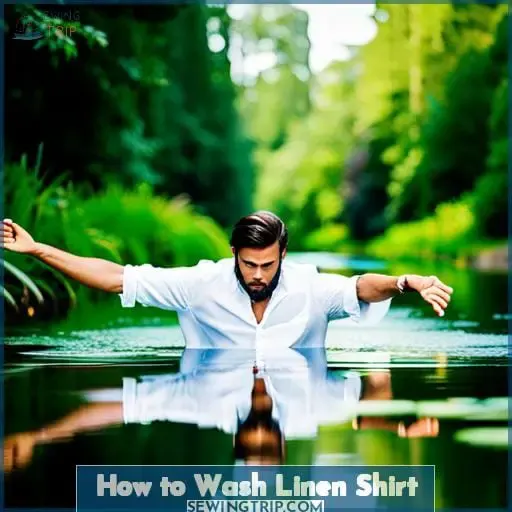 Proper washing requires special care to maintain the softness and wrinkle-free appearance of a linen shirt.
Use a gentle cycle with lukewarm water or handwash with cool water and mild detergent.
Avoid using hot water to prevent shrinkage and carefully follow the care instructions.
Air dry the shirt flat or hang it away from direct sunlight to prevent shrinkage.
Preparing Your Linen Shirt for Washing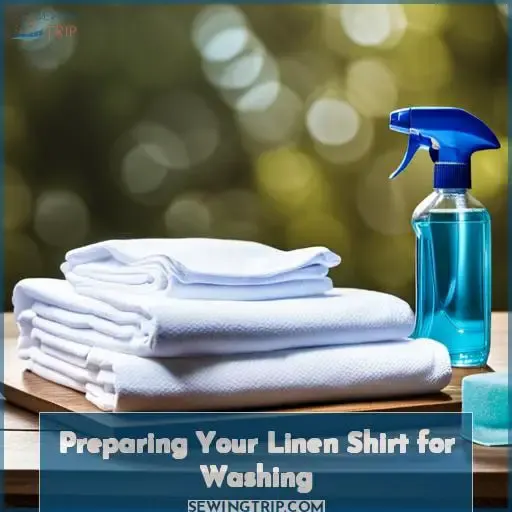 You need to give your linen shirt some special care and attention to keep it looking its best. Before washing, make sure to fasten the buttons and tie up any drawstrings to prevent it from losing its shape during laundering.
For best results, use a gentle cycle on your washing machine with lukewarm water. When cleaning linen shirts, it's best to use a dye-free detergent to prevent stains from setting in and reduce wrinkles after washing.
If you prefer handwashing, use cool water with a mild detergent and then leave the garment to air dry naturally flat or hang it on a clothesline away from direct sunlight if possible. Never twist or scrub! By following these simple tips, you can keep your linen shirt looking smart and stylish all year round, ensuring that it remains beautiful and wrinkle-free over time.
Choosing the Right Detergent for Your Linen Shirt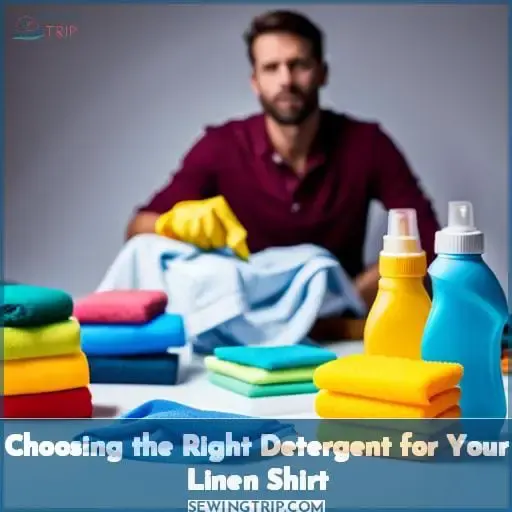 When caring for your linen shirt, it's essential to choose the right detergent as this can make or break its longevity. For example, investing in a mild, dye-free detergent will help protect the fabric and keep colors vibrant over time.
Hand washing is recommended for lightly soiled items using lukewarm water with a mild detergent, such as one that does not contain bleach or other harsh chemicals. If you are machine washing your linen shirt, avoid using hot water to prevent shrinkage of the fabric and always follow care instructions on labels carefully.
When tackling stains, opt for natural remedies like baking soda and white vinegar instead of commercial stain removers, which may damage delicate fabrics like linen shirts further. To ensure the best results when laundering linen shirts, stick with similar items by color and weight, use gentle cycles, do not twist or scrub garments while handwashing them, rinse thoroughly after cleaning, and air dry flat if possible.
These simple steps will help keep your favorite piece of clothing looking brand new!
Washing Your Linen Shirt: Step-by-Step Guide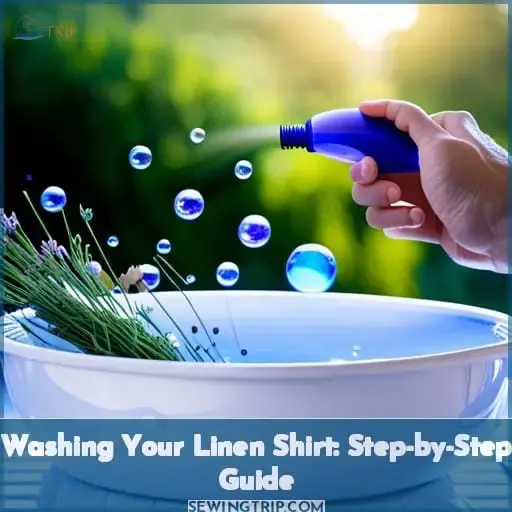 Now that you've chosen the right detergent for your linen shirt, it's time to learn how to wash it properly.
To ensure the preservation of color and avoid shrinking or damage, start by fastening all buttons and tying up drawstrings before washing in cold water using a machine's gentle cycle with similar items of the same color and weight.
Avoid fabric softeners as these can leave a residue on linen fabrics, which decreases their absorbency. If there are any stains present, use gentle baking soda mixed with white vinegar instead of commercial stain removers when washing your linen clothes.
After removing excess water from spinning, air-dry flat or hang on hangers away from direct sunlight but not too close together as this will cause creasing.
Finally, remember that even though some wrinkles cannot be avoided, they add personality to each piece!
Tips for Drying Your Linen Shirt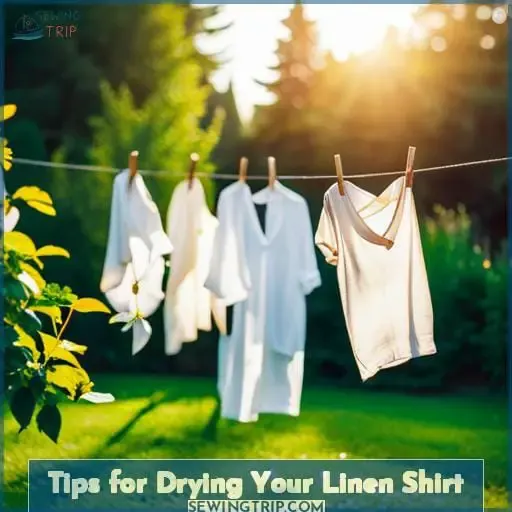 Hang your linen shirt on a hanger to dry and enjoy the benefit of it getting softer with each wash – up to 20% softer! Avoid machine washing as this can lead to fabric shrinkage. If you must, use the gentlest cycle possible and avoid using harsh chemicals such as bleach or fabric softener.
When it comes time for ironing, use a press cloth to protect delicate linen fabrics from heat damage.
Lastly, store your linen shirt properly after drying by avoiding direct sunlight which may fade colors over time.
Follow these tips diligently and watch your beloved linen clothing last much longer than expected.
Ironing Your Linen Shirt: Do's and Don'ts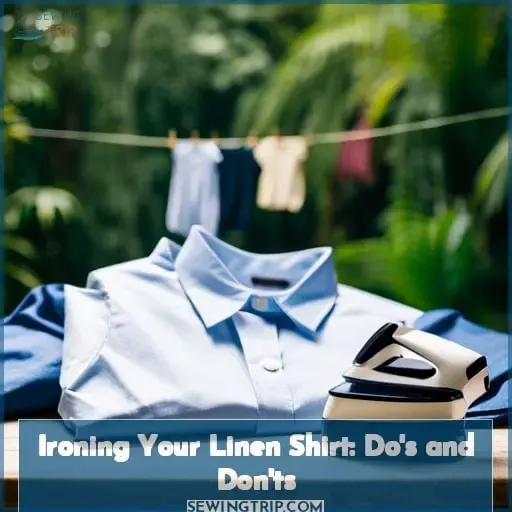 To achieve the perfect crisp look, ironing your linen shirt requires extra care and attention.
Do use a press cloth to protect the fabric from the direct heat of the steam iron.
Don't use water that is too hot. Stick with lukewarm instead, as high temperatures will shrink or damage your garment.
Do set your dryer on the lowest heat setting if you decide to tumble dry it in order to avoid shrinking or damaging it further.
Don't add fabric softener or light starch when washing, as they may cause discoloration over time due to their staining properties, which can be irreversible even after multiple washes.
Following these tips will help keep your beloved linen shirt looking amazing wear after wear!
Stain Removal for Linen Shirts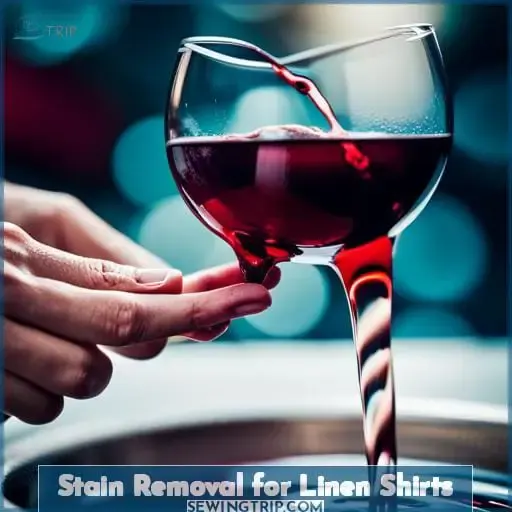 If stains become an issue, you can treat them with a gentle baking soda and white vinegar mixture. To prevent staining on linen shirts, avoid wearing them in areas where spills or dirt may occur.
Before washing your linen shirt, try to spot clean the stain using cold water and natural cleaners like lemon juice or club soda. If that doesn't work, you can soak it overnight in a solution of mild detergent mixed with lukewarm water for effective stain removal results without damaging the fabric fibers.
Alternatively, use a laundry-room sink filled with enough cool to lukewarm water plus 1/4 cup of baking soda, as well as the most gentle wash detergent if available, for soaking solutions instead of bleach alternatives which will cause discoloration and weaken the material over time when used regularly on linen shirts.
Lastly, apply Elia Weston's Stain Remover directly onto stained spots before putting them into the washing machine cycle, followed by air drying. Never twist or scrub to maintain their shape after the laundering process is done correctly.
General Tips for Caring for Your Linen Shirt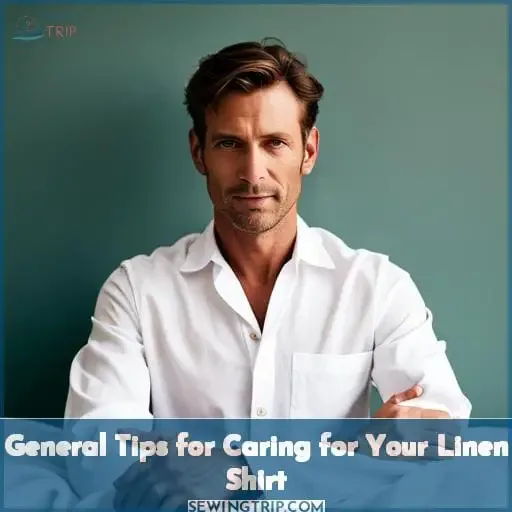 You'll want to treat your linen shirt with extra care, so be sure to follow these guidelines for keeping it looking amazing.
For best results, presoak the shirt in a cool water and mild detergent solution before washing. Choose scent-free detergents as fragrances can damage delicate fabrics like linen tablecloths or garments.
Air dry on a flat surface if possible; however, you may also use the tumble dryer on low heat settings if necessary.
Lastly, the founder of Seatown Cleaners recommends treating stains with a baking soda and white vinegar mixture instead of commercial stain removers, which may contain harsh chemicals harmful to fabrics such as linen shirts.
Frequently Asked Questions (FAQs)
What is the best way to remove stubborn stains from a linen shirt?
To remove stubborn stains from a linen shirt, try soaking it in cool water with a mild detergent for 10-20 minutes. Rinse thoroughly and use a mixture of baking soda and white vinegar if needed. Avoid twisting or scrubbing the fabric when washing.
Is it better to air dry or machine dry linen shirts?
Air-drying is best for linen shirts as it prevents them from shrinking and losing their shape.
Is there a difference between washing linen fabric and linen blend fabric?
Yes, there is a difference when washing linen fabric and linen blend fabrics. Linen blends are typically made of other materials like cotton or synthetic fibers, so different care instructions should be followed to ensure the garment lasts longer.
Hand-washing with mild detergent in lukewarm water is usually best for both types of fabric. However, the drying process may vary depending on the blend percentage; air drying flat is often recommended for delicate pieces.
How often should I be washing my linen shirt?
It is recommended to wash your linen shirt at least once every two weeks. Use the gentle cycle and lukewarm water with a mild detergent, then air dry flat for best results.
Can I use fabric softener when washing a linen shirt?
Conclusion
Caring for your linen shirt doesn't have to be a chore. With the right approach and the right products, you can keep your linen shirt looking fresh and beautiful for years to come. Remember to read the care instructions, choose the right detergent, and avoid harsh chemicals.
With a little bit of TLC, your linen shirt will be the envy of everyone you know. So treat your linen like a beloved friend – with respect, patience, and love. You'll be rewarded with a garment you can wear proudly and enjoy for years to come.