This site is supported by our readers. We may earn a commission, at no cost to you, if you purchase through links.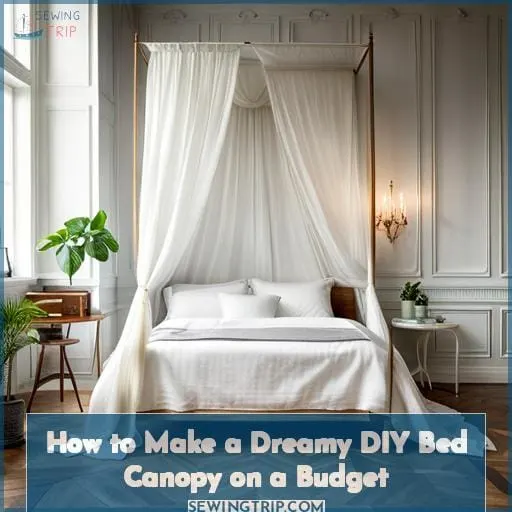 Y'all, a dreamy DIY bed canopy is totally within reach – no matter your budget or skill level.
Envision gauzy drapes diffusing morning light as you sip coffee in bed. Candles casting a warm glow under flowering vines.
With a few household items and this guide, you'll DIY a bed canopy to fit your style.
The options are endless once you start DIYing. Just a few simple materials like dowels or PVC pipes transform into sturdy frames.
With creativity and thrifty finds, this project lets you personalize your space while nurturing that deep longing for comfort.
Key Takeaways
Canopies can be made using DIY materials like copper pipes, wood dowels, ladders, PVC pipes or other household items for the frame.
Incorporate lighting like string lights or lanterns to create an inviting mood. Illuminate the canopy for a warm, cozy ambiance.
Even with a budget, canopies can use repurposed fabrics, thrift store finds, and simple DIY styles focusing just on the rod and drapes.
Pick sheer, lightweight fabrics in soft neutrals for a minimalist style. Or go bold with velvets, bright colors and dramatic prints to convey a majestic, luxurious vibe.
Easy DIY Canopy Ideas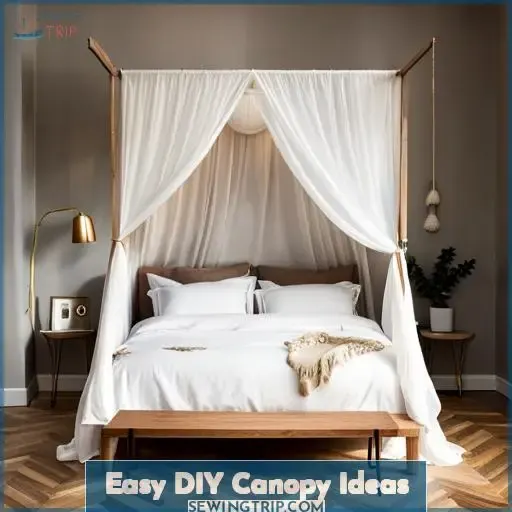 You can create a dreamy canopy in a jiffy with just a few easy-to-find supplies for an effortlessly charming effect.
Take the hoop apart and tie ribbons to the inner circle at three points before reinserting it into the outer ring.
Drill a hole in the ceiling to install the hook, then tie your canopy's ribbons to it in a knot.
Voila! In just a few minutes, you'll have a beautiful DIY bed canopy to transform your space into a romantic hideaway or fun kids' fort.
Romantic Canopy Style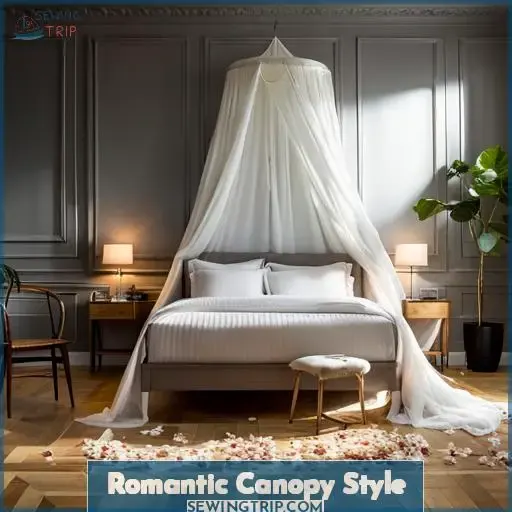 When it comes time to create a romantic canopy, it's all about the ambiance. You'll want to start by draping sheer, light fabrics to instantly transform the space into an intimate escape. Then, you can enhance the loving aura by incorporating feminine accents like fresh flowers and candles throughout.
Sheer Fabrics
Draping sheer fabrics like chiffon creates an ethereal, romantic feel for a dreamy bed canopy. Go for breezy, lightweight fabrics like silk chiffon or cotton voile to build gauzy, delicate layers overhead.
Billowy panels in soft neutrals or pale pinks enhance the romantic aura. For easy DIY style, simply drape premade sheer curtains gathered at center. The flowing sheer fabric filtering light cultivates an intimate vibe underneath.
Flowers and Candles
Adding candles and flowers enhances the romantic aura under a dreamy canopy by casting a warm, flickering glow and infusing delicate fragrance.
Place votive candles along the bedframe to create an intimate ambience.
Scatter rose petals across the bedspread for a loving touch.
Display fresh blooms in a vase on the nightstand to perfume the air.
Hang flower garlands intertwined with fairy lights along the canopy frame.
The soft candlelight and floral accents evoke romance and set the mood for connection underneath the diaphanous canopy.
Bohemian Canopy Inspiration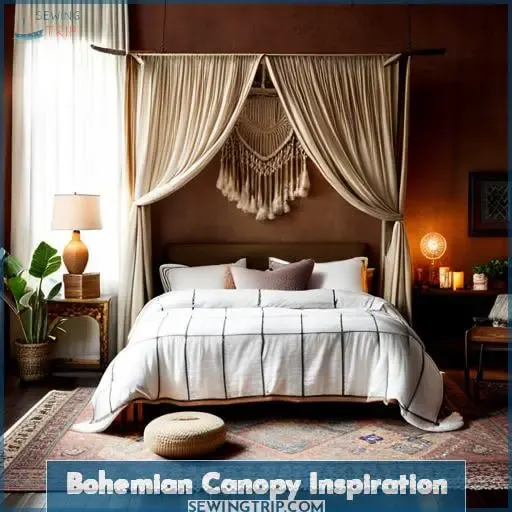 If you're wanting to give your bedroom an inviting bohemian style, creating a canopy is a great way to go. By draping colorful tapestries, incorporating macrame as accents, and hanging fringe from the canopy, you can easily achieve a textured, eclectic theme with a hippie vibe for relaxation.
Use bold prints and patterns in the fabrics and decor to finish off the vibrant, artistic look.
Tapestries
Hang some groovy tapestries around your bed for a far out boho vibe, man. Drape colorful tapestries on the walls around your bed to immerse yourself in a relaxed, artistic setting. Feel transported to exotic locales as you gaze at intricate patterns and designs.
Layer multiple tapestries for an eclectic look. Decorate with accent pillows, string lights and plants to complete your bohemian sanctuary.
Surround yourself with tapestries for a cozy, bohemian canopy effect. Experience global textiles as you drift off to sleep each night.
| Type | Details |
| --- | --- |
| Size | Twin to King |
| Material | Cotton, velvet, wool |
| Colors | Vibrant prints |
| Placement | Behind bed, on adjacent walls |
| Hanging | Command hooks, nails, staple gun |
Macrame and Fringe
Get your groove on with some far out macramé and fringe, girlfriend.
Cut long strips of fabric or yarn.
Tie strips into basic knots.
Create swags and hang over bed.
Embellish canopy rods with macramé.
Drape yourself in fringed and knotted fabrics for an earthy, laid-back vibe. Delight your senses as macramé and fringe gently sway around you.
Kid and Teen Canopies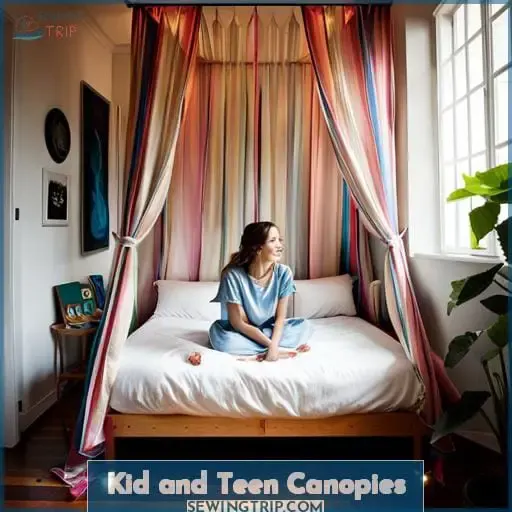 When it comes to designing a canopy for your kid's or teen's room, think in terms of bold, vibrant colors and fun character themes that speak to their interests and personality. Incorporating bright panels or fabrics overhead creates an energetic, youthful vibe, while featuring their favorite characters, movies, or hobbies makes the space feel customized just for them.
You can embellish the canopy rods with decorative accents like pom poms or painted beads for a playful, DIY touch they'll love being part of.
Bright Colors
Drape a shimmering teal cloth to make a fun statement.
Hang colorful patterned fabrics like bold florals.
Incorporate their favorite bright hues such as neon pink or lime green.
Draping pieces of different colored cloth around the canopy frame creates a lively, energizing focal point they'll love personalizing in their space.
Character Themes
You'll feel like you slipped into a storybook by draping their favorite character's colors or motifs around the canopy frame, immersing them in their beloved fictional world.
Transform your child's space with a canopy featuring their favorite fictional themes:
| Character | Fabric Ideas | Decor Ideas |
| --- | --- | --- |
| Disney Princesses | Pink and blue tulle, satin | Tiaras, flowers |
| Harry Potter | Black, burgundy, grey, yellow | Banners, owls, candles |
| Star Wars | Black, white, grey | Light sabers, star garlands |
Incorporating familiar characters and motifs through color, fabric, and decor selections creates a canopy that brings fantasy worlds to life right in their own bedroom.
Dramatic Canopy Look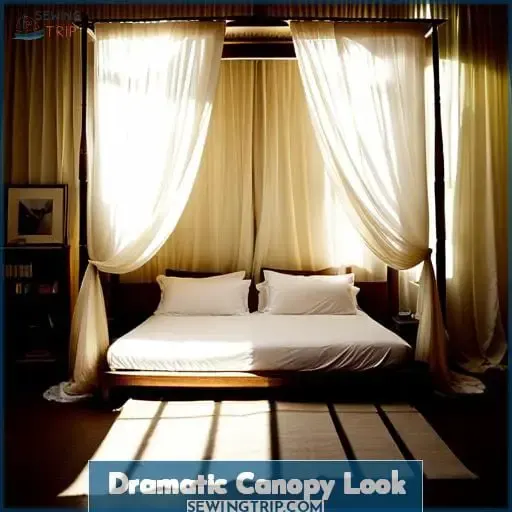 Creating a dramatic canopy requires thinking big with your fabric and embellishment choices. Go for bold, richly-colored fabrics like velvet or satin to set the mood overhead and don't be afraid to incorporate oversized details like large floral accents or voluminous bows to really make a statement.
This bold and beautiful canopy will transform your bedroom into a luxurious oasis with a majestic style all its own.
Bold Fabrics
Create a dramatic look by draping boldly colored fabrics or elaborate patterns overhead for an opulent canopy vibe.
Use boldly patterned or brightly colored fabric like velvet or satin.
Incorporate metallic accents and trims for glamour.
Add chandeliers or pendant lighting overhead.
Embellish the canopy with large statement bows or flowers.
By selecting eye-catching fabrics and embellishments, you can easily create a majestic, dramatic ambiance under your homemade canopy.
Oversized Details
Incorporate larger-than-life decor like giant flowers or big bows to make a dramatic statement under your homemade canopy. Go for supersized tassels, large-scale medallions, and oversized floral accents to give your luxurious bed canopy a whimsical yet elegant feel.
Draping bold swaths of patterned fabric overhead also helps create an imposing, majestic look perfect for a magical DIY canopy bed.
Minimalist Canopy Design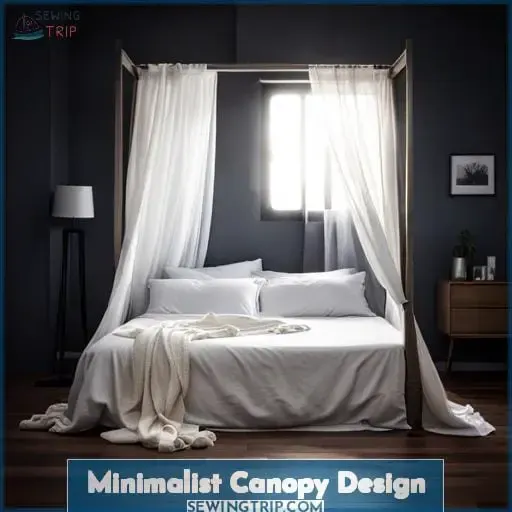 When designing a minimalist canopy, aim for simplicity by focusing on clean lines and neutral tones. Opt for light, airy fabrics like linen or cotton in white, beige, or other muted shades to keep the look understated yet elegant.
Embrace minimalism by avoiding ornate details and letting the graceful lines of the canopy frame become the focal point rather than busy decorative elements.
Simple Lines
Keep it minimal with simple, lightweight linens in soft neutrals that gently drape from a clean rod overhead for an airy canopy vibe. Opt for airy fabrics like cotton, linen or even shower curtains in crisp white or beige to create a tranquil minimalist canopy.
Mount a sleek wooden dowel or even a simple stick overhead, then artfully drape your light material to frame your bed with a calming, perfectly edited accent.
Neutral Tones
You're aiming for a tranquil minimalist look, so prioritize soft neutrals that gently frame the space while ensuring an airy, edited feel. Stick with whites, creams, light grays, and beiges to keep the palette soothing yet simple.
These quiet backdrops allow decorative accents to pop while maintaining a peaceful aura. Linen, cotton voile, or subtly patterned sheer curtains complement the neutral tones nicely.
Make a Canopy Frame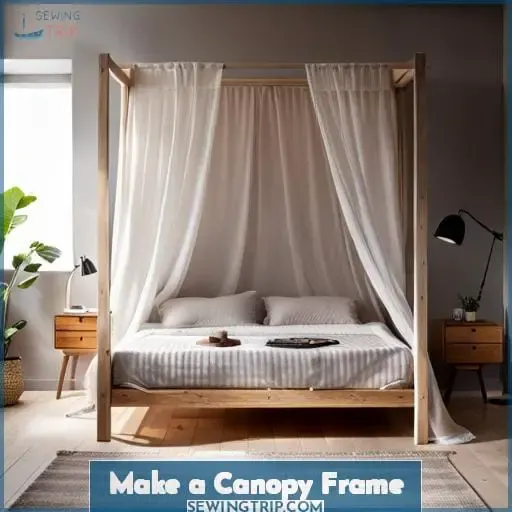 Looking to add an elegant oasis to your bedroom decor? You can fashion a unique canopy skeleton that turns your bed into a stylish retreat by making an easy yet creative canopy frame using copper pipes and wood dowels.
With some basic handy skills and creativity, crafting this canopy frame is straightforward.
Start by connecting the copper pipes overhead to form the frame. Use elbow joints and T joints to create the desired shape above your bed. Once the pipe frame is constructed, attach the wood dowels horizontally across the frame, spacing them every foot or so.
Drill pilot holes and screw the dowels into the vertical pipes to add support. Make sure the frame is securely fashioned before moving on.
For a decorative touch, spray paint the frame or rub the pipes with steel wool to achieve a distressed, vintage look. Add fabric panels, curtains or a canopy top to complete your homemade bed canopy. The simple copper and wood frame provides an elegant base to build your canopy dreams.
With some imagination and DIY spirit, you can fashion a unique, homemade canopy frame using basic materials like copper and wood.
Copper Pipes
You could connect copper pipes overhead to elegantly form a minimalist canopy skeleton. Opt for a smooth look by securing joints and painting the pipes one color. Consider spraying with clear gloss to prevent tarnishing.
Or embrace the natural patina for an industrial vibe. Group the pipes closely or space them apart depending on the preferred density.
Wood Dowels
Attach two 1-inch thick wooden dowels overhead and hang light fabrics between them for an easy DIY canopy frame.
Paint the dowels your favorite colors for a fun, colorful canopy.
Hang the dowels from the ceiling with removable command hooks for easy install and removal.
Use different lengths of dowels to create a sloped or layered canopy frame.
Add wooden beads strung onto twine between dowels for a charming accent.
An old ladder re-purposed into a canopy frame can provide a perfect quick project for a busy day. With just a few materials on hand, you can create a customized reading or play nook to enjoy.
Use Household Items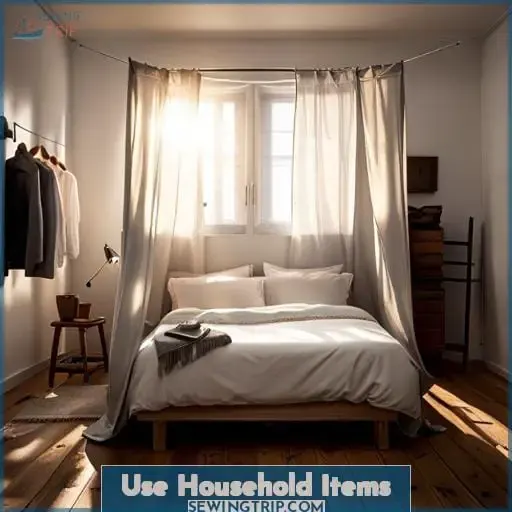 Looking to craft a charming bed canopy on a budget? Repurposing household items like an old ladder or some leftover PVC pipes allows you to build a customized canopy skeleton that fits your space and style.
Mounting the ladder securely or connecting the PVC overhead provides an instant canopy frame from which to hang curtains, drapes, or fabric panels. With a bit of imagination, everyday household items can be upcycled into a DIY canopy that adds cozy ambiance to your bedroom.
Old Ladders
Step ladders from the past become canopy frames of the present. Add rustic charm to a child's bedroom with this simple DIY project. Lean an old wooden ladder against a sloped ceiling or circularly beneath the sloping roof to craft a cozy cabin style canopy.
Cut the ladder to size if needed. Drape gauzy curtains around the frame for an inviting retreat, no matter the home's architecture.
PVC Pipes
Connecting overhead PVC pipes creates a customizable canopy skeleton right at home. Cut pipes to desired lengths and join them together with elbow joints. Affix the pipes vertically to wall studs and horizontally to ceiling joists for a sturdy base.
Drape sheer curtains around the rectangular frame or bend them into a circle for a whimsical bed canopy. PVC offers lightweight durability ideal for makeshift canopy beds, dorm rooms, and shared spaces on a budget.
Incorporate Lighting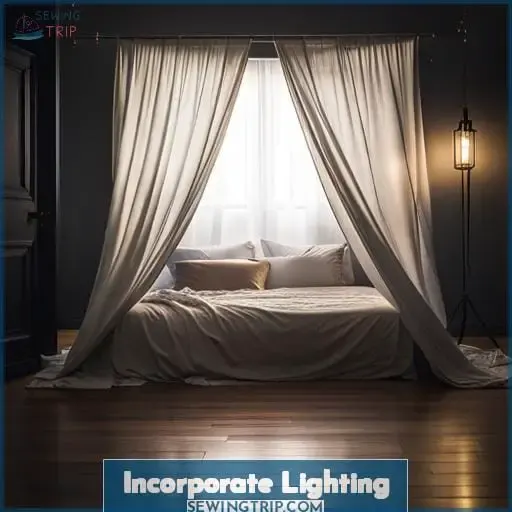 Looking to enhance the ambiance of your handmade canopy? Incorporating some lighting elements like string lights or hanging lanterns will allow you to add a magical, romantic, or cozy feel. You can easily adorn your DIY canopy by draping some twinkly string lights along the rods or interior to create a whimsical glow overhead when you lie beneath it.
Or go for a more rustic mood by suspending a few paper lanterns at varying heights inside the canopy's draped curtains. The warm glow emanating from within will make your canopy space feel extra inviting and serene.
With just a few battery-operated lights, you can transform your bedroom into a calming oasis at bedtime.
String Lights
Hang twinkling string lights inside your DIY canopy to create a magical, whimsical ambiance. Suspend the tiny bulbs from the ceiling hooks before draping your fabric. The warm glow will cast an enchanting mood, perfect for reading bedtime stories.
Wrap larger bulb strands along the inner hoop, illuminating the canopy like a glowing cocoon. Let the lights sparkle overhead as you drift off to sleep beneath your homemade haven.
Hanging Lanterns
Nestle cozy lanterns amid the billowing canopy to infuse your hideaway with warmth reminiscent of cuddling up with grandma's famous hot cocoa on a snowy day. Hang glass globe lanterns from the inner ring, letting light dance across the fabric walls.
Their amber glow transforms any space into a welcoming sanctuary. When the days grow short, lanterns lend your canopy the intimacy of firelight flickering through a dark winter night.
Canopies on a Budget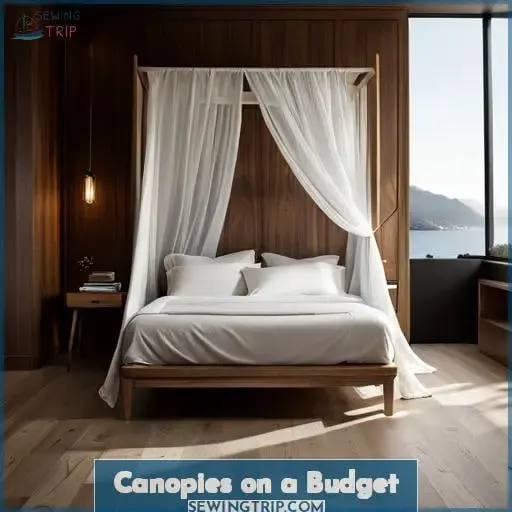 When it comes to making a gorgeous DIY bed canopy on a budget, think creatively about utilizing fabrics you already have. By repurposing old sheets, curtains, or bedding into your canopy drapes, you can achieve a beautiful look with items you likely have around the house for free.
Also, keep the canopy's style simple – focus on a rod and drape set-up rather than an elaborate frame to make the project more approachable. With clever use of materials on hand and straightforward DIY methods, you'll soon be lounging beneath your own dreamy canopy oasis.
Repurposed Fabrics
Check your linen closet or visit local thrift stores to find old sheets, tablecloths, or curtains to repurpose into dreamy canopy drapes on a budget. Raid grandma's attic for vintage linens or peruse garage sales to score discounted drapes.
With some creativity, you can fashion beautiful canopy curtains using recycled fabrics you already own or sourced secondhand. Transform mismatched pillowcases or salvaged lace doilies into lovely layered canopy drapes.
Simple DIY Style
Keep your bed canopy simple by draping fabric directly on an easy wire frame for a budget-friendly DIY. Opt for inexpensive supplies like white garden hooks or large embroidery hoops to create a minimalist canopy rod.
Hang your favorite fabrics using removable adhesive hooks to avoid nails in your walls. Decorating your bed with a quick DIY canopy is a fun and affordable way to create a focal point in your bedroom.
Gotta love fringe, eye hooks, and other simple touches that add personality without breaking the bank.
Frequently Asked Questions (FAQs)
What size canopy do I need for my bed?
Measure your bed's dimensions. For full coverage, choose a canopy slightly wider and longer than the bed. To highlight the headboard, opt for a width equal to the bed's and extra length. Either way, make sure to leave breathing room so the canopy isn't flush against walls.
How do I clean and care for my canopy curtains?
Vacuum canopy fabrics lightly on a regular basis to remove dust and debris. This will help keep them looking fresh. When stains occur, gently spot clean with a damp cloth and a mild detergent. Allow curtains to air dry completely before putting them back up.
This prevents mildew and musty odors from developing. Alternating the curtain panels while one set is drying will allow you to keep them hanging. Properly caring for canopy curtains by regularly vacuuming and spot cleaning as needed will extend their life and keep them looking their best.
Where can I find canopy accessories like finials and holdbacks?
Browse the curtain and drapery sections at big box home stores and craft stores for finials and holdbacks. Also check the chair cushions and wall decor areas for tassels and tiebacks. Online stores such as Wayfair have a huge selection.
Look on Etsy for unique, handmade finds. Estate sales are another great place to uncover treasures. With some hunting, you'll discover the perfect accessories to finish your canopy.
How can I soundproof my canopy if noise is an issue?
You could layer your canopy with sound-absorbing materials like acoustic foam or soundproofing curtains to muffle noise. Alternatively, try hanging tapestries behind the canopy's fabric, as the density helps block sound.
Be sure the fabric overlaps the edges and the layers are evenly spread for optimal noise reduction.
Are canopies safe to have around pets or small children?
You should anchor or secure lightweight fabrics to the canopy frame to avoid entanglement. Also inspect for loose parts regularly and don't suspend canopies over cribs. With proper precautions, canopies can provide a fun, imaginative space for kids and pets.
Conclusion
You've got a plethora of easy ways to create enchanting DIY canopies on any budget. From romantic sheer curtains to eclectic bohemian tapestries, the possibilities are endless for making a magical bed canopy using found materials and a touch of creativity.
Embark on a fun project with your little princess to fashion a playful, bright canopy for her whimsical big girl room. Or channel your inner crafter to handcraft a rustic wood canopy frame adorned with twinkling fairy lights for a romantic retreat.
With imagination and thriftiness, you can fashion a canopy that turns your sleeping space into a dreamy oasis, without breaking the bank.