This site is supported by our readers. We may earn a commission, at no cost to you, if you purchase through links.
The Brother Designio Series DZ2400 Computerized Sewing and Quilting Machine for people who want to play with design and stand out with the projects they create.
It sews smoothly and evenly, and it's fantastic suitable for regular use.
It comes with a lot of bells and whistles that will probably appeal to more experienced sewers – especially if you like making clothes and quilting.
]
However, the monograms are not quite up to date and some functions are not the most intuitive. However, we still consider it a great machine for the price.
If you're still not sure if the Brother DZ2400 is right for you, we can the details you need about what's great and what can …
Brother Designio Series DZ2400 Machine: The Details
The Look
The Brother Designio DZ2400 has a sleek yet simple design. It's not too flashy, so it would complement the decor of most sewing and craft rooms. It weighs just under 20 pounds, so it's pretty sturdy and stable. Space for this model. The table itself is a bit more practical than decorative, but in terms of functionality it is a really valuable addition.
Specs
Weight: 17.9 pounds
Dimensions: 11 x 11.7 x 13.3 in.
Stitches: 185 built-in stitches: 130 utility stitches and 55 alphanumeric stitches. It also includes 8 styles of 1-step buttonholes, which are resized automatically.
Speed: 850 stitches per minute
Automated/Mechanical: Automated
Spool: Drop-in upper bobbin
Warranty: 1 year for parts, labor and accessories; 2 years for electronic components and circuit boards; and 25 years for the chassis molding
Here is a great video introduction to the sewing and quilting machine:
Accessories
The Brother DZ2400 sewing and quilting machine comes with quite a few accessories that are perfect for sewers that like to play with design and customization. The accessories included in the box include:
Zigzag foot
Buttonhole foot
Zipper foot
Button foot
Overhand foot
Blindstitch foot
Monogram foot
Quilt foot
Guide foot with quilting guide
¼ (piece) foot
Stitch guide foot
Brother: The Company
Brother has become a household name for sewing machines and home office products. They have a long reputation, founded nearly 120 years ago and headquartered in the United States since 1954.
They also create products for home offices and businesses. such as laser jet and all-in-one printers. I knew them for their commitment to quality and for their strong reputation in the sewing machine, office and home office industries.
The Warranty
Brother has a pretty standard warranty for their machines. The Brother Designio Series DZ2400 computerized sewing and quilting machine comes with a 25-year limited warranty.
Specifically, "limited" means you get a one-year warranty. parts, labor and accessories, and a two-year warranty on electrical components and printed circuit boards. The chassis has a warranty of up to 25 years.
To take advantage of the warranty, you must keep your receipt. Brother requires proof of purchase for warranty claims and the dates your machine will cover your machine on your date of purchase.
Features
If you want to improve your sewing game, the Brother Designio Series DZ2400 has many features to help you do that.
185 Built-in Stitches
In terms of stitches, this machine has a lot to offer. It comes with 130 utility stitches and 55 alphanumeric stitches for monograms.
The utility stitches give you a wide variety of decorative options. If you're sewing a dress or shirt, you can add a brief flare to the hem by finishing it with one of these decorative designs.
The monogram options are acceptable, but they can leave a little to be desired.
Eight styles of buttonholes
The option to choose from so many buttonhole types shows I make this machine for seamstresses who want to take their design skills to the next level.
Each of the 1 step buttonhole designs looks fresh and fashionable.
This is a great machine for aspiring tailors.
Variable speed
This feature is really perfect for seamstresses who want control over the speed of their stitches.
You can move the stitch speed slider lever to change the tempo from fast to slow with just one touch.
Advanced Threading System
Threading the needle on a single wing machine can be difficult, but it built the advanced threading system to do the job for you to do. When you press the lever on the side of the machine, the thread should straight into the eye of the needle so that you can sew.
This is a prominent feature, but it's tricky to figure out.
Easy stitch selection with LCD display
The screen is a decent size for this model, so it's very easy to read the screen.
It also clearly shows which stitch you have selected and which foot you need for that stitch.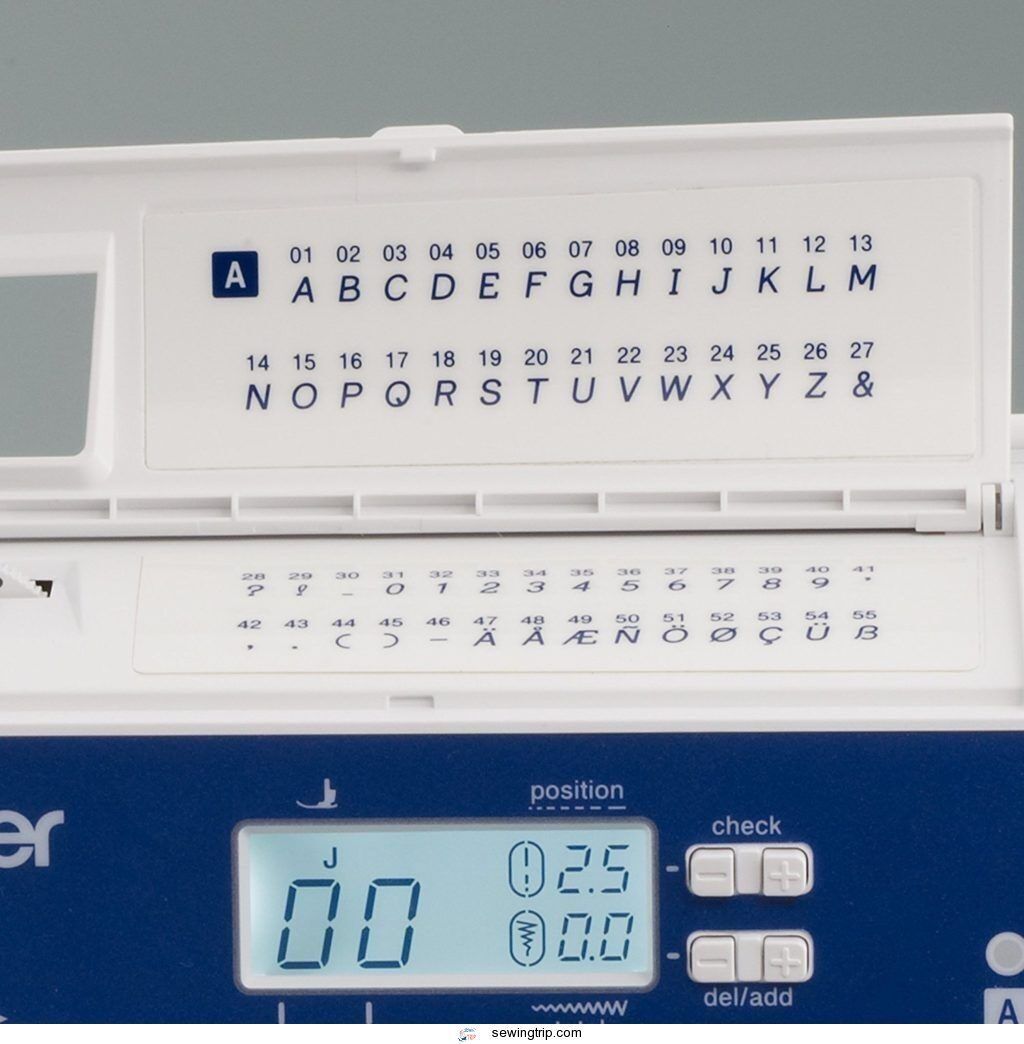 33% larger workspace (plus included wide table)
Another feature that makes the Brother DZ2400 machine ideal for dressmakers and quilters is its huge working area and extra wide table.
This really makes it perfect for large projects — quilts, dresses.
Jam Resistant Quick-Set Drop-in Top Bobbin
As with all new Brother sewing machines, I bless this Designio series with a top-loading drop-in bobbin that stays in place and helps promote even sewing.
Advanced Easy Needle Threading System
Not quite the automatic needle threader we expect to see on most beginner sewing machines, but the DZ2400's advanced Easy Needle Threading System tries the always tricky threading of the needle a much easier maneuver.
In theory all you need to do is turn the lever on the side of the machine — although we take a few took time to get used to.
Stop/Start button
You can easily get started with this sewing and quilting machine – no need to master the foot control!
Brother Designio Series DZ2400 Review
The Positives
Great for quilting and dressmaking
If you use the Brother DZ2400 for quilting or making clothes, you are not taking full advantage of it.
It is perfectly designed for these hobbies and one of the best home quilting machines on the market.
The huge workspace is honestly one of the best features it offers. Many sewers become frustrated when they try to bridge the gap between their sewing machine and their sewing table.
The oversized table on this model helps reduce that frustration; it makes larger projects, such as dresses, quilts, and costumes, much more agile.
Plus, with such an abundance of built-in stitches and buttonholes, the world really is your oyster like it's about design.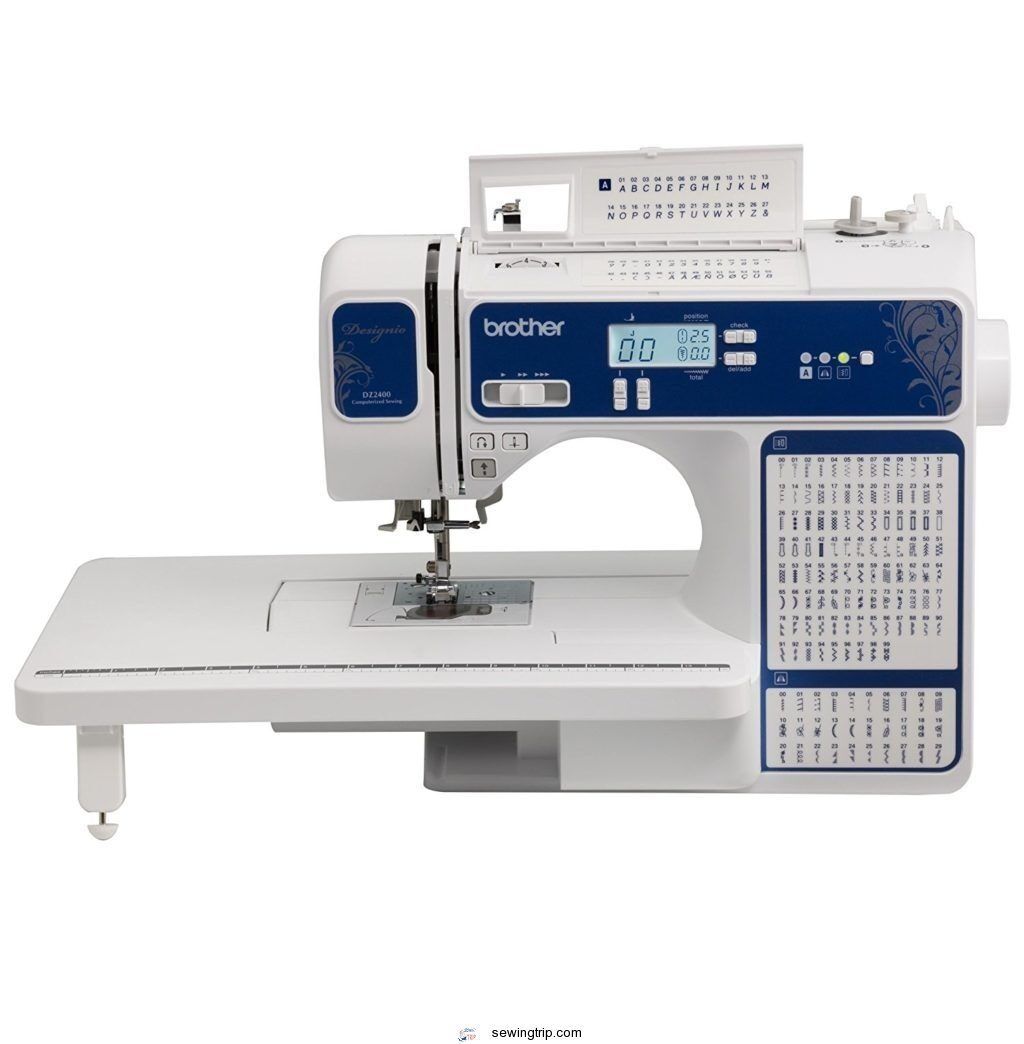 The Machine Will Teach You
Experience can be the key with this sewing machine, but even experienced seamstresses may not know everything about which feet for a specific stitch, and the Brother DZ2400 has you covered.
When you sew a stitch, the LCD tells you which foot for the stitch you want so you don't have to guess.
This is also great for beginners, who will see their skills grow with the machine – instead of relying on guesswork and YouTube tutorials.
Great the high quality of the stitching surprised sewing at a reasonable price
We considering d e low price of the Designio series e point, but we even found it without jamming or skipped stitches.
It can't really compare to some of the highest quality machines on the market, but it still goes well beyond entry-level and entry-level sewing machines.
Extremely versatile
We mentioned how great the Brother DZ2400 is for making clothes and quilting, but it can do a lot more than that.
With a whopping 185 built-in stitches, you can really a lot with this machine. Again – much more than you would expect for a sewing machine of this price.
Many accessories
Our favorite sewing machines are invariably the sewing machines equipped with a whole range of accessories, when it is unnecessary to buy something extra to get started.
This is the way with the Brother Designio Series DZ2400 — it's all in the box. Time to get started!
The negatives
Threading takes time to get used to
The machine threading can and the automatic threader is not necessarily intuitive.
You will want the instruction DVD so you know how to thread the machine and how to use the needle threader correctly.
That's not to say it's difficult – but it can take a few takes effort .
The monograms can sewing machines because it the machine a more attractive purchase.
If you're looking for a machine with superb monograms. This probably isn't the right one for you.
The letters are quite small, only about an inch in size, and there is no actual option to increase the font size. There is also only one font option for these letters, which is quite restrictive.
Too bad, but you can't have everything for this price!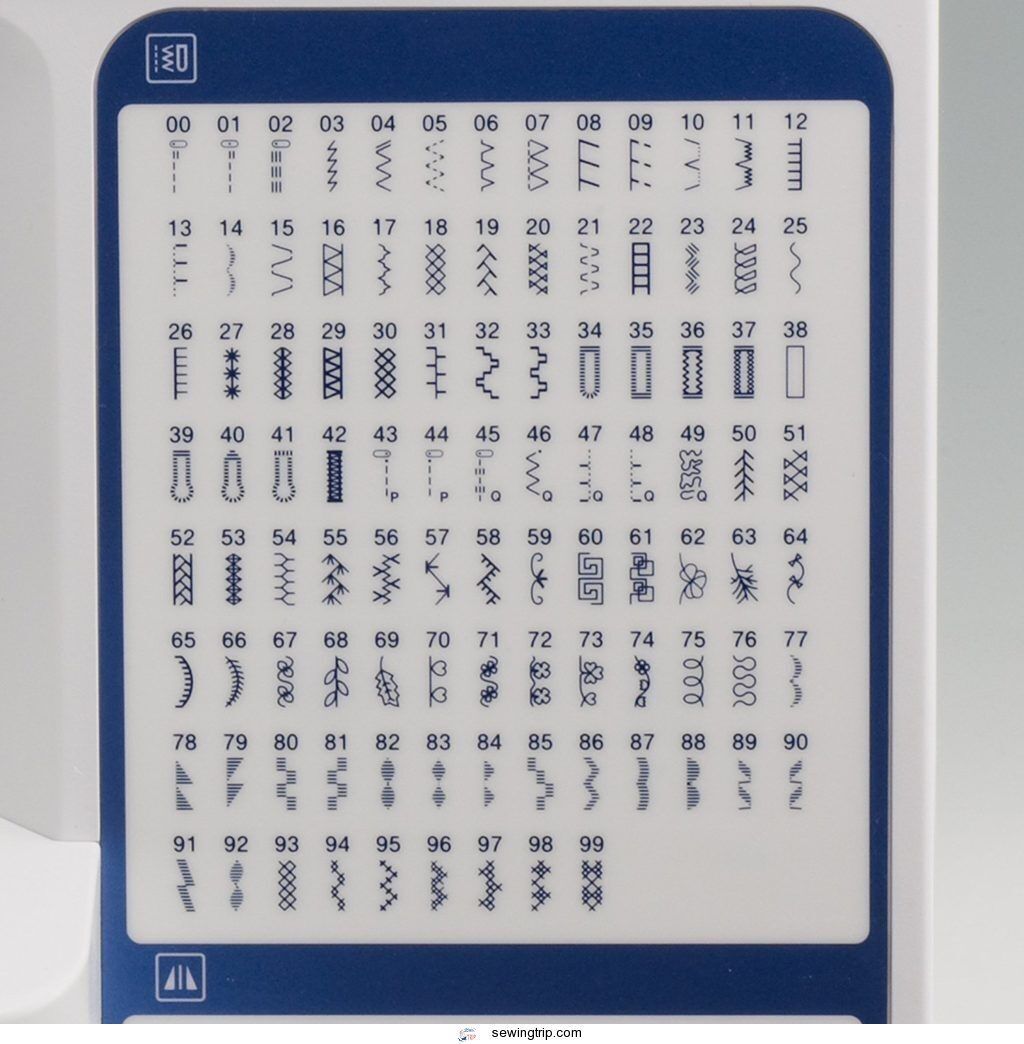 The LED light could be brighter
Brother advertises that the DZ2400 has a super bright work area, but we found the LED lights have a little lack of power, especially given the wide working area.
You may need to use a sewing or desk lamp if you are in a dimly lit room.
Overall verdict
Overall we with the Brother Designio Series DZ2400 Sewing and Quilting Machine.
It really stands out as a quality machine for garment making and quilting, with a super-large work area and an impressive array of stitches and buttonholes.
There are a few niggles — it isn't great for monograms, for one – but it's a cracking machine considering the reasonable price.
Where to buy the Brother DZ2400 sewing and quilting machine
This is one of the most popular sewing and quilting machines on the market, so you can find it in many stores, both online and in person.
Check out these marketplaces for starters:
And of course it's available on Amazon.

---
Do you already have the Brother Designio Series DZ2400 sewing machine?
Would you like to see other models before you decide? Check out our latest user reviews.