This site is supported by our readers. We may earn a commission, at no cost to you, if you purchase through links.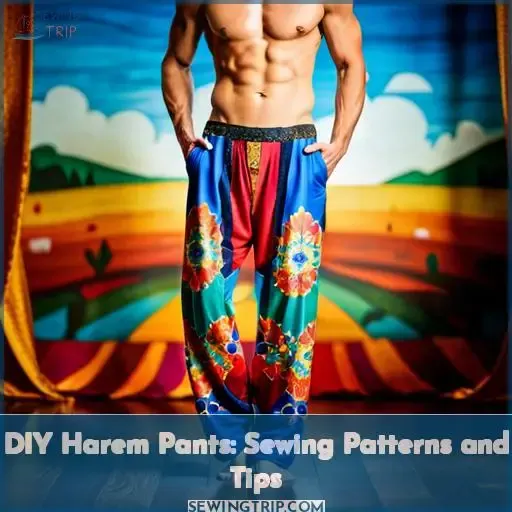 Are you ready to master the art of DIY harem pants? With our sewing patterns and tips, you'll be creating your own stylishly liberating harem pants in no time. Whether it's for yourself or a loved one, these comfy and cool-looking bottoms are sure to impress all who see them.
From drafting the pattern to inserting elastic at the waistband and ankles, we've got everything covered so that crafting your very own pair of harem pants is easy peasy!
As well as what supplies are needed for this project – including white knit elastic sewing band, measuring tape pack body sewing tailor tape measure etc.
Key Takeaways
DIY harem pants can be stylish and comfortable.
Drafting the pattern allows for customization and creativity.
Sewing techniques such as elastic insertion and creating casings are important for a polished look.
There are various styling options and additional sewing projects to explore.
How to Make Harem Pants With Slits on Side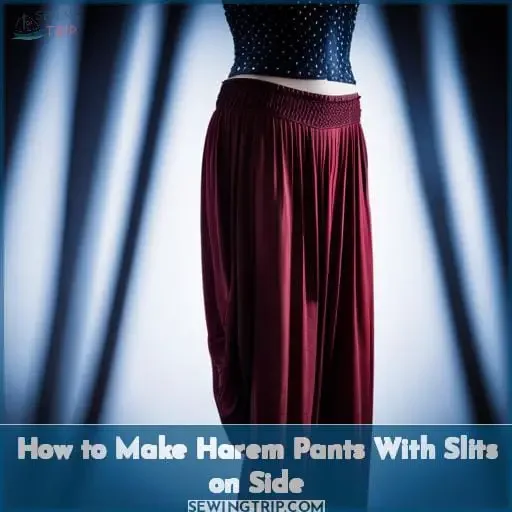 Let's begin by drafting your own harem pants with side slits! Fold over a soft, lightweight fabric and use existing pants or a skirt as a pattern guide. Then, draw your cut lines, carefully sew the inseams and outer seams, insert elastic in the waistband and ankles, and complete any finishing touches for a stylish and flowing pair that you'll love wearing.
Drafting the Pattern
Trace a tried-and-true pair inside out, leaving some seam allowance – measure yourself from top to bottom and across those hips for a custom fit. Mark and cut your fabric, then flip the pattern to double your yield. Troubleshoot sizing by pinching in or letting out along the inner leg seam.
Fabric flows and gives where elastic won't, so go with a knit, silk, or rayon for drapey pants that swish when you walk. Rock them with a cropped tee, then style with a tunic as you channel your inner Aladdin.
Sewing the Pants
You're straight stitching down from the top about 25cm, then 7cm up from the bottom for each front-back pair. For no slits, rock a straight stitch from the tippy top to the bottom of those harem pants.
Sew the inseam from crotch to ankle, then flip one sexy leg outside in and jam it in the other leg. Sew the curve from belly to backside, getting rid of those frayed fabric edges for clean seams.
Elastic Casings
Fold over the top and bottom edges to create casings for the elastic. Elastic casing techniques are crucial for crafting comfortable pants. These casings ensure a secure fit while allowing flexibility. Styling options are endless, whether you're creating belly dance attire or casual wear.
Choose from a variety of fabric choices to suit your preferences, from soft chiffon to breathable cotton. Experiment with pattern variations to customize your harem pants. Master these sewing skills, and you'll have stylish, comfortable harem pants that exude confidence and freedom.
Inserting Elastic
To ensure a secure fit, gently guide the waistband elastic through the casing you created earlier, making sure to use a safety pin to assist you in threading it smoothly.
Elastic Insertion: Carefully thread the waistband elastic through the casing.
Waistband Measurement: Ensure the elastic matches your waist measurement for a comfortable fit.
Pant Leg Hem Finishing: Double-check the pant leg hems for a polished look.
Fabric Marker: Use a fabric marker to add personalized touches or embellishments.
Styling Tips: Pair your harem pants with crop tops or statement belts for a fashionable look.
Finishing Touches
For the perfect finishing touch, explore a world of possibilities to elevate your DIY harem pants with slits.
Embellishment Ideas: Add exotic charm with beaded fringe along the side slits or intricate embroidery for a boho vibe.
Styling Tips: Pair them with a crop top and chunky jewelry for a chic look. Alternatively, pair them with a flowing tunic for a more traditional feel.
Fabric Selection: Experiment with rich, textured fabrics like silk or brocade for a touch of luxury.
Hem Finishing: Consider adding a delicate lace trim to the hem for a feminine touch.
With these DIY variations, your harem pants will be a masterpiece in no time.
2 Ways to Draft a Harem Pants Pattern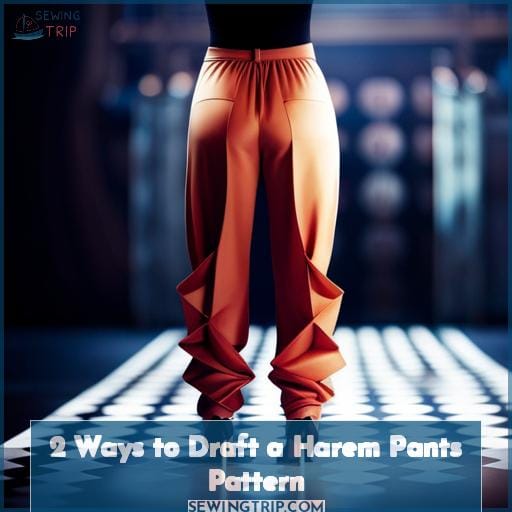 Let's explore the exciting world of creating your own stylish harem pants with two distinct methods of pattern drafting. In Method 1, we will guide you through crafting loose and comfortable Aladdin-style pants, perfect for stretchy fabrics and a relaxed fit.
In contrast, Method 2 presents a more intricate pattern for versatile harem pants, allowing you to customize your design to match your unique style preferences.
Method 1: Aladdin Pants
Now, let's dive into crafting your own unique style with Method 1: Aladdin Pants. These loose and comfortable harem pants are the perfect choice for your next fashion adventure.
When selecting fabric, consider soft, stretchy options like chiffon or knit for ultimate comfort. Customize the pattern to your measurements, ensuring a perfect fit. Elastic waistbands provide ease of wear, and you can experiment with different styles and colors.
Finish by styling with a belt or hip scarves for a touch of flair. Start your harem pants tutorial and embrace the world of DIY clothing today.
Method 2: Pattern for Harem Pants
Explore the more intricate approach to crafting a versatile pattern, which offers you greater design flexibility and a wider range of styling options. When creating a pattern for harem pants, you have the opportunity to experiment with various pattern variations, allowing for unique and personalized creations.
Choose from a variety of fabric choices, from luxurious silks to comfortable cottons, and consider adding embellishments to elevate your design. With this method, you can achieve a perfect fit through customization and master sewing techniques like creating an elasticized waistband with finesse.
Craft your own statement piece with this comprehensive pattern for harem pants.
What You'll Need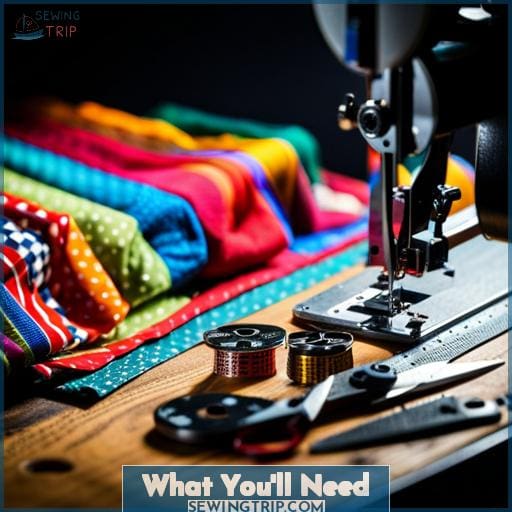 Head up sewists, scour your stash for some soft chiffon and thick elastic – we've got a chic DIY on the docket. You'll need that 1/2-inch knit elastic, a trusty sewing tape, and quality threads and scissors like Gutermann's elastic, Singer pins, and Livingo shears to construct the trendy harem pants of your dreams.
Elastic White Knit Elastic Sewing Band
Grab some elastic white knit from Shappy to make the waistband and ankles cinch perfectly. This polyester elastic band provides just the right amount of comfortable stretch for your flowy harem pants project.
Measure precisely – accurate lengths are crucial for a perfect fit. Then thread your elastic through folded casings, joining the ends neatly with zigzag stitches or safety pins.
Measuring Tape Pack Body Sewing Tailor Tape Measure
You'll need reliable measuring tapes to obtain accurate measurements for sewing your harem pants. The Phinus measuring tape pack provides durability and accuracy for all your sewing projects. With three sixty-inch tapes in a set and dual-sided centimeters and inches markings, these tailor's tools deliver the precision needed for pattern drafting and garment fitting.
Craft your costume creations with confidence using these essential measuring accessories.
Gutermann White Elastic Sewing Thread 11 Yard Spool
Nimbly sew gentle gathers with Gutermann's elastic thread as steady hands guide the supple band along its path.
Lightweight cotton embroidery floss
Clear sticky-back elastic
White crochet thread
This German-made polyester-blend thread glides smoothly through fabric. Work carefully when threading the slender filament through the needle's eye.
Singer Pearlized Head Straight Pins White
Pick up the Singer pearlized head straight pins to pin your fabric pieces together as you sew your harem pants. The nickel-plated steel resists rust while pinning sheen fabric. Grasp the pearlized heads easily when aligning fabric print.
Store pins in a magnetic pincushion for safety. These straight pins are essential accessories for securing layers before stitching. The length works well with most fabrics. Take care not to bend or dull the pins on thick seams.
Use a pincushion to keep pins accessible. Sharp pins make precise work of edges and pleats.
Handle with care to avoid stabbing fingers. Quality pins are assets for any sewing project.
Livingo Premium Tailor Scissors Multi Purpose Titanium Coating Stainless Steel
These titanium-coated tailor scissors cut through multiple layers effortlessly with their sharp stainless steel blades.
They can trim delicate chiffons or sturdy denim fabrics with ease.
They are ideal for drafting precise pattern pieces.
They can slice through stubborn waistband elastic.
They can produce flawless seams with finesse.
The stylish black and red design adds the perfect finishing touch to your handmade couture creations. With proper care, these quality shears will be your go-to sewing scissors for years to come.
How to Sew Harem Pants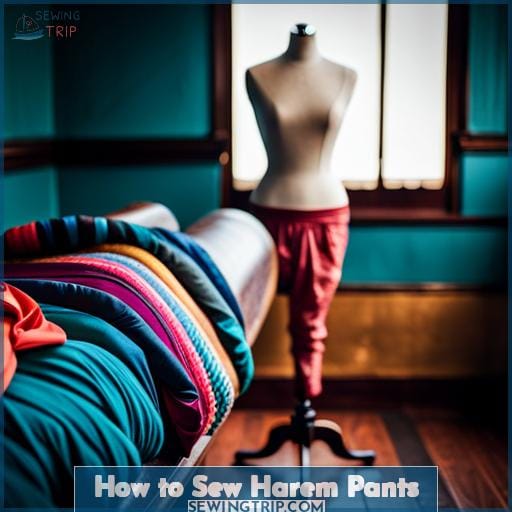 Gather your fabric and supplies. Lay out your pattern and cut the fabric according to the measurements.
Set your sewing machine to a wide zigzag stitch, insert an elastic thread in the bobbin, and replace the needle with a stretch one.
Create your casing by folding over the waistband and ankles, leaving a gap for the elastic. Insert elastic through the gaps using a safety pin and join the ends firmly. Stitch up the gaps to enclose the elastic.
Add cuffs, sashes, or trim for extra style. Try experimenting with shirring, smocking, or ruffles too.
Now strut your stuff and rock your harem pants! With some patience and creativity, you'll be a harem pant pro in no time.
More Fun Sewing Projects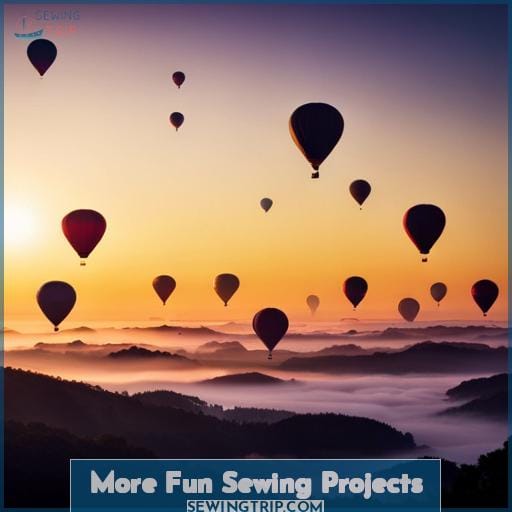 Let's stretch our skills with more fun sewing projects! Here are some ideas to spark your creativity:
Project: peasant blouse
Description: Flowy, romantic top with smocked yoke and fluttery sleeves
Tips: Choose lightweight fabrics like chiffon or voile. Add lace trim or ribbon for flair.
Project: circle skirt
Description: Full, twirly skirt cut in an easy circle shape
Tips: Go for crisp cottons or fun prints. Belt at waist or leave loose. Add tiers for extra volume.
Project: maxi dress
Description: Free-flowing floor length dress perfect for summer
Tips: Use rayon or viscose for great drape. Accessorize with chunky jewelry. Add pockets for convenience.
Project: tote bag
Description: Roomy bag to carry all your essentials
Tips: Sturdy canvas holds shape well. Line inside for polished finish. Add zippers, pockets or appliqué motifs.
Project: pajama set
Description: Comfy PJs to relax in
Tips: Cozy flannels or soft jersey knits. Add piping or contrast bands. Try fitted tank with loose pants.
Have fun sewing for yourself or to share handmade gifts full of love!
Frequently Asked Questions (FAQs)
The main sections of the article cover the steps for drafting the pattern, instructions for sewing the pants, and a list of required materials. But details on fabric choices, yardage requirements, sewing machine settings, styling options, and measuring are not provided. Asking questions like these would help fill in information gaps for someone new to making harem pants.
You're right, those are crucial details I should cover. I'll make sure to include information on fabric yardage, sewing machine settings, measuring tips, and styling ideas to assist you in successfully creating these pants.
Conclusion
If you're looking for a fun way to make a statement with your wardrobe, why not try your hand at making some DIY harem pants? With a few simple supplies and some basic sewing skills, you can create a unique look that really stands out from the crowd.
From elastic waistbands and cuffs to intricate embroidery, there are so many ways to customize your own harem pants. Whether you choose to keep it classic with slits and a drawstring or go for something more daring, the possibilities are endless.
With a little creativity, you'll have a pair of harem pants that you'll want to wear every day!