This site is supported by our readers. We may earn a commission, at no cost to you, if you purchase through links.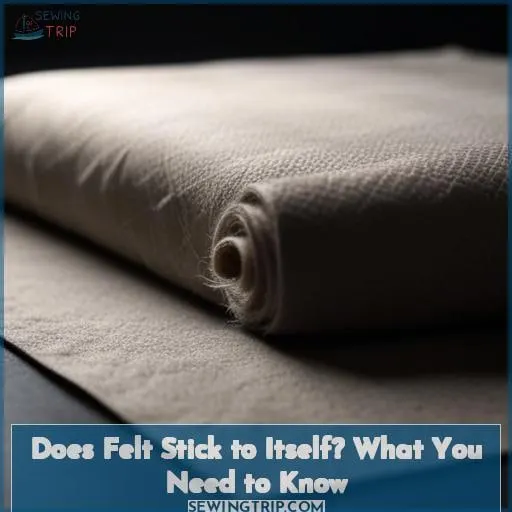 You walk into the craft store, the smell of paper and glue bringing you back to childhood afternoons spent carefully cutting shapes out of colored construction paper. Felt beckons you from the textiles aisle, its plush softness irresistible. Running your hands over the stacks of vibrant hues, you think about the projects you could create.
Does felt stick to felt though?
With my tips, you'll master the art of felt crafting in no time. Let's dive in and see what this versatile material can do!
Bonding felt to felt opens up a world of possibilities. Felt's fibrous nature allows it to cling to itself, no glue required. The more dense the felt, the better it will adhere. Try wool felt for stronger bonds.
Felt can also stick to fabrics like flannel. Avoid slipping with a pressed seam or a few hand stitches. The applications are endless – decorate cards, make bags, or design one-of-a-kind plush toys.
Don't let questions about adhesion stop you. With the right materials and techniques, you'll have professional-looking projects in no time.
Key Takeaways
Felt has natural clinging properties allowing pieces to temporarily adhere without gluing for positioning.
Strong wool-wool bonds form; acrylic fibers have less cling.
Felt's texture grabs glue well for more permanent bonds.
Contact cement instantly bonds felt to materials like plastic.
Felt Sticking Properties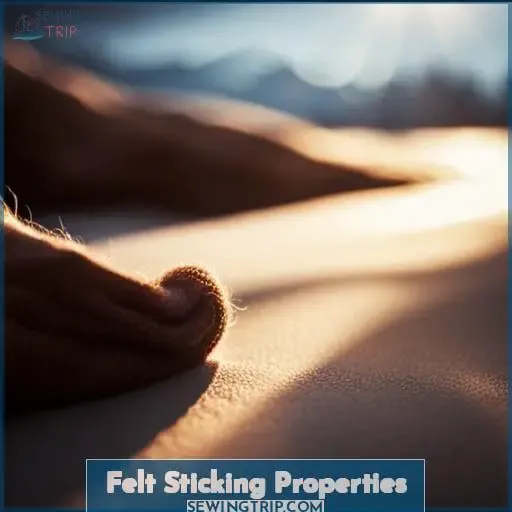 You've seen how the fuzzy fibers of felt cling to each other without needing glue, letting you move pieces around before firmly fixing your story in place. The wool fibers in high-quality felt interlock with each other, creating a subtle static charge that makes the material stick to itself.
This opens up potential applications where no harsh chemical adhesives are needed.
Use this hidden trick for kid-friendly crafts or classroom activities by having children design their own felt scenes, moving the pieces until their story is just right. The sticky wool fibers allow for creative uses like making charming finger puppets or decorating bulletin boards.
For more permanence, a tiny dot of white craft glue secreted beneath will fasten your design, but still let it be altered if needed.
Wool felt brings a cozy, old-time warmth suited for heirloom playsets or baby's first quiet book. Its softness and subtle stickiness create a welcoming surface for tiny hands and big imaginations. Discover the joy of no-glue crafting with good quality wool felt, and let your creativity find its place.
Felt to Felt Bonding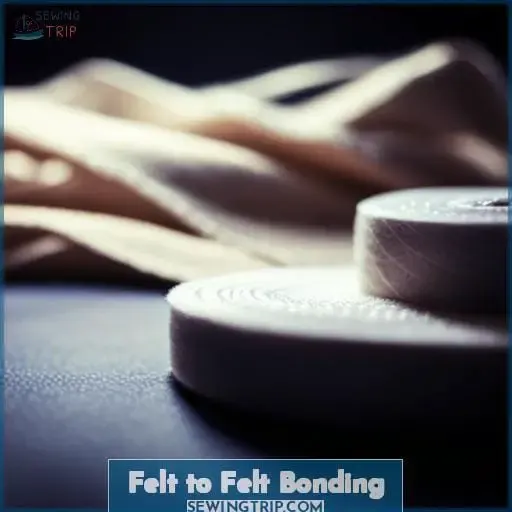 The fuzzy fibers of wool felt cling together, so you can move pieces around before gluing your design permanently, as I discovered when making an interactive storyboard for my niece.
The soft loops in high-quality wool felt interlock with each other, letting you reposition shapes until your heart's design emerges. That subtle static charge means no harsh glues are needed yet – just the gentle pressure of tiny fingers nudging scenes into place.
Discover this charming secret as you craft cozy playsets or baby's first quiet book. Create kid-friendly bulletin boards, letting students find their stories before fastening them firmly with a dot of glue.
Design sweet finger puppets or heirloom dolls, reworking their outfits endlessly.
Wool's warmth invites little hands to gently reshape their world. But select a sturdy backing and quality thick felt to avoid tearing or fading. Test colorfastness and monitor texture changes if washing. For permanence, wool-wool bonds grip tightest.
Yet even trusted acrylic will cling awhile, giving imaginations time to wander before committing.
Let good felt's softness and subtle stick welcome your creativity. Craft, play, and discover stories yet to be told. The fibers patiently wait, ready to be rearranged until your heart's design finds its shape.
Felt to Fabric Bonding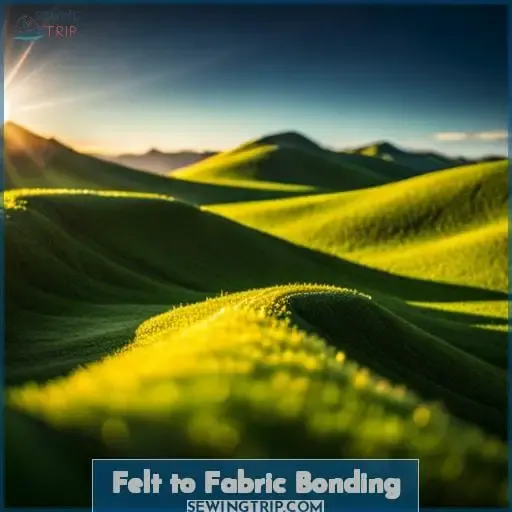 Felt snuggles right up against flannel's cozy softness. As you layer luscious fabrics, discover which ones cling together best. Felt's wooly loops nestle into flannel's brushed fibers without any help. Cut fuzzy shapes or glue on accessories to craft a cuddly quilt or storybook scene.
Felt's durability handles repeated cuttings and shapings. Trace around a template hundreds of times without dulling your scissors or needles. Felt resists tearing as you remove pieces; its density lends itself to complex designs.
Yet too many cutouts may weaken an area over time. Test small swatches first to find felt's limits.
Unlike paper, flexible felt won't crack if repeatedly creased and folded. Sculpt flowing skirts, perky collars, and floppy hats. Felt's fibers shift and compress as you shape soft edges. Glue stiff interfacing only where needed to hold a precise form.
Create cozy playsets and quilts, knowing felt's fibers cling to flannel's brushed softness. Discover which fabrics nestle together best through experimenting. Then confidently cut and shape designs, sculpting scenes full of texture, knowing felt durably resists tearing.
Felt to Paper Bonding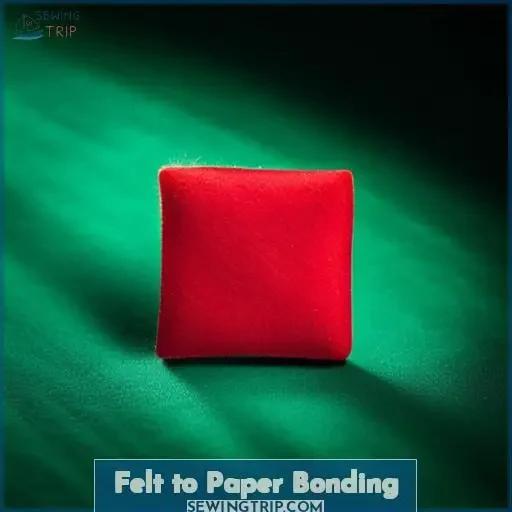 Tracing paper templates then gluing to felt creates precise shapes. Choose paper's thinness to draft intricate designs. Tracing moves your pencil smoothly across the surface without drag or resistance.
Try parchment or vellum for translucent flexibility or cardstock for durability across repeated tracings.
PVA white glue spreads easily across felt's fibers to permanently bond paper's crisp edges. Let it dry clear for an invisible attachment. Or brush on tacky glue's thickness to see where adhesive oozes out; bonus grip ensures a secure hold.
Compared to gluing paper to paper, felt's textured loops grab and bind to the glue better than smooth surfaces. While waiting for the glue to dry, gently rub the paper piece in place to seal its underside too.
Felt's organic texture and subtle color variations pair beautifully with paper's uniform flatness and precision. Mix patterned scrapbook paper with wool felt's earthy tones, or try tissue paper's delicate translucent colors layered on dark synthetic felt.
Discover infinite combinations for your eco-friendly mixed media art. Play with scale, overlap shapes, and explore texture pairings as you collage paper onto felt's tactile flexibility.
Felt to Wood Bonding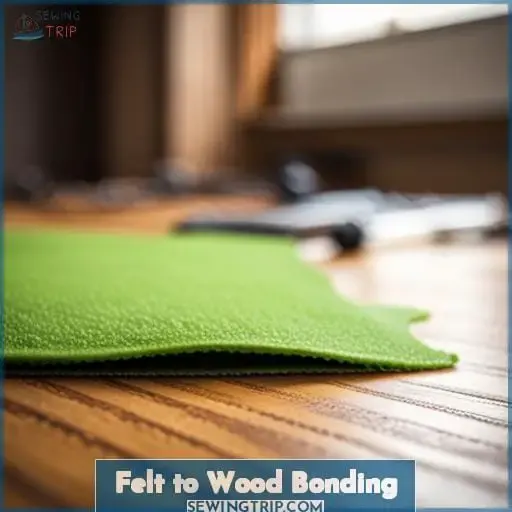 You'll treasure its sturdiness once that plywood frame's absolutely covered in fuzz. Securing felt pieces takes patience, starting with choosing the best adhesive. Grab wood glue for attaching felt to wood directly.
Apply an even coat across the surface with a foam brush. Let it become tacky before pressing the felt in place.
Wood glue won't soak or stain the felt. Its thickness fills gaps between the uneven textures. Weight down your felt shapes after positioning to maximize contact while the glue dries. If needed, add glue under lifted edges for full adhesion. Let cure overnight before gently testing attachments.
For more versatility, use multi-purpose glue like E6000. Its strong flexible bond works on wood plus most other materials like plastic, metal or fabric. The added grab ensures your felt will stick to painted, sealed or treated wood too.
Just avoid excess oozing out; keep a damp cloth handy. Ensure proper ventilation while using any chemical adhesives.
Add whimsy with mini pom-poms, googly eyes and ribbons. Show your style with buttons, lace trim or colorful thread for stitching by hand. However you choose to embellish, a plywood base secures the softest scraps into a lasting creation.
Felt to Concrete Bonding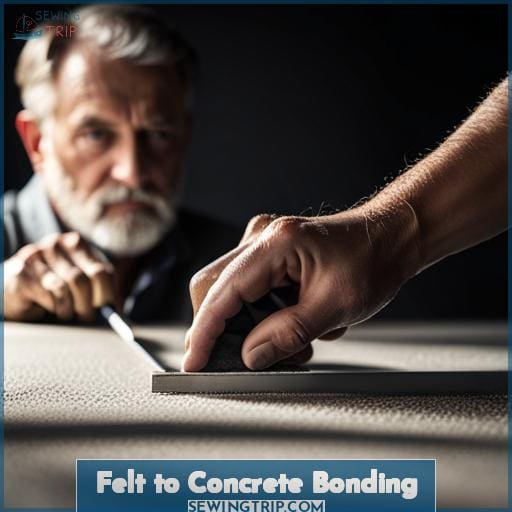 Moving from wood to concrete may seem like an odd shift, but felt's versatility extends to decorating the hardest surfaces too. With the right adhesive, even sidewalks and walls can display your fuzzy creations.
Choose an exterior-grade epoxy. Look for a waterproof formula designed for bonding to masonry and stone.
Thoroughly clean the concrete first. Remove any paint or sealers so the adhesive grips the porous surface.
Apply epoxy evenly across the back of the felt. Use enough to saturate the fibers but not too much to cause drips.
Press firmly in place. Once positioned, rub over the entire surface to maximize contact with the concrete below.
With the right epoxy glue, a drab concrete wall transforms into a vibrant felt mural. Cut favorite shapes from bright solids or jazzy prints. Arrange a fanciful scene for passersby to enjoy. Add details like flowers, trees and animals as desired. Refresh for each season or holiday.
Felt's forgiving nature allows repositioning until each piece fits just right. You can also remove and reuse in new arrangements anytime. With a little planning, even sidewalks get an upgrade. Welcome guests with fun stepping stones leading to the door.
Felt's inherent stickiness helps the pieces stay put underfoot. Renew the path markers whenever your décor changes.
Felt to Plastic Bonding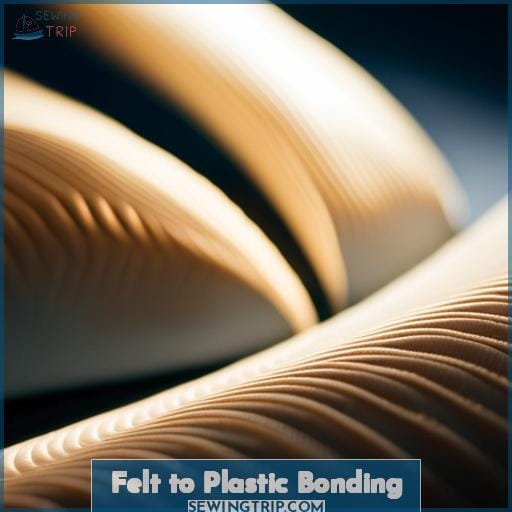 Using contact cement makes quick work of sticking felt to plastic. Simply brush a thin, even layer over both the felt and the plastic. Let it become dry to the touch. Then firmly press together for an instant bond that holds tight.
Compared to its woolen cousin, acrylic felt better resists cracking when flexed over plastic. Cut freezer paper templates to efficiently cut precise shapes from uniformly textured acrylic. Avoid over-saturating the fibers with liquid glues that seep in and leave stiff spots.
Adhesives like tacky glue provide just enough sticking power between the fibers.
For temporary bonds, reusable adhesives work well. Apply strips of Velcro with adhesive backs to keep felt in place. Peel up to reposition designs anytime. To ensure success, wipe plastics with rubbing alcohol first.
This step removes oils for maximum adhesion. Even slick surfaces like laminates hold fast.
These prevent moisture from seeping behind and loosening the felt over time. Finished projects withstand sun, rain and years of wear. With the right adhesive knowledge, crafters stick felt to plastic as easily as felt to felt.
Making Felt Stickers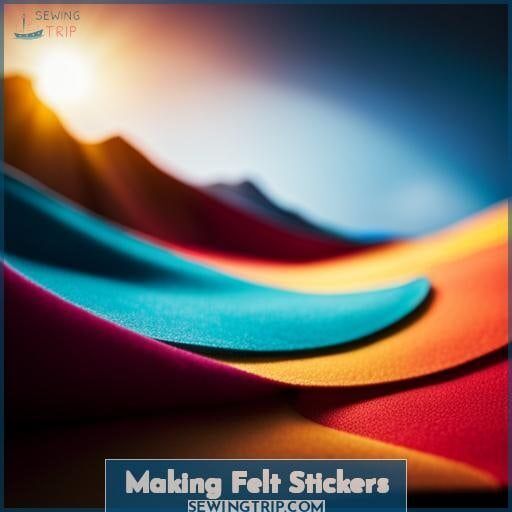 Making Felt Stickers
Previously we discussed attaching felt to plastic. Now let's explore making felt stickers.
First, select your felt. Go with wool for durability or acrylic for flexibility. Thinner felt works better than thick.
Now, choose your sticker backings:
Permanent adhesive vinyl – long lasting, sticks to most surfaces
Glue dots – temporary, repositionable
Contact cement – forms instant bond, good for wood/metal
Magnetic strips – adheres to fridges and metal surfaces
Apply adhesive backings before cutting for easier handling. Wait the recommended time for complete curing.
Get creative with specialty effects! Add glitter, puff paint, even scents. Glow-in-the-dark stickers create fun nighttime vibes. Your homemade felt stickers turn any space into a work of art. Let your imagination run wild.
Buying Felt Stickers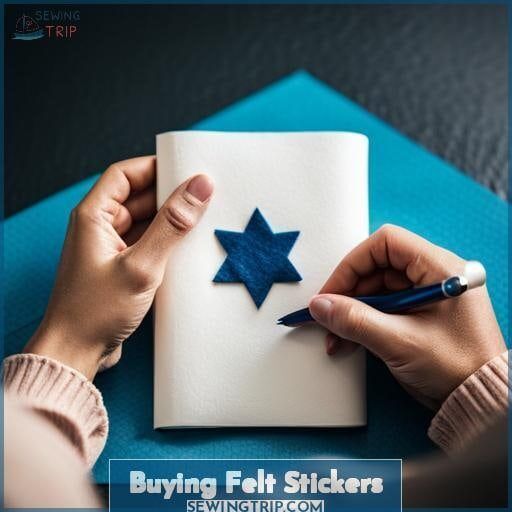 Look around craft stores for adorable premade felt stickers. For cute designs galore, browse the sticker aisles of stores like Michael's, Joann's, Hobby Lobby, and Walmart. You'll find an endless array of colorful, creative options to spark inspiration.
Check out their collections of themed stickers – from animals and food to phrases and floral motifs.
Shape Options
Color Choices
Size Ranges
Circles
Neon
Small – 1 in
Hearts
Pastel
Medium – 2 in
Stars
Earth tones
Large – 3+ in
Flowers
Metallic
Animals
Rainbow
Letters/Words
Beyond basic shapes and colors, look for specialty stickers too. Search for glitter, puffy, or glow-in-the-dark effects. Seek out textured designs, like fuzzy bees and plush clouds. Check the sale bins for sticker packs on clearance.
With this sticker bonanza all around, you'll find the perfect pick-me-ups to decorate notebooks, cards, crafts, and more. Give your projects a playful punch of pizazz with an array of felt sticker embellishments.
Uses for Felt Stickers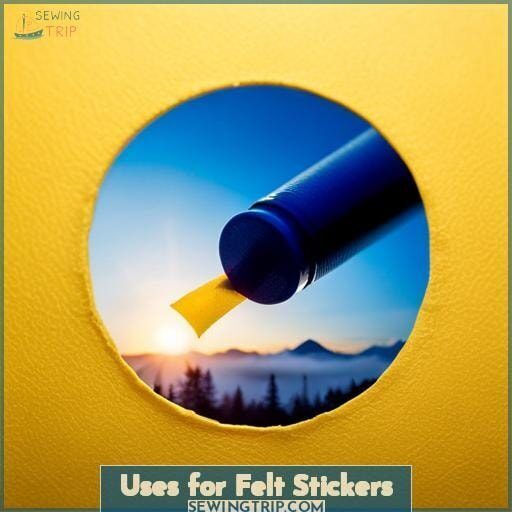 After discovering felt stickers at the craft store, your mind races with creative ways to use them.
Looking to make a heartfelt gift? Felt stickers can add a special touch. Spell out names or messages on a customized coffee mug. Decorate the edges of a picture frame with floral designs. Stick lighthearted phrases on a homemade trophy for your kid's big win.
Jazz up handmade cards and gifts with felt embellishments. Cut sticker shapes to highlight titles on scrapbook pages. Use die-cut stickers as guides for embroidery or fabric appliques. The textures and colors enliven your projects.
Decorate binders and notebooks with fun felt stickers to help keep organized in style. Bright colors and fun shapes make it easy to identify your own. Switch them up each semester or season.
Look around your space for blank canvases. Turn bulletin boards into motivational inspiration with quirky quotes or wise words. Liven up lackluster furniture with floral accents. The ideas are yours for the making when you open your mind to the possibilities.
Frequently Asked Questions (FAQs)
What are some creative ways to use felt besides arts and crafts?
You can create fun felt decorations for parties. Felt is perfect for tablecloths, napkin rings, garlands, backdrops, banners, and bunting. It's also great for making play food, finger puppets, soft quiet books for kids, and pretty ornament shapes to hang on the tree.
How do I store leftover felt pieces to keep them from getting ruined?
You'll want to store your leftover felt in resealable plastic bags. Press out excess air before sealing to prevent wrinkling. Store flat in a cool, dark place like a drawer or cabinet. The key is protecting your felt from light, moisture, and dust to keep it looking its best for your next crafty project.
Is there an easy way to cut precise felt shapes without specialist tools?
You can easily cut precise felt shapes without specialist tools. Use freezer paper and an X-Acto knife to create templates. Then, pin the templates to felt and carefully cut around the edges. This will give you clean cuts and precise shapes every time.
What tips are there for removing felt that is stuck where I don't want it?
Try gently lifting an edge and pulling slowly. Use a dull knife to scrape off excess glue underneath. For small bits, rub firmly with a dry cloth or felt eraser. With patience, the felt should release without damage.
Are there any concerns with small children mouthing or eating pieces of felt?
As a felt crafts instructor, I assure you small pieces of felt are safe if mouthed or swallowed. The non-toxic materials and soft texture minimize choking hazards. Focus on your child's creativity and fun.
Conclusion
You've come to the end of our felt sticking journey. Like a quilt lovingly stitched, we've bonded together key facts on this fabric's adhesive properties. As textile engineers, crafters, or manufacturers, felt's potential sticks with you now.
Whether it's Velcro on a preschooler's art or military-grade bonding in your factory, you can stick to your vision.
This fabric fuses worlds with its wooly hugs. So breathe deep its wooly scent, let your mind felt to new ideas, and remember: felt does stick to felt when properly prepped.
Our time together now reaches its end, but your creations are just beginning. What will you stick felt to next? The possibilities feel endless.