This site is supported by our readers. We may earn a commission, at no cost to you, if you purchase through links.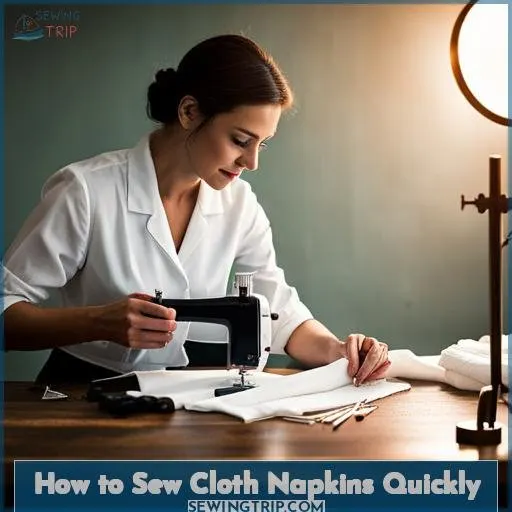 Did you know that annually the average household in the U.S. uses 3,000 disposable napkins? You don't have to contribute to that waste. Making your own cloth napkins is an easy, eco-friendly project that allows you to add a personal touch to your table.
In this article, you'll discover how to sew cloth napkins quickly. We'll cover everything from choosing fabric and prepping materials to hemming, adding ribbon, and finishing the raw edges.
With just basic sewing skills and tools, you can stitch up custom napkins in no time. Follow along to learn a creative way to serve your family while also caring for the planet.
Key Takeaways
Use absorbent, prewashed cotton or linen fabric in medium to lightweight weights for DIY napkins.
Cut squares or rectangles in sizes ranging from 12-14 inches for appetizers up to 18-20 inches for dinner parties.
Finish edges with hems, mitered corners, and edge stitching using 1/4 inch seams for tidy, durable napkins.
Customize napkins with details like lace, ruffles, embroidery, ribbon, reversibility, ties or tassels for added interest.
Materials for Sewing Napkins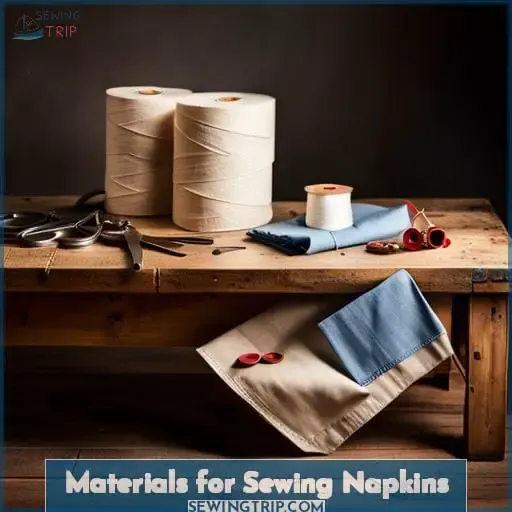 Right now, you'll wanna go with cotton or linen fabric for the best absorbency on your homemade napkins. For longevity, choose solid colors or simple prints over bold, saturated ones to avoid fading. Pre-wash fabrics in cold water to preshrink and remove excess dye. Cotton types like broadcloth or quilting cotton work wonderfully.
Linen offers a rustic vibe, though it wrinkles easily. Look for medium to lightweight cloth, around 3-5 oz.
Since you'll be cutting multiple layers, opt for wovens over stretchy knits which can get misshapen. Steer clear of synthetics like polyester too for lesser absorption. Stick with 17-20 squares for dinner and 12-14 for lunch or appetizers.
For a personalized touch, accent corners or edges with lace, ruffles, embroidery or applique. Complementing placemats and napkin rings extend your theme across the tablescape.
Napkin Size Options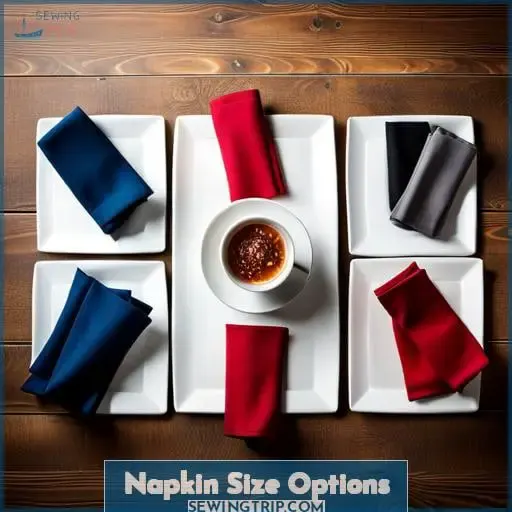 When choosing dimensions for your homemade napkins, remember a handy rule: the bigger the spread, the bigger the 'kin. A 12×12 lunch square suits sandwiches or soup 'n' salad. For multi-course meals, go for the 18×18 dinner size.
And for truly grand galas with passed hors d'oeuvres, think petite – dainty 6×6 cocktail numbers fit the bill.
Formal settings: 22-26 inches
Dinner parties: 18-20 inches
Lunches: 14 inches
Tea parties/Kids: 12 inches
Cocktails: 6-9 inches
The right napkin size complements your menu and adds an air of intention to the table. Scale up for elaborate feasts with multiple courses. Or keep it small and casual for nibbles and noshes. Let your napkin dimensions match the scope of the occasion. Pleats, patterns, and monograms further elevate your homemade linens.
Preparing Fabric for Sewing Napkins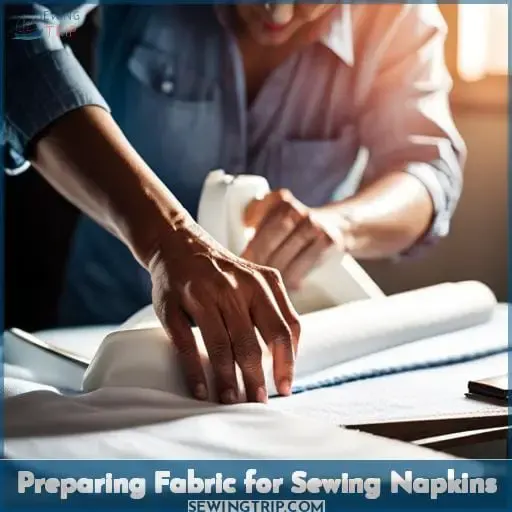 You'll wanna prep your fabric before stitchin' up those napkins.
Before sewing, take some time to check that grain is straight, preshrink your fabric, and match any patterns.
| Step | Cotton/Linen | Polyester | Prints |
| --- | --- | --- | --- |
| 1 | Wash warm, dry hot | Wash cold, dry low | Wash gentle cycle |
| 2 | Press with iron | Use low heat iron | Match patterns precisely |
| 3 | Cut 1-2 meters | No preshrink needed | Use sharp shears |
Whether you've got a meter of solids, precut fat quarters, or custom printed linen, proper prep is key. Carefully cut out each napkin piece larger than finished size. This provides room for hems and stitching.
Press seams flat as you go for crisp, professional results. Proper prep makes sewing napkins a breeze.
Sewing Napkin Steps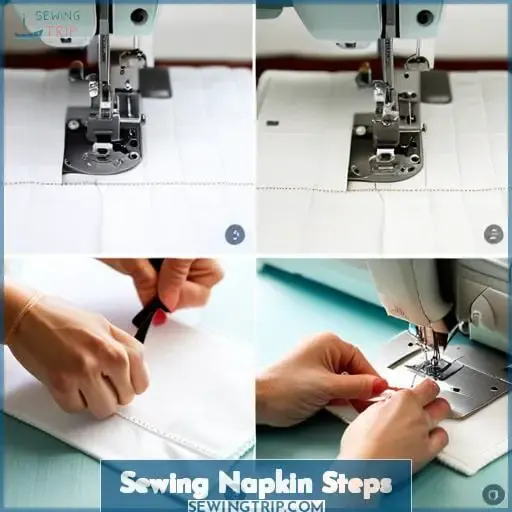 Ready to make those napkins really pop? Let's chat about hemming and adding ribbon – two simple techniques that'll take your napkins from drab to fab. First, we'll press under a 1/2 inch double hem all around your fabric. This finishes the edges neatly while allowing some room for the second step: inserting colorful ribbon! Just pause your stitching to slide the ribbon into the hem before completing your seams.
The ribbon peeks out prettily, adding a punch of fun personalized flair. With just basic straight stitches, you can create custom napkins perfect for any occasion.
Hemming
Next, fold under corners at a jaunty 45 before hemming those napkins by machine or hand for a neat finish 'round the edges that'll make Martha Stewart green with envy. A double fold hem keeps fraying at bay, while a contrasting blanket stitch adds a splash of whimsy.
For shaped napkins, take care to match up motifs when hemming. Mini napkin sets are oh so sweet with a double fold hem and pretty thread.
Whether you're stitching up a quick cloth napkin tutorial or crafting an heirloom tableau, mind those patterns and revel in the camaraderie of creating beauty together, my friend.
Adding Ribbon
Before securing those edges, take a quick pause to slip some pretty ribbon in the hem for a pop of color or a touch of texture.
Satin ribbons in coordinating shades
Rustic twine for a farmhouse vibe
Florals and gingham prints for extra cheer
Metallic accents to sparkle and shine
Insert the ribbon before finishing the hem, leaving enough length to tie a sweet bow or trailing tails. Get creative with colors and textures – rickrack, lace, raffia and more make lovely accents. Whatever you choose, take care not to twist or wrinkle. Iron flat for a polished touch.
Finishing Napkin Edges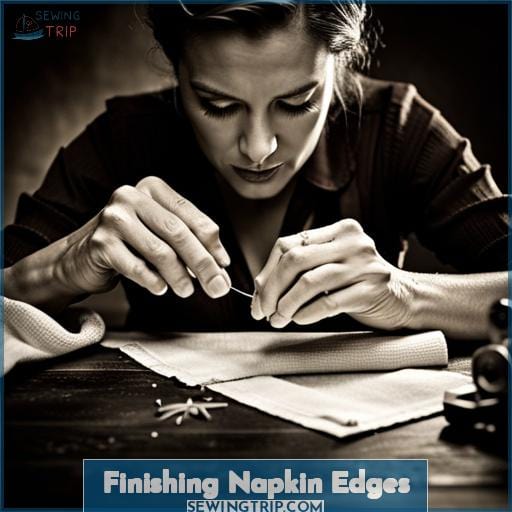 Don't get in a bind – just quickly run those napkin edges through your machine or serger to finish 'em in a jiff. Your options for neat finishing touches are endless! For embroidered edges, select a fun decorative stitch.
When it comes to fabrication, lightweight linens or cottons work wonderfully for soft, absorbent napkins. Remember to wash first in gentle detergent! Whip up a batch using your favorite fat quarters or quilting scraps.
With some basic sewing skills and quality materials, you'll be dining in handmade style in no time.
Washing and Ironing Napkins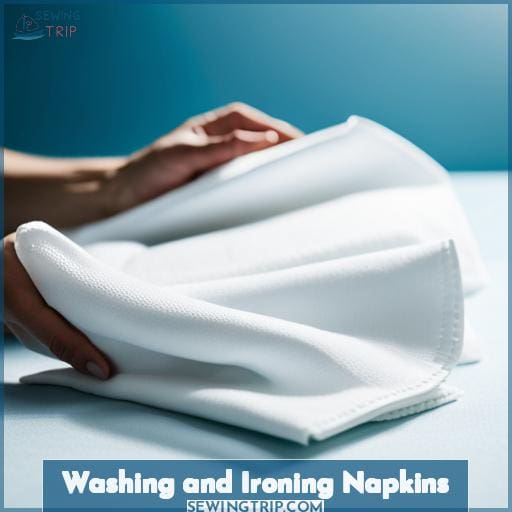 With your beautiful new handmade napkins ready to go, it's time to keep 'em looking fresh! I know you can't wait to start using those cute creations, but first give the fabric a gentle wash and dry to pre-shrink them.
Hang 'em up to air dry on a clothesline or rack to avoid residue left from dryer sheets. If you want a crisp, wrinkle-free look, iron that cotton or linen on medium heat, no steam.
For linens and delicate prints, an air fluff should do the trick. With some care while washing and just a quick press here and there, those delightful DIY napkins will be gracing your table for years to come!
Napkin Sewing Tips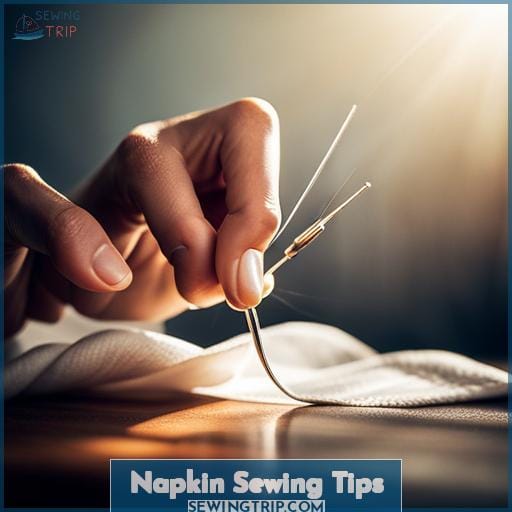 Select more affordable patterns like simple squares or easy geometric shapes for beginners.
Consider fabric texture choices like cotton flannel for warmth or linen for a rustic look.
Add decorative button designs, holiday theme ideas, or gift wrapping options to make them reversible.
You'll nail those napkins in a snap with some smart prep and the right tools. The best size and number of standard sizes depend on your use – cocktail, lunch, dinner, or oversized. Focus on simple squares or rectangles in your first DIY napkin projects. With some practice, you can soon sew up practical yet personal creations for yourself or thoughtful handmade gifts.
Beginner Friendly Sewing Tools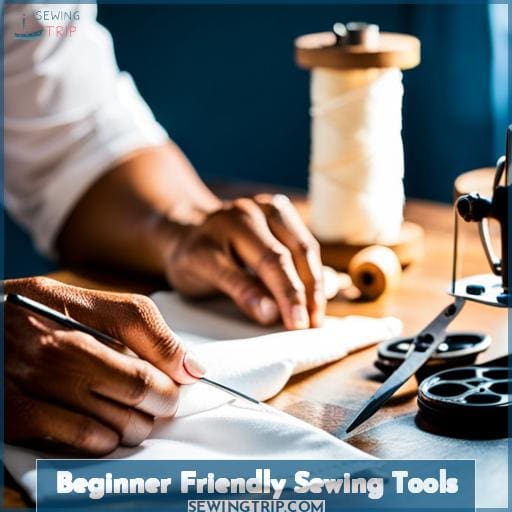 Embrace the effortless charm of colorful mini napkins by clipping handy Dora pins in the spandex hem of happy paisley prints. Whip up a quick stack with beginner skills using versatile cloth remnants. Play with adding tassels or different fabric textures like soft flannel for warmth or linen's rustic look.
Experiment with pretty decorative stitches, custom labels, and serger techniques on washable cotton. Sew simple squares or rectangles with a 1/4 inch seam for reversible DIY cloth napkins. Follow an easy sewing tutorial online and you'll be set for homemade gifts or holiday flair.
With some practice, you can make custom creations to share your style. Focus first on more affordable cottons, not silks.
Let your creative spirit soar with easy sewing projects using happy fabrics you already own.
Reversible Napkin Tutorial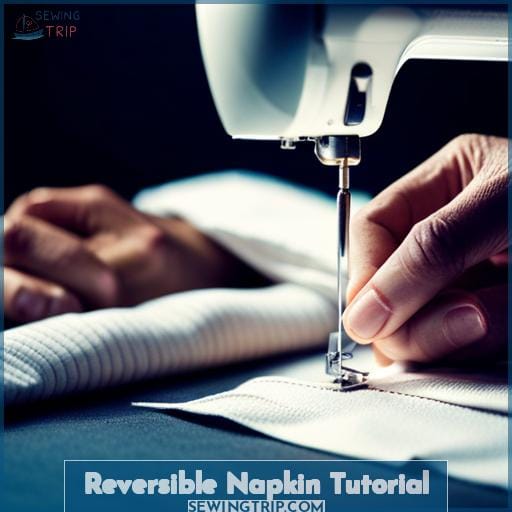 Follow our simple tips to make reversible napkins with pretty prints. Start with fresh cottons or linens in your favorite lively patterns cut to 18-inch squares for versatile dinner-sized napkins. At each corner, fold both layers diagonally making the edges meet, then flatten and press with an iron.
This creates a seamless mitered corner when sewn. Pin the napkin sides in place, leaving an opening for turning.
Edge stitch around the border using a 1/4-inch seam allowance and backstitching at each corner. Carefully trim threads and corners. Turn the napkin right side out through the side opening.
Your handmade set makes a thoughtful DIY gift to share around the holidays or for hosting brunch with friends.
Frequently Asked Questions (FAQs)
What kind of thread should be used for sewing napkins?
You simply must use cotton thread for durably sewing napkins! While polyester is common, cotton's superior strength withstands years of washing and wearing better than synthetic threads. Let's stitch up those lovely linens with durable cotton, perfect for holding up over time.
How do you make napkins more absorbent?
Use a natural fiber like cotton or linen for the fabric. Hem the napkins with French seams to fully enclose the raw edges. Before first use, wash the napkins in very hot water to increase absorbency. Skip the fabric softener, as it decreases absorption.
Lightly starching the napkins adds crispness without compromising their function.
What's the best way to hem napkins with a sewing machine?
Simply fold the edges under 1/2 inch twice, then fold and pin all sides. Stitch close to the inner folded edge using a 1/8 inch seam allowance. Keep the stitches straight and even, guiding the fabric gently through the machine.
How can you add interest to plain napkins with embellishments?
Add ribbons to napkin corners when hemming for a pop of color. Sew decorative buttons or appliqués on for custom flair. Try embroidery or a monogram to personalize each napkin. Mix prints by using scraps from coordinating fabrics.
A touch of lace or rickrack around the border dresses them up. Get creative with fabric paints, stamps, or stencils for a unique design.
What are some tips for sewing napkins with children?
Let them pick fun, bright fabrics they'll love using. Guide them through simple hems and stitches. Keep projects small. Focus on the process, not perfection. Make it silly and celebratory.
Conclusion
Have you ever wondered if sewing your own cloth napkins is truly worth the effort? After walking through the simple steps to make reversible napkins, it's clear that this beginner project offers big rewards.
Not only are homemade napkins an eco-friendly alternative to paper that can save money over time, but they allow for creative expression through fabric selection. With the right sewing tools like a portable ironing board and quality fabric scissors, even novice sewers can learn how to sew napkins efficiently.
The result is beautiful, customized napkins you'll feel good about using. Whether you start with cocktail-sized napkins or larger dinner ones, this satisfying project proves that sewing your own cloth napkins is easier than you think.
With some basic materials, tools, and easy-to-follow instructions, anyone can discover the joy of sewing napkins in very little time. Don't let limited sewing experience deter you – the ability to sew your own unique, reusable napkins is within reach.