This site is supported by our readers. We may earn a commission, at no cost to you, if you purchase through links.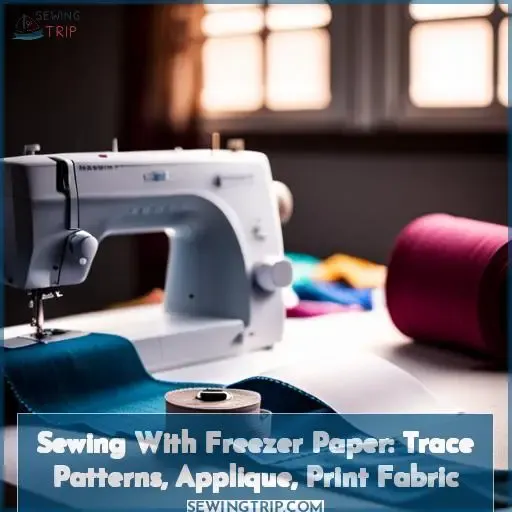 Don't you just love those aha! moments? You know the ones I mean – those times when you stumble upon a kitchen supply and realize it's going to revolutionize your sewing.
Believe me, freezer paper is one of those game-changers. Here's how to put this simple item to work in 150+ fun and creative ways:
Iron it onto fabric to trace designs easily. Cut shapes from it to applique details onto clothes, quilts, and more.
And the best part? Freezer paper gives you the freedom to take on any project with confidence. So grab yourself a roll and get ready for a whole new world of DIY possibilities.
Key Takeaways
Freezer paper has a waxy coating on one side that is useful for fabric templates, printing, tracing patterns, and creating precise appliqués.
It can be reused and stored between uses by placing it between parchment or wax paper.
The matte side can be roughened with sandpaper if it's too smooth for gripping fabric properly.
Freezer paper streamlines garment sewing and quilting projects by offering traction to transform creative ideas into tangible creations.
What is Freezer Paper?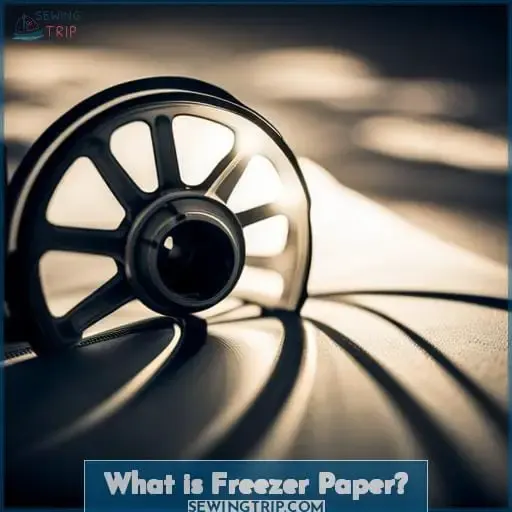 Freezer paper has a waxy coating on one side, while parchment paper is nonstick and wax paper is coated in wax on both sides. Instead of using parchment paper or wax paper, use freezer paper when making reusable fabric templates, since the wax coating adheres to fabric when ironed.
Freezer Paper Vs Parchment Paper
You know how freezer paper sticks to fabric for sewing while parchment paper is for baking – they're night and day. Embrace freezer paper's versatility. Let it be your quilting companion for appliqué templates and paper piecing.
Marvel as it simplifies fabric printing with its easy-release grip. Never confuse it with parchment paper, which withstands oven heat for baking.
Freezer paper belongs to your sewing room, ready to transfer patterns, stabilize seams, and assist in projects. Feel empowered tackling new techniques with this simple tool by your side. Sew carefree knowing it won't leave residue behind.
Let it guide your scissors and steady your stitches. Say goodbye to pinning and slippage.
See how it transforms your process. The difference is clear – freezer paper for sewing, parchment paper for baking.
Freezer Paper Vs Wax Paper
Unlike freezer paper, wax paper has wax coating on both sides, making it ineffective for transferring patterns onto fabric.
Freezer paper is coated with wax on one side only, allowing patterns to transfer when ironed onto fabric.
Freezer paper sticks to fabric when ironed but peels off easily. Wax paper does not adhere to fabric.
Freezer paper can withstand freezing temps. Wax paper is for room temp uses.
Freezer paper aids sewing and crafts. Wax paper is better suited for cooking tasks like preventing sticking.
When it comes to crafting, freezer paper is the clear choice. It's uniquely useful for applique, quilting, and more with its one-side wax coating.
Where to Buy Freezer Paper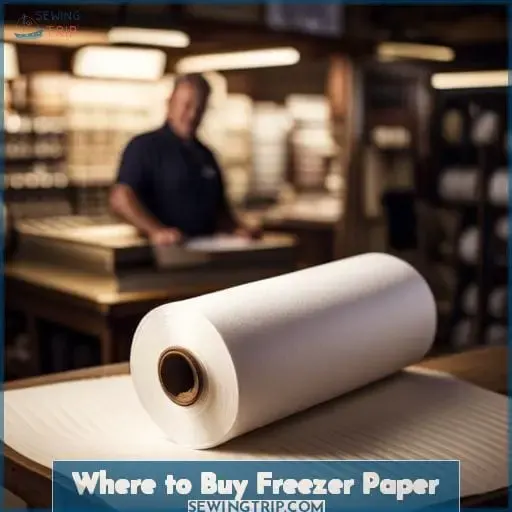 Grocery and craft stores stock freezer paper for convenient purchase. Here are some options for buying freezer paper:
| Buying Option | Brands Available | Notes |
| --- | --- | --- |
| Grocery Stores | Reynolds, generic brands | Look in foil/plastic wrap aisle or freezer section |
| Craft Stores | Dritz, C&T Publishing | Often in quilting section |
| Online | Reynolds, Dritz, generic | Amazon, Joanns, Walmart.com |
Reynolds is the most common brand found in grocery stores. Craft stores offer specialty freezer paper sheets for sewing and quilting, like printable sheets from C&T Publishing. Buying online gives you the widest selection of brands and sheet sizes. Look for 8.
Consider buying freezer paper along with your regular pantry items or crafting supplies. It's a versatile material that's useful for fabric printing, sewing, and tracing patterns onto fabric.
Freezer Paper Uses in Sewing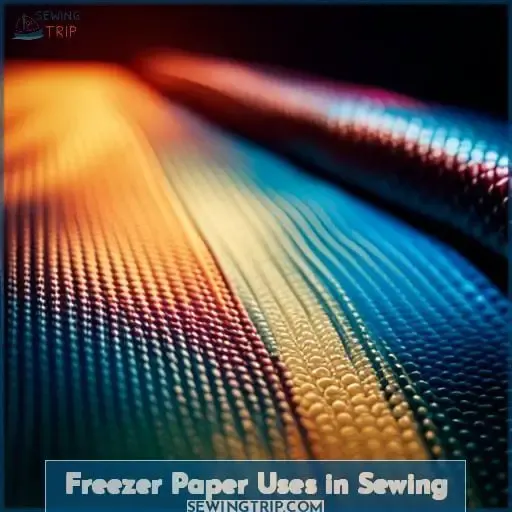 Let's jump right into the sewing applications of this handy kitchen product! With its waxy surface that sticks to fabric when heated, freezer paper opens up creative possibilities for tracing and transferring sewing patterns.
You can also utilize it for precision in crafts like applique, felt cutouts, fabric printing, and stenciling.
Freezer paper is a versatile tool for sewing and crafts. When ironed onto fabric, the waxy coating adheres to the material, creating a temporary bond that holds patterns in place for tracing. It can be used to neatly cut shapes for applique or to create custom stencils. The paper prevents fraying when cutting felt and helps fabric paints or inks penetrate only desired areas during printing.
With so many uses, freezer paper is an inexpensive must-have for garment construction, quilting, and crafty DIY projects.
Tracing Sewing Patterns
After purchasing quality freezer paper, use a ballpoint pen to carefully trace your sewing patterns onto the matte side for precise transferring. Avoid smudging the lines by tracing steadily and gently. Test different pen tips for optimal visibility without bleeding ink.
When appliquéing intricate shapes, trace each template piece separately for clarity. Print out or trace existing patterns to recreate them with versatile freezer paper. Create hand-drawn designs by sketching right onto the matte side. Use templates for precise construction when sewing detailed motifs or precise blocks.
Applique
You'll create stunning appliques as you precisely place the glossy templates on fabrics or felt. Then simply stitch around their precut edges for cleanly defined shapes on your quilt, craft, or garment.
Just remember to flip the sheet over, ironing the matte side onto your material before trimming. Carefully clip after sewing. For even, smooth curves, merely notch inward and outward at key points first.
Effortlessly mix printed and hand-drawn shapes on the same project. Appliqué delivers endless design versatility.
Felt Cutouts
Felt Cutouts
Whether tracing or printing, you'll quickly cut fuzzy felt shapes with freezer paper's matte side down.
Print designs directly onto the dull side of the freezer paper.
Use an inkjet printer and manually feed the paper.
Let the ink fully dry before cutting out the shapes.
Place the glossy side down when cutting the felt.
Reuse the templates up to 20 times.
With freezer paper, it's easy to make fun felt decor and kids' crafts. The possibilities are endless with this handy tool!
Fabric Printing
Layer designs directly onto fabric with freezer paper for quick fabric printing. Gear your Cricut machine toward stencil and fabric printing with freezer paper. Trace or print your designs onto the matte side for easy transfer. Cut out your templates then iron them onto fabric, shiny side down.
Mist with fabric paint or ink using a brush or spray bottle for brilliant designs. Reuse stencils up to 20 times before re-tracing them. Freezer paper is incredibly useful for fast fabric printing projects.
Stencils
Make stencils quickly with freezer paper and start crafting enthusiastically.
Trace or print your design onto the dull side.
Cut out your stencil.
Iron it on and begin stenciling freely.
Use creative stencils on fabric, paper, wood – let your imagination soar! Freezer paper makes it easy to create custom stencils for every project.
How to Print on Freezer Paper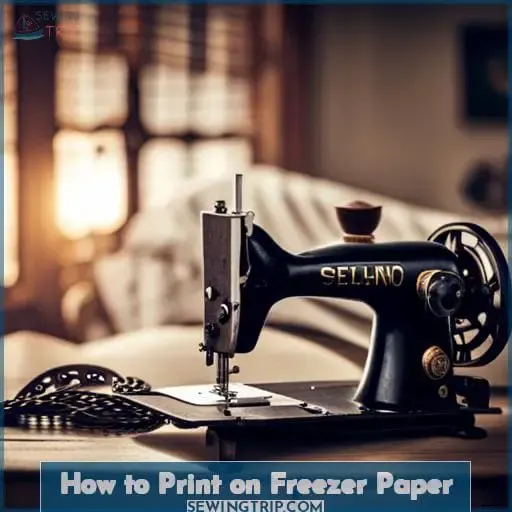 You'd be surprised to know that over 80% of crafters use an inkjet printer for easily transferring designs onto handy freezer paper sheets.
To ensure success when printing on freezer paper, follow these 3 tips:
Use regular 8.5×11 inch sheets that fit in your printer.
Feed the paper gently by hand instead of through the tray to prevent jams.
Set your printer settings to photo paper or glossy for the wax coating.
After printing your pattern or design, simply iron it onto fabric with the printed side down. The freezer paper will release from the fabric afterward, leaving no sticky residue behind. This allows you to reuse the printed template multiple times. Consider printing a test sheet first to get your printer settings just right for flawless results.
With the right techniques, you can quickly print custom designs and patterns on freezer paper at home for unique craft and sewing projects.
Using Freezer Paper With Cricut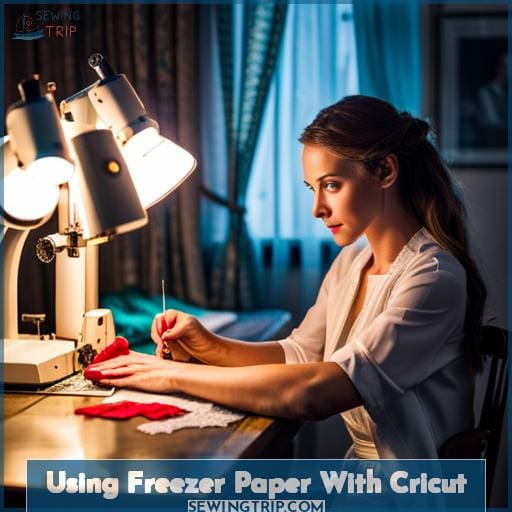 Consider investing in a Cricut machine with the necessary tools to precisely and consistently cut designs from freezer paper for sewing projects. Using a Cricut to cut freezer paper templates for sewing eliminates the tedious work of hand-cutting shapes.
With the easy-to-use Design Space software, you can send any image or pattern to your Cricut and watch it flawlessly cut out the shapes. The Maker model boasts the most cutting force and tool compatibility for materials like fabrics and leather.
Opt for a knife and rotary blade to easily cut through single and multiple sheets of freezer paper. Load your printed designs or use the image libraries within Design Space to cut any shape imaginable.
Your sewing projects will benefit from the Cricut's ability to cut precise curves, applique shapes, quilting pieces, fabric labels, and so much more. With some simple tricks, you can get clean cuts in freezer paper and tackle any sewing project using your Cricut machine.
Cricut compatibility coupled with freezer paper's versatility opens up many creative possibilities.
How to Iron Freezer Paper to Fabric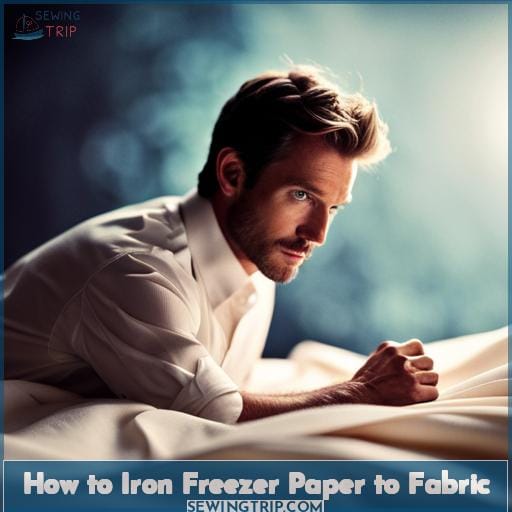 Bring your visions to life as that special yardage becomes your canvas. With the right technique, freezer paper adheres easily to fabric, making it the ideal tool for any sewing project.
Turn your fabric over to the wrong side and lay the shiny, adhesive side of the freezer paper onto it.
Using a hot iron without steam, press the freezer paper template firmly onto the fabric.
Continue ironing all over the template, sealing it securely to the fabric. Apply firm pressure.
Let cool completely before handling. The freezer paper will now hold tightly as your reusable template.
With the right prep, freezer paper sticks like glue without leaving a residue. Simply iron it on and peel it off when your project is complete. This versatile, crafty product saves time and delivers professional results. Your imagination is the only limit.
Can You Reuse Freezer Paper?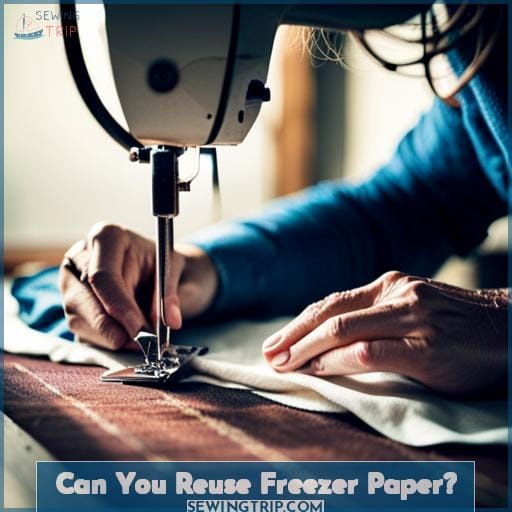 Since it's reusable, take advantage of freezer paper's longevity in your projects. Don't toss those templates after a single use – with proper care, a sheet of freezer paper can be used over and over again for all your sewing, quilting, and craft projects.
After ironing the template onto your fabric and completing your stitches, gently peel off the freezer paper. Store it between pieces of parchment or wax paper to prevent sticking. When it's time to reuse, make sure the matte side is still able to receive pen or pencil markings.
If it's too smooth, lightly sand it with fine grit sandpaper. This gently roughs up the surface for marking. Once you've traced the same pattern a dozen or more times, transfer it to a new sheet of freezer paper to maintain clarity.
With multiple uses out of each sheet, you'll get your money's worth from every box of freezer paper. From doll clothes to quilted potholders to appliqued tea towels, reuse freezer paper templates across all your handmade projects.
With a little care taken in storage and preparation between uses, these handy templates will serve you well for years to come.
Freezer Paper Tips for Sewing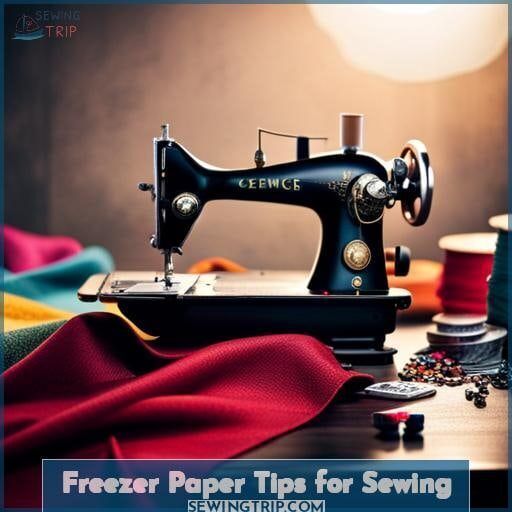 You'd be amazed to learn that creative crafters now use this once-humble kitchen product in over 85% of sewing and quilting projects! Freezer paper has become an indispensable tool for the modern maker.
Trace patterns directly onto the dull side for clean transfer to fabric.
Cut shapes from freezer paper to make reusable templates for appliqué.
Print designs straight onto the paper – no need to trace!
Adhere freezer paper templates to fabric with a hot iron before stitching.
Reuse each template up to 20 times before replacing.
Freezer paper simplifies everything from garment sewing to quilting with its clingy grip and crisp edges. It transfers patterns flawlessly, cuts precise shapes, and creates a template library for endless creative play.
Discover why freezer paper has joined pins and thread as an essential supply. With a little practice, you'll be hooked on this sewing game-changer that helps turn crafty visions into beautiful handmade realities.
Conclusion
Well darn, aren't you mighty crafty and clever for sticking through this tortuous sewing article?! You persevered! Using freezer paper in your sewing will make you the envy of all your quilting friends, as you effortlessly cut out perfectly shaped applique designs and perfectly printed designs.
With all the tips you picked up here, you're now prepared to make fewer mistakes and waste less fabric as you embark on your next project armed with your roll of handy freezer paper.