This site is supported by our readers. We may earn a commission, at no cost to you, if you purchase through links.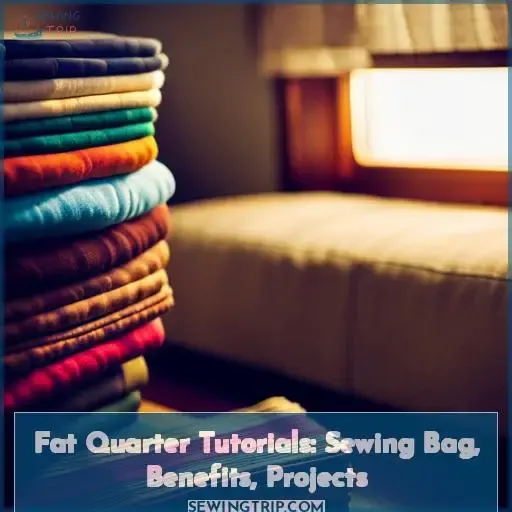 Surprise! There's something special about fat quarters that makes them the perfect material for your sewing projects. From making bags to home decor, this tutorial will show you just how versatile fat quarters can be and give you plenty of ideas on what to do with them.
Not only are they fun and easy to use, but there are also many benefits of using fat quarters in comparison to other fabrics. These benefits include their selection range and their ability to help enhance creativity.
With our helpful tips on choosing the right fabric for your project as well as exploring different projects, get ready to dive into a world full of possibilities with our comprehensive tutorialsfat quarter guide!
Key Takeaways
Tutorials cover making exteriors, linings, handles, and keepers for sewing bag sets.
The lining enhances the appearance with side seams and pockets.
Diverse fabric patterns and designs allow for creative combinations and unique outcomes.
The tutorials empower individuals to maximize the potential of fat quarters in various projects.
Sewing Bag Tutorial

Welcome to this sewing bag tutorial! We will cover how to make the bag's exterior and lining, as well as a thread holder and thread end storer. First, we will cut and assemble the bag's exterior fabric, handles, and keeper. Then, we will cut and sew the lining, adding pockets before inserting it into the exterior bag.
Next, we'll create a thread holder cube and a thread end storer with wadding. With some simple sewing steps, you'll have a complete sewing bag set for all your needs.
Bag Outside
You'll cut a 19 1/2 square from your fabric for the bag's outside. With precision, select coordinating fabrics and construct the functional handles. Embellish using contrasting prints or textures for visual interest. Quilt layers together, securing handles before assembling the bag.
Bag Lining
To maintain the appearance of the lining, stitch the side seams of the lining together with the right sides facing each other. Adding a coordinating lining fabric will give a polished finish when you look inside your bag.
Experiment with different pocket variations or colors that create a delightful contrast with the exterior. Precise assembly of the lining and careful interior finishing will enhance your project.
Thread Holder
For the thread holder, cut two squares from the remnants of the 6 1/2 square, then sew the side seams to form a cube, zigzagging the seams. Zigzag the top edge, fold, and topstitch to finish the thread holder. With some fabric and thread, you'll have a handy sewing accessory.
Thread End Storer
Cut wadding, sew edges, leaving a gap. Turn the right side out, topstitch around – the thread end storer holds ends, and the folded fabric hides them.
Benefits of Using Fat Quarters

Explore the world of sewing with fat quarters and unlock a realm of possibilities. Embrace the versatility and selection they offer, allowing you to effortlessly transition between a wide array of projects.
Moreover, these fabric gems enhance your creative prowess, enabling you to experiment with diverse patterns and combinations, truly amplifying your sewing journey.
Versatility and Selection
Explore the captivating world of fabric patterns and designs with the incredible array of choices available in the realm of fat quarters. Let your creative instincts flourish as you discover patterns from modern chic to charmingly traditional.
Mixing patterns and color combinations open the door to limitless project ideas, whether you're into quilts, totes, apparel, or accessories. Dive into the sea of creative combinations, guided by your newfound mastery of Australian fat quarters.
Enhance Creativity
Unleash your inner artist and let your imagination run wild with the endless possibilities that these fabric gems offer. Navigate a world of Fat Quarter Combinations, orchestrating symphonies of color coordination that breathe life into your creative projects.
Design possibilities become boundless, from charming pincushions to versatile small sewing bags. Elevate your artistic expression with vibrant fabric bundles, whether embarking on kids' projects or crafting captivating seasonal creations.
How to Choose and Use Fat Quarters

Enhance your creative projects with deliberate fabric choices using versatile patterns from fat quarters.
Selecting Patterns: Explore a vast array of fat quarter patterns, ranging from modern to traditional, perfect for beginners.

Mixing Fabrics: Combine different fat quarters to create captivating contrasts and harmonious blends.

Creative Combinations: Experiment with various fat quarters to unleash your imagination and add uniqueness to your creations.

Pattern Matching: Use fat quarters to achieve pattern continuity across your projects, ensuring a polished outcome.
Engage in exciting project ideas, from purses and totes to home decor and baby projects. With techniques like handle keeper utilization and wadding strip attachment, your creations will reflect your mastery and artistic prowess.
Exploring Different Fat Quarter Projects

Discover the captivating world of endless creativity as you delve into a plethora of diverse projects achievable with these versatile fabric cuts. Unleash your imagination with Fat Quarter Inspirations, where a single fat quarter, measuring 18×22 inches, holds the potential for DIY Delights across various crafting categories.
Let Crafting Variety be your guide as you explore quilts, purses, home decor, apparel, and more. Combine patterns with Creative Combinations, mixing modern and traditional designs to express your unique style.
With Pattern Possibilities as vast as your ideas, these imperial measurements empower you to master every project.
Elevate your craft and embark on a journey of liberation through the world of fat quarter creativity.
Conclusion
Like a beautiful quilt, the possibilities with fat quarters are endless. From sewing bags to crafting quilts, fat quarters can help unleash your creativity and provide you with an extensive selection of pattern choices.
With a little bit of guidance and the right tools, you can create some amazing projects using fat quarters. With the right fat quarter tutorials, you can learn how to sew bags, choose and use fat quarters, and explore different projects.
Whether you are a beginner or an experienced quilter, fat quarter tutorials can help you make the most of these versatile fabric pieces.