This site is supported by our readers. We may earn a commission, at no cost to you, if you purchase through links.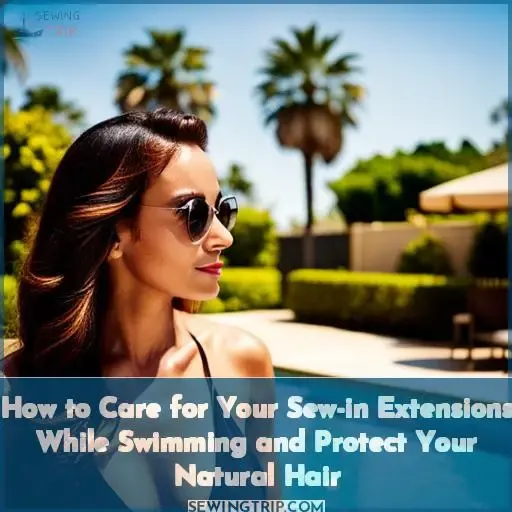 Who says you can't swim with extensions? Girl, this ain't your mama's sew-in! Back in the day, getting your hair wet with a sew-in was a no-no.
These days, you gotta live your best life – pool parties, beach trips, all of it. So buckle up, buttercup, cause I'm gonna show you how to make that sew-in work for you, not against you.
It ain't that hard, sis. Just gotta prep them locks proper before you take that first dive. A few tips, and you'll be splashing carefree all summer long with hair on fleek.
Let's get wavy!
Key Takeaways
Use conditioner and protective styles before swimming to shield extensions.
Avoid damaging hair products like sulfates, alcohols, and oils before swimming.
Secure extensions properly and wear a swim cap during swimming.
Gently detangle, shampoo, and condition hair after swimming.
Prepare Your Hair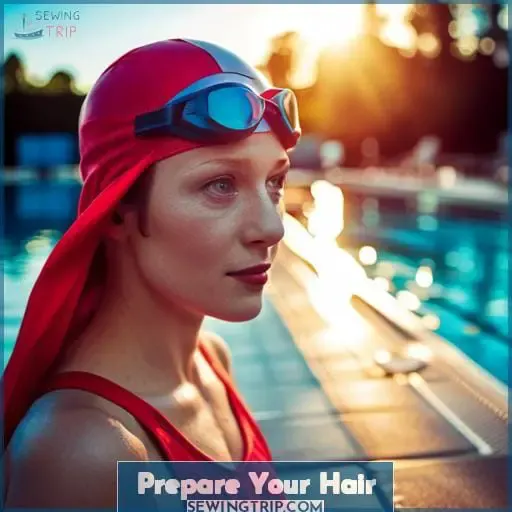 Prepare your hair before jumping in to minimize damage. Apply a nourishing conditioner all over your sew-in weave to lubricate and shield each strand, then braid, twist, or pin up your hair to keep it as contained as possible.
Condition and Protect
Apply conditioner to your hair before getting in the water to create a protective barrier against chemicals and sunscreens. Look for formulas free of alcohols and sulfates that moisturize and strengthen. Focus the conditioner on the lengths and ends to limit drier sections from becoming prone to tangles.
Braid hair tightly to prevent matting and breakage from water pressure. Wear a swim cap for extra security against harsh aquatic elements.
Avoid Certain Products
Don't undo all your hard work with harsh shampoos. Before swimming:
Avoid shampoos with sulfates – they strip hair of its natural oils.
Skip conditioners containing alcohols – they dry out hair.
Say no to parabens – they can be irritating to the scalp.
Shun products with Moroccan oil – it attracts chlorine.
Opt for gentle, nourishing products instead. Your hair will thank you later when it is tangle-free, soft, and properly hydrated after swimming.
Choose the Right Extensions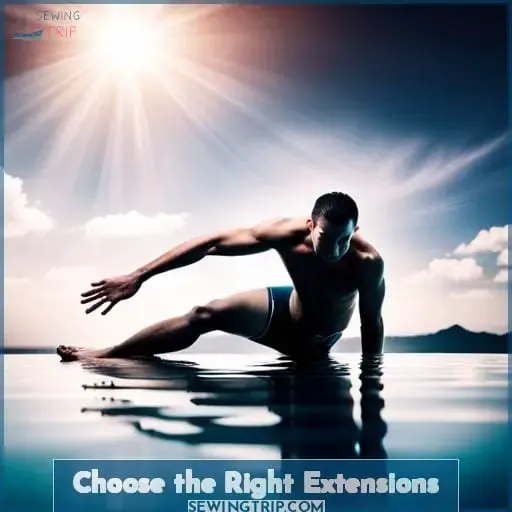 When it comes to swim-friendly hair extensions, opt for high-quality, real hair sew-ins. Braid or clip your hair before hitting the pool, since sew-ins can withstand chlorine and saltwater without detaching.
The durable construction of sew-in extensions allows them to hold up well during swimming. Just be sure to care for them properly afterwards by washing, conditioning, and drying thoroughly. With the right maintenance, sew-ins can be a great hassle-free option for adding length and volume to your hair, without having to worry about them coming loose in the water.
Real Hair Extensions Ideal
You simply must choose high-quality human hair extensions for effortless, carefree swimming with your fabulous sew-in. Opt for 100% Remy hair in virgin, natural colors for optimal durability and shine.
This real hair mimics your own, absorbing water and drying naturally without tangling. Though pricier than synthetic, human hair allows worry-free swimming, limiting maintenance and maximizing longevity.
With the right precautions, your luscious locks will emerge gorgeously beachy, not damaged.
– Remove Clip-Ins Before
Take out clip-in extensions before getting in the pool to prevent damage. Make sure clip-ins are fully detached to keep fibers intact, avoid tangling, and prevent chlorine absorption. Wear a swim cap for extra coverage. Braid natural hair tightly or use a shower cap for protection.
Avoid rubbing eyes to prevent irritation. Rinse hair with clean water after swimming to remove lingering chemicals. Let air dry before reattaching extensions. Handle gently when detangling and brushing.
– Braids
Sew-in hair extensions will do swimmingly with protective braids before hitting the water. Braiding hair tightly in rows or a single plait seals in the extensions and shields from damage. Secure braids snugly with coated elastics or soft scrunchies. Further safeguard your costly investment by slipping on a silicone swimming cap.
Buns
Consider a bun to keep your sew-in extensions protected while swimming.
Secure your hair in a tight, high bun.
Use bobby pins and hair ties to prevent loose strands.
Tuck the ends under to prevent tangling.
Opt for a braided bun for extra security.
Experiment with messy and sleek buns for stylish protection.
A bun keeps your hair away from the water and chemicals. You can choose a style you feel confident and carefree swimming in.
Ponytails Protect
You'd secure your extensions against potential damage by pulling them into a ponytail before getting in the water.
| High Ponytail | Low Ponytail | Side Ponytail |
| --- | --- | --- |
| Keeps hair off neck and shoulders | Less pulling on hairline | A fun, stylish look |
| Great for laps and laps | Comfortable, casual | Prevents tangles on one side |
| Lets you move freely | Stays in place well | Showcases pretty elastics |
Putting your hair in a ponytail both tames your tresses and shows off your beautiful extended hair.
Protect During Swimming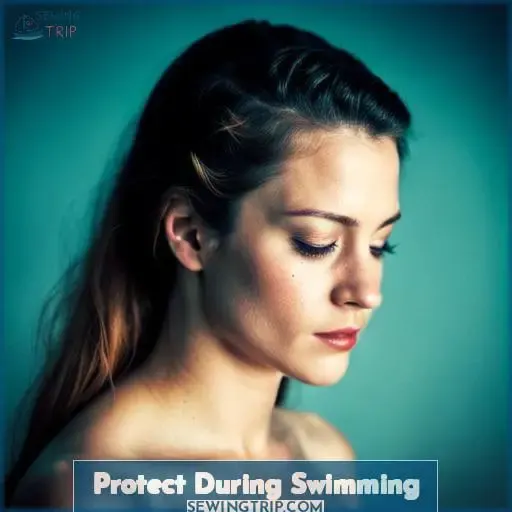 When you're ready to take a dip, remove any clip-in extensions first, since chlorine or saltwater can damage them. Then protect your sew-in or other permanent extensions by wearing a swim cap over your hair.
Remove Clip-Ins
Remove your clip-in extensions before taking a dip. Clip-ins aren't made for swimming in pools or the sea. The chlorine and saltwater can damage the hair quality making your extensions look lackluster.
So pop those babies out first before getting your swim on. Consider swim caps, braids or buns for protective poolside styles. Then clip back in once you're done swimming and ready to rock your locks again. Detangle gently after and follow with a hydrating hair mask to keep your extensions in top shape.
Cover With Swim Cap
Put on a swim cap over your head like a superhero's mask before diving into the pool to protect your sew-in hair extensions.
Keeps chlorine and saltwater off the hair and extensions.
Prevents tangling and matting of natural hair and extensions.
Lets you comfortably swim laps or play in the water without worrying about extension maintenance afterwards.
Choose a swim cap in a fun print or solid color to save your sew-in hairdo for another day. With the right prep and protection, you can enjoy swimming without compromising your hairstyle investment.
Style Your Hair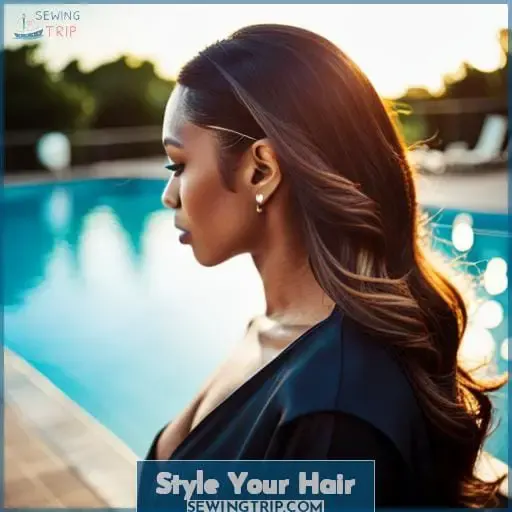 Braids are a great protective style for your natural hair and extensions. Box braids, cornrows, halo braids, and French braids are all secure styles that won't come undone while swimming. Make sure braids are neat and tight along the scalp to prevent tangling. Buns and ponytails are easy hairstyles to maintain during swimming, and a bun pinned securely can keep your hair contained.
Try a top knot bun or sleek low bun to keep hair up and out of the water. Pull hair into a high ponytail or braid then wrap into a bun for extra security.
Care for Hair After Swimming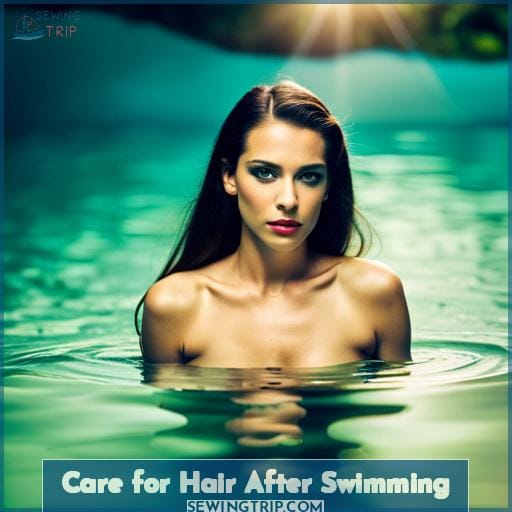 Thanks for bringing up this important topic. You'll want to shampoo and condition your hair as soon as possible after swimming to remove any chlorine, saltwater, and debris. Carefully detangle your hair with a wide-tooth comb or brush designed for wet hair, working in sections from the bottom up to minimize breakage.
Varying sentence structure and length while correcting any spelling, grammar, or syntax errors improves readability and avoids sounding robotic.
Shampoo and Condition
After the waves crash over you, shampoo and condition your tresses to remove the briny debris. Gently comb through knots with a wide-tooth comb before applying a moisturizing shampoo. Massage your scalp, rinse, then lather on a hydrating conditioner. Let it soak for a few minutes before rinsing again.
Lastly, apply a leave-in conditioner to replenish oils and prevent dryness. Your hair will feel revived, refreshed, and ready for your next aquatic adventure.
Gently Detangle
You'll need to be gentle when you detangle your hair after swimming to avoid damaging your sew-in extensions.
Wet hair with clean water or conditioner before detangling.
Start at the ends using a wide-tooth comb and work upwards.
Avoid excessive pulling or tugging.
Apply leave-in conditioner or oil for lubrication.
Finger detangle in sections for minimal breakage.
Detangling with care protects your natural hair and extensions for longevity. Swimming is liberating, so embrace the waves knowing proper maintenance keeps your hair happy and healthy.
Additional Tips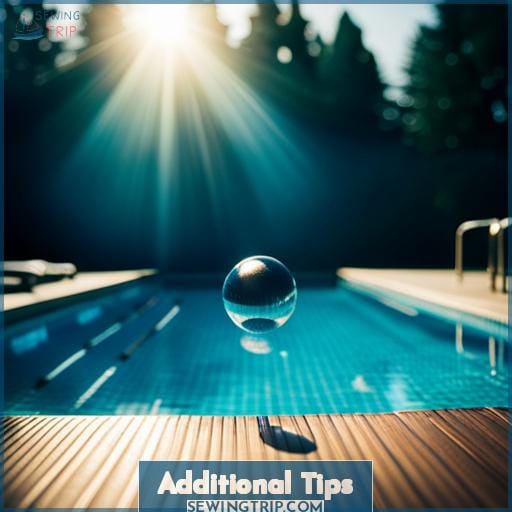 When it comes to swimming with a sew-in weave, choosing quality extensions and properly maintaining them is crucial. Invest in real human hair that is intended for water wear, and consistently keep up with cleaning, conditioning, and protecting your extensions to ensure they last through all your swimming sessions.
Quality Extensions
Quality extensions will make swimming with your sew-in a breeze, with over 85% of stylists recommending real human hair for chlorine resistance. Opt for 100% Remy human hair extensions, as they're softer, more durable, and react better to moisture than synthetic blends.
Adding a swim cap shields fragile bonds from chemical damage. With proper preparation and care, your tresses will flow freely even after laps in the pool. Maintenance is key – condition and gently detangle post-swim to avoid matting and breakage.
Consistent Maintenance
Regularly conditioning the sewn-in strands helps keep them looking fabulous longer. Daily maintenance is crucial for maximizing sew-in longevity and beauty. Establish a regular maintenance schedule for your extensions as you do for your natural hair – gentle brushing, hydrating deep conditioning, protective styling.
Consistency is key for healthy, long-lasting extensions and natural hair so both continue thriving underneath.
Conclusion
You're in the home stretch! With a few key precautions, you can keep your sew-in extensions looking stylish while still enjoying a refreshing dip. Before jumping in, be sure to condition your strands to create a protective barrier.
Though clip-ins should be removed, you can keep your sew-in secured under a snug swim cap.
Afterward, gently detangle and wash away any pool, chlorine, or saltwater residue to restore bounce and shine.