This site is supported by our readers. We may earn a commission, at no cost to you, if you purchase through links.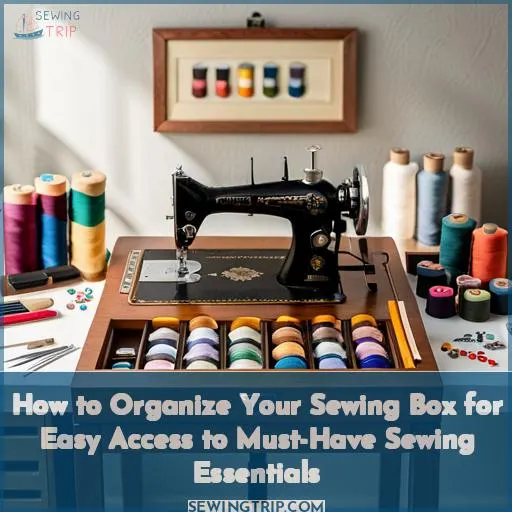 Haven't you ever been frustrated rifling through that jumbled mess you call a sewing box? You're under pressure to mend your ripped hem before tonight's event when you realize you can't find a needle anywhere.
For the DIY tailor, an organized sewing kit is essential. With the proper tools and supplies in arm's reach, you'll stitch up any wardrobe malfunction in no time. This guide shares insider tips to curate your dream sewing box. We'll review sewing box basics and advanced must-haves so you'll never again waste precious minutes rummaging for your seam ripper or best matching thread.
With a sorted sewing kit, you'll feel empowered to tackle any project. So read on to learn simple ways to upgrade your sewing box game.
Key Takeaways
Consider size and options when selecting a sewing box.
Sort tools by type for organization.
Store needles upright in a magnetic pin holder for easy access.
Hang fabric shears on the box edge to keep them sharp and secure.
What is a Sewing Box?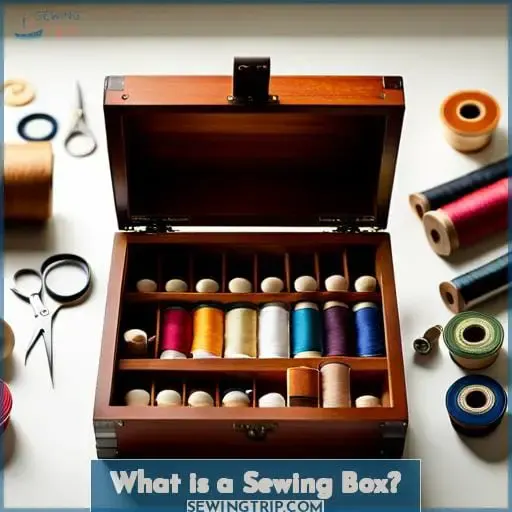 You'd be amazed how a splash of color in your hand-me-down sewing kit brightens your creative spirit. A sewing box stores your precious sewing supplies and tools in one handy place. Take inventory of the sewing room size and available storage options before selecting from sewing kit types like portable cases, stacked drawers, or wall organizers.
Tailor the supplies to your sewing style by listing sewing tools like scissors, needles, straight pins, and a measuring tape. Then search for sewing box styles to hold thread spools, fabrics, patterns, and notions.
Quaint wooden boxes offer vintage charm while plastic tackle boxes provide durability. Repurposed sunglass cases or fishing tackle boxes compartmentalize small items. Clear storage highlights threads and tools.
A personalized sewing caddy in your favorite hue energizes your next DIY sewing project.
How to Use a Sewing Box?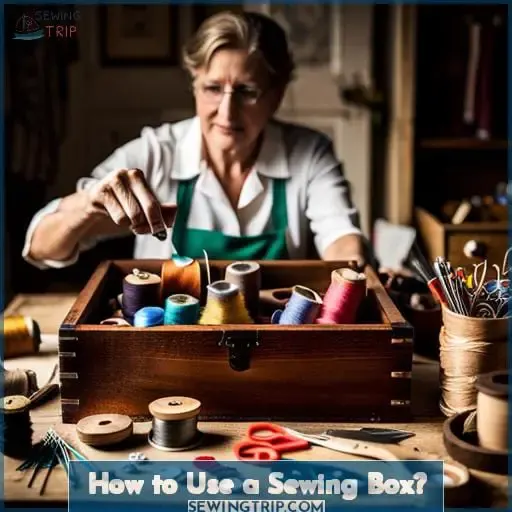 Let's explore new projects after getting your sewing kit in order.
Store thread spools upright in small containers to prevent tangling. Use zippered bags for portability.
Arrange hand sewing needles and pins inside a magnetic pin holder. Easy access prevents lost needles.
Tape a small needle threader inside the lid for prepared readiness. No more frustration or eye strain.
Hang sharp fabric shears securely on the box edge for safekeeping. Dedicate shears for fabric cutting only.
A well-organized sewing box inspires creative freedom. Locate notions rapidly to begin projects with confidence. Adjust thread tension seamlessly using quality thread on an oiled sewing machine. Mark fabric entrance holes clearly for precise needle placement. Sew items leisurely using your foot to control pedal speed.
An orderly sewing kit empowers crafting liberation. Celebrate achievements by sharing sewing wisdom tips with friends.
How to Organize a Sewing Box?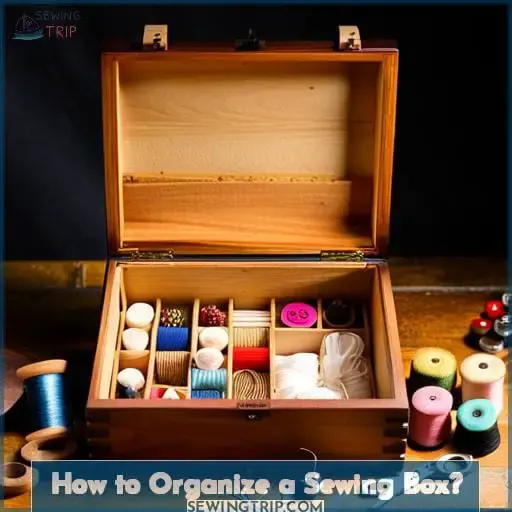 Sorting your sewing tools first by type will make your supplies easily accessible. Try using small boxes or containers to compartmentalize items like thread, needles, and pins. Taping frequently used tools like needle threaders inside the lid ensures you can quickly locate what you need when crafting.
Group Like Items
You must sort needles, thread, scissors, and notions. Gather supplies together in repurposed containers to edit frequently. Share storage tips to celebrate accomplishments. Store straight needles, sewing needles, scissors, thread, and seam gauge together.
Use Containers for Compartmentalization
Dig into those vintage cookie tins and tea caddies to separate your notions! Store threads and bobbins in repurposed mint tins. Sort buttons, zippers, and elastics in sectioned tackle boxes for easy access. Wrap a tape measure around thread spools in a sunglasses case.
Repurposed containers compartmentalize your sewing box and provide custom options to curate your craft.
Label Storage Boxes
Labeling your storage helps you find things fast. Sort your tools and materials into labeled boxes to find what you need in a jiff.
Use a permanent marker on plastic boxes.
Print out cute labels for fabric bins.
Tape name tags onto metal tins.
Attach sticky notes to baskets and bags.
Get creative with chalkboard paint and tags.
Now you can grab what you need and get to sewing!
Tape Items Inside Lid
Tape needle threaders and pins inside the lid for easy access while creating. Store thread spools upright in plastic cases and sort them by color family for a rainbow of options. Use zippered pouches for notions like fabric pens and mini scissors so your sewing kit is tidy and portable.
Examples of Sewing Boxes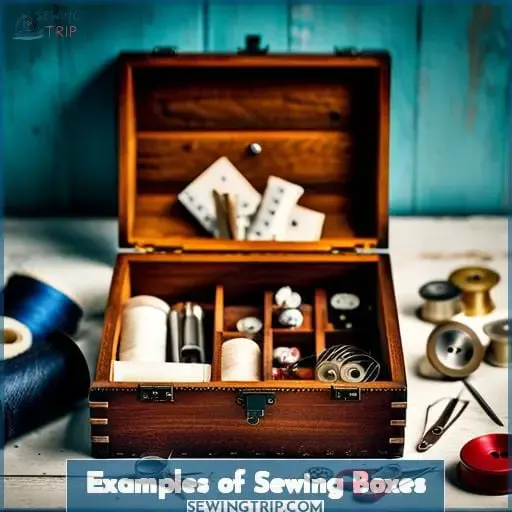 You'd be amazed what tackle boxes and sunglasses cases can hold for sewin' supplies. A vintage luggage piece makes a charming container for thread spools sorted by color in zippered pouches. Line the lid with needlework tools – embroidery scissors, tape measure, tailor's chalk – neatly aligned.
Sewing themed tins store buttons sorted by size and shape. Tiny drawers from a repurposed jewelry box are ideal for straight pins, safety pins, and needle threaders. Cross stitch thread winds perfectly on old wooden spools. Fabric swatches inspire projects.
Add a cutting mat, water-soluble fabric markers, and thimble for functionality. Pass on the joy by gifting a creative sewing kit to inspire someone's journey. Historic sewing methods connect us to past generations of stitchers, continuing this craft into the future.
What Do You Put in a Sewing Box?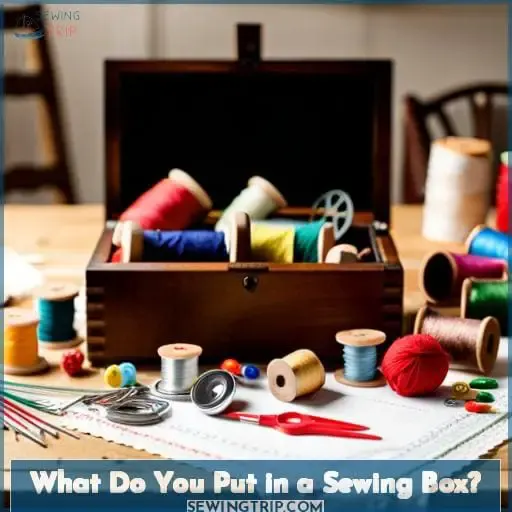 Let's discuss the essentials for any well-stocked sewing box. Needles, thread, pins, scissors, and a seam ripper are the basic tools every sewing kit requires. Beyond the fundamentals, consider adding a needle threader, extra bobbins, fabric markers, an emery board, and specialized shears to handle various fabrics.
With quality supplies close at hand, you'll be ready to start any sewing project.
Basic, Must-have Sewing Box Items
Believe it or not, over 80% of sewers consider a pair of fabric scissors, needles, thread, and a seam ripper to be essentials in their sewing kit. Invest in quality scissors for accurate cutting. Stock up on hand needles in various sizes, along with machine needles for your projects.
Choose thread in an array of colors – keep silks limited to handwork. Mini scissors help clip errant threads. Reach for the seam ripper to gently undo mistakes. Tailor your sewing box to suit your needs with these must-have notions.
6 Advanced Sewing Box Essentials
Grab those specialty feet that unlock new sewing techniques! Invest in a silk organizer to prevent delicate fabrics from snagging. Arm your box with ironing tips – a mini iron, spray starch, and cloth. Illuminate projects with lighting solutions like an OttLite.
Get creative with storage using rotating trays and old camera film canisters for pins. Prep for new adventures like cross-stitch with floss organizers. Keep clutter contained with foldable cutting mats.
Sewing Box for Beginners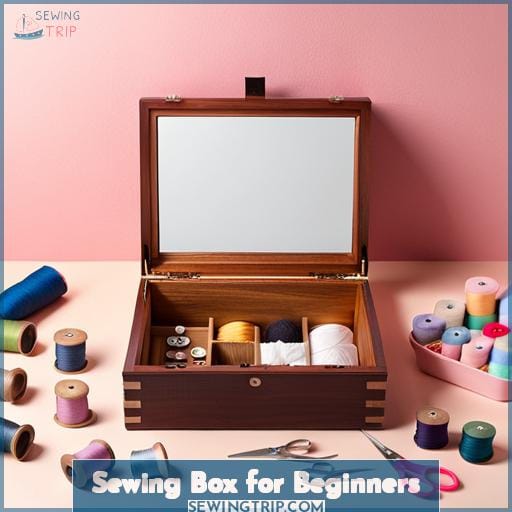 Dig into a starter kit with essentials to familiarize yourself as a beginner. Select a medium storage box or sewing caddy to hold handy tools. Start with a small scissor set for snipping threads and cutting fabric. Include hand needles and organize thread spools neatly.
Store rotary cutters carefully to avoid nicks. Try a tomato or magnetic pincushion for keeping pins accessible. Customize options like needle threaders or seam rippers for your projects. Add notions as you advance.
Master one technique at a time and build skills. Sew simple items first, then graduate to more complex patterns. Stay inspired by seeking new challenges. Let creativity unfold as your collection grows.
Sewing Box for a Little Girl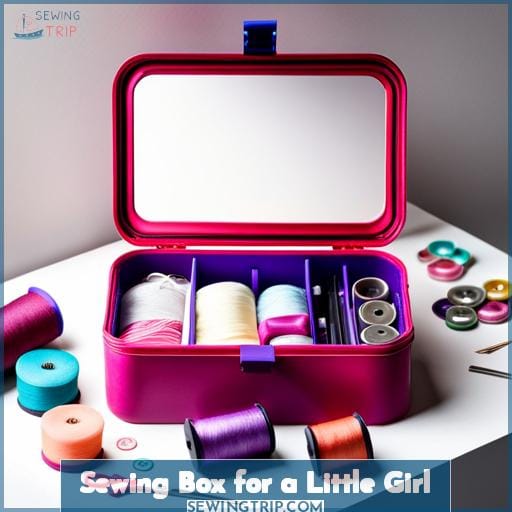 Stash the darling dollies and trinkets in the retro hatbox for her sewing treasures.
Fill your little girl's sewing box with wonder. Let her imagination run free with a rainbow of threads and a treasure chest of buttons for pretend play.
Reserve a special pouch for dress-up accessories – lengths of ribbon, remnants of tulle, snippets of lace for costumes.
Sort needles and pins in a zip-lock bag to avoid pokes and prods.
Line the lid with parchment paper for pinning small swatches and templates.
Tuck a mini notebook and pen in a side pocket to log her creations.
Slip a small sachet of dryer sheets in the box to keep contents fresh.
With mindful organization, her sewing kit will be a portal for play and possibilities.
Celebrate her creativity. Let her sewing spark joy.
Sewing Box for Embroidery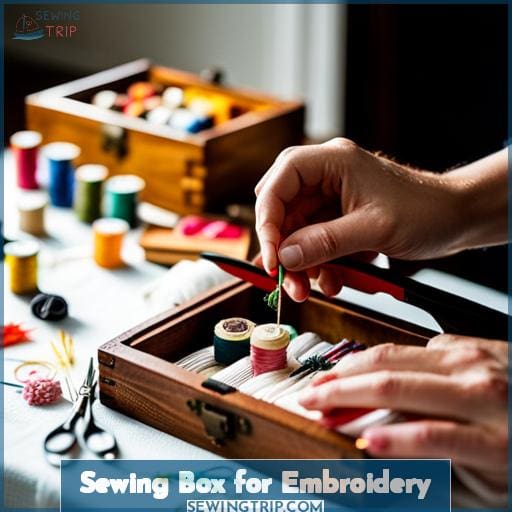 Tuck your embroidery floss into a vintage tea tin to keep your threads neatly contained.
Store embroidery needles, hoops, and fabric scraps in a compartmentalized sewing box with trays and dividers.
Arrange floss by color family in zippered pouches or bobbin holders.
Use washi tape to label tools like seam rippers, tweezers, and scissors.
Add a flap with clear vinyl pockets to view project instructions and embroidery patterns.
Choose a sewing box with secure latches and sturdy construction to keep your embroidery supplies protected.
Felt-lined boxes prevent delicate materials from snagging while contained storage keeps your workspace tidy.
Embroidery is a meditative art – a place for everything ensures your creative flow isn't interrupted hunting for materials.
Celebrate small wins like a neat sewing kit or freshly wound bobbins.
An organized sewing sanctuary inspires your next fiber art triumph.
Frequently Asked Questions (FAQs)
How often should I clean out my sewing box?
Dig in often! Your creativity depends on it. Don't let chaos smother inspiration – tidy every month. Group like items in labeled boxes. Toss thread spools gone bad. Freshen needle packets. Sharp scissors cut imagination free. Celebrate order's visual thrill. Then sew victoriously in your now zen oasis.
What's the best way to store and organize thread spools?
Sort thread spools by color in ziplock bags or small plastic containers. This keeps them untangled and easy to find. Store each color group together in a larger lidded box. Labeling the boxes helps you locate colors quickly when starting projects.
Any tips for keeping scissors and other sharp tools safe in a sewing box used by kids?
Keep scissors in a sturdy case or sheath when not in use. Store sharps out of reach behind closed lids. Cover pin cushion's points. Supervise youngsters and teach proper tool handling.
What are some creative storage solutions for tiny items like needles and pins?
Try repurposing tiny containers like mint tins or pill boxes to neatly organize your small sewing tools. Sort pins, needles, and other tiny items into separate compartments so you can easily find what you need.
Should I keep my sewing machine accessories like bobbins and foot pedal inside the main sewing box?
Keep essentials like bobbins in the sewing box, but store bulkier accessories separately. This prevents clutter while keeping needed items handy. With a bit of thought, you can create storage that empowers your creativity.
Conclusion
A well-organized sewing box is your ticket to creative bliss. Without care, your supplies turn into a jumbled mess, bombarding creativity with frustration. But armed with a bit of effort, your tools transform into an orchestra awaiting direction from their passionate conductor.
Embrace simplicity. Celebrate organization. Then let inspiration flow through your fingertips as you transform disarray into beauty, thread by thread.