This site is supported by our readers. We may earn a commission, at no cost to you, if you purchase through links.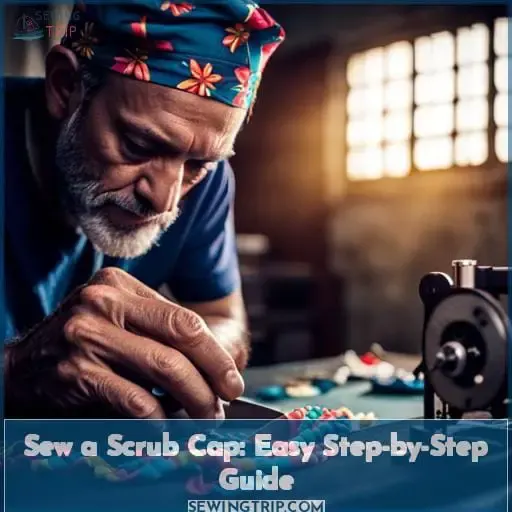 You know how important it is to feel prepared and protected when going into work, especially healthcare workers right now. Making your own stylish scrub cap can empower you while also allowing you to add some personal flair.
Follow this detailed sewing tutorial using the free pattern provided and you'll be able to create a custom, comfortable scrub cap with elastic closure and room for all hair types.
The step-by-step instructions break down everything from supplies needed to finishing touches so you can make these with confidence, even if you're new to sewing.
Key Takeaways
Custom scrub caps provide a hygienic layer and comfort for healthcare workers.
Sewing tutorials and patterns are available for various styles of scrub caps.
Handmade scrub caps can be donated to local hospitals to support frontline heroes.
Crafting scrub caps allows individuals to make a positive impact and express creativity.
Scrub Cap Sewing Tutorial: an Easy Step-by-Step Guide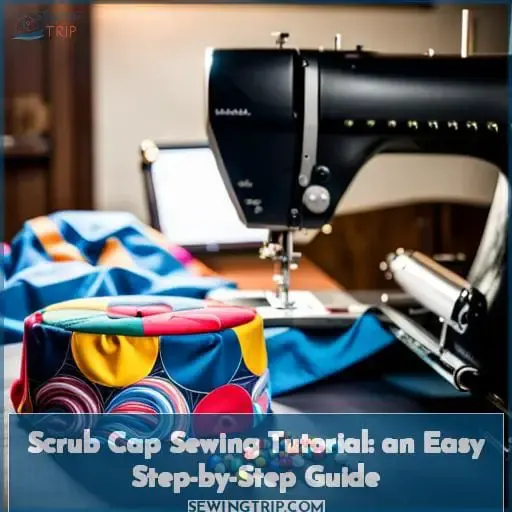 Downloading this simple surgical scrub cap sewing pattern empowers you to support healthcare workers during a challenging time when reusable PPE is scarce. Taking the time to sew scrub caps from home shows your deep care and appreciation for those tirelessly serving on the frontlines, bridging supply shortages with homemade contributions.
Why Sew Your Own Scrub Cap?
You're ready to cut and stitch an upgrade for your uniform by following this how-to.
Express your personality through custom prints and colors.
Prioritize hygiene with a protective layer between hair and patients.
Maximize comfort with a perfect fit tailored to you.
Show off your style while complying with uniform guidelines.
Support healthcare heroes by making caps for local hospitals.
With a simple pattern and basic sewing skills, you can sew stylish scrub caps that keep you comfortable on long shifts.
Importance of Scrub Caps for Healthcare Workers
With one hand they hold yours, with the other they heal the hurt. Scrub caps are essential for healthcare workers to follow hygiene standards. The caps fully contain hair and allow customization for comfort. Well-designed caps enable medical staff to focus on patients without distraction.
Simple sewing empowers individuals to support healthcare's impact through apparel needs.
Supplies Needed for Sewing a Scrub Cap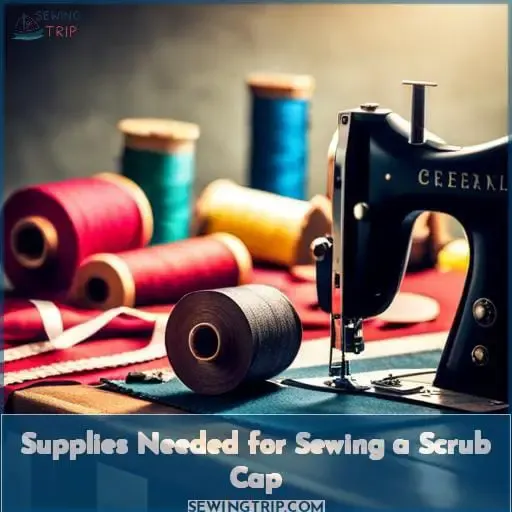 Fabric – Choose a tightly woven, non-stretch quilting cotton. Prewash fabric before cutting to preshrink.
Pattern – Download, print, and assemble the multi-page scrub cap pattern. Be sure to print at 100% scale.
Sewing machine – A basic machine will get the job done. Use a new needle for best results.
Thread – Opt for quality all-purpose thread in a color matching your fabric.
Scissors – Invest in a sharp pair of fabric scissors to cut fabric cleanly.
Pins – Use pins to hold pattern pieces and fabric layers in place while sewing.
Sewing gauge – Mark seam allowances and other guidelines from the pattern onto your fabric.
Iron – Press seams and darts flat for a polished finish. Use a steam setting on cotton.
With a well-stocked sewing kit, proper tools, quality materials, and the tutorial's guidance, creating a custom scrub cap is an achievable beginner project that also benefits healthcare heroes.
Downloading and Printing the Free Scrub Cap Pattern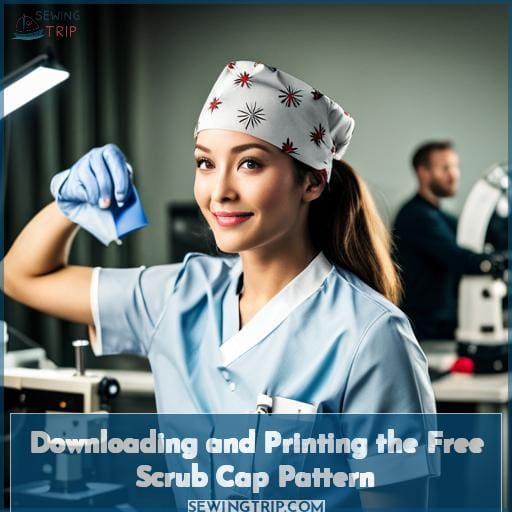 Once you have all the necessary supplies, the next step is downloading and printing the free scrub cap pattern. Make sure your printer settings are configured to print at 100% scale with no scaling options selected.
Also, be mindful of page alignment when printing the multi-page pdf pattern. Take care to line up the registration marks so the pieces match up precisely.
Trim off any excess paper around the pattern pieces, being careful not to cut into the seam allowance. Then, using tape or glue, assemble the pages in order following the numbering at the bottom.
With the full scrub cap pattern assembled and ready to go, you can transfer all the pattern markings and preparation lines to your fabric and begin cutting out your pieces. The pattern is designed to make sewing an easy and enjoyable process for all skill levels.
Cutting and Preparing the Fabric for the Scrub Cap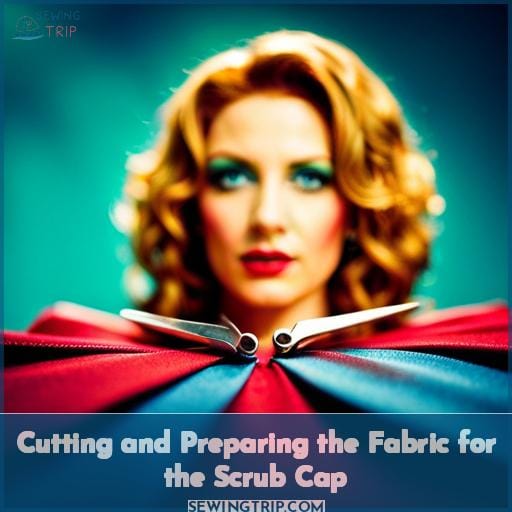 Let's prepare your fabric for sewing. Transfer all markings from the pattern to the fabric before pinning and sewing darts on both the main and lining pieces. Ensure that you press the darts in opposite directions so that they lie flat against each other when sewn together.
Transferring Markings and Darts
After preparing your fabric, it's time to transfer any pattern markings and sew the darts.
Use a tracing wheel and tracing paper to accurately transfer markings.
Clip into inner curves and notches to reduce bulk when turning right side out.
Sew darts with small stitches, tie off ends, and press towards the center for a flat finish.
Trim dart points and edges with pinking shears to reduce bulk and raveling.
With markings transferred and darts sewn, you're ready to start assembling your scrub cap. Take your time and remember – accuracy leads to a professionally finished project.
Sewing Darts for a Better Fit
Y'all prick and pucker those darts like a boss to custom-fit your lit sick cap. Position the darts precisely and mind those angles. Press cotton darts toward the center; synthetics toward the raw edge. Finesse your fabric-fu on scrap first.
Assembling the Scrub Cap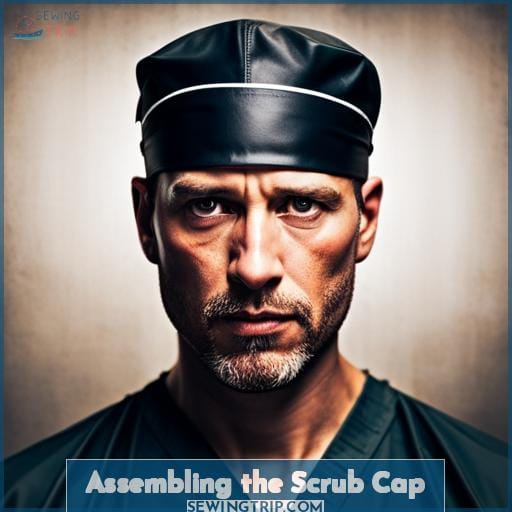 Now it's time to start assembling your scrub cap. Begin by aligning and sewing the two curved cap pieces along the curved edge, then attach the ties to each short end of the cap, following the markings.
Aligning and Sewing the Cap Pieces
You need to match up those curved edges correctly. Slowly and carefully pin the cap pieces, easing in any fullness. Stitch the curved seam at a moderate speed. Finish the seam's raw edges with a zigzag or overlock stitch to prevent fraying.
For a professional look, take your time to align the print or fabric design perfectly. With practice, you'll master precise cap construction and have stylish scrub gear to be proud of.
Attaching Ties to the Scrub Cap
Struggle not against fate's current as you pin that stygian band, lest your vision stray from destiny's shores. Grasp the ties firmly, aligning their length along the cap's edge. Feed them through the machine, envisioning their graceful drape upon your brow.
Sew a straight seam, then flip and topstitch for strength, lest the ties tear away in thy patient's hour of need. Embellish at will, with buttons or knots, but take care – beauty and function walk hand in hand.
Finishing Touches for the Scrub Cap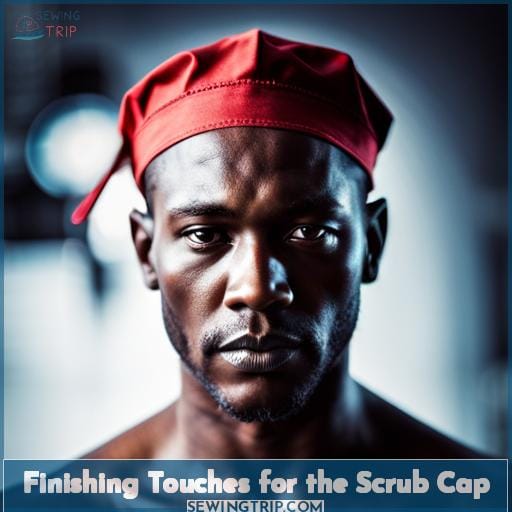 Turn your cap inside out through the opening and gently push out the corners using a turning tool to give it a crisp, clean finish before pressing seams neatly.
Before stitching up the opening, make sure to trim loose threads and grade seam allowances for reduced bulk.
Press with steam, taking care to flatten seams open.
Topstitch around the cap edge for a professional look, or hand slipstitch the opening closed invisibly.
Get creative with tying ribbons, adding appliques, or sewing in hair elastic according to your style.
Consider complementing your scrubs with a matching drawstring bag for transporting the cap.
Your personalized and practical scrub cap is now ready to wear, made with care and creativity to support you on long shifts.
Every detail was thoughtfully executed to uplift healthcare heroes and make a difference during this pivotal moment in history.
Donating Your Handmade Scrub Caps to Local Hospitals

Let's channel the caring spirit behind this effort by donating your beautiful handmade scrub caps to support local hospitals.
While your beloved creations speak volumes through bright fabrics and thoughtful details, their true impact shines by uplifting healthcare heroes.
Sewing circles mobilize a grassroots movement that transcends the sum of their stitches. Yet humble donations remind workers of their community's faith in their calling.
Carry this torch by connecting volunteer groups who can distribute your caps. Gift joy and thanks while forging bonds.
Uplift caregivers who give tirelessly of themselves. Through each handmade scrub cap, deliver purpose and hope.
Tips for Sewing Scrub Caps Without a Sewing Machine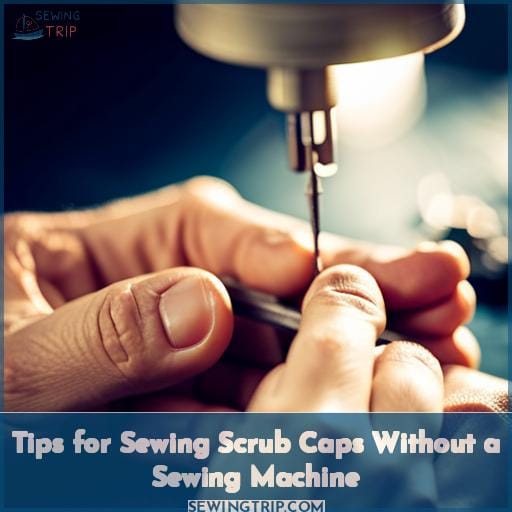 Transitioning from donating your handmade scrub caps to local hospitals, let's explore alternatives for sewing scrub caps without a sewing machine. If you find yourself without a machine but still eager to craft effective head coverings, here's where hand-stitching techniques step in.
No Sew Alternatives: Explore creative ways to fashion scrub caps using fabric folding and knot tying.
Hand Stitching Techniques: Master basic stitches like running stitch and whip stitch to assemble the cap.
DIY Head Covering: Craft functional and stylish head covers by repurposing old fabric or clothing.
Scrub Cap Alternatives: Discover other materials like stretchy bands or scarves that can serve the purpose.
Crafting Hair Cover: Tailor scrub caps with easy-to-find materials, suitable for keeping hair securely covered.
With these tips, you can embark on creating scrub caps even without a sewing machine.
Now, let's delve into the process of making your scrub cap, ensuring you're well-equipped to master the art of DIY headwear.
Other Scrub Cap Patterns and Variations

Sewing scrub caps can be rewarding when you use a variety of different patterns. A bouffant cap pattern creates extra fullness and volume, while a tie-back cap allows for a secure fit. Consider a reversible scrub cap with contrasting fabrics for versatility or a ponytail cap with extra room at the back for long hair.
Bouffant Cap Pattern
You'll also find on the resource page an elegant bouffant cap pattern that's perfect for adding a touch of vintage style. Designed with an adjustable fit, this pattern offers both comfort and flair. Experiment with different fabric choices to match your personal taste and healthcare environment.
Customize the cap by opting for elastic closures for added convenience. With clear instructions in the sewing guide, creating this DIY masterpiece ensures you're mastering the art of hair containment while supporting healthcare workers.
Tie Back Cap Pattern
The tie-back cap variation offers added adjustability and comfort while providing full head and hair coverage. This style uses long fabric ties at the nape for a snug yet customizable fit. Ties allow for quick on and off without compromising coverage.
The pattern accommodates a hair bun by including extra width and length. When sewing, consider using buttons to embellish and function as mask holders. Opt for lively prints or solids for your DIY scrub cap. Play with fabrics like cotton, knits, and quilting cottons when making this useful sew for healthcare workers.
Reversible Surgical Scrub Cap Pattern
Moving on, play around with this reversible pattern for twice the fun.
Consider easier-to-clean fabrics like cotton blends or polyester.
Match fabrics to create a coordinating reversible style.
Size up for extra wiggle room if tying at the neck.

With this stylish reversible cap, you can alternate fun prints and colors for each shift. Let your creativity shine by mixing coordinating cottons or go bold with contrasting solids. A reversible design allows you to match any scrubs while keeping hair clean.
Ponytail Scrub Cap Pattern
Following other variations, this ponytail-friendly design ensures that your hair stays neatly tucked away when caring for patients. Securing the elastic under the neck allows your ponytail to slide through while providing a snug fit.
Many healthcare workers prefer this elastic band closure over tie options. This is a simple scrub cap sewing pattern to customize. Try different prints and fabrics for a unique style. For a professional look, match the cap color to your scrubs.
This elastic ponytail design is great for containing long hair and staying hands-free.
Share Your Sewing Success and Inspire Others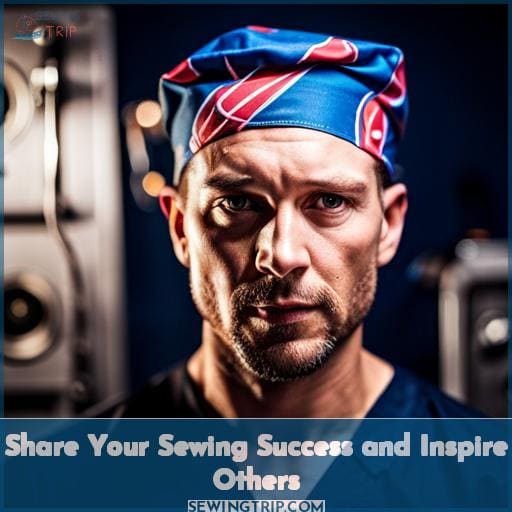 Share your sewing triumphs and inspire fellow crafters with your incredible creations! Showcase the fruits of your labor by posting photos of completed scrub caps online. Share the hospital or healthcare facility your handmade caps were gifted to and how staff reacted when receiving your heartfelt donations.
Your sewing achievements have a real community impact, so take pride in them! Consider creative variations by adding fabrics with fun prints or additional touches like buttons or elastic. Tell inspiring stories of persevering through mistakes and developing your skills.
Sewing for a cause evokes purpose, and your hard work brings joy to frontline heroes. When more crafters see your success, they too may be motivated to begin their own scrub cap sewing journey. By supporting each other, we lift up healthcare workers who need us most in this crucial time.
Conclusion
A personal surgical scrub cap, like your own badge of honor. As the last stitches are sewn, you can't help but feel a sense of pride in this handmade creation. The hours spent cutting, pinning, and zigzagging have led up to this moment when you can tie on that bandanna-style treasure and see how perfectly it fits.
Cherish this feeling – your time and effort spent making this scrub cap will empower and protect those on the frontlines. Now that you know how to sew a scrub cap, you've gained a practical skill while also tangibly uplifting healthcare heroes.