This site is supported by our readers. We may earn a commission, at no cost to you, if you purchase through links.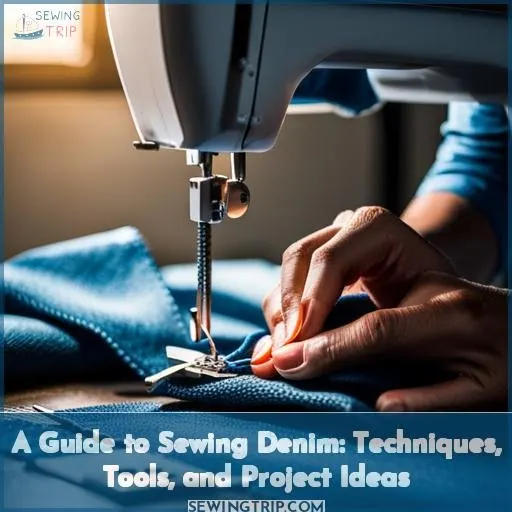 Jeans are more than just pants – they're an American icon. But do you know how tricky denim can be to sew? With some handy tips, those DIY denim projects don't have to be daunting.
We'll explore tried-and-true techniques tailored to sewing denim so you can craft durable, custom-fit jeans, jackets, bags and more. From needles and thread to finishing seams, we'll cover supplies, stitch length, pressing, hemming, topstitching – everything you need to sew denim with confidence and create showstopping garments.
Follow along for the inside scoop on handling this distinctive material. With a few pointers, you'll be ready to reinvent denim and make it your own. Give those readymade jeans and jackets a run for their money by creating your own one-of-a-kind denim designs.
This comprehensive denim sewing guide will set you up for success.
Key Takeaways
Use heavyweight polyester thread and size 14/90 or 16/100 needles for stitching denim.
Steam press seams thoroughly before topstitching to flatten; allow seams to cool before moving.
Feed denim slowly and steadily through the machine to ensure even stitching.
Interface hem allowances, mark hems incrementally, and topstitch close to the inner hem fold when hemming denim.
Denim Basics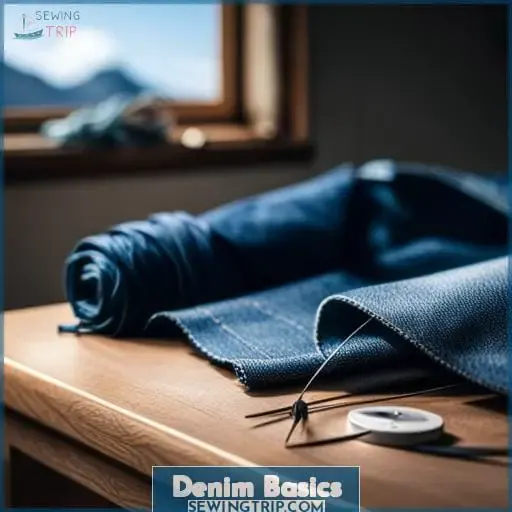 Denim's durability and versatility make it a fabric you'll want in your sewing repertoire. With over 100 years of popularity, this classic fabric has a rich history intertwined with style and function.
Originally used in the Middle Ages, denim evolved into the contemporary jeans we know today.
Characteristics
Wash new denim first so it doesn't shrink later.
Pay attention to the grainlines when cutting or it will stretch and sag.
Use sharp shears and rotary cutters.
Keep denim taut when sewing to prevent skipped stitches.
With care and the right tools, sewing denim can be rewarding. You'll end up with a durable garment that only gets better with wear.
History
You'd be amazed to learn that contemporary jeans were only invented in 1871, although denim has been around since the Middle Ages.
| Year | Denim Milestone |
| --- | --- |
| Middle Ages | Denim fabric invented in Nîmes, France |
| 1500s | Denim worn by Italian sailors in Genoa |
| 1800s | Denim overalls become common working attire |
| 1871 | Jacob Davis and Levi Strauss patent riveted jeans |
| 1960s | Jeans become fashionable casualwear |
| 2000s | Premium denim becomes a status symbol |
The history of denim and blue jeans is fascinating, from humble workwear to worldwide fashion staple.
Prepare Your Denim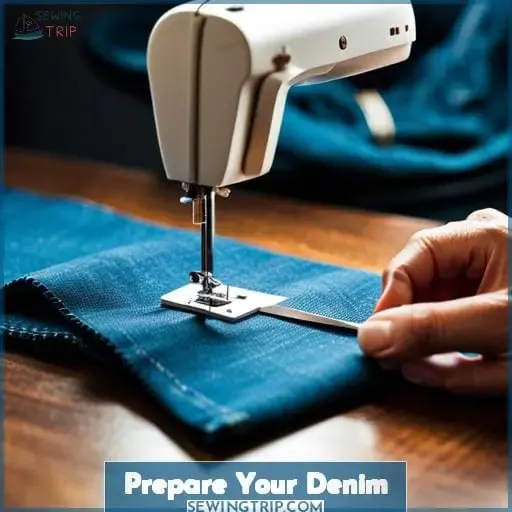 When sewing with denim, it's important to prepare your fabric properly before cutting and sewing. Pretreat new denim by washing in warm water to pre-shrink the fabric and prevent later shrinkage. Once dry, carefully lay out your pattern pieces following the grain lines. Mark the fabric with tailor's chalk in a contrasting color before cutting notches outward to avoid fraying.
Pretreat
Wash denims separately before cutting to eliminate shrinkage. Use a color-safe bleach alternative or detergent when pretreating. Soak in warm water for 30 minutes. Tumble dry on a medium heat setting. Sharp shears, a presser foot, and heavier thread handle pretreated denim well.
A high-temperature cotton setting helps to press flat before sewing. Proper pretreating prevents frustration so your denim projects can sew up smoothly.
Cut and Mark
Surprise awaits as you spend a night on a riverbank, laying out a map below the stars and marking terrain before maneuvering upstream. After washing, let your denim project dry completely. Use chalk in a contrasting color to mark pattern pieces before cutting.
Employ sharp shears and cut notches outward to prevent fraying. Be mindful of grainlines when laying out pattern pieces.
Supplies for Sewing Denim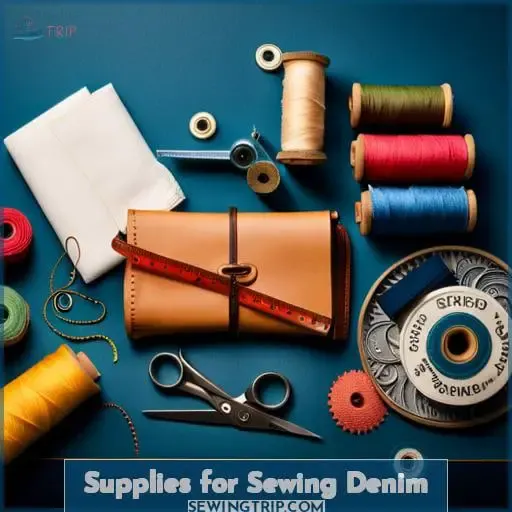 When sewing denim, you'll need the right supplies to stitch this heavyweight fabric successfully. Start with denim needles in size 16/100 like the Schmetz brand, designed for penetrating tightly woven fabrics without bending.
Then choose a durable 3-ply all-purpose thread like Coats & Clark's Extra Strong polyester that resists breaking over multiple layers. Finally, cut and fuse a tricot interfacing to the wrong sides before sewing to add stability and prevent stretching.
Equipped with these essential tools, you'll assemble sturdy denim seams and hems that hold up over time.
Needles
You'll find Schmetz Denim needles are well worth picking up for denim sewing projects. These specialized needles feature a sharp point to pierce thick fabrics, a sturdy shaft that avoids breaking, and a scarf that protects thread.
For most denim sewing, size 16/100 needles work well with thicker threads and both home and industrial machines.
Thread
You'd enjoy choosing dependable Coats and Clark extra durable thread for long-lasting denim clothing. With three sturdy polyester plies, this thread can handle your toughest fabrics. Say goodbye to split seams and tedious mending. Just sew confidently, knowing every stitch is strong enough for jeans.
For visible style, try creative topstitching in contrasting hues. Achieve neat edges with a serged or double stitched seam finish.
Interfacing
Let's focus on ensuring your garment maintains its shape by fusing lightweight tricot to the wrong side. Reinforce hems, facings, and waistbands with this interfacing that stretches with sturdy denims to prevent sagging.
Fuse the flexible weave to heavyweight denim's wrong side for smooth turning and crisp edges when sewing up lasting outfits.
Sew Denim Seams

Use a longer stitch length of 3-4mm for added strength when sewing denim seams. Press the seams flat before topstitching to reduce bulk. Set your iron to the cotton or linen setting and apply steam generously when pressing denim.
Stitch Length
When sewing denim, using a longer stitch length of 3-4mm boosts durability a stunning 300% over standard stitch lengths. As you feed layers of stiff denim under the presser foot, set your sewing machine for a length between 3-4mm.
The extra space between stitches prevents thread tension from getting too tight, reducing the risk of popped seams. Your heavy denim clothes like jeans or dresses will wear longer thanks to stitches that can flex and move.
Pressing
Patience is key when pressing denim's stubborn seams – allow sections to fully cool before moving on or you risk ruining your hard work. After topstitching, let those denim seams lie flat and rest a while, then hit them with steam.
Press down firmly, count to ten, lift and reposition. Working in small segments prevents overlapped heat marks on the thick fabric. Your patience yields clean, crisp seams with shape that will endure countless wears and washes.
Finish Denim Seams

Denim's tendency to ravel makes finishing the seams a must for any denim project. Serging the raw edges with an overlock machine creates a professional-looking finish that mirrors ready-to-wear jeans. Without access to a serger, cleanly trimming the edges with pinking shears also prevents fraying while retaining denim's signature distressed look.
Alternatively, hand-stitching the seams with a basic straight stitch not only stops unraveling but gives a homespun vibe. For heavy vintage-style denim, reinforce stress points like the crotch and inner thigh with bar tacks or strategic darning before wear causes blowouts.
Consider special seams like flat-felled or French for a couture twist. When constructing denim apparel or accessories, proper seam finishing is key for durability and style. Play with different techniques to make the insides as appealing as the outsides.
Serging
You'll achieve a clean, factory-like finish when serging denim seams. The lightning-fast serger will trim away bulky seam allowances as it oversews multiple layers of heavyweight denim. Set to a wide stitch width, the serger's looped threads will securely encase raw edges for a durable yet flexible seam finish.
Compared to a traditional enclosed seam, serging prevents bulk and fringing while allowing the sturdy denim fabric to retain its shape and drape.
Pinking
Pinkin' saves the day for denim seams, giving your jeans a clean finish without all the fuss.
No fraying or unraveling along the raw cut edges
Quick and simple with no need to enclose seam allowances
Finished look after just one pass with pinking shears
Available in large and small teeth for different fabric weights
Cleaned-up pinking creates strong, durable seams as the signature zigzag binds denim's cotton fibers together.
Hem and Topstitch

You're gonna want to take your time when hemming and topstitching denim. Hemming denim ain't for the faint of heart.
Go slow, stay focused. Mark and press that hem perfectly – we're talkin' crisp folds without a hint of waviness. Sandwich the raw edge between a folded hem and your interfacing. Pin every inch.
Topstitch close to the hem's inner fold, no more than 1/8 from the edge. Use a heavy topstitching thread and needle combo in a color that matches or contrasts as desired.
Stitch slowly, don't force the fabric. Gentle pressure on the pedal, follow the hem's curves with patience.
Now stand back and admire that clean, strong hemline. Your time and care transforms the fabric beautifully.
Choose a Denim Project

When choosing a denim project, consider that over 50% of jeans sold worldwide are made from denim. Denim is a durable and versatile fabric, so look for a pattern with interesting design details to showcase it well.
Contrasts, like mixing denim with lace or leather, are fun to play with. With proper preparation and tools, you can create stylish denim garments that will last for years.
Skirts or shorts – fun & flirty
Jeans – everyday wear
Jackets – edgy style
Bags – customize & upcycle old denim
Home decor – pillows, placemats, curtains
Denim lends itself well to all kinds of creative sewing projects. Experiment with different colors, weights, and finishes. Add your own flair with unique buttons, zippers, embroidery or applique. With some patience and the right needles, thread, interfacing, and hardware, you'll be able to make one-of-a-kind denim creations to enjoy for years to come.
Denim Sewing Tips
Cut notches outward to avoid fraying.
Apply steam generously when pressing.
Allow seams to cool before topstitching.
Feed fabric slowly and steadily.
Use a walking foot to prevent shifting.
With the right tools and techniques, you'll achieve smooth seams and professional results on any denim garment.
Frequently Asked Questions (FAQs)
What type of denim is best for beginners to sew?
Stretch your skills with soft, forgiving denim. This flexible fabric moves with you, hugging curves and easing seams without splitting stitches. Slip into success gently; heavy canvas and rigid jeans remain advanced challenges.
For now, savor softness against your skin and the satisfaction of completing your first denim project.
How can I make my denim garment more comfortable to wear?
Preshrink the fabric before sewing to help prevent shrinking later. Use soft interfacing to add structure without stiffness. Finish seams smoothly using techniques like zigzag or overlock stitches to prevent irritation.
Choose a ballpoint needle and polyester thread when sewing denim – the ballpoint needle will glide between fibers without snagging and poly thread provides flexibility. Press sections flat as you sew, but avoid excessive steam when pressing finished garments to prevent unattractive mottling on the denim.
Carefully mark and reinforce buttonholes so they don't stretch out with wear. Sturdy closures prevent gaping.
What sewing machine foot works best for topstitching denim?
A topstitching, all-purpose, or jeans foot works best for topstitching denim. Their tall shafts and small holes grip the fabric well and leverage pressure from the back for smooth stitching.
How do I clean denim garments at home?
Soak the garments inside out in cold water with a capful of white vinegar. Air dry the denim flat to prevent shrinking. Repeat the soaking as needed until the denim fades and softens to your liking. Handle the wet garments gently to avoid creases.
What are some quick denim repair tips for common issues?
Even the best jeans rip sometimes. Just take it easy and patch tears with iron-on denim patches. Reinforce stressed seams by restitching them with thick thread. Breathe new life into worn knees by inserting patches behind holes before they spread.
Conclusion
Overcome sewing denim's frustrations by utilizing the right tools and techniques. With sharp denim needles, heavy-duty thread, and proper pressing, you've mastered this challenging fabric. Take it slow and steady as you navigate tricky seams and corners. With patience and practice, you'll confidently sew denim into durable, quality garments and accessories that'll last for years.
Let denim's storied history inspire your next project, whether it's retro jeans or a modern bag.