This site is supported by our readers. We may earn a commission, at no cost to you, if you purchase through links.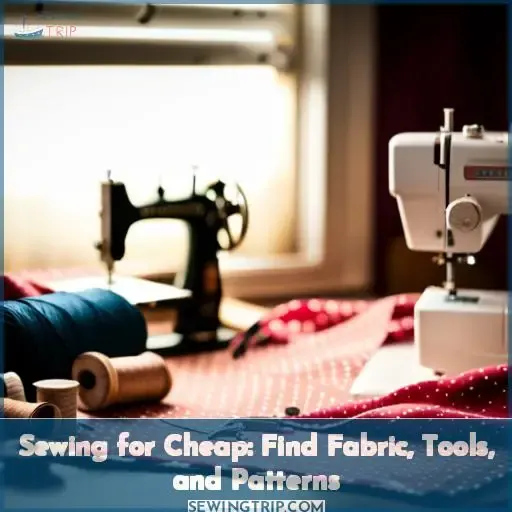 Are you ready to take the needle and thread in hand, but sewing for cheap has got you stumped? Don't worry! With a few savvy tips, it's easy to see how saving money on fabric and notions can be sewn up in no time.
From thrift stores and online sources to investing in quality tools, there are plenty of ways for your wallet – not just your wardrobe – to reap the rewards of designing clothing at home.
Learn how with this guide – let's get started!
Where to Find Cheap Fabric and Notions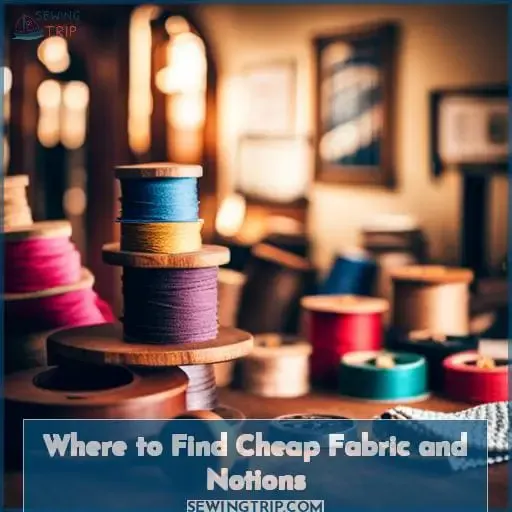 Looking for cheap fabric and notions to fuel your sewing projects?
Thrift stores are a treasure trove, with bedding, curtains, plus sizes, and maternity sections often hiding quality fabrics.
Discount stores also offer hidden gems in their home goods and clothing departments.
Don't forget about online sources like discount fabric websites or Facebook groups where you can find great deals on vintage fabrics.
And if all else fails, get creative and make your own by upcycling old clothes or hand weaving with yarn!
Thrift Stores
To find cheap fabric and notions, you can start by checking out thrift stores. Thrift stores offer a wide range of affordable options. You'll discover fabrics of all sizes in the bedding, curtains, maternity, and plus size sections.
Check the quality of materials when you visit thrift stores often. Feel the fabrics as you sort carefully through the jumbled shelves.
Arrive early on 50% off days. With some luck, patience, and imagination, thrift stores can be treasure troves for the savvy, budget-conscious sewist.
Discount Stores
But you can also check out discount stores like Walmart, Target, or even the dollar store for basic fabrics and supplies on the cheap. While the quality may not be the best, discount retailers often carry no-frills cotton, fleece, flannel, and knits perfect for beginner projects or mock-ups.
The discount store route lets you stock up on fabric affordably.
| Fabric Type | Price per Yard | Uses |
| --- | --- | --- |
| Fleece | $2-3 | Blankets, pajamas |
| Cotton | $2-4 | Quilting, apparel |
| Flannel | $3-5 | Shirts, sleepwear |
| Knits | $3-6 | Tops, dresses |
Online Sources
When it comes to finding cheap fabric and notions, online sources can be a great option for sewers looking to save money.
Sourcing fabric from discount websites, Facebook groups, eBay, or Etsy allows you to find affordable options without sacrificing quality.
You can also sign up for email sales and cashback options like Ebates or Ibotta to earn rebates on your purchases.
With the convenience of online shopping, you can easily explore independent brands and discover budget patterns that suit your thrifty skills in sewing techniques.
Make Your Own
Although thrift stores and yard sales offer great deals, you can also make your own inexpensive fabrics and notions if you're willing to get creative.
Upcycle old clothes into new designs using basic sewing techniques.
Dye, paint, or stencil sheets or scraps for unique prints.
Learn to hand weave with yarn found around your home.
Join sewing groups to swap materials and get inspired.
Scout for free damaged bolts from local fabric shops.
Money-Saving Tips for Sewing Supplies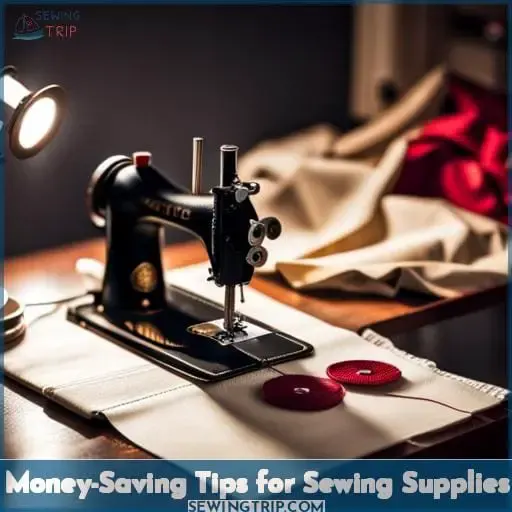 Looking to keep costs low for your next project? When it comes to saving money on fabric and sewing notions, there are a few key strategies:
Focus on using what you already have. Take inventory of your fabric stash and supplies before purchasing anything new.
Buy remnants and fabrics in bulk. Purchasing leftovers and bundles often costs less per yard.
Thrift and reuse materials. Check secondhand stores for unique fabrics or repurpose bedsheets and clothing.
Invest in quality tools you'll use frequently. Opt for durable sewing scissors, needles, pins and other basics that will last.
Follow these tips and you'll be sewing affordably in no time!
Use What You Already Have
Two money-saving tips for your existing sewing supplies are to first sew from your fabric stash and second learn to mend and alter clothes before replacing them.
| Use What You Have | Creative Ideas |
| --- | --- |
| Sew from your fabric stash first | Turn old t-shirts into quilts |
| Only buy fabric you need for a specific project | Reuse scraps for stuffing and patches |
| Learn to mend and alter clothes | Make simple items from fabric scraps |
Repurposing and maintaining what you already have saves money and reduces waste. With some creativity, your current supplies can make amazing new creations.
Buy Remnants and Bulk Fabrics
You'll economize by buying remnant and bulk fabrics.
Here are some great options to consider:
Wholesale stores: Find discounted fabric in larger quantities.
Bargain bins: Dig through the treasure trove of discounted remnants.
Online auctions: Bid on fabric lots for a chance at big savings.
Clearance bolts: Snag end-of-season fabrics at reduced prices.
Overstock outlets: Score deals on excess inventory from indie labels.
Thrift and Reuse Materials
Save money on sewing supplies by thrift shopping and reusing materials. Learn repair techniques to mend clothes instead of replacing.
Upcycle old clothes and bedding into new creations. Get creative, make pillows or bags from fabric scraps and salvage.
Sustainable sewing saves money and helps the environment.
Invest in Quality Tools
Although saving money on sewing supplies is key, you'd do well to invest in high-quality tools that you frequently use.
Choose quality fabric shears and sewing machine needles to avoid frustration. Properly maintain your sewing machine and serger for longevity.
Splurge on frequently used notions like quality thread, pins, rotary cutters, and rulers. Well-made tools will save you money long-term through precision, efficiency, and durability.
Skip cheap tools that warp and break.
Affordable Alternatives to Patterns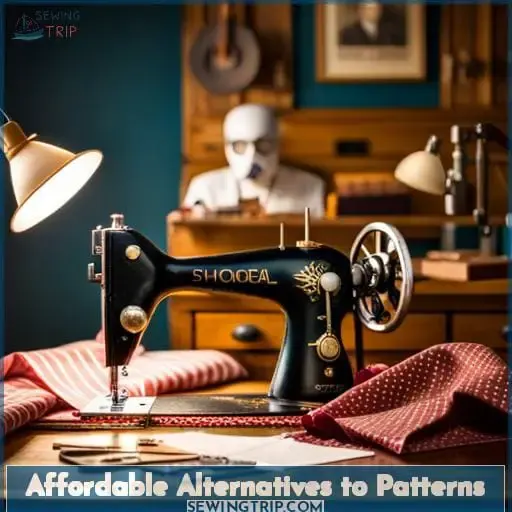 Tired of paying full price for sewing patterns? You can save a bundle by tracing or copying existing paper patterns instead of purchasing new ones.
Additional money-saving options include:
Using free online sewing patterns
Altering and combining patterns you already own in innovative ways
Trace or Copy Paper Patterns
One inexpensive way to avoid buying new sewing patterns is to trace the pattern pieces from paper patterns you already own onto pattern tracing paper or even sturdy brown paper.
Use a tracing wheel and dressmaker's carbon paper. Carefully trace each pattern piece.
Use Free Online Sewing Patterns
Additionally, you can use free online sewing patterns as affordable alternatives to purchased patterns.
Seeking out free sewing patterns online allows you to find budget-friendly designs perfectly suited to your fabric selection and creative upcycling.
With some basic sewing techniques, you can bring imaginative indie labels to life sans the high labor costs and fabric prices.
Alter and Combine Existing Patterns
After using free online sewing patterns, continue saving money by altering and combining patterns you already own.
Trace paper patterns then creatively alter sizes or stylelines for a custom fit. Or combine elements from multiple patterns into fresh silhouettes and details.
Play with necklines, sleeves, hems – make each garment uniquely yours.
Learn techniques to resize thrifted clothes before sewing new.
With practice, altering and mixing patterns saves big on fabric and notions.
Sewing Skills to Save Money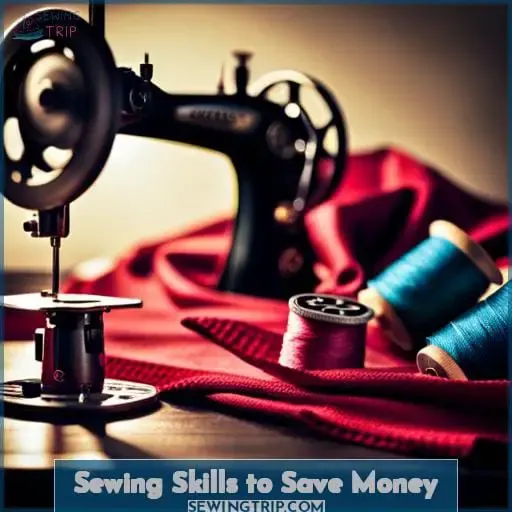 Tips to Save Money on Fabric and Notions:
You can really stretch your sewing budget by learning key skills. Refashioning and upcycling thrifted finds, altering patterns for custom sizes, and mending worn items are abilities that will save you cash.
Go to thrift stores and estate sales to find gently used fabrics, trims, buttons, zippers and other notions for a fraction of retail cost.
Swap materials with other sewists to refresh your supplies. Organize periodic fabric swaps with friends.
Follow sewing blogs and social media for notifications about sales, coupons and special deals from retailers.
Buy apparel on clearance to repurpose the fabric. Adjust the garment pieces to create something new.
Start your own fabric scrap busting projects. Quilts, rag rugs, accessory items and home decor sewn using fabric bits are thrifty options.
Refashioning and Upcycling
To save money on sewing, learn the skill of refashioning and upcycling garments. It's a creative way to transform old clothes into new pieces that fit your style and budget.
Here are some tips for successful refashioning:
Start with secondhand clothing finds
Experiment with different techniques like dyeing or adding embellishments
Take advantage of existing garment details like pockets or buttons
Combine multiple items to create unique designs
Embrace sustainable sewing practices by reducing fabric waste
Altering Patterns for Custom Sizes
You can alter patterns for custom sizes to save money on new clothes. Take a class on basic alteration techniques like moving darts, adding seam allowances, and adjusting hems. Learn to make a muslin, pin-fit it to your body, then tweak the original pattern.
Mark directly on the tissue with your changes.
Redraft slopers from scratch for truly custom results.
Invest time to master this skill, and you'll get quality garments tailored just for you.
Learning to Mend Clothes
One can save money on clothing by learning basic mending skills like darning holes, patching tears, and replacing buttons and zippers.
Arm yourself with a needle and thread to fix split seams, reattach loose buttons, or stitch up small holes. Mastery of basic sewing empowers you to restore cherished clothes and stop contributing to fast fashion's cycle of waste.
With some practice, you can mend and save your wardrobe while keeping textiles out of landfills.
Earning Cash Back and Saving on Sewing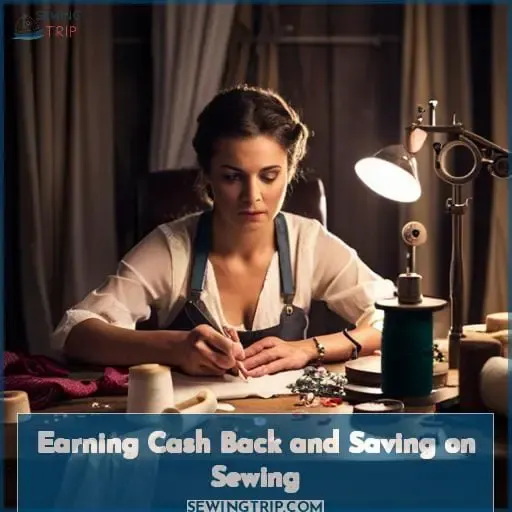 You can further cut costs on supplies by earning cash back. Use apps like Ebates and Ibotta for online and in-store rebates when purchasing fabrics, patterns, and tools.
You can also sell refashioned clothes locally or online, offer mending services, and swap materials with other sewers in your community.
Using Cashback Apps
By signing up for cashback apps like Ebates and Ibotta, you'll get online and in-store rebates when purchasing sewing supplies.
Using cashback sites connects frugal fabric finds and thrifty textile tips.
Rebates reward stitching smart and bargain sewing skills.
Apps offer earning rewards for fast fashion alternatives and labor cost savings by sewing.
Selling Refashioned Clothes or Offering Mending Services
While you're at it, as you sell refashioned clothes locally or online or provide mending services, you can also earn cash back to put toward supplies for your next project.
Offering DIY alterations or selling upcycled garments taps into extra income streams for savvy sewers.
Mending tips help clothe communities affordably.
Sewing skills become sewing income when refashioning cheap clothing creatively.
Labor and talent turn fabric costs into cash flows.
Swapping Materials With Other Sewers
You can swap materials with other sewers to earn cash back and save on sewing supplies. Join local sewing groups and propose fabric swaps. This allows you to exchange unused fabrics and trim for materials you need.
Connect online through sewing forums and Facebook groups too. Sharing resources builds community and allows collective access to more materials.
With a bit of networking, you can find sewing friends to creatively barter and swap materials.
Conclusion
Save your hard-earned cash and still have a wardrobe that makes you proud!
Sewing for cheap is easy when you know where to find fabric and notions, and how to make the most of your supplies. Take advantage of thrift stores and online sources, invest in quality tools, and learn how to refashion and upcycle.
If you're stuck on patterns, trace or copy paper patterns, use free online resources, or alter and combine existing patterns.
Finally, use cashback apps, sell your refashioned clothes or offer mending services, and swap materials with other sewers and reap the rewards of your hard work!
Sewing for cheap has never been easier.