This site is supported by our readers. We may earn a commission, at no cost to you, if you purchase through links.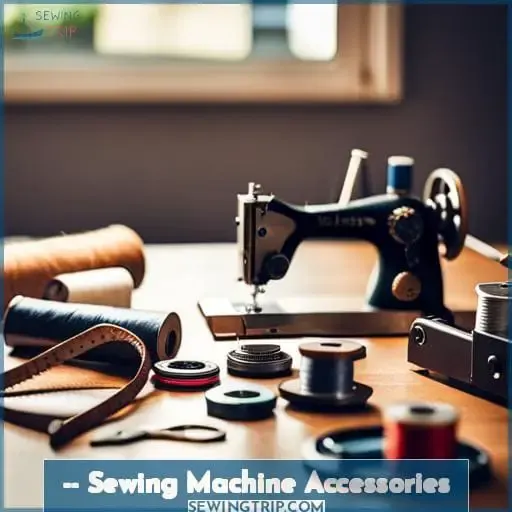 Step into a creative space filled with possibilities. Let your imagination soar as you reach for that perfect spool of thread, caress the cool metal of vintage scissors, and ready your machine for magic.
You don't need much to bring your visions to life – just a few trusty accessories and the spark inside that compels you to make something beautiful. Pins become possibilities, chalk turns to artistic expression, and simple tools transform into conduits for your creativity.
Don't overthink it, just get started. Grab those scissors and make the first cut, unleash the freedom of free motion stitching, and relish in the little details.
This is your time – to dream, to create, to master your craft one stitch at a time.
Must-have Sewing Machine Accessories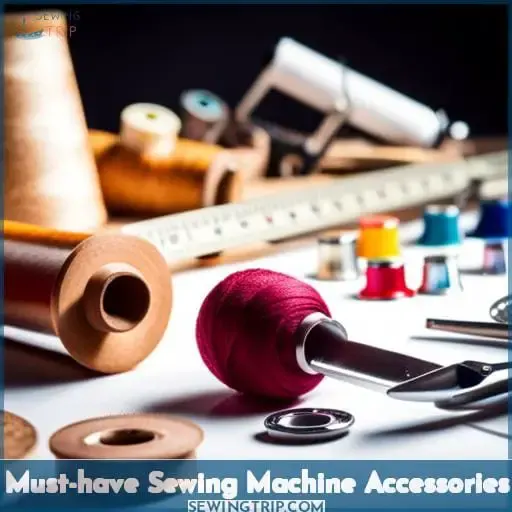 Looking for must-have accessories to elevate your sewing projects? Snip and cut fabric with precision using sharp scissors, mark seam allowances and patterns with fabric-safe chalk, securely hold layers together using sturdy pins, effortlessly undo mistakes with a seam ripper, and take accurate measurements with a flexible tape measure.
With this essential kit of tools, you'll find sewing faster, simpler, and more professional.
Scissors
You'll need sharp scissors to quickly and easily cut through fabric.
Rotary cutters for straight edges
Chalk pens for marking lines
Craft gloves protect fingers
Quality scissors glide through fabric with precision. Invest in a good pair for flawless cuts. Test-drive in-store models for comfort and control. Sharp blades save time and frustration.
Chalk
Chalk keeps your fabric lines looking sharp as a tack when marking up patterns. Tailor's chalk is perfect for temporary fabric marking. Transferring lines and points is a breeze with the right chalk. Compare washable options like chalk pencils and marking pens for tracing paper transfers too.
Troubleshoot by testing chalk on scrap fabric first. Alternate stitching positions based on marked guidelines. Proper fabric prep prevents problems down the road. Invest in quality tools for flawless precision.
Pins
Pins hold layers in place while you stitch. Slide reusable pins carefully through fabric layers. Choose the right pin size for your project; longer pins work for thick fabrics. Rustproof pins stay sharp after repeated use.
Store pins in magnetic pin dishes and pin cushions within reach. Quality pins make sewing faster and frustration-free.
Seam Ripper
Actually, a seam ripper's sharp point swiftly glides through stitches for easily fixing any sewing mishap. Keep a snap seam remover close to swiftly slice open threads when mistakes arise. The ripper's slim design allows you to selectively cut stitches without damaging fabric.
Fondly recall childhood afternoons carefully ripping seams with Grandma. Tuck a portable seam handle in your sewing box to effortlessly rip out embroidery or pop open closures. With the seam ripper's help, easily correct any project and create beautiful garments for your mannequin.
Measuring Tape
You've got this: Use a simple measuring tape to quickly check fabric width or pattern placement. Keep a retractable tape in your sewing kit to precisely measure pattern pieces, finished garments, and your own measurements.
A measuring tape ensures accuracy when making alterations, matching pattern lengths, or testing fabric stretch. Rely on this essential tool for perfectly sized projects, without frustration over ill-fitting seams or uneven hems.
Special Accessories for Embroidery and Quilting

When it comes to embroidery and quilting, having the correct accessories can make all the difference in your sewing projects. Invest in specialty quilting feet, a spool stand or thread rack, a lamp with a magnifying glass, sewing clips, and extension arms.
These will help you easily handle thick layers of fabric and thread, see detailed stitching up close, keep fabric taut, and expand your work surface. With the right gear, you'll sew intricate designs and stitch perfect quilts in no time.
Special Quilting Feet
Take comfort knowing our specialty quilting feet keep your fabric taut and patterns precise for beautiful, high-quality quilts.
Select the 1/4 foot for accurate seam allowances.
Adjust the open-toe foot for visibility on decorative stitches.
Rely on the even-feed foot to prevent puckering.
With the right accessories, quilting is efficient, precise, and creative. From fabric selection to final stitches, we have the tools to guide your technique and material choices.
Spool Stand/Thread Rack
Having upgraded your workspace, a sturdy spool stand neatly organizes essential thread colors for quick access when inspiration strikes.
| Feature | Benefit |
| --- | --- |
| Adjustable rods | Accommodate various spool sizes |
| Weighted base | Stability while unwinding thread |
| Vertical storage | Prevents dust buildup and tangling |
| Spool caps | Secure loose thread ends from unwinding |
A spool stand keeps your sewing space clutter-free and threads orderly so you can instantly locate the perfect color when creativity sparks.
Lamp With Magnifying Glass
Illuminating your work and eyeing details brings your embroidery and quilting to the next level. Position the sleek lamp with a magnifying glass near your machine for superb lighting and zooming in on each stitch.
Adjust the arm to your ideal height and angle the glass for your focal point. Tweak the magnification strength and lighting brightness. The flexibility in positioning allows you to get the illumination and magnification just right, to see every detail and do your best work.
Sewing Clips
You know how frustrating it is to keep those layers perfectly aligned when quilting, don't you? With those handy sewing clips, you can temporarily bind the fabric layers together and maintain proper alignment while sewing, allowing you to create intricate quilting patterns with ease.
The sturdy grip of the clips keeps your fabric sandwich from shifting as you stitch your design projects. Plus, the clips make it easy to handle tricky fabrics during your stitching techniques. With sewing clips, you'll have more control over fabric selection, seam finishing, and thread management.
Extension Arms
Relieve clutter and access fabrics from all angles by using extension arms. These handy accessories provide additional workspace and storage options with alternative designs and portability options.
Freestanding and table clamp styles
Foldable, slide-on, and roll-away options
Adjustable heights
Storage drawers and shelves
Sturdy builds to support large projects
Extension arms allow you to spread out and easily maneuver your fabrics for improved efficiency and less mess while sewing.
Nice-to-have Things for Your Sewing Area

Looking to upgrade your sewing space? Invest in a few nice-to-have accessories to make your creative area more comfortable and efficient. Pick up self-healing sewing mats to protect surfaces, specialized scissors to easily cut detailed shapes, storage cabinets and shelving units to neatly organize your tools and materials, adjustable-height tables for ergonomic sewing, and a large mirror for checking the fit of your creations while working.
Self-healing Sewing Mats
Keeping your machine moving smoothly with a silicone self-healing mat underneath prevents sewing machine hop or permanent surface damage. Although pricier than other mat options, their durability saves you money in the long run compared to replacing other mats.
Patterns, swatches, cushion covers, and stitching designs are perfect for testing on these mats before finalizing your creations. Test ironing temperature and colorfastness by pressing small sections. The self-healing surface allows you to check stitching designs repeatedly without showing marks.
Special Scissors
We've got a full selection of specialty scissors that'll help you tackle detailed fabric work in a snap. Embroidery snips for precision cutting, pinking shears to prevent fraying – our scissors are the key to liberating your inner fashionista.
Tailor garments, mend holes, or upcycle fabric into something new. With the right tools, your creativity is limitless. Store them safely so they stay sharp. Now get snipping and experience the power of shearing your destiny.
Cabinets and Shelving Units
You'd free up space and organization with sturdy cabinets and shelves near your sewing zone.
Store thread, bobbins, scissors, and other must-haves within arm's reach.
Tailor setup to your height with adjustable shelves.
Opt for closed cabinets to corral supplies out of sight.
Add wheels for portability if you sew in multiple spots.
With smart storage solutions, you can create a sewing sanctuary that empowers your creativity and efficiency.
Tables With Adjustable Height
Expand your work area with tables that raise and lower to suit your needs. Adjustable height tables offer flexibility for standing or sitting. Choose models with tilt adjustment, mobile options, and storage to customize your workspace.
Solid Wood:
Attractive hardwood tops hold up to heavy machines
Metal:
Durable steel frames add stability
Folding:
Convenient fold-away legs tuck out of sight
Casters:
Wheels offer easy mobility around the room
Storage Drawers:
Hideaway compartments keep supplies organized
Shelves:
Open shelves allow quick access to tools
Laminate:
Resists spills and stains
Adjustable Height:
Raise or lower the surface for sitting or standing
Tilt Top:
Angled work surface reduces fatigue
Adjustable height sewing tables let you customize your workspace for efficiency and comfort.
Large Mirror
Decorate your space with a sizable mirror that reflects more of your sewing area for convenience. Make sure your mirror is impact-resistant and scratch-proof. Strategically position the mirror to maximize light and space.
Consider attaching it to the ceiling or wall for the ideal view. Large mirrors open up small spaces and provide better visibility as you work on projects.
Frequently Asked Questions (FAQs)
How can I tell if an accessory will work with my specific sewing machine model?
Check your manual for compatible accessories. If you are unsure, contact the manufacturer with your model number. They can confirm which presser feet, hoops, and other attachments will work with your machine's settings and features.
Where can I find the best deals on sewing accessories online?
Check the manufacturer's website for sales and coupons, search craft and sewing sites for promo codes before ordering, sign up for email lists to get alerts on flash deals and limited offers, look for free shipping thresholds to maximize savings, and don't forget to check resale sites for great bargains on supplies.
What are some good starter accessory kits for beginners?
Look for kits with basic notions like thread, needles, pins, seam ripper, measuring tape, and machine feet. Prioritize versatile presser feet like zipper and buttonhole feet. Quality scissors and pincushion make precision cutting and pinning easy.
Kits with bobbins, marking tools, thimble, and needle threader offer convenience.
Are there any subscriptions or membership programs that provide regular accessory shipments?
Yes, there are subscription services that send regular shipments of sewing accessories. Sign up for an accessories club to receive monthly packages tailored to your projects and skill level. Unbox creative tools and supplies delivered right to your door, allowing you to focus on your craft instead of shopping.
Do I really need to oil my machine and what oil type should I use?
You definitely need to oil your machine regularly for smooth operation and longevity. Use only sewing machine oil, not regular household oils. Apply just a drop or two to the points stated in your manual, like the needle bar and bobbin area, every 6-8 hours of sewing.
Conclusion
As you embark on your sewing journey, equip yourself with the essential tools of the trade. Like a knight donning armor, arm yourself with quality scissors, chalk, pins, a seam ripper, and a tape measure.
Embrace specialty feet and accessories to unlock the full potential of your machine. Surround yourself with conveniences like self-healing mats, adjustable furniture, and ample lighting that make your sewing space a creative haven.
With the right sewing machine accessories on hand, you'll stitch with confidence, ease, and artistry.
References
bestsewingmachinereviewspot.com