This site is supported by our readers. We may earn a commission, at no cost to you, if you purchase through links.
Are you interested in making your own tracksuit? It's not as difficult as it may seem. In this article, we will show you how to sew a tracksuit with step-by-step instructions and tips on adjusting the fit.
You'll also discover what materials and tools are needed for an easy sewing project that can be tackled by beginners or experienced stitchers alike.
Key Takeaways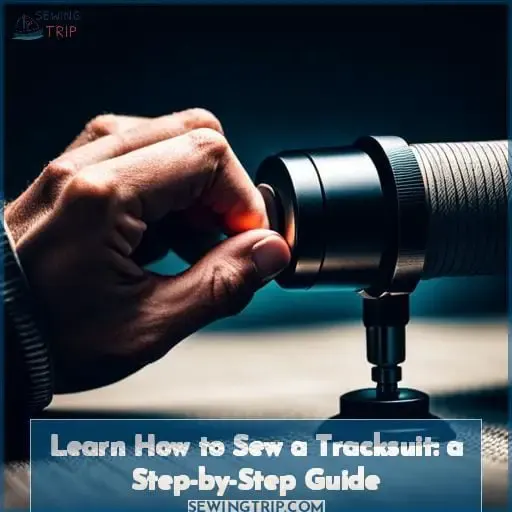 Sewing your own tracksuit is a beginner-friendly project.
Stretch fabric like sweatshirt fleece or knit fabrics is recommended for the best fit.
Choose between elastic waistbands or drawstring cords for the waistband.
Adjust the pattern and fit to create a personalized tracksuit.
Sew Tracksuit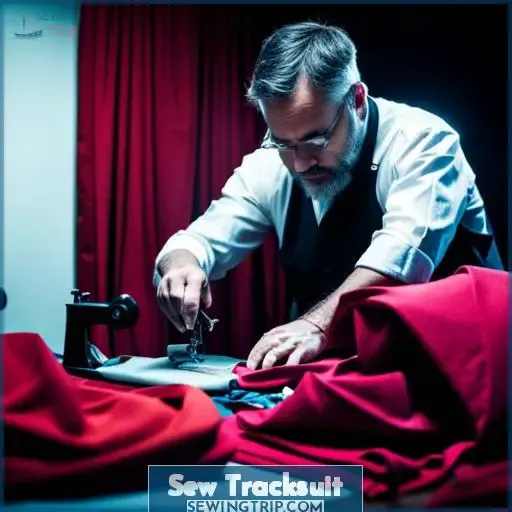 With MumCraft Assorted Sewing Clips, you can make a custom tracksuit quickly and easily – no matter your skill level!
To begin with, check out the DIY video tutorial and free pattern for sewing sweatpants. This is suitable for beginners who are just starting to sew with stretch fabric.
You'll need some basic materials: fabric of your choice, elastic waistband or drawstring cord (depending on your style preference), a sewing machine, and thread that match up nicely with the color of the fabric.
Don't worry about needing a serger; using zigzag stitch will do perfectly fine here.
Get started by downloading or printing off instructions on how to get this pattern – it's available in women's size small but there are adjustments available if needed which allow for smaller or larger sizes as well as an alternative pattern specifically designed for bigger sizes in case yours falls into that category.
The tutorial covers everything from styling tips to comfort levels when wearing athleisure wear plus helpful information regarding material choices so you can pick something durable yet comfortable enough at the same time.
It also goes through all sorts of techniques such as making side seams, trouser widths, etc., giving useful tweaks advice should alterations be necessary due to personal preferences like fit, etc.
With this guidance by hand, it's super easy even newcomers could piece together professional-looking tracksuits without hassles effortlessly!
Materials Needed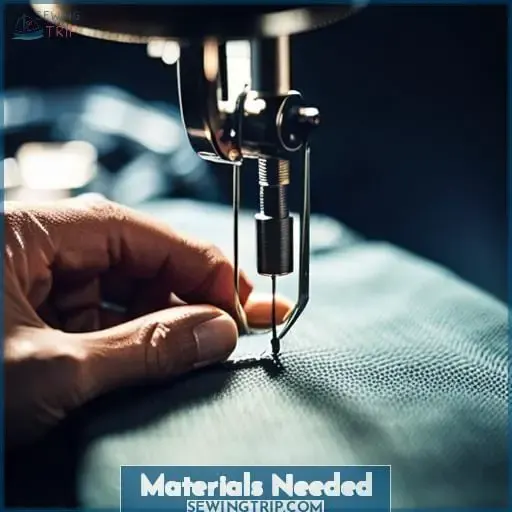 To sew a tracksuit, you'll need some essential items in addition to the fabric. Elastic waistband or drawstring cord is required for your style preference, as well as a sewing machine and matching thread.
Pins and scissors can be used if you don't have pre-cut pieces already available.
Fabric
Choose a fabric that's both durable and comfortable to make your tracksuit, so you can look great and feel great! A good choice for this project is stretch fabric – such as sweatshirt fleece or knit fabrics.
Different types of knits offer different levels of comfort. Consider heavy interlock knit when seeking extra warmth, while lightweight jersey offers breathability. If necessary, make pattern adjustments to ensure the best fit possible. Think about reinforcing pocket openings with topstitching for added durability too! With these tips in mind, you'll be able to create an amazing custom tracksuit perfect just for you.
Elastic
You'll need to pick out the perfect elastic for your tracksuit. To make a truly top-notch garment, opt for an elasticated waistband or strips of stretchy material that will move with you as you strut your stuff.
Consider factors like width, length, and stitch when selecting elastic alternatives. For pocket reinforcement and seam finishing, use a zigzag stitch or a waist dart instead of crotch seams.
Sewing Machine
Using a sewing machine to craft your tracksuit will give it a professional finish that cannot be achieved by hand-stitching. Adjust the tension, presser feet, and seam allowance for perfect results every time.
Choose the right fabric type and pattern construction for jogger pants or hip girth knee-height designs.
Thread
Ensure you use the right thread for a perfect tracksuit – choose a strong, durable variety that won't break easily and will give your project an unbeatable finish! When making athleisure wear or casual jogging suits, pick thread that matches the fabric choice.
Make sure to consider lapel break line and reinforcement options like straight lines or bar tacks.
Pins
Pins are essential for keeping your tracksuit fabric in place while you sew. Plastic clips quickly clip multiple layers and easily remove them when done. Select the right pins for the job – consider stitch length, presser feet, and pin selection to get the most out of your project! Matching right sides together is key – align a vertical line from the bottom of the back panel seam to the throat plate or use a ruler as a reference point.
Scissors
Be sure to have a good pair of scissors handy when crafting your tracksuit – they'll make snipping threads and cutting fabric much easier! From adjusting size, fabric choices, reinforcing pockets to zigzag stitches and sewing clips; use them for everyday life.
Marking the front armhole as a control point or adjusting the hip curve on a loose-fitting jacket block is essential. Everyday tasks will be more efficient with an excellent pair of scissors that can glide through seams effortlessly.
Free Pattern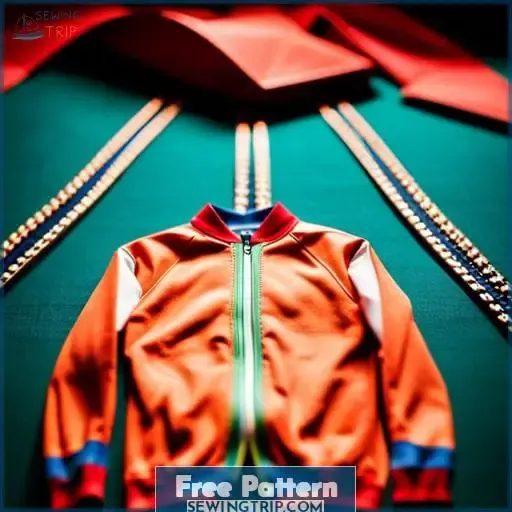 Do you want to make your own tracksuit, but don't know where to start? With a bit of research and the right materials, you can create something unique that fits perfectly.
To get started, look for a free pattern online – there are plenty available! You can also choose from different fabric options such as fleece or cotton knits based on how warm and comfortable you'd like it.
Once everything is ready, it's time for some sewing techniques! A basic zigzag stitch is all that's needed if no serger machine is available. However, reinforcement ideas such as bartacks may be necessary near pocket openings.
If the pattern has an English translation with marked seam allowances around each piece (which makes assembly easier), then all you must do after cutting out your chosen size in women's wear is sew together according to instructions provided by the designer.
It might take several tries before getting your sweatpants just right – but once complete, they will fit great and give you satisfaction knowing they were made personally by yourself!
So go ahead – try creating your own tracksuit today using this helpful guide. It'll prove worth every moment spent on crafting these custom garments!
Adjusting Fit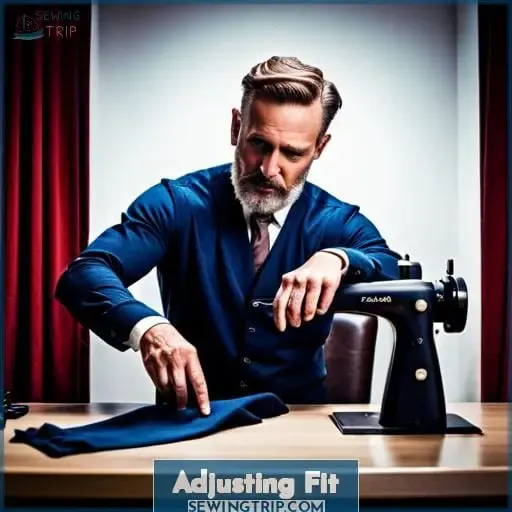 Tailoring your tracksuit is like fitting a glove to your hand – it can take some time and tweaking, but the end result will be worth it! To make sure you get the perfect fit, here are five key aspects to consider when adjusting:
Adjusting Length – If needed, try shortening or lengthening trousers by taking up or letting out hems at either leg's cuff.
Sewing Techniques – Use zigzag stitches for stretch fabrics and bartacks near pocket openings for extra reinforcement around them.
Fabric Selection – Choose between different fabric options such as fleece or cotton knits based on how warm and comfortable you want to feel in them.
Gauge Measurement – Make sure that any new waistbands measure correctly compared with those of other garments before cutting into fabric.
Altering Waist/back yoke line – Extend the back neckline further away from the body centerline while maintaining an even angle across both shoulders, or add more coverage along side seams if desired by customer service representatives who know how to sew tracksuits best!
Ultimately, altering these areas allows one's garment pieces to become personalized without needing major pattern adjustments.
Tools Used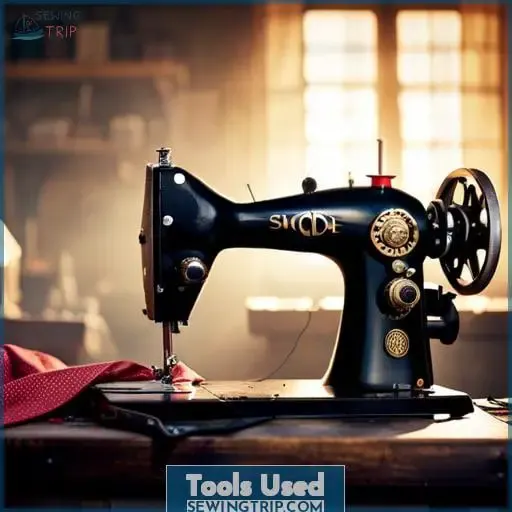 To achieve the perfect fit for your tracksuit, equip yourself with the right tools such as sewing clips and zigzag stitches to help you along! Sewing techniques are important when it comes to athleisure wear.
You can use a skye joggers pattern or sohn system of models, depending on how much stretchiness is desired in the fabric.
When selecting fabrics for your project, stay away from those that may fray easily. Instead, opt for ones like cotton knits, which would last longer. Additionally, consider pocket positioning before beginning any stitching process.
Pockets should be placed symmetrically on either side of seams at an even distance apart.
As far as stitch types go, try using elastic widths that will provide a snug fit around waistbands without becoming too tight over time.
With all these tips in mind, you'll have no trouble crafting up some stylishly fitted pieces ready for whatever adventures come next!
Reader Interactions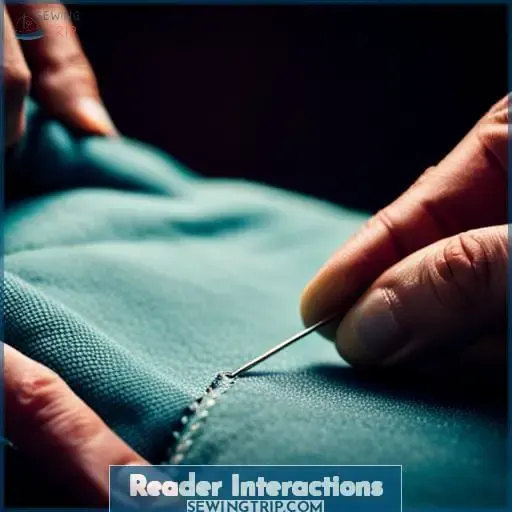 Take your tracksuit to the next level by engaging with our reader interaction section for helpful tips and tricks that are sure to hit the mark!
Caring for tracksuits is essential when it comes to getting a longer lifespan out of them. Consider investing in quality fabric, as well as taking extra care when washing and drying, such as using cold water settings or air-drying.
When selecting fabrics, think about fit first – this is key for an optimal look! Tracksuit styles vary from dropped shoulder points and lowered neck point all the way up to raised front yoke lines, which can give you a more fitted look.
Experimenting with different widths will also determine how much stretchiness you're looking for in a finished width product.
Beginners may find it easier trying out sample patterns before committing their time to larger projects, so they get an idea of what fits best without having too many problems along the way.
Frequently Asked Questions (FAQs)
How do I know if I need a serger for this project?
For this project, you don't need a serger. A zigzag stitch is enough to get the job done – like a mountain climber scaling up and down peaks with ease. Properly placed pins can help keep fabric in place while sewing, creating strong seams that will last through wear and tear.
How do I adjust the pattern for different sizes?
Feeling overwhelmed? Don't worry – adjusting the pattern to fit various sizes is easy! Simply follow our step-by-step instructions, and you'll be wearing your personalized tracksuit in no time.
Are there any additional techniques I can use to make the tracksuit more durable?
Take your tracksuit to the next level with these simple techniques. Reinforce pockets, use a zigzag stitch along seams and topstitch for extra durability. Add stabilizers on collars and cuffs or even line them for an extra special touch! Allusion will give it a unique design edge that will stand out from the crowd.
Is this project suitable for beginners?
Yes, this project is suitable for beginners! With a free pattern and easy-to-follow instructions, you'll be able to make your own tracksuit with confidence. The video tutorial will guide you through the process step by step – no need to worry about complicated techniques or expensive tools.
Are there any other fabric options I could use?
Yes! You can use other fabrics like jersey, cotton, or fleece to make your tracksuit.
Conclusion
Your tracksuit will be the envy of all your friends when you've completed it. With the right materials and tools, you can create something that's truly unique. You'll be amazed at the results of your hard work and dedication to this project.
It's like a blank canvas just waiting to be filled with your own personal touches that'll make it one of a kind.
From selecting the fabric to adjusting the fit, you'll have created something that's uniquely your own. With the right guidance, you can be sure that your tracksuit will be something to be proud of.