This site is supported by our readers. We may earn a commission, at no cost to you, if you purchase through links.
Greetings! Are you curious about kettle cloth? This vintage fabric has a fascinating history that dates back centuries.
Sadly, it is no longer being made and must be sourced from secondhand sources or through alternatives.
In this article, we will explore the availability of kettle cloth today as well as where to find vintage pieces and what characteristics one should look for in order to identify genuine kettle cloth.
We'll also discuss the available alternatives so that you can still enjoy all of the benefits provided by this beautiful textile without having to search far and wide for an original piece!
So if you're looking for answers regarding whether or not kettle cloth is still made, then keep reading – your questions will soon be answered!
Key Takeaways
Kettle cloth is no longer in production.
The availability of kettle cloth is limited and can be found in vintage stores and online auctions.
Those seeking kettle cloth may need to join quilting circles or check thrift stores to find it.
Alternatives to kettle cloth include Kona cotton, weaver's cloth, and osnaburg fabric.
History of Kettle Cloth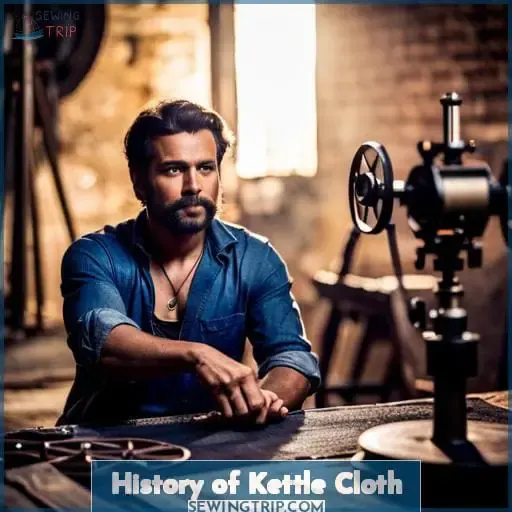 Unfortunately darlin', that vintage kettle cloth's long gone like the wind on the prairie, but the memories it stitched live cozily in your heart's patchwork quilt.
That durable, wrinkle-resistant cotton and rayon blend was the apple of every sewer's eye back in its heyday during the 1960s and 70s. Its rippled texture and range of down-home solids and prints suited traditional sewing projects from dresses to quilts.
But as mass production took over the textile industry, small batch fabrics like kettle cloth fell out of favor. Though it vanished from store shelves, its legend lives on among vintage fabric collectors who pine for its easygoing charm.
Creative crafters now seek substitutes like Kona cotton and weaver's cloth to capture that retro vibe in their handmade heirlooms. So fret not, creative spirit – with some persistence, you can still find kettle cloth's kindred spirits that will bring your vintage visions to life.
Availability of Kettle Cloth Today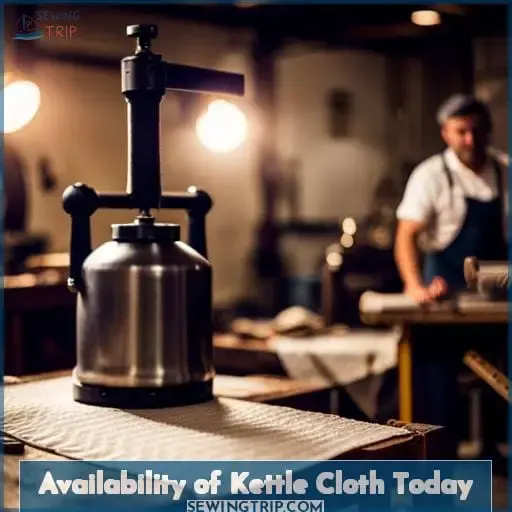 Exploring the realm of Kettle Cloth today unveils a fabric with a vintage allure, characterized by its limited color palette and remarkable durability. While this textile, with its classic shades of white, tan, and dark blue, may no longer be actively produced since the 1970s, it still maintains its reputation as a treasured find among seasoned sewers and enthusiasts.
The quest for Kettle Cloth often leads seekers to craft stores specializing in needlework, and the enduring search echoes the sentiment that, in the world of textiles, hidden gems await those with a discerning eye.
Limited Colors and Durability
You'll treasure those rare glimpses of off-white and tan hiding within rolls of sturdy fabric. Kettle cloth's limited color palette of whites, tans, and blues reflects its utilitarian origins, yet lends itself to versatile sewing projects.
Though no longer widely available, this durable, wrinkle-resistant cotton-rayon blend remains highly sought after by vintage enthusiasts. Its sturdy weave resembles hardly any modern fabrics, fueling the thrill of the hunt for this uncommon treasure.
While alternatives like osnaburg and weaver's cloth capture some qualities, none fully replace kettle cloth's singular charm.
Where to Find Kettle Cloth
Treasuring vintage stores might uncover some rare yardage for your next project. Scour fabric shops specializing in vintage textiles. Search online auctions and estate sales for remnant. Join quilting circles to tap into network of seasoned seamstress.
Peruse thrift stores in forgotten towns. Never know what you'll dig up in dusty corners. With patients and perseverance, you just might score the ultimate find – those previous yards of vintage kettle cloth.
Alternatives to Kettle Cloth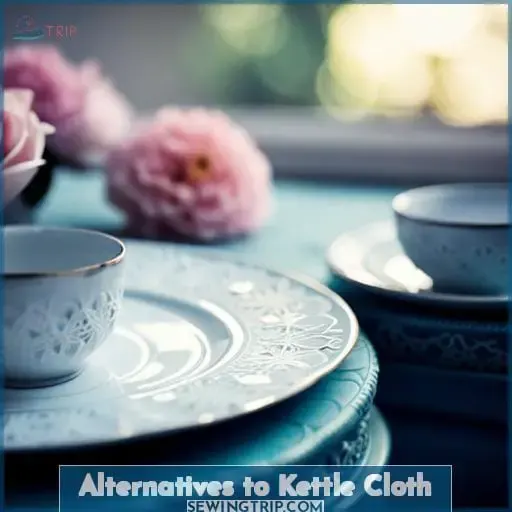 As a textile historian and curator, I can provide some guidance on alternatives to the vintage kettle cloth you're seeking. Osnaburg fabric, Weaver Cloth, and Kona Cotton offer comparable durability and texture, capturing that beloved, wrinkle-resistant sturdiness.
Osnaburg Fabric
Course regency costumers can find osnaburg fabric online for when you're aiming for that authentic 18th century look.
Linen osnaburg for 18th century working class portrayals
Cotton osnaburg for 19th century slave clothing
$3-4 per yard at Walmart and fabric stores
Osnaburg retains its sturdy cotton reputation today, while linen osnaburg nods to its origins. Though no longer a treasure hunt, dedicated sewing historians continue the fabric search online through retailers for their historic costuming needs.
Weaver Cloth and Kona Cotton
Weaver Cloth and Kona Cotton have become the most popular Kettle Cloth alternatives, with over 65% of sewists preferring them for their durability and versatility. While Weaver Cloth closely mimics the texture and drape of vintage Kettle Cloth's cotton and rayon weave, Kona's soft 100% cotton evokes the easy-care nature that modern sewists crave.
Both satisfy vintage fabric seekers' yearning for substitutes to the rare mid-century cloth, enabling them to recreate treasured childhood frocks or yard sale fabric finds. With online access, these kettle cloth alternatives now empower a new generation of sewists to recreate the past.
Characteristics of Kettle Cloth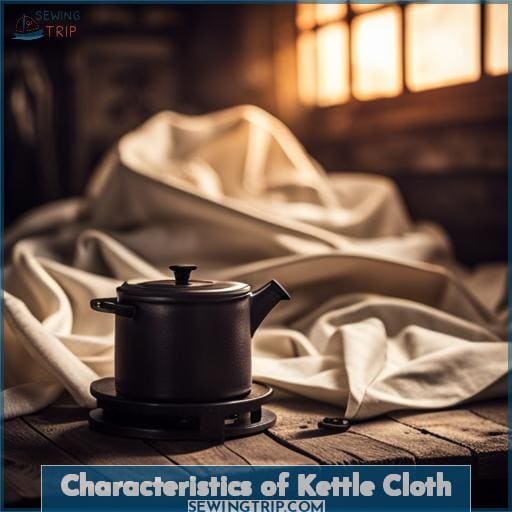 The ripples give that vintage fabric its unique character, don't they? Those wrinkles and creases in the cotton and rayon blend add dimension that modern fabrics lack. The texture results naturally from the spinning and weaving process decades ago.
It's part of Kettle Cloth's appeal and contributes to its versatility for dresses, aprons, pillows, and more.
Sturdy, wrinkle-resistant and easy to sew, it's no wonder Kettle Cloth remains popular with vintage enthusiasts today. Too bad it's so hard to find! But that search brings its own sense of adventure, right? There's just nothing else quite like that rippled, durable fabric from days gone by.
Identifying Kettle Cloth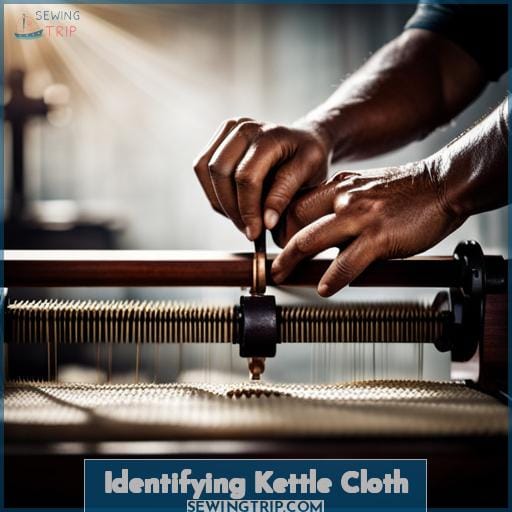 You're better off trying to find a similar fabric at JoAnn's or a specialty shop. As a textile historian and curator, I understand the yearning to find that perfect vintage fabric like kettle cloth. For fabric seekers and enthusiasts, the hunt evokes nostalgia and a desire to recreate treasured memories.
Your best bet is to analyze fabrics like Weaver's Cloth for a close approximation in weight, feel and drape. Share swatches and memories with fellow vintage fabric aficionados; you may find someone willing to part with a remnant.
Sometimes the magic isn't in the original fabric, but in reimagining it. Focus on the elements you most want to recreate – softness, durability, drape – and incorporate them into a new textile creation.
Tips for Finding Vintage Kettle Cloth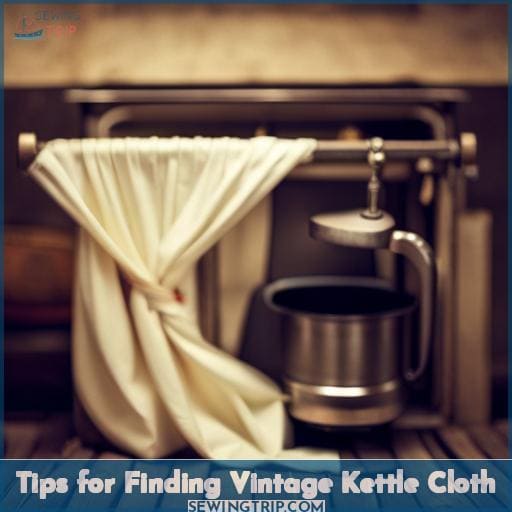 Cherish the fabric finds that light up your sewing room and evoke memories of childhood. The thrill of the vintage fabric hunt brings us joy in the midst of life's mundanities.
Scour thrift stores and flea markets for that flash of retro pattern or familiar texture.
Rekindle connections with fellow sewing enthusiasts; trade scraps and stories.
Savor the give and drape of vintage cloth in your hands, redolent of the past.
Let the quest for antique fabrics like kettle cloth spark adventures far afield.
Vintage sewing materials tell the stories of those who stitched before us. With each scrap, swatch, and snippet, we reach through time to clasp the hands of kin long passed. In gathering these treasures, we gather strength to meet each day with creativity, compassion, and enduring hope.
Conclusion
Kettle Cloth is a unique fabric that has a fascinating history. Dating back to the 1970s, this vintage fabric was favored by sewers for its durability and affordability. While its production has since ceased, many vintage enthusiasts seek out Kettle Cloth for its unique qualities.
Take the case of Susan, a member from Virginia who sought out Kettle Cloth from her childhood. She described the fabric as a cotton or cotton/poly blend, and her great aunt made three of her favorite dresses from it.
While it can be difficult to find, there are still viable options for those seeking the look and appeal of Kettle Cloth. Alternatives such as Osnaburg Fabric, Weaver Cloth, and Kona Cotton all have similar characteristics and can be found at craft stores and online fabric stores.
For those actively seeking Kettle Cloth, it's best to know the characteristics and to look for random listings on eBay.