This site is supported by our readers. We may earn a commission, at no cost to you, if you purchase through links.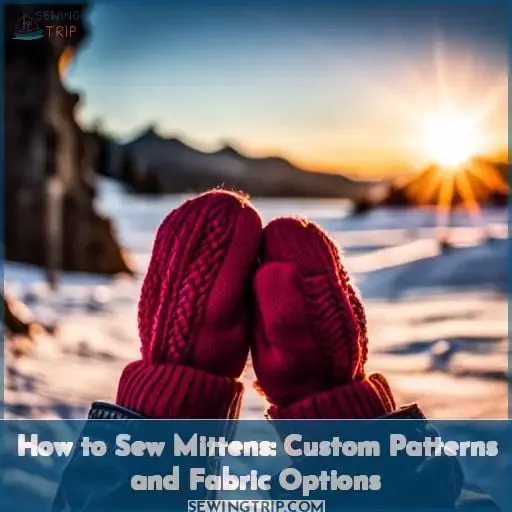 Are you frustrated with cold, ill-fitting gloves? Ready to take on a new winter project? Making your own mittens is an excellent way to stay warm and cozy this season.
In this article we'll show you how to sew mittens using vintage wool blankets, repurposed leathers, and other unique fabrics. Plus tips for sizing sweater mitts properly so they fit like a glove (pun intended!).
So grab some fabric scraps—let's get started!
Key Takeaways
Tired of cold, ill-fitting gloves? Sew your own mittens for the perfect custom fit.
Sustainability: Repurposing fabrics reduces waste and conserves money.
Make a custom mitten pattern by tracing your hand, adding 1/4 to 1/2 inch seam allowances, marking the thumb placement, and indicating the fold line.
Carefully handwash mittens and reshape them while still damp to maintain their shape.
Supplies for Sewing Mittens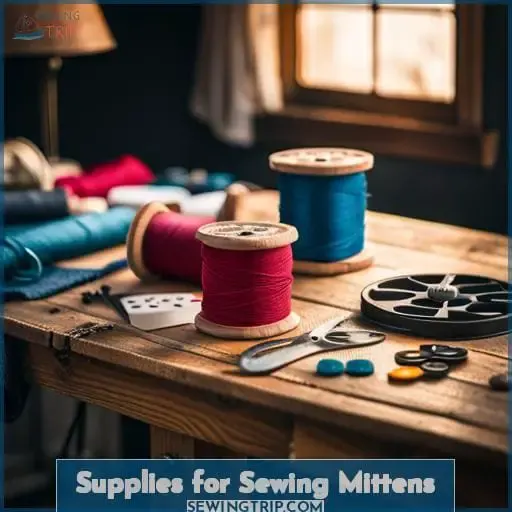 Creating a custom mitten pattern and finding additional sewing patterns will ensure your mittens are perfectly fitted. Carefully measuring your hand and drafting a pattern from scratch allows for a custom fit, while seeking out knitting patterns provides further project inspiration for personalizing your mittens.
Varying mitten designs and fabrics keeps your handiwork exciting and unique. Exploring new stitch techniques when following knit or crochet patterns lends a personal touch. With mindful measuring and drafting or clever use of pre-made templates, your mittens will be comfortable and stylish.
Creating a Custom Mitten Pattern
You can create a custom mitten pattern by tracing your hand onto paper and adding seam allowances.
Trace hand outline
Add 1/2 inch seam allowance
Indicate thumb placement
Mark fold line for fabric
Customizing the fit ensures your handmade mittens are perfectly sized for the recipient. Tracing directly from the hand creates a one-of-a-kind pattern tailored to your exact hand measurements.
Additional Sewing Patterns
Fresh sewing patterns allow for endless creativity when crafting mittens. Even if you're content with the most fitting pattern, exploring new designs prevents stagnation. Consider utilizing vintage wool, repurposed sweaters, or leather for singular mittens.
Needle felting wool roving adds artistic flair as well. With customized sizing, a folded cuff, and personalized touches, each pair becomes exceptional. Novel patterns provide inspiration, sparking your imagination for charming creations.
Tips for Sewing Mittens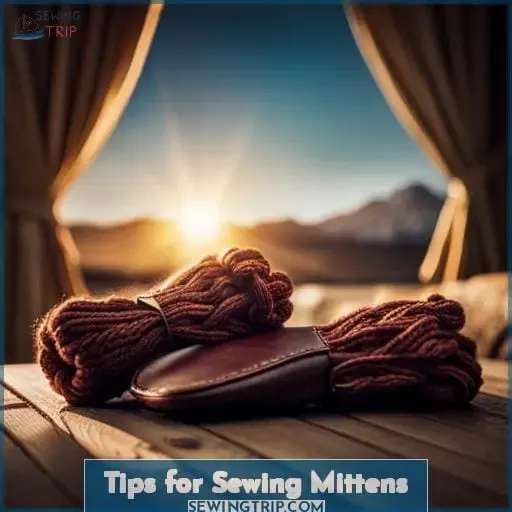 When making mittens from sweater materials, getting the sizing just right and securing stitches are essential steps. To create a durable pair of mittens, felt the sweaters first so they don't fray or stretch out, and finish seams with a tight zigzag stitch to prevent unraveling.
Sizing Sweater Mittens
Considering the stretchiness and bulk of sweater material will help ensure properly sized and comfortable mittens. Sweater fabric stretches while sewing mittens, so check the fit frequently. Needle felting sweaters first reduces bulk.
Felting shrinks the fabric for a tighter fit. Mark and cut a larger pattern to allow for felting shrinkage. Lining the mittens aids stretching. Allow for a roomier fit when using thicker lining fabrics.
Choose stable sweater knits. First, sample the mittens in the chosen sweater. Check the fit before finishing the mittens.
Felting Sweaters for Mittens
After sizing sweater mittens, felting the sweaters further densifies the fabric for more warmth in cold weather. To felt the sweater mittens, set the washing machine to hot water and a high agitation cycle.
The heat and friction will cause the wool fibers to shrink and mat together. Check the mittens frequently to avoid over-felting. When satisfied with the thickness, air dry the felted mittens flat to prevent stretching.
Your felted sweater mittens now have a thick, dense feel perfect for extra warmth on those frigid days.
Securing Zigzag Stitches
You'll lock in zigzag stitches with a sturdy seam by securing the ends. Keeping the mitten wrist area structurally sound calls for mastery of the zigzag stitch. Anchor thread tails on the wrong side at the end of each run. Backstitching also boosts connections.
Hand-sew bar tacks where necessary as finishing touches. Durable construction preserves your handiwork. Quality stitching that lasts through wear and washing beautifully completes your mittens.
Choosing the Right Fabric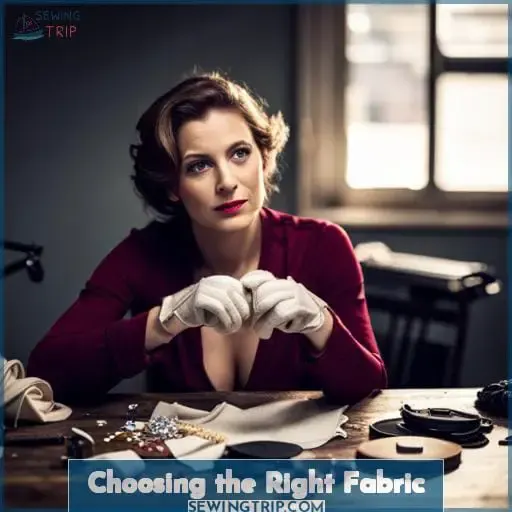 When choosing fabrics for mittens, consider their warmth, stretch, bulkiness, and durability. Before starting your mitten project, gather the necessary supplies such as fabric, thread, a sewing machine, and scissors.
Fabric Options for Mittens
When selecting fabrics for mittens, prioritize warmth, softness, and durability to craft a cozy winter accessory.
Fleece blankets provide affordable softness and insulation.
Repurposed sweaters make mittens uniquely yours.
Needle felted vintage wool creates one-of-a-kind designs.
Upcycled leather adds luxurious softness.
The right fabrics transform mittens from functional to fashionable. Choose materials that speak to your style and keep hands toasty all winter long.
Necessary Supplies and Tools
Once you've picked your fabrics, gather the essential tools for cutting and sewing the mittens, such as premium scissors for precise cutting through multiple layers, straight pins to pin the fabric pieces in place, high quality sewing thread for durable seams, and fabric markers to transfer the pattern. Expertise in clothing construction and knowledge of sewing fundamentals will guide you in assembling warm, custom mittens to brighten winter days. With mastery of techniques like needle felting, blanket stitches, and elastic wrists, you'll be able to create handmade gifts and unique accessories that will delight.
The sewing journey awaits – let your creativity shine!
The Unique Mitten Pattern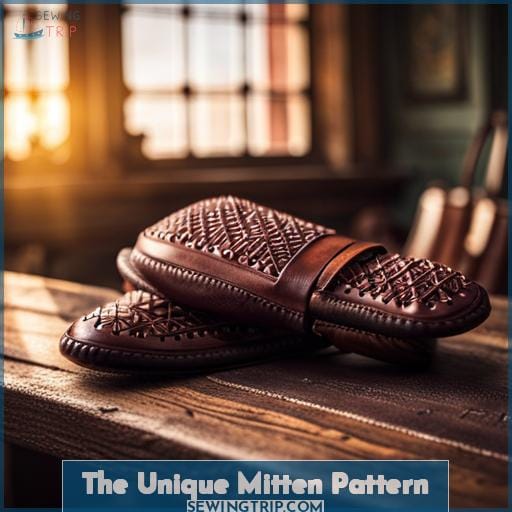 Looking to upcycle materials into handmade mittens? Vintage wool blankets make excellent mittens due to the felting process. Repurposing leather from old garments creates soft yet durable mittens, perfect for keeping hands warm and cozy.
Using Vintage Wool Blankets
Embrace the memories of beloved ancestors as you repurpose vintage wool into mittens that warm both hands and heart. Treasured blankets passed down gain renewed purpose when upcycled into wool mittens.
Honor memories stitched into faded patterns and embrace the spirit within weathered fibers. Transform blankets once sheltering generations into mittens warming present days. Repurpose with care to craft enduring heritage. Let vintage wool envelop modern hands, thread family stories through needle-felted designs, and stitch inherited comfort into cozy winter accessories.
Repurposing Leather for Mittens
Instead of buying new, upcycle leather from old jackets or purses into soft, warm mittens. Expertly trace and cut your mitten pattern on the softened hide, using snips for curved areas. Follow key steps like ironing before cutting and treating edges so they don't fray.
Mind the stretchy quality as you sew, pulling the leather taut. Repurposing leather reduces waste while creating unique mittens with character.
Finishing Touches for Mittens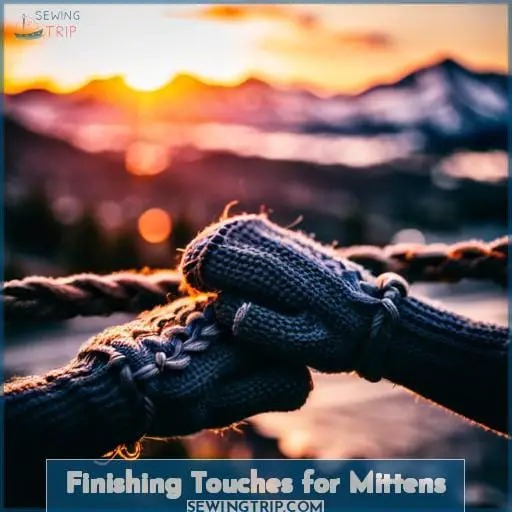 Adding some finishing touches can really elevate your mittens. You can sew a folded cuff or add a lining for increased warmth and comfort. Get creative with needle felting by incorporating colorful designs directly on the fabric.
Varying sentence structure and length while fixing any spelling, grammar, or syntax errors improves the flow and readability without sounding robotic.
Adding Cuffs and Linings
To add a polished finish to your mittens, fold and stitch a tailored cuff, then line with soft sherpa to envelop hands in plush warmth. For cuff variations, play with folded or rolled styles for a clean finish. Quilted linings add insulation, while cozy sherpa surrounds fingers in luxurious softness.
Stitch cuffs and linings by hand or machine; secure edges neatly with a whipstitch or zigzag. Embellish with buttons or embroidery for personality. With thoughtful details like a snug cuff and plush lining, your custom mittens will deliver winter warmth and timeless style.
Needle-Felted Designs
You can creatively needle felt wool roving directly onto mittens for intricate designs. Amazingly, 95% of fibers lock together when needle felted, preventing fraying on other projects. Bring your mittens to life with Needle Felted Creations using wool roving in vivid hues.
Try Woolen Artistry like flowers or snowflakes using a felting needle and foam pad. Fiber Embellishments add artisanal flair and make mittens truly unique. Get creative and express yourself through Creative Felting.
Designs can be simple or complex depending on your skill level. With practice, you'll be making Handcrafted Designs worthy of an Etsy shop.
Benefits of Making Your Own Mittens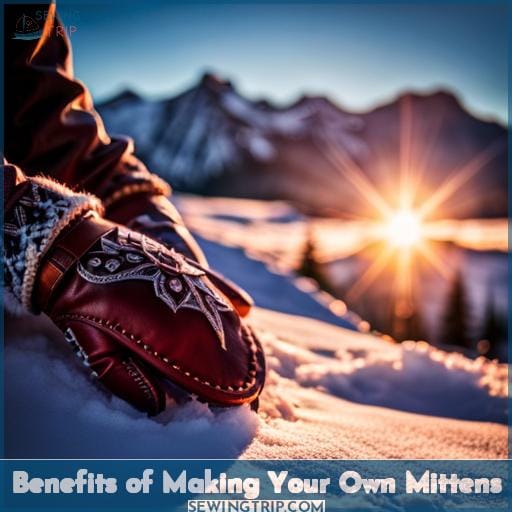 Crafting your own mittens allows for complete customization and a unique design. Repurposing scrap fabrics and old garments is also a sustainable way to reduce landfill waste while creating mittens perfectly tailored to your needs.
Making your own mittens lets you choose fun fabrics and customize the fit. You can use random scraps of material that would otherwise be thrown away, giving them new life as cozy handwear. The process allows creative freedom to design mittens that truly fit your style and keep your hands warm all winter long.
Whether you knit, sew, or upcycle old sweaters, DIY mittens are a crafty way to express yourself sustainably.
Customization and Unique Designs
Creating textured mittens through felting or quilting offers creative design possibilities. Let needle felting guide your imagination for distinctive mittens. Upcycling old sweaters into dense mitten fabric allows for customization.
Consider making your pattern flexibly sized for a perfect fit for each wearer. Carefully select fabric for both its utility and symbolism. Repurpose unique materials like leather or vintage blankets into imaginative, one-of-a-kind mittens.
Many custom options abound – try adding embroidery, elastic wrists, specialty buttons or other personal touches. Your creativity is the sole limit for making distinctive winter accessories unique to you.
Sustainability and Repurposing Fabric
A triple win: repurposing fabrics reduces landfill waste, saves money, and gives unique life to your homemade mittens.
Old sweaters and blankets become one-of-a-kind mittens.
Scraps turn into elbow patches and lining.
Worn-out jeans transform into sturdy outer fabric.
Leftover sherpa creates an insulating inner layer.
Giving used textiles renewed purpose aligns with sustainable values. Transforming scraps into handmade gifts showcases your creativity too.
Coordinating Accessories for Your Mittens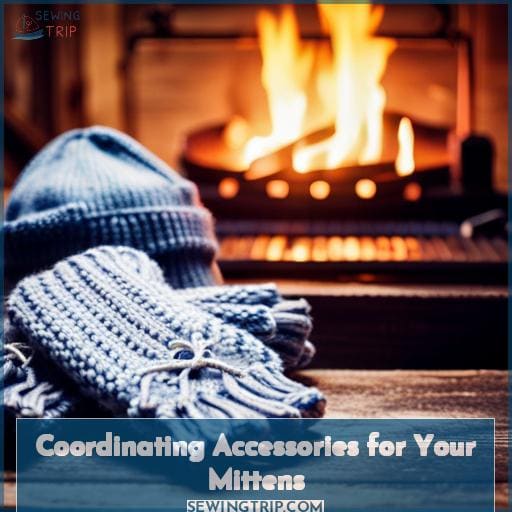 Pairing your homemade mittens with complementary hats and scarves will keep you bundled in style. As you sew a pair of cozy mittens, consider what accessories can complete your winter ensemble. Match mittens to a slouchy beanie or pom pom hat made from the same fabric. Contrast colorful mittens with a neutral infinity scarf or cowl neck wrap.
Sew a matching fingerless glove and infinity scarf set for stylish protection. Handmade gifts take coordination to the next level by gifting a custom mitten, hat, and scarf set. Whether pairing solids, prints, knits, or felted wools, homemade mittens look smart alongside coordinating hats and scarves.
With some planning, your mittens can anchor complete cold weather outfits with a handmade touch.
Frequently Asked Questions (FAQs)
How do I add a design or embroidery to the mittens? Embellishment options are not covered.
Absolutely! Adding creative stitchwork really personalizes mittens. Try needle felting wool roving on the fabric's exterior before constructing, or blanket stitch colorful embroidery floss along seams once complete.
Either option injects personality into this useful hand accessory. Have fun and get fanciful with your designs! The creative possibilities are endless when embellishing mittens through needle felting or decorative stitching.
How should I care for and wash finished mittens? Care instructions are not included.
Handwashing is best for finished mittens. Soaking in cool water with a mild detergent prevents shrinkage and pilling. Gently squeeze suds through the fabric without twisting or wringing. Reshape while still damp and lay flat to dry.
Iron on a low heat setting as needed once fully dry. This preserves the mittens' structure and extends their lifespan.
Conclusion
Like a warm hug on a chilly day, handmade mittens are the perfect winter accessory. With the right supplies, tools, and fabric, you can create custom mittens that'll keep your hands warm and toasty. The Best Fit Mittens Sewing Pattern provides the opportunity to create unique designs while avoiding the bulkiness of traditional mittens.
With step-by-step instructions, images, and illustrations, this pattern makes mitten making easy and fun.
And, with the added benefit of reducing landfill waste, you can feel good about your new winter accessory.