This site is supported by our readers. We may earn a commission, at no cost to you, if you purchase through links.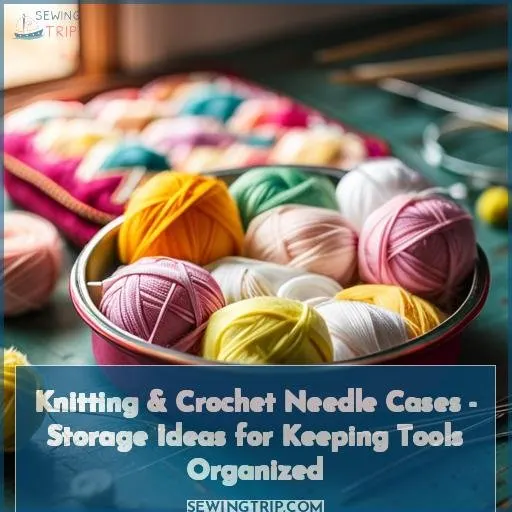 You probably never imagined knitting needles and crochet hooks could wreak such chaos! But every crafter knows the struggle is real when your tools are disorganized. Like a bird yearning to fly free from its cage, your inner artist longs to break free from the creative confines of tangled yarn and lost needles.
Let your supplies sing with joy as you liberate them into a personalized knitting and crochet needle case. With the perfect storage, you'll finally experience the control and intimacy with your craft that you desire.
In this article, we'll explore luxurious handmade needle cases, budget-friendly mass market options, and empowering DIY solutions for getting your knitting and crochet needle cases and storage neatly organized.
You'll soon be hooked on the benefits of a designated home for your most precious creative companions.
Key Takeaways
Proper storage is essential for protecting knitting and crochet tools from damage.
Metal needles should be stored in soft sleeves or cases to prevent bending or breaking.
Crochet hooks should be kept in pouches to avoid snags.
Keeping tools in containers helps prevent losing them and keeps them organized.
The Importance of Proper Storage for Knitting and Crochet Tools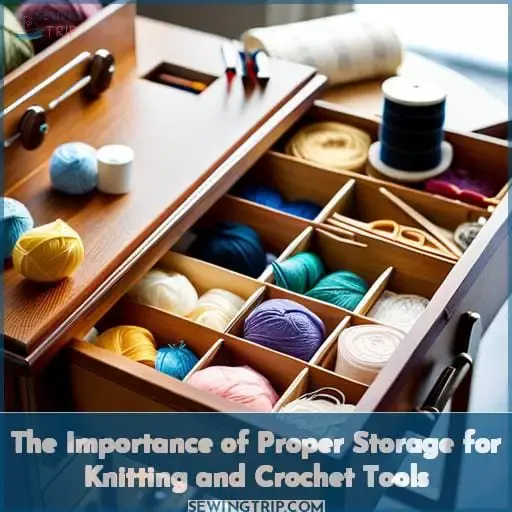 You've gotta keep 'em safe and sound, my friend. Your handy notions, stitch guide usage, and tension technique rely on proper storage. Without it, your tight budget techniques and fiber selection factors won't matter if your tools get damaged.
Store metal needles where they won't bend or break. Wrap 'em in soft fabric sleeves or roll 'ems in needle cases. Stash your hooks in handy pouches to avoid snags. Keep your notions together in cute containers so they don't go missing.
Your hours of practice and dollars spent deserve tools that'll last. Treat 'em right and they'll be your creative companions for years to come.
Handmade Needle Cases and Storage Options on Etsy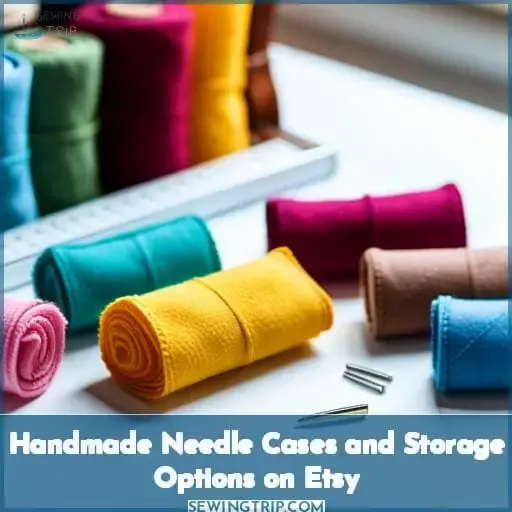 You've organized your tools, now it's time to store them in style. Etsy offers a treasure trove of handmade needle cases and creative storage solutions to keep your knitting and crochet supplies tidy yet easily accessible.
Indulge your crafty side with a hand-tooled leather roll that neatly holds all your needles, or opt for a fabric wrap adorned with buttons and ribbons. Magnetic boards and mesh wall hangers display your works-in-progress while keeping yarn balls from rolling away.
Sturdy pegboards hold blocking tools at the ready. With so many charming, practical finds, you can curate a storage space as unique as your latest project. Let your imagination run free as you browse for ways to corral your needles that speak to your creative spirit.
Mass Market Options From Boye and Susan Bates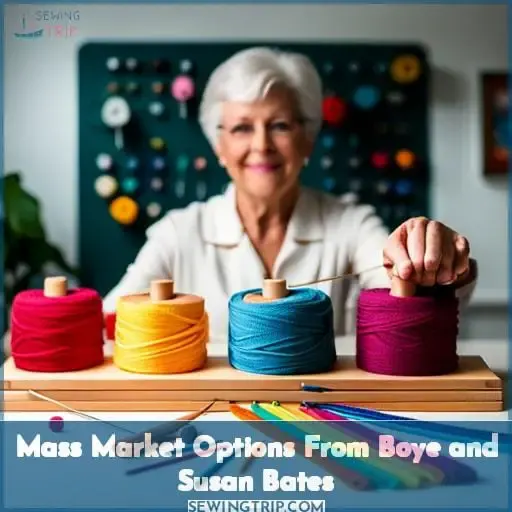 Listen up, folks – mainstream needle storage from big brands gives you more options than just handmade cases! When it comes to keeping your knitting needles tidy, Boye and Susan Bates have got you covered.
Their mass-produced cases boast storage accessibility and display aesthetics to suit every crafter's needs.
While some raise concerns over corporate ethics and product durability, these companies continue to respond to consumer demand. With options ranging from soft pouches to hard plastic cases, they aim to make needle organization simple.
Let your personal style shine through in your stitches as well as your accessories.
DIY Options for Creating Your Own Needle Case or Pouch

Let's open up your craft closet and put together a custom case to keep your hooks happy and tidy. Raid your stash of zippers, fabrics, elastics, buttons, and more to DIY a holder that's perfectly suited to your hook collection and project needs.
Make a zippered roll from colorful cottons to display your hooks in neat rows or sewing notions pouches to hold hook sizes together. For on-the-go portability, stitch up a foldover clutch with pockets to carry current WIPs and accessories.
Get creative with mix-and-match fabrics or pull over an existing organizer to create a custom Velcro-closure holder.
The options are endless when making your own needle cases – you can design them just how you like to keep your hooks neat, tidy, and easy to find.
Benefits of Having a Designated Storage Space for Your Knitting and Crochet Tools

Your hooks and yarn will stay untangled in their spots, coincidentally freeing your mind for stitching.
A dedicated needle case keeps your tools tidy so you can grab and go when inspiration strikes.
Organized tools mean less frustration in finding the right hook or needle size for a project.
Cases let you safely transport works-in-progress to stitch groups or giftees without tangles or lost stitches.
Having a special spot for your beloved knitting and crochet tools streamlines stitching and enhances creativity.
Frequently Asked Questions (FAQs)
What size/type of needles and crochet hooks can fit inside a standard needle case?
You, my crafty friend, know that standard needle cases come in many shapes and sizes, like snowflakes gently falling from the sky. But typically, they can hold straight needles up to size 15 and crochet hooks from size B to K.
With a little wiggle room, a standard case will snugly fit your hooks and needles for any project. Just be sure to choose the right size case for your needs, and your tools will be safely stored and ready for your next stitching adventure.
What fabrics work best for sewing your own needle case?
Avoid lightweight fabrics and instead choose durable leathers! Let zebra prints and tiger stripes transport your hooks and needles to far-off lands. Channel your inner lioness and pierce sturdy hides with bold needles, fearlessly crafting a fierce home for your tools.
Where can you buy needle case patterns and kits for knitting/crocheting your own case?
You can find lots of needle case patterns and kits on Etsy, eBay, and specialty craft retailers. Browse for crochet, knit, or sewn options in different sizes. With the right materials, you'll be able to make cute, personalized holders to store all your needles and notions.
How do you clean and care for a needle case to keep tools protected?
Wipe it down regularly with a slightly damp cloth to remove any dust or debris. Let it fully air dry before storing your tools again. Condition the leather occasionally with leather oil or cream to keep it supple. Avoid submerging suede or fabric cases in water.
If needed, spot clean stains gently with a small amount of mild soap and a toothbrush.
Are there any good travel needle cases or options for transporting tools?
You should definitely get a travel needle case to keep your tools organized on the go, as jumbled needles are like tangled yarn – frustrating and time-consuming to sort. Look for ones with secure compartments and pockets that fit your specific needle and notions sizes.
A good travel case will safely transport your knitting supplies so you can stitch anywhere with ease.
Conclusion
A recent survey found that over 80% of knitters and crocheters have experienced frustration from losing or tangling their needles without proper storage. Don't let your passion become painful! Taking the time to organize your tools in a designated case or pouch will make your knitting and crochet projects flow more smoothly.
With so many knitting crochet needle case options available, from DIY to Etsy to major brands, you can find the perfect storage solution to meet your budget and style. Keep your knitting crochet needles handy but protected, and enjoy your hobby in comfort.