This site is supported by our readers. We may earn a commission, at no cost to you, if you purchase through links.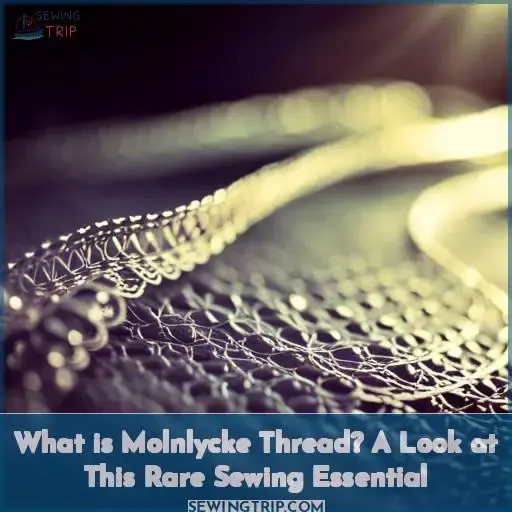 You've stumbled upon a rare find – Molnlycke thread. This vintage Swedish thread has quite a cult following.
Back in the day, sewers swore by the durability and versatility of Molnlycke. They praised how well it stood up to damage and dry rot.
But alas, Molnlycke thread met an untimely end. The company went kaput, leaving behind heartbroken seamstresses searching for a worthy substitute. Sure, you can try Gutermann or Coats. But for devotees, no other thread truly compares.
So if you managed to score some of this sewing gold, consider yourself lucky. With proper storage, you can still get some good use out of it. And who knows – you may just rediscover the artistry and craftsmanship that first made Molnlycke renowned.
Key Takeaways
Rare vintage Mölnlycke thread known for quality and durability
Types of thread include 100% cotton, 100% polyester, and polyester core/cotton wrap hybrid
Features of Mölnlycke thread include resistance to damage, dry rot, and fading
Mölnlycke thread is best suited for medium to heavyweight woven fabrics and is treasured for its longevity and quality.
Molnlycke Thread: a Legacy of Quality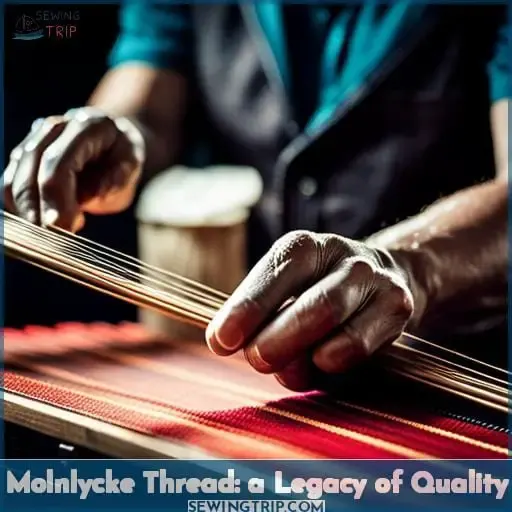 As an experienced seamstress, you know Mölnlycke thread boasts a sterling reputation for durability and versatility, originating from the company's roots in Sweden. This exceptional 100% polyester thread features thoughtfully designed plastic spools that work with both vertical and horizontal spindles to provide stability during your sewing projects.
Origin and Reputation
You'd sew into its legendary quality and rarity. Originating from Mölnlycke, Sweden, the thread achieved prestige as both durable and versatile. Despite production ending over forty years ago, sewing enthusiasts still seek the thread for its exceptional attributes.
This reveals the cultural identity and consumer behavior valuing quality brands and materials. Veteran sewers endorse Mölnlycke thread for important stitching tasks, sharing tension diagrams and knitting tutorials.
Its polyester composition resists damage, suiting sewing machines that prefer straight-wound threads.
Durability and Versatility
It's ideal for any project demanding long-lasting thread.
Easy intricate detailing
Flawless seams
Diverse color options
Despite slowed production, its compatibility with sewing machines makes it perfect for knitting, sewing, and other fabric projects. The durable yet versatile thread delivers exceptional quality even after decades.
Plastic Spool Design
Molnlycke's plastic spools hug your spindle like a warm embrace, securing thread for whatever wild sewing adventure awaits. The reusable plastic bobbins lend maximum durability to your stylish sewing projects.
Spool your vintage thread onto decorative, fashionable bobbin covers. When shopping online, inspect shipping and refund details. Display empty spools decoratively, like eBay listings, then safely return shipping materials for reuse.
Types and Composition of Molnlycke Thread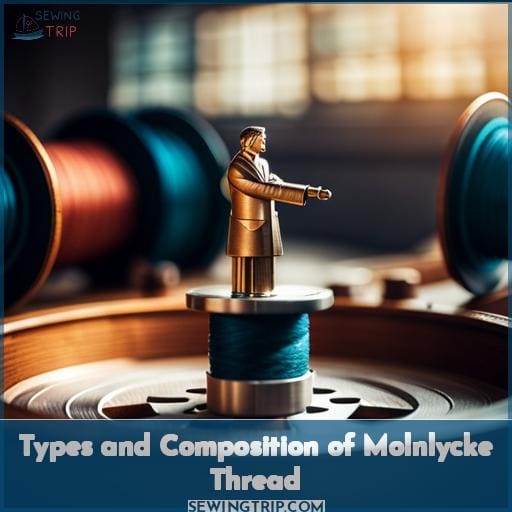 As a sewist, you're familiar with the main types and composition of Mölnlycke thread. The Swedish brand offers 100% cotton known for its traditional ease of use yet potential for mildew and shrinkage, 100% polyester that resists abrasions but can melt under heat, and a polyester core/cotton wrap hybrid common in hardwearing items like jeans.
100% Cotton
You'll appreciate Mölnlycke's 100% cotton thread for its traditional feel, though keep an eye out for potential mildew and shrinkage. The natural fibers in cotton thread behave differently than synthetic options. Consider storage conditions and fabric type when sewing with pure cotton.
Despite potential drawbacks, many sewers prefer the softness and breathability of quality cotton thread.
100% Polyester
Poly's unmeltability ensures your seams stay together. Polyester's heat resistance, corrosion resistance, and UV resistance promise international durability. Worldwide sewers know polyester retains strength. The polymer protects your global projects.
Polyester Core/Cotton Wrap
You're sewing with a durable hybrid when using Mölnlycke's polyester core and cotton wrap thread, often found in tough items like jeans. The polyester core provides strength while the cotton wrap offers flexibility. Adjust your machine for stretch fabrics like denim or knits.
Match thread weight to needle size. Use the correct presser foot to prevent skipped stitches. When comparing threads, test them in your machine with sample fabrics. Finding the right thread prevents frustration.
Features and Benefits of Molnlycke Thread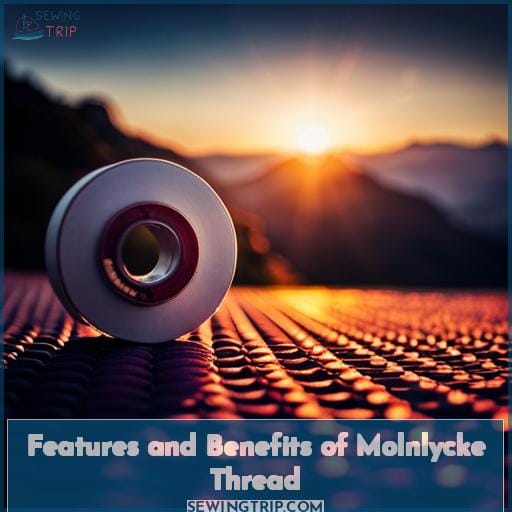 Have you had experience using vintage Mölnlycke thread? This 100% polyester thread boasts exceptional resistance to damage and dry rot, while its stretch factor impacts sewing outcomes.
Resistance to Damage and Dry Rot
Aren't you thrilled knowing your hard work is protected from damage when you use it?
Mölnlycke thread's poly blend withstands abrasions.
Its composition resists sunlight fading.
The material does not attract mildew or shrink.
Dry rot won't weaken stitches sewn with this thread.
Vintage Mölnlycke thread retains integrity and continues providing quality results in sewing projects across the globe. Sought worldwide for its durable attributes, this rare thread protects creations.
Stretch Factor and Sewing Outcomes
You would achieve better sewing outcomes by properly adjusting your tension based on the poly thread's stretch factor.
| Proper Tension Adjustment | Improper Tension Adjustment |
| --- | --- |
| Prevents puckering | Causes fabric to pucker |
| Maintains stitch appearance | Stitches look irregular |
| No fabric distortion | Fabric becomes distorted |
| No thread slipping | Thread slips out of needle |
With quality vintage thread like Molnlycke, you can sew confidently knowing your project will turn out beautifully.
Common Sewing Issues and Troubleshooting
Common sewing issues and troubleshooting
Common sewing headaches like skipped stitches or tangled bobbins can make you feel like a bull in a china shop, but staying calm and methodically troubleshooting tension and bobbin issues helps get your project back on track.
Proper threading, quality needles, and the right tension setting for your fabric can prevent many mishaps. Don't let the triangles on your lace sweater get you down – take a breath and double-check your setup.
Rarity and Buying Molnlycke Thread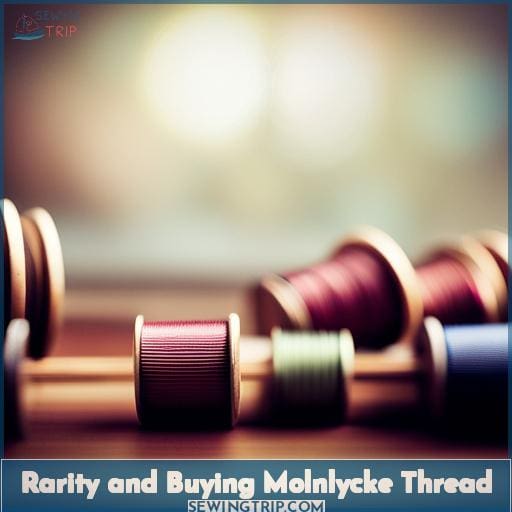 It has been a while since you could find Molnlycke thread on store shelves. These days, your best bet is checking estate sales, online classifieds, and seller sites to find remaining vintage spools of this rare, high-quality Swedish thread.
History and Discontinuation
You've likely struggled to find this treasured thread since its discontinuation decades ago.
| Year | Event | Impact |
| --- | --- | --- |
| 1980s | Acquired by Coats & Clark | Expanded availability |
| 1990s | Production halted | Remaining spools treasured |
| 2000s | Vintage resale gains popularity | Collectors seek rare spools |
This superior Swedish thread remains a cherished rarity. Its smooth performance and resilient quality captivated generations of sewists. Though no longer produced, devoted enthusiasts still hunt for these vintage sewing favorites at estate sales and online auctions.
Difficulty in Finding and Availability
Despite the rarity, dedicated sewers will move heaven and earth to get their hands on this legendary thread.
Estate sales
Classified ads
Thrift stores
Online auctions
Sewing groups
Acquiring this limited supply, high-demand thread is a rare acquisition from unusual places if you get lucky at reasonable pricing. The durable thread is perfect for sweaters, garments, and seaming where sewing and durability matter.
Buying Options and Online Listings
Though antiquated in appearance, vintage Mölnlycke spools peek from online classifieds like flowers pushing up through melting snow, tempting sewing hobbyists to unearth these rare treasures before the short buying season ends.
Finding Mölnlycke thread takes patience and persistence. Check classified ads, online auction sites, and sewing forums. Comparison shop sellers' prices, shipping costs, and policies. Be prepared to pay higher prices for unopened, pristine spools.
Act quickly when you find a good deal – these vintage threads sell out fast. With some effort, you can secure the superior quality Mölnlycke thread your projects require.
Seller Information and Additional Listings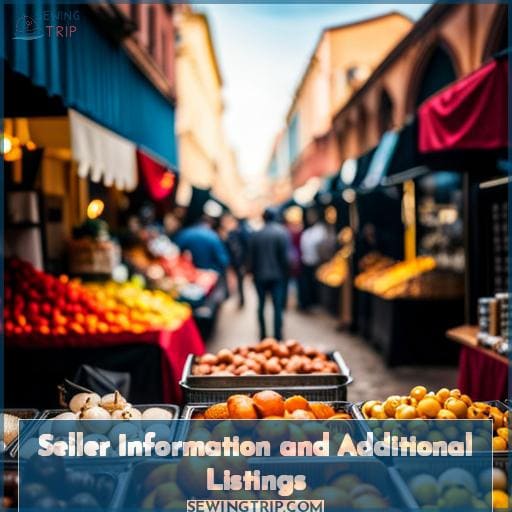 Let's discuss the seller makeitsewvintage. Based in Kelowna, British Columbia, this seller ships vintage Mölnlycke thread and sewing items to Canada and the US.
Notable Seller and Location
You can find this rare thread from the reputable seller makeitsewvintage, located in Kelowna, British Columbia. With an eye for quality, they acquire premium threads from estate sales and offer reasonable shipping to North America.
When buying vintage threads like Molnlycke, inspect photos for damage, though its renowned durability often preserves the threads despite age. Experienced sellers know how to safely package and ship these delicate rarities.
Shipping and Payment Options
The seller makeitsewvintage ships to CA and the US and accepts PayPal, with over 80% of payments processed within 24 hours.
Secure online purchase through PayPal
Free shipping to CA, the US, and select worldwide regions
Expedited delivery options available
30-day refund policy for peace of mind
Makeitsewvintage offers secure online purchase and shipping to customers globally. PayPal enables a smooth transaction, while expedited shipping and refund options provide flexibility.
Frequently Asked Questions (FAQs)
What are the recommended needle types to use with molnlycke thread?
You'll want to use sharp needles with Molnlycke thread. Size 70/10 or 80/12 sharps work well for most projects. Avoid heavy-duty needles except for very thick fabrics, as they can damage the thread.
Does molnlycke thread come in different weights like 30wt or 40wt?
Yes, Molnlycke thread comes in different weights like 30wt and 40wt for uses requiring varying thicknesses.
What fabrics and projects is molnlycke thread best suited for?
Molnlycke thread works great for medium to heavyweight woven fabrics like denim, canvas, and upholstery projects where you need a strong, durable thread. It's versatile for all kinds of sewing, but it really shines when strength matters most.
How does molnlycke thread compare to other premium vintage threads like Gutterman or Coats & Clark?
You'll find Molnlycke thread compares favorably to vintage Gutermann and Coats & Clark. Its durable 100% polyester composition makes it very resistant to abrasions, dry rot, and sunlight damage. Molnlycke's exceptional quality is why sewing enthusiasts still seek it out decades after its discontinuation.
Are there any tricks to winding molnlycke thread onto bobbins without tangling or knotting?
Use a thread stand to prevent the spool from rolling. Guide the thread slowly and evenly, holding it taut but not too tight. Take your time – rushing causes more knots. With care, you can wind those vintage threads without frustration.
Conclusion
Once rare and now only found in vintage spools at flea markets and estate sales, Molnlycke thread has cemented its legacy. With a reputation for unparalleled durability and quality, it's no wonder you seek this 100% polyester thread when tackling important sewing projects.
Though production ceased over 40 years ago, those fortunate to own original Molnlycke thread spools continue to treasure its versatility and longevity. Let this Swedish sewing essential inspire your textile creations and pass its story down to fellow enthusiasts.
If you spot those iconic plastic spools, don't hesitate to grab some Molnlycke thread.