This site is supported by our readers. We may earn a commission, at no cost to you, if you purchase through links.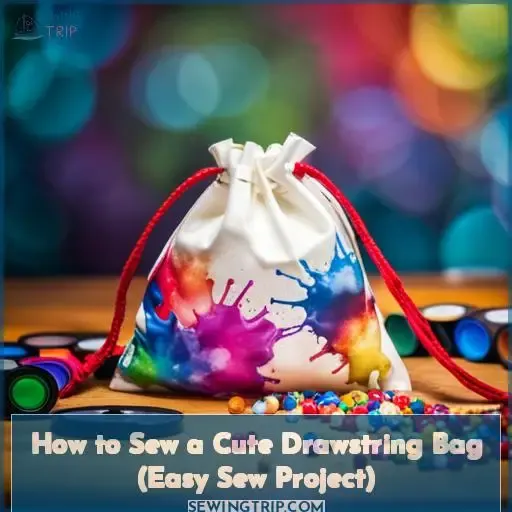 You're looking for new ways to satisfy your creativity and gain mastery in life. What a coincidence – I've got the perfect project for you! Making your own drawstring bag lets you flex your skills and create something useful and unique.
With just basic supplies and 150 easy-to-follow steps, you'll sew a cute bag from start to finish. Keep reading to get started on this liberating DIY that builds confidence with every stitch.
Key Takeaways
Customization options include fabric choices, prints, and upcycled materials.
Topstitch details add personality to the drawstring bag.
French seams are used to create the drawstring casing.
Drawstring bags can be used for organizing, gifting, and carrying small items.
Why You'll Love This Drawstring Bag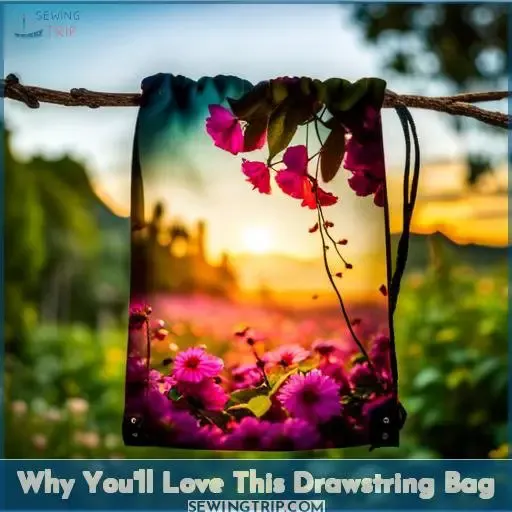 You'll adore this quick and crafty pouch for its handy size and cute style. The classic drawstring bag design allows for unique bags with your choice of fabrics. Customize with fun prints, smart solids, upcycled materials, even old t-shirts. Top stitch details add personality, while encased raw edges prevent fraying.
Fold down and top stitch the top to create a drawstring casing. Run drawstrings through your machine-sewn channels. Then simply pull to cinch the bag closed. Voila, you've created a super handy carryall.
Stash art supplies or makeup inside. Tote snacks for a picnic. Options are endless for these vintage-inspired pouches.
Finished Size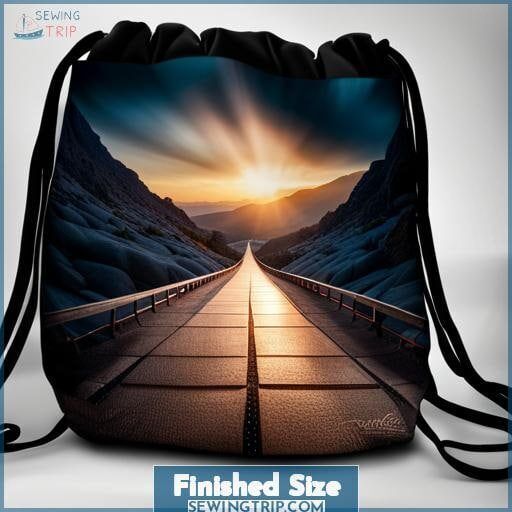 The finished size of your handy drawstring pouches can easily store small trinkets, coins, or lip balms for quick retrieval on-the-go. Depending on the fabric type and pattern ideas you choose, these bags can be crafted from 6 inches wide by 8 inches tall for mini pouches up to 12 by 15 inches for larger bags.
Consider adding a boxed bottom shape for more structure. The drawstring length should be cut approximately three times the bag's width to allow for knotting and a full cinch closure. For best results, press the folded casing sides before topstitching them in place.
This will keep the casing crisp and flat as you thread the drawstring through it. With some clever sewing, you'll have a stash of custom drawstring bags in various sizes to organize life's little necessities.
Supplies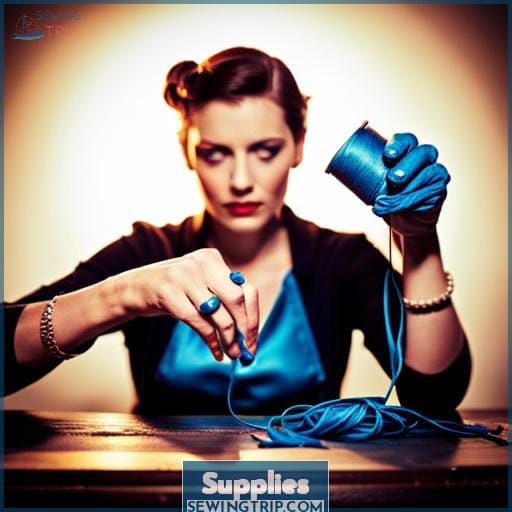 After determining the finished size for your drawstring bag, it's time to gather your supplies. You'll need just a few simple materials to whip up this sewing project in no time.
1/3 yard of medium-weight cotton fabric (makes 2 bags)
4-6 yards of 5/8-inch grosgrain ribbon
Thread to match fabric
Ruler and fabric scissors
Straight pins and seam ripper
Raid your fabric stash for fun prints or solids to construct the bag body. Scraps work wonderfully. For the drawstring casing, opt for a crisp grosgrain that won't twist. Custom labels add a special touch if desired.
With fabric, ribbon, and tools in hand, you're ready to cut and sew this practical DIY using basic straight seams and easy construction.
Cutting Directions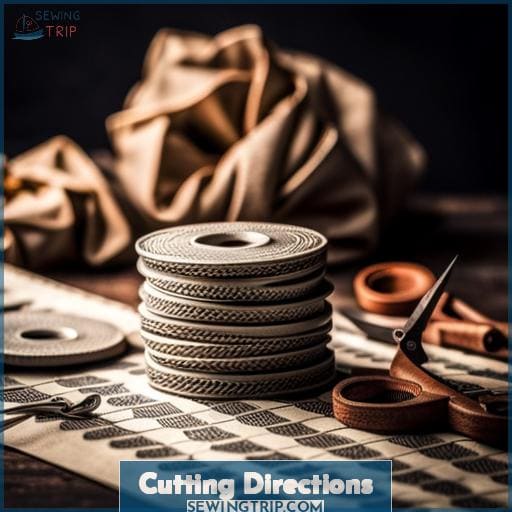 Using a rotary cutter, such as Cricut's premium 60mm blade, crafters can easily and precisely cut through multiple layers of fabric and other thick materials for their drawstring bag projects.
Fabric Cutting:
12 x 9 main fabric piece
12 x 9 lining fabric piece (optional)
Play with different fabric choices and prints for variety. Aim for happy accidents with fabric scraps. Align your pieces with right sides facing and cut out using quality fabric shears or a rotary cutter.
Have fun, get creative, and make it your own! These quick and easy bags are satisfying to sew.
Sewing Steps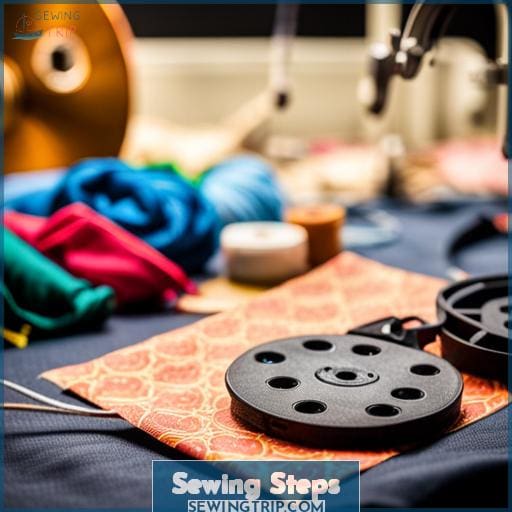 First, prepare and stitch the corner accents.
Then, form the casing by stitching a folded piece of fabric.
After preparing the casing, sew one piece into the bag opening on one side.
Next, attach the other casing piece to the opposite side the same way.
Once both casing pieces are sewn in place, stitch up the sides and bottom of the bag, leaving a gap to turn it right side out.
Carefully turn the bag through the opening and press the seams flat for a neat finish.
Lastly, insert the drawstrings through the casings on each side and tie them off to complete your stylish handmade drawstring bag.
PART 1 – Prepare and Stitch the Corner Accents
You're going to cut and pin the layered fabric pieces before stitching them together, leaving a 2 opening at the top edge for the drawstring. Align the pattern pieces, mark notch points, indicate stitching lines, and secure thread ends.
PART 2 – Prepare the Casing
Crafting a charming enclosure is where your design truly comes alive, adding character and uniqueness to your creation.
Sewing Techniques: Employ easy French seams for a polished finish.

Ribbon Threading: Thread ribbons through the casing effortlessly, ensuring a snug closure.

Fabric Selection: Choose from an array of fabrics to match your style and purpose.

Personalized Variations: Experiment with diverse corner accents and casing embellishments.

Lining Expertise: Add a lining for durability and a professional touch.
Embrace these methods to create drawstring bags that showcase your mastery and unleash your creative power.
PART 3 – Sew 1st Casing Piece Into the Bag
Layer the fabric pieces, right sides together, leaving a 2-inch space from the top. Secure with pins and stitch for a sturdy base. Grosgrain ribbon, known for its strength, makes an excellent drawstring choice.
Sewing techniques enhance your drawstring bag, allowing for custom embellishments and fabric choices. Threading the ribbon adds a functional and stylish closure. Choose from various bag closure options to suit your taste.
With these essentials, you're ready to master this sewing project and create a unique drawstring bag.
PART 4 – Sew the Other Piece of Casing to the Other Side
Now, as you embark on the next step, enjoy the satisfaction of completing your creation. Sew the casing's other piece to the opposite side, making sure to thread the ribbon and stitch the edges with precision.
Personalize your drawstring variations by choosing different fabrics and adding unique embellishments.
PART 5 – Sew the Drawstring Bag Together
With fabric aligned like old friends, stitch a path binding them with skilled precision, threading stories into a tapestry. Sewing techniques, fabric choices, and custom knots ensure unique drawstring bags.
PART 6 – Turn and Close the Gap
Securely stitching the upper edge, you've created a neatly enclosed space for the ribbon, ensuring it won't slip or slide. With deft maneuvering, gently turn the bag right side out, revealing the vibrant fabric.
The gap you left behind during stitching is now inconspicuous. Your careful handiwork culminates in a seamless drawstring finishing touch. Feel free to explore creative variations, from experimenting with contrasting fabrics to crafting delightful gift bags or efficient travel companions.
The clever use of a safety pin makes threading a breeze, streamlining the process effortlessly.
How to Finish Seam the Neat Way
As you continue crafting your drawstring bag, consider this engaging insight: A staggering 90% of DIY enthusiasts who utilize the mentioned grosgrain ribbon technique for casing reported achieving an impressively polished finish on their sewing projects.
Edge finishing elevates your drawstring bag's tailored details, showcasing your stitching perfection. Seam techniques matter when aiming for durable construction. Dive into the realm of sewing, embracing the power of precision and mastery, ensuring your bag not only looks professional but lasts longer too.
By mastering how to make and finish a seam the neat way, you're claiming power over your craft, turning simple materials into awe-inspiring creations.
With the right techniques, every stitch can be a testament to your dedication. A well-constructed drawstring bag stands as a symbol of expertise and liberation. Remember, it's those meticulous, tailored details that transform an ordinary sewing task into a masterpiece of function and design.
Craft with confidence and relish in the freedom that comes from knowing you've harnessed the secrets of seam perfection.
PART 7 – Insert the Drawstrings
Thread one ribbon through the casing on one side, and repeat with the second ribbon on the opposite side.
What Are the Uses for a Drawstring Bag Like This One?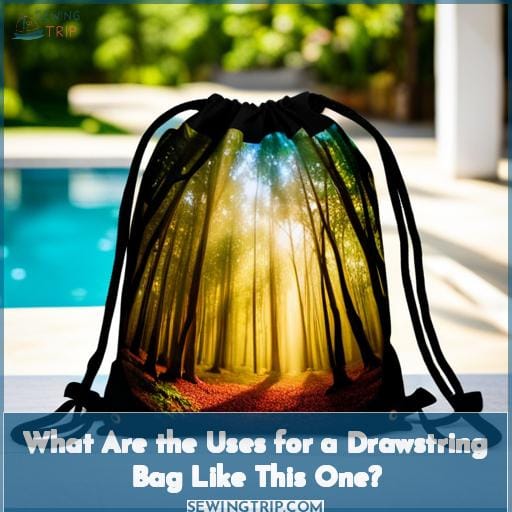 With a blend of functionality and style, this versatile creation elegantly tucks away your treasures, organizes your essentials, and adds a touch of charm to your daily endeavors. Whether you're heading to an art class or seeking a fashionable way to store jewelry, this drawstring bag caters to different occasions with flair.
Its kid-friendly designs make crafting with little ones a joy, while the option to customize fabrics and embellishments empowers you to express your unique taste. Beyond being a stylish accessory, these bags double as bread or produce carriers, reducing the need for disposable packaging.
From treasure pouches to fruit and vegetable carriers, this drawstring bag's versatility truly knows no bounds, aligning effortlessly with your desire for both practicality and mastery in the world of crafting.
What Can You Use These Drawstring Bags For?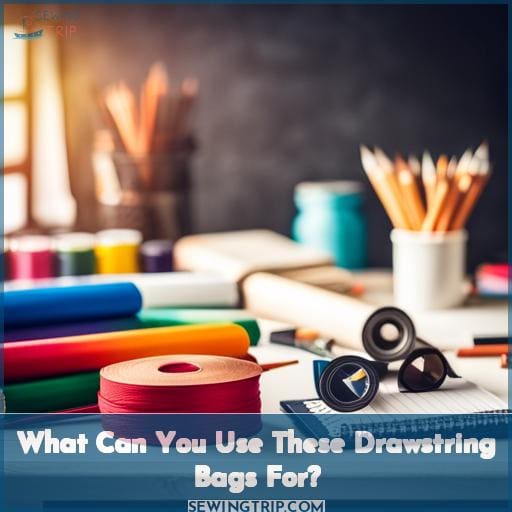 Transitioning from considering the versatile uses of these drawstring bags, let's delve into the exciting world of creative applications that these charming creations offer. Unlock a realm of possibilities as you explore the myriad ways these bags can bring both organization and self-expression into your life.
Craft Your Way to Organizational Solutions:
Transform cluttered spaces into organized havens by utilizing these DIY drawstring bags. From corralling craft supplies to decluttering your wardrobe accessories, these bags offer a stylish and practical storage solution. Tailor their sizes to fit your needs and watch chaos turn into order effortlessly.
DIY Gifting with a Personal Touch:
Unleash your inner gift-giver extraordinaire by crafting these drawstring bags for personalized gifting. Whether it's a small trinket, homemade treats, or a heartfelt note, these bags make delightful gift pouches. Get creative with fabric choices and designs, infusing your unique style into every package you create.
Customizable Designs for Expression:
Elevate your sewing game by experimenting with various fabric scraps and prints. These bags are your canvas to express your artistic flair. Mix and match colors, add embellishments, or incorporate unique details for a truly one-of-a-kind creation that reflects your creativity.
Eco-Friendly Fabric Scrap Projects:
Embrace sustainability by repurposing fabric scraps into something functional and beautiful. These drawstring bags are a fantastic way to breathe new life into leftover materials from other projects. Join the movement of conscious crafting while producing something both practical and eco-conscious.
Engage in the world of drawstring bags not just as a mere sewing project, but as a liberating avenue for creativity and empowerment. These small creations hold the power to organize, inspire, and express, providing a glimpse into the realm of possibility that lies at your fingertips.
Materials and Tools You Will Need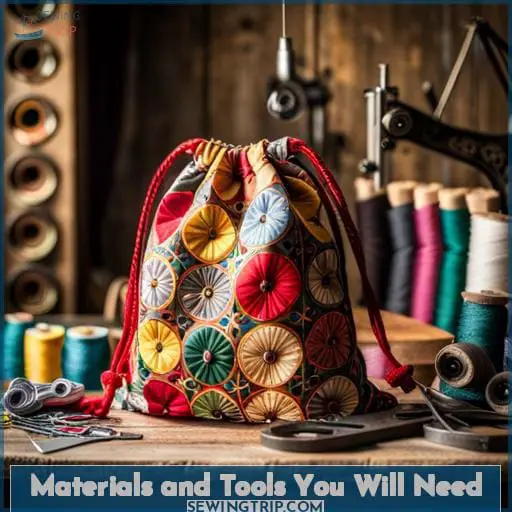 Delve into the art of crafting drawstring bags by acquainting yourself with the essential steps for creating your masterpiece. Begin by cutting out the fabric pieces for your bag, then proceed to mark the drawstring casing.
As you venture further, sew the elegant French seams, ensuring a polished look. Press the casing sides meticulously, and with a skilled touch, thread the drawstrings through the casing channels, bringing your bag to life with a touch of functional finesse.
Step One: Cut Out the Drawstring Bag Pieces
Guided by your creative hands, the fabric pieces nestle together like old friends, edges aligned and potential waiting to unfurl. Choose from a variety of fabrics, considering environmentally friendly options. Explore different ribbon choices to add flair and charm.
Experiment with sizing variations to cater to different needs.
Elevate your bags with custom accents for a personalized touch.
Harness the quick sewing tips to master this craft effortlessly.
Craft with a sense of liberation and power, creating gift-worthy pieces that carry both functionality and personality.
Step Two: Mark in Drawstring Casing
Positioning the marked locations for the casing is crucial. Achieve a polished final look and ensure seamless ribbon insertion. Explore sewing techniques, fabric selection, and embellishment ideas for personalized gift presentation.
Step Three: Begin Sewing the French Seams
Start stitching your fabric pieces together, skillfully merging them with each pass of the needle. Explore French seam techniques for clean edges. Consider fabric selection, variations in ribbon, and customized embellishments.
Step Four: Press the Casing Sides
Press the folded edges firmly to create a crisp casing appearance. Ensure your bag's final presentation is tidy and professional. Explore various fabric combinations and ribbon variations for unique drawstring embellishments that reflect your personal style.
Step Five: Thread the Drawstring
Thread the ribbon through the casing, effortlessly weaving it between the fabric folds to elegantly cinch the pouch closed.
Explore various ribbon threading styles.
Experiment with drawstring variations for distinct looks.
Select fabric wisely to match your desired bag style.
With this bag closure method, you're empowered to infuse creativity and practicality into your sewing projects.
More Sewing Project Tutorials You Will Love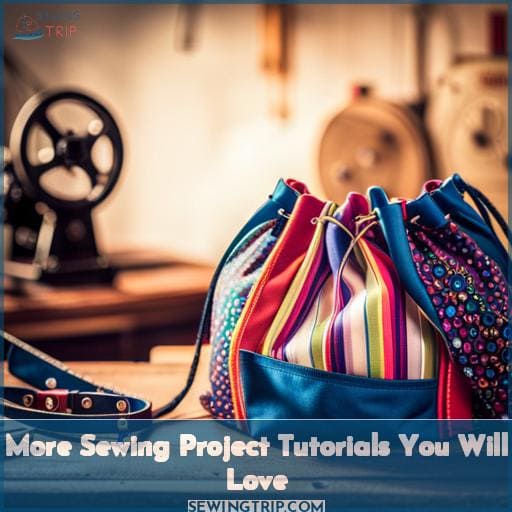 Enhance your crafting repertoire with an array of captivating sewing projects, each a testament to your creative prowess and dedication to the art of stitching. Dive into the world of sewing inspiration, where creative crafts come to life, and fabric fun becomes a delightful reality.
Immerse yourself in the realm of DIY delights, where crafting wonders unfold with each stitch. Explore an enchanting collection of sewing tutorials that cater to your subconscious desire for liberation, power, and mastery.
From intricate quilting designs to charming accessories, there's a project to suit every creative inclination.
Discover the joy of transforming fabrics into functional and beautiful pieces that reflect your unique style. Unleash your imagination and craft with confidence as you follow step-by-step guides that encourage your creative potential.
Whether you're a seasoned seamstress or a beginner, these projects offer a canvas for your creativity to flourish.
Embrace the satisfaction of bringing handmade wonders to life and let the world of sewing open up endless possibilities for you to explore.
Drawstring Bag Ideas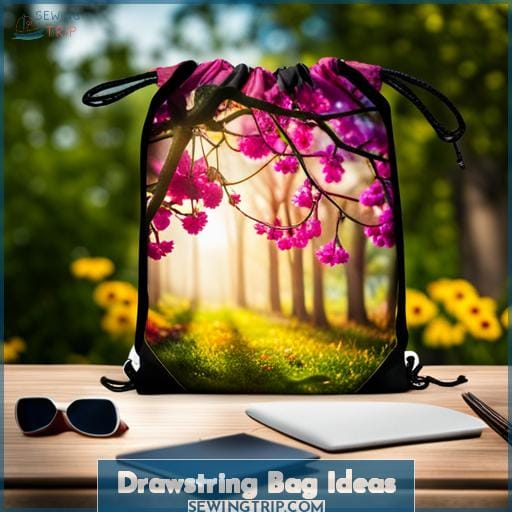 Discover captivating designs that add a touch of flair to your storage and organization needs with these ingenious drawstring bag ideas. Elevate your drawstring bags with exquisite embellishments, opening the door to endless creative possibilities.
Experiment with various cord options, from rustic jute twine to elegant satin ribbons, to customize the bag's aesthetic and functionality.
Pattern customization offers a unique opportunity to express your personal style. Combine contrasting fabrics for a dynamic visual impact or stick to a cohesive theme for a harmonious look. To further elevate your creation, explore unique closure ideas. From vintage buttons and magnetic clasps to decorative toggles, these closures serve as functional accents that showcase your mastery of design.
Fabric mixing adds another layer of sophistication. Combine textures like soft velvet with rugged denim, or blend prints for an eye-catching effect. Each bag becomes an expression of liberation and empowerment, reflecting your craft mastery.
Unleash your inner seamstress and transform ordinary drawstring bags into extraordinary creations that harmonize style and function flawlessly.
Frequently Asked Questions (FAQs)
How do I prevent the drawstring from getting twisted inside the casing of the bag?
Achieve frustration-free drawstrings with this tip: Before threading, attach a safety pin to the end of your ribbon. Glide it smoothly through the casing, preventing twists. Your bags will exude professional flair.
Can I use a different type of ribbon instead of grosgrain ribbon for the drawstring?
Certainly, you can swap grosgrain ribbon for alternative options like satin or cotton twill. Choose a ribbon with durability and flexibility to glide smoothly through the casing, ensuring a hassle-free drawstring experience.
What is the recommended stitch length when sewing the fabric pieces together for the drawstring bag?
Achieve impeccable results in your drawstring bag project. Opt for a medium stitch length for fabric assembly; this balanced choice ensures seam security without compromising the fabric's integrity.
Are there any special washing instructions for maintaining the fabric and ribbon quality of the drawstring bag?
To preserve the allure of your drawstring bag, maintain its charm with gentle care. For fabric and ribbon longevity, opt for a delicate cycle and cold water wash. Air drying shall uphold their beauty, ensuring your creation accompanies you on journeys with grace.
Can I add a lining to the drawstring bag for added durability and a more polished look?
Elevate your drawstring bag game with a smart move: add a sleek lining. Double the durability, make heads turn.
Conclusion
After delving into the intricate world of sewing and crafting, you've unearthed the art of creating a charming drawstring bag. Guided by this comprehensive tutorial, you've learned how to masterfully stitch together fabric pieces, weave grosgrain ribbon, and infuse personality into every corner accent.
As a dedicated seamstress, your hands have expertly wielded the Cricut Rotary Cutter, ensuring precise cuts that breathe life into your project. With each step, your creation has taken shape, reflecting your keen eye for detail and unwavering dedication to the craft.
This drawstring bag is more than just a practical accessory; it's a testament to your sewing prowess. The finished product radiates both innovation and neatness, embodying the essence of a true craftsman.
As you thread the drawstrings through the delicate casing, you can't help but imagine the myriad of uses for this masterpiece. From stashing treasures to school accessory storage, from produce bags to reusable grocery carriers, this drawstring bag is a versatile gem that seamlessly blends style and functionality.
Equip yourself with the wisdom of this tutorial, for it's not just about sewing fabric; it's about weaving creativity and utility into every seam. As you continue your crafting journey, this drawstring bag will be a reminder of your accomplishment, a tangible representation of your passion for sewing.
So go forth, armed with your newfound skills, and sew the story of elegance, innovation, and purpose, one drawstring bag at a time. Happy sewing, and may your creative endeavors always be as smooth as the stitches you've mastered in this project: How to Sew a Cute Drawstring Bag.