This site is supported by our readers. We may earn a commission, at no cost to you, if you purchase through links.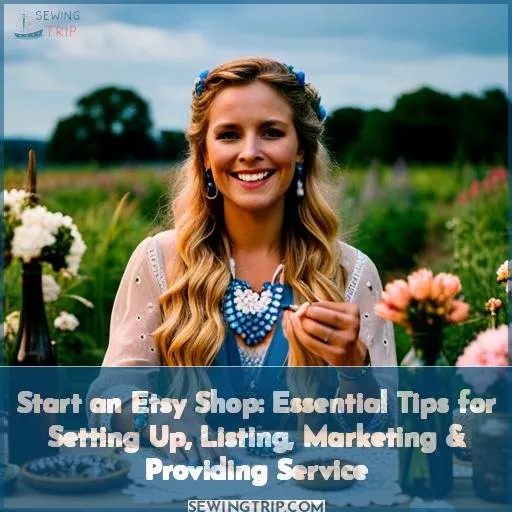 Selling homemade crafts but dreading the hassle of setting up an online shop? Don't sweat it! Starting an Etsy shop is easier than you think.
You don't need fancy coding skills or expensive website design to open an Etsy shop. With just a few clicks, you can start listing your unique handmade items and connect with buyers worldwide. This guide will walk you through creating an attractive shop front, taking professional photos of your products, writing compelling listings, finding your target audience, and providing top-notch customer service.
Selling on Etsy taps into the human desire for connection. By sharing your creations, you cultivate meaningful relationships with customers. Your handcrafted goods also empower buyers to express their own creativity and style.
Key Takeaways
Professional product photos and compelling listings are essential for selling on Etsy.
Build an attractive Etsy shopfront and brand story with creative visuals and photography.
Use targeted marketing across social media, email, and ads with unique images and tags.
Analyze data, iterate, and continue optimizing listings, photos, and promotions. Make improvements over time.
Setting Up Your Etsy Shop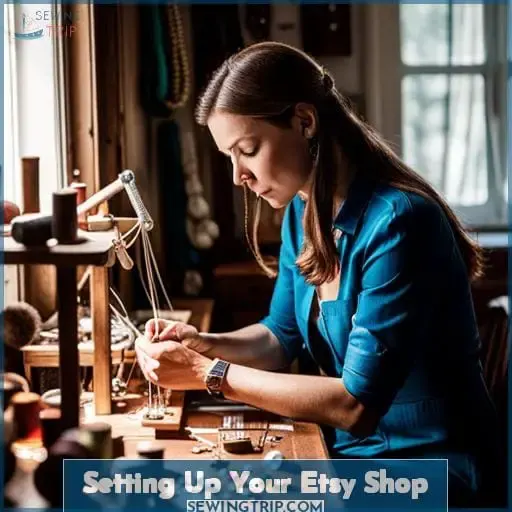 You're eagerly browsing handmade gifts and vintage finds, picturing your own creative wares displayed in that coveted online shop. Setting up pricing, taking appealing photographs, and establishing a cohesive brand identity are key steps for launching your Etsy shop.
Ensure listings have optimized titles and tags for search discovery. Outline a social media strategy to connect with followers. Stay true to your brand's aesthetics from branding to packaging when fulfilling orders.
Engage customers through shop banners, policies and an About section conveying your creations' heartfelt origins.
Creating Appealing Listings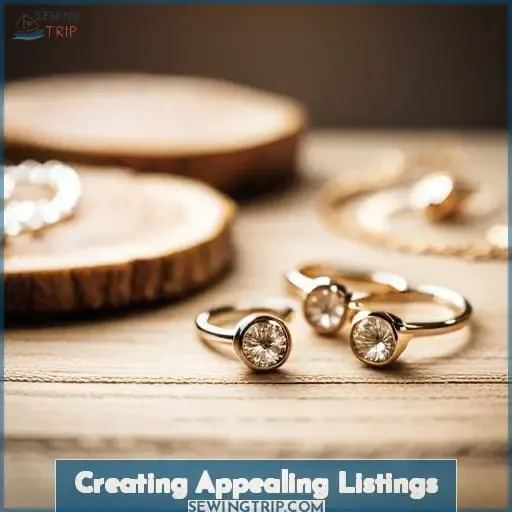 Captivating customers begins with crafting compelling listings that speak to the soul. Showcase your creations through creative photography and emotionally evocative descriptions that tell a visual story.
Compose quality descriptions rich in sensory details that evoke the textures, scents, and essence of your products.
Employ visual storytelling through photos styled to convey your brand's mood and elicit an emotional response. Curate a shop that allures the senses and imagination with compelling branding woven throughout your listings' images, titles, and descriptions.
Let your products connect on a deeper level through visual aesthetics and language that speak to the customer's sense of belonging, freedom, and intimacy.
Marketing Your Products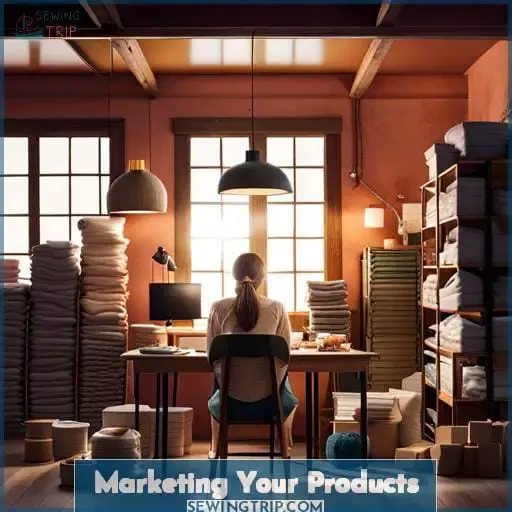 Transitioning from creating appealing listings to marketing your products opens the doors to reaching new customers. Employ social media and email marketing to showcase your brand story. Create unique tags and eye-catching images for paid ads.
Upload video tutorials to build relationships and highlight your creative process.
Meet customers where they are, from Instagram to Etsy forums. Build community around your shop through consistent engagement. Stay true to your brand while adapting content for each channel. With smart marketing strategies, your products will speak for themselves.
Customers crave connection with you, the artist. Give them a window into your world through social content and email newsletters. Grow your audience and sales with creative marketing tailored to your strengths.
Providing Excellent Customer Service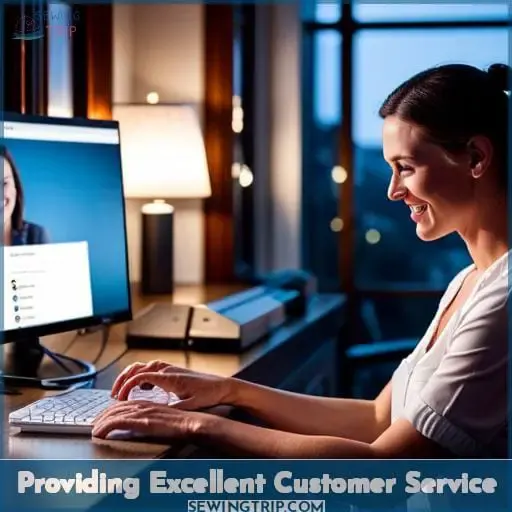 Attentive customer service strengthens bonds and boosts sales like Midas' golden touch. Treat every customer interaction as an opportunity to make a lasting impression. Respond to messages and inquiries promptly with friendly communication. Ship purchases in a timely manner, carefully packaged with a handwritten thank you.
Having clear policies on your shop helps set expectations. But approach each situation with understanding and flexibility when possible.
Your excellent service will keep shoppers coming back. They'll spread the word about your shop's outstanding care.
Provide service that makes each buyer feel valued. Your reward will be their loyalty and glowing reviews.
Growing Your Etsy Business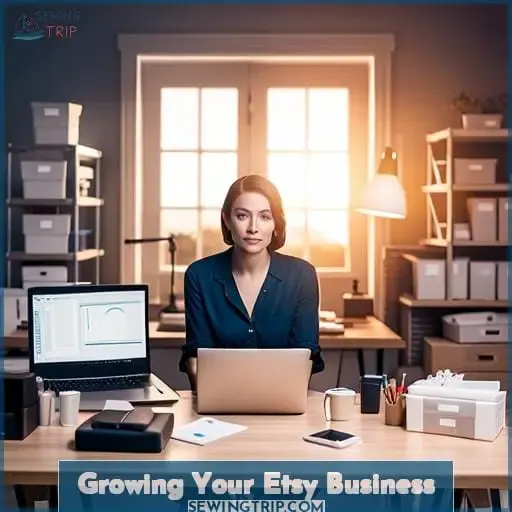 You're cultivating your Etsy shop's success by actively engaging customers, optimizing listings, and utilizing sales tools to nourish growth.
New product lines, business branding, competitive pricing, store aesthetics, and social media ads are key ingredients for your business's growth.
Dream up fresh designs, craft quality items, and style an inviting shopfront to entice buyers. Study competitors and price competitively. Run targeted ads to connect with your audience.
Provide excellent customer service to foster loyalty. Ask for reviews to build credibility.
Analyze sales data to identify top performers. Reinforce what works through social media and email.
Your care will help your Etsy shop thrive.
Frequently Asked Questions (FAQs)
How much does it cost to open an Etsy shop?
Starting an Etsy shop only costs 20 cents to list each item. As a fellow Etsy seller, I know how thrilling it is to finally open your online store. We crave the freedom and connection ecommerce provides. Simply register, choose a shop name, list your handmade or vintage goods, and start reaching customers worldwide.
What fees does Etsy charge for selling?
You pay Etsy a $20 listing fee per item plus 5% of the item price including shipping.
How do I decide what to price my products?
You have to price your items so you make a profit but stay competitive. Look at similar products and how they're priced. Factor in materials, labor, and shipping costs. Remember, pricing too high turns away buyers, but too low cuts into your profits.
Find the balance between covering expenses and attracting sales with fair prices.
How do I package and ship orders from my Etsy shop?
Choose packaging that protects your products. Weigh and measure items to determine shipping costs. Print labels through Etsy or your carrier. Schedule pickups or drop off packages. Insure valuables. Communicate with buyers about tracking. Stay organized and ship quickly to delight customers.
Vary your packaging to suit each item. Confirm accurate weights and dimensions to calculate shipping fees. Use Etsy's integrated labels or your preferred carrier. Arrange pickups or deliver packages yourself.
Consider insuring high-value goods. Keep buyers updated on tracking status. Maintain organization and ship promptly to please your customers.
Select packaging that keeps your products safe. Weigh and measure orders accurately to find shipping rates. Generate labels via Etsy or a shipping provider. Set up pickups or take packages to the post office yourself.
Protect expensive items with insurance. Message buyers shipping confirmation and tracking.
How do I deal with negative reviews or unhappy customers?
Don't fret over the occasional bad review. Focus on pleasing customers and providing great service. Respond professionally to feedback, apologize for missteps, and ask how you can improve.
Conclusion
You've set up shop, crafted creative listings, reached customers, and provided top-notch service. Now it's time to grow your Etsy business into an online empire. Let your hard work blossom like a garden, nurturing your customer relationships to bear fruit in the form of sales and reviews.
Continue planting seeds through marketing and tending to customers' needs. With dedication, your small Etsy shop will flourish into a thriving source of income from selling on Etsy.