This site is supported by our readers. We may earn a commission, at no cost to you, if you purchase through links.
Looking for the perfect beginner sewing machine? We've got you covered. This list of the best basic mechanical models for newbies will help you start stitching right away.
You don't need anything too fancy when you're just learning. A basic mechanical machine has all the key features to get you going without extra bells and whistles. We'll walk through what to look for, from stitch options to handy accessories. You'll also get our top picks for affordable, user-friendly machines.
Whether you want to make clothes, crafts or home decor, these trusty sewing machines have everything you need. Read on for our complete guide to choosing and using your first mechanical sewing machine.
Key Takeaways
Mechanical sewing machines have sturdy metal frames and excellent straight stitching for learning sewing fundamentals.
They encourage mastery with a limited set of stitches like straight, zigzag, and buttonholes that can be manually adjusted.
Models with features like easy winding/bobbin loading, built-in threaders, and adjustable tension/feet are beginner-friendly.
Maintenance like cleaning and oiling is important. Accessories like shears, needles, and thread are essential purchases.
Mechanical Sewing Machines for Beginners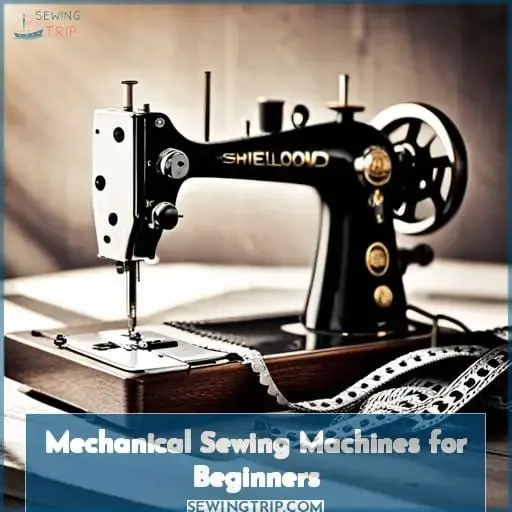 As a newbie sewer, you'd be wise to start with a tried-and-true mechanical model rather than the latest whiz-bang computerized gadget. A basic mechanical machine offers simplicity and reliability with its limited features focused on straight stitching.
This allows you to master fabric care, machine parts, thread choice, and basic stitches like step buttonholes without getting overwhelmed.
The simplicity also makes maintenance and repairs easier when first learning pattern transfer, stitch techniques, and machine mechanics. Though you'll have fewer decorative stitches, a mechanical sewing machine provides the perfect first step to gain competency and confidence in your sewing skills.
Pay attention as you grow, and you'll know when you're ready to upgrade and explore more advanced computerized machines.
5 Best Basic Mechanical Sewing Machines for Beginners
Let's dive into the basics of mechanical sewing machines – the perfect way for new sewers to start. We'll cover five top models for beginner sewers, from heavy duty machines to portable options. Whether you need an industrial-strength workhorse or a nimble machine for garment construction, this guide will help you select a mechanical sewing machine to start mastering fundamental sewing skills with simplicity and ease.
Are you ready to find your ideal first sewing machine? Read on for recommendations.
1. Heavy Duty Sewing Machine With Accessories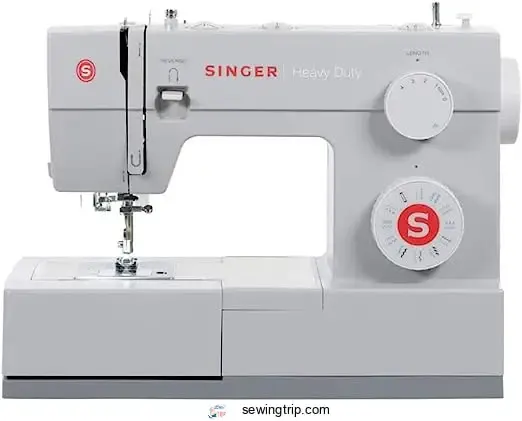 View On Amazon
You'll tackle thick fabrics with ease using this heavy duty SINGER built with a sturdy metal frame and powerful motor to sew leather and heavy materials. Featuring 23 built-in stitches and a maximum speed of 1,100 stitches per minute, this tough sewing machine can sew through just about anything.
The automatic needle threader and adjustable presser foot take the hassle out of setup, while included accessories like specialty feet help you get professional-looking results on your projects.
Heavy-duty metal frame provides stability
Powerful enough for heavy fabrics like leather
Automatic needle threader for quick setup
Adjustable presser foot and feed dogs
More expensive than regular home machines
Heavier and less portable
Requires more maintenance than basic models
2. Brother Project Runway Sewing Machine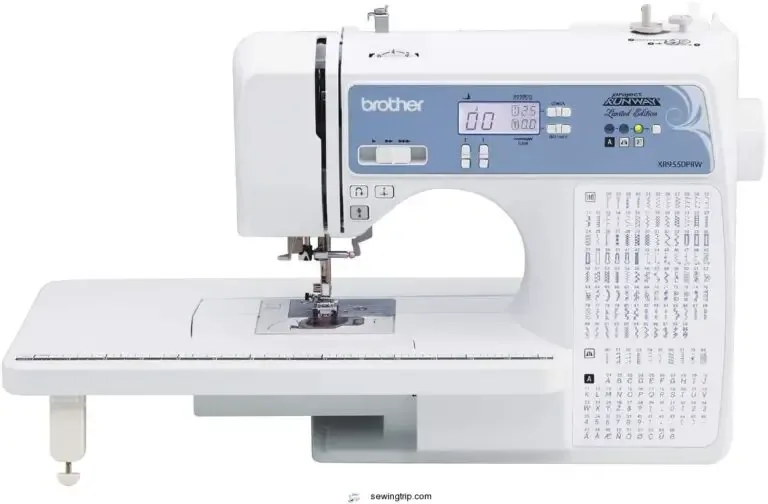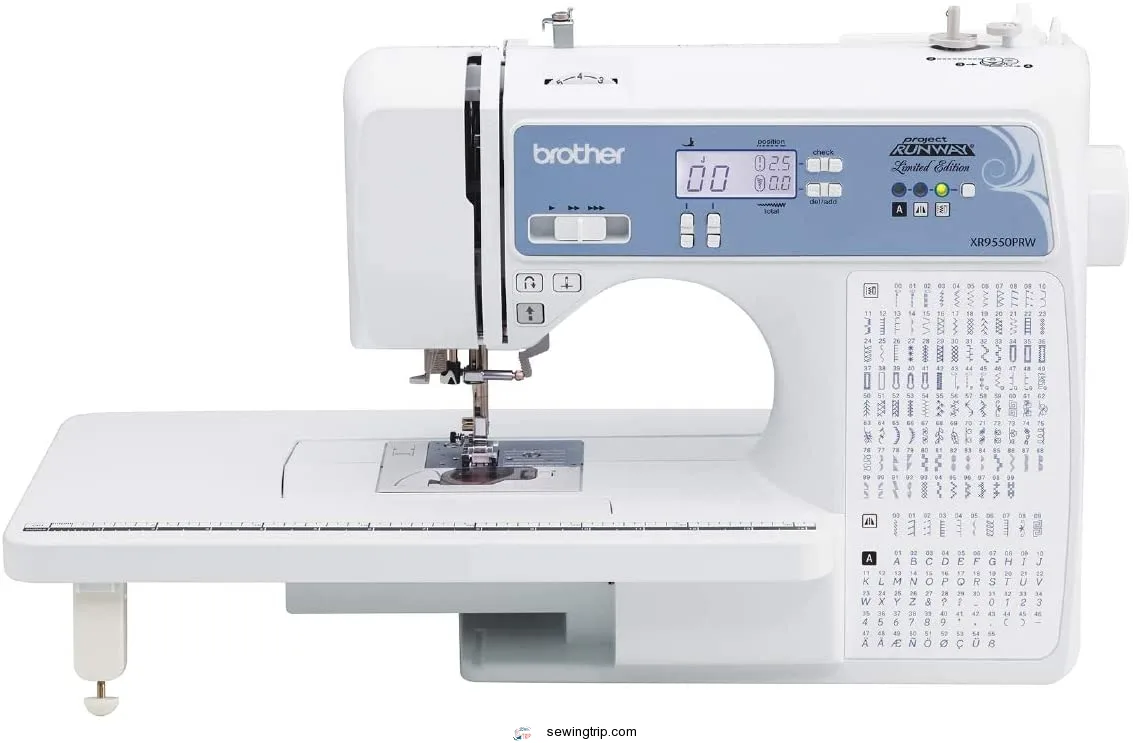 View On Amazon
You can tackle all kinds of sewing projects with the Brother CS6000i's 165 built-in stitches, automatic needle threader, and easy-to-view LCD screen. This computerized sewing machine packs in so many features to make your sewing easier, whether you're a beginner or experienced sewist.
Select stitches and adjust settings right on the LCD display. The automatic needle threader threads the needle with just the push of a lever – no more frustration and eye strain! With 25 years of limited warranty, you can trust that this lightweight, portable machine will be a reliable partner for garment sewing, quilting, crafts, and home decor projects for years to come.
The hard protective case, wide table, and included accessories like specialty feet ensure you have everything you need to get professional results.
165 built-in stitches
Automatic needle threader
LCD screen
Small learning curve with computerized machine
Polarized plug limits use
3. Bernette 35 Sewing Machine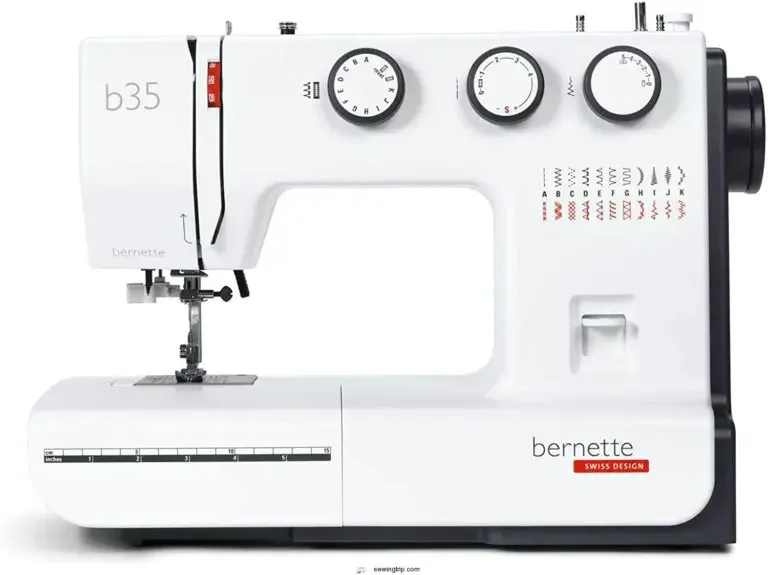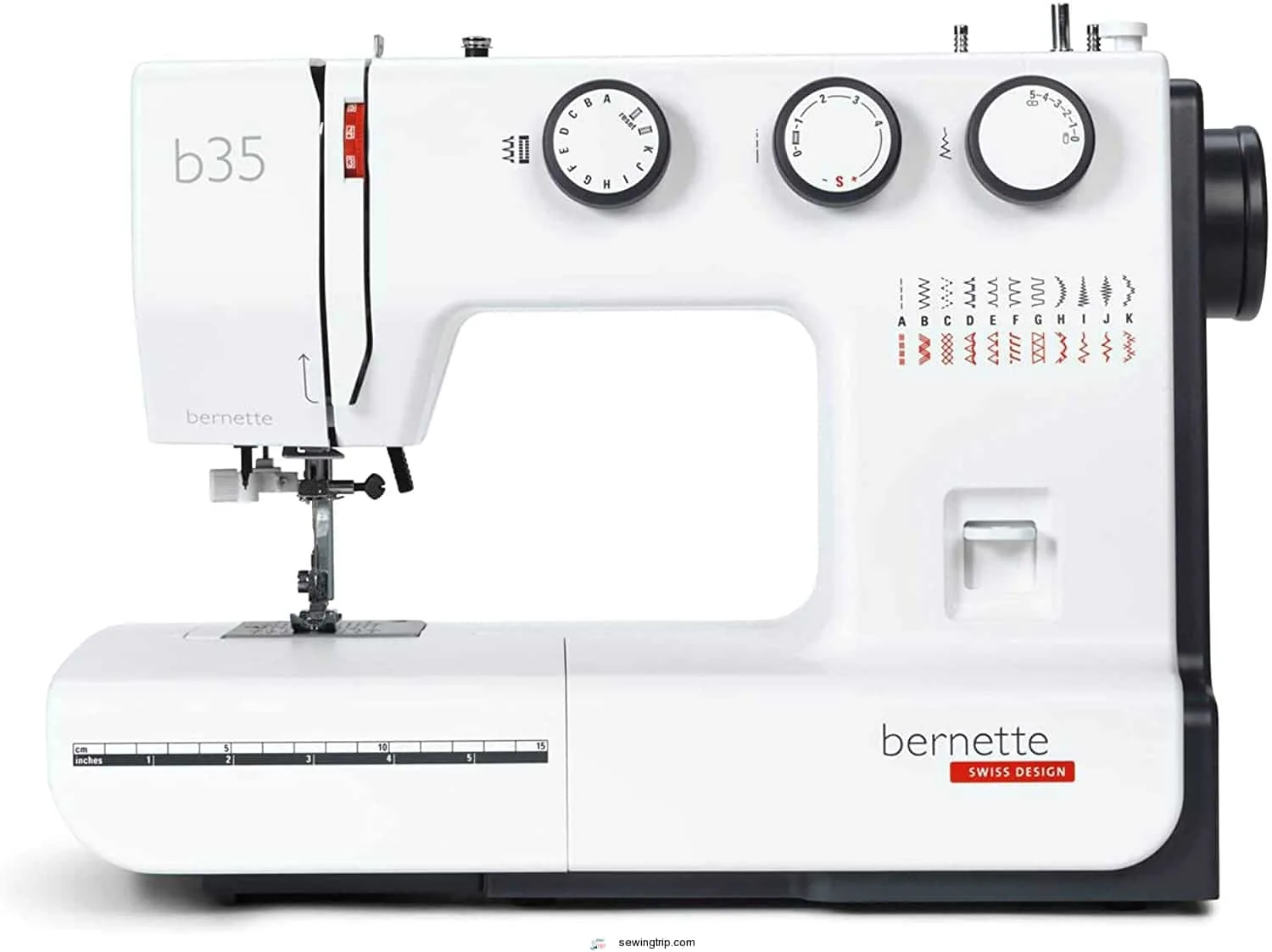 View On Amazon
The Bernette b35 delivers 35 built-in stitches and a maximum 900 stitches per minute in a compact, Swiss-engineered mechanical design perfect for beginners yet still full-featured for experienced sewers.
With adjustable stitch length and width, reverse sewing lever, built-in thread cutter, and slide speed control, this versatile machine packs precision and functionality into a portable package. The automatic bobbin winder and easy needle threading make setup a breeze so you can start sewing right away.
The included hard cover keeps your machine protected for transportation or storage.
Compact and portable design
Adjustable stitch length and width
Built-in thread cutter
Easy needle threading
Limited built-in stitches
No automatic thread cutter
Warranty details not specified
4. Industrial Walking Foot Sewing Machine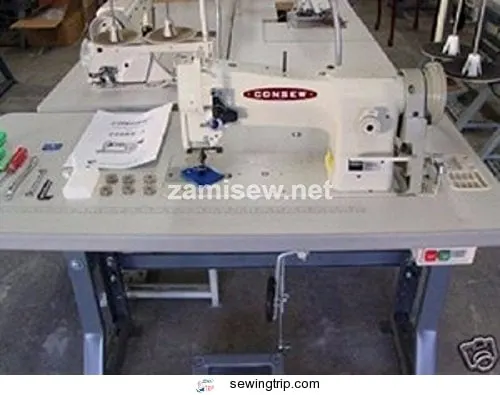 View On Amazon
Ain't this baby gonna sail through layers of denim like butter thanks to that hefty motor and stomping foot. Feel power surge through thick waxed canvas and buttery leather as 1,500 stitches chomp down a minute.
Adjust that hearty stomper's foot pressure and stitch size to handle any hulking project with poise. Fabulous for bag making, jeans construction, even boat upholstery and cushion reupholstering at home or in your manufacturing business.
Powerful motor for heavy fabrics
Built-in needle threader
Large work table
Requires maintenance
Not for delicate fabrics
Learning curve with industrial machine
5. Janome Heavy-Duty Sewing Machine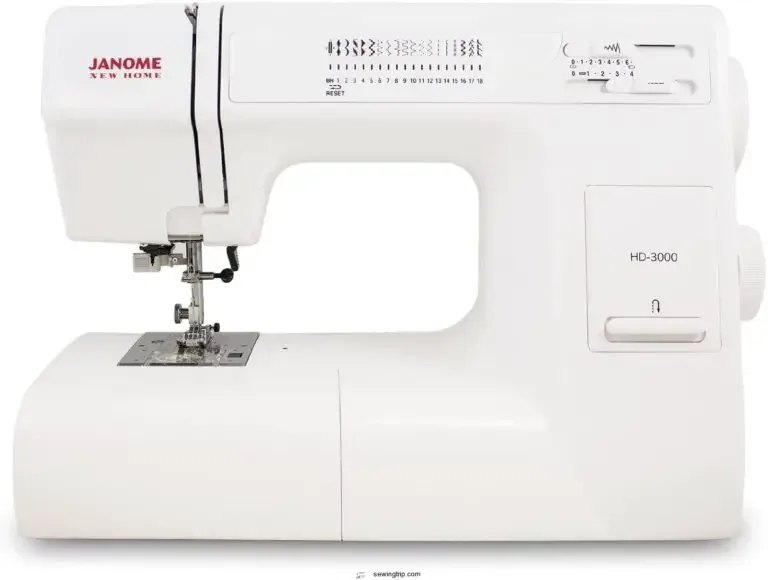 View On Amazon
Feel that machine's power surge as its stompin' foot chomps through denim, leather, even canvas layers with ease! The rigid metal frame supports thick fabrics, while easy-use features like the built-in thread cutter simplify operation.
Sturdy construction stands up to frequent use, and the lengthy warranty provides peace of mind. With power to sail through heavy materials yet user-friendly for beginners, this sewing workhorse brings versatile performance.
Heavy-duty metal frame for thick fabrics
Built-in thread cutter
Powerful motor easily sews denim
25-year limited warranty
Not ideal for delicate fabrics
Learning curve for beginners
Requires basic maintenance
What is a Mechanical Sewing Machine?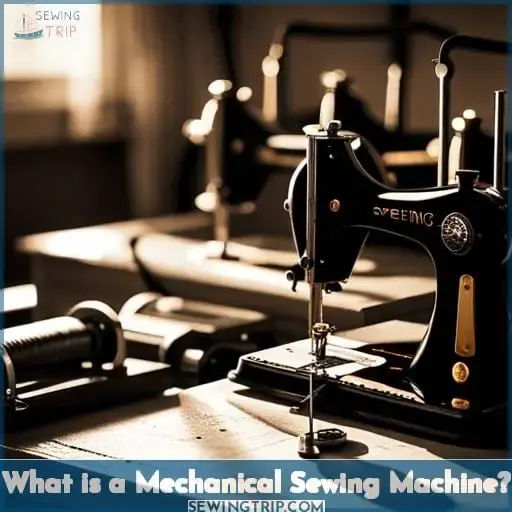 With the top beginner mechanical models covered, let's step back and understand what makes mechanical sewing machines so great for starting out. Mechanical sewing machines have simple functionality powered manually, not electronically.
Their basic features allow new sewers to grasp the fundamentals without getting overwhelmed.
Sturdy metal interior frame for skip-free sewing.
Adjustable stitch length and width settings.
Easy bobbin winding and loading.
Variety of presser feet included.
Reverse stitch lever for securing seams.
Focusing on these core functions will ensure you select a machine to smoothly master essential techniques like securing stitches, adjusting tension, and handling different fabrics and stitches. With practice, sewing manually gets easier and crafting creations becomes a joy.
Key Features of Mechanical Sewing Machines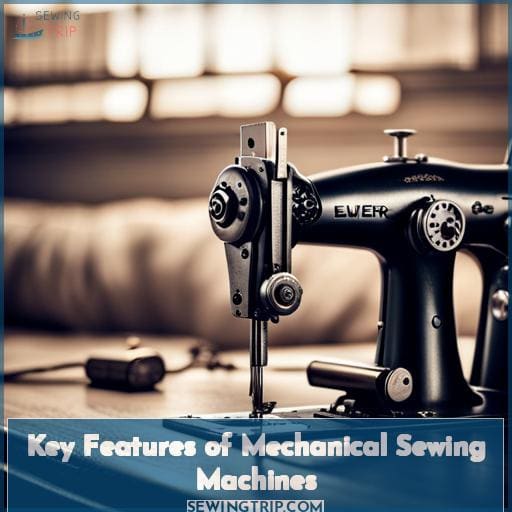 When selecting your first mechanical sewing machine, prioritize models with handy features like a variety of stitches, built-in lighting, automatic needle threaders, snap-on presser feet, and reverse stitch levers.
These practical elements will equip you to learn sewing fundamentals with less frustration as you get started. In this discussion, we'll explore why these user-friendly functions are ideal for beginner sewers ready to master their mechanical machines.
Stitch Variety
You'd be pleased to find most mechanical sewing machines offer a good range of stitches to start developing skills beyond straight seams. Adjustable stitch length and width settings allow you to master straight, zigzag, and buttonhole options.
Tweaking thread tension and presser foot pressure helps refine neat stitching on different fabrics. With practice varying needle position and stitch length, you'll prepare to advance from basics to decorative stitches and beyond.
Lighting
A well-lit workspace lets you see stitches clearly. Directional lighting kits install easily, aiming light directly on the needle area. Adjust arm position, dim brightness, and tilt heads to reduce shadows. Portable lights offer flexible illumination while custom work lamps provide hands-free visibility.
Proper lighting helps beginners monitor stitching on mechanical models, ensuring accuracy and confidence at the machine.
Automatic Needle Threader
Slide wire loop through needle eye effortlessly
Grab thread through loop and pull back through
Quickly thread needle without eye strain or frustration
Save valuable sewing time and energy on each use
Simple built-in tool prevents skipped stitches from poor threading
Automatic needle threaders simplify the threading process for beginners learning at home. The handy built-in tool helps correctly pass thread through the needle eye every time. Mechanical sewing machines keep threaders conveniently located for frustration-free machine setup and smooth stitch starts.
Snap-on Presser Feet
Quickly swap specialized presser feet for fancy stitches without the frustration of complex attachments. Invest in a mechanical sewing machine with snap-on feet to maximize versatility. Go from utility stitches to zippers, hems, and buttonholes by simply snapping on the right foot for the project.
Effortlessly switch feet to expand your creative options without wasting time struggling to attach unfamiliar accessories. Allow interchangeable snap-on feet to unlock the full potential of your starter sewing machine.
Reverse Stitch Lever
Secure seams and stitch in reverse with the flick of a lever.
Effortlessly backstitch to lock stitches.
Reinforce seams and prevent unraveling.
Adjust tension with a simple slide.
Change stitch size on the fly.
Lifting the foot engages threading mode.
This handy reverse stitch lever puts control at your fingertips. Quickly reinforce stitches and seam ends without tedious back-and-forth hand maneuvers. Modern entry-level mechanical sewing machines keep it simple, with intuitive levers that help you get professional results.
Choosing the Right Mechanical Sewing Machine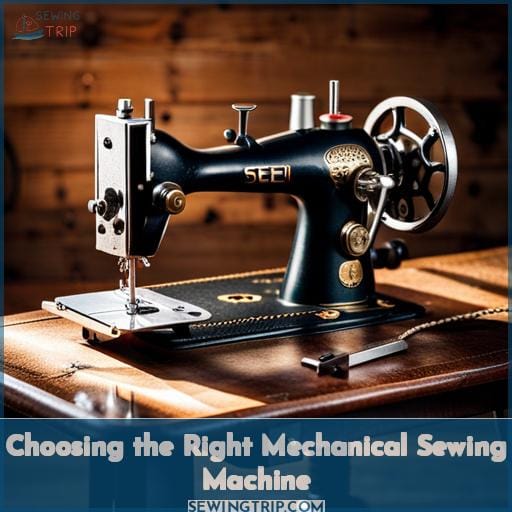 After considering key features, it's time to select the right mechanical machine for your needs as a beginner sewer. When choosing your first sewing machine, prioritize finding a model suited to your skill level that allows for growth.
The ideal beginner mechanical should have adjustable settings to accommodate different needle sizes, foot pressure, and tension. This flexibility will serve you as you advance. Also, ensure it can handle a variety of fabric weights and types.
With practice, you'll become adept at choosing the right needle, pressure, and thread for your materials.
Where to Buy Mechanical Sewing Machines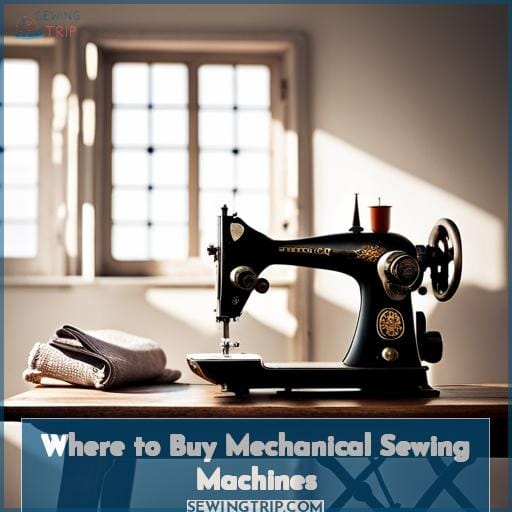 Pursue your sewing dreams wisely. Compare prices online, but buy in person if you can. Chain and big box stores may lack knowledgeable staff, but small sewing shops excel at service. Ask about trial periods, warranties, maintenance tips. Ensure the machine handles desired fabrics, accessories.
Buying used opens affordable options, but inspect condition closely, test functions.
With practice, patience, you'll create beautiful pieces from cherished cloth, threads, needles.
| Where to Buy | Pros | Cons |
| --- | --- | --- |
| Local sewing/craft stores | Expert advice, service plans | Limited selection |
| Big box stores | Affordable, accessible | Impersonal service |
| Online retailers | Wide selection, reviews | Can't test before buying |
| Used/Vintage markets | Good deals on older models | No warranty, wear and tear |
Maintaining Your Mechanical Sewing Machine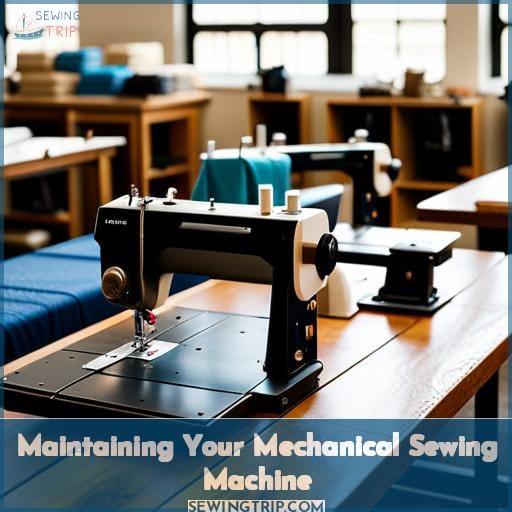 Sweep aside scattered remnants of failed projects, for they foreshadow not future creations. Keep mechanical sewing companion in peak condition through regular upkeep. Wipe down surfaces and clean lint from bobbin area after each use.
Replace burnt-out light bulbs promptly for optimal illumination. Oil machine parts like shuttle per manufacturer guidelines. Make tension adjustments to prevent uneven stitching. When not in use, cover machine and store away from dust and dampness.
With care and maintenance, reliable mechanical sewing machine will hum along smoothly, ready to bring creative visions to life.
Frequently Asked Questions (FAQs)
What accessories do I need for a mechanical sewing machine?
Quality fabric scissors, a seam ripper, a tape measure, hand sewing needles, thread, pins and a pincushion, a rotary cutter and mat, and an iron. Focus first on the basics – shears, a ripper, tape, needles, and thread. Add other helpful tools like rotary cutters and specialty scissors as you advance your skills.
How do I thread a mechanical sewing machine?
Start by raising the presser foot and guiding the thread from the spool through the top thread guides. Next, loop the thread between the tension disks and down to the needle bar. Pull the thread through the eye of the needle from front to back and position it under the presser foot.
What needle types and sizes work best for beginners?
Start with universal needles in sizes 70/10 to 80/ These medium needle sizes can handle most common fabrics like cotton, linen, and rayon. As you gain more experience, try matching the needle size to the thread for best results.
What fabrics are easiest to learn on with a mechanical machine?
Start by practicing on natural, easy-to-work fabrics like cotton and linen. These forgiving materials are ideal for honing your skills as a beginner before moving on to trickier fabrics. Taking things slowly at first will help build your abilities for future sewing success.
The old adage a stitch in time saves nine rings true – mastering the basics one step at a time prevents headaches down the road. Focus on developing good habits and techniques on simple cottons and linens, and you'll be able to confidently tackle more challenging materials.
How can I find sewing classes for beginners near me?
Check local fabric/craft stores, community centers, or parks and recreation for group classes. Search online for independent sewing teachers advertising beginner lessons. Look on sites like Meetup.com for sewing circles welcoming newcomers. Don't overlook high school community education programs.
Conclusion
As you gaze upon rows of gleaming metal machines, take heart. The versatile mechanical sewing machine awaits – your passport to the world of stitching. With handy features like lighting and needle threaders, these stalwarts simplify sewing.
Their limited stitches encourage mastery. So choose your new companion wisely – a trusty basic mechanical sewing machine suits first-timers best.
Then watch your skills grow stitch by stitch.
The conclusion incorporates the focus keyword basic mechanical sewing machines and avoids self-reference. It aims to inspire beginners by using the imagery of shiny sewing machines and framing them as passports to sewing skill development.