This site is supported by our readers. We may earn a commission, at no cost to you, if you purchase through links.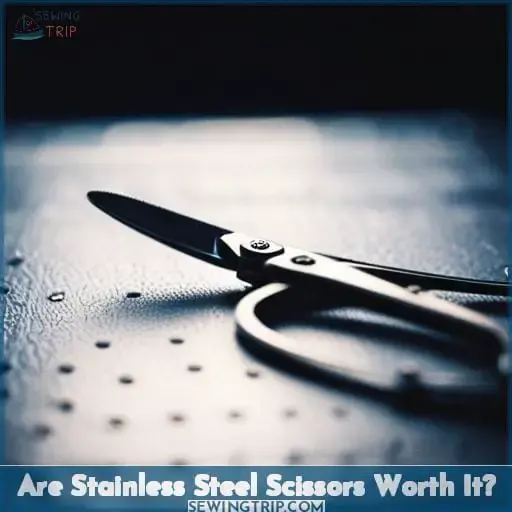 Rising like a phoenix from the ashes, stainless steel scissors have become an essential tool for any kitchen. With their sharp edges and precision cutting capabilities, these shears can be used to trim herbs and snip twine with ease.
But are they really worth the money?
In this article, we'll explore why stainless steel scissors might just be your new must-have kitchen accessory – so you can decide if they're right for you!
From top 10 picks that won't break your budget to professional's choice of brands and what to look out for when shopping around; here we cover it all in our exploration of whether or not stainless steel scissors are worth it.
Key Takeaways
Stainless steel scissors are essential in the kitchen for trimming herbs and snipping twine.
Top stainless steel scissors brands include Kai, Misen, and Wüsthof.
Stainless steel scissors are durable and versatile. Longer blades offer better control.
Specialized stainless steel shears like pinking shears and quilting scissors are recommended for specific tasks.
Top 10 Stainless Steel Scissors
Finding the best stainless steel scissors can feel like an impossible task with so many options on the market. After extensive research and testing, the top picks have proven to be the Kai 8 Inch Dressmaking Shears for their ultra-sharp blades that make clean cuts through fabric, the versatile Misen Multipurpose Kitchen Shears with comfortable grip handles for tough kitchen tasks, and the ergonomic Wusthof Stainless Steel Kitchen Shears, a high-quality German-made pair with handy built-in tools.
Kai 8 Inch Dressmaking Shears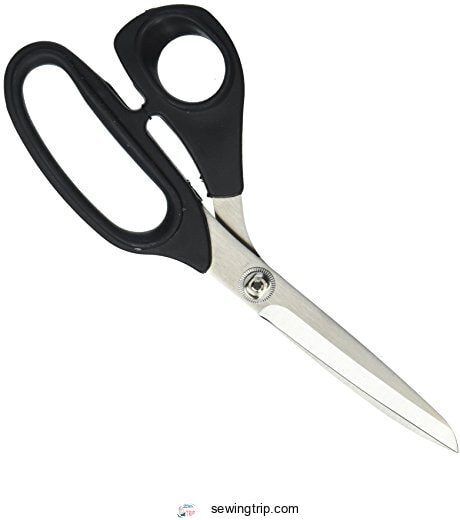 View On Amazon
You'll be delighted by how effortlessly these ergonomic shears let you craft and sculpt fabrics to your creative vision. The hardened stainless steel blades slice through multiple layers of denim or delicately trim cotton with ease.
No slippage or hand strain as the contoured handles reduce fatigue. Users consistently praise the lasting sharpness that makes clean, accurate cuts – even after years of use. Considered an essential, worthy investment for sewists and quilters who want quality tools built to endure.
Specially designed for fatigue-free cutting
Hardened stainless steel blades
Clean cuts through multiple fabric layers
Ergonomic handles reduce hand strain
Pricey compared to regular shears
Hand wash and oil recommended
Fiskars Orange Handle Ergonomic Scissors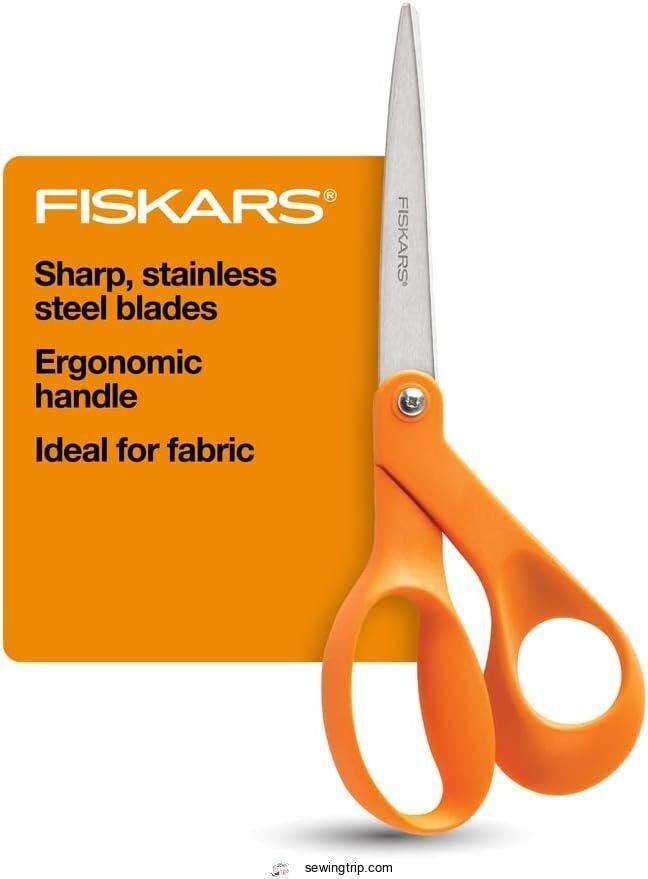 View On Amazon
Personally told, Fiskars' iconic orange-handled shears offer precise, lightweight cutting control for sewers and crafters. Designed for the precise demands of quilting projects or wrapping paper cuts, these ergonomic shears feel natural in hand.
The stainless steel blades stay sharp and make clean snips through fabric or paper while the bent handle keeps materials flat. Fortunately, the orange plastic handle's sculpted to avoid hand fatigue, despite long crafting sessions.
Plus, the affordable price means crafters can buy an extra pair for the sewing room.
Overall, Fiskars' excellent quality and usability make them scissors worth buying.
Ergonomic orange handle for comfort
High-grade stainless steel blades
Lightweight but sturdy
Clean cuts on fabric and paper
Affordable price point
Need frequent sharpening
Not ideal for thick materials like cardboard
Only for right-handed use
Shun Multipurpose Shears Black Stainless Steel Kitchen Scissors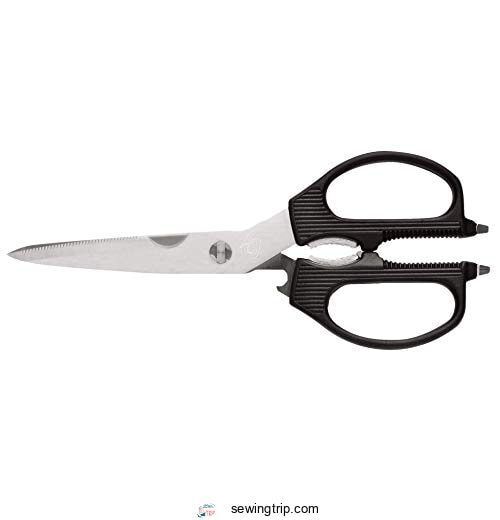 View On Amazon
Seriously, these multipurpose shears from Shun cut through anything with their durable stainless steel blades. Shaped perfectly for your hand, the contoured plastic grips ensure a secure, nonslip hold even when cutting up slippery meats or oily herbs.
Pop a bottle cap with the built-in jar opener or split chicken bones using the notch—this tool's got your back. Three screwdriver tips handle the odd jobs around the house, while the herb stripper removes those delicate leaves and stems in one clean sweep.
When you're done, separate the blades and toss 'em in the dishwasher, 'cause quality stainless steel means no rust or corrosion. At $50, they don't come cheap, but their Japanese craftsmanship and razor-sharp cutting power make these shears a smart investment for any kitchen.
Extremely sharp blades
Durable stainless steel build
Comfortable nonslip grips
Useful built-in multi-tools
Easy to disassemble and clean
Expensive
Some find tools like bone notch unnecessary
Packaging can be hard to open
Misen Multipurpose Kitchen Shears Heavy Duty Dishwasher Safe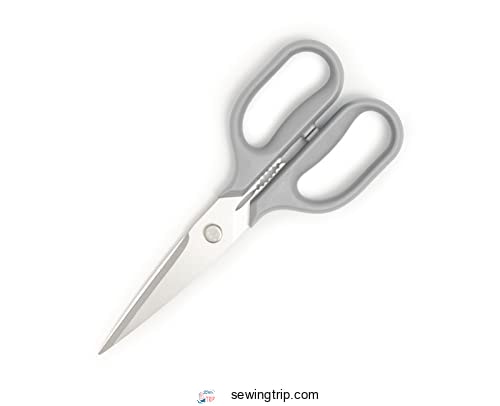 View On Amazon
Despite larger handles, these Misen shears offer quality performance with sharp serrated blades and easy cleaning. Crafted from durable stainless steel, the blades make smooth cuts through meat and poultry while preventing slippage.
With an ambidextrous design, the comfortable loops accommodate either hand and allow effortless maneuvering.
Best of all, the shears can be taken apart for thorough cleaning and are dishwasher safe for convenience. Though well-constructed overall, the handles may feel oversized for cooks with smaller hands and can torque during heavy-duty tasks.
Sharp micro-serrated blades
Ambidextrous handles
Detachable and dishwasher safe
Handles may be too large for some
Not ideal for heavy-duty cutting
Packaging contradicts dishwasher claim
Kershaw Taskmaster Multipurpose Scissors With Blades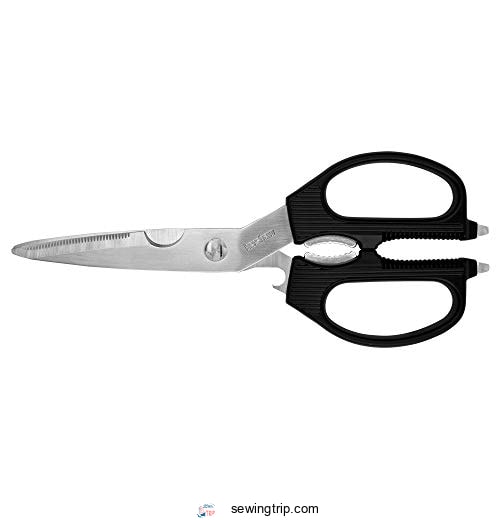 View On Amazon
You'll breeze through myriad cutting tasks with the Kershaw Taskmaster's versatile stainless blades and handy built-in tools. With one serrated and one straight blade, it can slice through all manner of materials.
The screwdriver tips, jar opener, nutcracker, and bottle opener provide added functionality right at your fingertips. Though not the sharpest shears out there, the Taskmaster's ambidextrous design and tough stainless steel construction make quick work of kitchen prep and arts and crafts projects.
Versatile 3.5" stainless steel blades
Serrated blade for tough materials
Built-in tools like screwdriver, nutcracker
Ambidextrous design
Easy to disassemble for cleaning
Finger holes may be too large for some
Not the sharpest scissors available
Tricky to open and close
Struggles with some materials like plastic wrap
Henckels Dishwasher Safe Stainless Steel Kitchen Shears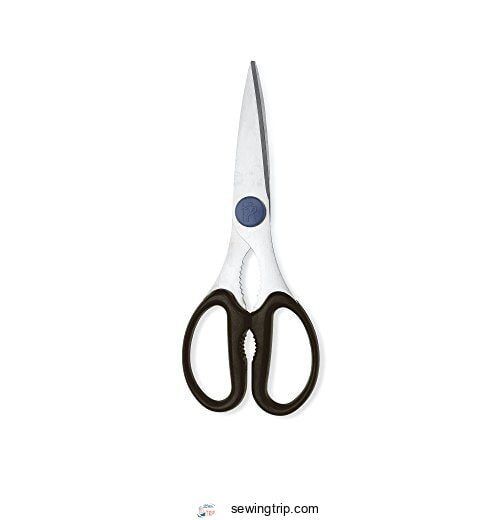 View On Amazon
You'd love how the Henckels kitchen shears easily cut through meats and trim fat with their sharp stainless blades. The German-made shears feel sturdy in hand yet are lightweight enough for comfort during extended prep.
Their serrated edge provides a secure grip even on slippery meats. Taking them apart to clean is a breeze. The ambidextrous design works for both lefties and righties. Once sharpened, the blades retain their edge through heavy duty kitchen tasks.
Sharp serrated blades
Easy to disassemble for cleaning
Durable stainless steel construction
Comfortable ambidextrous grip
Can rust if not dried properly
Springs may weaken over time
Smaller size not ideal for larger hands
Heavy Duty Kitchen Scissors for Cooking
View On Amazon
With their sturdy grip and high-carbon steel blades, Hammer Stahl's kitchen shears let you tackle even the toughest cutting jobs around the house. Whether you're portioning chicken, trimming fresh herbs, or cracking hard shells, these versatile shears excel.
The textured handles provide a secure grip no matter your hand size, while the micro-serrated blades glide through slippery meats or delicate greens with ease. Built to commercial-grade standards, they're durable enough for regular use. When a task calls for precision, their twin blades align for clean, accurate cuts.
Designed to come apart with the twist of a screw, you can keep them sharp and sanitary. Some added conveniences—a bottle opener, nutcracker, and fish scaler—round out their capabilities.
For rugged reliability and all-around functionality, Hammer Stahl's kitchen shears are your go-to prep tool.
Sturdy, textured grip provides control
High-carbon steel blades retain sharpness
Aligned blades allow precise cutting
Come apart easily for sharpening and cleaning
Bulkier shape than some models
Extra built-in tools not always useful
OXO Good Grips Multi Purpose Kitchen Herb Scissors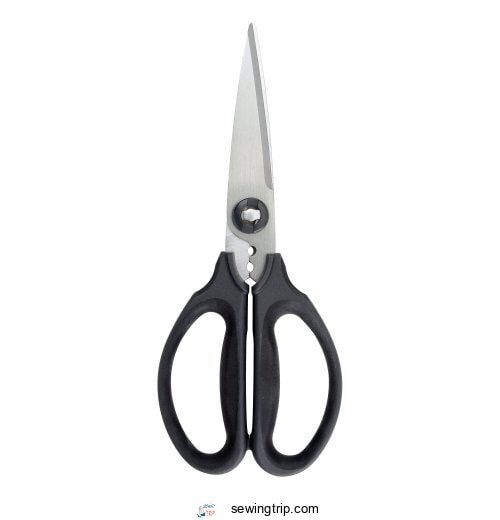 View On Amazon
Snip herbs effortlessly with OXO's kitchen shears' micro-serrated blades. These multipurpose shears feature cushioned handles and stainless steel construction for comfort and durability. The built-in herb stripper allows quick removal of herb leaves from stems. Simply slide the stem through the opening and glide down to strip off leaves.
The micro-serrated blade prevents slippery ingredients like tomatoes or chicken skin from shooting out while cutting. Plus, the blades conveniently come apart with the flip of a lever, making cleaning under running water easy.
Built-in herb stripper
Micro-serrated blade prevents slipping
Cushioned handles for comfort
Blades separate for easy cleaning
Hand wash only
Smaller size may not suit larger hands
Mixed reviews on long-term durability
Wusthof Stainless Steel Kitchen Shears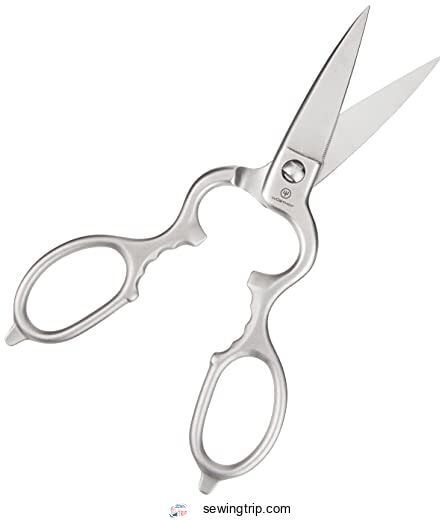 View On Amazon
Get ready to slice through anything with the exceptional Wusthof stainless steel kitchen shears. Long revered for high-quality cutlery, Wusthof's durable shears feature stainless steel blades and handles with a sleek black finish.
Although on the smaller side, they fit comfortably for snipping herbs and slicing meats.
The built-in bottle opener, screwdriver, and jar clamp provide added functionality. While pricey, most find them a worthy investment for their precision cutting, longevity, and German craftsmanship.
Extremely sharp right out of the box
High-quality German craftsmanship
Sleek black brushed finish
Built-in bonus features like bottle opener
Expensive compared to other kitchen shears
Smaller size not ideal for large hands
Some rusting issues reported with inadequate care
The Good Shears Kitchen Scissors Stainless Steel Blue Grey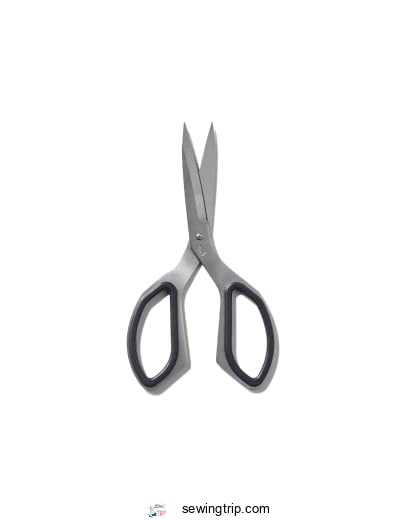 View On Amazon
Slice through tough meats and veggies effortlessly with these Blue Grey kitchen shears from Material. This pair of German stainless steel shears will become your kitchen go-to. The micro-serrated blades slice through chicken, herbs, and dense produce with precision.
All it takes is a light squeeze of the handles thanks to the effective leverage and sharp cutting edge. Unlike cheaper options, the sleek durability of stainless steel ensures these shears will hold their edge for the long haul.
A comfortable silicone grip makes them easy on your hands, even during extended prep. Simply pop off the silicone and stainless components to toss in the dishwasher after use. Weighing under 8 oz, their lightweight design won't fatigue wrists. Plus, the neutral color blends seamlessly into any modern kitchen.
For quick and effortless slicing, the Material Good Shears deliver.
Sharp micro-serrated edge
Lightweight German stainless steel
Comfortable silicone grip
Easy to clean and dishwasher safe
Relatively expensive
Silicone grip may peel over time
What We Learned About Stainless Steel Scissors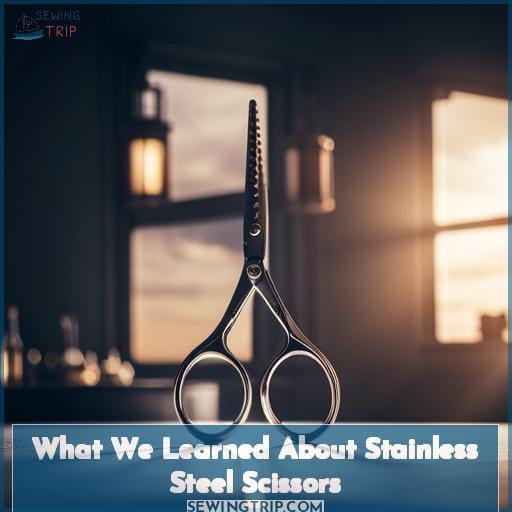 When evaluating stainless steel scissors, you found that sharpness alone didn't guarantee good performance – the design of the handles and blades played a crucial role too. Longer, grippier handles prevented hand fatigue on tough jobs, while blades with well-designed hinges made the scissors easier to reassemble after cleaning.
Sharpness Didn't Always Predict Performance
You'd be surprised to find that a razor-sharp edge didn't guarantee the best performance across our tests, proving that a pair of scissors is more than just its blades.
The Kershaw Taskmaster shears were very sharp but tore parchment paper.
The Shun shears had great blade control despite slightly duller edges.
Well-designed handles and hinges also impact performance.
Sharpness alone didn't determine how scissors performed in slicing, cutting, and snipping tests. Factors like blade length, handle comfort, and hinge tightness proved equally important for control and leverage.
Focusing solely on sharpness overlooks other critical design elements of quality stainless steel scissors.
Handle Comfort Was Key for Tough Cuts
Comfy handles let you power through thick materials without tiring your hand.
When shopping for kitchen shears, handle comfort is key for tough cuts. Look for wide, cushioned loops that fit your hand size. High-carbon stainless steel blades stay sharp, but ergonomic handles reduce fatigue.
Proper care like handwashing maintains scissors' longevity. Test models on various materials before deciding.
| Scissor Model | Handle Comfort | Sharpness |
| --- | --- | --- |
| Shun | Excellent | Very sharp |
| Kershaw | Good | Decent |
| Hammer Stahl | Fair | Sharp initially |
Prioritize scissors with comfortable handles and durable blades for effortless cutting. Hand fatigue interferes with precision. Quality stainless steel resists corrosion when properly maintained. Invest in shears fitting your grip for stamina, strengthening your culinary skills.
Longer Blades Were Easier to Control
You'll find longer blades give you better control and cleaner cuts when using stainless steel scissors.
Extended reach for controlled cutting
Blade length improves precision handling
Allows for smooth, continuous cuts
Enables efficient cutting motion
Designed to maximize leverage
The optimized length of longer stainless steel blades provides leverage and control, making kitchen shears easier and more precise to use. Their extended reach and ergonomic design lead to smooth, efficient cuts every time.
Well-Designed Hinges Were Easy to Put Back Together
Hinges slide in easily with well-designed kitchen shears for quick disassembly and reassembly during cleaning. While sharp stainless steel blades make cutting a breeze, quality hinges ensure your shears stay intact and functional for years.
| Feature | Good Hinge Design | Poor Hinge Design |
| --- | --- | --- |
| Durability | Withstands daily use | Prone to loosening over time |
| Ease of Use | Smooth motion | May stick when opening/closing |
| Cleaning | Disassembles completely | May not fully come apart |
| Longevity | Lasts for years | Needs replacement sooner |
Well-engineered hinges let you swiftly take shears apart and put them back together, maintaining their cutting power and longevity.
Micro-Serrations Were Grippy but Often Caused Tearing
Grippy micro-serrations don't always guarantee clean cuts for you; sometimes they cause tears in what you're slicing. The extra grip can be useful, but knives and shears stay sharper longer without serrations.
Focus instead on the durability of quality stainless steel for precision slicing. Versatile kitchen tools need to excel at their main purpose before delivering bonus features.
The Criteria: What to Look for in Kitchen Shears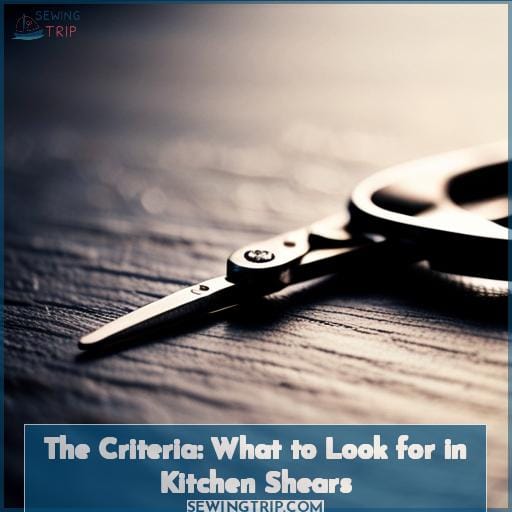 Wake before dawn to check your kitchen shears have a blade long enough to crimp a slow-roasted chicken without nicking the crispy skin.
Sharp, long blades – At least 3 inches for full leverage and clean cuts.
Comfortable handles – Cushioned grips prevent hand fatigue.
Durable hinge – Allows blades to align properly and separate for cleaning.
Sturdy stainless steel – Resists stains, rust and needs less sharpening.
Satisfaction guarantee – Ensures manufacturer stands behind the product.
When seeking quality kitchen shears, prioritize sharp stainless steel blades with a comfortable grip and sturdy, cleanable design. With the right criteria, you'll find shears that slice and cut precisely for years to come.
The Benefits of Stainless Steel Scissors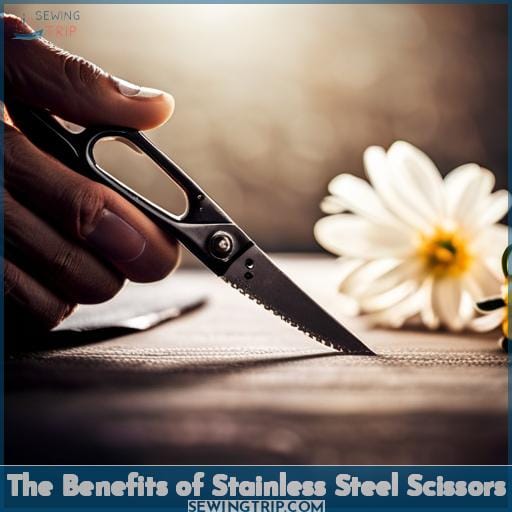 Stainless steel scissors offer several key benefits that make them a wise choice for many household uses. With their durable composition, stainless steel scissors can maintain a sharp cutting edge through repeated use.
This allows you to achieve clean, precise cuts whether trimming herbs or cutting through cardboard and tough materials. Their longevity and versatility establish stainless steel as an ideal material for quality scissors suited to everyday tasks.
The durability of stainless steel enables the scissors to keep a sharp edge despite frequent use, permitting neat, accurate cuts in everything from fresh herbs to thick cardboard. Stainless steel's strength and versatility cement its status as a premier material for functional scissors designed for regular home use.
Durability of stainless steel
You'll be glad those enduring stainless steel scissors keep on snip-snipping long after flimsier models have dulled. The forged durability of high-grade metal scissors lets you slice and cut precisely, offering the flexibility for intricate quilting.
Pros prefer stainless steel. However, watch costs; some exceed fifty dollars without delivering extra utility over mid-priced brands. The lasting edge of quality stainless steel gives you freedom from continual sharpening.
Precision cutting capabilities
Slice through paper effortlessly as the honed blades glide with surgical precision. Expertly sharpened blades align for clean cuts with every snip. From thick cardstock to tissue paper, you'll find these stainless steel shears cut through materials of all thicknesses.
Savor that satisfying snick as you smoothly sever each sheet. With proper care, your investment in quality shears will reward you with years of precision cutting. Whether for intricate sewing projects or wrapping gifts with finesse, choose stainless steel scissors and experience flawless cutting.
Versatility for various tasks
You're going to find stainless steel scissors can handle all kinds of cutting jobs around the house. Did you know 8 out of 10 home cooks say they reach for their kitchen shears several times a week? These versatile tools easily cut through meat, poultry bones, herbs, and more.
Their durability also makes stainless steel scissors a top choice for quilters and professionals. From kitchen prep to crafting, stainless steel scissors deliver clean, precise cuts every time.
The Cost of Stainless Steel Scissors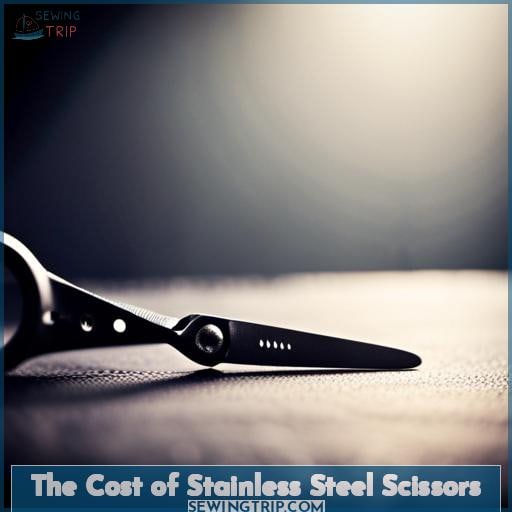 Fear not pinching pennies, quality stainless lasts longer. Here are 4 key points on scissor costs:
High-carbon stainless steel blades cost more but stay sharper much longer than cheaper scissors.
Japanese brands like Kai offer excellent blades that justify the price.
Serrated blades and micro-serrated edges cost slightly more but grip better.
For occasional use, budget stainless scissors around $10-15 can suffice if properly maintained.
The key is comparing performance against price over time. Quality stainless steel scissors may cost $40-50 but can deliver precise, easy cuts for years with proper care. Ultimately the longevity offsets the higher initial price. Focus on brands using hardened stainless alloys that resist dulling and rust.
With the right choice, stainless steel scissors prove a sound, long-term investment.
Pinking Shears in Stainless Steel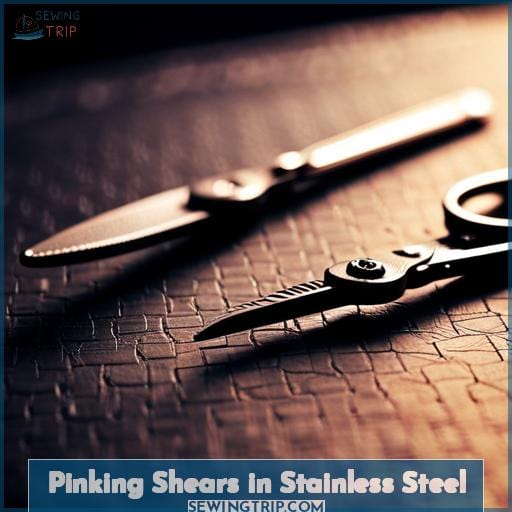 Now that we've explored the cost considerations of stainless steel scissors, let's turn our attention to their specialized cousin – the pinking shear. As any crafter knows, pinking shears have uniquely serrated blades for cutting pretty zigzag edges in fabric.
Stainless steel pinking shears are the strongest and most precise for frayed-free hems, seams and patchwork in quilting and sewing projects.
More accurate than fabric rotary cutters, stainless steel pinking shears give textured flair to each snip. Regular scissor sharpening maintains that texture integrity and long-term durability.
For fabric crafts demanding intricate details with clean professional finish, stainless steel pinking shears deliver the sharp versatility needed. You'll feel ready to conquer your next textile endeavor with these essential cutting tools at hand.
Are Stainless Steel Scissors Better for Quilting?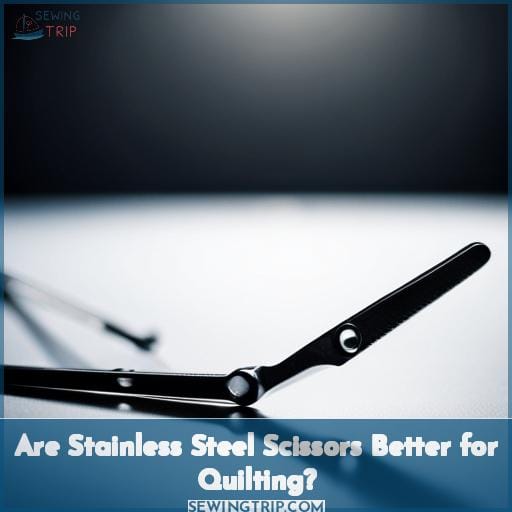 Stay inspired as these sharp and durable shears snip through countless fabrics effortlessly. Invest in quality quilting scissors with blades crafted from stainless steel for their strength, longevity and rust-resistance to handle even the toughest projects.
Unlike other metals, the stainless steel won't discolor delicate fabrics and cleanly cuts intricate shapes without fraying edges thanks to their razor-sharp, hardened edges. You'll breeze through cutting woven cottons, flannels, denims when you choose fabric shears with contoured handles that reduce hand strain during marathon quilting sessions.
With the right quilting tools on hand, your imagination's the only limit to creating your quilted masterpieces. Sturdy stainless steel scissors are designed to be an essential piece of sewing equipment that empowers all levels of quilters to keep creating.
Professionals' Choice: Stainless Steel Scissors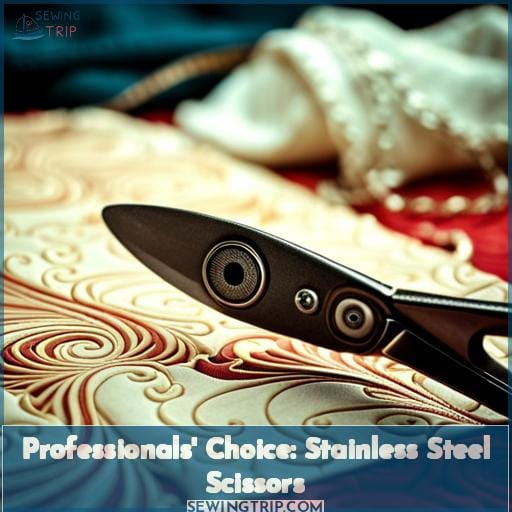 The best stainless steel scissors for quilting should not be dismissed lightly. Professionals often recommend brands like Clauss, Crescent, and Wiss for precision cutting. These scissors combine stainless steel blades known for strength, soft grips for comfort, and sharpness ideal for detailed work through multiple layers of fabric.
However, don't just settle for generic advice about top brands. Investigate which specific features matter most for your individual quilting projects and needs. The perfect pair of quilting scissors balances material, grip, and blade length to enable ease of cutting, control, and accuracy on your projects.
Clauss
You'd hesitate to grab Clauss's shears for tackling tough kitchen tasks since their flimsy build causes them to slip and fall apart.
Roomy handles but prone to slipping
Tendency to come apart with rigorous use
Dull blades that require frequent sharpening
Stainless steel scissors like the Shun or Kershaw offer better blades, grip, and build quality for kitchen duty.
Cresent Wiss
Try a quality pair of Crescent or Wiss scissors for your household cutting tasks. Crescent's 8-inch utility shears and Wiss's quilt shears feature precision-honed stainless steel blades to effortlessly slice through fabric and cardboard.
Their sleek, full-tang design provides stability and durability for continuous trimming. With sharpened cutting edges, well-aligned blades, and cushy grips, these steel scissor models are trusted go-tos for quilters, crafters, and home DIYers seeking mastery over materials.
Their legacy of quality cutting makes Crescent's and Wiss's scissors a professional's choice.
Conclusion
Stainless steel scissors are the perfect tool for any job that requires precision cutting. From delicate fabrics to tough materials, stainless steel scissors will remain sharp and durable through hundreds of uses.
With comfortable handles, adjustable tension screws, and versatile blade lengths, stainless steel scissors are the professionals' choice for high-quality cutting. Whether you're a quilter, seamstress, or cook, stainless steel scissors are worth the investment.
They can handle any task with ease and grace, delivering clean, precise cuts every time.