This site is supported by our readers. We may earn a commission, at no cost to you, if you purchase through links.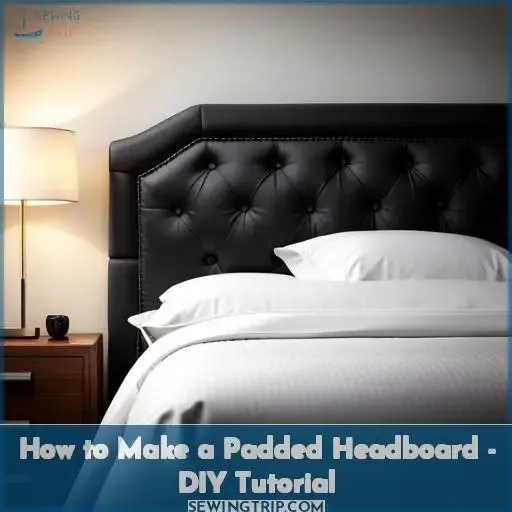 Who says bedroom upgrades need huge price tags? Not you. We're crafty folks who find joy in transforming everyday materials into stunning focal points, like this easy DIY padded headboard you'll complete in a weekend for under $50.
Spend those savings elsewhere and take pride knowing your handmade creation rivals the cost of big box versions.
First, we'll turn basic wood, batting, and fabric into a cozy, tufted headboard. You'll learn how to build a sturdy frame, cut batting to size, and staple fabric in place. A few clever tricks, like using painter's tape on the frame, prevent slipping and tugging during assembly.
Adds personalized flair by choosing any fabric pattern or color you love. Our expert tips will ensure crisp corners that make you want to curl up in bed.
Key Takeaways
Easy weekend project
Utilize affordable materials for creative crafting
Personalize with fabric pattern/color
Achieve a customized and cozy bedroom with affordable DIY techniques
Craft Adhesive 3.7 Fluid Ounces E6000

So, you've got your hands on that Craft Adhesive 3.7 Fluid Ounces E6000, the versatile industrial-strength glue from E6000. It's like a superhero for crafters, sticking to wood, metal, glass, leather, plastics, and more with its waterproof, clear magic.
This adhesive is all about making your projects hold up strong and steady, whether you're mosaic tiling, upholstering, or getting creative with fabrics. Just keep in mind, a little goes a long way with this concentrated formula, so brace yourself for controlled glue-dispensing acrobatics.
With some practice, you'll be bonding and building like a pro as this adhesive works its clear, flexible, heat-resistant magic on your DIY dreams.
Fiskars Coastal Colors Acrylic Clear Ruler

As you progress with your padded headboard project, a high-quality acrylic ruler is essential for precision and accuracy. The Fiskars Coastal Colors acrylic ruler is the ideal cutting tool. Its durable 3mm thick acrylic offers lasting durability even with frequent use.
The ruler features large, easy-to-read markings in 1/8 inch increments, ensuring accurate measurements up to 8 inches. It also includes 30, 45, and 60 degree angle lines, making it perfect for cutting precise angles.
This clear quilting ruler has versatile quilting and crafting applications. It facilitates edge-to-edge cutting of fabric strips, binding, and cutting squares directly from the bolt.
To elevate your quilting, pair this acrylic ruler with a cutting mat. It improves technique for precisely cut strips and borders.
Stanley Classic Six Inch Retractable Utility Knife

You'll be delighted by the sturdy metal and bamboo build of this handy-dandy Stanley retractable utility knife. The patented interlocking nose securely holds the blade, preventing any play or wiggle while you're working.
Simply slide the blade into its three possible positions to expose just the right amount needed for your cutting task.
When not in use, the blade tucks safely into the handle – perfect for storing in your toolbox or pocket. The carbon steel blades stay sharper longer than standard ones, slicing through cardboard, foam, and fabric with ease.
Utility Knife Features like the retractable mechanism and convenient storage make this an ideal choice whether you're upholstering, woodworking, or tackling everyday projects around the house.
Just remember basic Safety Measures – replace dull blades promptly and keep fingers clear of the exposed edge. This classic knife will be your trusty companion for clean cuts on all materials.
Blade Retraction Mechanism and sturdy build make it a winner!
Duck Tape Duct Tape Roll Silver

For tackling lighter-duty repairs, like seams in costume fabric or securing insulation against ducts in the basement, you'll appreciate having a roll of classic silver Duck brand duct tape on hand as a versatile multitasker.
Using the shiny, waterproof adhesive on this aluminum-backed tape has saved the day for countless crafty fixes over the years. Just like how a trusty roll of tape can hold together a rough DIY project, its applications span from quick fixes on household items to creative crafting endeavors.
Whether you're mending a tear, creating a temporary hold, or exploring innovative crafting ideas, this silver tape comes to the rescue. From the straightforward to the imaginative, its uses are limited only by your creative vision.
So, unleash your inner DIY enthusiast and explore the endless possibilities this dependable duct tape offers – it's your versatile adhesive companion for a multitude of tasks.
Warm and Natural Cotton Crib Size Batting

Get fluffier with chemical-free Warm and Natural crib batting. This 87.5% cotton quilt batting is ideal for baby quilts and upholstery projects thanks to its firm yet soft feel.
Key features include:
Natural Materials – Made from a select portion of US-grown cotton for a chemical-free, vintage look.
Versatile Uses – Excellent for quilting, batting, and crafting. Maintains shape when washing, framing, or hooping.
Easy Care – Machine wash and dry. Expect 3-5% shrinkage for a puckered, antique look.
Consider layering wool with the Warm and Natural batting for added coziness on your next quilting or upholstery project. The natural cotton fibers provide durability and breathability for items meant to last.
Give chemical-free batting a try for your next baby quilt, playmat, or padded headboard.
Conclusion
Well, as I live and breathe, peddling this padded headboard DIY should help plenty of eager beavers hankering to spruce up their sleeping quarters without busting the bank. Just rustle up the fixings on the supplies list, mosey through the easy-as-pie steps, and before you can say hornswoggle, you'll have yourself an affordable, custom headboard that'll make your bedroom the cat's meow.
With a little elbow grease and stick-to-itiveness, this simple tutorial on how to make a padded headboard can give any bedroom a swell, cozy feel lacking in store-bought options.