This site is supported by our readers. We may earn a commission, at no cost to you, if you purchase through links.
Shopping for the perfect outfit can often be a daunting task. With so many different styles of necklines available, how do you know which one to choose? To make it easier for you, we have compiled an extensive list of 23 types of necklines illustrated with examples that will help guide your shopping decisions and ensure you look fabulous in whatever top or dress you choose!
From modern asymmetrical designs to timeless classic ones such as boat necks and v-necks, each style provides unique opportunities to highlight your best features while making a fashion statement.
So let's take a look at all these amazing options together!
Key Takeaways
There are 23 types of necklines, including asymmetrical, boat neck, v-neck, layered, sweetheart, one-shoulder, spaghetti straps, peplum hems, scoop neck, and strapless.
Different fabrics like silk, chiffon, and velvet can be used for different necklines.
Accessorizing correctly can elevate any outfit.
The right neckline can make a bold fashion statement.
Necklines: What Are the Different Types?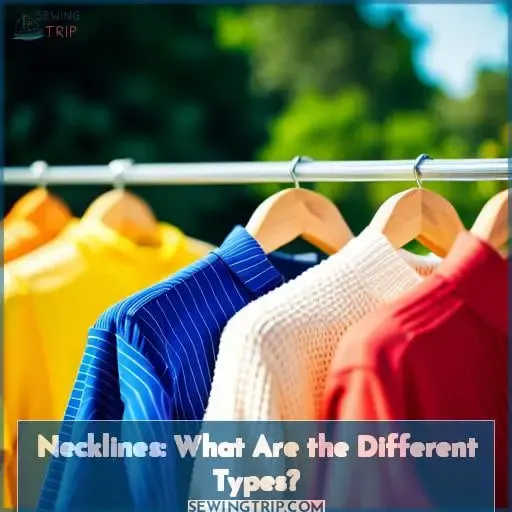 You can make a fashion statement with the varying neckline options available to you. From layered looks to sweetheart and one-shoulder designs, there's something for everyone! Spaghetti straps add an elegant touch, while peplum hems are perfect for flaunting curves.
For a more classic look, try out scoop or sweetheart-style necklines that frame your face beautifully. A strapless neckline is also a great choice when looking for minimalism and versatility.
Whatever design you go with will surely flatter your features – just remember that accessorizing correctly can take any outfit up several notches higher!
Boat Neckline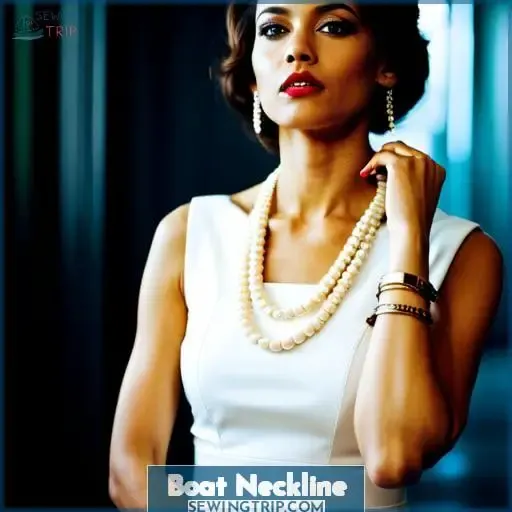 Slip into something stylish with a boat neckline – the perfect way to showcase your collarbones and add some subtle sophistication to any look! Boat necklines are easy to accessorize with statement earrings or delicate pendants.
Depending on the fabric, you can easily style this high neckline for different events. Choose lightweight fabrics such as silk chiffon for an evening out or heavier velvets for colder days. A queen anne type of cut is also popular when cutting boat necks, whereas crew necks offer a slightly more relaxed fit than halter styles.
When it comes time to sew them together, make sure that all lines are straight and even so they don't bunch up during wear.
Collared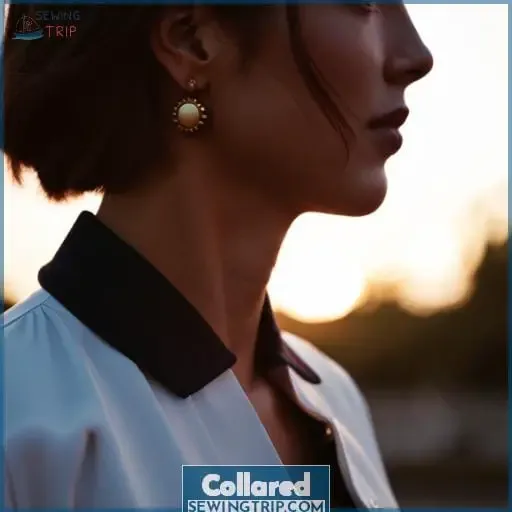 Show off your sophisticated side with a collared neckline! With its classic cut, this look can be easily dressed up or down depending on the occasion.
From round necks to crew and jewel styles, there are plenty of collar types to choose from when selecting your outfit. Whether you go for a traditional shirt style or something more edgy like an oversized blouse with exaggerated lapels – it's all about finding the right balance between formality and comfort.
Collared necklines provide just enough coverage without feeling too constricting, making them ideal for any season! When accessorizing these pieces, consider adding delicate chains that draw attention to the face while complementing other elements in your ensemble such as shoes and bags.
There is no doubt that this timeless trend will never go out of fashion, so why not embrace it today?
Cowl Neck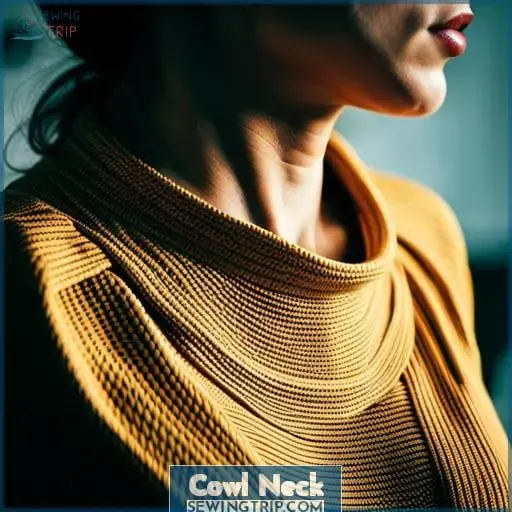 Take your look to the next level with a cowl neck top! This draped silhouette is perfect for creating an effortlessly chic style that flatters any body type. Whether you go for a daring halter or something more relaxed, this neckline will make heads turn.
For added drama and texture, pair it with bold accessories like chandelier earrings or statement necklaces.
But don't forget about all of those other stunning round and scoop styles too – they can be just as fashionable when paired with sleek trousers or flowing skirts.
No matter how you choose to wear them, there's no denying that cowl necks have become wardrobe staples over time due to their effortless elegance and timelessness.
Crew Neck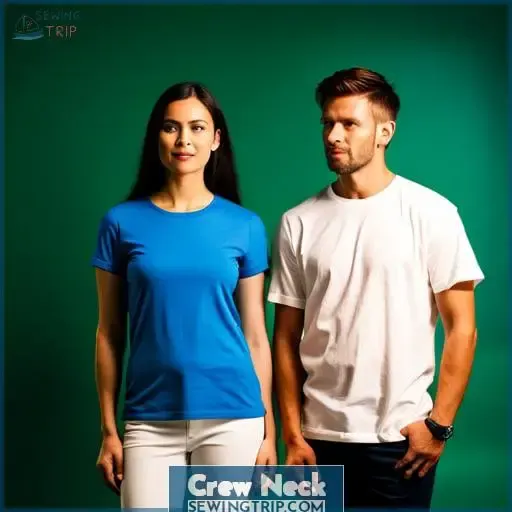 Embrace your effortless style with a classic crew neck top! This timeless silhouette is perfect for creating a chic and understated look that flatters any body type. Whether you go for the traditional wider cut or something more fitted, there are endless options to choose from when it comes to this versatile neckline.
From sweetheart styles to square necks and higher necklines, you can easily find one that suits your individual style.
For those looking for some extra coverage, try wearing a high-necked dress with spaghetti straps – this will create an elegant yet modern vibe while still showing off your best assets! If you're feeling daring, why not mix up different shapes such as sweetheart necks combined with crew? The possibilities are truly endless when styling these beautiful pieces.
The beauty of the crew neck lies in its simplicity – no matter what trends come and go throughout the years, they always remain fashion staples due to their versatility and comfortable fit.
Halter Neckline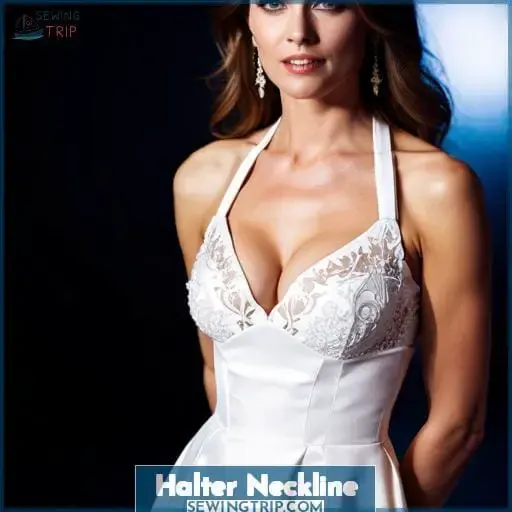 Experience the ultimate freedom of fashion when you slip into a halter neckline! This eye-catching look is perfect for making a dramatic statement, while its flattering shape highlights your curves in all the right places.
When shopping for halter necklines, consider material, fit, and color. Measurement guides can help ensure that you choose one that will accentuate your best features.
When styling ideas come into play, think beyond just dresses; pair them with skirts or shorts too! For large-chested women, opt out of small half-circle cutouts on straps of the top. Instead, go for wider ones which provide better coverage without compromising on style.
If wearing bright colors, be aware they may draw attention away from other areas, so keep accessories minimalistic if needed.
As far as wear and care goes, read tags carefully before washing any garments: some require special cleaning methods due to delicate nature and fabric used, while others can be machine washed alone then tumble dried on a low heat cycle.
On the flip side, hand wash garments made out of 100% silks only since machines tend to damage fibers, causing clothes to shrink and even fade over time.
Illusion Neckline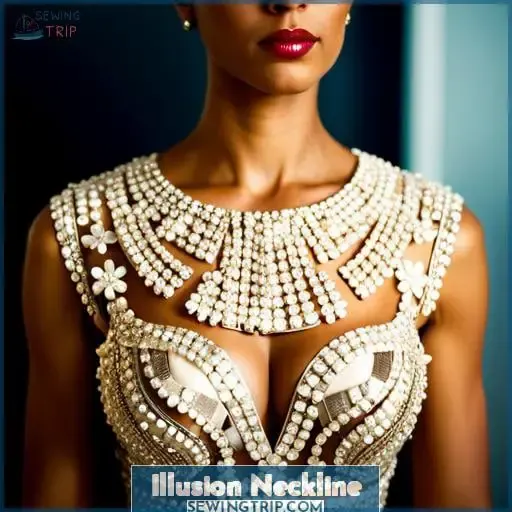 Make a statement with an illusion neckline! This elegant look is sure to turn heads and flatter your figure in all the right places. Soft fabrics like chiffon or georgette are perfect for achieving this sophisticated style, while intricate beading can give it some extra glamour.
Try experimenting with different color combinations too; from subtle pastels to bold jewel tones, there's something for everyone.
For those looking for more coverage than just sheer panels, try out sweetheart necklines as well as scoop or keyhole versions which offer slightly more skin exposure without compromising on classiness.
If you're after a high-necked option, then opt for a full boat-neckline made out of tulle.
Jewel Neckline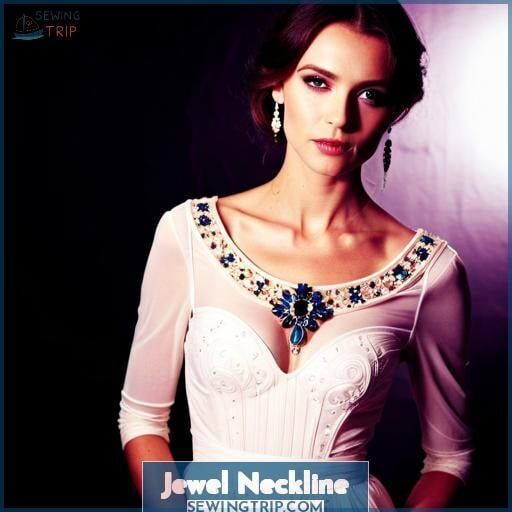 If you're looking to make a statement with your outfit, then the Jewel Neckline is perfect for you. This trending style features an eye-catching v-shaped or round neckline that gives off a sophisticated and regal vibe.
To get more mileage out of this look, add some elegant accessories like earrings and necklaces – it's sure to take any ensemble up a notch.
For those seeking even more coverage than just sheer panels alone, try experimenting with scoop or sweetheart versions which offer slightly more skin exposure without compromising on classiness.
Keyhole Neckline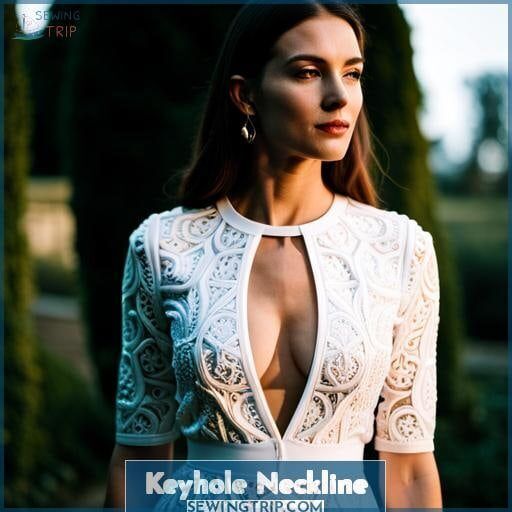 Try out the Keyhole Neckline for a chic and sultry look – perfect for any evening outing! From the classic Sleeveless Keyhole to showstopping cutouts, this shoulder style is sure to turn heads. Go bold with high-low hemlines or intricate detailing that will make you stand out from the crowd.
For more subtle looks, opt for keyholes with delicate details like scalloped edges or sweetheart necklines. Add some pizzazz by accessorizing your outfit with statement pieces such as earrings and necklaces! It's also great at highlighting features like collarbones and shoulders – letting you flaunt in all your glory without compromising on classiness.
From sleek minimalism to daring fashionista statements – there's something here that suits every taste level imaginable! So don't be afraid of taking risks when it comes to styling this lower neck option; trust us, it'll pay off in spades.
Off Shoulder Neckline

Show off your shoulders with the fun and flirty Off Shoulder Neckline! This style looks great on all body types, from curvy figures to petite frames. Whether you're wearing a dress or top, its flowy silhouette will provide an effortless look that is sure to turn heads.
Dress up this neckline in any way you like – pair it with jeans for a casual day out or wear it as part of an evening ensemble.
For more daring fashionistas, try the Cold Shoulder Look which features cut-out shapes along the shoulder seams – perfect for making statement pieces stand out even more! Or keep things sweet and simple with spaghetti strap tops paired with delicate scoop necklines; these combinations are both timelessly elegant yet modern enough to stay ahead of trends.
When accessorizing outfits featuring this type of neckline, make sure not to overpower them – opt instead for subtle touches such as dainty earrings and minimal pendants that won't detract attention away from your outfit's focal point: Your gorgeous décolletage area!
With just a few styling tips here, there's no limit when experimenting with different dress combinations, so let yourself be creative while having some fun dressing up like never before!
Frequently Asked Questions (FAQs)
What are the best fabrics for each neckline style?
Finding the best fabric for each neckline can enhance any look. From soft and delicate to bold and dramatic, choose fabrics that flatter your shape while expressing your style. Consider lightweight chiffon, crisp cotton poplin, or luxurious velvet depending on the mood you want to convey.
Are there any styling tips for wearing different necklines?
Wear necklines that flatter your body shape. Show off curves with V-necks and scoop necks, while square or boatneck styles can create a sense of strength. Balance proportions by pairing bolder tops with tailored bottoms for elegant sophistication.
How do I choose the right neckline for my body type?
Choose a neckline that flatters your figure and enhances your confidence! Look for pieces that draw attention to the areas of your body you want to show off, while avoiding those that emphasize parts you don't.
How do I accessorize different necklines?
Accessorize necklines to reflect your style and personality. Choose pieces that flatter the shape of the neckline, such as bold earrings for a V-neck or a statement necklace for an off-the-shoulder look.
Consider whether you want to draw attention up or away from certain areas when deciding on the type of accessory and color palette.
What is the most popular neckline style?
The most popular neckline style is the V-neck. It showcases your collarbones and draws attention to your face, which makes it a flattering choice for all body types.
Conclusion
Now that you know the different types of necklines, you can choose the one that best suits you. Whether you prefer a boat neckline, a cowl neck, or an off-shoulder look, you can easily find a style that flatters and enhances your figure.
As the saying goes, The neckline makes the outfit, so make sure to pick the right one to make a bold statement. With necklines, you can make a fashion statement and show off your unique style.