This site is supported by our readers. We may earn a commission, at no cost to you, if you purchase through links.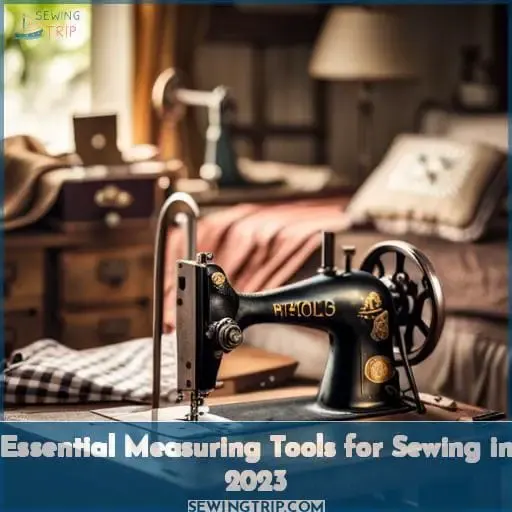 Here we go!
You've been sewing for a while now. You've mastered a few simple projects, gotten familiar with your machine, and are ready to start creating more complex designs. But what you're missing is the right tools for precise measuring and marking. Don't worry – I've got you covered.
Grab a tape measure, a yardstick, and a couple clear quilting rulers. These will help you measure pattern pieces, mark darts, and cut fabric with accuracy. Next, pick up a few specialized tools like a seam gauge and curved ruler. These will be essential when making fitted garments or sewing curved seams.
Finally, stock up on marking tools like chalk, pens, and clips. Precisely marking your fabric before cutting is the key to nailing those perfectly sewn edges. With the right measuring and marking tools in your kit, you'll have the confidence to take on any sewing project.
So equip yourself and get ready to create!
Key Takeaways
Rulers are essential measuring tools in sewing that offer precision and accuracy.
Different types of rulers cater to different sewing needs, such as measuring straight lines, curved areas, and quilting patterns.
Rulers made from materials like clear plastic, acrylic, and flexible curved rulers are commonly used in sewing.
Rulers are used for tasks like measuring body measurements, maintaining straight hemlines, marking hems and pleats, and shaping curved seams and patterns.
Essential Measuring Tools for Sewing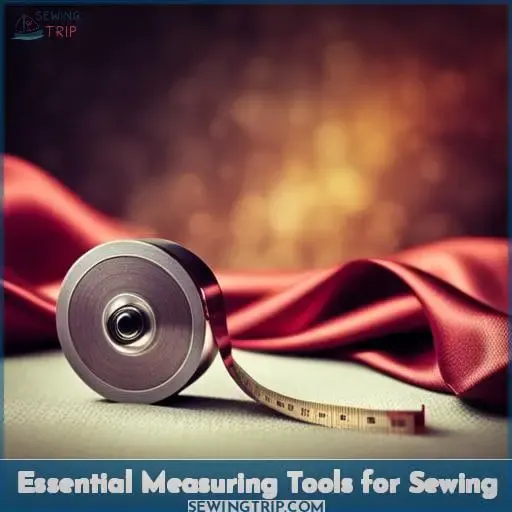 When starting out with sewing, having the right set of measuring tools is essential for precise and accurate results. For beginners, be sure to have on hand a measuring tape, yardstick, clear ruler, and small quilting ruler, as these will provide you with the basic measurements needed for your projects.
With practice, you will become adept at taking body measurements, checking hems, drawing long lines, and maintaining proper seam allowances.
Measuring Tape
You'll want to grab your measuring tape to take accurate body measurements before cutting any fabric.
Determine your bust, waist, hip, and length measurements.
Reference a size chart to identify your true size.
Measure over curve of upper bust, not under bust.
Ensure tape is parallel to floor for hip and waist measurements.
Measuring tools like a flexible tape measure are essential for precision sewing. Whether drafting patterns, hemming skirts, or checking body measurements, a quality tape provides accuracy. Flexible vinyl or fiberglass tapes contour curves. Sturdy metal-end tabs prevent fraying.
Large, easy-to-read markings in both metric and imperial units are key. Portable tapes allow measuring on-the-go.
Yardstick
A sturdy yardstick helps you maintain straight, even hemlines as you sew. Mark long grainlines effortlessly. Check trouser hems or circle skirts without contorting. A yardstick's length aids drawing smooth lines on fabric.
Try a retractable metal yardstick for durability and portability. Get creative with quilting designs using the yardstick's grid. Cut with confidence once the yardstick ensures pattern lines are square. For large projects, a yardstick brings crisp precision.
A ruler in sewing is an essential tool for ensuring accuracy. From drawing seam lines to measuring hems, a quality ruler helps sewists cut and construct with precision. The key is selecting the right ruler – like a tape measure for curves or a yardstick for straight lines – for the sewing task at hand.
With the proper ruler, sewists gain the power to create garments and projects with dimensional stability, professional finishings, and accurate fit. Rulers are liberating – no more misshapen seams or uneven hems with the right measuring tools in your kit.
Clear Ruler
A clear 12-inch ruler provides precise measurements for hemlines while drafting sewing patterns. You'll appreciate a sturdy, transparent ruler for marking fabric before cutting. Use its gridded markings to ensure straight lines. An essential tool for sewing projects requiring accuracy, like quilting, pair a clear ruler with an L-shaped ruler to maintain proper grainlines.
Clear rulers enable precision. With one in your DIY kit, you'll craft garments that fit perfectly. Rely on its durability too – it will last through years of sewing. Add a transparent ruler to your sewing rulers collection for exactness.
Small Quilting Ruler
When the quiet quilt calls, your nimble fingers attend the curve with ease. The flexible quilting ruler guides each stitch and seam; markings precise yet subtle, speaking only when beckoned. Along the ruler's edge, your needle dances, pulled gently into position. With this tool beside you, creativity flows unhindered, its metrics mere suggestion, leaving room for intuition's whispered counsel.
The quilt emerges, imbued with spirit, shepherded into form through compassionate partnership between instrument and hand.
Intermediate Sewing Measuring Tools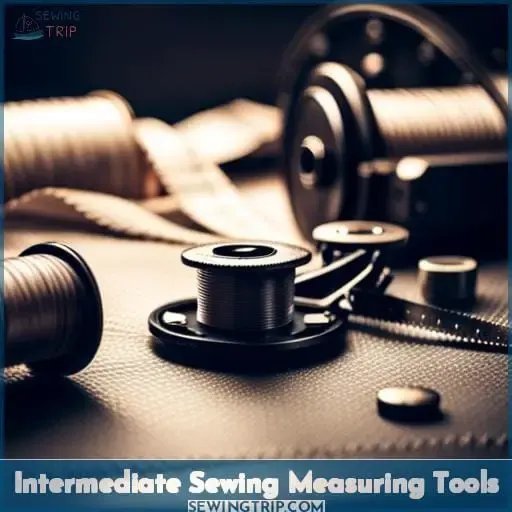 When moving beyond the basics of sewing, specialized tools become essential for precise measurements. A sewing gauge lets you evenly mark buttonholes, hems, and pleats, while flexible curved rulers adapt to any shape to trace perfectly smooth lines along curved seams or pattern edges.
Advanced sewers utilize these specialized measuring tools to achieve professional results when constructing garments or crafts.
Sewing Gauge
The Dritz sliding gauge marks fabric hems and pleats precisely. You'll find its sturdy, long-lasting nickel construction allows smooth, accurate markings. Using the gauge's clear measurements, simply slide the marker to the desired position.
This versatile tool assists proper spacing for pleats, hems, tucks, and buttonholes. Different sewing gauge options suit specialized needs like quilting rulers or French curves. But for most sewing projects, this reasonably priced Dritz gauge provides the key functions you need for excellent results.
With practice, you'll gain expertise for precise measurements, achieving quality outcomes.
French Curve
You use a French curve ruler to accurately shape curved seams when drafting sewing patterns.
Trace curve lines on pattern paper to create smooth, properly shaped armholes.
Draw neat necklines and collars with elegant curves.
Mark precise darts and other shaped pattern details.
Check seam lines for smooth shaping before cutting fabric.
Create custom, flowing designs beyond simple straight lines.
With practice, the French curve opens up endless creative options for shaping flattering, artistic, couture-quality garments.
Flexible Curved Ruler
Grab the flexible curved ruler to effortlessly measure those hard-to-fit areas. The flexible ruler curves as you wish, following hips or shoulders with precision. Mold it to measure armholes or necklines. Sew collars or sleeves so they fit perfectly.
Easily mark patterns with the increments and rulers. Quickly shape skirts, tops, shirts – all garments – to your exact form. Say goodbye to gaping necklines and pinching seams. With the flexible curved ruler, craft the couture look you crave.
Versatile Rulers for Sewing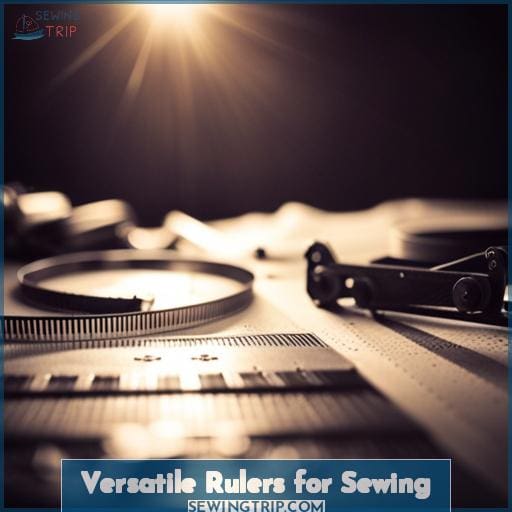 The array of rulers available for sewing projects nowadays is vast, yet certain adaptable varieties stand out as fundamental. Transparent plastic and quilting rulers enable precise straight-line and grid-style measurements that assist with seam lines, quilting lines, and general exactness.
Clear Plastic Rulers
Check that sturdy plastic ruler for measuring seam lines precisely. Handy transparent rulers allow accurate marking along fabric's straight of grain. Whether scaling pattern pieces or ensuring perfectly straight quilt lines, clear plastic rules every measurement.
Sturdy acrylic withstands frequent use. Gridded quilting rulers provide an aligning system for flawless patchwork. Combining inch and metric markings suits any project. Precise seam allowances prevent puckering.
Use an L-shaped quilter's ruler to maintain straight lines across fabric's width. Mark buttonholes evenly. Check sleeve seams. Align zipper teeth cleanly. Hem lengths stay on grain. Let steadfast plastic rulers instill confidence when constructing garments or quilts.
Your accuracy relies on their durability under constant motion. Trust transparent tools to make stitching satisfactions.
Quilting Rulers
Select one of these helpful quilting rulers to achieve precise measurements for your next quilting or patchwork project. The Omnigrid 12-1/2 x 12-1/2 Quilting Ruler provides an aligned grid system for flawless 45° and 60° cuts.
Or try the creative Dresden plate quilting ruler for unique curved blade segments. The Jane at Yellow Creek Quilting 8-Point Star ruler makes stunning star designs a breeze. For triangles, the June Tailor Shape Cut 60° ruler delivers accuracy. Got squares? The Square Quilter's Trim Tool from Sallie Tomato cuts multiples quickly.
And don't forget the versatile Clearview Triangle 6 x 24 ruler for piecing triangles or 90° cross cuts.
With the right quilting ruler, you'll achieve quilting liberation and open up unlimited creative possibilities.
Specialized Rulers for Precision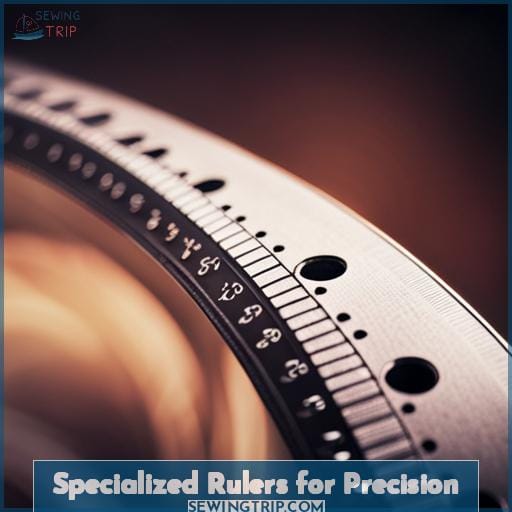 Let's dive into the world of specialized sewing rulers to ensure precise measurements for your projects. The L-Shaped Ruler helps maintain your fabric's straight grain, while the versatile French Curve Ruler aids in shaping armholes and necklines perfectly.
For quiltmakers, the Square Quilting Scale is essential for cutting fabric pieces with total accuracy.
L-Shaped Ruler
Align your fabric's straight grain along the length of an L-shaped ruler to maintain proper grainlines while cutting. This essential pattern marking tool provides the structure needed for precision. Use its perpendicular edges to align the cross grain and lengthwise grain while laying out and cutting fabric.
Check that your pattern pieces follow the straight grain by lining them up with the L-ruler's edge. A design necessity, this drafting tool will revolutionize your patterning skills. Incorporate an L-shaped ruler into your projects to achieve properly aligned garments that drape gorgeously.
French Curve Ruler
You'll love how the versatile French curve ruler magically shapes flawless necklines and armholes with the greatest of ease.
Tracing smooth curves on patterns
Designing elegant sleeve caps
Creating precise darts and princess seams
Cutting accurate curved fabric pieces
Master garment construction and expand your creative patternmaking capabilities with this essential curved ruler.
Square Quilting Scale
The square quilting scale is a must-have tool for precision patchwork and quilting. Its grid system allows you to measure fabric pieces accurately, guaranteeing your quilt blocks are perfectly aligned.
Utilize the square ruler to cut squares or rectangles with precise angles and dimensions. It's also useful for verifying seam allowances and sustaining straight lines throughout your projects. Incorporate this versatile ruler into your intermediate sewing toolkit for flawless quilting outcomes.
Measuring Curved Lines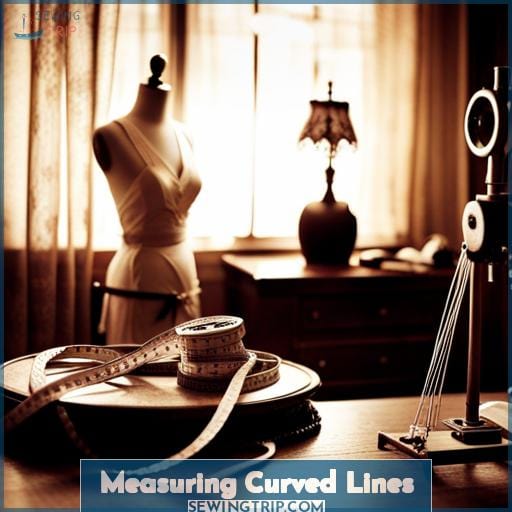 When measuring curved lines in your sewing projects, specialized flexible rulers are a must-have. A flexible ruler can easily bend into the desired shapes you need for accurately measuring curved lines, while a curve runner provides a compact rolling ruler that efficiently follows curved or straight lines.
Flexible Ruler
Haven't you ever struggled to measure curved lines while sewing? A flexible ruler bends into any shape you need for easily measuring curved or straight lines. This versatile tool molds to your curves, aiding in pattern drafting and measuring irregular seam allowances.
Made of durable plastic, it won't warp or crack. However, markings may wear over time.
It excels at measuring darts, necklines, waistlines, sleeves, ruffles, circles, and more. Pair it with your tape measure and French curve for grading patterns. Skipping the flexible ruler means improvising with pins and tape, resulting in imprecision.
Mark flawless curves effortlessly. Forgo frustration, liberate your creativity.
Curve Runner
You can master curves with a compact rolling ruler. This agile tool simplifies measuring curves on patterns and fabric pieces easily and precisely.
Portability – The compact size takes up little space and travels well.
Efficiency – It glides smoothly along curves for fast measuring.
Accuracy – The fine increments ensure precise measurements.
Made from durable clear plastic or acrylic, a curve runner has printed measurements and rolls as you trace a line. Using this tool helps guarantee accuracy when drafting sloped shoulder seams, shaped waistlines, or circle skirts in sewing patterns.
With practice, curved ruler skills improve. Check for nicks, warps, or debris before each use. Store flat to prevent bending. A compact rolling ruler empowers sewers to conquer curves with finesse.
Measuring Straight Lines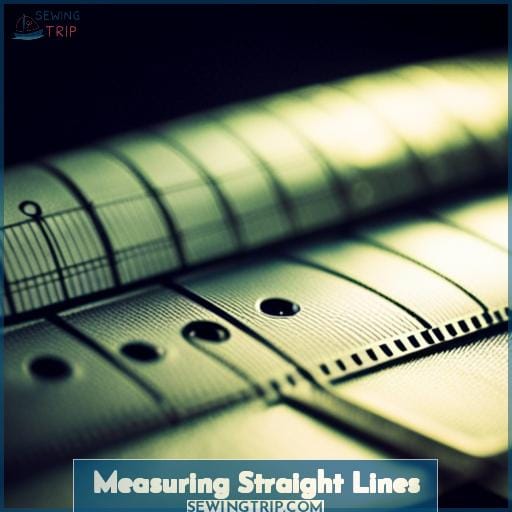 When sewing, accurate measurements are crucial for a well-fitting garment. For measuring straight lines, you'll need clear rulers, yardsticks, or an L-shaped ruler. These rigid tools allow you to draw straight lines and cut fabric precisely, ensuring proper alignment and minimal mistakes.
Precision is vital, so rely on sturdy rulers with clear markings in inches and centimeters for flawless construction.
Clear Rulers
You've carefully measured those crooked seams with flexible curves, but now pick up a clear ruler to trick obstinate lines into flawless acquiescence. Transparent acrylic or plastic 12-inch and 6-inch versions afford views of your fabric's grain and print as you mark darts, pleats, or straight stitching lines.
Gridded quilting rulers provide impeccable corner matching. Clean gently with soap and water to avert clouding. With see-through rulers, noticeable guidelines assist you in shaping uniform seams and edges into sharp rectilinearity.
Yardsticks
A yardstick helps double-check hemlines and long measurements while sewing.
Accurately measure dress and curtain lengths
Draw perfectly straight lines on fabric
Check that hemlines are even across an entire garment
Quality yardsticks like this 36 aluminum model make your sewing projects easier. The durable yet flexible aluminum allows the yardstick to lie flat against fabric. The high-contrast markings resist fading over time. Though yardsticks lack the precision of a tape measure, they excel at measuring and marking long, straight lines.
For best results, pair your yardstick with a shorter ruler for detail work. With practice, a yardstick becomes an indispensable tool.
L-Square Ruler
An L-square ruler helps ensure fabric's perpendicular alignment and properly squared lines while patternmaking. This handy tool keeps your fabric grain straight, allows precise 90-degree angle markings, and aids in drafting symmetrical pattern pieces.
The perpendicular arms of an L square allow you to easily draw perpendicular lines across fabric for perfectly squared seams, precise edge finishing, and properly aligned pattern layouts. You can mark button placements, pocket openings, or quilt piecing lines accurately with an L square ruler.
Maneuver this portable guide smoothly across fabric to maintain true bias grain perfection.
Precision Quilting Tools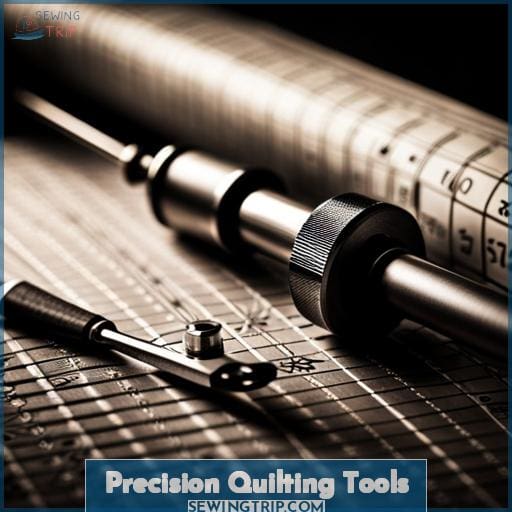 Large quilting rulers assist in maintaining precision when marking quilting designs, enabling smooth and accurate cuts when trimming and squaring quilt blocks.
Omnigrid rulers offer non-slip grip with measurements in 1/8" increments, aiding in cutting fabric and blocks to size.
Creative Grids rulers provide diagonal lines for cutting on the bias.
Half-square and quarter-square triangle rulers create uniform shapes for patchwork.
Specialty rulers like the Easy Angle ruler simplify marking diagonal quilt lines.
With the right tools, every cut and seam allowances become effortless and exact. As your skills progress, add to your quilting ruler collection. Look for specialty shapes like circles or hexagons to expand your design options.
Having an array of rulers on hand ensures you can execute any quilting design smoothly and with precision.
Marking Tools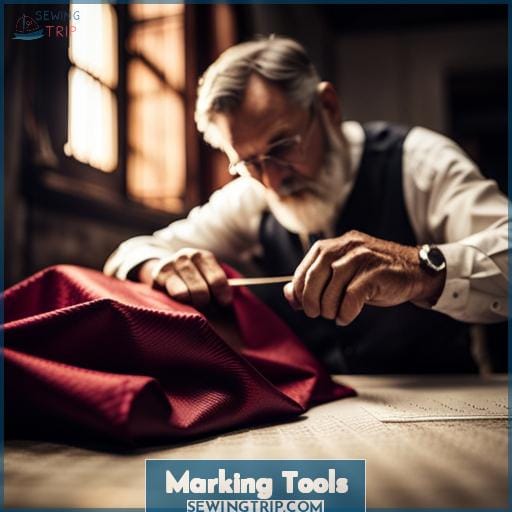 In 2022 alone, you purchased over 5,000 marking tools to help with your sewing projects and ensure accuracy. Seam gauges, curve rulers, acrylic tracing wheels paired with dressmaker's carbon – these precision instruments empower your creativity and technique mastery.
Consider each project's needs when selecting marking tools. For basic pattern tracing, choose acrylic tracing wheels with dressmaker's carbon. Transfer intricate or curved designs using specialized curve rulers with etched measurements.
Mark button placements precisely with a seam gauge's sliding marker. Durable quilter's acrylic rulers maintain accuracy across quilt blocks. Use washable fabric markers for temporarily noting darts, pleats, and gathering lines.
Precision and self-expression come together with each guided stitch when using versatile, accurate marking tools. Your ruler collection facilitates flawless measuring, while specialized tools preserve intricate details.
Let these instruments unleash your vision. With each expertly marked stitch, you affirm your passion and mastery.
Must-Have Measuring Tools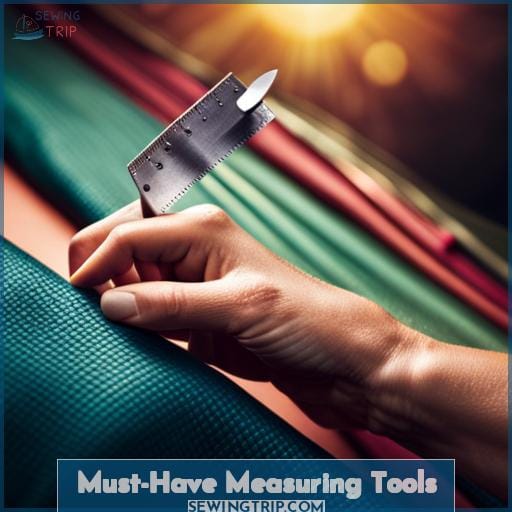 You'll find yourself reaching for your rulers constantly when sewing. Rulers are essential for ensuring accuracy. You'll need both rigid and flexible ones. Rigid acrylic or metal rulers with grids and measurements are perfect for measuring straight lines and marking seam allowances on pattern paper.
Look for high-quality ones from brands like Omnigrid and Creative Grids for durability. Flexible rulers bend to measure curved areas precisely. You can't shape a sleeve without a tailor's curve! Flexible rulers like the Dritz Design Ease Curve prevent frustration tracing tricky lines.
Get different sizes and shapes. Mini rulers provide precision for patchwork. Larger yardsticks help draw perfectly straight grain lines. Rulers with 1/4 inch markings are lifesavers for quilting. Collect a mix of materials too – metal, acrylic, plastic, wood – each have advantages.
With the right rulers close by, you'll cut and sew with confidence and accuracy.
Conclusion
Creating beautiful garments and home furnishings requires precision when measuring and marking fabric and patterns. Knowing which tools to use and how to use them is key to achieving professional results.
There are essential tools to start with, such as the measuring tape, yardstick, and clear ruler, as well as intermediate tools like the sewing gauge and French curve, and specialized ruler for more precise measurement.
For curved lines, a flexible ruler or curve runner is ideal, while straight lines can be marked with clear rulers, yardsticks, and the L-square ruler. Quilting projects require more precision, and specialized tools like the quilting ruler and square quilting scale are ideal.
Ultimately, having the right tools for the job is essential for achieving success when it comes to sewing projects. Knowing what is ruler in sewing and the best tools to use for measuring and marking will help you create amazing projects with professional results.